Barbados, one of the most explored Caribbean destinations, is celebrated for its tropical beaches, delicious rum, and friendly locals. The luxury hotels in Barbados featured on our list allow you to explore these aspects in style, with a plethora of amenities at your disposal, lavish accommodation options, and flavorful on-site restaurants.
Whether you're opting for the tranquil east coast or the lively west coast, we hope our guide provides you with some useful information for your next stay in Barbados.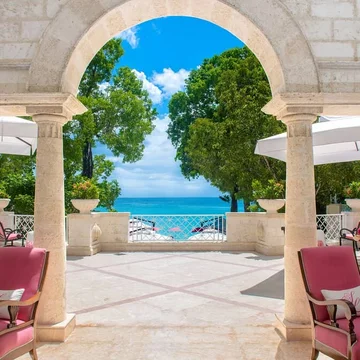 Sandy Lane
Sandy Lane, with its three on-site golf courses, an award-winning spa, and palatial accommodation, is one of the most popular luxury hotels in Barbados. The hotel is set on an ancient mahogany grove, on an extensive white-sand beach south of Holetown.
Check Availability
Among the most breathtaking facilities at Sandy Lane is the multiple-story outdoor swimming pool, surrounded by lush greenery and colorful flowers. Workout-wise, guests have access to a well-equipped gym and multiple tennis courts, in addition to three golf courses where you can see stunning views of the area. The 47,000 square foot spa is a marvel in itself. You can book a myriad of luxury services, including manicures, pedicures, wraps, massages, and full-body treatments. Whatever option you go for, a relaxing and de-stressing experience is guaranteed.
The outstanding cuisine offered at Sandy Lane, combined with the gorgeous outdoor setting, makes it a perfect option if you're someone who enjoys fine dining while on holiday. The romantic and beachfront L'Acajou restaurant serves European cuisine with a flair, paired with a spectacular range of New and Old World wines. For a more relaxing option, opt for Bajan Blue – a beachfront restaurant that offers a combination of Asian, Caribbean, and European meals. There are multiple on-site bars to choose from, out of which The Monkey Bar stands out – it's the perfect place for pre-dinner drinks and artistic cocktails. Afternoon tea is served daily from 3 p.m. to 5
p.m. Sandy Lane offers luxury rooms and suites, all of which include private balconies, en-suite marble bathrooms, flat-screen TVs, and minibars. The style of the rooms is opulent and elegant, with ligneous furnishings, large king-size beds with curtains, and wall-to-wall windows. The color scheme varies depending on which room/suite you opt for.
The rates at Sandy Lane start from $1,280 a night.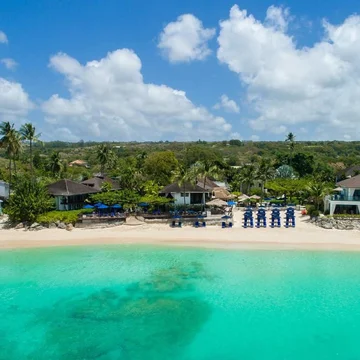 The Sandpiper
The Sandpiper is all about stunningly appointed rooms, exquisite cuisine, and exciting water-based adventures. It's located on the outskirts of Holetown, a short drive away from Bridgetown. Limegrove, one of the most popular shopping malls in Barbados, is a five-minute walk away from the hotel, where you can shop luxury brands like Michael Kors and Ralph Lauren.
Check Availability
The family-friendly nature of the hotel reflects in the facilities offered. Two swimming pools are at your disposal, one of which is lap-friendly. Other facilities that allow you to get in your daily workout include a large on-site gym, two tennis courts, and a watersports center. Access to the neighboring Coral Reef Barbados spa is included with the price. Set amid exotic nature and small waterfalls, it's the perfect place to unwind and relax after a day of shopping and sightseeing. Some of the spa menu highlights include the Caribbean Calm massage and the Oxygen Awakening facial.
Nestled among the gardens and the tranquil koi ponds, The Sandpiper's on-site restaurant offers a memorable and enjoyable dining experience, the highlight of which is the sumptuous cuisine with a Caribbean flair that utilizes various European and Asian techniques. Every Wednesday, a generous West Indian/ International buffet is served, with various delicious specialties. The breakfast options are equally spectacular, which include freshly baked bread, French toast, pancakes, and tasty smoothies. If you're in the mood for light lunches and sunset cocktails, visit Harold's – a modern bar where you can enjoy views of the Caribbean Sea. Its signature cocktail, Harold's Smile, is a must-try.
Guests can choose from rooms, one-bedroom, and multiple-bedroom suites. The style and color palette varies depending on the accommodation, but all are equally homely and sport a boho-chic vibe. Amenities like a private balcony, a work desk, and a kitchenette are included.
The rates at The Sandpiper start from $350 a night.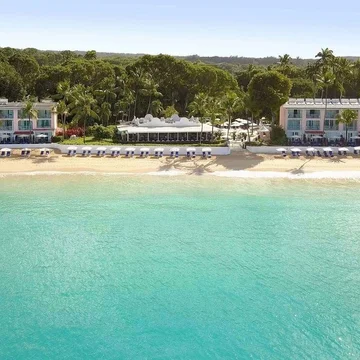 Fairmont Royal Pavilion
The newly renovated Fairmont Royal Pavilion boasts one of the best locations in Saint James – Alleynes Bay. Its beachside location allows for magnificent views from the common rooms, restaurants, and your own room/suite, so you can witness breathtaking sunsets over the Caribbean Sea.
Check Availability
Unsurprisingly for a Fairmont hotel, the facilities are appealing and practical. There's an outdoor swimming pool with an adjacent hot tub, as well as a fitness center and two tennis courts. While there's not an on-site spa, guests can book massages and treatments from the comfort of their own rooms. The wide range of water-based activities is quite enticing and includes kayaking, sailing, and paddleboarding.
The main dining venue at Fairmont Royal Pavilion is the Palm Terrace Restaurant, which offers a tropical setting overlooking the waterfront. The restaurant serves a delicious breakfast daily, with a variety of healthy and indulgent options like avocado toast, Greek yogurt parfait, blueberry pancakes, and French toast. While lounging around the beach, you can order a light lunch or a frozen cocktail at the Beach Club bar. Taboras Bar is a perfect option for a nighttime venue, where you can enjoy a live music performance every night and delicious signature cocktails. In case you want a break from the on-site options, a five-minute walk takes you to Lone Star, a hotel that's home to a splendid restaurant.
All 72 rooms and suites at Fairmont Royal Pavilion are equipped with signature Fairmont beds, private balconies, and coffee and tea making facilities. They're designed in a timeless and stylish manner, with a neutral color scheme, minimalist furniture, and local artwork.
The rates at Fairmont Royal Pavilion start from $450 a night.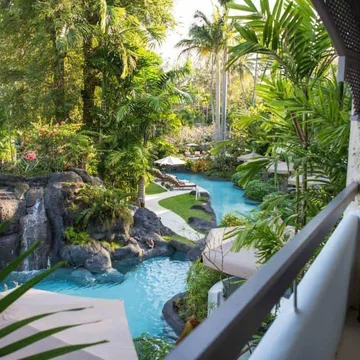 Colony Club
Situated on the west coast of the island, Colony Club would be a great match with those who prefer small-scale, exclusive hotels as opposed to big hotel chains. This award-winning retreat overlooks Colony Club Beach, and is a short walk away from the hustle and bustle of Holetown.
Check Availability
In terms of facilities, the retreat boasts several swimming pools, tennis courts, and a well-equipped gym. The Spa at Colony Club is a small sanctuary of tranquility where you can book a variety of treatments, massages, and facials. There are a plethora of activities guests can have a go at, from water-based ones like tube riding, waterskiing, sailing, kayaking, and snorkeling, to on-land activities like historic walking tours and classes.
Laguna Restaurant, the main dining spot at Colony Club, serves a delicious breakfast that includes lots of healthy choices like fruits, cereals, and yogurts, as well as freshly-baked pastries, combined with an unlimited amount of coffee and tea. For lunch and dinner, international cuisine is served. The adjacent Laguna Bar is the entertainment epicenter of the area, whereas Sunset Bar will provide you with any snacks and refreshments you need while you're at the poolside. The oceanfront Sunset Deck Restaurant is a must-see, for lunch and dinner alike, or to simply enjoy one of their jazz shows at night.
Each of the luxury rooms at Colony Club opens up to a private balcony where you can savor the sea views and enjoy your morning cup of coffee. Other modern amenities include a minibar, a flat-screen TV, an espresso machine, and an en-suite bathroom with complimentary REN bath amenities.
The rates at Colony Club start from $180 a night.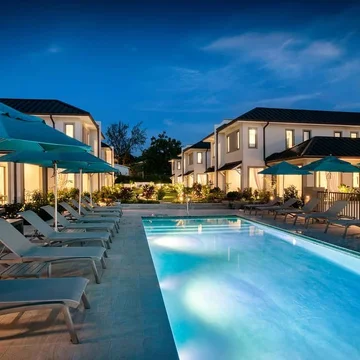 Beach View
Spread across five acres of lush gardens, opposite Paynes Bay, Beach View has an ideal location for a luxury beachfront hotel. Since it's a family-run hotel, you can expect a welcoming and friendly service, and thus an unforgettable and relaxing stay.
Check Availability
One of the most distinguishing facilities at Beach View is their pools. Guests have four sparkling pools at their disposal, including a shallow children's pool. It's an ideal setting for having some fun in the sun and sipping on a cocktail. If you like staying active, every Monday and Thursday you can join an Aquacise class at the garden pool. Another way you can stay active is by hitting the newly-renovated on-site gym or booking a yoga class with an experienced instructor. Elite Salon and Spa's pampering menu will tempt you in the best way – choose from a varied spa menu with treatments designed to de-stress and restore.
For a tasty breakfast, visit Sugar Apple Café – a poolside café with fresh and local meals and a splendid breakfast menu that includes granola with Greek yogurt, cereals, banana bread, bagels, and croquettes. For lunch and dinner, a variety of international favorites are served. If you're someone who likes preparing their own meals, The Hut is where you can get your hands on grocery items, in addition to delicious coffee and desserts.
Beach View offers three accommodation options: rooms, suites, and villas. The rooms are modern and inviting, with a serene white and blue color palette. The rooms follow a similar design yet are more spacious, and come with a separate living and sitting area. The villas are the most indulging option and come with a fully equipped kitchen, a private patio, and an en-suite bathroom with a shower.
The rates at Beach View start from $200 a night.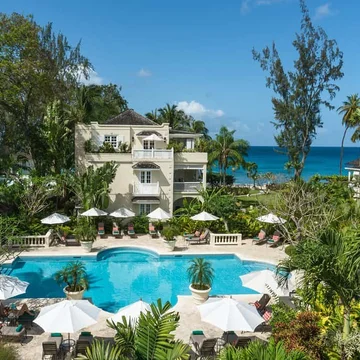 Coral Reef Club
Coral Reef Club is a five-star hotel in Saint James nestled among twelve acres of tropical gardens, widely considered as one of the best luxury hotels in Barbados.
Check Availability
As far as facilities are concerned, the hotel offers two outdoor swimming pools, a fitness center, two tennis courts, and a watersports center that allows you to book activities such as snorkeling and canoeing. The Coral Reef Barbados Spa is among the best facilities in Coral Reef Club, with its extensive spa menu designed to rejuvenate and relax every single guest.
Coral Reef's on-site restaurant overlooks the Caribbean Sea, which makes for a romantic setting. Its daily-changing menu consists of Caribbean cuisine and flavors, allowing you to sample the best dishes that the culture offers. Every Monday, there is a delicious West Indian and International buffet and live music. There is also an open-air bar, with many flavorful cocktails to try out.
The accommodations are designed in a traditional island style with colorful accents, featuring local artwork, private balconies, and an en-suite bathroom with a walk-in shower. The villas allow for maximum privacy, all the while giving you access to every luxury amenity you can think of.
The rates at Coral Reef Club start from $300 a night.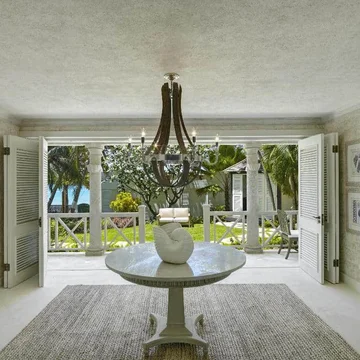 The Lone Star
The Lone Star is a stylish boutique hotel overlooking Alleynes Bay, on the island's west coast. The area is known for being ideal for exploring, as well as giving you access to long and isolated beaches that act as a sanctuary from all the business in the area.
Check Availability
While some facilities like an on-site swimming pool and spa are missing, its charming character and top-notch restaurant make up for it. Guests can book a private spa treatment in their rooms, in addition to private workout classes with a personal trainer. The established Lone Star Restaurant is famous for its romantic beach setting, serving an irresistible mix of European cuisine with Caribbean influences. The equally appraised Star Bar is the perfect place to get a pre-dinner chilled glass of champagne or try their signature cocktails during date night with your partner.
The rooms, named after automobile legends, feature a private balcony, a canopy king-size bed, and an elegant en-suite bathroom. Regardless of which room or suite you choose, you will be able to enjoy uninterrupted views of the ocean. If you want to treat yourself, book Cadillac – the one-bedroom penthouse that comes with a kitchen, an oversized beachfront terrace, and a sizable dining area.
The rates at The Lone Star start from $800 a night.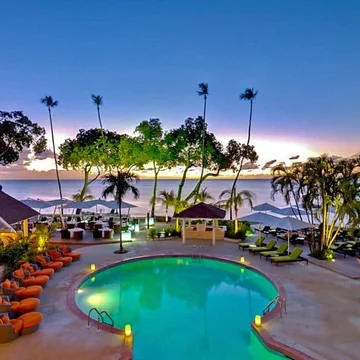 Tamarind
Tamarind, part of the established Elegant Hotels group, is situated on the Platinum West Coast, in close proximity to some of Saint James's most beautiful beaches and the main tourist attractions in Holetown, including the exquisite restaurants and bars.
Check Availability
To make the most of such an incredible location, make sure you try out some of the watersports on offer, which include water skiing and kayaking. If you prefer sunbathing to being active on the water, you can do so by one of the three outdoor pools or directly on the beach. There's also a small on-site spa where you can book signature treatments and massages like the Ying Yang treatment and the Bamboo massage.
Even though the area is brimming with amazing restaurants, you won't have to leave the hotel's premises to enjoy fine dining. Sugar Cane Room is the breakfast spot at Tamarind, offering a variety of options like baked pastries, eggs, and fresh fruit. Rilaks Deck and Bar is a guest's go-to for light snacks and refreshing cocktails, served in an outdoor setting. The main dining venue – 246 Restaurant and Bar, has a gorgeous oceanfront setting and a delicious mixture of local and international dishes.
All 104 rooms are designed in a chic and contemporary style, with a colorful palette that complements the surroundings. Every room features a private balcony with outstanding views, a sitting area, and a flat-screen TV. The suites are more spacious and can accommodate up to five guests.
The rates at Tamarind start from $225 a night.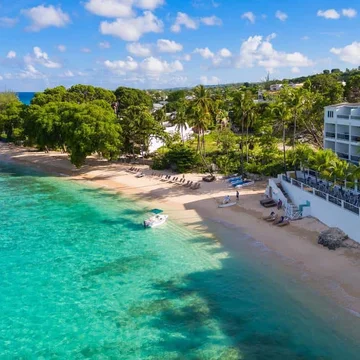 Waves Hotel & Spa
Another Elegant Hotels member on our list, Waves Hotel & Spa is known for being the first all-inclusive hotel in Barbados. Apart from excellent service and amenities, the hotel boasts a great location in Saint James, on the Platinum West Coast of the island.
Check Availability
Everything at Waves Hotel & Spa seems to be complementary: the water sports, the meals, the poolside drinks, and the spa treatments. What more is there to ask for? Apart from partaking in fun outdoorsy activities, you can also enjoy a traditional workout at the hotel's on-site fitness center. Taste a variety of cuisines at Waves Hotel & Spa's restaurants, all on the house. Shiso serves Asian cuisine with mouthwatering noddle and rice bowls. If you prefer Mediterranean cuisine, opt for Seascape, which offers both a la carte and buffet meals. The new Kyma coffee bar is ideal for a quick bite or a freshly brewed coffee.
There are 70 guest rooms and suites engulfed in lush greenery, with a contemporary style, driftwood accents, artwork, and luxury amenities to make your stay comfortable and memorable. The oceanside building includes family-friendly accommodation options, whereas the spa building is adult-only. The private balconies overlooking the surroundings allow you to have a relaxing start to the day while you sip on your coffee.
The rates at Waves Hotel & Spa start from $235 a night.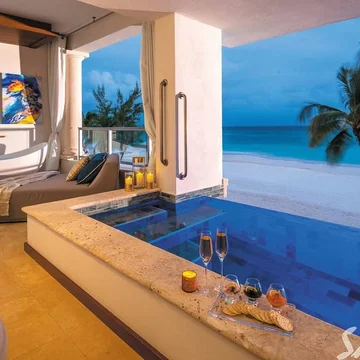 Sandals Royal Barbados
The award-winning, all-suite Sandals Royal Barbados is one of the most exclusive luxury hotels in Barbados, boasting a myriad of facilities and activities that will keep you entertained throughout your stay. It's located near Maxwell Coast, merely a short ride away from the airport.
Check Availability
The rooftop pool overlooking the ocean is one of its most attractive facilities, in addition to the infinity pool and 4-lane bowling alley. There are numerous fun ways to get your daily exercise in, including booking a yoga class, playing a game of tennis, or partaking in water sports. For those who like to keep it traditional, there is a well-equipped fitness center on the hotel grounds. The Red Lane spa will give you a memorable experience that'll awaken all your senses – it's the perfect destination after your activity-packed days.
Numerous dining venues can be found at Sandals Royal Barbados. The newly opened American Tavern serves traditional American cuisine in an elegant setting. Chi Asian Fusion brings the highlights of Asian cuisine to your plate, while La Parisienne allows you to indulge in the best of French cuisine and wine.
Palatial and spacious, the rooms and suites at Sandals Royal Barbados are designed in a neutral color palette with turquoise accents that match the ocean. Every accommodation features a private balcony, a minibar, a flat-screen TV, and an elegant bathroom with a rain shower and complimentary amenities.
The rates at Sandals Royal Barbados start from $325 a night.
The SoCo Hotel
The SoCo Hotel is an adult-only, all-inclusive hotel that sits in the heart of Barbados' south coast. The area is known for its stunning beaches, and within walking distance of the hotel, you will find Hastings Beach and Accra Beach, which are definitely a must-see while you're staying there.
Check Availability
Both the beach and the on-site pool area have comfortable lounging areas, courtesy of the hotel. Even though there isn't a dedicated spa in the hotel, guests have the option of booking an in-room spa treatment. The on-site restaurant offers an a la carte menu, with a mix of local specialties and well-loved western favorites. The bar serves authentic Caribbean rums and has a varied selection of premium wines that will cater to any taste. In case you're eager to try different cuisines, there are numerous restaurants in the area.
A total of 24 guest rooms are available in this exclusive hotel, most of which offer beautiful ocean views. The deluxe rooms are bigger in size and come with a flat-screen TV, tea and coffee making facilities, floor-to-ceiling windows, and a private balcony overlooking the Caribbean. Décor-wise, the color scheme is a combination of a white base with bright blue accents and light wooden furnishings.
The rates at The SoCo Hotel start from $300 a night.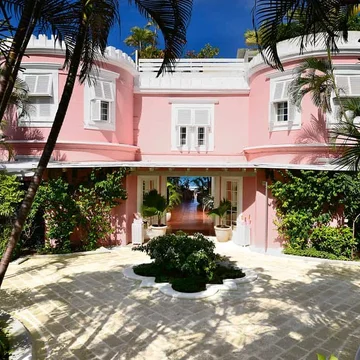 Cobblers Cove
An English country house design meets Caribbean hospitality at Cobblers Cove – an award-winning hotel regarded as one of the best luxury hotels in Barbados. It's situated right on the beach at Godlings Bay, a short walk away from the center of Speightstown.
Check Availability
The facilities offered at Cobblers Cove are akin to the other luxury hotels on our list: an outdoor pool, a luxury spa, tennis courts, and a fitness center. The hospitality of the staff is unparalleled – you will truly feel at home and welcome at any point during your stay. Most of the activities offered are water-based (kayaking, snorkeling, cruising), but you can also book a diverse range of tours and yoga classes.
Dining-wise, Cobblers Cove is home to Camelot Restaurant – a well-loved spot among tourists and locals alike, offering scrumptious dishes made from fresh and locally sourced ingredients. The breakfast options are supreme – choose from indulgent treats like crepes or healthy options like smoothies. English afternoon tea is served daily.
The newly refurbished suites have a classy and colonial design, with a white color base and fun patterned accents that give them a playful touch. Each suite comes with coffee and tea making facilities, a stocked minibar, and a private veranda overlooking the ocean or the gardens.
The rates at Cobblers Cove start from $420 a night.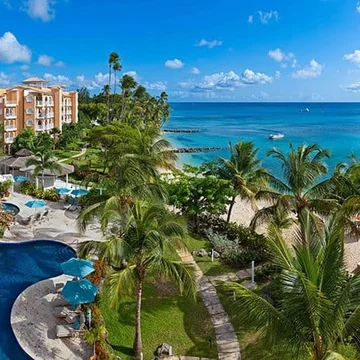 Saint Peter's Bay
Saint Peter's Bay is one of the most family-friendly resorts on our list, spanning across four acres of tropical gardens. Its beach frontage, though smaller than you'd expect, is regarded as one of the most beautiful beaches in the area.
Check Availability
Much like other five-star hotels, the hotel boasts a large outdoor pool with a lounge area and a well-equipped fitness center. The list of kid-friendly facilities is enormous, featuring a kids' club and a kids' zone. Additionally, there is a wide range of watersports for the whole family to try out. Dockside at 13º/59º is the newest dining venue at Saint Peter's Bay, a modern bistro-like restaurant serving international food. The casual Quarterdeck Bar and Pizzeria serves light lunches and cool cocktails, while The Gazebo Bar and Grill will appeal to anyone with an affinity for smart cuisine and perfect sunset views.
Choose from more than 50 luxuriously appointed, family-friendly villas. In each villa you will find a fully equipped kitchen, stunning marble bathrooms, and sizable balconies with a sitting area. Some of the villas feature a private sea pool.
The rates at Saint Peter's Bay start from $600 a night.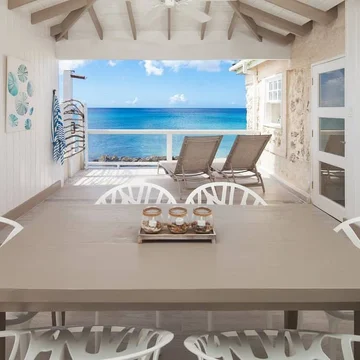 Little Good Harbour Barbados
Little Good Harbour Barbados is a luxury hotel situated on the west coast of Barbados, ideal for both families and couples. The area is known for being quiet and remote, giving you a break from the usual hustle and bustle of cities. In case you want a change in scenery, Speightstown is a short drive away from the hotel.
Check Availability
The service at this family-run hotel is immaculate, much like their selection of facilities. Two outdoor swimming pools are scattered on the premises, while the beach, equipped with plush lounge chairs, is a few steps away. You can try a wide range of complimentary water-based activities like kayaking and snorkeling. The hotel also features a small spa with numerous treatments on offer.
Culinary pleasures await at The Fish Pot Restaurant – a waterfront dining venue with a relaxed setting, offering an all-day menu with international dishes. The restaurant is also known for its extensive wine list, so make sure you pair one of their local or international wines with your dinner. The breakfast menu includes western favorites like muesli, truffle wedges, pancakes, and pain au chocolat croissants.
The oceanfront suites and garden cottages at Little Good Harbour Barbados will dazzle you with their modern amenities and boho-chic design. Each accommodation features an en-suite bathroom with a walking shower, a spacious balcony, a flat-screen TV, and a kitchenette.
The rates at Little Good Harbour Barbados start from $300 a night.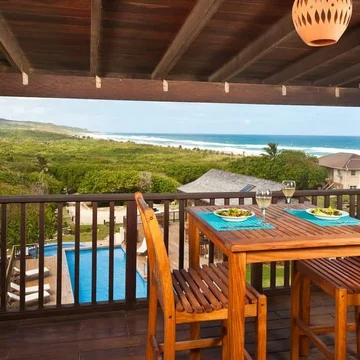 Santosha Barbados
For those who are looking for something different to try out during their stay, Santosha Barbados is the solution. This self-catering retreat is situated on the tranquil east coast of Barbados, a short walk away from the beautiful Walkers Beach and Belleplaine – a small picturesque village.
Check Availability
Relax under the Caribbean sunshine on one of its neighboring beaches or at the on-site swimming pool, adjacent to which is a whirlpool and a sitting area. There isn't a spa on the property, but in-room massages can be arranged. Since Santosha Barbados is a self-catering retreat, there isn't an on-site restaurant, however, guests can make use of the shared BBQ and make their own meals in the fully equipped kitchen, part of every suite.
There are ten suites/studios in total, containing an en-suite bathroom with complimentary toiletries, a flat-screen TV, and a private balcony. The style of the suites is contemporary and elegant; the white color base predominates, matching the ligneous furnishings impeccably.
The rates at Santosha Barbados start from $150 a night.
Find Luxury Hotels in Barbados