The land of Homer, the birthplace of democracy, and the cradle of Western Civilization – Greece is a country that attracts millions of tourists on a yearly basis. From its stunning islands to the historic capital, there are many sights to explore while traveling here, which is why choosing a single hotel to stay in isn't an easy task. We're here to help you with that mission, so we've compiled a list of the best luxury hotels in Greece.
We truly hope you find this list helpful and informative for your next Greece getaway, so let's get started with the reviews.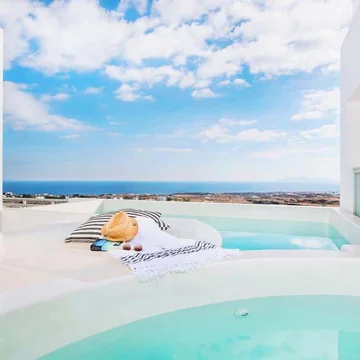 Astro Palace Hotel and Suites
The award-winning Astro Palace Hotel and Suites is among our best picks for luxury hotels in Greece. This lavish hotel is located just a short walk away from Fira – the most popular town in Santorini.
Check Availability
The hotel's grand star-spotted pool is among its top attractions, its beauty especially apparent during nighttime. There's a relaxing and soul-soothing spa where you can unwind and enjoy your favorite spa treatment, as well as a sauna to relax even further.
The suites at Astro Palace are the perfect blend of comfort and luxury. Guests can select from a variety of suites, some of which feature an outdoor Jacuzzi and a private pool, or both. The idyllic location of this hotel allows for some of the most spectacular sea views in Santorini. All rooms and suites are air-conditioned and come with a flat-screen TV, coffee and tea making facilities, a minibar, and a private balcony where you can enjoy the breathtaking views.
The food will also exceed your expectations. The restaurant at Astro Palace offers a fulfilling dining and wine tasting experience with a marvelous selection of both Mediterranean dishes and international comfort dishes.
The rooms at Astro Palace start at $200 a night.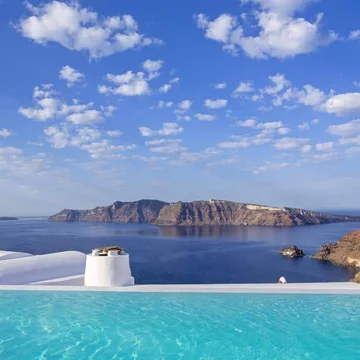 Katikies Hotel
Katikies Hotel sits on the rocky hills of the stunning city, giving its visitors the ultimate Santorini experience. Located in Oia, one of the most popular towns in Santorini, the hotel allows its guests to explore the neighboring local shops, restaurants, and bars easily.
Check Availability
That being said, you won't have to leave the hotel's premises to indulge in delicious meals. Katikies Hotel is home to a few fantastic restaurants. The Seltz Champagne Bar and Restaurant is ideal for a light snack or a chilled glass of bubbly. Mikrasia Restaurant's unique and intimate atmosphere is perfect for а date night, with amazing sea views and Anatolian-inspired cuisine. Selene Restaurant, with head chef Giorgos Hatzigiannakis, serves impeccable Modern Greek dishes.
The hotel has three infinity pools that overlook the Aegean Sea and one spa where you can book a relaxing treatment or a massage. The airy, all-white rooms at Katikies Hotel are in perfect harmony with the surroundings. Each room has a private terrace where you can take your breakfast in the morning to soak in the view of the serene sunrise, plus a minibar, a fridge, and a flat-screen TV. The suites come with a separate living and dining area.
The room rates at Katikies Hotel start at $300 a night.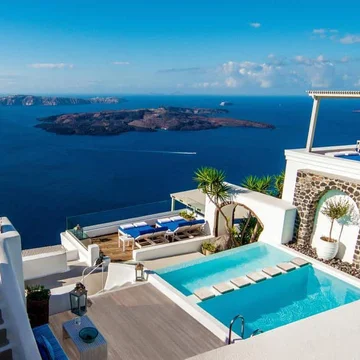 Iconic Santorini
Private Jacuzzis overlooking the endless sea and volcano, restaurants with flavorsome dishes served with panoramic views, and an incredible cave spa – Iconic Santorini has everything you will ever need for the Santorini getaway of your dreams.
Check Availability
The hotel is located in the tranquil and scenic village of Imerovigli, away from the tourists and noise. If you value your peace and quiet during your holidays, you will love this location. There are, however, plenty of lively bars and restaurants in the area, so you won't be completely removed from all the happenings.
Iconic Santorini has all the facilities that make for a great escape: a small yet well-equipped gym, a cave spa with lots of treatments and massages, a sizable infinity pool that seems to blend in with the background, and a restaurant that serves local food with traditional Greek flavors and an extensive wine list. Iconic Santorini offers a Greek continental breakfast served on the terrace for a spectacular start of the day.
The 19 cave suites at Iconic Santorini are spread over multiple stories and capture the Santorini spirit incredibly well. They feature large and comfortable beds, a flat-screen TV, and private balconies with views of the caldera. The mostly white color palette is matched with playful bright blue details that match the surroundings. Some suites even come with their own indoor and outdoor pools.
Prices at Iconic Santorini start at approximately $600 a night.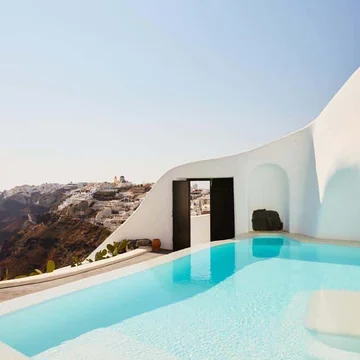 Perivolas
A popular choice among celebrities, Perivolas is one of the most accomplished hotels in Santorini. Perivolas' location allows for seemingly perfect sunset views and close proximity to stores and bars – positioned in Oia, guests get to be removed from the large tourist crowds and are placed in an oasis of sunshine and serenity.
Check Availability
The built of the suites is an open, bright (largely due to the skylights), and minimalistic one. Each suite resembles an intimate cave brimming with plants, bright colors mixed with a timeless white color scheme, ligneous details, and plush sofas. The curved windows reveal an unforgettable vista of the ageless sea and horizon and allow natural light to flow through the rooms. Some suites come with their own pool and steam room.
Perivolas Restaurant offers an irresistible contemporary Greek menu. Head chef Theodoros Kakoulis ensures that the ingredients that make up the meals are as fresh as possible and of supreme quality. Whether you opt for the shrimp saganaki or a simple salad, you won't be disappointed with your choice. A pick from the carefully curated wine list or a signature cocktail makes for an ideal after-meal treat.
A standard room at Perivolas starts at around $660 a night.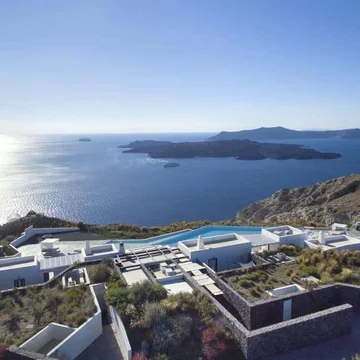 Erosantorini Hotel
Erosantorini Hotel, with its enormous infinity pool, incomparable hospitality, and appetizing dishes made with fresh produce, is rightfully among our top choices for the best luxury hotels in Greece.
Check Availability
Located on the bewildering cliffs overlooking the caldera, the hotel is secluded and private, yet allows for facile exploring and sightseeing. Fira, one of Santorini's touristy areas, is only a ten-minute walk away from the hotel. Oia, on the other hand, will take you a bit longer to reach on foot, so hiring a car is advisable.
Erosantorini Hotel is quite exclusive, only allowing a handful of people at a time. There are five private suites to choose from, all equally lavish and glamorous. The living areas feature a ceiling-suspended fireplace and comfy sofas, while the marble bathrooms are spacious and come with complimentary toiletries. Some of the modern amenities that can be found in the suites include a Nespresso machine, a generous minibar, and Bluetooth speakers. Needless to say, all five suites allow guests to enjoy glorious views.
Gastronomy-wise, the hotel's restaurant brings the best of Greece on your plate. Choose from a traditional Greek menu and an extensive wine list. Erosantorini Hotel offers a beautiful infinity pool ideal for combating the high temperature, an open-air cinema, and a quaint spa with various treatments available.
The room rates at Erosantorini Hotel start at around $600 a night.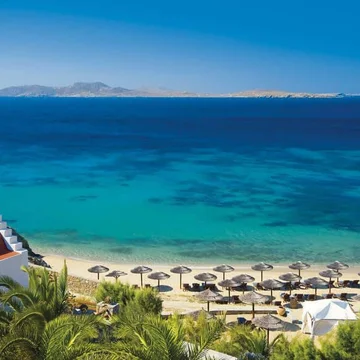 Mykonos Grand Hotel and Resort offers both rooms and suites. The suites have a living room area with a sizable sofa and a desk, while the private balconies allow you to enjoy the ever famous Mykonos sunsets in private. En-suite white marble bathrooms contain a separate deep bath and rain shower, a his and her sink, and large mirrors ideal for applying makeup.
The hotel is especially popular among those who prefer active holidays. There will be many opportunities to exercise and chase endorphins during your stay, including spicy Pilates and yoga classes, water sports on the beach, rejuvenating early morning swims, and even a hot tennis session on their private tennis court. If you prefer a standard gym, there is a fitness center on the property as well.
The on-site restaurants offer a fine selection of Mediterranean dishes with a strong focus on seafood and Greek wine. Althea Spa, the hotel's own luxurious spa center, features a myriad of natural treatments using Greek techniques.
A standard room at Mykonos Grand Hotel and Resort costs around $300 a night.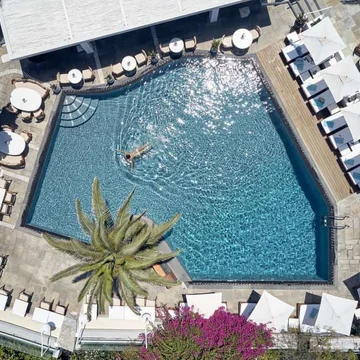 The Belvedere Mykonos
The Belvedere Mykonos blends old-age splendor with modern convenience, resulting in a superior stay right in the heart of Mykonos. Surrounded by a verdant garden, the hotel sits on top of the old town, overlooking Chora. Plenty of restaurants and bars are located within close proximity, giving you a plethora of options in terms of activities and dining. The area is amazing for sightseeing as well – Little Venice is merely a ten-minute walk away from the hotel.
Check Availability
The Belvedere Mykonos' main complex has a total of 35 luxury rooms, 9 suites, and one glorious mansion. The rooms and suites have an intimate and romantic ambiance, making them ideal for a romantic getaway or a honeymoon destination. The wooden furniture matches the white color palette perfectly. The bathrooms are commodious, with a separate rain shower and complimentary Molton Brown toiletries.
The hotel's Six Senses Spa is designed to de-stress – whether you opt for a natural treatment or a soothing massage, relaxation is guaranteed. The hotel also boasts a sizable fitness center and a stunning pool where you can enjoy a generous breakfast buffet. Matsuhisa Mykonos, the world's first outdoor sushi bar, serves the best sushi in town. Thea Estiatorio is another splendid on-site option.
The rates for The Belvedere Mykonos begin at around $400 per night.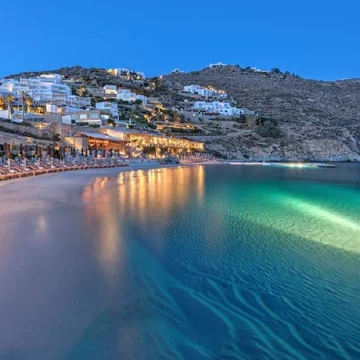 Santa Marina, a Luxury Collection Resort
Santa Marina oozes opulence and an intimate atmosphere. The supremely lavish resort is known for being the only hotel on Mykonos adjacent to its own private beach, giving you all the privacy you could ask for during your beach holiday. Santa Marina's location is a remote yet convenient one – Ornos Bay is a few steps away from the resort, an area where you can find various restaurants, shops, and bars.
Check Availability
Service and staff are always ready to go the extra mile – from helicopter rides to an airport transfer, ask and you shall receive. The hotel boasts two infinity pools and a tranquil spa with various treatments. Visit The Buddha Bar, located on the hotel's private beach, and sample the irresistible taste of Mediterranean cuisine, all the while enjoying the view of the mythic sea. The Colonial Pool Restaurant and Bar is a family-friendly option that serves healthy Mediterranean dishes.
There are a total of 101 rooms and suites available for booking, spread across multiple levels of the hotel and overlooking different areas in Mykonos. If you love waking up to a view of the endless sea, opt for the Superior Room. All en-suite bathrooms are designed in dark marble and feature complimentary Acqua di Parma toiletries.
The rates per night at Santa Marina start at $550.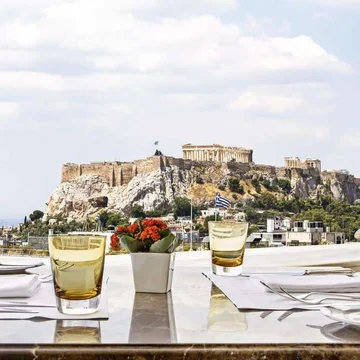 King George, a Luxury Collection Hotel
From sandy beaches to an unparalleled city break, our next pick for one of the best luxury hotels in Greece is located in the historic capital – Athens. King George has a central location in Syntagma Square and is in close proximity to the main attractions in Athens. The ancient Acropolis is only a short walk from the hotel, similarly to Plaka and the Parthenon. Voukourestiou Street, the primary shopping destination in Athens, hosts luxury brands like Prada, Louis Vuitton, and Dior.
Check Availability
Guests at King George have access to an indoor pool in the building next door. Luckily, there is an on-site spa where you can pamper yourself for hours on end. The Tudor Hall restaurant, located on the seventh floor, is styled in the neo-classical and palatial décor found throughout the hotel. The restaurant serves traditional Greek cuisine, made by chef Asterios Koustoudis' talented team. Enjoy a glass of Greek wine or a signature cocktail accompanied by superior views of the Acropolis.
Opulent and elegant, the rooms and suites feature a large bed with Frette linen, glitzy chandeliers, and artwork that matches the surroundings to a T. The bathrooms are spacious and feature deep tubs plus complimentary slippers, bathrobes, and toiletries.
The price for a single night starts at around $250.
Hotel Grande Bretagne Athens
The historic Hotel Grande Bretagne Athens is known for a few things: its central location, neoclassical architecture, artsy and lavish décor, and the fact that it has been a temporary home to the Kennedys, Elizabeth Taylor, Sting, and John Voight. The hotel is located right on Syntagma Square, across the Parliament and Constitution Square, while many of the must-see sights like the Acropolis can be reached in a short walk under 10 minutes.
Check Availability
The staff at Hotel Grande Bretagne Athens prides themselves on the excellent service. From VIP airport transfer to 24-hour butler service, there is almost nothing they can't arrange for you. The list of treatments in the on-site Grande Bretagne spa is seemingly endless – choose a herbal bath, a mud chamber, or some of their more traditional options. During the summer months, guests can utilize the beautiful outdoor pool located on the seventh floor. When the temperature drops, you can make use of the well-equipped gym.
Roof Garden Restaurant is among the most famous dining spots in Athens. Take your dinner to the terrace and enjoy a spectacular view of the Acropolis. The imaginative menu is composed of delicious Mediterranean dishes. Don't forget to indulge in a Greek dessert after your main course. All 320 rooms and suites feature antiques, stunning paintings, plush beds, and long curtains – simply a feast for your eyes.
You can book a standard room at Hotel Grande Bretagne Athens starting at $450 a night.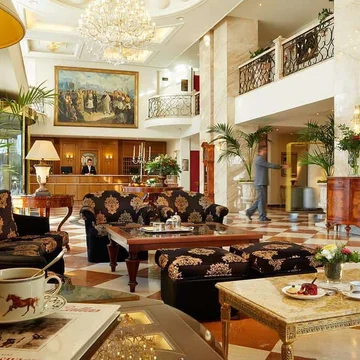 Mediterranean Palace Thessaloniki
Mediterranean Palace Thessaloniki sits in the heart of Thessaloniki, near the town center, the picturesque pier, White Tower, and the Archeological Museum. The most popular attractions are within walking distance of the hotel. Similarly, the main shopping street in Thessaloniki – Tsimiski is where a myriad of luxury stores are found, so the hotel's location is ideal for shopaholics as well.
Check Availability
The rooms and suites are decorated in a neutral color palette with stylish pops of crimson and golden details in some of the suites. The wooden furnishings bring out all the colors, much like the floor-to-ceiling windows that allow for memorable vistas. All rooms and suites are air-conditioned and they come with a flat-screen TV, a marble en-suite bathroom, and complimentary Damana toiletries.
A small fitness center is available for guests to use during their stay. Other facilities at Mediterranean Palace Thessaloniki include a spa and parking. Cookoo Restaurant combines traditional and modern cuisine using fresh and local ingredients, resulting in scrumptious meals. Regardless if you stay for a cup of coffee or a multiple-course meal, you will enjoy the inviting atmosphere. The breakfast buffet is rather generous and contains international options.
Prices at Mediterranean Palace Thessaloniki start at $160 a night.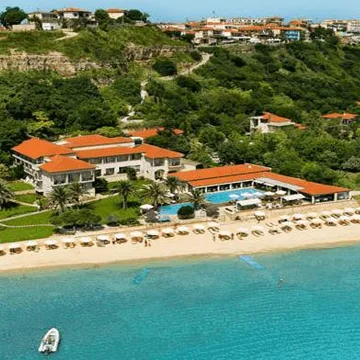 Afitis Boutique Hotel
Afitis Boutique Hotel is placed on a private beach in picturesque Afitos. Although small, the village of Afitos has a rich history and distinctive architecture that is synonymous with Greece. You will have to climb a long flight of stairs before reaching the center of the village, where all the restaurants, shops, and bars are located, but the climb is well worth it. A short drive will take you to many gorgeous sandy beaches in the area like Pefkochori, which is a great option if you want a little change in scenery.
Check Availability
Afitis Boutique Hotel boasts two large pools, a sauna, and a small spa. Accommodation-wise, there are 50 rooms and suites in total. The décor and color scheme varies according to the room or suite, but what they have in common is a long list of amenities like a private balcony overlooking the gardens or the sea, air conditioning, a TV, a spacious en-suite bathroom with complimentary toiletries.
Daphne is the hotel's in-house restaurant where guests savor a sumptuous breakfast which is a delicious mix of traditional Greek food and international staples served with local fresh fruit. For romantic dinners and Italian cuisine, make sure you pay a visit to Mesogeios – the second in-house restaurant on the property.
The rates at Afitis Boutique Hotel start at $300 per night.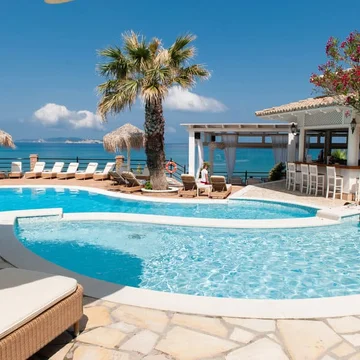 Delfino Blu Wellness Boutique Hotel
Delfino Blu Wellness Boutique Hotel is one of the most popular hotels on the island of Corfu. The hotel is located right on Agios Stefanos beach, an ideal location for those who prefer holidaying in a remote location, surrounded by nature and clear turquoise water. Guests can book a massage or a replenishing treatment in the hotel's wellness center, or enjoy a steaming hour in the hotel's sauna or hammam.
Check Availability
The luxurious suites are minimalistic yet grandiose, keeping with the theme of sustainable luxury that the hotel is known for. The Honeymoon Suite is one of the most indulgent accommodation options at Delfino Blu Wellness Boutique Hotel, featuring a panoramic view of the Aegean sea and a large terrace.
Expect to find flavorsome traditional Greek food in the hotel's restaurant. Breakfast is varied and exciting, with plenty of posh options like champagne. The bar makes splendid innovative cocktails, perfect for a little poolside refreshment.
Prices vary depending on the season, but a standard room starts at around $350.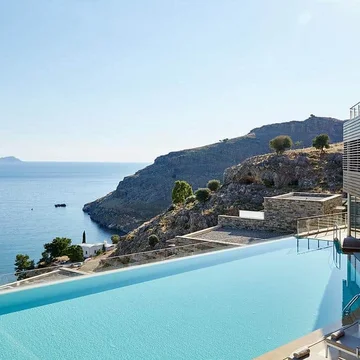 Lindos Blu Luxury Hotel
This adult-only hotel is a treat for all your senses. Lindos Blu Luxury Hotel has an elegant and eye-catching design, one that seems to blend in with the surroundings. A short walk will take you to the charming town of Lindos where you can explore all the historic sites and restaurants.
Check Availability
Apart from a golden private beach, guests have access to two pools and a spa that offers multiple types of massages and treatments. Fitness junkies can rest assured knowing that there is a gym and a tennis court in the hotel.
The open and sophisticated rooms and suites offered at Lindos Blu Luxury Hotel are equipped with a Nespresso machine and flat-screen TV. Take your morning coffee to your private balcony and enjoy the scenery and salty morning air.
Multiple award-winning restaurants are spread across the hotel. Five Senses offers an innovative menu with a heavy emphasis on Mediterranean cuisine. Smeraldo Restaurant is where guests go for their daily breakfast buffet, featuring fresh juices, fluffy pancakes, and delicious coffee. Dinners at Smeraldo are equally appealing – the restaurant serves a remarkable Mediterranean buffet with vegetarian alternatives.
Prices at Lindos Blu Luxury Hotel begin at approximately $800 per night.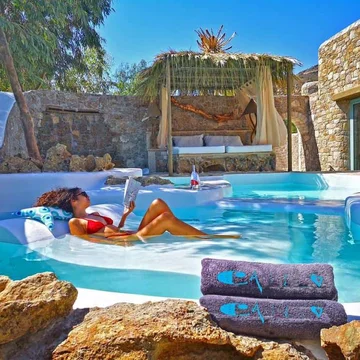 Calilo
Calilo is a unique five-star resort surrounded by lush greenery and nature, an ideal spot for a honeymoon or a romantic holiday. Chora, the main village in Ios, can be reached in a 30-minute drive. If you prefer faster transport, the supreme service at Calilo includes helicopter rides and boat hires aswell.
Check Availability
The suites at Calilo are unlike any other in a luxury resort. Completely unique, captivating, and creative, you can't find two rooms alike. From marble walls to bed frames that take up the whole wall – prepare to be pleasantly surprised by the décor choices. The suites come with grand private pools, large bathrooms with well-lit mirrors, and a desk area.
Whether you decide to spend your days lounging around the pool or taking a dip in the hotel's private beach, a fun time is guaranteed. The restaurant's menu is full of delicious traditional Greek dishes, mostly relying on fresh and local ingredients. Come breakfast, enjoy an indulgent buffet in a scenic setting.
A standard suite starts at approximately $250.
Find Luxury Hotels in Greece