From the Dead Sea, known for its high levels of salinity, to the Negev Desert, with its awe-inspiring landscape, Israel is home to numerous peculiar must-visit sights. Jerusalem, an ancient city, draws in millions of tourists every year to experience its spiritual sites holy to all three monotheistic faiths, while Tel Aviv is bound to make an impression with its amazing architecture, booming foodie scene, and relaxing beaches.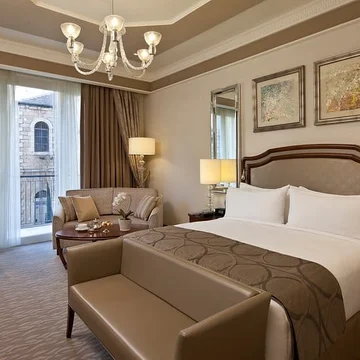 Waldorf Astoria
There's no better way to start our list than with a household name such as Waldorf Astoria. Situated in a palatial building, Waldorf Astoria Jerusalem is located outside the Old City's historic walls, promising quiet moments while still being close to numerous attractions. Jaffa Gate, Israel Museum, and the Western Wall as well as Jerusalem's old city are a 10-minute walk away.
Check Availability
The hotel's facade dates from the 1920s and it makes an immediate impression with its pearly white color, arched windows, and stone balconies. Inside, guests can choose between 226 sophisticated rooms, all appointed with top amenities including 46-inch flat TV screens, tablets, Nespresso machines, air-conditioning, dimmable lighting systems, and free Wi-Fi. Bathrooms provide a nice space for relaxation with heated Italian marble floors, deep soaking tubs, sit-down shower stall, and mirror embedded TV. Plush cotton robes and luxurious bath amenities are also available.
As expected from a hotel of this stature, the dining options are impressive. The King's Court restaurant provides guests with an extensive dinner menu in a sophisticated yet casual setting. Traditional dishes are perfectly paired with fine wines and there's also a long list of handcrafted cocktails. The Palace restaurant is even more exclusive with its award-winning menu. Don't miss out on the celebrated dishes such as rack of lamb, chargrilled rib-eye medallions, and slow-roasted veal spareribs. The ideal space to celebrate an important date would be the beautiful Garden Terrace situated in a rooftop garden. Here, Itzik Barak, the hotel's executive chef, creates a modern menu with a Mediterranean twist.
Double rooms start at $400.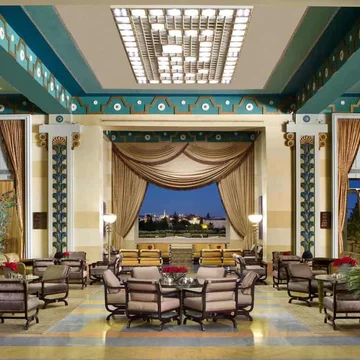 King David
King David, the city's most popular hotel has hosted an impressive list of international leaders and celebrities including Barack Obama and Kirk Douglas. The hotel is located on a top-billing address in Jerusalem, just a 10-minute walk away from Jaffa Gate and the city's historic part.
Check Availability
The hotel is situated in a grandiose property with a huge outdoor pool and tennis courts. The bright spacious lobby is bound to make an impression with its high ceilings, marble floors, and traditional decor. Rooms feature ornate decor paired with modern luxury amenities. Rooms offer views over the Old City's walls, minarets, and domes. Room service is also available.
The staff team is friendly, attentive and they'll be happy to help you with restaurant recommendations, tickets, or whatever you may need. Hotels in Israel don't usually have a long list of facilities, however, King David does feature an outdoor swimming pool, modern fitness center, kids club, and tennis courts.
In terms of dining, guests can expect an exciting offer. The Wine Bar is known for offering some of the words' finest wines, while the King Restaurant invites guests to savor Mediterannean specialties while contemplating the view over the old city. Refreshing drinks and small bites are served at the Poolside Snack Bar.
Guest rooms start at $400.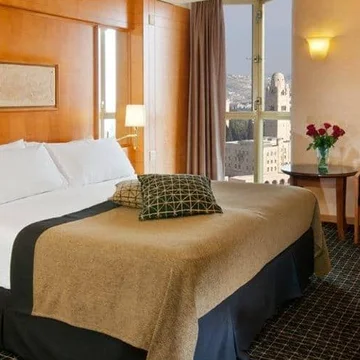 Leonardo Plaza Hotel Jerusalem
Conveniently situated on King George Street, Leonardo Plaza offers easy access to both the modern and old parts of Jerusalem. Notable attractions such as Alrov Mamilla Avenue, the Western Wall, Church of the Holy Sepulchre, and the Dome of the Rock are just a short walk away.
Check Availability
The hotel's inviting guest rooms and suites are fashioned with a rich palette of browns and golds which creates a royal-like ambiance. The brass accents and honey-colored furniture add sophistication to each unit. Guests can choose between rooms with a view over Independence Park, the old or the modern part of the city. All rooms are equipped with air-conditioning, mini-fridges, digital safes, flat-screen TVs, coffee machines, electric kettles, and free Wi-Fi. Rooms located on the highest floor offer some extra square footage, while the executive rooms feature balconies and dining areas.
The hotel is particularly popular among business travelers, families, and tour groups. There are meeting rooms and recreational facilities such as kids' play areas, a small spa, a sauna, a work-out room, and an outdoor pool. The pool area overlooks the greenery in Independence Park while the shady cabanas and sun loungers promise relaxing moments.
Traditional dishes and Italian specialties are served at the hotel's on-site restaurants. Guests can also expect a fine wine list, spirits, and handcrafted cocktails.
Guest rooms start at $300.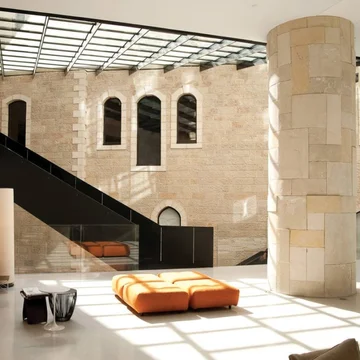 Mamilla Hotel
Particularly popular among high-end guests and business travelers, Mamilla Hotel offers welcoming rooms and suites in the thick of it in Jerusalem. The hotel is just minutes away from the Old City walls and Jaffa Gate, as well as the city's galleries, theaters, gardens, and legendary shopping streets on Manila Avenue.
Check Availability
The meticulous attention to detail can be immediately spotted in the bright lobby built with limestones from the mountains surrounding. White sofas, delicate lighting, and contemporary artworks adorn the lobby as well as all corridors. The classy decor continues in the spacious room infused with natural lighting. The king-size beds are huge and fashioned with exquisite Frette Italian bed linens. Each room is appointed with flat-screen TVs, Nespresso machines, electronic safes, and mini fridges.
The multilingual staff is incredibly friendly and congenial, and most important of all, available 24/7. Laundry services are also available upon request.
The hottest spot in the hotel is definitely the rooftop bar overlooking the Old City. Here, guests and locals alike enjoy pleasant music and al fresco dining. For some fun nights on the dance floor, head over to the Mirror Bar. The place was designed by the renowned architect Piero Lissoni and it plays a significant role in Jerusalem's nightlife. Expect excellent DJs and a rich variety of wines, spirits, and cocktails.
Prices start at $300 per night.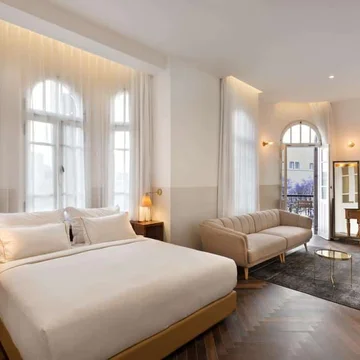 Hotel Nordoy
Providing world-class service and warm hospitality since 1925, Hotel Nordoy is the city's oldest and most and respectable hotel. Hotel Nordoy is situated in a monumental structure planned by Yehuda Megidovich, a respected architect in the city's early days. The architectural style can be best described as a blend of European design with ornate details, while the famous dome is responsible for the hotel's iconic status in the city.
Check Availability
What made Hotel Nordoy famous in the first place was its personalized service, so don't hesitate to ask the staff for whatever you may need. They already have a list of the best restaurants in town and like to pamper the little ones with gifts. You can borrow a bike from the hotel if you want to explore the city on two wheels or visit some of the nearby fitness spaces. After a long day of sightseeing, head over to the rooftop bar where you can contemplate your stay in Tel Aviv along with a glass of fine wine. There are parasol-shaded loungers if you need some privacy.
All of the 22 rooms and suites are decorated in a retro style, with antique desks, quirky prints, and leather headboards. The pink sofas add a sophisticated vibe, while bathrooms make an impression with monochrome marble. Every unit is spacious including standard doubles and the deluxe rooms feature sunny balconies. The two exclusive penthouse suites are adjacent to the iconic dome and feature spacious living and sleeping areas overlooking the city.
Cafe Nordoy serves a buffet breakfast, while for dinner and lunch you can expect a European menu paired with an extensive list of fine wines.
Guest rooms start at $300.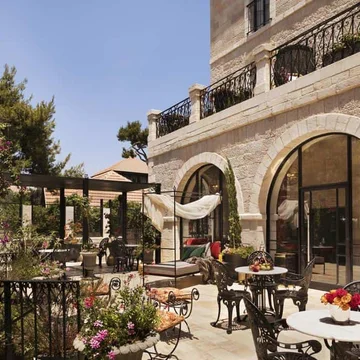 Villa Brown
Villa Brown is a boutique hotel located close to the Old City and Downtown Triangle area of Jerusalem. Jaffa Street and the Old City gates are just around the corner, while Mahane Yehuda Market and a handful of museums and galleries are a 10-minute walk away.
Check Availability
Villa Brown is situated in 19th-century Ottoman Villa which was owned by Isaac D'arbela, a prominent Jewish doctor. This small but charming property is surrounded by lush gardens. Inside, velvet furnishings, contemporary artworks, and plush sofas create decadent interiors. The warm and regal decor can also be spotted in the 24 guest rooms. Picture velvet headboards, red carpets, and gold side tables in spacious rooms. Bathrooms are equally tasteful with dark tiles, black-and-white flooring, and luxurious toiletries. For some extra comfort, book the Junior Suite which has a whirlpool tub.
At the mini spa, guests can enjoy a number of massages and beauty treatments while contemplating the views over the city. The hotel provides guests with access to a nearby gym and bikes. The breakfast offer at the hotel is impressive and features dishes such as feta salad, Turkish borek, fried halloumi, and omelets. For lunch and dinner, guests will need to explore the nearby restaurants.
Guest rooms start at $210.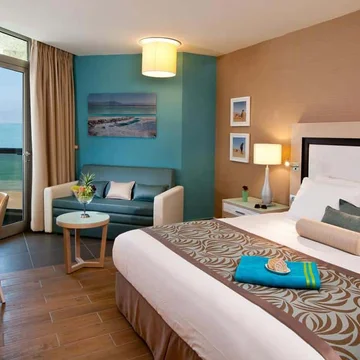 Herods Hotel Dead Sea
An award-winning hotel boasting its own private beach, Herods Hotel promises unforgettable days on the shores of the Dead Sea. The hotel is a short drive away from the Ein Bokek beach, but other than that, there isn't much in the surrounding area. However, the hotel's numerous facilities won't let you get bored.
Check Availability
The hotel boasts 223 generously-sized rooms over the Dead Sea. The serene beach-themed color palette keeps the atmosphere relaxed. Guests can expect sophisticated interiors with chic sitting areas, contemporary furniture, and wood tile floors. All rooms feature furnished balconies with sea views. In-room amenities include king-size beds, espresso machines, electronic safes, and mini-fridges. All bathrooms feature walk-in showers, bathrobes, hairdryers, and luxurious toiletries.
Pampering is guaranteed at the hotel's spa which is considered to be one of the best in town. The spa features a Turkish bath, sauna, and two indoor pools. A talented team offers a plethora of massages and beauty treatments, however, due to its popularity, the spa can get crowded. If you're visiting during winter, don't miss to spend an afternoon in the Turkish bath – it will keep you warm.
The breakfast buffet includes homemade bread, pastries, cheese, and pancakes.
Prices per night start at $270.
The American Colony Hotel
For over a century, the American Colony has been offering world-class service in the heart of Jerusalem. Numerous attractions and a handful of museums are just a 15-minute walk away from the hotel. The hotel has been popular among politicians and celebrities, including names such as Richard Gere, Winston Churchill, Bob Dylan, Tony Blair, Mikhail Gorbachev, and Giorgio Armani.
Check Availability
The hotel's guest rooms are situated in the Main House, the Old Wing, and the East House. Each building has its own character, the Old Wing features Ottoman decor and a central courtyard, the Main House has painted ceilings while the East House features individual gardens. The 95 guestrooms have a colonial style with four-poster beds, soft furnishings, and dark wood furniture. Rooms in the Old Wing are appointed with private spas and sunken baths.
The hotel's on-site restaurants and bars are well-known among locals. At the Arabesque, guests savor Middle Eastern dishes paired with local wines stored at the restaurant's wine cellar. Start your day with a morning coffee at the beautiful Courtyard restaurant lined with tall mulberry trees. For some spirits and cocktails, head over to the Cellar Bar where you might end up rubbing shoulders with a celebrity.
Guest rooms start at $330.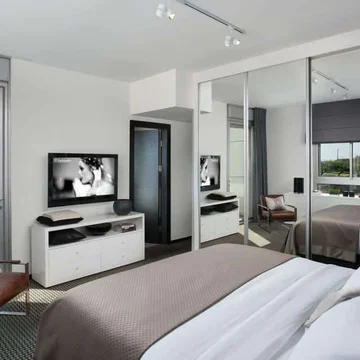 Alexander Tel-Aviv
Chic and stylish, Alexander Tel-Aviv caters to a younger clientele that wants to stay near the fun parts of the town. The hotel offers a direct path to Metzitzim Beach while guests can find numerous bars, restaurants, and shops at Ben Yehuda and Dizengoff streets which are just a short stroll away.
Check Availability
The hotel's property features an ultra-modern design with a blue-tinted glass facade and floor-to-ceiling windows. The interiors are as impressive as the exterior with reflective black glass, tall metal bookcases, green leather couches, and velvet curtains. All rooms at the hotel feature a unique design, but there's a decadent and warm ambiance throughout all units. Black leather couches, vintage writing desks, and retro prints are a recurring theme. In-room amenities include Nespresso machines, mini-fridges, interactive flat TV screens, and a safety deposit box. The bathrooms are spacious and feature rectangular tubs and rainfall showerheads.
There's a spacious 24-hour fitness center situated on the second floor and guests can arrange exercises with personal trainers. Peaceful moments and relaxation are guaranteed at the Japanese-inspired spa equipped with treatment rooms, massage rooms, and loungers. Guests receive a 20 percent discount on all treatments at the spa.
A complimentary breakfast is served in the lounge area. A la carte lunch and Mediterranean dishes are served at the hotel's on-site restaurant.
Guest rooms start at $245.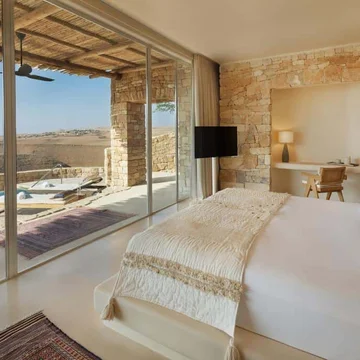 Six Senses Shaharut
The most exclusive resort on our list, Six Senses Shahrut is a rare gem hidden in the south part of Israel's Negev desert. The transfer from Tel Aviv or Jerusalem may be long, but it's worth the trouble as guests pass through biblical and breathtaking landscapes. Plus, they can reserve a helicopter and experience impressive vistas from a bird's eye view.
Check Availability
It's worth mentioning that Six Senses Shaharut was part of CNN's list of 20 best new hotels to visit in 2020. This doesn't come as a surprise considering the hotel's exclusive location and sumptuous accommodation rooms. The property occupies 46 acres in the Arava Valley and all rooms have views across the Negev Desert and Edom Mountains. Accommodation options range from junior suites and duplex rooms to three-bedroom retreats. The decor is minimalistic with a fresh color palette and soft furnishings. The king-size beds feature firm mattresses and are adorned with white linens.
Guests can relax in a lavish spa featuring treatment rooms, an indoor pool, 80-foot outdoor lap pool, a modern gym, and a yoga studio. There's even a nail bar for manicures and pedicures. Furthermore, Six Senses boasts an open-air amphitheater built in a Bedouin style where guests can dine under e star-studded sky.
Numerous excursions and adventures can be arranged including off-road driving, mountain climbing, rappelling, and hiking. Craft workshops, bird watching, and wine tours can also be arranged.
Guest rooms start at $400.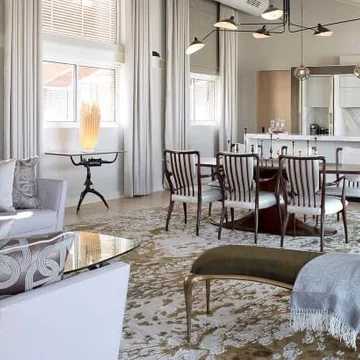 The Norman
As one of the most luxurious hotels on our list, The Norman is conveniently located in the heart of Tel Aviv. Step outside the hotel's gates and you'll find yourself in the upscale neighborhood of Rothschild Boulevard packed with numerous dining and shopping options. Ben Yehuda Street and Rabin Square are a short walk away.
Check Availability
Situated in two meticulously restored 1920 buildings, The Norman makes an impression with antique furniture, dark wooden furniture, and contemporary amenities. The attention to detail is noticeable in all guest rooms and suites as well. Leather headboards, polished metal TV stands, and even handmade furniture – there's a reason why The Norman is the most expensive hotel in Tel Aviv. Guests are also pampered with numerous amenities such as flabby bathrobes, slippers, fresh flowers, fine Israeli wines, and fully-stocked minibars. In-room amenities include Nespresso machines, electric kettles with a selection of teas, iPads, personal electronic safe, and luxurious bathroom amenities.
Guests can expect an excellent level of service. The staff team is multilingual and ready to go the extra mile to fulfill every guest's wish. Amenities are also top-notch, starting with the Japanese restaurant serving delicious dishes in a terrace setting. Alena Restaurant is more exclusive and offers Mediterranean dishes, French specialties, as well as a selection of international wines. Both restaurants serve kosher cuisine.
Deluxe rooms start at $600.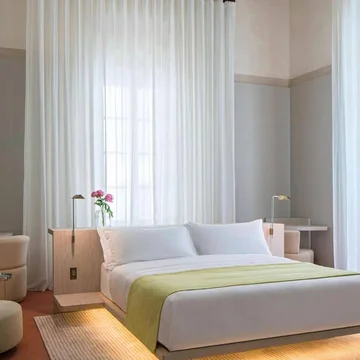 The Jaffa
If there's one thing we'd have to choose that sets Jaffa apart from the rest of the hotels on this list, that's its location. Set on a hilltop, this hotel offers expansive views over the 4,000 old port and the Mediterranean Sea. Plus, the Jaffa neighborhood promises fun moments with its dense cluster of restaurants, hip bars, concept stores, and popular flea market.
Check Availability
Aside from the hotel's excellent location, The Jaffa draws discerning guests with its remarkable architecture and interiors. Housed in what was once a hospital and a monastery, Jaffa oozes old-world charm with high-ceilings, arched colonnade, and arabesque details. The acclaimed British designer John Pawson accounts for the fresh design of the interiors and the lobby where an eclectic blend of traditional style and contemporary art takes place. Picture mid-century furnishings combined with some extravagant artworks from Damien Hirst.
High ceilings and tall windows grace all rooms, while the neutral color palette creates a sophisticated ambiance. King-size beds, capsule coffee machines, minibars, free Wi-Fi, and spacious bathrooms – amenities guarantee comfort.
The staff team is friendly, well-mannered, and they'll be happy to share their knowledge about Tel Aviv's secret gems and the history of the building. After a long day of sightseeing, you should definitely visit the hotel's outdoor pool with a hip poolside bar and numerous sun loungers. Massages, beauty treatments, and manicures are available at the hotel's spa which is very popular among locals.
Guest rooms start at $510.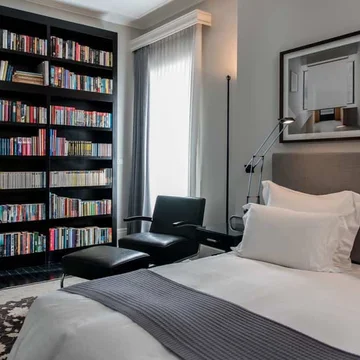 Hotel Montefiore
After a three-year restoration, Hotel Montefiore opened gates in 2020 to once again prove its former glory as Tel Aviv's first boutique hotel. The hotel is located in the upscale Lev Hair district which is very close to both Allenby Street and Rothschild Boulevard.
Check Availability
The hotel is situated in a small building that oozes French elegance. There are only 12 guestrooms, so you can expect personalized service, quiet, and intimacy. Rooms are sleek with a color palette featuring shades of black and white. You'll love the elegant bookshelves in every room packed with hundreds of multilingual books. The coffee tables, comfy sofas, and delicate lightning add to the homey atmosphere. Besides that, the hotel's staff likes to spoil guests with nice details such as complimentary wine, locally-sourced Gouda cheese, and even lighters for smoking on the balconies. Bathrooms are sleek with black marble floors, glass showers, and luxurious toiletries.
There's no spa and gym at the hotel, however, guests can get their exercise at a local gym that partners with the hotel. The hotel serves breakfast, lunch, and dinner at the charming on-site restaurant, but you can also enjoy your meals from the comfort of your room. Guests can expect a French cuisine with a Vietnamese spell and a long list of dishes infused with seasonal and local ingredients. Be sure to treat yourself to a glass of wine from the best Israeli vineyards.
Guest rooms start at $400.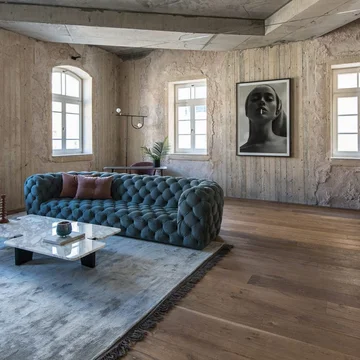 The Levee
When it comes to romantic getaways, very few accommodation options manage to beat the Levee. The hotel's accommodation offers quiet and intimate moments, while guests are just minutes away from the Neve Tzedek neighborhood popular among the younger generation due to its free spirit.
Check Availability
The Levee offers guests 8 spacious apartments with separate living and dining areas, high ceilings, and floor-to-ceiling windows. All units feature luxurious Italian furniture and contemporary artworks. With two-king size beds, two toilets, a balcony, and a fully-equipped kitchen, these apartments guarantee comfort. The apartments are often booked by business travelers who usually stay longer, so there are numerous details to make you feel at home, such as laundry space with a washer and dryer, a bottle of wine in the fridge, as well as a Netflix subscription. There's a 24-hour concierge who will happily sort out all your problems.
The hotel doesn't have an on-site restaurant, but complimentary breakfast is offered at the Herzl 16, a charming restaurant that's just across the street. The place is always filled with locals and the breakfast options are delicious. In case you get bored with the offer, don't miss out on visiting some excellent nearby restaurants, including Santa Katarina and Meshek Barzilay.
The guest room starts at $510.
The Vera Hotel
Created entirely by Tel Aviv-based artists, the Vera is a stylish hotel situated on Lilienblum street. The hotel is in close proximity to Allenby Street and Rothschild Boulevards. There's a handful of restaurants, bars, and clubs in the immediate neighborhood, while the renowned restaurant North Abraxas is right around the corner.
Check Availability
There are 39 rooms in the hotel all featuring modern, industrial style. Picture oak wood furniture, designer lamps, and king-size beds fashioned with 400-thread-count Egyptian cotton linen sheets. Each guestroom at the hotel is appointed with a flat TV screen, a minibar, in-room safe, air-conditioning, and high-speed Wi-fi. The bathrooms are cozy with walk-in showers, soaking tubs, bathrobes, and slippers. Toiletries are courtesy of Israel brand Arugot. On every bedside table, guests can find Vera's very own magazine with a city guide and numerous recommendations.
A la buffet breakfast consisting of pastries, juices, breads, and pastries is served at the lobby bar area. At the open-air rooftop terrace, guests can savor coffee and a selection of Israeli wine brands.
Guest rooms start at $210.
Find Luxury Hotels in Israel