11 Best Resorts in Sicily | Luxury Hotels for 5-Star Stays in Italy
Enjoy an idyllic experience on Italy's largest island. You'll find an array of luxury resorts in Sicily with world-class service for an unforgettable stay.
Sicily is renowned for its charming villages, awe-inspiring landscapes, archeological sites, and breathtaking beaches. It is also home to some of the most luxurious hotels in Italy. Whether you're looking to stay in a hilltop town or near a UNESCO world heritage site, the accommodation options in Sicily are endless.
While on vacation on this Mediterranean island, you'll want 5-star accommodation for an all-inclusive luxury experience. Let's take a look at the best hotels Sicily has to offer.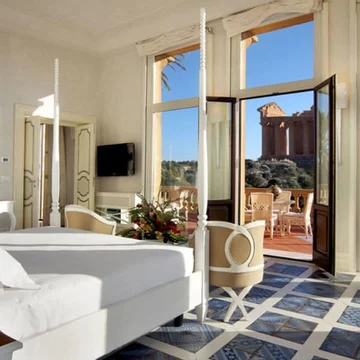 Hotel Villa Athena
Hotel Villa Athena is one of the best luxury hotels in Sicily. You'll find it nestled in the Archeological Park of the Valley of the Temples. So if you're looking to stay at a 5-star hotel in a UNESCO location, it is certainly one to consider.
Check Availability
The hotel is located within walking distance of the Temple of Concordia, a magnificent masterpiece that dates back to the 5th century BC. The hotel itself is a sight to behold. It boasts lush greenery, stunning architecture, and eye-catching interior designs.
The elegant rooms and suites offer beautiful views of the temples or the scenic park. There are several rooms to choose from that can accommodate up to four individuals.
The rooms have stylish décor with several comforts, including a flat-screen TV, comfortable four-poster beds, and marble bathrooms with Sicilian ceramics. Some of the sumptuous suites feature a spacious terrace, separate seating area, and impressive views of the Archeological Area of Agrigento and Temple of Concordia.
The Villa Athena Spa uses modern technology, ancient techniques, and fruits of the Valley to provide a refreshing and balancing experience. Here you can choose from a range of relaxing treatments, relieve tensions with a perfumed shower, or relax in the jacuzzi or steam bath.
You can also stroll around in the scenic garden or take a dip in the outdoor pool. For an exceptional culinary experience, head to Restaurant Federico II or La Terrazza degli Dei. Here you can taste delicious flavors while admiring the beautiful views.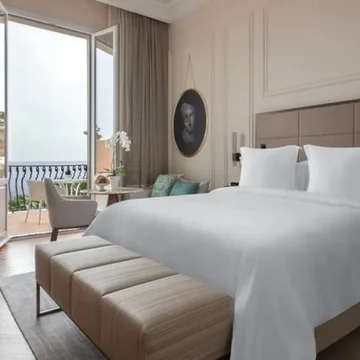 San Domenico Palace, Taormina, a Four Seasons Hotel
San Domenico Palace is an idyllic resort in Sicily that offers 5-star accommodation with exceptional services, luxury amenities, and breathtaking views. The 14th-century building sits on a rocky promontory overlooking the Ionian Sea. You'll also have impressive views of Mount Etna.
Check Availability
Each of the guest rooms and suites oozes luxury with modern décor and airy spaces, providing a peaceful setting to unwind. The contemporary rooms have flat-screen TVs, minibars, and spacious bathrooms. If you opt for an upgraded room or suite, you'll have a private terrace, living room, a private pool, and more.
San Domenico Palace offers several dining options, including private and in-room dining. Indulge in mouthwatering Mediterranean seafood dishes at Anciovi or fine dining at Principe Cerami. The Bar and Chiostro is an excellent place for a light bite with a warm cup of coffee or an inviting cocktail.
The hotel features a fitness center and an outdoor infinity pool for a refreshing swim. You can also enjoy a range of facials, massages, and other spa treatments. The spa services incorporate plant-based treatments and ancient techniques that will leave you feeling rejuvenated and ready for more adventure.
Other exhilarating experiences on offer include a stargazing safari exploring Mount Etna and a day trip to the Aeolian Islands. There is plenty to discover near the hotel, such as the Taormina Cathedral, the Ancient Theater of Taormina, and Mazzaro Beach.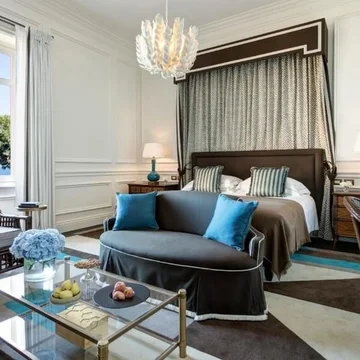 Villa Igiea, a Rocco Forte Hotel
If you want to stay at the most expensive hotel in Sicily, the Villa Igiea is a spectacular option. The hotel sits on the Gulf of Palermo, offering gorgeous panoramic views of Mount Pellegrino and the Tyrrhenian Sea.
Check Availability
This seaside sanctuary boasts a number of elegant rooms that are perfect for solo travelers, couples, and families alike. Depending on your chosen accommodation, you'll have stunning views of the garden, cityscape, or ocean.
The rooms are tastefully decorated with plenty of natural light, providing a peaceful and airy environment. A few amenities include a flat-screen TV, a stylish seating area, and a marble bathroom. Some rooms also have a private balcony.
After relaxing on the comfy beds with lavish linens, head to the wellness center for a soothing experience. The Villa Igiea Spa offers a range of therapeutic treatments, while the fitness center is an excellent place to let off some steam.
To further delight your senses, make your way to the Florio Restaurant for traditional Sicilian dishes. The exquisite menu features delicious meals made with fresh local produce, and many of the ingredients are sourced from the lush gardens on the premises.
The restaurant has floor-to-ceiling windows to admire the beautiful surroundings. And you can enjoy a seasonal breakfast at the winter garden room, which overlooks the scenic area and sea. Other facilities at this luxury hotel include two on-site bars, a tennis court, and an outdoor swimming pool.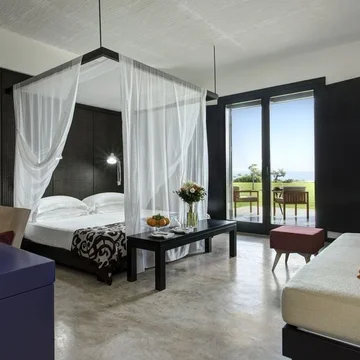 Verdura Resort, a Rocco Forte Hotel
Verdura Resort offers luxurious beachfront accommodation on Sicily's south coast. As this luxury resort is situated on a private beach, it's an excellent option for couples or travelers seeking a more intimate escape.
Check Availability
Here you'll have the serene shores at your doorstep and picturesque views of the countryside. The contemporary rooms feature private balconies or terraces to relax and marvel at the magnificent garden and sea views.
The room amenities include a Smart TV, minibar, and spacious en-suite bathrooms. Some of the accommodations have separate living spaces, private terraces, and private pools.
The hotel boasts an enchanting atmosphere with a number of delightful amenities, including six tennis courts and an infinity pool. There are walking trails on the premises, so you can get in your steps and take in the fragrant aromas from the lemon trees and olive groves.
You'll also come across two 18-hole courses and one 9-hole course at this golf resort. Practice your swing on your own or enhance your skills and get a few tips from PGA-qualified professionals.
The sumptuous spa offers an oasis of serenity with deluxe facilities, such as Thalassotherapy pools and Finnish saunas. You can also enjoy refreshing experiences at the hotel's fitness studio or take an invigorating yoga class.
When it comes to dining, your options are plentiful. There are several restaurants and bars on the premises with a wide selection of delicious creations, from fresh seafood dishes to expertly-mixed cocktails.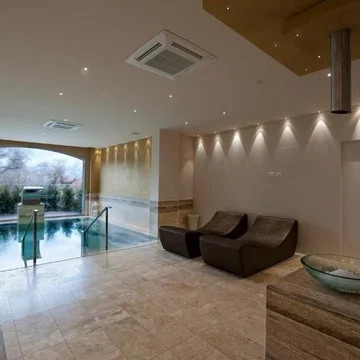 Hotel Villa Neri Resort & Spa
Hotel Villa Neri Resort and Spa is surrounded by lush gardens and overlooks the stunning Mount Etna. It is one of the best luxury hotels Sicily has to offer. Here you'll have awe-inspiring surroundings and exceptional services.
Check Availability
The hotel designs feature Sicilian natural materials as well as Taormina sandstone flooring and hand-made marble ceramics. The rooms are elegantly decorated and feature private terraces or balconies and hot tubs. Some of the rooms have their own small private cellar with an exquisite selection of wines.
The rooms boast a blend of old-world charm and modern comforts. After settling in your room, make your way to the relaxing Petra Spa. This soothing space is home to a mini hydromassage pool, Turkish bath, emotional showers, a sauna, and an ice fountain. You can also relax in the break room that features a heated water bed or take a dip in the large saltwater swimming pool.
For a delightful dining experience, head to the hotel's excellent restaurant to taste flavorful Sicilian cuisine. You can also indulge in a delicious breakfast buffet each morning.
There are plenty of exploring opportunities as the Villa Neri Resort and Spa is ideally located near Mount Etna. You'll come across several natural paths perfect for a scenic walk or bike ride. The hotel offers courtesy bike rentals and tailor-made, guided trips to Etna and Sicily. These exhilarating excursions can be done in a jeep.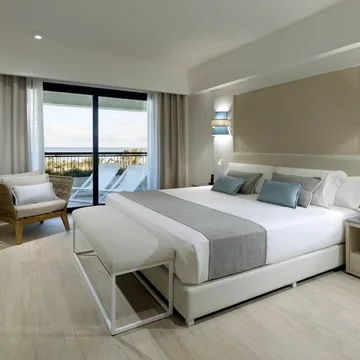 Campofelice di Roccella, Sicily
Grand Palladium Sicilia Resort & Spa
If you're looking to stay at one of the best seaside Sicily resorts, this idyllic establishment is an excellent option. Grand Palladium Sicilia Resort and Spa is steps away from the Mediterranean Sea and provides guests with direct access to the serene shores.
Check Availability
This lavish hotel has several room and suite types with airy spaces and lavish furnishings. The rooms are decorated in earthy hues that set the tone for a tranquil retreat. A few of the amenities that you'll have are a flat-screen TV, minibar, and free Wi-Fi.
Depending on your chosen accommodation type, you'll also have a cozy reading area. Here you can snuggle up with a good book or admire the stunning sea view on your private balcony.
There are a number of on-site restaurants for an exquisite gastronomic journey. Visit Sicania for classic Italian dishes, a healthy breakfast, tasty desserts, and more. If you're a meat-lover, be sure to visit El Dorado. You can also enjoy Italian and Asian flavors at Portofino and Chang Tai or head to the on-site bar for a drink.
Other spectacular hotel facilities include a fitness center, meeting rooms, and a wellness center with many rejuvenating massage treatments. Soak up the summer sun while relaxing at the beach or take a dip in the outdoor or indoor pool.
Although there are plenty of things to do at this luxurious resort, you'll want to explore nearby attractions too. A notable point of interest to discover is the Doric Temple of Victory, a magnificent archeological site.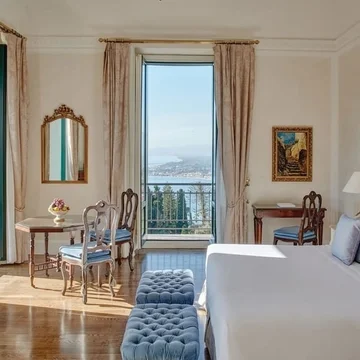 There are several polished rooms and suites in the main building and the adjacent Villa Flora. The rooms are tastefully decorated with deluxe furnishings, Sicilian ceramics, and gold accents.
The air-conditioned rooms have minibars, flat-screen TVs, and private marble bathrooms. Most have private balconies for you to relax and daydream while admiring the stunning sea views.
Have a sensual experience at the hotel's luxurious spa. The restorative treatments include all-natural, organic products. Here you can enjoy a soothing massage with a range of essential oils, including prickly pear, sweet almond, orange blossom, and tangerine.
After a therapeutic massage, savor Sicilian cuisine at one of the on-site restaurants. Choose delicious Mediterranean dishes from the Michelin-star menu at Otto Geleng or have a cocktail at Bar Timeo. Ristorante Timeo is an excellent spot for exquisite dining, offering a stylish setting with stunning views of Mount Etna and Naxos Bay.
The Pool Bar is a superb place to order a drink before relaxing on sun loungers beside the glistening waters. Or you can watch live cooking at the Pool Grill.
Although you could spend hours indulging in tasty treats and relaxing at the outdoor pool, there are many top attractions near the hotel. These include the Ancient Theater of Taormina, Naumachie, and Taormina Cathedral.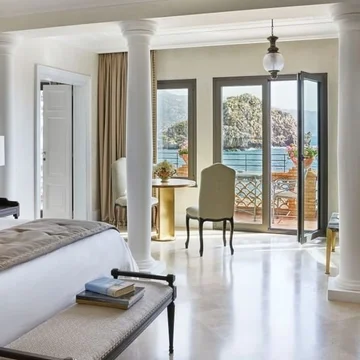 This beachfront hotel sits in a centuries-old building and has provided guests with world-class service since the 50s. Here you'll have access to the stunning sub-tropical gardens that lead down to the beautiful private pebbled beach.
The rooms are decorated with antique furniture, plush fabrics, and eye-catching artwork. You'll have a spacious marble bathroom and designer toiletries. Most of the rooms have a private balcony or terrace with comfy furniture.
Soothe your body and mind with a calming experience at the hotel's wellness center. You can have a revitalizing treatment at the ocean-facing garden. Take in the beautiful surroundings and aromas of orange flowers, jasmine, amber, and more.
You'll also have access to the fitness center with Technogym equipment and a glistening outdoor swimming pool overlooking the ocean. The hotel offers a private shuttle service, as well as exciting boat cruises along the coast during summer.
After a couple of hours of relaxation and adventure, satisfy your stomach at Ristorante Sant'Andrea. This upscale restaurant offers impressive sea views from the outdoor terrace and an extensive menu celebrating fresh produce and seasonal ingredients.
If you want a drink in an informal, relaxing setting, head to Bar Sant'Andrea for a Silician mojito, light bite, and more. If you're traveling with your significant other, the hotel offers an outdoor cinema experience with champagne. You can have a romantic date while relaxing on a sun lounger or cabana on the beach with a glass of bubbly in hand.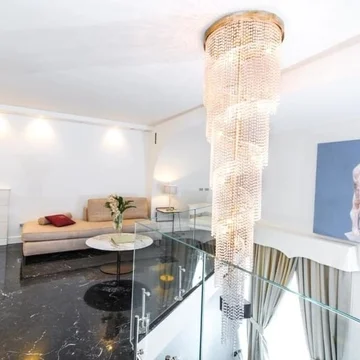 Hotel Metropole Taormina
Revel in luxury at Hotel Metropole Taormina. The hotel is set in a 13th-century historic house that exudes opulence in every detail. You'll find it situated between Mount Etna and Naxos Bay, so expect stunning scenery and sea views.
Check Availability
There are many upscale rooms and lavish suites at this luxurious hotel in Sicily. These include both classic and contemporary designs with deluxe furnishings and marble floors. The sumptuous suites offer panoramic ocean views that will leave you in awe.
The spacious rooms have several amenities for a comfortable stay, including air conditioning, flat-screen TVs, and en-suite bathrooms. Upgraded rooms feature additional comforts, such as a private terrace and whirlpool tub. The rooms are welcoming and soundproof, so you're promised a peaceful night's sleep.
You can enjoy an exclusive experience at the hotel's on-site restaurant. The menu draws inspiration from ancient Sicilian recipes and highlights seasonal ingredients with a Mediterranean cooking style. And, of course, you'll have a mesmerizing setting while dining.
Add to your culinary journey by having a creative cocktail at the pool bar. The hotel's infinity pool is the perfect place for a refreshing dip while marveling at the stunning vistas of the Ionian Sea.
The hotel spa provides a tranquil environment where you can enjoy a selection of treatments and facilities. Sip on a cup of herbal tea while treating yourself to a beauty ritual or body treatment. There are also lava stone beds for a short break between the soothing treatments.
As the hotel is located in the heart of Taormina, there are plenty of places to explore. It is just a short stroll away from the beach and within walking distance of Taormina Cathedral and the Ancient Theater of Taormina.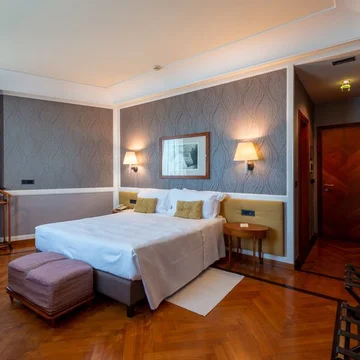 Grand Hotel Ortigia
Grand Hotel Ortigia is a historic 19th-century hotel with a delightful atmosphere. Although it was renovated in the late 90s, the hotel maintained its original elegance and charm. It is one of the best 5-star hotels in Sicily for solo travelers, families, and couples alike.
Check Availability
If you're traveling in a group, the bi-level suites are an excellent option as you can arrange for additional beds too. On the other hand, the classic rooms are great for solo travelers seeking comfortable accommodation with spectacular views.
The simple yet elegant rooms have several amenities, including a safe, minibar, LCD TV, private bathroom, and soundproofing. After settling in, you can start your day with a tasty continental breakfast at the Terrazza Sul Mare restaurant.
The restaurant serves delectable dishes that can be customized for vegans, vegetarians, and guests with food intolerances. You'll also have beautiful views of the Gulf of Syracuse from the terrace. The restaurant is a super spot to sip on a cocktail while watching the sunset or enjoy a romantic dinner date.
For a pampering experience, head to the relaxing spa, which offers a range of beauty and massage treatments. Other hotel services include meeting and conference rooms, a lounge bar, and access to a private beach.
If you want to discover hidden gems and top attractions in the city, be sure to check out the Temple of Apollo, Syracuse Cathedral, and Arethusa Fountain.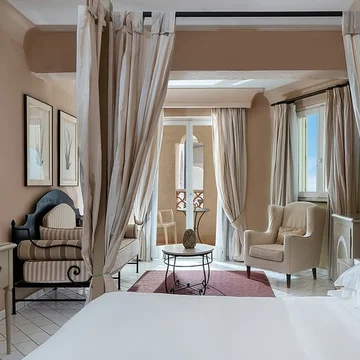 Therasia Resort Sea & Spa
Nestled on a volcanic island off the coast of Sicily, Therasia Resort is a 5-star hotel that provides guests with exceptional services. The luxurious hotel sits on the cliff on Volcanello. Here you'll have magnificent views of the Aeolian Islands and easy access to a remarkable private beach.
Check Availability
The airy rooms boast breathtaking views of the islands, sea, or volcano. The interior décor compliments the stunning surroundings with earthy tones and eye-catching pops of color.
Depending on your chosen accommodation type, you'll have a comfy four-poster bed with lavish linen, a furnished balcony or terrace, a hot tub, and a seating area. The private bathrooms feature lava stone and Sicilian tiles, and some have large soaking tubs.
When it comes to dining, you'll be spoilt for choice. The hotel has three restaurants where you can try creative dishes and take in the aromas of Sicilian cuisine. Indulge in traditional dishes on a breezy terrace at L'Arcipelago. Choose from a Michelin starred menu at Il Cappero or have a light meal in an informal yet stylish environment at I Grusonii.
If you're planning an intimate date, the hotel offers a romantic dinner in a gazebo with a delectable tasting menu and some of the finest wines. For those who want to enhance their culinary skills, partake in one of the hotel's 5-star cooking classes and learn a few secrets about Sicilian cooking.
After satisfying your stomach, enjoy a personalized beauty treatment or relaxing massage at the hotel's spa. Here you'll have access to an enclosed heated pool, sauna, Turkish bath, emotional showers, and whirlpool tub.
For more relaxing experiences, take a stroll in the park. You'll come across plenty of fascinating succulents and other plant species along the way.
Relax at the Best Hotels in Sicily, Italy
Now that we've looked at the most luxurious Sicily hotels, are you ready for a relaxing escape in Italy? All of these opulent hotels and resorts provide exceptional services and exclusive facilities for a splendid stay.
With luxury hotel comforts and spectacular surroundings, you'll have a one-of-a-kind experience in this mesmerizing destination. If you're looking for more 5-star accommodation options for your adventures in Italy, check out this guide on luxury hotels in Tuscany.
Find Luxury Hotels in Sicily