12 Best Luxury Hotels in Tuscany, Italy | 5-Star Tuscan Resorts
Nestled in central Italy, Tuscany is an awe-inspiring region that offers an idyllic escape. It provides the perfect setting for a luxurious vacation with views of the rolling Tuscan hills, vineyards, rugged mountains, and more.
There are many locations for an unforgettable experience, from charming art towns with Renaissance architecture to medieval villages with a rich history. The region is also home to some of the most expensive hotels in Italy that promise a splendid stay with world-class services.
Let's take a look at the best accommodation options for a 5-star luxury vacation in Tuscany.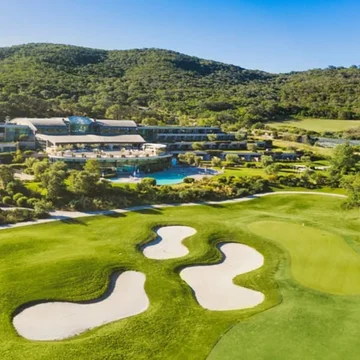 Argentario Golf Resort and Spa
If you want to stay at one of the best Tuscany hotels, the Argentario Golf Resort and Spa is an excellent option. It features several stylish rooms and suites with comforts such as Tabarca-stone tubs and flat-screen TVs.
Check Availability
If you're traveling with friends or family, the villa is perfect for accommodating larger groups. It is set among ancient olive trees with a peaceful atmosphere. The villa amenities include a spacious living room, equipped kitchen, Turkish bath, hot tub, and more.
There are jogging trails and a state-of-the-art fitness center with Technogym equipment to keep up with your fitness routine. You can also hit a hole-in-one at the 18-hole golf course or enjoy some friendly competition at the padel and tennis courts.
You'll have access to the lavish wellness center that features a heated indoor pool, tanning showers, massage cabins, and more. Enjoy a relaxing spa massage or blow off some steam in the sauna. Other superb facilities include a small football pitch, an outdoor swimming pool, and two upscale restaurants and bars.
The Dama Dama restaurant serves delectable dishes made with fresh ingredients from the hotel's vegetable garden or local farms. The Club House offers delicious Tuscan cuisine to satisfy your senses. This 5-star luxury hotel also features a wine cellar with some of the best wines from across the globe.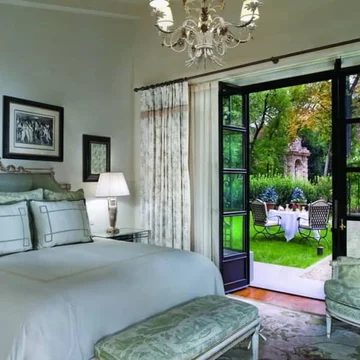 Four Seasons Hotel Firenze
The Four Seasons is one of the world's most renowned luxury hotel brands, and this Florence-based hotel certainly lives up to its world-class standards. Relax at this opulent historic hotel that exudes luxury in every detail.
Check Availability
Here you can amble around in the extensive landscaped gardens where you'll find stunning statues and fountains scattered among the ancient trees. The hotel offers a number of room types, including historic suites and deluxe family accommodation.
The hotel rooms boast a blend of modern comforts with Renaissance décor. The room features include gorgeous painted ceilings, spacious living areas, ultra-soft bed linen, large European soaking tubs, and rain showers.
If you're looking to relax, there is a sumptuous spa with a range of soothing beauty treatments. These include natural ingredients and ancient Italian traditions for a rejuvenating experience. Other wellness services include a steam room, yoga classes, and a fitness center.
You can also ease your mind and muscles at the outdoor whirlpool set among the picturesque gardens. To further satisfy your senses, have a delectable meal at one of the hotel's on-site restaurants.
You can enjoy Italian, Asian, and other international cuisines as well as tasteful cocktails. While there is plenty to do at this grand hotel in Tuscany, there are several must-see sites nearby, such as the Florence Cathedral and the Uffizi Gallery.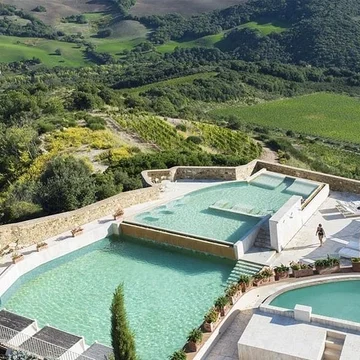 Castelnuovo dell'Abate, Tuscany
Castello Di Velona
This luxurious hotel is nestled on a hill overlooking the remarkable UNESCO-listed Val d'Orcia. Castello Di Velona is one of the best hotels in the Tuscan countryside, with beautiful landscape views of olive trees and vineyards.
Check Availability
The hotel is in a restored castle that dates back to the 11th century. It features elegant rooms and suites, each with stunning views of the Val d'Orcia and the Brunello of Montalcino's vineyards.
Some rooms have stylish modern designs, while others boast traditional furnishings. Depending on your selected accommodation, you'll have a spacious separate living space and a panoramic private balcony. Some rooms also have private thermal pools.
The lavish hotel spa is a haven for wellness and relaxation. Here you'll find five stylish treatment rooms with spectacular views, a panoramic sauna, and an ice fountain. There are also emotional showers that invigorate your senses using aromatherapy and chromotherapy.
The spa also features a pool that connects to the hotel's outdoor pools. Other luxurious facilities include a gym with Technogym equipment under the veranda and several on-site restaurants and bars. These include Michelin Star restaurants that serve both traditional Tuscan recipes and innovative creations.
If you want to learn more about Tuscan and Italian gourmet dishes, the hotel offers cooking classes and truffle hunting experiences. Guests can also enjoy wine tasting and try organic olive oil from the surrounding ancient vineyards and olive groves.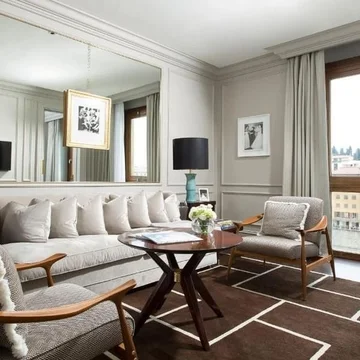 Portrait Firenze
This is one of the best hotels Tuscany has to offer for those seeking to stay in the heart of Florence. The hotel is positioned beside the gorgeous Arno river and is only a short stroll away from the medieval arch bridge, Ponte Vecchio. There are also several shops and charming cafes nearby.
Check Availability
Portrait Firenze offers an intimate setting that's ideal for couples and travelers looking to experience the rich culture in the area. The boutique hotel features 37 rooms and suites with timeless luxury designs. Some rooms boast breathtaking views of the river and Ponte Vecchio, while others have stunning city views.
The rooms are decorated with lavish furnishings and soft cashmere. You'll have several luxury comforts, such as an iPod docking station, flat-screen TV, minibar, and a private marble bathroom with designer toiletries. Some rooms have private balconies and separate living spaces that are perfect for relaxing with a good book.
The Caffé dell'Oro offers an exquisite culinary experience using both traditional and international flavors. The on-site Italian café features vintage furnishings with an elegant ambiance, providing an idyllic setting for an inviting meal.
As a guest at this luxurious Tuscany hotel, you'll have access to the nearby White Iris Spa at the Continentale hotel. Here you can choose from an extensive range of beauty treatments and massages for a refreshing experience.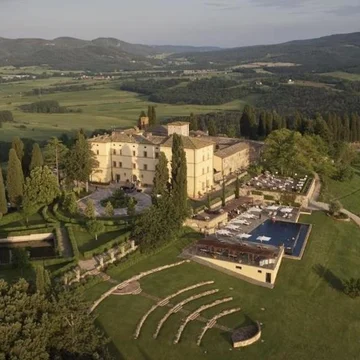 Castello di Casole, a Belmond Hotel, Tuscany
Relax at a 10th-century estate and discover the hidden gems of the Tuscan countryside. A stay at Castello di Casole offers a spectacular vacation with exceptional services. Here you can explore local farms and enjoy wildlife sightings and truffle hunting.
Check Availability
After a few hours in nature, a luxurious hotel room awaits you. There are 39 charming rooms and suites within this former castle. The rooms have contemporary country and typical Tuscan-style designs.
This includes cozy wood-beamed ceilings, lavish furnishings, antique mirrors, and exposed stone walls. You'll have several room comforts, such as an Italian-style bathtub, flat-screen TV, air conditioning, and plenty more.
For exquisite dining experiences, indulge in delicious Tuscan dishes at the hotel's on-site restaurants or enjoy a cocktail with views of the stunning rolling hills at the Pool Bar. There is also a wine cellar on the premises with a wide range of local and Italian wines to try.
In the heart of this luxury hotel, you'll come across an opulent spa in a former wine cellar with impressive views of the lush valley. Spa treatments include a wide range of modern, Etruscan, and traditional therapies that use local ingredients. You can also enjoy a revitalizing yoga session with an expert trainer in the spa garden.
You can arrange several exciting activities through the hotel, including hiking, biking, stargazing, and first light walks in nature. There is also an enchanting safari on offer, where you can spot deer, porcupines, wild boar, and more.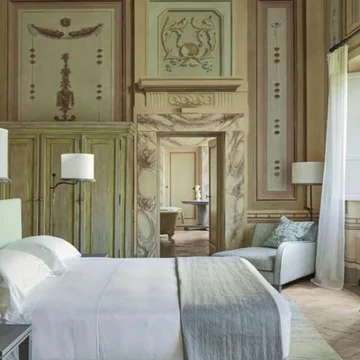 Barberino Tavarnelle, Tuscany
COMO Castello Del Nero
Situated among the rolling hills of the Chianti wine region, the COMO Castello Del Nero offers a luxurious experience in a 12th-century castle. The castle sits on 740 acres of lush grounds and features breathtaking Renaissance and modern designs.
Check Availability
It is one of the best resorts in Tuscany, with several spacious and aesthetically pleasing rooms and suites. The room designs feature cool tones and original 18th-century frescoes and beamed ceilings.
The airy rooms have awe-inspiring views of the garden, courtyard, or Tuscan hills. Each room has lavish amenities for a comfortable stay, and some include a separate living area, private terrace, and fireplace.
The hotel offers relaxing wellness facilities and rituals to ease your mind and body, including soothing spa treatments and private yoga and fitness classes. Other superb facilities include a heated vitality pool, sauna, and aromatic steam room.
For more stimulating experiences, there is a forest fitness center for outdoor exercise, hiking paths, and a seasonal outdoor pool. There are also three restaurants on the estate. Indulge in Mediterranean cuisine while admiring the views of ancient olive groves at the Pavilion or enjoy fine dining in the Michelin-starred La Torre.
If you want an informal yet elegant atmosphere, the La Taverna is an excellent option for classic Italian dishes made in the original 12th-century kitchen. The hotel also offers several cultural experiences and adventures, such as cooking classes, truffle hunting, art and architecture tours, and wine tastings.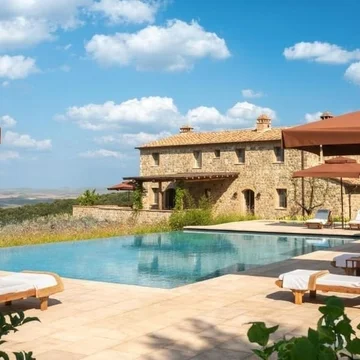 Rosewood Castiglion del Bosco
If you're looking to stay at one of the best luxury hotels in UNESCO locations, the Rosewood Castiglion del Bosco will not disappoint. You'll find this 800-year old Italian estate located in the breathtaking, UNESCO-listed Val d'Orcia.
Check Availability
In addition to the beautiful views of the Tuscan countryside, the hotel boasts breathtaking designs with antique furnishings, local textiles, and artisanal accents. There are several deluxe suites and villas for you to choose from, including garden suites and six-bedroom villas.
The suites include comfortable four-poster beds with lavish linen, a cozy seating area, and stunning terrace views. The villas are an excellent pick if you're traveling in a group. Villa amenities include lush gardens, heated infinity pools, and a fully equipped kitchen.
You'll also come across an organic kitchen garden and two restaurants on the premises. For a relaxing experience, head to the sumptuous spa or take a dip in the infinity pool that overlooks the Val d'Orcia and Montalcino.
You'll also have access to tennis courts, an exclusive golf club, and a fitness center. If you want more outdoor activity, there are designated hiking and biking trails throughout the 5000-acre estate.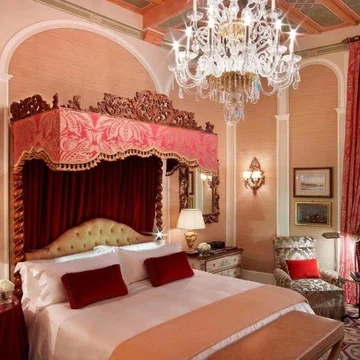 The St. Regis Florence
The St. Regis Florence hotel is another gem situated near the Arno River with lovely views of the Ponte Vecchio. This prestigious Renaissance palace provides you with 5-star treatment and many lavish amenities.
Check Availability
The rooms and suites have antique artwork and furniture, one-of-a-kind décor pieces, and crystal chandeliers that create an idyllic environment. You'll have several modern amenities, including a multimedia system, flat-screen TVs, and marble bathrooms. Additionally, each room provides stunning views of the city or courtyard.
If you're traveling with kids, the hotel offers babysitting services to care for your little ones in your guest room. You can also request family necessities such as rollaway beds and cribs. The hotel also offers a family-friendly treasure hunt that includes discovering hidden treasures in the area, making antipasto, and a tasting tour for the adults.
The hotel is also home to a 24-hour fitness center with state-of-the-art equipment. After breaking a sweat, enjoy relaxing treatments in a private suite spa.
The Winter Garden Restaurant provides an extraordinary experience with local flavors and gourmet delights. The restaurant serves mouthwatering Mediterranean dishes in an elegant environment. A breakfast buffet is served at the Winter Garden Lounge each day. If you want a quick bite or drink, visit the Winter Garden Bar.
There is also a wine cellar on the premises with an impressive collection of Italian and international wines. You can enjoy champagne and wine tasting or reserve the cellar for a private event. The hotel also features several meeting and banquet rooms for business and social events.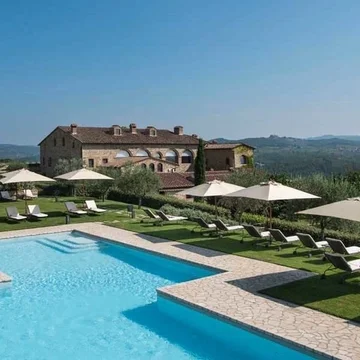 Hotel le Fontanelle
Hotel Le Fontanelle is one of the best Tuscan hotels for those seeking a peaceful getaway in the countryside. This sophisticated hilltop hotel is surrounded by lush landscapes and offers magnificent vistas of the Chianti region.
Check Availability
The 5-star hotel is in a restored building that dates back to the 13th century. The airy rooms have simple designs, beamed ceilings, and terracotta floors that add to the old country feel. You'll also have breathtaking views of the valley, woods, and vineyards.
After settling in your luxurious room, take a stroll around the botanical garden, admire the scenic views, and take in the soothing aromas of fresh flowers. You'll come across around 350 species of trees, plants, and medicinal herbs. The lush gardens provide the perfect setting to relax with your favorite book surrounded by picturesque cypress trees and oaks.
At this opulent hotel, you can enjoy a relaxing spa treatment or relax in the spa's indoor pool. There is also a large outdoor swimming pool for a refreshing dip. Explore the stunning surroundings with the hotel's complimentary mountain bikes.
Other hotel facilities include on-site restaurants and bars, meeting rooms, 24-hour concierge services, and a helipad for private landings. As Hotel Le Fontanelle is a pet-friendly accommodation, you can arrange for items such as pet beds, bowls, and a special menu for your furry friend.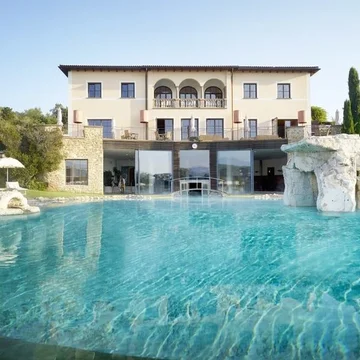 San Quirico d'Orcia, Tuscany
ADLER Spa Resort THERMAE
Relax at one of the best Tuscan resorts in the Val d'Orcia valley. The Adler Spa Resort Thermae provides a range of air-conditioned rooms for a comfortable stay in Tuscany.
Check Availability
The rooms feature deluxe comforts such as flat-screen TVs, room service, private bathrooms, and spacious seating areas. You can admire the countryside views from your balcony or terrace.
After taking in the gorgeous surroundings, head to the hotel bar for a light snack. The on-site restaurant serves delicious Tuscan cuisine using fresh, locally-produced ingredients. Here you can also enjoy a daily buffet breakfast and a small afternoon buffet with several tasty homemade cakes.
Delight your senses with the luxurious wellness facilities, including a Finnish sauna, Turkish bath, and a fitness center. You can also relax in the thermal pool or take a refreshing dip in the semi-Olympic sports pool.
If you're on vacation with kids, there is plenty to keep the little ones entertained at the AKI Kids Club. This includes daily supervised activities specially designed for children aged four and above.
You'll find cycling and hiking trails for some exhilarating outdoor activity. The hotel provides equipment for exploring and offers guided hikes and mountain bike tours.
If you're seeking more adventure, the hotel is near a popular tourist destination, Bagno Vignoni. This tiny village is home to several must-see sites, including the famous Parco dei Mulini hot springs and Chapel Vitaleta.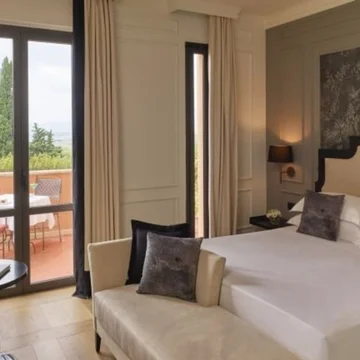 San Casciano dei Bagni, Tuscany
Fonteverde
This 5-star hotel is in a 17th-century building in the heart of the Val d'Orcia. It's an exceptional destination for a rejuvenating retreat with inviting hospitality.
Check Availability
The airy rooms have various luxurious amenities for a splendid trip, including air conditioning, minibars, and private bathrooms. Each room is tastefully decorated, and some feature separate living rooms and private balconies where you can marvel at the views of the Val d'Orcia and Mount Amiata.
The hotel provides a relaxing experience with luxurious wellness and spa services. You will also feel pampered by the soothing thermal waters at the hotel's infinity pools. Additionally, there is an outdoor summer pool, sun loungers, and expansive gardens.
Other superb facilities include a Turkish bath, a tennis court, and several restaurants and bars. Indulge in a tasty breakfast or lunch at the La Corte Restaurant that features large windows with enchanting views. The Ferdinando I Restaurant sits inside a Renaissance-era portico and offers exquisite fine dining that's ideal for an intimate dinner.
Fonteverde offers plenty of wonderful experiences that you can enjoy with your furry companion. The hotel welcomes pets free of charge so your pet can relax in the thermal waters as well. Additionally, a pet guest kit is provided, and a dog sitter is available to look after your precious pup.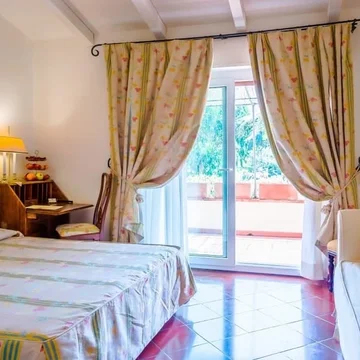 Hotel Villa Ottone
Hotel Villa Ottone is one of the best hotels in Tuscany, Italy, for those seeking an intimate getaway. It is nestled in a centuries-old park on a private beach on Elba Island. So expect outstanding views of the href='https://www.britannica.com/place/Mediterranean-Sea'>Mediterranean Sea.
Check Availability
You'll come across beautiful plants and flowers in the scenic gardens. In addition to the stunning surroundings, you'll stay in a magnificent 19th-century building. Here you'll find sophisticated décor, antique furniture, and a number of elegant rooms.
Some of the deluxe amenities include a cozy living space, sun terrace, and flat-screen TV. After settling in your room, take a dip in the glistening outdoor pool or take a stroll to the private beach.
There are also tennis courts, a fitness center, a spa and a relaxation area on the premises. If you're on vacation with kids, the hotel offers fun services specifically for children and teenagers. Guests can also reserve a ferry through the hotel to explore nearby islands and attractions.
When it comes to dining, you're spoilt for choice. Enjoy delicious Italian and international cuisine in a tranquil setting surrounded by eucalyptus trees at the Park Restaurant. For a more casual yet elegant experience, head to The Tavern Bar to indulge in a mouthwatering meal on the panoramic terrace that overlooks the beach. There is also a stylish bar with ceiling décor that leaves guests gazing in awe.
Relax at Idyllic Luxury Hotels – Tuscany, Italy
Are you ready for a one-of-a-kind adventure in Italy? Stay at one of the best luxury hotels in Tuscany for an unforgettable experience. These elegant establishments boast awe-inspiring architecture, traditional Tuscan décor, and breathtaking views that will leave you gazing in wonder.
There are plenty of delightful services on offer, from exquisite culinary creations to soothing spa treatments. A stay at one of these luxurious hotels is perfect for a well-deserved getaway. So, make your reservation and enjoy a luxury all-inclusive vacation
Find Luxury Hotels in Tuscany