14 Best Luxury Hotels in Tokyo | 5-Star Hotels in Japan's Capital City
Tokyo is currently the world's largest 'Megacity' by population, with millions of tourists and locals flocking to the country's capital every year. It has mastered the duality of natural beauty and futuristic metropolitan life. Here, you have cherry blossoms blooming in the street and Mount Fuji peaking over the skyscrapers and subway stations in central Tokyo.
It's only natural that ‌ luxury hotels in Tokyo would mimic this same blend of nature and modernity. The city is home to some of the world's largest luxury hotel brands administering impeccable service and luxurious comfort every time.
Whether it's your first visit to the city or you're a seasoned traveler, these luxury hotels will ensure an unforgettable stay every time. Find out what are the finest hotels in Tokyo, Japan below.
Best Hotels in Tokyo, Japan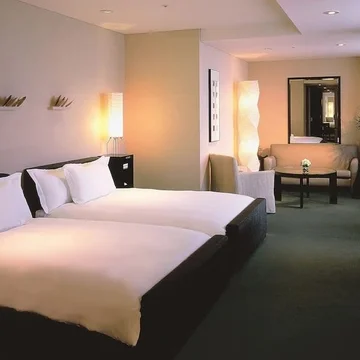 Hotel Park Hyatt Tokyo
The Park Hyatt Tokyo hotel is high above the streets of Shinjuku, allowing beautiful views of the buzzing nightlife below. Here, you're also in clear sight of Tokyo's most beloved resident, Mount Fuji. While Shinjuku is popular for its endless nights of karaoke and clubs, it also has very upscale hotels and restaurants.
Check Availability
This swanky hotel with clean open spaces retains its ambiance through the massive windows and dim lighting. It is contemporary while incorporating familiar Hokkaido wood paneling on its walls and ceiling.
Hotel Park Hyatt Tokyo sits in the 52-floor Shinjuku Tower but only occupies the top 14 floors. There are 177 rooms in total. Each room is the epitome of a lavish existence with Egyptian cotton bedding and original artwork on the walls. The bathrooms are spacious and have deep bathtubs to soak all of your cares away.
If that's not enough, enjoy a pamper session at the Park Spa or browse through the wide variety of library books or videos on demand. The Park Hyatt Tokyo hotel also has four restaurants with a panoramic view of the city skyline from New York Grill & Bar on the 52nd floor.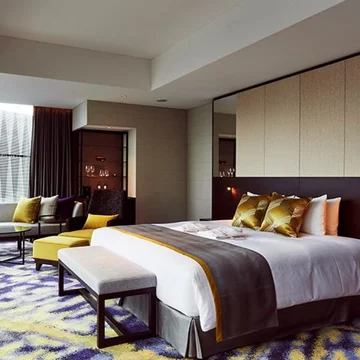 The Gate Hotel
The Gate Hotel is in the Yurakucho district of Tokyo. Its name directly translates to 'there is fun in this town,' and it does not disappoint. Yurakucho is a popular shopping neighborhood with many restaurants and izakaya bars that attract numerous high-class shoppers and visitors. It is only fitting that this high-class hotel is situated here too.
Check Availability
The Gate Hotel is a modern hotel that contrasts city life with natural wood interiors. Most of the hotel has floor-to-ceiling windows that overlook the center of Tokyo as well as Tokyo Station, which is a short walk away.
Rooms here are luxe, and even the more affordable options only have the best amenities — perfect for a truly comfortable stay. Each room comes with a Nespresso machine, a minibar, and a seating area. Bathrooms are minimalistic, without much clutter, and only carry the essentials, including complimentary nightwear and either a rain shower or bathtub.
The Gate Hotel has facilities for disabled guests, too, so no one feels left out. Break a sweat at their fitness center and then cool down at one of their two restaurants on-site. The Lobby Lounge is also a must-see for a sundowner overlooking the beautiful city as the sun sets and the lights under the night sky twinkle.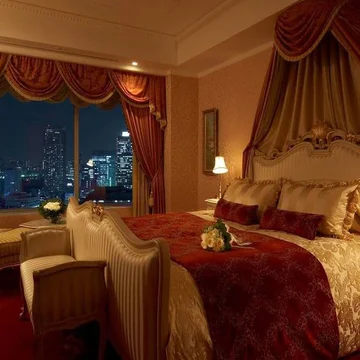 The Prince Park Tower
Nestled in Shiba Park, this contemporary hotel is next to what tourists often describe as Tokyo's red and white Eiffel Tower- Tokyo Tower. While not as tall as its towering neighbor, The Prince Park Tower still has phenomenal redeeming qualities.
Check Availability
The 33-story Prince Park Tower has chic rooms that favor clean lines and natural light streaming through the wall of windows. On the 32nd floor, also known as the Royal Floor, you can enjoy being treated like nobility for a true luxury hotel experience by staying. There are three suite types on this floor, each with a Club Lounge pass and exclusive butler service.
Each luxury suite has its own theme of royally decorated living spaces. Each suite also has a spacious lounge and dining area. The bathrooms are equally opulent, with spa baths, showers, and deluxe bathroom amenities.
The Prince Tower knows how to keep the fun going with highlights including karaoke, a bowling alley, a spa, and fitness facilities. There are nine on-site restaurants in total, with three of them offering Japanese cuisine.
The Brise Verte, the hotel's French cuisine Restaurant, and Sky Lounge offer panoramic skyline views as you enjoy your meal or drink prepared by cuisine experts.