No one needs an excuse to visit Mexico. The country's mesmerizing surroundings, golden beaches, and vibrant culture have always been enticing high-end travelers to embark on an adventure. If you're looking for some luxury hotels in Mexico in order to enhance your travel experience, we've got you covered.
We have selected the best luxury hotels in Mexico where you can enjoy delicious Mexican cuisine, tropical elegance, and world-class service.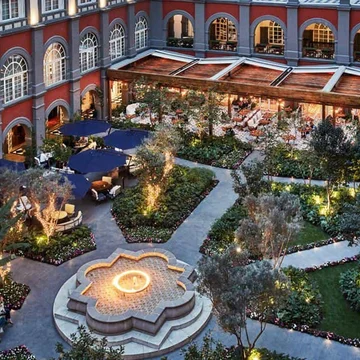 Four Seasons
Featuring an ideal location on the central Avenue Paseo de la Reforma, only moments from some popular attractions in the area, Four Seasons is a sophisticated hotel ideal for picky high-end travelers. A quick stroll will take you to the Angel of Independence, the marvelous Bosque de Chapultepec, and the world-famous Museo Nacional de Antropologia (Anthropology Museum). The trendy neighborhoods of Condesa and Polanco are just a stone's throw away.
Check Availability
Set amidst a lavish garden full of tropical fruit trees and chirping canaries, Four Seasons is a vast hacienda-style property bound to make an impression. The hotel's colossal property centers around a star-shaped Spanish-style fountain surrounded with steel statues and wildflowers where guests prefer to drink their morning coffee.
The 240 sumptuous guest rooms and suites were renovated in 2015 and now boast the latest furniture and amenities as well as state-of-art technology. Colored in a vibrant burgundy palette and featuring delicate lightning, these generously-sized rooms reflect perfectly the vibrant spirit of Mexico City. All feature extremely comfortable king-size beds, clean-lined sofas, iHome deck, flat TV screen, and well-stocked minibars. The spacious bathrooms feature deep soaking tubs and L'Occitane toiletries.
Pamper yourself with some of the healing treatments at Four Seasons lavish spa. We recommend the Mexican rebozo treatment – an ancient massage technique ideal for relieving stress and body tension.
At the stylish Zanaya restaurant, chef Emiliano Rabia serves the authentic flavors of the Mexican Pacific Coast. Bright and boldly decorated, Fifty Mils is one of the most sought after bars in a town filled with international travelers and locals alike. Here, fresh and swanky cocktails are prepared by two famous names in the bartender's world – Mica Rousseau and Axel Pimental.
At Four Seasons, the prices for a Superior Room start at $360 while the Executive Suite costs $685 per night.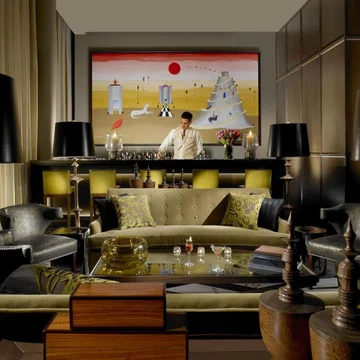 The St. Regis Mexico City
Mexican authenticity and modernity collide at this luxurious hotel particularly popular among celebrities and A-listers. Boasting a prime location on the historic Paseo de la Reforma, The St. Regis is the ideal base for travelers who want to explore the bustling Mexico City on foot.
Check Availability
Step outside the hotel's doors and you'll find yourself on a busy avenue that's home to endless restaurants, posh shops, art galleries, and handicraft shops.
The hotel was designed by the acclaimed architect Cesar Peli, who had a vision that St.Regis should serve as an isolated oasis that puts the hectic life of Mexico's dynamic capital on pause. Rising 31 stories above the streets below, the St. Regis Mexico City is just as Cesar Peli had imagined it – a secluded sanctuary filled with sumptuous rooms that make guests immediately feel at home. The hotel's interior is unforgettable with blue velvet sofas, floral-patterned carpets, glass tables, and fresh flower displays.
The suites are equally astonishing with floor-to-ceiling windows providing dazzling views of the vibrant Mexico City and its popular monument Diana Cazadora, which pays tribute to the Greek goddess Diana.
Anticipate exquisite comfort at St. Regis' spacious rooms filled with natural light, decadent amenities, sumptuous textiles, and deluxe furniture. The interior is sophisticated and contemporary. Rooms are colored in the hotel's signature purple and cream color palette and guests will appreciate nice touches such as plush carpeting, beige sofas, and framed abstract paintings.
Boasting sublime views over the fountain Diana the Huntress, Diana Restaurant invites guests to indulge in some upscale Mexican cuisine. Here the talented chef Fernando Sanchez brings the authentic flavors of the traditional Mexican cuisine to life, using only local ingredients and fresh seafood.
Expect room rates for a Deluxe room starting at $410, while the Executive Suite costs $704 per night.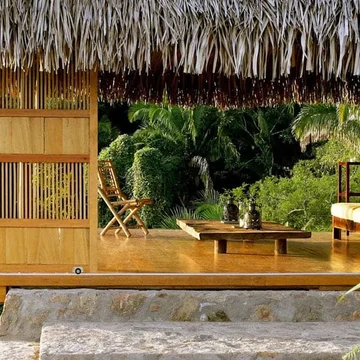 Verana
This is the ultimate romantic getaway, period. Reachable only by boat – just getting to this lavish resort is an experience of its own. Verana is set amidst a wild jungle high above the charming village of Yelapa. Verada is ideal for adventurous spirits who will certainly enjoy traveling in a dense jungle in one of the most isolated parts in Mexico. However, traveling to Verana is worth the trouble as the hotel boasts epic views over the mesmerizing Bay of Banderas.
Check Availability
The hotel is designed by Heinz Legler and Veronique Lievre who wanted to create a blissful sanctuary that blends perfectly with the beautiful surroundings. With fully open walls that offer dazzling views and polished concrete walls and floors, the talented designers have managed to bring life to their vision as this intimate boutique hotel collides ideally with the jungle-covered hills and the turquoise waters of the ocean.
Verana has a romantic and sensual atmosphere and is one of the hotel's spots for weddings and honeymoons in Mexico. One striking feature of the Verana resort is the open-air spa where guests can enjoy ancient treatments in utter isolation. You can laze the day away in the vast L-shaped pool or do some exercise on the yoga deck while you feel the warm breeze on your skin.
The staff is friendly, welcoming, and ready to teach you how to cook traditional Mexican dishes or take you to a sandy beach where you can be all alone with your partner.
Want to watch whales, ride horses in the jungle, or go fishing as the sun rises? Verana's activity director will fulfill all your wishes, as well as give you some additional fun ideas. The beautiful Casa Amor at the resort costs $250 per night while the Pool House starts at $380.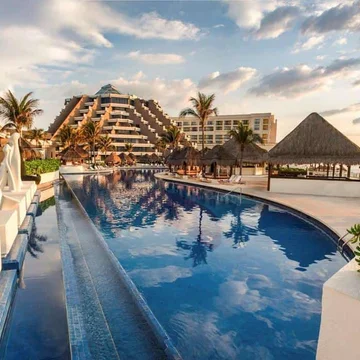 Paradisus Cancun
Boasting an ideal location on a 600-meter stretch of white sandy beach, Paradisus Cancun is the perfect vacation spot to experience the beauty of one of the most famous beaches in the world – Cancun. This boutique hotel is in the heart of the bustling Cancun Hotel Zone and is in close proximity to the vibrant Party Centre as well as the shopping malls Plaza La Isla and Plaza Kukulcan.
Check Availability
Spreading across five-interconnecting pyramids each lined with emerald glass, Paradisus Cancun's grandiose property is simply jaw-dropping. You can say that this mega-resort has a thing for dramatic entrances. The 5-glass roofed hotels are filled with tropical lush gardens and grand Mayan sculptures, while beautiful tropical vines are swaying from the balconies, all perfectly blending to create an intimate oasis facing the Caribbean Sea.
The hotel's 512 generously-sized guest rooms and suites are colored in neutral tones and feature traditional style features. Most of the private balconies feature sublime views over the Caribbean Sea or the Nichupte lagoon. Air-conditioning, stocked minibars, coffeemakers, and flat TV screens are available in every room. High-end travelers will certainly appreciate the original pieces of art and ceramic sculptures that add character to each room.
Paradisus Cancun is well-known for offering the best dining in Cancun. From the luxurious Tempo where seven-star Michelin chef Martin Berasageui prepares dishes inspired from the Basque cuisine, to the chic Bana featuring Asian-fusion dishes and the beachfront La Palapa, Paradisus Cancun guarantees unforgettable culinary experiences. A night at the Paradisus Junior Suite with a Lagoon View will cost you $240 per night while the Royal Suite with an Ocean View starts at $460.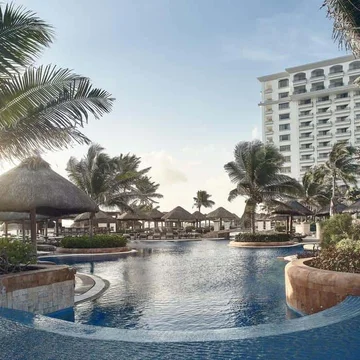 JW Marriott Cancun Resort & Spa
An all-inclusive hotel that really does include everything; from upscale dining and a gorgeous swimming pool, to a lavish spa offering an array of healing treatments. JW Marriott is ideal for high-end guests and honeymooners who want to indulge in affluence and have a little fun.
Check Availability
Sophisticated and absolutely luxurious, guests will obsess over the hotel's intimate and romantic atmosphere boasting tropical elegance. The hotel's immense lobby is lined with marble columns that scream opulence while the hanging crystal chandeliers evoke old-world glamour. Style-focused guests will have a great time eyeing every little detail as JW Marriott is filled with ultra-modern furnishings, elegant pieces of furniture, and unique pieces of art.
Guest rooms and suites offer expansive views over the dazzling turquoise waters of the Caribbean Sea. Featuring elegant and minimal decor, all guest rooms at the resort are equipped with a king-size bed, flat TV screen, air conditioning, and full marble bathrooms with a separate soaking tub and shower. For an elevated experience, book the exclusive Club 91 suite which includes 24/7 room service, pillow menus, and complimentary access to the hotel's lavish spa.
JW Marriott's seduces guests not only with its luxurious guest rooms and suites, but also with its infinity pool surrounded by hot tubs and pergola-topped Bali beds, vibrant swim-up bar crowded all-year-round with international travelers, and an over-the-top luxurious spa offering treatments with Mayan ingredients. The prices for a deluxe room at the hotel vary between $219 and $235 per night depending on the season.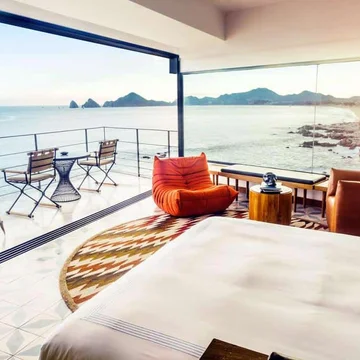 Los Cabos, Baja California, Mexico
The Cape
Situated on the beautiful Monuments Beach, The Cape is one of the most luxurious hotels in the region. The Cape's sumptuous property manages to perfectly blend the vibe of Los Cabos' coastal city with the mesmerizing beauty of its surroundings.
Check Availability
The Cape features modernist architecture and contemporary interiors with timber ceilings, industrial-style furniture, and handmade artworks from local artists. High-end guests will discover that the two outdoor pools surrounded by comfortable cabanas are the ultimate spot for contemplation and serenity. All rooms and suites feature sweeping ocean views and high-end resort-style amenities. The most opulent suite on the property is the grandiose Panoramic Suite with Ocean View which features a spacious private balcony and a relaxing plunge pool with dazzling views over El Arco.
The king-size bed fashioned with sateen-woven linens guarantees a good night's rest and guests can anticipate comfort in the spacious living area decorated with mid-century Latin American furnishings. And if this is not enough, guests can indulge in state-of-the-art technology – 360-degree rain showers boasting panoramic ocean views, or relax in a copper-leafed tub.
The Cape likes to spoil its guests with amenities such as a craft cocktail bar, gourmet minibar, and standing binoculars for whale watching. Celebrating the distinctive flavors of the Asian cuisine, Manta offers an unforgettable dining experience created by the talented chef Enrique Olvera. Here, the standard rooms with an ocean view start at $459. The Junior Suite with a plunge pool and the Thompson King Suite range from $620 to $670 a night, while the Penthouse Villa with an ocean view starts at $2,329.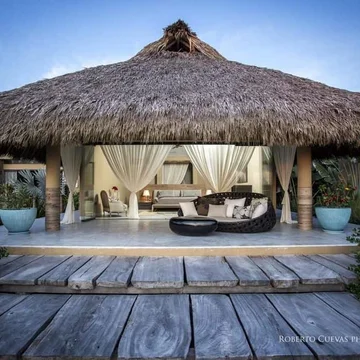 Santa Maria de Colotepec, Oaxaca, Mexico
Amalys Luxury Resort
Spectacular sunsets, a long stretch of white sandy beach, and mesmerizing surroundings, the Amalys Luxury Resort is the spot where your spirit will surrender to el sol. This grandiose retreat represents a fresh and vibrant approach to Oaxaca luxury – numerous beachfront bungalows that offer sublime views over the Pacific Ocean.
Check Availability
Intuitively interwoven with the beautiful natural landscape of Mexico's pacific south coast, Amalys is a place that invites guests to revel in the heat of the moment. Expect tropical elegance – from the fresh lilies, elegant palm trees, and Buddha sculptures, to Greek ceramics – no detail is overlooked at this awe-inspiring property.
Guests' favorite spot at the hotel is the lavish pool surrounded with aloe plants and coconut palms – it seems that the talented architects who have created this property wanted to build an intimate desert oasis that guarantees intimacy and serenity.
Overlooking the ocean, all guest rooms and suites in the hotel are filled with natural light that bounces off the nearby bay. In the hotel rooms, you'll discover your personal sanctuary equipped with a king-size bed, comfortable sofas, a vast balcony, as well as inside and outside showers. The prices for the bungalows start at $250 per night.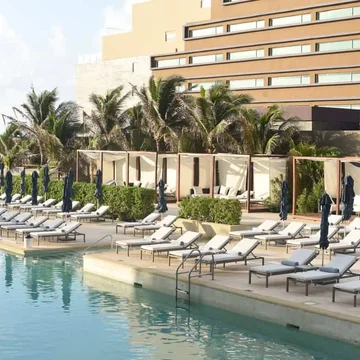 Secrets The Vine Cancun
The epitome of a beach getaway, Secrets The Vine Cancun is set on a beautiful sandy beach overlooking the turquoise waters of the Caribbean Sea and the sublime Nichupte Lagoon. The hotel is at the heart of the vibrant Hotel Zone and just a short walk away from an array of elegant restaurants and shopping centers.
Check Availability
Guests won't have to lift a finger while there – every wish of theirs will be fulfilled with eagerness. The hotel's architecture is sleek and modern with floor-to-ceiling windows that give way to some epic ocean views. From the spacious lobby filled with contemporary furniture and elegant restaurants to the inviting pools and sumptuous suites, this is an aesthetically pleasing resort bound to make an impression.
Filled with natural light, the resort's spacious guest rooms feature ocean views and are equipped with high-end amenities. Highlights include a flat TV screen, Nespresso machine, king-size bed with elegant linens, and turndown service.
For an elevated experience, book the Oceanfront Honeymoon Suite which features a wrap-around terrace, deep soaking tub, and extra-large marble bathroom.
The elegant restaurant Dragons is the place to linger over breakfast or lunch; here pan-Asian cuisine satisfies the tastes of the picky gourmets. For some ocean-inspired dishes head over to the poolside Sea Salt Grill. The best spot for a pre-dinner drink is the sleek Nebbiolo where you can watch the sunsets while you get a taste of some tropical cocktails. To experience the beauty of the Carribean Sea from a deluxe room you can expect to pay $450 per night.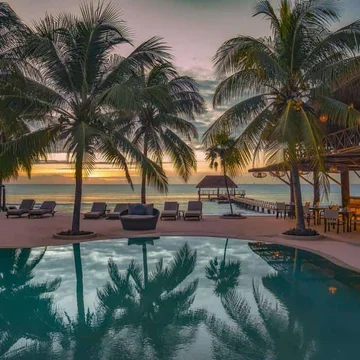 Viceroy Riviera Maya
A haven for luxury lovers who want to spend their vacation surrounded with pure white sand and turquoise waters, Viceroy Riviera Maya is the ultimate getaway. This opulent resort is located in the lavish green rainforest of Riviera Maya, near the popular Playa Del Carmen. Boasting sumptuous villas, lagoon pools, and lavish gardens, it doesn't come as a surprise that Viceroy Riviera Maya was named #1 Resort Hotel in Mexico and was listed among the 20 Top Hotels in the World by Travel + Leisure's World's Best Awards.
Check Availability
This all-villa resort manages to collide luxurious and modern design with the local Mayan culture. Here you can discover complete relaxation and serenity in a spacious villa conveniently secluded and isolated. Expect rooms colored in a desert-inspired palette decorated with hand-carved stones, colorful carpets, and unique artworks created by local artists. Decadent amenities include extra-deep soaking tubs, glass outdoor showers, and generously-sized outdoor areas equipped with comfortable sundecks.
One striking feature of this sophisticated resort is the recently renovated Coral Restaurant+Bar, where guests can pour swanky cocktails in front of a pool deck surrounded with poolside cabanas and overwater hammocks. At the full-service spa set in a luxurious setting, guests will find complete relaxation and rejuvenation. The room rates for a Signature Villa with a Private Plunge Pool starts at $599 while the Royal Villa featuring a private sunbathing deck costs $665 per night.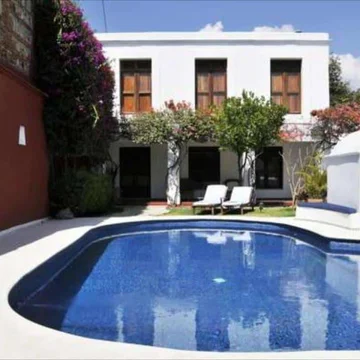 Casa Oaxaca
The colonial architecture and artsy decor are the first indications: Casa Oaxaca isn't just a boutique hotel, it's a getaway that pays homage to the vibrant Mexican culture. This charming hotel is set in Zocalo amidst beautiful churches, epic museums, and inviting galleries. Step outside the hotel's doors and you'll have an intimate encounter with the authentic Mexican vibe and a chance to mingle with the friendly locals.
Check Availability
In this 18-century colonial house surrounded with potted cactus plants and wildflowers is where you'll discover serenity and tranquility. The hotel has only seven rooms which are uniquely designed, all featuring lofty ceilings and pearly white walls. The decor is traditional and bold. Expect marvelous artworks from local artists, hand-painted bed stands, and some unforgettable Oaxacan figurines. Bathrooms are particularly charming with glass showers and stone-tiled floors.
The hotel offers guests the chance to learn more about the vibrant culture in Oaxaca. You can book the tour En Route and visit local galleries and art shops or sign up for culinary classes and learn how to prepare some traditional Mexican dishes. The prices for a double room at Casa Oaxaca cost $167 a year around.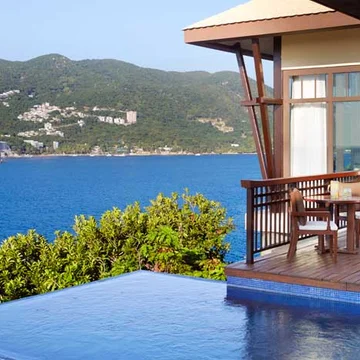 Banyan Tree Cabo Marques
Banyan Tree Cabo Marques exudes the genuine feeling of being transported in an oasis where relaxation and rejuvenation are discovered amidst lavish greenery and colorful flowers. Surrounded by rocky cliffs and boasting epic ocean views, this AAA-Five Diamond hotel seduces guests with its world-class service, luxurious accommodation, and decadent amenities.
Check Availability
Banyan Tree Cabo Marques features Asian-inspired elegance with Chinese lanterns, quirky sculptures, and Thai-style gazebo loungers. Take a walk around the hotel and you'll discover elegant palm trees, lavish tropical gardens, and mysterious pathways perfect for romantic walks with your loved one.
At the lavish spa, you can indulge in the ultimate pampering experience in an opulent setting that features a sensual ambiance. A wide array of healing treatments and Bali massages are available to guests.
At the hotel's sumptuous villas, you can expect nothing less than unparalleled opulence and over-the-top amenities. Expect spacious and inviting villas equipped king-size beds, flat TV screens, and well-stocked minibars. Each room is filled with natural lightning coming from the floor-to-ceiling windows which offer epic views over the Pacific Ocean. Room rates at $265 for a Hillside Pool Villa.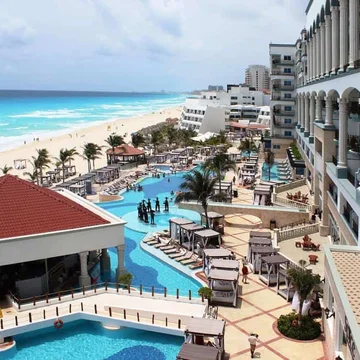 Hyatt Zilara Cancun
Hyatt Zilara Cancun's property stretches on a white sandy beach facing the Carribean Sea. Boasting tropical elegance and opulent guest rooms, this resort's upscale offer is ideal for anyone who wants to experience Cancun's luxurious coastal lifestyle.
Check Availability
The hotel's accommodation is undeniably impressive with vast balconies and ocean-facing whirlpool tubs. Suites and rooms feature sophisticated and contemporary decor where guests can find tranquility and comfort. The hotel likes to spoil guests with decadent amenities such as a pillow menu, hammocks, turndown service, and elegant bathrobes.
High-end travelers can book the 848-square foot long Swim Up Suite which has direct access to the infinity pool. At this opulent suite, every amenity you'll ever need is at your disposal: comfortable king-size bed, handcrafted furniture, marble bathroom with a double whirlpool tub, rain showerheads, and spray fixture.
From live shows at the beautiful atrium, snorkelling, and scuba diving, to pulsating pool parties, there's a lot going on in this absolutely luxurious resort. Guests also have access to a fitness center during their stay.
What sets Hyatt Zilara Cancun apart from other hotels in Cancun is the grandiose 22,800 square-foot spa equipped with 11 treatment rooms, oceanfront gazebo, revitalizing ice fountain, herbal steam room, polar room, and a lounge with a terrace. Here, the prices for a Double Junior Suite start at $317 while the Presidental Suite costs $623 per night.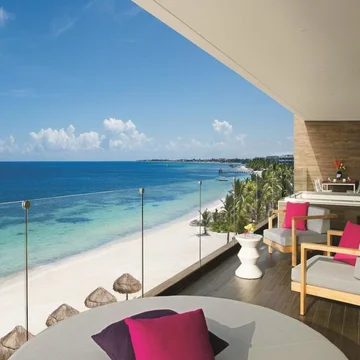 Breathless Riviera Cancun Resort & Spa
Breathless Riviera Cancun is an all-inclusive adult-only resort that captivates guests with its high-end amenities, outstanding service, and vibrant atmosphere. This opulent resort is particularly popular among A-listers and party loving crowds who like to enjoy foam parties with talented DJs and go-go dancers.
Check Availability
The hotel's three lively pools are always crowded with international travelers and locals ready to mingle while swaying on the 24-hour DJ sets. Surrounded by comfortable sun loungers and shady cabanas, guests can rest assured that they will have fun and relaxing moments at the three vast pools, one of which is topless. Breathless Riviera Cancun also offers loads of activities and events such as bubble parties, karaoke nights, and champagne evenings by the pool. Particularly popular among guests are the Blacklight Pool Parties where you can enjoy swimming in a romantic ambience.
No luxurious hotel is complete without upscale dining, and Breathless Riviera Cancun offers a few amazing options. Pelicanos serves Caribbean and ocean-inspired dishes by the beach and Adelita Cantina specializes in traditional Mexican fare. Chef's Plate is another culinary attraction at the hotel. Here, the seven-course menu changes daily and is available only to high-end guests who have booked some of the premium suites. The prices for a Junior Suite at the resort start at $259 per night.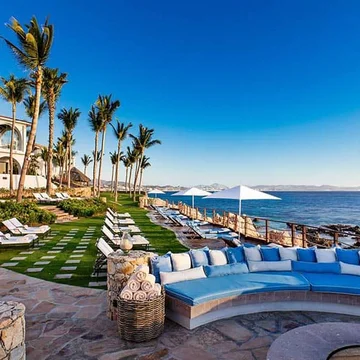 San Jose del Cabo, Baja California, Mexico
One & Only Palmilla
Utterly sophisticated and absolutely luxurious, One&Only Palmilla is one the most atmospheric hotels in Mexico. The world-class treatment at this hotel beats all others with devoted butlers, personal concierge, and aromatherapy classic service.
Check Availability
One&Only strikes a moment of stylish serenity in a region generally packed with luxurious hotels. You can expect spacious and sumptuous rooms where you'll feel at home. The interior bleeds perfectly authentic Mexican design with contemporary luxury amenities. Guest rooms and suites feature balconies with direct ocean views, and the ones located on the highest floor have private pools too.
The myriad of facilities available at One&Only Palmilla will make your stay utterly comfortable and pleasant. The lavish spa offers various treatments in a spacious and opulent setting boasting a steam room, yoga terrace, and outdoor and indoor treatment rooms. The hotel also has a beauty salon, spa boutique, men's barber shop, and a fitness centre. Guests can relax in two infinity pools surrounded with private cabanas and comfortable lounge chairs.
The staff is friendly and welcoming and likes to spoil guests with poolside drink service, foot massages, neck and knee pillows, as well as free snorkel gear and non-motorized beach equipment. With double room starting at $568, One&Only Palmilla is one of the most luxurious resorts in Mexico.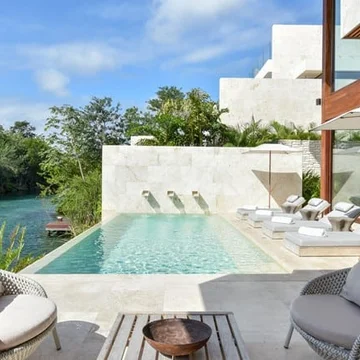 Playa del Carmen – Riviera Maya, Mexico
Rosewood Mayakoba
There is nothing ordinary about Rosewood Mayakoba. Everything from the sumptuous suites to the lavish spa has been tailored to be top notch and suitable for high-end travelers. Set on a mile-long stretch of beach, this opulent resort guarantees relaxation and serenity unlike most of Cancun's hotels known for wild parties.
Check Availability
The hotel's velvet-gloved treatment with personal concierges, devoted butlers, turndown and babysitting service is well known among A-listers. The suites are thoroughly opulent and stylish with contemporary decor and epic ocean views. Open and bright, the rooms exude elegance and opulence – the wooden furniture and the earthy color scheme match the mesmerising scenery impeccably well. All accommodation options come with floor-to-ceiling windows, providing breathtaking views of the Carribean Ocean.
Dining-wise, Rosewood Mayakoba is outstanding. From the romantic Casa del Lago serving breakfast by the pool, to the luxurious Agave Azul offering Mexican cuisine with Asian influences, this all-in-inclusive retreat guarantees remarkable culinary experiences. For a special occasion, book a table at La Cieba's 20,000-square-foot garden where talented chefs prepare local dishes. Expect to pay $495 per night for the Lagoon Studio King Suite and $1,375 for the Rooftop Ocean View Suite.
Find Luxury Hotels in Mexico