While Holland might be a small country, it's one of Europe's most popular tourist destinations. Abundant in opulent accommodation, you can find the best luxury hotels in the Netherlands on our list so that you can easily select your next temporary abode in this country of famous artists, bicycles, and canals.The country's capital, Amsterdam, is especially brimming with world-class luxury hotels that'll leave you in awe. Apart from Amsterdam, we'll also go over the best hotels in The Hague and Utrecht. With that said, it's time to start discussing our first pick.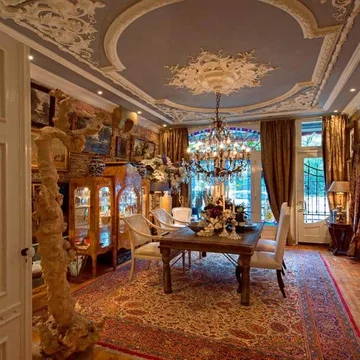 Amsterdam, the Netherlands
Breitner House
Breitner House, a quirky and ornamental hotel overlooking the Oosterpark, offers a unique and memorable stay in a quaint location far away from the tourist noise. Many attractions can be found in this area regardless, like The Tropenmuseum, a beautiful museum about the cultures from around the world. Other museums like the Van Gogh Museum or the Rijksmuseum can be reached in a 15-minute cab or tram ride.
Check Availability
This fabulous hotel was once a house filled with many Dutch artists, including the legendary painter George Breitner. The artistic spirit haunts the place in the most extraordinary way, so expect to find walls drenched in marvelous paintings, an unparalleled collection of antiques, and floor-to-ceiling bookcases.
There are only two luxurious suites you can stay at, so if the hotel sounds appealing to you, make sure you book well in advance in order to enjoy this exclusive experience.
The suites are as extravagant, lavish, and creatively appointed as one might expect from a place known for being a hunting ground for talented artists – large, old fashioned beds with curtains and fine linen, low-hanging Italian crystal chandeliers, oriental carpets, personal writing desks, and an exquisite artwork collection are only a few of the carefully planned furnishings that make this hotel one of the best luxury hotels in the Netherlands. The en-suite bathrooms come with an impressive amount of flowers, separate bath and shower areas, and complimentary luxury toiletries.
Breakfast at Breitner House includes a chilled glass of premium champagne, a tradition that certainly sets the tone for the rest of your day. The dining room has an elegant setting, overlooking the park. Due to the private and exclusive nature of the hotel, some amenities present in other luxury hotels, like a spa or a sauna, are missing, however, there are plenty of facilities to be found in the area, so you won't be missing out.
The rates at Breitner House start at around $700 per night.
Waldorf Astoria Amsterdam has all the hallmarks of a luxury hotel: a location in the heart of the city, sophisticated and stylish rooms and suites, a world-class Guerlain spa, and remarkable service. This luxury hotel is set on the canal, in close proximity to the Rembrandtplein museum, the Royal Palace, and the Rijksmuseum. PC Hooftstraat, one of the most famous shopping streets in Amsterdam and home to many luxury stores like Dior, Pauw Mannen, and Louis Vuitton, can be reached in a short 15-minute walk.
The rooms and suites follow an elegant muted color palette, with pleasant pops of pastels. The views from the accommodations are simply outstanding, and you even have the option of booking a room or suite with quintessential canal views. Some of the design choices have a clear Dutch influence, giving the rooms a homely touch. Modern amenities that are featured with the accommodation include an espresso machine, a minibar, complimentary bathrobes and slippers, and an HDTV. The beds are comfortable and sizable, appointed with premium Egyptian cotton sheets.
Spectrum is one of the many dining delights in Waldorf Astoria Amsterdam. Led by two Michelin star chef Sidney Schutte, expect a combination of international favorites in a chic and modern setting. Peacock Alley, popular among tourists and locals alike, is one of the best restaurants serving afternoon tea in the Netherlands. Another menu highlight is the amazing creative cocktails served daily. Apart from a luxury Guerlain spa, the hotel boasts a commodious fitness center and an indoor pool.
You can book a standard room at Waldorf Astoria Amsterdam starting from approximately $700 a night.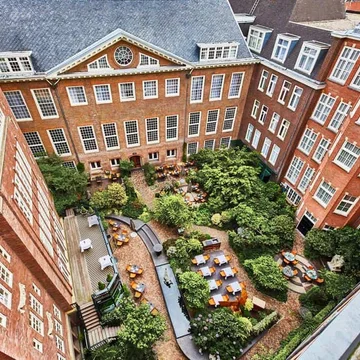 Amsterdam, the Netherlands
Sofitel Legend The Grand Amsterdam
An extraordinary mix of French design and Dutch details, Sofitel Legend The Grand Amsterdam is a remarkable hotel choice right in the heart of Amsterdam, neighboring the Red Light District. This part of the city offers an array of sightseeing spots and luxury shops, so you'll never be short of things to put on your itinerary.
Check Availability
The ever so elegant rooms and suites are commodious and comfortable, and guests can choose from tranquil courtyard views or canal views. The bathrooms are decorated in a black-and-white color scheme, all of which feature a separate bath and shower area and complimentary Hermes amenities. Some available facilities include a turn-down service, a Nespresso coffee machine, a fully-stocked minibar, and a flat-screen TV. And if you book yourself a suite, you'll even get the chance to enjoy an exclusive butler service.
Sofitel Legend The Grand Amsterdam boasts an on-site spa, a swimming pool, and a well-equipped gym, which is a rarity when it comes to Amsterdam hotels. Bridges is an award-winning restaurant that serves a la carte options and a special Chef's menu. The restaurant offers a private dining experience unlike any other in the area, with a special whisky and cigar selection and your own cocktail menu. For a more laid back option, visit Oriole – the hotel's bistro where delicious Mediterranean food is served. Lastly, The Library "Or", with its mesmerizing book collection and sumptuous afternoon tea, is a must-see for all bookworms out there.
The rates at Sofitel Legend The Grand Amsterdam start from $400 per night.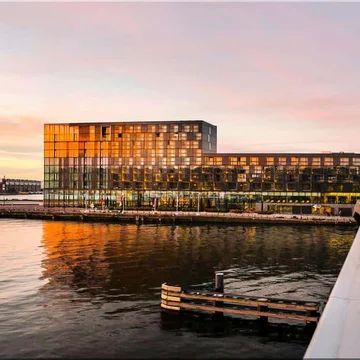 Amsterdam, the Netherlands
Hotel Jakarta Amsterdam
Dedicated to providing an eco-friendly experience to its guests, Hotel Jakarta Amsterdam is one of the most sustainable luxury hotels on our list. This boutique hotel is situated on Java-Eiland, on the banks of the IJ river.
Check Availability
All 172 rooms and 28 suites have an earthy vibe with an Indonesian twist. They feature large floor-to-ceiling windows that reveal gorgeous views of the river, as well as comfortable beds with luxury linen, plush throws, and soft frames, a desk area that overlooks the river, and en-suite open-plan bathrooms. Additionally, most of the rooms feature a private balcony where you can enjoy your morning cup of coffee with a view.
Café Jakarta, with its waterside terrace and indoor sitting area with a garden, is a guest's go-to option for casual dining or a cocktail. The café serves traditional Indonesian cuisine and seafood, a cuisine that's a mix of Western and Eastern influences. For unparalleled city and river views, visit The Skybar Malabar – the hotel's nighttime hotspot offering an array of delicious cocktails that often features live music.
On top of a café and a bar, the hotel has a sauna, a spa, an indoor swimming pool, and a well-equipped fitness center, all of which are prerequisites for a comfortable stay.
A standard room at Hotel Jakarta Amsterdam costs around $170 per night.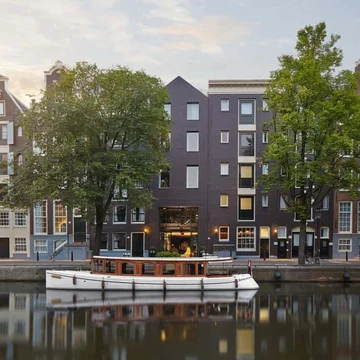 Amsterdam, the Netherlands
Pulitzer Amsterdam
That Pulitzer Amsterdam is regarded as one of the most stylish luxury hotels in the Netherlands will come as no surprise to anyone who enters its premises. Overlooking two canals and set near some of the most renowned tourist attractions in the Netherlands, like the Anne Frank House and Dam Square, the hotel's location is supreme.
Check Availability
Following an authentic Dutch design with a combination of modern and timeless pieces, the rooms and suites at Pulitzer Amsterdam differ in terms of color palette and layout. Some key amenities they all share include large plush beds, coffee and tea making facilities, a minibar, and en-suite bathrooms with complimentary Le Labo toiletries. Family rooms are also available. Some of the rooms feature canal views, so if that's a priority for your stay, you have the option of upgrading to a room with stunning views of the canals.
Pause at Pulitzer is a relaxed café situated in the hotel's garden, surrounded by gorgeous canal houses. The café serves morning coffee, breakfast, and light meals, which can be paired with their signature wine. The award-winning Pulitzer's Bar, voted as the best hotel bar in Amsterdam in 2019, is the ideal place for a strong spirit, a classic cocktail, all in conjunction with beautiful canal views. Jansz. is the hotel's on-site all-day restaurant, serving simple yet scrumptious modern Dutch classics and some international staples in a sophisticated setting.
Pulitzer Amsterdam's staff is perfectly friendly and hospitable, adding to the quality of your stay. There is a rather spacious on-site gym where you can squeeze in your daily workout. If you need any tips in terms of sightseeing or visiting some hidden gems, the hotel's Concierge team is here to help you.
The rates at Pulitzer Amsterdam start at $370 per night.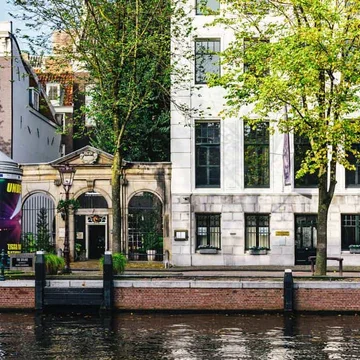 Amsterdam, the Netherlands
The Dylan Amsterdam
The Dylan Amsterdam boasts a central location in the heart of Amsterdam's shopping district Negen Straatjes – an ideal location for shopping connoisseurs. The district contains a combination of popular luxury stores and quirky local designers, so it's bound to satisfy any shopping preferences. Dam Square, one of the most well-known squares in the capital where a plethora of events take place, is also a short walk away from the hotel.
Check Availability
Designed by Remy Meijers, the rooms are appointed with eye-catching antiques, canopy beds, ligneous paneled walls, comfy sofas, and wooden accents. No two rooms are the same – they are highly personalized, and each has a different setup and color palette. The bathrooms are elegant and roomy, with deep tubs and complimentary slippers and bathrobes. Some bathrooms even come with a marble fireplace which, though not workable, serves as a lavish and decorative centerpiece.
The hotel is known for Vinkeles – the award-winning on-site restaurant, with a menu comprising modern French cuisine and traditional dishes. With a team dedicated to delivering flavorsome dishes and a sophisticated setting, expect to have a delightful and memorable dining experience. Pair your meals with a carefully selected wine from their extensive list for the ultimate gastronomic pleasure.
Bar Brasserie OCCO is an all-day bar where guests get to enjoy a delicious breakfast with an appealing selection of drinks, sumptuous lunches and dinners, or simply a glass or two of their signature cocktails or a High Wine tasting.
And if you feel like A small but well-appointed gym is available for guests to use.
The room rates at The Dylan Amsterdam start from approximately $400 per night.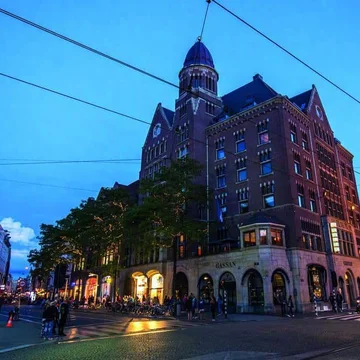 Amsterdam, the Netherlands
Hotel TwentySeven
Hotel TwentySeven is an award-winning boutique hotel located in Amsterdam's lively center. The hotel is neighboring the Dam Square, the National Monument, and the Royal Palace, so sightseeing on foot won't be an issue.
Check Availability
Guests can choose from sixteen personalized and luxurious suites where the attention to detail is unparalleled. The colors, suite sizes, and furnishings vary, although you can find coffee making facilities, a flat-screen TV, a fully-stocked luxury minibar, floor-to-ceiling windows, and natural stone bathrooms featuring bubble baths and separate shower areas in every suite.
Every living area is appointed with Ascension Lattore sofas, silk carpets, and handmade oak wooden floors, while the beds have exquisite frames and Parisian linen. The walls of the suites are adorned with artwork from the local Cobra Art gallery which matches the theme and color scheme of the suites. The two-person Jacuzzi is ideal for relaxing after a long day of exploring.
Michelin-starred on-site restaurant Bougainville provides its guests with a delightful mix of traditional and modern cuisine served in an intimate and elegant setting, with panoramic views of Amsterdam. The wine menu is carefully selected by wine director Lendl Mijnhijmer to bring out the flavorsome dishes. Bar TwentySeven is a popular spot for nocturnal fun – the dim lighting, velvety furniture, and special art collection curated by Cobra Art make the atmosphere sophisticated and inviting. Choose one of the many alcoholic concoctions offered and enjoy the innovative combinations.
At Hotel TwentySeven, the guests' comfort is a priority, and the services offered reflect that ethos. From private butlers to personal shoppers and trainers, there seems to be no service that can't be booked at the hotel.
Prices at Hotel TwentySeven start at $350 per night.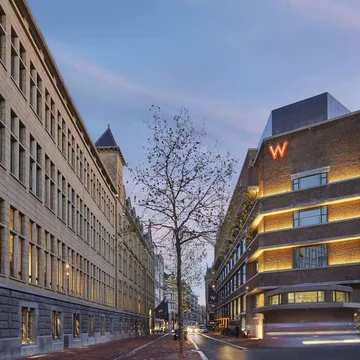 Amsterdam, the Netherlands
W Amsterdam
What used to be a former bank and telephone exchange is now the elegant and renowned W Amsterdam, with an exterior that pays homage to Dutch architectural elements. The hotel has an outstanding location in the very center of the city, adjacent to the Dam. The famous Negen Straatjes shopping area is a short five-minute walk away, while the Museumsquare and Rembrandtsquare are a bit further away and can be reached in a 20-minute walk.
Check Availability
The dining options at W Amsterdam are supreme and varied. The signature W Lounge is where guests get together and enjoy a fun night in or simply wait until it's time to check-in. The lounge is known for having incredible panoramic views of the city, offering artistic cocktails, and hosting spectacular nighttime events. The Duchess is an on-site Michelin-starred restaurant serving Nouveau-Niçoise Cuisine (a lovely combination of Southern French and Italian cuisine), which is simply a must-try while staying here. Breakfast includes a generous buffet with international options and local specialties.
The award-winning AWAY Spa is an oasis of tranquility in an otherwise busy city. A wide range of soul-soothing treatments and massages are offered. Once you replenish your energy stores at the spa, you have the option of visiting the hotel gym.
A total of 238 rooms and suites are available for booking, which are spread across two buildings. Depending on which side you go for, the rooms and suites will vary in terms of style and color pattern, but all of them feature stunning city views, espresso machines, and en-suite bathrooms. Touches of Dutch culture are included in every accommodation. The design is invariably elegant and glamorous throughout.
At W Amsterdam, standard rooms start from approximately $330 a night.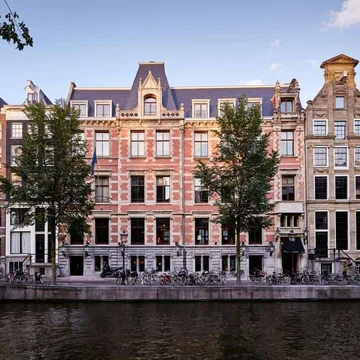 Amsterdam, the Netherlands
The Hoxton Amsterdam
Cool and colorful, The Hoxton Amsterdam welcomes anyone whose priority is to have fun while on a holiday. The historic hotel is located right on Negen Straatjes – a famous quarter buzzing with luxury shops, quirky bars, and top-notch restaurants. The Dam, as well as the Anne Frank House, are also within close proximity. One thing is for certain, with such a central location, you'll never be short of things to do. And since there are so many places to visit, the hotel offers free bike rentals for its guests.
Check Availability
The rooms at The Hoxton Amsterdam are sleek and modern, with just the right balance of comfort and style. Each room is uniquely designed and has a different color palette, and some of them come with stunning canal views. If you want to feel extra cozy, opt for an attic room. Facilities-wise, the rooms are equipped with complimentary toiletries, tea and coffee making facilities, and flat-screen TVs. The comfy mattresses ensure that you get your much-needed beauty rest.
Lotti's serves both modern European classics and local dishes with a twist. The restaurant also serves a la carte breakfast. Alternatively, you can enjoy the hotel's in-room breakfast with standard options. The on-site bar is a real treat, ideal if you want to have a fun night out without leaving the hotel's premises. Choose from a large variety of creative and local cocktails, or enjoy a standard spirit.
The rates at The Hoxton Amsterdam start from $130 a night.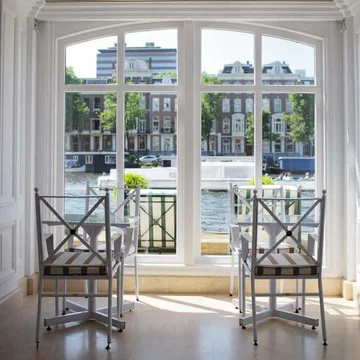 Amsterdam, the Netherlands
InterContinental Amstel Amsterdam
InterContinental Amstel Amsterdam has been a temporary home to royalty and celebrities alike. Tina Turner, Madonna, David Bowie, Audrey Hepburn, and Justin Timberlake are only some of the celebrities that have spent a night (or several) residing at the hotel's palatial rooms and suites. The hotel is situated in a location that allows you to explore many must-see attractions on foot, like the Jewish Historical Museum, the Opera House, the Van Gogh Museum, and the Royal Theatre.
Check Availability
The hotel was built in 1867, and its style reflects that in a magnificent way without being deemed as old-fashioned. The hotel boasts an indoor pool with views of the canal, a health club with a spa, steam bath, and sauna facilities, and a well-equipped on-site gym. A personal trainer is available upon request.
The rooms and suites offered at InterContinental Amstel Amsterdam have a different color scheme but a similar layout and design. The wooden furnishings are combined with beige details, giving them a timeless and palatial vibe. The en-suite bathrooms have a separate shower and bath area, arduous accents that give them a classic look, and a large mirror ideal for applying makeup.
For the ultimate treat, book the Royal Suite. Engulfed in gold, the suite features classical paintings, crystal chandeliers, floor-to-ceiling windows, spacious desk areas, and princess beds.
Dining-wise, Amstel Restaurant is a fine-dining hotspot in the area. Its terrace is directly located by the canal, allowing you to take in the sounds and smells of the city, as well as the incredible canal views. In terms of cuisine, the restaurant serves international cuisine with a Dutch twist, made with fresh and local products. The restaurant serves splendid afternoon tea, with the best selection of savory and sweet treats. Amstel Bar has a laid back atmosphere, giving you the option to enjoy your tasty drink outside on the terrace overlooking the canal, or inside the hotel.
The rates at InterContinental Amstel Amsterdam start from $430 a night.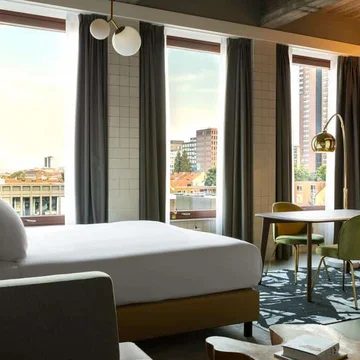 Rotterdam, the Netherlands
The Slaak Rotterdam
Part of the Tribute Portfolio Hotel group, The Slaak Rotterdam is a boutique hotel designed in the style of the 1950s. This unique and chic hotel is located in the Kralingen neighborhood, near the Old Harbor, the Oostplein metro station, and Markthal Rotterdam. The Erasmus Bridge is about a ten-minute walk away from the hotel, while the Museum Boijmans van Beuningen is a bit further away, but it won't take you longer than 20 minutes to reach it. Many top-tier restaurants are located in this very area, so finding a restaurant to dine in won't be much of a problem.
Check Availability
Alternatively, you can visit the hotel's own on-site restaurant – Didot 34. With an all-day menu comprising a myriad of delicious international dishes, you have plenty of options at your disposal. Two breakfast options are available: buffet breakfast and a full American breakfast, both of which start from 30 euros. Apart from the on-site, some other services and facilities available at The Slaak Rotterdam include a fitness center, room service, and bike hire.
The rooms and suites follow the same 1950s inspired style. Quirky and rustic, they come with a flat-screen TV, an en-suite bathroom with a rain shower, a Nespresso machine, and a desk area. The floor-to-ceiling windows allow for mesmerizing views of Rotterdam and plenty of natural lighting, while some of the rooms and suites come with a private balcony. The Slaak Lofts feature a living room area with a sofa and lounge chairs.
A standard room at The Slaak Rotterdam will cost you from $120 per night.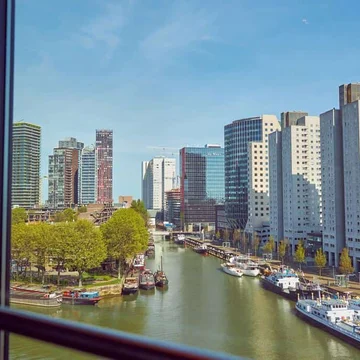 Rotterdam, the Netherlands
Mainport Design Hotel
Known as one of the best luxury hotels in Rotterdam, Mainport Design Hotel is situated on the banks of the river Maas, overlooking the Leuvehaven (the oldest harbor in Rotterdam). Within close proximity to the hotel, you will find the city's greatest attractions – the Erasmus Bridge, the Maritime Museum, and Huis Sonneveld.
Check Availability
This five-star hotel offers 215 rooms and suites which differ in terms of layout, but follow the same black-and-white color palette. The room design is quite funky, with eye-catching details like patterned wallpapers. This is balanced with minimalistic and sleek furnishings like the wooden floors and crisp white linen. Some of the modern facilities featured include a Nespresso machine, a flat-screen TV, a work desk, and a minibar. The bathrooms are quite sizable, featuring a walk-in shower and complimentary slippers and bathrobes. If you're a fan of saunas, you'll be glad to know that some of the en-suite bathrooms come with saunas you can exclusively use. Floor-to-ceiling windows are included in every accommodation, yet the views vary.
A small fitness center and spa are offered at Mainport Design Hotel. On top of that, guests have access to a swimming pool and a small sauna. Breakfast is served at Restaurant Down Under, a stylish and modern restaurant that serves a variety of international cuisines. Expect to find many western breakfast staples like pancakes, which are offered each morning. The menu is an all-day one, so you can pop in at any point during the day, and the wine list is quite extensive. If you're feeling like having a cocktail or two, the hotel's on-site bar is the place to go. Enjoy a long cocktail menu served in a vibrant setting with amazing views of the water and the city.
Rates at Mainport Design Hotel start from around $150 per night.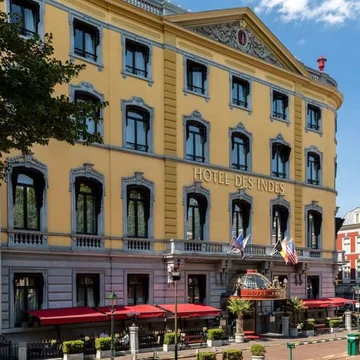 The Hague, the Netherlands
Hotel Des Indes The Hague
Hotel Des Indes The Hague is a five-star hotel located in the center of The Hague – Netherlands's government city, where the Dutch Royal Family resides. Nearby attractions include the Mauritshuis, where you can enjoy a collection of Rembrandt's and Vermeer's works, Lange Voorhout, and Escher in Het Paleis.
Check Availability
Designed by Jacques Garcia, the hotel offers 79 rooms and 13 suites which are designed to bring you the utmost comfort without sacrificing on luxury. No two rooms at Hotel Des Indes The Hague are the same in terms of arrangement and color design, so each one promises a unique stay. The rooms and suites are elegant and glamorous, featuring flat-screen TVs, large, comfortable beds, and en-suite bathrooms. The Presidential Suite is the most opulent option available at Hotel Des Indes The Hague, where celebrities and politicians reside on a regular basis.
The royal afternoon tea is one of the many culinary delights offered at Hotel Des Indes, offering an extravagant array of savory and sweet specialties, and, of course, unique tea blends crafted by tea specialists. The lunch and dinner options at Des Indes Restaurant include both a la carte and a three-course menu. Des Indes Health Club and Spa include a spa, a fitness center, and a jet pool, all three of which are available for guests to use and enjoy.
The rates at Hotel Des Indes The Hague start from $150 per night.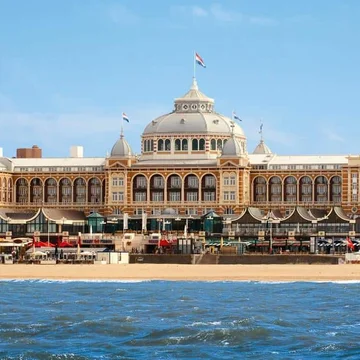 The Hague, the Netherlands
Grand Hotel Amrâth Kurhaus The Hague Scheveningen
Grand Hotel Amrâth Kurhaus The Hague Scheveningen is regarded as one of the best luxury hotels in the Netherlands. With its rich history, incredible seaside location, and an array of amenities, it's been a magnet for tourists for years on end. Since it's located at the North Sea, you will get the opportunity to enjoy a versatile itinerary and explore the historic city as well as its popular beaches.
Check Availability
The accommodation options are simply dazzling, unsurprisingly so. Choose from 270 rooms and suites that ooze sophistication and splendor. The Executive Rooms come with a private balcony and views of the sea or the square, featuring sizable beds with tall frames, a sitting area, and wooden floors. The Presidential Suite is the most lavish option available at Grand Hotel Amrâth Kurhaus The Hague Scheveningen, covering almost 100 square meters. With its marble bathroom, private balcony overlooking the sea, and walk-in closet, it's an ideal option for a special stay.
Breakfast is served at the elegant and open Restaurant Waves. Enjoy a variety of bread rolls, fresh fruit, and replenishing drinks, all the while marveling at the stunning views of the North Sea. High tea is available upon request, combined with a glass of champagne.
A standard room at Grand Hotel Amrâth Kurhaus The Hague Scheveningen starts from $100 per night.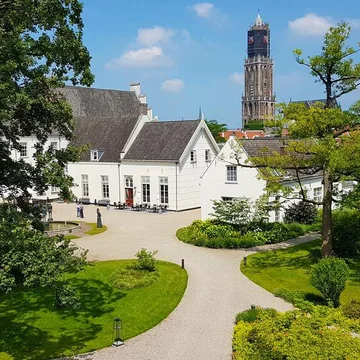 Grand Hotel Karel V
A former military hospital turned into a luxury hotel akin to a palace, Grand Hotel Karel V is located in the heart of Utrecht. One of the hotel's best features is its 10,000-square-meter garden that serves as a tranquil oasis where you can escape the noise and business of the city. When the weather allows it, you can enjoy a lovely stroll or visit the garden restaurant – the perfect spot for a quick drink or a meal.
Check Availability
The hotel contains a Roman-themed health center with a pool, a sauna, and a steam room. For the ultimate de-stressing experience, book one of the various treatments and massages available in the health center. The combination of casual and fine dining found in the on-site restaurants will give you plenty of variety in terms of cuisine. Bistro Karel 5 is the more casual option of the two, whereas Restaurant Karel 5 serves a la carte cuisine with an extensive wine list. Breakfast is quite diversified – from pastries to fresh coffee brews, you will have all the classic options at your disposal.
Amalgamating a timeless style with modern amenities, the rooms and suites at Grand Hotel Karel V are stylish and manifold, varying in terms of colors and layout. Some overlook the courtyard, while others overlook Dom Tower. Grand Hotel Karel V is a popular choice among couples and newlyweds, so it's no surprise that a Bridal Suite is available for booking. The suite features a plush bed, a marble bathroom with a bubble bath, and incredible views of the surroundings.
The rates at Grand Hotel Karel V start from around $200 per night.
Find Luxury Hotels in Netherlands