For many, spending a night on a yacht is a refreshing break from the norm. The breeze is fresh, views are stunning, and you get to experience various destinations from a unique perspective. While all of this can be enjoyed from most boats, it is all the more worthwhile aboard a luxury yacht hotel.
On board a yacht hotel, you are able to enjoy the freedom of the ocean, as well as the elegance and comfort of a luxury resort or hotel. It also offers a sense of tranquility and exclusivity as the yachts are often docked in a secluded location.
Around the world, there are a number of lovely accommodations on the sea. From a two-bedroom private yacht hotel to a high-end superyacht, we will highlight some of our best picks.
So, grab your flip-flops and your sunnies and get ready for an adventure like no other.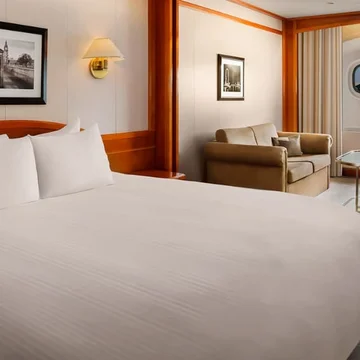 Royal Victoria Dock, London, United Kingdom

4
Sunborn Yacht Hotel London
For those seeking a luxury experience, the Sunborn London Yacht Hotel is a great option. Sunborn pioneered the original floating hotel in 1988 and has since created a number of bespoke yacht hotels.
Check Availability
This yacht hotel is docked in Royal Victoria Dock in London, just 7 minutes by airport shuttle from London City Airport and the Canary Wharf. The Sunborn London boasts a sleek exterior, showcasing polished decks and dazzling walls of glass. Inside, each space is thoughtfully designed for luxury and comfort.
The Sunborn London provides around 10,000 square meters of floor space. On the yacht, you will find a range of high-end suites and restaurants, as well as conference and event facilities.
The Sunborn hotel London is also a great spot for a midweek staycation. Leave all your worries behind, relax and enjoy a peaceful retreat aboard one of the world's best luxury yachts. From the decks of this yacht hotel, take in sweeping views of the London town and Royal Docks, along with your beverage of choice.
Aphrodite Cruise Luxury Yacht
Named after the Goddess of Beauty, the Aphrodite Cruise boasts an irresistible charm and elegant appearance that can mesmerize even the pickiest of tourists. This luxury yacht hotel sits comfortably in the UNESCO-listed Ha Long Bay in Vietnam.
Check Availability
Since its establishment in 2013, the Aphrodite Cruise continues to grow in popularity and has become a favorite amongst many luxury travelers.
The Aphrodite Cruise is a wonderful boutique yacht hotel housing 17 comfortable and stylish cabins. There are both "Suite" and "Luxury" cabins available, all featuring a balcony. Each of the cabins features a stunning, handcrafted wooden design paired with various Vietnamese themes.
Aboard the Aphrodite Cruise, you will find unparalleled serenity as you immerse yourself in a landscape distinguished by limestone, islets, and karsts. Enjoy two to three days taking in the surrounding scenery, enjoying some delicious Vietnamese food and some refreshing drinks. Other amenities and activities include free movies, board games, Tai Chi, and kayaking.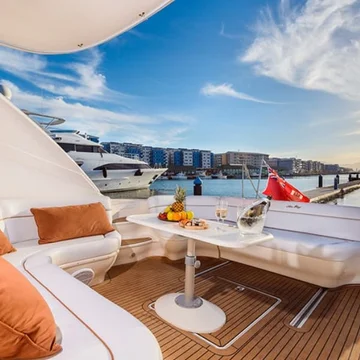 Lady Anita Luxury Yacht Hotels
The Lady Anita is a 54ft luxury yacht, comfortably docked in a peaceful and exclusive location within Gibraltar's prestigious Marina Bay. From this luxury yacht hotel, you can enjoy the warm Mediterranean weather and views of the picturesque surroundings.
Check Availability
The yacht has two bedrooms, one of which has its own en-suite. Each room is well-equipped with the latest technologies, boasting a classy yet modern design. Amenities include a large salon with a wrap-around sofa, a kitchenette, a top deck sun terrace, free wifi and an external swimming platform.
From Lady Anita, you can enjoy the calm waters of Marina Bay or visit the popular Ocean Village resort, which is right on your doorstep. The yacht is also five minutes away from the city center, where you will find a lovely selection of restaurants, shops, bars, and nightclubs.
This yacht hotel is ideal for couples who wish to be near to the local amenities but away from all the noise.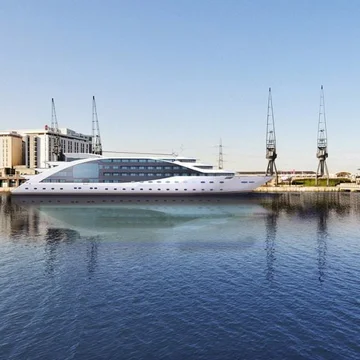 Ocean Village, Gibraltar

5
Sunborn Gibraltar
Another luxury yacht hotel on Western Europe's southernmost tip is the magnificent five-star Sunborn Gibraltar. Under the same company that introduced the well-renowned Sunborn London, you can expect nothing but elegance and class from this accommodation. This superyacht takes full advantage of Marina Bay's exclusive setting, providing guests with a luxury experience like no other.
Check Availability
This 142-meter yacht houses 189 lavishly appointed rooms together with banqueted suites, a restaurant, bars, and a cocktail lounge. Other amenities this yacht offers include a lovely, tranquil pool, spa and wellness center, and a sun deck. Guests at Sunborn Gibraltar are provided an opportunity to enjoy the ultimate indulgent luxury yacht hotel experience.
Surrounding the yacht, you will discover panoramic vistas. These can also be viewed from the summit of the rocks nearby, which is within 15 minutes from the yacht hotel, the beach, and ancient lime caves.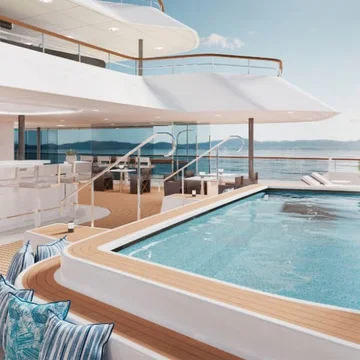 Mediterranean, Caribbean, and several other locations
Ritz-Carlton Yacht Collection
Set sail on a trip on board one of the Ritz-Carlton yacht cruises. This luxury yacht hotel combines the prestige of the Ritz-Carlton hotels with the casual freedom of a boating vacation.
Check Availability
Ritz-Carlton offers three bespoke voyages, exposing passengers to some famous international locations. Options include the Luxury Caribbean Voyage, Luxury Mediterranean Voyage, and Luxury Crossing Voyage. Each of these offers an unforgettable trip, exploring various hidden luxury travel hotspots.
The Ritz-Carlton cruise offers a number of spacious and luxurious suites. Each suite features a private terrace, a stunning living and dining area, a bedroom, and a double-vanity bathroom. Guests staying on board the Ritz-Carlton yachts are appointed a personal concierge who will see that your trip is flawless from start to finish.
There is also a range of different restaurants on the yacht, each with a unique theme and delicious gourmet food. And if you'd prefer a night in, there is an in-suite dining option so you can enjoy these delicious meals from the comfort of your room.
For more information, or to book a room, visit the Ritz-Carlton website.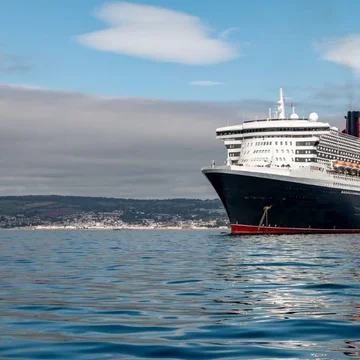 The Queen Mary Hotel
Nestled in the heart of the world-renowned Long Beach is The Queen Mary Hotel. This large ship was constructed in Scotland in the 1930s. Today, it sits in Los Angeles and continues to showcase its rich history, elegance, and grandeur. For those looking for someplace central from which to explore the famous city, this is an ideal spot.
Check Availability
This iconic floating hotel is home to 346 bedrooms. Each of these rooms is tastefully furnished and provides everything you will need for a comfortable stay. And while the rooms are great, what's outside of it is even better. Throughout the yacht is a wide selection of top-class facilities, including a restaurant, a spa, a fitness center, and plenty more.
Guests are also able to organize tours through the hotel. Some popular nearby Los Angeles attractions that can be enjoyed are the Aquarium of the Pacific, Catalina Island, Modern Emporium, and One Dollar Bookstore.
The Queen Mary Hotel is also one of few pet-friendly boat hotels. This service is available to cats and dogs under 25 lbs and costs $75 USD (flat-rate). This way, you will not have to leave your furry friends at home.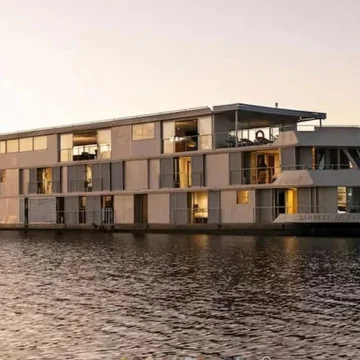 Zambezi Queen
Experience the magic of Africa on board this luxury, all-inclusive hotel. The Zambezi Queen is a luxurious floating hotel located on the Namibian side of the Chobe River. With 14 tasteful and elegant rooms, all with outer decks, take in uninterrupted views of the unique African landscape and beyond.
Check Availability
The Zambezi Queen provides a safari experience like no other. When you wake up in the morning on board this floating home, you can expect to see an array of animals – all from the comfort of your bed.
You can choose between two packages when planning a vacation on the Zambezi Queen – namely the Two Night Stay and Three Night Stay. Each of these packages follows a flexible itinerary comprising a range of activities. Some of these activities include game viewing, bird watching, and fishing.
While you are spending two to three days in the wilderness, the Zambezi Queen ensures you have a comfortable stay. With its standard and master suites, the boat aims to provide a luxury boutique hotel experience to guests. Each of the rooms is thoughtfully designed and features plenty of amenities, including a front-facing balcony and free wifi. From here, enjoy the beautiful landscapes, take photos and gaze at the elephants on the riverbank.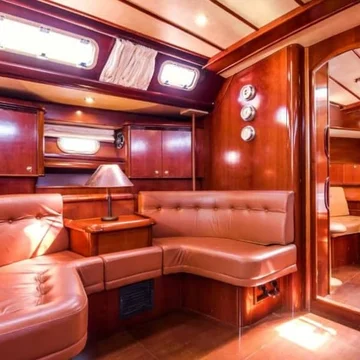 Boat Aiolis
If you're seeking something romantic, then be sure to check out Boat Aiolis. This sailing boat provides a luxurious home just off the coast of mainland Greece. While it is far smaller than most of the ones covered in this list, it provides a unique and secluded experience – perfect for couples and honeymooners.
Check Availability
This cruise aims to provide guests with what its founders call the Aiolis Experience. This experience involves introducing guests to the traditional Mediterranean beauty of the Greek islands. Stunning vistas, traditional Greek gastronomy, and a secluded beach that can only be reached by sea are some of the things you can enjoy on this trip.
The Boat Aiolis features three rooms – a deluxe suite and two standard double rooms. Each room boasts an elegant design and includes everything you'd expect of a luxury cruise accommodation. Guests can also enjoy the sun terrace or hop off and go snorkeling in the Greek sea.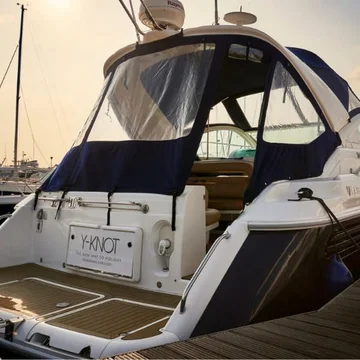 Lymington, United Kingdom
Y-Knot Boatel
The Y-Knot is a luxurious 34-foot, two-bedroom cruiser that sits in one of the finest marinas on the south coast – Lymington Yacht Haven. The Y-Knot stays securely tied up in her berth and is all yours for the duration of your stay.
Check Availability
However, if you wish to get out onto the water, the Y-Knot is available for half and full-day private charter trips. This comes at an additional cost and is carried out by a professional skipper and crew. So, you can easily combine a luxury vacation and a pleasure cruise, enjoying all that Lymington and New Forest have to offer.
The Y-Knot is a relatively small boat and is best suited to couples or small groups. There are two rooms available, both sleeping two people. The rooms are not the most spacious, however, they offer everything you will need for a comfortable night on the dock's calm waters. On the deck, the Y-Knot Boatel can seat up to 10 people and features a dining table and stereo system.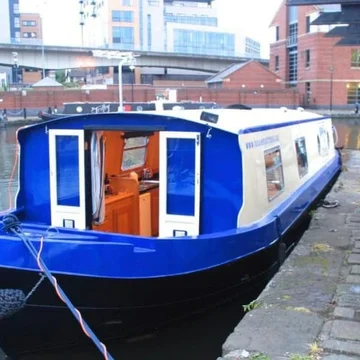 Sheffield, United Kingdom
Houseboat Hotels
Another unique floating hotel in the United Kingdom is the award-winning Houseboat Hotels. These three-star homes are comfortably docked in Sheffield's Victoria Quays. These cozy, individually decorated houseboats are an ideal spot for anyone visiting Sheffield, as the city center is just 5 kilometers away.
Check Availability
There are two houseboats on offer – Laila Mai and Millie Grace. These boats are newly refurbished and individually designed to provide guests with all the comforts of a home. Each of the boats is heated and features a fully-equipped kitchen for self-catering. At an additional cost, guests can enjoy full English or continental breakfasts.
From the Quays, there is plenty to see and do. Follow the towpath walk along the Sheffield Canal river system, admiring the city's beauty and industrial heritage. Guests are also provided discounted entry to the Hilton Hotel's Living Well Health Club, which includes a pool, gym, steam room, and hot tub.
If you do not wish to head out, simply relax and dine on the boat's large canopy. Eat delicious food, drink good wine, and enjoy stunning views of the Sheffield city center oasis.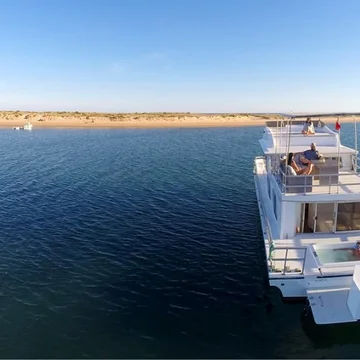 Barco Casa Fuzeta Luxury Yachts
Anchored amidst the Ria Formosa Natural Park in Portugal are several lovely self-catering boats. This yacht hotel offers a unique sense of tranquility as you sit surrounded by calm turquoise waters. And above you, a clear sky that is scattered with stars at night.
Check Availability
Barco Casa Fuzeta offers three houseboats, each offering something different. The Barra Velha is the largest, sleeping up to six adults and four children. Following this is Culatra Island, which sleeps up to two adults and two children. And lastly, for couples and honeymooners, there is the wonderful Barra Nova, which sleeps a maximum of two adults. Each of these floating homes is eco-friendly and is thoughtfully designed to ensure a comfortable stay. The boats generally feature an indoor dining area, kitchenette, and an outdoor terrace with a solarium. The Barra Velha boat also features a mini swimming pool. While the other two do not have pools, the water surrounding the boat is more than inviting.
There are also a number of complimentary activities, so you can enjoy the Ria Formosa to the fullest. These can be added to your stay when making your booking. Activities include dolphin watching, observation of marine life, sport fishing, and tours of the Natural Park. Whether you're traveling as a couple, family, or group of friends, Barco Casa Fuzeta has something for everyone.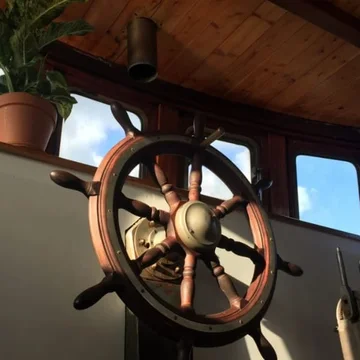 Hotel Asile Flottant
Asile Flottant is a collection of characteristic luxury hotel boats docked in the shallow waters of the Ceuvel, a former shipyard located in Amsterdam. This creative hotspot provides an ideal location, just minutes away from the historic city center. This way, you are able to enjoy all that the city has to offer, without getting caught up in all the noise. After a thrilling night out, come back and enjoy a drink before dozing off in your vintage cabin.
Check Availability
In total, there are six boats and luxury yachts from which you can choose. These vary in size, with some sleeping two to four guests and others sleeping between six and eight people. Each of these historic vessels boasts a unique design that wonderfully embraces the Dutch heritage.
For couples, we recommend staying at the Anneliese boat hotel. Like the other boats, the Anneliese has a stunning exterior. While the exterior comprises mostly industrial steel and ancient wood, the inside is a lovely romantic bubble. This luxury yacht hotel provides a secluded spot, perfect for a spontaneous getaway.
Other boats include De Amsterdam, Les Six Frères, De La Soul, Holland VII, and UK 85. These boats are larger than the Anneliese and are best suited to families or groups of friends. Regardless of which boat you decide to stay in, you are sure to have an unforgettable experience amidst the aura of Amsterdam.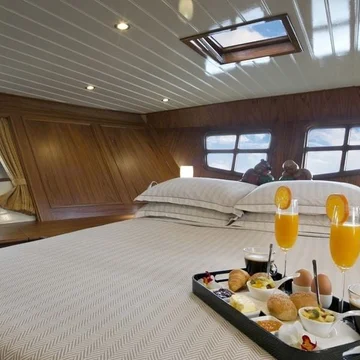 Domicil Yacht Hotel
On board the Domicil luxury yacht hotel, you can enjoy the absolute luxury of a private yacht with the services of a five-star hotel. Docked at the five-star Red Frog beach resort in Panama, you get the best of both worlds. An exclusive yacht experience, as well as full access to one of the best resorts in Panama.
Check Availability
This is a highly secluded hotel as it only caters to two adults at a time. During your stay, you will have a personal chef who will attend to your every need. In the mornings, enjoy your breakfast alfresco on the deck. During sunset and in between meals, enjoy a fixed selection of appetizers and wines, all while marveling at panoramic views of the horizon.
Guests staying on board the Domicil yacht hotel are provided exclusive access to a lovely selection of activities. This includes board games, snorkeling, kayaking, and stand-up paddleboards. For prudent drivers, the yacht's tender is available for private rides in the area. Note that some of these come at additional charges.
Surrounding your yacht hotel are the isles of Bocas del Toro. Here you will find an array of upscale villas, stunning beaches, and natural wonders – all of which can be enjoyed throughout your stay.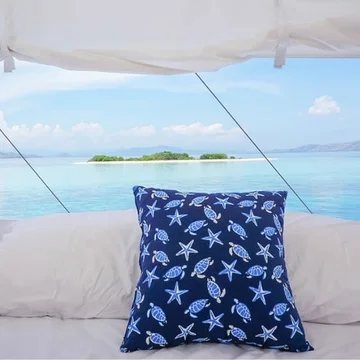 Le Pirate Boatel
Le Pirate Boatel brings you a refreshing floating escape from reality, located just 10 minutes from Labuan Bajo. This boat has 10 absolute waterfront cabins, each fitted with a private deck, hammock, and a swim ladder. On-site, on the upper deck, is a lovely BBQ restaurant and bar for guests to enjoy.
Check Availability
Le Pirate Boatel is connected to the harbor and has a free shuttle boat to take guests back and forth. From the harbor, guests can venture into the bustling city or take part in a variety of fun activities on the mainland. Some of these include canoeing, paddleboards, rock fishing, snorkeling, beach explorations, and day tours.
After a fun day out, return to your cabin, kick back with a drink, and watch the sunset. Once night falls, enjoy a good night's sleep under the stars.
Summary: Best Luxury Yacht Hotel
The luxury yachts covered in this article each offer a unique experience and provide a lovely escape away from the everyday norm. Whether you're planning a long trip aboard a luxury all-inclusive cruise or a midweek staycation, the options provided are sure to have you covered.
Whichever yacht hotel you choose to visit, we encourage you to relax, eat delicious food, and enjoy good company. And remember to bring along your sunscreen.
For another unique and peaceful retreat, check out these amazing luxury snow hotels.