Known as the best honeymoon destination by the Caribbean shores, Saint Lucia seduces high-end travelers with sandy beaches and jagged volcanic peaks. However, this beautiful country has more than meets the eye, being the nation with the most Nobel Prize winners per capita in the world. Here, lovers of luxury can expect awe-inspiring locations and warm hospitality, so let's get into the reviews for the best luxury hotels in Saint Lucia.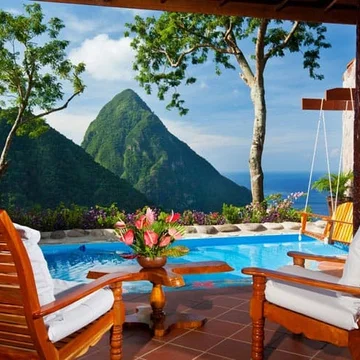 Ladera
Boasting an exclusive location, Ladera is a luxurious resort set on a UNESCO World Heritage site overlooking the Caribbean Sea. The property is perched on a volcano ridgeline 1,000 feet above the sea where guests can enjoy expansive views over the twin peaks of Gros Piton and Petit Piton. Hewanorra International Airport is 45 minutes away.
Check Availability
The hotel's 37 rooms and suites are set amidst a tropical garden bursting with lively colors. Coconut trees, orchids, papayas, and grapefruits – the surroundings epitomize everything one dreams of when thinking of tropical getaways. This is an eco-friendly resort and every unit has been entirely constructed with natural materials including tropical hardwoods, stone, and tile. Expect a fresh and airy ambiance – all units open to a large terrace with expansive views over Piton's peaks. Binoculars are a nice touch as you will probably spend most of your time contemplating the sensational views and beauty of the tropical birds.
Guests are in the hands of executive chef Nigel Mitchel who is known for his interpretations of authentic St. Lucian dishes. The menu is extensive and features specialties such as coconut soup, Caribbean lamb salad, jerk poulet sausage, and sweet potato. Talented artists from the area perform every night at the Bar at Dasheene, where you can sway on the podium or just enjoy your cocktail on the bar.
Guest rooms start at $420.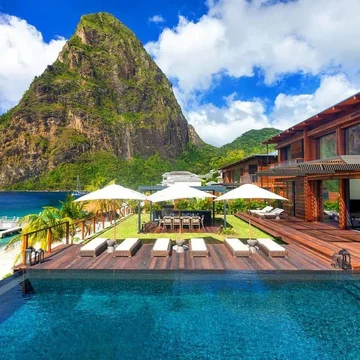 Sugar Beach
Another killer location, Sugar Beach is situated on a long stretch of sandy white beach in the backdrop of Petit Piton. The area is peaceful and quiet, making this property ideal for honeymooners and couples. Fun fact: Matt Damon and Luciana Barroso rented the entire resort to renew their wedding vows which has cost them $1 million according to Life & Style Magazine. Numerous Hollywood A-listers were invited including Michael Douglas, Ben Affleck, George Clooney, Brad Pitt, and Angelina Jolie.
Check Availability
Utmost relaxation is guaranteed at the rooms overlooking the Caribbean Sea and the Val des Pitons. The property boasts 18th-century colonel charm, while the ambiance inside is airy with white walls, soft furnishings, and elegant curtains. The sofas are inviting with cushions fashioned in sky blue color. The best part? All units have plunge pools and whirlpool tubs. Get your morning coffee and get a dip – we can't think of a better way to start the day. The list of amenities includes a Nespresso machine, electric kettle, a minibar, iPod docks, air-conditioning, and free Wi-fi.
If you want to experience a tropical lifestyle at its best, book some of the overwater bungalows styled with thatched roofs, wooden floors, and the hotel's trademark white interiors. Laze your day away on a hammock or marvel at the sunset from your private jacuzzi, these bungalows are all about barefoot decadence. Bathrooms guarantee utmost comfort and relaxation with Victorian-style baths, rainfall showers overlooking the courtyard, and marble floors.
Breakfast is a leisurely affair with a buffet menu consisting of hand-made bread, pastries, delicious juice, smoked Hammon, cold cuts, and of course, fresh coffee. Locally caught fish are immediately turned into mouth-watering dishes at the open-air Bayside restaurant.
Guest rooms start at $560.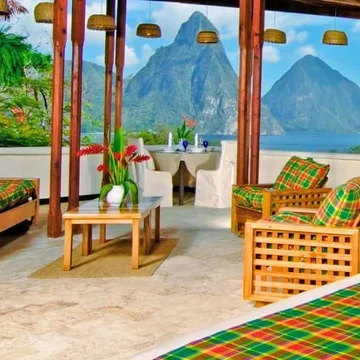 Anse Chastanet Resort
Nothing beats this hotel location, Anse is set on 600 lush tropical acres bordering two white sand beaches in south-west St Lucia. Here, not only you get to spend the night at a World Heritage Site, but you can also explore a reserve brimming with colorful coral reefs and rare tropical fish.
Check Availability
The whole property was designed by the architect owner Nick Troubetzkoy whose passion for nature is evident in every little corner. The suites are entirely built with natural materials, and the lively color palette of yellow, green, and orange perfectly blends with the wild natural surroundings.
If you crave intimacy, book the hillside deluxe rooms where you will feel one with nature. The rooms have the fourth wall missing entirely, so they are infused with natural light and allow natural airflow. Expect tropical hardwood floors, patios, king-size beds fashioned with soft-linens, and comfy sofas. Every unit at the resort is appointed with high-end amenities from minibars, Nespresso machines, in-room safes, free Wi-fi, soaking tubs, and handmade bathrobes, to Molton Brown amenities. If money is no object, book the palatial Premium Hillside room. With a private plunge pool offering unobstructed views over the Pitons, these sumptuous rooms are made for nights full of romance.
Dining-wise, Anse Chastanet doesn't disappoint either. From vegetarian specialties and ocean-inspired dishes, to Caribbean and Indian fusion cuisine, the three on-site restaurants guarantee unforgettable culinary experiences.
Guest rooms start at $280.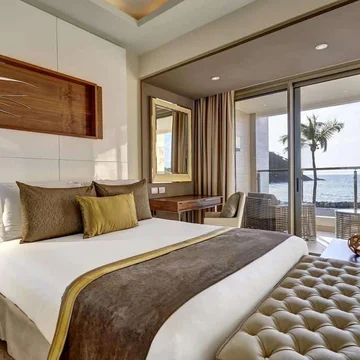 Royalton Saint Lucia Resort & Spa
Royalton Saint Lucia is a beachfront property set amidst lush landscaped gardens, just a short drive away from the capital, Castries. The resort caters to both families and couples who want to experience the comfort of tropical getaways.
Check Availability
Royalton has 456 suites, all appointed with high-end amenities. All suites have a luxe vibe with white-on-white interiors, pops of golden accents, and honey-colored furniture. From the entry-level junior suites to family suites and diamond club suites, all units ooze elegance and sophistication with details such as delicate lightning, Egyptian cotton bedding, and tropical prints. Situated in the center of the room, Royalton's signature whirlpool tub offers moments of pure pleasure. The Hideaway suites are set in the adult-only parts, while the Diamond Club suites come with a number of freebies, access to a private section of the beach, and devoted concierge service.
In terms of facilities, Royalton surpasses competitors with four pools, swim-up bars, a lavish spa, and a water park. If you want to laze your day away, book the oceanview plunge pools for a couple of hours and let the butler pamper you with fresh juices and small bites. With 13 bars, fun nights are guaranteed at the resort. The dining offer is equally impressive with 9 on-site restaurants offering everything from steaks, burgers, and sushi, to Mexican and Italian specialties.
Guest rooms start at $360.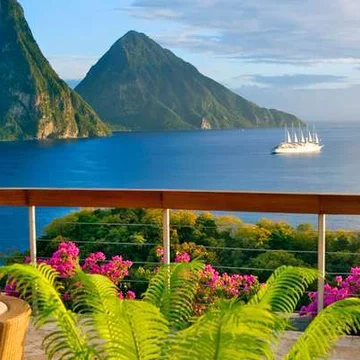 Jade Mountain
Jade Mountain plays first fiddle with its exclusive location overlooking both the Piti and Gros mountain. The hotel is perched high up on a hillside and spreads across 600 lush tropical acres. Below lies the Anse Chastanet Resort, where guests can access all facilities and restaurants. The hotel is also the proud owner of a long stretch of sandy white beach and the historical plantation of Anse Mamin from where the on-site restaurants source their organic products.
Check Availability
This is another hotel owned by the architect Nick Troubetzkoy who has designed a masterful piece of architecture that not only blends with the natural surroundings, but it has a romantic and sensual vibe that caters to couples and honeymooners.
Expect warm hospitality and impeccable service with round-the-clock butlers who will be happy to assist with any requests. The suites are so elegant and cozy, that some guests never leave their king-size beds fashioned with soft linens. That's why – all your meals can be enjoyed from the comfort of your room.
Breakfast is a long spread, while lunch and dinner are all about modern fusion cuisine served in a delicate way. If you do decide to leave your room, be sure to visit Celestial Terrace where you can sip tropical cocktails and mingle with international travelers. Jade Mountains is all about decadence on hilltop seclusion.
Guest rooms start at $970.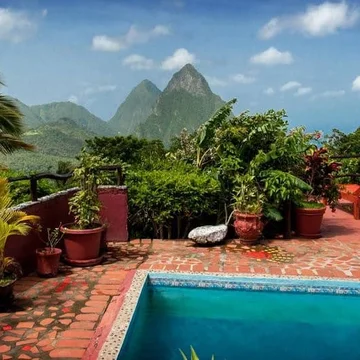 Crystals
If you want to forget about your daily worries and refuel your imagination, Crystal offers sumptuous rooms in an isolated location that will help you re-energize. The hotel is perched on a steep hillside in south-west St Lucia. There isn't much within a walking distance, so you can expect a quiet and peaceful ambiance.
Check Availability
Resembling a giant treehouse, the hotel oozes exotic vibes with hand-made Caribbean furniture, white interiors, and four-poster beds. Guest rooms feature unique decor, but the tropical style is a recurring theme with charming verandas, white curtains, and comfy seating areas. All units are appointed with private pools, fully equipped kitchenettes, sun decks, barbeque grills, cable TV, Wi-fi, and flat TV screens.
The perfect spot for a romantic dinner would be the Treetop Restaurant built into a huge mango tree. Here, Caribbean and Indian dishes are served in a setting draped in silk fabrics of gold, cream, and orange.
Breakfast is delicious with fresh fruits, coffee, tea, homemade jams, and coconut pancakes, and the best part is that you savor your morning meal from the comfort of your bed. The bar is the perfect spot for pre-dinner cocktails and during cocktails hours it can get quite crowded.
Guest rooms start at $210.
Harbor Club
Located on Rodney Bay Marina, this grandiose hotel is part of the marina and is usually crowded with sailеrs who want to stop for a day or few and experience tropical hospitality.
Check Availability
Unlike most of the hotels in Saint Lucia which are all about rusty-tropical style, Harbor Club is more on the sophisticated side. Expect spacious public areas surrounded by plants and palm trees and an excellent list of facilities that will keep you busy. From a modern gym with island views, a beauty salon, and a lavish spa, to yoga and pilates rooms – the hotel offers guests spaces where they can re-energize and find inner peace.
A number of excursions and dive trips can be arranged and guests get complimentary water taxi use to Pigeon Island beach where they can relax on cushioned sun loungers. With lofty ceilings, white interiors, and oversized ocean prints, the guest rooms feel light and airy. All rooms are appointed with furnished balconies and feature views over the island, the marina, or the mountains. Comfort is guaranteed with a number of high-end amenities including a Nespresso machine, electric kettle, soft bathrobes, and Bvlgari toiletries.
The dining options are excellent. Whether you crave burgers, five-course Italian-style emails, sushi, or Western classics, the four on-site restaurants invite you to indulge your appetite in some exceptional delicacies.
Guest rooms start at $160.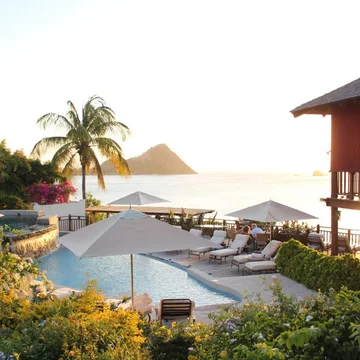 Cap Maison
A stunning hilltop location, Cap Maison is located on the northern tip of St Lucia. The charming Rodney Bay Village is a 10-minute drive away, while St Lucia Golf & Country Club is in the neighborhood. The hotel is family-owned and managed, so the ambiance is warm and inviting.
Check Availability
The attention to detail is evident in every corner with terracotta urns, arches, fountains and well-maintained lawns, and tropical gardens. Guests can choose from 49 guestrooms, suites, and villas spread across 10 two-story units. Elegant and sophisticated, all units feature cedar wood floors, hand-made furniture, Jalousie shutters, and numerous charming details such as cushions with floral motifs and hand-painted Mexican tiles. For the ultimate comfort, book the Ocean Villa Suites which are appointed with a master bedroom, kitchen, rooftop terrace, and a private pool with ocean views.
Guests get complimentary use of watersports equipment for kayaking, surfing, snorkeling, and sailing. For a tiny resort, Cap Maison boasts an excellent number of facilities including two pools, a small spa, and a gym. Smugglers Cove is the hotel's beach equipped with sun loungers and umbrellas.
Cap Maison is the proud owner of one of the best restaurants in St Lucia run by the renowned chef Craig Jones. Here, the Caribbean and French dishes are paired with fine wines in a romantic open-air setting. Don't miss the wine-tasting evenings guided by the hotel's sommelier.
Guest rooms start at $420.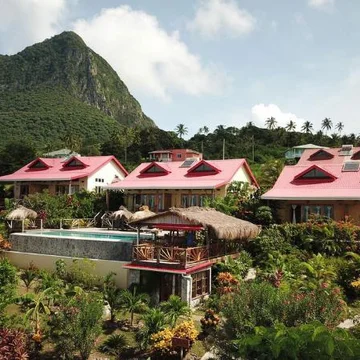 Têt Rouge
Utterly charming and inviting, Tet Rouge is a small boutique resort situated on a hilltop at the base of Gros Piton. The location is very isolated, however, it has a very central position close to all major attractions. Anse L'Ivrogne beach, Diamond Falls, and Botanical gardens are all within a short drive. Moreover, you can hike up Gros Piton and marvel at the sensational views.
Check Availability
Tet Rouge mixes tropical style with contemporary elegance. Picture clean lines, a thatched roof terrace as the hotel's centerpiece, and loungers lined by the infinity pool overlooking the ocean. There are only 6 studios, so intimacy and privacy are guaranteed at the resort. All units feature loft ceilings, wooden floors, soft furnishings, and terraces with panoramic sea views. The ambiance is sensual and romantic with delicate lightning, four-poster king-size beds, and floral arrangements. Tet Rouge offers honeymoon packages with complimentary amenities such as a bottle of champagne awaiting you in your suite on arrival and chocolates.
If you want to surprise your partner, the proposal concierge may assist you with that, or you can always arrange breakfast in a private gazebo overlooking the Caribbean Sea. The offers include a bottle of Champagne, a selection of bread, pastries, fresh seasonal fruits, tea, and coffee. Couples massages are available upon request.
Guest rooms start at $300.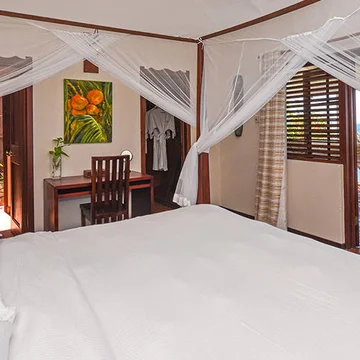 Anse La Raye, Saint Lucia
Ti Kaye Resort & Spa
This award-winning resort has a secluded location above the Anse Cochon cove. The charming village Anse La Raye, known for its lively weekend parties, is a 20 minutes drive away. Ti Kaye boasts an eco-chic jungle vibe which makes it ideal for couples who want to explore untouched nature and have romantic dinners under star-studded skies.
Check Availability
Dotted over the cliffside, Ti Kaye's cottages have a Robison Cryso style vibe with thatched roofs, wooden floors, and four-poster beds fashioned with white linens. Take a shower in your private open-air garden, read a book on a rocking chair, or relax on a hammock, these amenities promise hedonistic moments. For an elevated experience, book an ocean view cottage and relax in your private plunge pool with panoramic sea views. There are no TVs in the bedrooms, Ti Kaye invites guests to tune in to the present moment and contemplate the infinite stretches of the sea.
A number of excursions can be arranged including hiking St Lucia's mountains and a tour exploring the best scuba diving spots on the island. The main draw here is the swimming pool set on the clifftop. Order a cocktail and take a dip, the pool area guarantees uttermost relaxation. Additionally, the hotel features a charming cliff-hanging spa, modern gym, a dive center, and an open-air restaurant serving Caribbean and French dishes.
Guest rooms start at $220.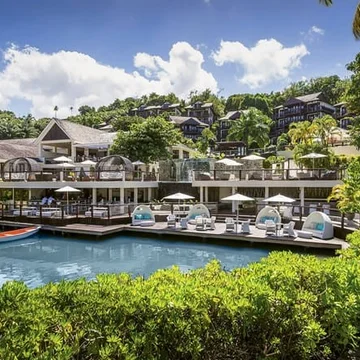 Marigot Bay Resort & Marina
Marigot Bay is located in the area known as "hurricane hole" surrounded by cliffs and mountains. The hotel is right on the marina at Marigot Bay and is particularly popular among yachters.
Check Availability
The hotel is grandiose and spacious with a vast tropical garden brimming with palm trees and flowers. This is an all-suite property where comfort is guaranteed with apartment-style residences. Expect lofty ceilings, dark wood furniture, and beds fashioned with silk linens.
The list of amenities is extensive and features capsule coffee machines, electric kettles, minibars, fringe, and a washing machine. Bathrooms offer plenty of space for relaxation with double basins, walk-in showers, and exclusive toiletries. Honeymooners and couples usually book the suites higher up in the hillside which has hot tubs overlooking the yachts-lined marina.
From authentic Caribbean dishes to European-inspired menus, the on-site restaurants offer excellent culinary experiences. The Hurricane Hole Restaurants is known as one of the best spots in St Lucia to try local food. Don't miss to try the restaurant's signature Caribbean fish broth. The best way to surprise your partner is to book a romantic dinner at the hidden treehouse. Here, the meals are served by the executive chef himself.
Guest rooms start at $420.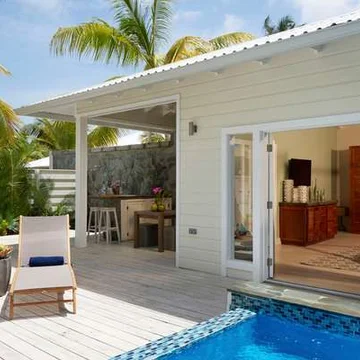 Serenity at Coconut Bay
As the name suggests, Serenity is all about moments of inner peace on a beachfront estate in the town of Vieux Fort. The resort is just a three minutes drive away from Hewanorra International Airport.
Check Availability
This is an adults-only resort that offers personalized service. Guests can choose between 36 suites, each set amid tropical plants. Butler service is available to all guests. The staff team is friendly, attentive, and ready to arrange everything from spa treatments, surprise dinners, and beach picnics, to excursions.
The rooms ooze elegance with tropical shades of blue, orange, and green, soft furnishings, and custom mahogany beds. All units have a sunny deck with a private plunge pool. You won't even need to leave the pool, the staff team can arrange breakfasts and dinners in your room. Bathrooms are equally impressive with walk-in showers, deep soaking tubs, and double vanities. Hammocks and wet bars are a nice touch.
If you want to push the boat out, book the Grande Plunge Pool Suite equipped with a rain shower set in a tropical garden and a gazebo for al fresco dining.
The menu changes daily at the on-site restaurant, but you can rest assured that you'll enjoy some of the best ocean dishes in St Lucia. Guests also enjoy complimentary dining at the restaurants in Coconut Bay.
Guest rooms start at $920.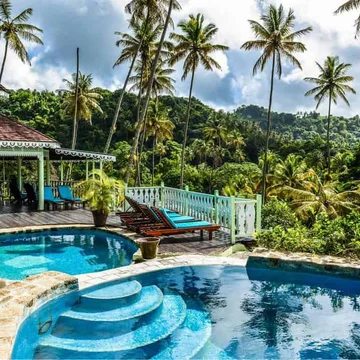 Fond Doux Plantation & Resort
The ultimate tropical retreat, Fond Doux Plantation offers sumptuous accommodation in a 19th-century colonial resort. The resort is set on a 250-year-old working cocoa plantation in Soufriere, off the beaten track. There isn't much within walking distance, however, the hotel organizes shuttle services to the nearby beach of Anse des Pitons.
Check Availability
The hotel's charming cottages are set amidst 135 acres of rainforest landscape and cocoa fields. From your room, you can marvel at the tropical gardens brimming with palms, papayas, bananas, and exotic flowers. What's more, the area has rich birdlife – the hummingbirds are all over the place. There are only 15 cottages, each set in a semi-detached location.
The ambiance is romantic with wooden floors, four-poster beds, and soft furnishings. Each unit opens to a wide verandah where you can relax on a rocking chair or hammock. The pricey cottages are equipped with top-notch amenities such as outdoor garden showers, plunge pools, and panoramic views over the valley.
Breakfast is a delicious affair at the Bamboo Restaurant. The menu consists of homemade bread, pastries, tropical fruits, cocoa tea, cold cuts, eggs, and coffee. Here, lunch and dinner are served on linen cloths in a lantern-lit interior.
Guest rooms start at $230.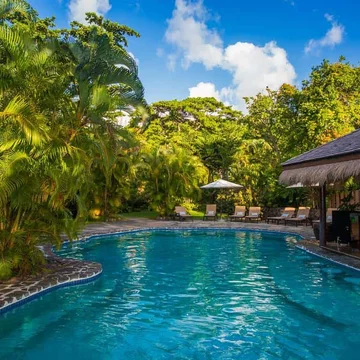 East Winds
A classy all-inclusive resort that caters to older high-end clientele, East Winds offers a secluded location on the west coast of St Lucia. The fishing Rodney Bay Village is a 10-minute drive away.
Check Availability
The hotel is highly rated when it comes to service and most of the guests are regulars. With tropical gardens, 150 yards of peaceful sands, and wonderful birdlife, East Winds boasts a dream-like setting ideal for romantic moments with your partner. There are 30 detached cottages dotted around the resort, all featuring tropical style. Picture floral cushions, terracotta floors, and white interiors.
The bathrooms are sleek with hand-painted basins and walk-in showers. Standard amenities include air-conditioning, flat TV screens, Nespresso machines, electric kettles, and a mini-bar. The most luxurious unit at the resort is the oceanfront room which has the beach at its doorstep.
East Winds doesn't disappoint in terms of facilities either. The property features a large swimming pool, swim-up bar, and a lavish spa with treatment rooms, a fitness center, and an outdoor yoga pavilion. Guests can rent kayaks, Hobie Cats, and paddleboards at the watersport center. Breakfast, lunch, and dinner are served at the charming open-air lounge. This is a lively spot where you can socialize with international travelers.
Guest rooms start at $720.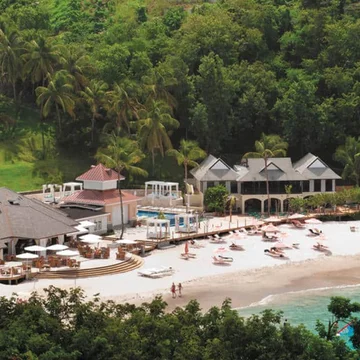 The BodyHoliday
The BodyHoliday Cap Estate is one of the most famous resorts in Saint Lucia. It's located on the northern part of the island, just a 10-minute drive away from Rodney Bay Village. With an extensive list of amenities, sumptuous rooms, and an enticing spa, The BodyHoliday delivers on its promise "Give us your body for a week and we'll give you back your mind".
Check Availability
Guests can experience the ultimate in pampering at a lavish spa designed with Moorish details. Here, guests can relax in impressive 36 treatment rooms, relaxing lounges, yoga decks, and thalassotherapy pools. The beauty salon offers make-up services, hair treatments, waxing manicures, and pedicures. At the resort, you can practice numerous outdoor sports including golf, tennis, cycling, fencing, and sailing.
The rooms are cozy with four-poster mahogany beds, dark wood furniture, and a bright color scheme. In-room amenities include Wi-fi, air-conditioning, bathrobes, slippers, minibars, and coffee making machines. The Luxury Ocean View Rooms have noise-cancellation walls and feature Feng Shui design.
The BodyHoliday Cap offers some of the best all-inclusive packages in Saint Lucia. The room rates cover 50 minutes daily spa treatments, meals, drinks, meditation classes, and use of sports facilities.
Guest rooms start at $520.
Find Luxury Hotels in Saint Lucia