Saudi Arabia, the home to ancient civilizations, is known for its rich history, momentous cities, and sacred religious sites. Nowadays, there is no shortage of luxury hotels in Saudi Arabia to choose from, all of which reflect the spirit of the kingdom.
Our list encompasses luxury hotels spread across multiple cities, and we sincerely hope it proves useful for your next travel plan.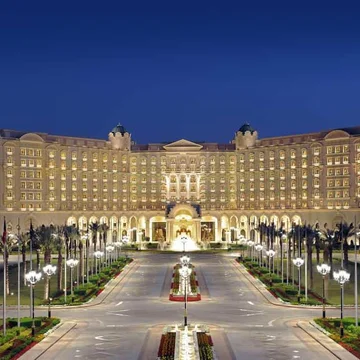 The Ritz-Carlton Riyadh
Palatial décor, spotless service, and a world-class gentlemen spa are only a few of the aspects that make The Ritz-Carlton Riyadh one of the best luxury hotels in Saudi Arabia. Surrounded by centuries-old trees and lush gardens, with a long and well-lit driveway that leads to the grand entrance, the extravagant nature of the hotel can be spotted from far away.
Check Availability
The luxury on-site spa is where you can receive an exclusive and soothing treatment, while the swimming pool dome, equipped with floor-to-ceiling windows that look over the surrounding gardens, is another place where you can relax and replenish. Additionally, the hotel boasts a fitness center and a bowling alley.
Fine dining is a priority at The Ritz-Carlton Riyadh, so there are many on-site restaurants to choose from. While they all share the elegant and glamorous setting, they differ in terms of cuisines. Al Orjouan serves seafood and an impressive Friday brunch. Azzurro is the hotel's Italian restaurant where you can enjoy exclusive and comforting specialties. You can taste a glorious combination of classic and modern Chinese food at Hong, and if you're not in the mood for a full meal, there is also a great café where you can indulge in traditional Arabian sweets.
The palatial setting continues at the rooms and suites at The Ritz-Carlton Riyadh. Some of the amenities include an LCD TV, a work area, tea and coffee facilities, and a marble bathroom with complimentary Asprey bath amenities. The Royal Suite is the most opulent option, with butler service, scenic city views, and a dining area that fits more than ten people.
The rates at The Ritz-Carlton Riyadh start from $270.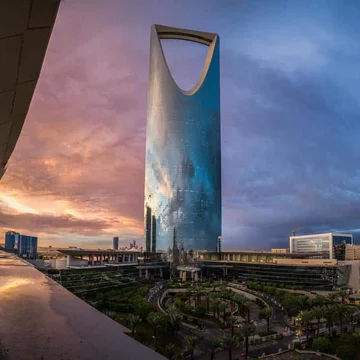 Four Seasons Hotel Riyadh
Located in Saudi Arabia's vibrant capital, Four Seasons Hotel Riyadh is a remarkable choice for a luxury hotel that offers its guests a royal treatment and a plethora of amenities.
Check Availability
The facilities offered are outstanding – you can make use of the large outdoor pool, visit the state of the art health club that includes a cold plunge pool, a whirlpool, a sauna, and a steam room, or play a game of tennis at the tennis court. Services include babysitting, in-room dining, and personal assistant hire, while the staff is helpful and informative.
Dining-wise, there are both international and local cuisines to choose from. Elements restaurant serves dishes from China, Japan, India, and the Middle East, prepared with the best local ingredients. The Lobby Lounge has a relaxed atmosphere, ideal for a quick meal or a coffee date.
The rooms and suites at Four Seasons Hotel Riyadh are designed with a neutral color palette, impressive modern artwork, and elegant furnishings. Each option contains a flat-screen TV, large windows that show off the tallest buildings, and a spacious living area.
Prices at Four Seasons Hotel Riyadh start from $400 a night.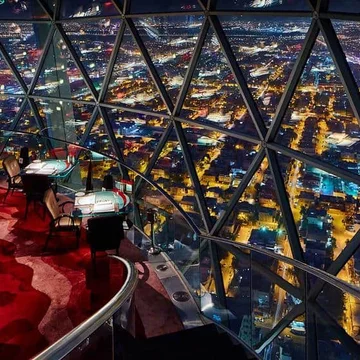 Al Faisaliah Hotel
Al Faisaliah Hotel is one of the most popular hotel choices in Riyadh, if not in all Saudi Arabia. This five-star hotel offers a world-class spa, a long list of services, and 330 immaculately appointed rooms and suites.
Check Availability
The Al Faisaliah Spa by ESPA, with its lavish interior and extensive menu of treatments, is the perfect place to relax and de-stress. Taste the best flavors of Europe at The Globe, an on-site restaurant located in the golden sphere that's one of Al Faisaliah Hotel's landmarks, offering panoramic views of the city. La Brasserie is guests' go-to for international cuisine, where you can see your food prepared right in front of you.
The rooms and suites ooze luxury and glamor. The modern amenities, like the flat-screen TV, refreshment center, and touch-screen control lighting, are included to make your stay as comfortable and memorable as possible. The Royal Penthouse Suite is a treat in every sense of the word, offering a private elevator, unique furnishings, a Jacuzzi, and a private sauna.
The rates at Al Faisaliah Hotel start from $270 per night.