A country with an intriguing culture and history, Sri Lanka is an excellent spot for travelers who want to explore hidden gems, get lost on landscaped trails, and enjoy white sand beaches. Sri Lanka caters to wildlife enthusiasts and adventurous spirits, but also to high-end travelers who want to experience the latest in luxurious accommodation and world-class service.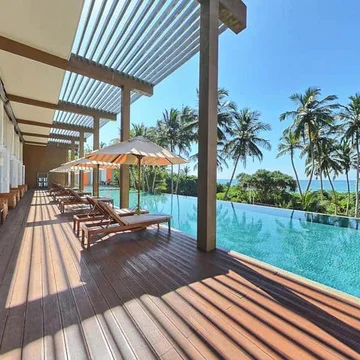 Buckingham Place
Situated in the charming village of Rekawa, Buckingham Place is a small yet luxurious resort surrounded by landscaped scenery. There's not much in the immediate area except for Rekawa turtle beach which is a short walk away. If you do want to explore the area, the hotel organizes excursions to Ussangoda Beach and Mulkirigala Rock Temples.
Check Availability
Near the hotel is the breathtakingly beautiful and wild Rekawa Beach. Guests have also access to a 33 m infinity pool and a small kids' pool. The pool area has sun loungers and a bar; this is a great spot to unwind over a cocktail. Inside the hotel, guests can enjoy spacious and airy rooms all appointed with high-end amenities. Expect tropical style with colorful artworks, plush seating areas, and an earthly-colored palette. All units have balconies overlooking the Rekawa Lagoon and are furnished with desks and chairs.
For some extra comfort, book some of the suites with two bedrooms, dining areas, and dressing rooms. Bathrooms are incredibly cozy with circular soaking tubs, rainfall showers, double sinks, and organic toiletries.
For a romantic dinner head over to the open-air restaurant where you can enjoy international specialties under candle lights. At the hotel's small amphitheater, there are live music performances and guests are also invited to demonstrate their talents.
Guest rooms start at $250.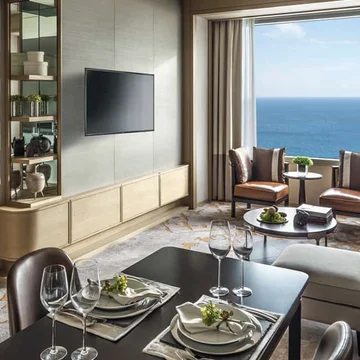 Shangri-La Hotel
Situated in a high-rise on the lively Galle Face Green, Shangri-La Hotel has impressive views over the Indian Ocean, Beira Lake, and Colombo's skyline. In the immediate area, there are some colonial-era buildings and guests can also find some dining and restaurant spots.
Check Availability
Expect signature Shangri-La elegance inside the hotel public areas which are spread across the first four floors. The sophisticated vibe continues inside the suites and guest rooms featuring contemporary design with subtle traditional touches. The calming cream-and-grey color scheme perfectly blends with the wood furnishings and pale taupe curtain. You can stretch on your king-size bed fashioned with 300-thread Egyptian cotton lines or unwind in the marble bathrooms with separate soaking tubs. The amenities are top-notch and include a wall-mounted flat TV screen, mini-bar, Nespresso machine, and cordless phone. Business travelers staying at some of the suites have access to the Horizon Club Room and get a number of freebies including drinks and snacks.
Shangri-La Hotel Colombo has three excellent restaurants which are usually crowded with both locals and international travelers. At Dharshan Munidasa's Kaema Sutra guests can enjoy contemporary Sri Lankan dishes in a rustic-chic setting. For some Chinese specialties head over to Shang Palace, while Capital Bar & Grill serves steaks, burgers, and seafood in a vibrant music venue.
Guest rooms start at $150.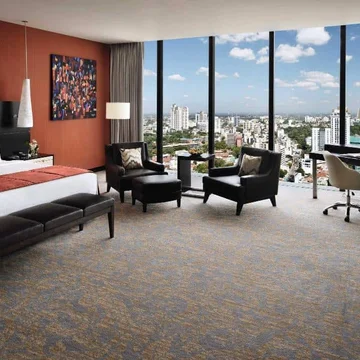 Mövenpick Hotel Colombo
The Mövenpick hotel chain is known for combining excellent locations with the latest in luxury accommodation. The hotel in Colombo is situated in the city center facing Galle Road and is near Liberty Plaza. Nearby attractions include the National Museum, Gangaramaya Temple, Paradise Road, and the American embassy.
Check Availability
The hotel's property is a stunning 24-floors high-rise featuring contemporary design with clean lines and floor-to-ceiling windows overlooking the Indian Ocean. The corporate atmosphere throughout the hotel caters to both business and high-end travelers. Guests can choose from 219 rooms and suites all offering top-notch amenities and sweeping views. The rooms are clean, spacious, and equipped with comfortable king-size beds, bedside lamps, a spacious work desk, and a chair. If you crave some extra luxury, book some of the suites which feature whirlpool tubs with two-directional city views.
In terms of facilities, the Mövenpick Hotel Colombo doesn't disappoint either. Relaxing moments are guaranteed at Spa Ceylon offering Ayurveda treatments, while fitness junkies can get their workout at the 24/7 fitness center. There's also an infinity pool, vibrant rooftop bar, and three restaurants serving Sri Lankan, Chinese, Indian and French cuisine.
Guest rooms start at $130.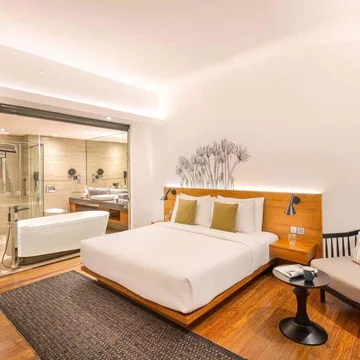 Jetwing Colombo Seven
Situated near the upscale neighborhood of Cinnamon Gardens, Jetwing Colombo offers sumptuous accommodation near the luxurious suburbs of Colombo. In the immediate area, there are numerous galleries, boutiques, and restaurants, and shops.
Check Availability
The highlight here is the rooftop bar decorated with frangipani trees overlooking the city's skyline. Here, you can experience some amazing sunsets and mingle with international travelers and locals. Plus, the infinity pool with an edge promises some unforgettable dawn swims. The staff team is friendly and attentive and will be happy to recommend bars and restaurants in the city.
Jetwing Colombo offers deluxe double rooms, studio rooms, and suites. The rooms are infused with natural light coming from the floor-to-ceiling windows, while the neutral color scheme creates an airy ambiance. Standard amenities include a flat TV screen, air-conditioning, working desk, electric kettles, and a Nespresso machine. All rooms have views over Colombo's skyline.
Buffet breakfast is served in the on-site restaurant located on the first floor. For lunch and dinner, guests can expect Sri Lankan and Chinese specialties.
Guest rooms start at $120.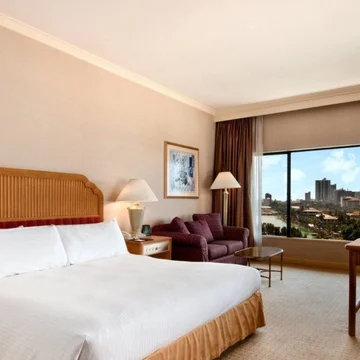 Hilton Colombo
Hilton Colombo offers luxurious accommodation in the city's business district which is in close proximity to the World Trade Centre and a number of upscale shopping and dining options. Gangarama Temple and Galle Face beach are just 10 minutes away.
Check Availability
The hotel offers excellent amenities. There's a large swimming pool with sun loungers, a fitness center, small shops selling souvenirs and jewelry, a bar and a coffee shop. What's more, the enticing spa offers numerous relaxing massages and treatments that can freshen you up after a long day of sightseeing.
Hilton Colombo boasts some excellent dining options. At the Curry Leaf restaurants styled with elegant cushioned guests can enjoy a selection of tapas-style Sri Lankan dishes, curries, and salads. There's also an ocean-inspired menu and a kids' menu. Graze offers an excellent buffet breakfast consisting of bread, pastries, Chinese soups, and desserts. For craft cocktails, head over to the chic lobby bar which is usually crowded during the weekend.
All rooms and suites at the hotel are sophisticated and cozy, with soft furnishings, king-size beds, and excellent ocean views. Bathrooms are equally elegant with deep soaking tubs, rainfall showers, and luxurious toiletries.
Guest rooms start at $120.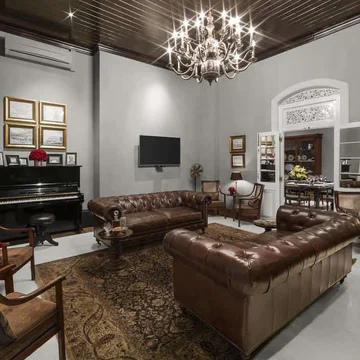 Colombo, Sri Lanka
This boutique hotel is set in the chic neighborhood of Colombo 07 which is tucked with numerous bars, shops, art galleries, and museums. In the immediate area, there are numerous tourist attractions including Independence Square, Gangarama Temple, and Royal Colombo Golf Club.
Check Availability
Maniumpathy was home to a rich family for over a century. The public areas in the hotel as well the suites are decorated with hand-made furniture, red-leather Chesterfield sofas, and antiques. Guests can choose from eight rooms, all boasting a unique design and en-suite bathroom. The Chrysanthie Suite is sophisticated with mezzanine floors, comfy seating areas, and a colonial-style king-size bed while Annapoorani Suite is spread across two floors and has a master bedroom, changing room, grand bathroom and a small balcony overlooking the garden.
In terms of facilities, Maniumpathy is limited. There is no fitness center, a bar, and a spa, however, spa treatments can be arranged. On the other hand, the on-site restaurant offers some of the best Sri Lankan dishes in town. Here, guests are in the hands of the renowned chef Ranjith Lal Gunathilaka who likes to add a modern twist to the traditional dishes. We strongly recommend that you should try "the national dish of rice and curry".
Guest rooms start at $130.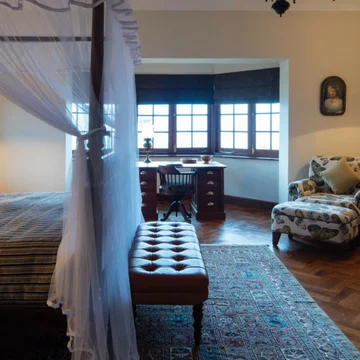 Ceylon Tea Trails
Ceylon Tea Trails is a luxurious resort located in Bogawantalawa in the area known as the Golden Valley of Tea. The hotel's bungalows are perched at an altitude of 1250 meters and offer some impressive views over the valley. Travelers looking to get away from today's busy world will find that the location is ideal for a refreshing vacation. No cars, hasty tourists, or crowds, Ceylon Tea Trails is all about peaceful moments in nature. The hotel organizes hiking, biking, and boating trips as well as a number of excursions.
Check Availability
The rooms are warm, cozy, and feature a colonial style. Each bungalow has its own unique style, however, the antiques and four-poster beds are a recurring theme. In-room service is available for all units. If you need some extra comfort, book some of the suites which boast a garden and open-air patio. The hotel offers excellent amenities including air-conditioning, mini-fridges, electric kettles, and Nespresso machines, however, there are no TVs and sound systems. Ceylon Tea Trails invites guests to take in the beautiful vistas, drink tea or take a walk around the tropical gardens.
There's no on-site restaurant. Breakfast, lunch, and dinner are served inside the bungalows. Expect top-quality Sri Lankan dishes served in beautiful ceramics.
Guest rooms start at $600.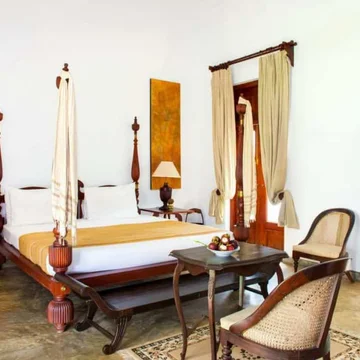 Galle, Galle District, Sri Lanka
Tamarind Hill by Asia Leisure
Located on the Giniganga River, Tamarind Hill is a luxury resort that caters to both couples and families. The immediate area is peaceful and quiet and if you want to explore the tourist highlights, it would be best if you rent a car. Galle Dutch Fort, Galle's National Museum, and the Japanese Peace Pagoda are a short drive away.
Check Availability
Starting at 646-square-foot-meters, Tamarind Hill offers spacious rooms that guarantee relaxing and peaceful moments. The colonial decor can be spotted in the rooms as well as in the public areas. Inside the charming antiques, ceramics, and artworks from local artworks create a cozy ambiance. The four-poster beds guarantee a good night's rest, while the furnished balconies are inviting with comfortable sun loungers. Private butlers are available 24/7.
The spa has only one treatment room, but it offers high-quality Ayurvedic massages and beauty treatments. Breakfast is a long spread consisting of coffee, fresh juices, homemade bread, pastries, eggs, and cold cuts. Sample delicious Sri Lankan cuisine at the Tamarind Hill Restaurant, an impressive setting with floor-to-ceiling windows and lots of artworks.
Guest rooms start at $120.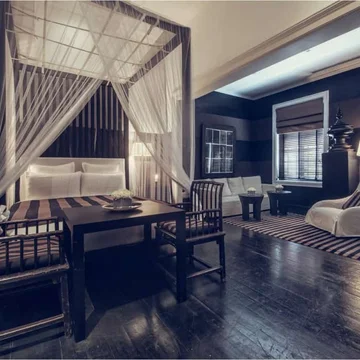 Paradise Road Tintagel Colombo
Tintagel Colombo is a luxurious resort situated in the upscale Cinnamon Gardens neighborhood. The hotel's location is the ideal base from which to explore the city as numerous tourist attractions are in the immediate area including National Museum, Galle Face Green, Dutch Fort, and Viharamahadevi Park. The hotel was visited by numerous A-listers including the Prince of Wales and the Duchess of Cornwall.
Check Availability
Guests can choose from 10 suites, all luxuriously decorated. Picture high-ceilings, dark wood furniture, and a soothing beige and brown color palette. The bathrooms are sleek with rainfall showers and luxurious toiletries. Standard amenities include flat TV screens, air-conditioning, electric kettles, Nespresso machine, iPod docks, and in-room safes.
The hotel had a small pool where you can take a refreshing dip and a small fitness center equipped with cardio equipment, weights, and yoga mats. The best way to spend the afternoon would be to read a book at the extensive library styled with leather sofas.
The CourtYard is an elegant, cozy, and spacious restaurant where guests can explore gourmet-style international dishes. The Red Bar serves spirits and cocktails in a bold setting with leather stools and velvet chairs.
Guest rooms start at $100.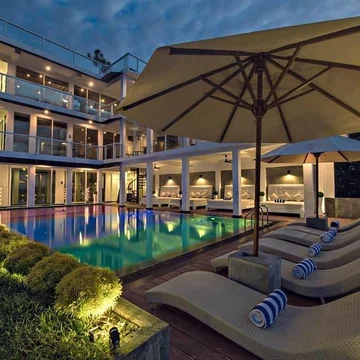 Galle District, Sri Lanka
Cantaloupe Levels Unawatuna
Combine a relaxing ambiance with luxurious accommodation and you get the luxury Cantaloupe Levels Resort. Here, you can enjoy impressive views, rare flora, and fauna while being just 10 minutes away from Jungle Beach and Japanese Peace Pagoda.
Check Availability
Guests can choose between three types of rooms including Superior Silhouette, Deluxe SIlhouettes, and Suite Dreams. All feature a black-and-white color scheme, comfortable sitting areas, and king-size beds. Stretch on your bed fashioned with soft linens or freshen up in the soaking tub, the rooms guarantee comfort. Top-notch amenities include air-conditioning, flat TV screen with satellite channels, DVD library, in-room safe, tea and coffee making facilities.
The main highlight here is the three-colored pool set in the center of the hotel. The area around the pool is surrounded by sun loungers, fan-cooled daybeds, and umbrellas. Here, you can also enjoy small bites and cocktails. At the enticing spa, guests can unwind in elegant treatment rooms and choose some of the Ayurvedic treatments. The on-site restaurant serves Asian cuisine with a modern twist in an open-air setting.
Guest rooms start at $100.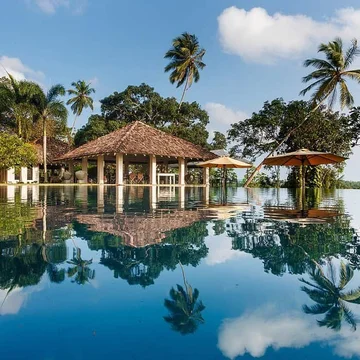 Kahanda Kanda
The luxurious Kahanda Kanda is set on a secluded hilltop location offering some impressive vistas. The location allows guests to find peace and comfort while still being close to Kabalana and Weligama's surf.
Check Availability
Kahanda Kanda is a small boutique hotel, but it offers superb facilities. Whether you decide to spend your day by the infinity pool overlooking Koggala Lake or get your daily workout while enjoying panoramic vistas, pleasant moments are guaranteed. There's also a television room with bean bags where you can watch a movie with your partner or family.
The hotel offers fabulous dining experiences. Start your day with fresh juices, coffee, eggs, cold cuts, bread, and pastries while you take in the views from the glass balcony at The Dining Pavilion. The culinary team working here has been trained in Thailand, so you can expect some mouth-watering Thai dishes.
Choose from 12 individually designed villas by the Australian architect Bruce Fellsmith. Featuring a neutral color scheme, antiques, colorful rugs, and books, the interiors are homey and cozy. Three villas have pools and outdoor showers.
Guest rooms start at $240.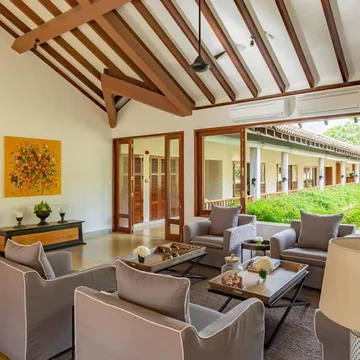 From slow cruises through murky waters and visits to the turtle hatchery, to the exploration of Bewis Bawa's Brief Garden, there are plenty of things to do and see. After a long day of sightseeing, you can spend your afternoon in the swimming pool equipped with sun loungers and umbrellas. There's also a small fitness center and a kids' club. In the television room, you can watch a selection of movies and mingle with international travels.
Eight double bedrooms are available at The Long House, all of which boast ultra-modern design with high sliding doors, floor-to-ceiling windows, and furnished balconies. Inside, you can expect a cream color palette that adds a soothing vibe and numerous artworks from local artists. There are four guest rooms that have ocean views, while the units on the ground floor have direct access to the swimming pool.
The on-site restaurant promises unforgettable experiences. Savor some of the 90 Asian fusion dishes invented by the award-winning chef Thiem Nguyen and his team. Dishes are served in an elegant setting with subtle traditional touches.
Guest rooms start at $920.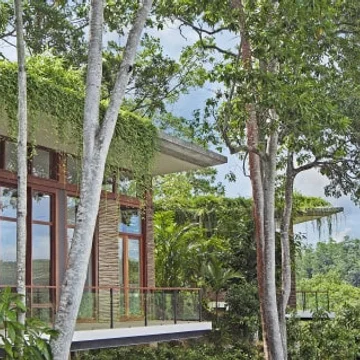 Tri Koggala
The iconic and established Tri Koggala is set on the banks of the beautiful Koggala Lake – Sri Lanka's famous tourist destination. Mountain biking, whale watching, boating, hiking, and excursions to Galle Fort, Tri Koggala is the ideal vacation spot for adventurous spirits.
Check Availability
Lavish and well-maintained, the gardens are a relaxing spot where guests prefer to drink their morning coffee. Tri Koggala has a devoted staff team that likes to create personalized experiences and has great reviews, so it doesn't come as a surprise that most of the guests are regulars. At the resort, guests like to explore the beautiful Tri area on bikes and go as far as the southern coast and take a ride on a dhoni boat to visit Cinnamon Islan and learn how cinnamon is produced. If you want to learn to cook the Sri Lankan way, you can always book a cookery class with the executive chef.
Rooms have a minimalist yet cozy ambiance with excellent views over Koggala Lake. All units are infused with natural light and all feature king-size beds, flat TV screens, and open-style bathrooms with rain showers and organic toiletries.
Traditional Sri Lankan dishes and international fare can be enjoyed at the on-site restaurant. At night the setting transforms into a lively bar with a menu filled with delicious cocktails.
Guest rooms start at $240.
Find Luxury Hotels in Sri Lanka