From the Turquoise Coast, whose name derives from the lustrous eponymous mineral, to Cappadocia, with its awe-inspiring valleys and rich history, Turkey is certainly home to some of the most diverse yet breathtaking landscapes. Istanbul, a vibrant city that's at least a couple of millennia old, spanning the all-important Bosphorus channel, ought not to be forgotten either; even more so when planning your itinerary.
All in all, you would be remiss if you're to neglect including Turkey on your top destinations to visit. And what better way to experience everything this country brings to the table than from the comfort of a luxury hotel?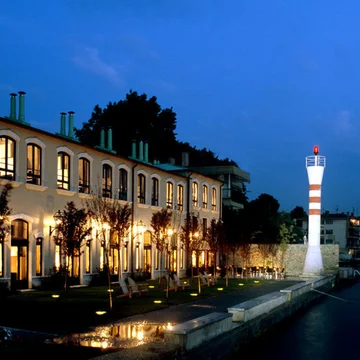 Sumahan on the Water
Overlooking the Bosphorus strait, the scenic location of the Sumahan is truly something to marvel at. Notable nearby sights include the Ortakoy Mosque and the historic Bebek neighborhood that's lined with shops and cafes. Although, both are about a mile away from the hotel, and given the complaints regarding traffic in Istanbul, Sumahan is more of a retreat from which you would enjoy the amenities, the ambiance, and the landscape rather than an "exploration base".
Check Availability
The building is a former Ottoman-era distillery, and as such it retains much of its oriental flavor when it comes to architecture and style. But, thanks to the restoration efforts and modern furnishings, you would feel right at home while enjoying the historic atmosphere.
All of the 13 exclusive rooms and suites provide views of the Bosphorus and feature wooden floors and tasteful decor. Free wi-fi, a minibar, a flat-screen TV, and air conditioning further add to the homely vibe, while the multitude of facilities allow for much in the way of leisurely activities. These include a library stocked with over 800 books on Turkey's culture and history, a wellness center, and a fitness center if you're partial to getting your daily workouts while on holiday.
If you'd like to wine and dine, the in-house Waterfront Restaurant offers plenty of international dishes as well as Turkish specialties. Breakfast options also include fresh Turkish delicacies, such as goat cheese and jams, while providing international alternatives if you deem the home-made options too much of an acquired taste.
Double rooms at Sumahan on the Water start at $230, but this is subject to change depending on the season.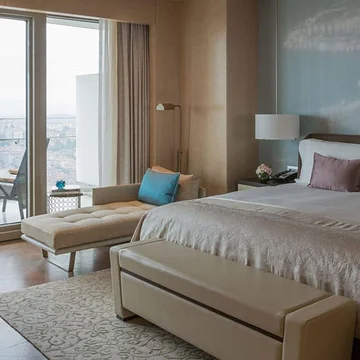 Raffles
If there's one thing we'd have to choose that sets Raffles apart from the rest of the hotels on this list, that's its location. It sports neither a waterfront environment nor is it placed in a district of particular historical importance; it's located in a lively business district. Even so, the historic old town quarter is but a metro ride away, making Raffles the perfect option for those who would like to soak in the local culture without sacrificing comfort and modern luxury.
Check Availability
Rather than revere the bygone Byzantine/Ottoman era in terms of architecture and style, the hotel goes for an uncompromising contemporary aesthetic. The interior is adorned with a broad range of both international and Turkish art while the exterior is that of a modern eclectic tower block. The vast lobby and corridors will leave guests starstruck with their abstract sculptures, avant-garde chandeliers, and detailed glass panels.
Even though the 132 guest rooms and 49 suites with their neutral hue are slightly more moderate in terms of stylistic approach, the floor-to-ceiling windows and the amenities more than make up for it. All of the accommodation options feature free wi-fi, a flat-screen TV, blackout curtains, a minibar, a safe, and air conditioning. The bathrooms are spacious and have complimentary bathrobes, toiletries, and walk-in showers or baths.
The property itself houses more facilities than you'd ever have the time to visit, such as fitness centers, spas, pools, hot tubs, hammams and saunas, and wellness centers. The front desk is staffed 24/7, while concierge and butler services are also available upon request.
The in-house Isokyo restaurant, overseen by chef Clinton Cooper, is probably the best Asian food restaurant you can find in the city. If you're more used to Mediterranean cuisine, you can visit the lobby restaurant Rocca, also providing international delicacies, as well as Turkish dishes on Fridays. The Long Bar and the poolside Lounge 6 offer pre-dinner drinks, while Lavinia Lounge is well known for its teas.
Double rooms start at $455, year-round.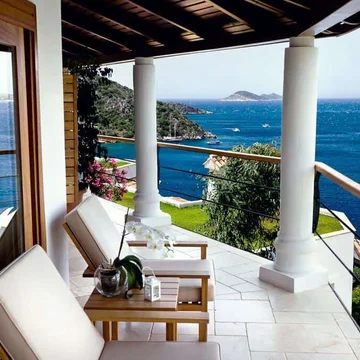 Kalkan, Turquoise Coast, Turkey
Hotel Villa Mahal
Recipient of multiple Condé Nast Johansens awards, including "The Most Romantic Hotel in Europe" and "Best Luxury Value", Villa Mahal is an absolute gem of the Turquoise Coast. Its cliffside location facing the sea, backed by a picturesque mountain range, makes for a dreamlike setting that you won't be able to get enough of.
Check Availability
If you do eventually feel like exploring the nearby mountainous sights, as well as the historically relevant Lycian region, they're all accessible by car in no less than an hour's drive. The town of Kalkan, with its many bars and shops, is a 10-minute walk away.
Hotel Villa Mahal is designed by Ipek Tolbas, who more than accounted for the thoughtfully detailed interior, while the exterior oozes character with its curved white walls. The 13 unique rooms and suites, as well as the three villas, offer breathtaking views of the Mediterranean sea. They are tastefully decorated with a bright color palette on a base of white hues. For an elevated experience, book one of the villas or the deluxe suites, featuring private pools.
Among the hotel facilities are spa services, a private beach club, and a freshwater infinity pool. The staff, available 24/7, is eager to fulfill all of your needs while also providing laundry and room service. The room amenities vary depending on your room of choice, but all of them feature free wi-fi and complimentary boat rides to Kalkan bay regardless of your booking.
The beach club waterside restaurant at Villa Mahal, led by local chef Ali, offers delicious evening meals five times a week, while breakfast is served on the roof terrace. The terrace bar is also known for exotic cocktails and a wide array of drinks.
The starting prices for double rooms range from $200 to $400 depending on the season.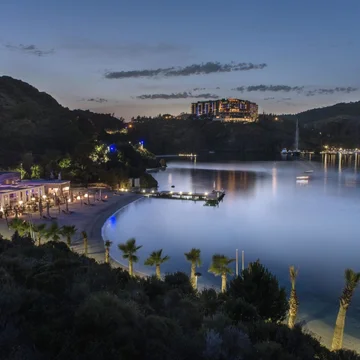 D Maris Bay
One of Turkey's top secluded luxury hotels is definitely the renowned D Maris Bay. The unspoiled, spectacular Datça Peninsula is the epitome of serene beauty; lush vegetation in the surrounding hillside overlooking the white sandy beaches makes for a once-in-a-lifetime otherworldly experience. The only drawback of the location of this secluded slice of heaven is that the nearest town (Marmaris) is a 40-minute drive away. The hotel also has a helipad if a helicopter is your preferred means of travel.
Check Availability
The dark wood detailed style of D Maris Bay blends in perfectly with the natural surroundings and the modern interior design of each and every room or suite will certainly satisfy even the most demanding of aesthetes.
There are 17 unique accommodation options and room types, or 160 rooms and 36 suites in total. There's also a luxurious exclusive private villa, set on a 310-sqm property, with endless amenities such as a private pool, a walk-in closet, 24-hour butler service, and more. All of the rooms have a balcony, free wi-fi, a 42-inch LED TV, and 24-hour room service, while some of the suites feature Nespresso machines, Blu-ray systems, king-sized beds, and private jacuzzis.
The hotel's facilities are mainly centered around wellness and rejuvenation, as exemplified by the hotel's own distinguished Mytha Spa. Ultimate sensory bliss is all but guaranteed with personalized treatments and massages, and traditional Hammam rituals. "Bodyism" classes are also something you shouldn't go without when visiting D Maris Bay; they present a specialized yoga-like experience, centered around the core philosophy of mindfulness, via a holistic approach.
Foodies, rejoice. With a total of six different restaurants to choose from, no taste is neglected. The Terrace offers savory breakfast options, while Maris Kitchen, headed by chef Metin Nogay, has plenty in the way of lunch options. Zuma is the go-to option when it comes to dinner, offering authentic Japanese cuisine prepared by executive chef Emrah Orak.
Rooms for two start at $486.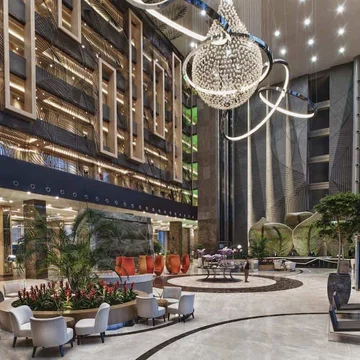 Regnum Carya
Antalya is well-known for its myriad of accommodation options, but Regnum Carya is perhaps the most opulent of them all. Housing the only fully-lighted 27-hole golf course in all of Europe, among other paragons of utterly luxurious hedonism, the hotel certainly attracts high-end travelers.
Check Availability
If you're curious about the surrounding sights and decide to explore on foot, chances are you won't manage to leave the resort before getting tired as it's spread over at least 450.000 sq meters. Notable pop-stars who have performed at the hotel's privately organized concerts include Dua Lipa, Rita Ora, and Jennifer Lopez.
The main hotel is home to over 400 rooms, while there are 100 villa suites in separate locations as well. The rooms and suites are designed in a simplistic contemporary style with tones of beech and maple and may come off as slightly corporate, but remain elegant nevertheless.
Apart from the golf course, the resort also has a vast private beach, many pools, as well as spas and wellness centers. The villas also come with their own private pools. The multitude of other sport and entertainment facilities include FIFA-certified football fields, basketball courts, a night club, live music venues, and much more.
Regnum Carya has 8 restaurants to choose from and a dozen bars, each one of them offering something unique in the way of food and drink options.
All-inclusive double room bookings start at about $450 in low season, while the most luxurious villas can cost upwards of $5000.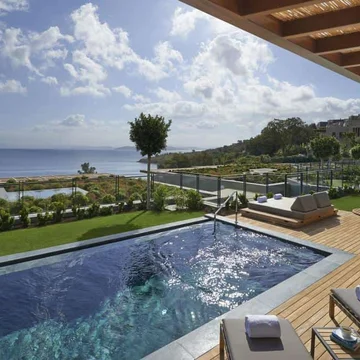 Mandarin Oriental Bodrum
The Mandarin Oriental Bodrum beachside luxury resort is the premier destination in Bodrum's Paradise Bay. Its idyllic secluded location makes for a perfect retreat that presents a feast for all your senses while having the option to visit the vibrant city of Bodrum by car in less than an hour. The Mandarin Oriental hotel group certainly doesn't disappoint even when venturing in the world of upscale beach resorts.
Check Availability
The minimalistic yet refined exterior might seem unassuming, but it perfectly blends in with the surrounding environment laden with olive trees and lush vegetation of the hillside backdrop. The rooms and suites are nothing to scoff at in terms of aesthetics either, but given the extensive list of leisurely activities you can take part in, we assume you wouldn't be spending too much time inside. When booking, you can choose from 59 guest rooms, 27 commodious suites, 23 apartments, and two exclusive villas.
On the seaside of the scenic cove, Mandarin Oriental boasts two exotic beaches – one beach club offering lively atmosphere with music and one vast, quiet, almost private corner of paradise. Between the lobby and the beach, you'll find four outdoor pools with loungers in the water, as well as a shallow children's pool. Other on-site facilities include two tennis courts and one basketball court. Scuba diving, helicopter tours, olive pressing, glass blowing, as well as tennis lessons are some of the activities you can take part in.
Mandarin Oriental Bodrum has seven excellent restaurants to choose from. If you're partial to a certain national cuisine, you could visit: the renowned Assaggio on the hillside, which serves Italian; Kurochan restaurant on the seaside, which serves Japanese; or Bodrum Balıkçısı also on the seaside, which serves Turkish delicacies. The remaining options all serve mostly international food with their own flair. If you prefer pastries and cakes, you must visit the Mandarin Cake Shop.
Double room prices start at about $750 in low season.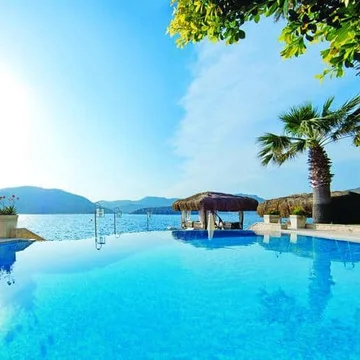 Bozburun Peninsula, Turquoise Coast, Turkey
Sabrina's Haus
When it comes to romantic getaways, very few accommodation options manage to beat Sabrina's Haus. The quiet, relatively unknown Bozburun Peninsula is one of the most charming places on the Turkish Mediterranean. Privacy is all but guaranteed as the resort is comprised of eight exclusive villas and the property is only accessible by boat (or a 20-minute walk away from the nearest town).
Check Availability
The villas are interconnected by marble pathways throughout the lush gardens whereas the furnishing style is mainly modern, with the occasional Asian and Turkish antique piece or artwork. The predominant hue of the rooms and suites is white and the floorboards, the high vaulted ceilings, and touches of brocade enliven the already romantic setting without making it too cheesy. All the rooms and suites include queen size beds, spacious bathrooms, showers, hot tubs, minibars, and more, while some of them also include private jacuzzis and pools.
Things you could do, other than enjoy the heavenly atmosphere, include scuba diving, visits to the surrounding islands by boat, getting your workout in the well-equipped gym, or enjoying a relaxing afternoon in the library. You could also occasionally spend an evening with live Turkish and international music, but nothing too upbeat. The massage & relax therapy house will further soothe your body and soul as they employ only the most experienced professionals.
Bozburun Balıkçıs offers a la carte dining options with the freshest of ingredients. Gourmet meals also include grilled varieties and vegan options, other than their standard seafood specialties.
Rooms for two adults (no children under 14 allowed on the premises) start at about $700 depending on the season.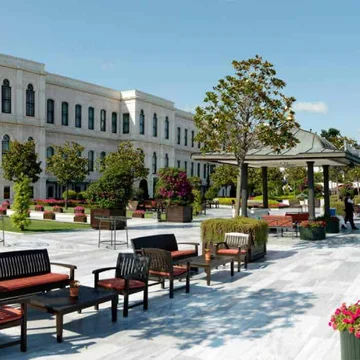 Four Seasons Hotel Istanbul at the Bosphorus
Situated on a prime location on the Bosphorus strait, Four Seasons Istanbul certainly doesn't stray from its gold standard in luxury accommodation. Even though its counterpart in the Sultanahmet district might provide more convenience due to its location, the Bosphorus waterfront is literally the vacation spot in an otherwise bustling city.
Check Availability
The palatial style of all three buildings is bound to impress even the most critical of high-end travelers. Baroque and Rococo architecture might seem pretentious, but when tastefully executed, as is the case here, it can be more than appropriate. The wide terrace and the majestic fountain are merely a sign of what's to come once you enter the opulent main property. High ceilings and archways grace the interior, while the standard rooms tend to be more contemporary. If you'd like to have no aesthetic interference, you ought to go for the Palace building, which blends Ottoman influences perfectly.
Apart from the standard amenities you would expect in a luxury establishment like this, you can find a vast swimming pool, a spa center, a steam room/hammam, and a sauna. The 24/7 room and concierge services conducted by the incredibly attentive staff will ensure none of your needs are unfulfilled.
The in-house restaurant offers a lavish breakfast buffet, while at night it turns into a chic Italian restaurant that's incredibly popular with well-off locals and visitors alike. If you're up for a drink, the bar next door certainly has your "poison of choice" as it's incredibly well-stocked. But before dusk, you shouldn't retreat to your room without tasting the delicious afternoon teas.
Prices at the Four Seasons Bosphorus start at $320 throughout the whole year.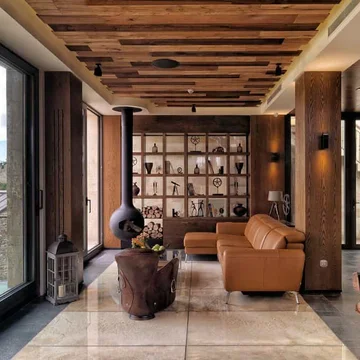 Ariana Sustainable Luxury Lodge
Nestled atop a striking hill in the middle of a sprawling valley, Ariana Sustainable Luxury Lodge is one of the best off-the-beaten-path luxury resorts in magnificent Cappadocia, central Turkey. For those of you who find seaside vacations too bland, this peculiar region with its ancient landscape and historical sights will surely provide a breath of fresh air.
Check Availability
Although the exterior is in part authentic and antique, Ariana Lodge leans toward the modern and contemporary in terms of style. The eleven rooms and suites have all the amenities one would expect from a luxury hotel, such as wi-fi, espresso machines, minibars, fireplaces, onyx bathtubs, and more. If you'd like to opt for a more traditional experience, you could book one of the Cave Rooms, which are actual rooms cut into the rocky surface, but with all the aforementioned amenities, guaranteeing absolute comfort.
The multilingual staff is incredibly friendly and congenial, and most important of all, available 24/7. Concierge services are also available upon request. The lodge conducts private airport arrival & departure transfer by car.
If you think you'd run out of things to do in a seemingly barren, yet awe-inspiring place, you couldn't be more mistaken. Hot air balloon rides are organized every day, as well as exploration excursions with a professional photographer. If you're feeling extra adventurous, you could also go for horseback rides and moonlight hikes. And if that wasn't enough, the lodge also organizes day-long private tours of Cappadocia, visiting sights such as the underground city of Kaymakli, the Göreme Open Air Museum, and the towns of Avanos and Zelve.
The Plum restaurant offers contemporary Mediterannean dishes with the freshest ingredients a la carte. What's more, the wines from the local vineyard are a delicacy unto itself. At the helm of the kitchen is executive chef Mustafa with more than 21 years of experience in the business, ensuring utmost culinary expertise.
Prices start at $270 per night.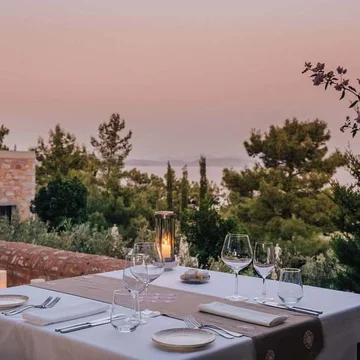 Amanruya
The world's most exclusive hotel group, Aman, never ceases to amaze – Amanruya, Bodrum is yet another gem in their illustrious chain but stands as an exemplary upscale luxurious resort in its own right. If a seaside vacation is in the cards for you, while being able to experience all the traditional authenticity that Turkey has to offer, you ought to look no further than Amanruya and the Bodrum peninsula.
Check Availability
The intimate ambience and the palatial architecture style is bound to amaze even the most high-end travelers. Various courtyards and terraces among lush vegetation grace the oriental outlook of all the 36 villas. The interior of these stone built marvels, on the other hand, is as modern and opulent as one would expect from an affluent resort. The spacious bathrooms feature "rain showers" and big bathtubs, while the bedrooms are huge and have royal four-poster beds. Each of the pavilions also feature private infinity pools.
Amanruya also boasts a fifty foot long main infinity pool, spa centers, tennis courts, free wi-fi, in-house wine cellar, a beach, and a beach club. If you'd like to partake in some more unusual activities, you could go horse riding, mountain biking, golfing, and hiking in the local area. For the less adventurous bunch, there's always the cozy retreat of the three-story library tower.
No luxury hotel experience is complete without a vast array of food options. Although Amanruya doesn't have a multitude of restaurants, the Pool Dining Pavillion and the Beach Club restaurant will prove to be more than enough. There also are further dining pavilions uphill if you're up for some variety. Their international a la carte menus ensure culinary delights and they also provide the option of serving a la carte breakfast to your room until 11 AM.
Prices for suites start at about $1000 depending on the season.
Find Luxury Hotels in Turkey