The United States Midwest comprises twelve different states. Today, we will cover the best luxury hotels in the United States – Midwest. While all hotels included in this list vary in terms of location and surroundings, what they share is unsurpassable hospitality, opulent accommodation options, and excellent dining options.
Regardless of whether you're looking for travel ideas or have a specific state in mind for your next holiday, we hope you find our guide useful.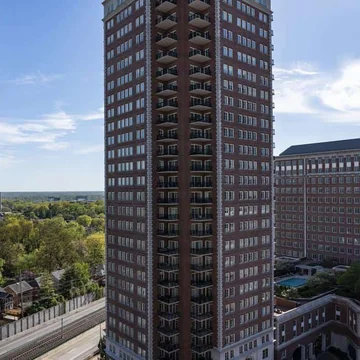 The Ritz-Carlton St. Louis
An unsurpassable combination of top tier service and elegant style, The Ritz-Carlton St. Louis is one of the most visited hotels in the Midwest area. Much like the other hotels that are a part of the luxury hotel brand Ritz-Carlton, this hotel's style is chic yet contains traditional touches that make the place inviting and warm.
Check Availability
The location of The Ritz-Carlton St. Louis is ideal for anyone who wants to have the best of both worlds. Downtown St. Louis, the party epicenter of town, is only a 15-minute drive from the hotel, while the major sightseeing spots, on the other hand, such as the Missouri History Museum and the Saint Louis Art Museum are located a 30-minute walk away from the hotel.
The spacious fitness center located on the third floor is a great place to chase an endorphin rush, while the hotel's own spa will provide you with the opportunity to relax and get a soothing post-workout massage.
There are three on-site restaurants to choose from: the Lobby Lounge, the Grill, and The Restaurant. The rooms have a sophisticated neutral color palette, with white marble bathrooms, floor-to-ceiling windows, and pleasing artwork.
The price is typically $300 for a standard room per night, though it may depend on your chosen dates.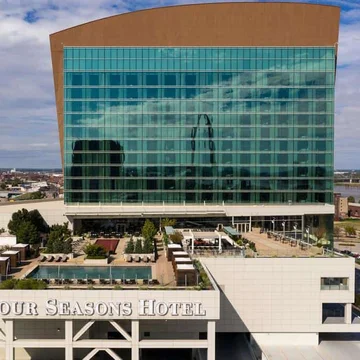 Four Seasons Hotel St. Louis
A luxurious spa, a spectacular on-site restaurant, and grandiose suites – Four Seasons Hotel St. Louis is bound to leave an impression on any tourist. The Gateway Arch and the City Museum are a short walk away from the hotel. In case you aren't in the mood for sightseeing, the hotel offers plenty of activities to occupy your time with, such as golfing, swimming, and working out in a spacious gym.
Check Availability
Many food and drink options are available for guests of Four Seasons Hotel St. Louis. Ginder House serves cuisine that's heavily focused on South America, courtesy of award-winning chef Gerard Craft. The adjacent Ginder Bar is a go-to place for innovative cocktails, a splendid list of wines, and light meals.
All rooms and suites are airy, inviting, and pleasing on the eye, featuring dark wooden floors, stunning artwork, and floor-to-ceiling windows revealing a breathtaking view of St. Louis. The color scheme varies depending on the room.
Rooms start at $270 a night.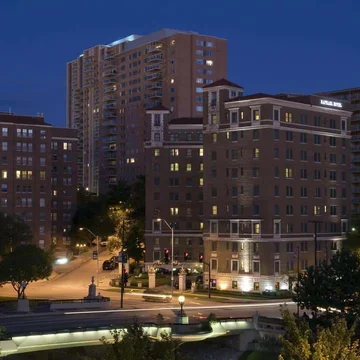 Kansas City, Missouri, USA
The Raphael Hotel
Known for hosting celebrities like Paul McCartney, the established Raphael Hotel is located near the Country Club Plaza, a favorite place for luxury shopping in Kansas City where you can purchase brands like Tiffany & Co.
Check Availability
The Raphael Hotel has a distinctive architecture, with more than 100 rooms and suites that ooze opulence and sophistication. The marble bathrooms are spacious, with elegant vanities and well-lit mirrors, perfect for applying makeup. Some modern amenities you can find at the hotel include complimentary bathrobes and slippers, refrigeration, and a coffee making machine.
The service at The Raphael Hotel is professional yet friendly. There is a well-equipped fitness center and, while there is no on-site spa, you can order an in-room massage.
The award-winning Chaz on the Plaza hotel prepares delicious dishes using fresh and local ingredients, with a long list of boutique wines and innovative cocktails to complete your meals.
The rates per room begin at $170 per night.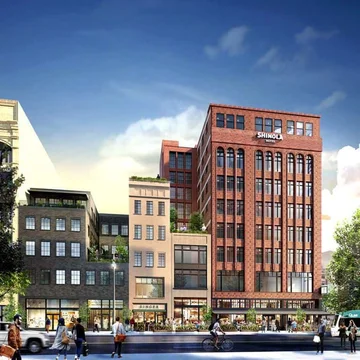 Shinola Hotel
Shinola Hotel's location is ideal for anyone who wants to stay at the heart of the city's shopping district. Downtown Detroit is known for its lively clubs, charming shops, and renowned restaurants, so you won't be in shortage of things to do while staying at Shinola Hotel.
Check Availability
An exemplary mix of minimalism and luxury, the rooms at Shinola Hotel have a calming neutral color palette with ligneous furnishings and large windows that invite soothing natural lighting and expose an unparalleled view of the city.
There is an endless list of room amenities, including Italian cotton sheets, a Shinola Bluetooth Speaker System, and an Apple TV. The common rooms are similar in style and inviting ambience – there is a large high-ceiling living room area on the first floor that has a cozy fireplace, plush sofas, the perfect place to unwind and socialize.
The Evening Bar is a guest's go-to for classic cocktails and a good time. San Morello restaurant serves scrumptious Southern Italian dishes, however, if you prefer tasting local cuisine, try The Brakeman or Penny Red's.
The price for a standard room starts at $250 a night.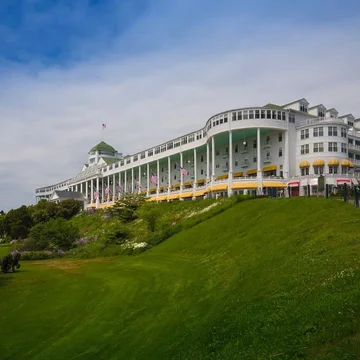 Mackinac Island, Michigan, USA
Grand Hotel
Staying at Grand Hotel will make you feel like you've traveled back in time in the best way possible. The hotel is located on Mackinac Island, where no cars are allowed, but there is plenty to explore on foot, such as the Lake Shore Drive – an area brimming with restaurants and stores, and Fort Mackinac – where you can enjoy an easy and swift hike.
Check Availability
Grand Hotel is known for its traditional style, although not to be confused with outdated. The rooms and suites are bound to leave an impression – each one differs in terms of theme and color scheme, but what they do have in common is their colorful wallpaper and floral-themed décor.
Room amenities include a minibar, free Wi-Fi, and in some rooms, a spacious balcony. Perhaps one of their most interesting amenities is the daily newspaper delivery service that goes along with its old-school charm.
Golf enthusiasts will enjoy The Jewel Golf Course, while those who aren't so keen on golfing can try tennis, enjoy a dip in the pool, or visit their on-site fitness center.
Dining-wise, the Main Dining Room offers a splendid dining experience with a gorgeous view overlooking the Stairs of Mackinac. For more casual options, visit Woods Restaurant, Sushi Grand, or The Gate House.
Rooms start at approximately $460 per night.
Birmingham, Minnesota, USA
The Townsend Hotel
The Townsend Hotel is an award-winning luxury hotel that's been declared as one of the best luxury hotels in Minnesota. It has a minimalistic and elegant design, with rooms and suites that contain fine furnishings, luxury fabrics, and helpful amenities. There are many tourist attractions to explore, like the Cranbrook Museum, The Hamilton Room, and Emagine Palladium Theatre, as well as various luxury stores.
Check Availability
The rooms and suites contain an en-suite marble bathroom with complimentary toiletries and bathrobes, large, comfortable beds with Serta mattresses, and wooden furnishings. The suites have a separate living room area with plush sofas.
The Townsend Hotel offers a spa, a fitness center, and an award-winning restaurant. The Rugby Grille offers an all-day menu in a traditional setting. Room service is also available.
Rooms usually start at $300 a night.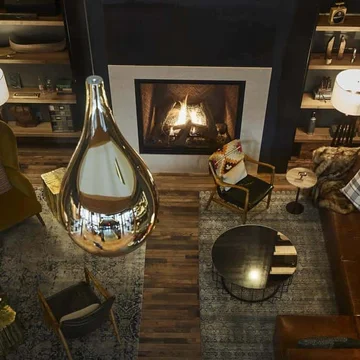 Minneapolis, Minnesota, USA
Hewing Hotel
Hewing Hotel is situated in the dynamic North Loop district, home to many bars, restaurants, and clubs. A 20-minute walk will take you to some of the most famous cultural centers in Minneapolis, such as the Guthrie Theatre, the Mill City Museum, and the bank of Mississippi River.
Check Availability
Hewing Hotel placed a big emphasis on art, so expect to find local books and stunning artwork throughout the hotel. The aesthetic of the rooms follows a similar artsy vibe, mixed with industrial touches, all the while remaining elegant. The warm color palette is inviting and cozy, much like the wooden décor. When it comes to bathrooms, they're quite large, with separate showers and his and her sinks.
The hospitality of the staff is the cherry on top of a wonderful hotel. There is a sauna, a pool, and a fitness center available to use. Scandinavian-inspired cuisine made with fresh and local ingredients is available at Tullibee – the hotel's own restaurant.
The rates for a standard room start at $160 for a single night.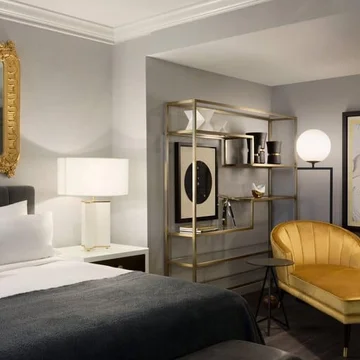 Hotel LeVeque
Located in the heart of downtown Columbus, Hotel LeVeque is part of the luxury Autograph Collection hotel chain. With such a central location, guests are able to visit Columbus' main tourist attractions easily, such as the Ohio Theatre, COSI, and the Franklin Park Conservatory. The historic LeVeque tower is just around the corner from the hotel.
Check Availability
There are 149 rooms in total in this boutique hotel. They follow a black-and-white color scheme, with many aureate details that give a classic look to the room. There are, however, 33 different layouts for the rooms and suites, so guests can experience a truly unique stay.
The celestial-inspired décor, including artwork and quirky details like a telescope, is distinctive and marvelous. Pristine, all-white en-suite bathrooms are adjacent to every room and suite, with large mirrors and rain showers. The floor-to-ceiling windows reveal either a view of Columbus' skyline or the river.
The Keep Kitchen and Liquor Bar, a modern French brasserie and on-site bar, is the perfect place to go when you're in need of an artistic cocktail or aged wine.
Prices at Hotel LeVeque start at $150 per night.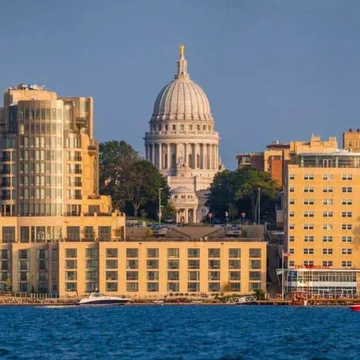 The Edgewater
The Edgewater, one of the leading luxury hotels in Madison, is located right next to the University of Wisconsin-Madison, near Capitol Square and right on the water's edge of Lake Mendota. There are quite a few cultural centers nearby, such as the Overture Center For the Arts. Ranked as one of the best hotels in the Midwest, The Edgewater is dedicated to giving royal treatment to its guests.
Check Availability
All 202 rooms at The Edgewater have the perfect balance of comfort and luxury. The rooms have a spacious en-suite bathroom with spa showers. For ultimate indulgence, book the Presidential Suite, featuring unsurpassable views of Lake Mendota, wooden floors, gigantic bathrooms, and lavish living areas.
The color palette is a soothing mix of a white base and turquoise details that complement the views of the lake impeccably well. All rooms have a flat-screen TV, a refrigerator, and large beds.
Breakfast is served at The Market, featuring a standard breakfast menu. The Statehouse serves local cuisine using fresh ingredients, while Augie's Tavern is ideal for classic cocktails and staple American dishes. There is a third on-site option – The Boathouse, that has a breathtaking view of the lake.
Prices at The Edgewater start at $150.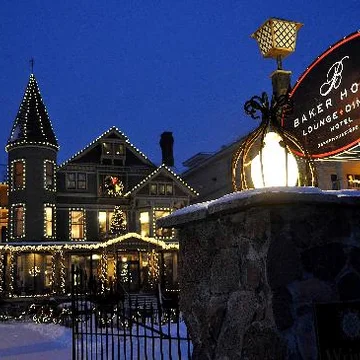 Lake Geneva, Wisconsin, USA
Baker House Hotel
Full of personality and charm, Baker House Hotel is an ideal choice for anyone who wants to escape the predictability of hotel chains. This historic mansion is located right on the banks of Lake Geneva and there is something to explore in every corner. Golf fanatics will be happy to know that the Paradise Golf Park is only a seven-minute walk away from the hotel.
Check Availability
Whether you jog on the Geneva Lake Shore Park or visit the Riviera Beach, you will be met with stunning views of the lake. Luckily, those views are also accessible from the comfort of your own accommodation. Each room at the Baker House Hotel is designed in a unique way and has a specific theme.
Individual period pieces and gorgeous Victorian touches are placed in each accommodation, along with a spacious bathroom with complimentary toiletries, a cozy fireplace, and a balcony.
The charming Baker House 1885 offers fine dining with an extensive wine list, served in a vintage atmosphere and Victorian grandeur, overlooking Lake Geneva. The Sunday Champagne Brunch is one of their most popular offers on the menu, serving unlimited champagne and various lunch entrees accompanied by sumptuous desserts.
The rates for a standard room at Baker House Hotel Start at around $300 per night.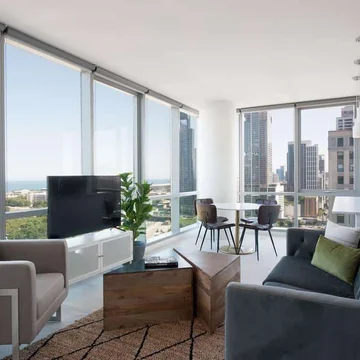 Sonder – Essex on the Park
Located in the city of Chicago, Sonder – Essex on the Park is a sophisticated and modern accommodation option. The rooms and suites have a timeless neutral color palette, with just the right amount of warm touches. One of the most striking features of the suites are the floor-to-ceiling curtainless windows that reveal gorgeous semi-panoramic views of Chicago skyscrapers and Lake Michigan. Each suite has a kitchen with a dining area, an en-suite bathroom, and coffee making facilities.
Check Availability
Sonder – Essex on the Park has a top-notch location, allowing you to access many of Chicago's historical sights on foot. Grant Park, the Art Institute of Chicago, and the Millennium Park can be reached in a ten to fifteen-minute walk. The Field Museum of Natural History and the DePaul University are in close proximity as well. If you're on the quest for the perfect scenic walk, head over to the Chicago Riverwalk that won't take you more than 30 minutes to reach.
The hotel features is a stunning indoor pool, as well as a 24-hour fitness center. Concierge services are available upon booking.
Prices start at $150 per night.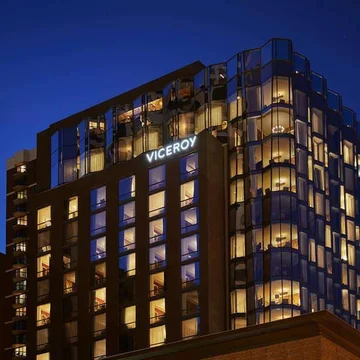 Viceroy Chicago Hotel
Regarded as one of the best luxury hotels in Illinois, Viceroy Chicago Hotel is a wonderful mix of tradition and innovation. Part of the Gold Coast neighborhood, the hotel is within close proximity to Chicago's top sites such as Oak Street Beach and the Millennium Park. Michigan Avenue, one of the best places for luxury shopping in Chicago, is a ten-minute walk from the hotel.
Check Availability
Viceroy Chicago Hotel has a stylish and elegant character, spread across both the common rooms and the suites. The living room is brimming with inviting touches such as a large fireplace and ultra-comfortable sofas. Bookworms will appreciate the Marcel Proust wall filled with the author's quotes. The rooms and suites have an avant-garde feel, further emphasized by the floor-to-ceiling windows showing Chicago's skyline. Each room comes with a living area, a flat-screen TV, a minibar, and a coffee making machine.
The staff is friendly and welcoming, which adds to the overall inviting vibe of the Viceroy Chicago Hotel. There is a gorgeous rooftop pool as well as a well-equipped fitness center available to use. Devereaux, a rooftop lounge set on the 18th floor, is where guests go to enjoy not only a vibrant nightlife but also an unsurpassable view of Chicago and Lake Michigan.
The rooms at Viceroy Chicago Hotel start at $170 a night.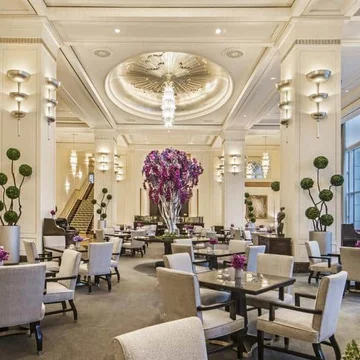 The Peninsula Chicago
A frequent host of celebrities, The Peninsula Chicago is among the most recognized luxury hotels in Illinois. Much like Viceroy Chicago, it's close to Michigan Avenue – brimming with luxury stores, and tourist sites like Oak Street Beach, the Museum of Contemporary Art, and the Millennium Park.
Check Availability
From the minute you enter the hotel, The Peninsula Chicago staff will take care of every need that might arise. Occupying two floors, the luxurious spa offers a variety of replenishing treatments. There is also an indoor pool and a fitness center available for guests. The rooms are as splendid as one might expect from the Peninsula chain – palatial décor, pleasing artwork, soft sheets, and a myriad of modern amenities like a doorbell and a 42-inch flat-screen TV.
The Peninsula Chicago takes award-winning cuisine to the next level. The Lobby serves contemporary American cuisine in a lavish setting, while Z Bar specializes in hand-crafted cocktails.
Prices start at $400 a night.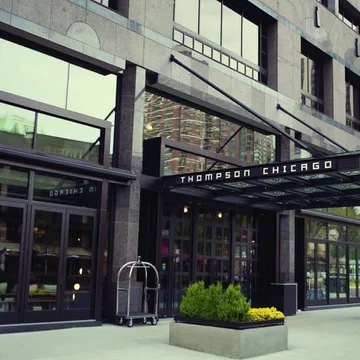 Hotel Thompson Chicago
Situated in Chicago's Gold Coast district, the supreme location of Hotel Thompson Chicago will allow you to access scenic and touristy spots, all the while remaining close to Oak Street – the main shopping district that includes luxury stores like Dolce & Gabbana, Prada, and Chanel.
Check Availability
All rooms and suites at Hotel Thompson Chicago have a slightly different style. What they share is indescribable luxury mixed with chic eye-pleasing details and décor. The floor-to-ceiling windows featured in every room and suite will give you an opportunity to marvel at Chicago's skyline or Lake Michigan. The suites come with a separate living room area that's perfect for unwinding and spacious en-suite bathrooms with walk-in showers.
Hotel Thompson Chicago's on-site Nico Osteria places an emphasis on Italian cuisine, so the pasta is a must-try.
Although the prices vary depending on your dates, a standard room usually starts at approximately $170 a night.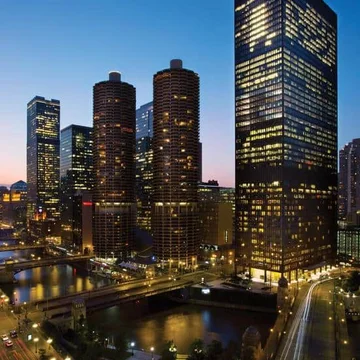 The Langham Chicago
Palatial and stylish, The Langham Chicago is located near the Chicago River, an area known for the plethora of restaurants, clubs, and shops that beg to be explored. Places that have become synonymous with Chicago, like the Magnificent Mile and the Millennium Park, are quite nearby.
Check Availability
Just as marvelous on the inside, the rooms and suites are elegant yet convenient. Featuring modern amenities like Nespresso machines and a large TV, a comfortable stay is guaranteed. The bathrooms are spacious and come with a deep tub and a separate shower area.
One of the most striking features about The Langham Chicago's rooms and suites is probably the spectacular view courtesy of its floor-to-ceiling windows, overlooking Lake Michigan, Chicago River, or the impeccable skyline.
Various dining options are available at the hotel – Travelle serves American breakfast and Italian dishes, while Pavilion offers posh afternoon tea.
The rates for a standard room start at around $330.
Find Luxury Hotels in United States-Midwest