The most luxurious hotels in the Northeastern United States seduce guests with iconic architecture, mesmerizing interiors, and high-end amenities. Offering unrivalled luxury and exceptional service, these opulent hotels are bound to make an impression.
Here are the 15 most luxurious hotels in the Northeastern United States that feature rooms so comfortable and stylish that you won't want to leave.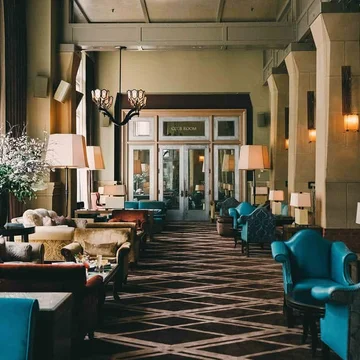 New York City, United States
The Soho Grand Hotel
Located in close proximity to Sixth Avenue and the Tribeca Neighborhood, The Soho Grand Hotel is ideal for those who want to explore the city on foot. High-end travelers particularly appreciate this hotel as it gives them the opportunity to stay at the heart of Manhattan and experience the city's vibrant nightlife.
Check Availability
Designed by the famed Bill Sofield, this hotel boasts one of a kind decor inspired by the Gilded Age. With hand-painted ceilings, glass-bottled staircase, and dramatic drawings of Joseph Stashkevetch, the Soho Grand Hotel dazzles guests from the moment they enter the lobby.
The rooms are decorated with original artworks from the Howard Greenberg Gallery and wallpapers designed by the acclaimed Saul Steinberg. The rooms feature charming balconies and offer sublime views over downtown Manhattan. Expect Egyptian cotton bedding, industrial-inspired furnishings, and amenities that will make you feel at home away from home.
At the Grand Bar and Lounge, guests have the opportunity to partake in luscious cocktails prepared by the famed mixologists Natasha Davis and Jeremy Oertel. The Soho Grand Hotel's Club Room offers a vibrant and decadent atmosphere in a luxurious setting. This place features art-deco style peacock wallpapers, unique artworks, magnificent sculptures, and an inviting bar.
Here is where celebrities such as Britney Spears, George Clooney, and Sarah Jessica Parker can be spotted swaying on some groovy rhythms.
Hotel rates at Soho Grand Hotel start at $247 per night for a double room.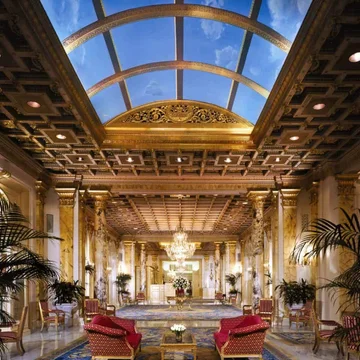 Boston, Massachusetts, United States
Fairmont Copley Plaza
Located in the heart of Back Bay, near the historic Boston Public Library, Fairmont Copley Plaza is among the best, oldest, and most visited boutique hotels in Boston. The hotel has caught the public's attention ever since Elizabeth Taylor and Richard Burton spent their second honeymoon in one of the suites.
Check Availability
The hotel oozes elegance and sophistication with every detail – Italian marble columns, high ceilings, and crystal chandeliers can be seen all around the hotel, while the gilded mirrors and intricate murals create an old-world vibe. Unsurprisingly, the hotel is well known for providing service of the highest caliber. Liveried doormen welcome guests and the staff team is always ready and willing to go the extra mile.
The suites and guestrooms are as gorgeous and comfortable as one might expect. The stylish interiors breathe warmth with mahogany dressers, floor-to-ceiling pale gray drapes, and wooden furniture. The spacious marble bathrooms come with elegant rain showers and thick terry robes and slippers.
Meetings, social events, and weddings are hosted in the hotel's 5,000 sq ft of Renaissance-inspired meeting space. The OAK Long Bar+Kitchen, known for being one of Boston's hottest dining options, is where you can delight in a seasonal menu served in a spacious and grandiose setting.
With double rooms starting at $249, Fairmont Copley Plaza is one of the premier spots to stay in Boston.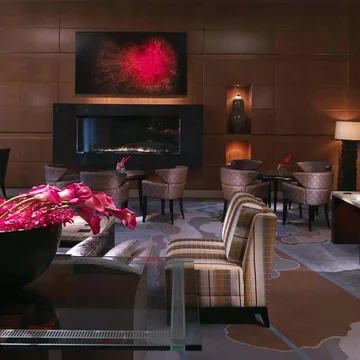 Mandarin Oriental Boston
Located on one of the most desirable addresses – Boylston Street, Mandarin Oriental blends elegance and sophistication at the heart of Boston. The commitment to excellence and outstanding service has brought Mandarin Oriental both the AAA Five Diamond and the Forbes Five Star awards.
Check Availability
Mandarin Oriental's style is minimalistic, classy, and tasteful – just like one would expect from a world-renowned hotel brand. Guest rooms and suites are designed with remarkable attention to detail and feature a number of decadent amenities including designer linens, state-of-art technology, and in-room service.
For an elevated experience, book some of the hotel's suites which will amaze you with their stylish interior details. The Presidential Suite has silk-lined walls, a fireplace, and a pantry that make for a congenial ambient. This is the biggest suite in the hotel that features a separate living and dining room, study room, powder room, marble bathroom, walk-in shower, and a convenient walk-in wardrobe.
The hotel's lavish spa is the perfect spot to bring equilibrium to your mind, body, and spirit. Offering a wide range of massages, beauty treatments, and facials, this lavish spa invites guests to unwind and relax.
For the ultimate in luxury, book the Mandarin Suite Experience where guests can indulge in a 700 square-foot space equipped with a sauna, vast soaking tub, two treatment tables, and a comfortable bed for relaxation. This one-of-a-kind experience includes a signature spa treatment, body massage, and one-hour of relaxation with seasonal fruit and refreshments.
A stay at the Mandarin Orinetal in Boston starts at $545 per night for a standard room.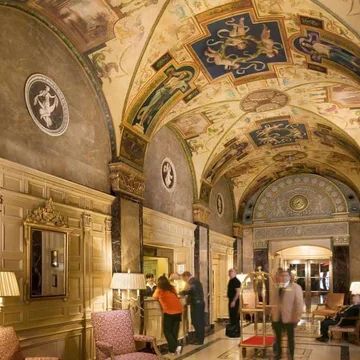 The Sherry-Netherland
Set in the heart of New York, near Central Park and Grand Army, this hotel's address is as famous as the hotel itself. The Sherry-Netherland in Manhattan is a well-known landmark for its outstanding service and luxurious suites. High-end travelers will be pleased to find that The Sherry-Netherlands is in the glorious company of some of the world's most renowned retailers including Louis Vitton, Barney's, and Bergdorf Goodman.
Check Availability
Since its opening in 1927, The Sherry-Netherland has captivated society's elite with its unparalleled luxury. Fresco ceilings, velvet sofas, and dark-wood furniture, The Sherry-Netherlands is the spot where sophistication reigns. The moment guests enter the reception area, they know they're in for something sensational as they are greeted by Joseph Aruta's Raphael inspired-mural.
Rooms and suites feature classic decor with high ceilings, fireplaces, and decorative moldings. A good portion of the suites offer amazing views over Fifth Avenue, Central Park, and New York City.
Inspired by the famed Harry's Bar in Venice, Harry Cipriani, the hotel's renowned bar is one of the hottest dining spots in Manhattan. Here, white-jacketed and bow-tied waiters serve Italian classics where guests are likely to rub shoulders with New York's elite.
Room rates at the Sherry-Netherland vary between $319 and $799 for a double room.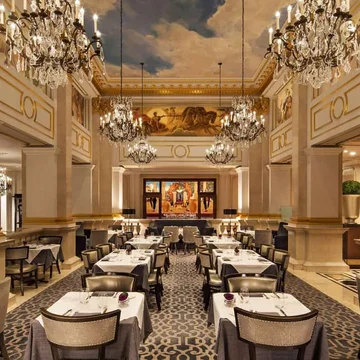 St.Regis New York
Located on 55th street in Midtown Manhattan, the St. Regis New York boasts a prime location in Manhattan. The St.Regis gives guests the opportunity to explore the Big Apple on foot as the hotel's alluring location is in close proximity to Central Park, Times Square, the Theatre District, and just 15 minutes away from the parade of world-class fashion boutiques on Fifth Avenue.
Check Availability
The St. Regis is well known for being committed to delivering unforgettable experiences and world-class service. When it comes to style and character, there's truly no other hotel like St. Regis. The lobby is laden with golden details and hanging artworks while the suites are a world of their own, featuring crystal chandeliers, elegant bed frames, and luxurious textiles.
The designed suites offer a unique personality and charm. From the sophisticated Parisian glamour of the Dior Suite, to the serene and subtle character of the Tiffany Suite, and the unrivaled elegance of the Bentley Suite, these one-of-a-kind accommodations embrace traditional decor while providing the latest in high-end amenities and state-of-the-art technology.
The hotel's famed in-house restaurant, Astor Court is a delight for all senses, yet provides a traditional restaurant experience. At the historic King Cole Bar, guests can party in a captivating interior and taste some crafted cocktails.
With double rooms starting at $973, St.Regis offers the most expensive accommodation in New York.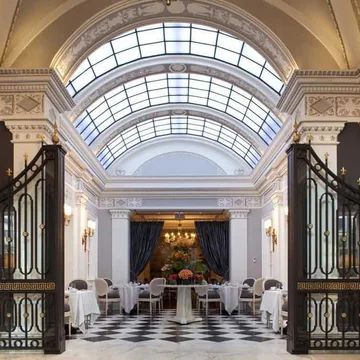 Washington D.C, United States
The Jefferson
From the moment The Jefferson opened its gates in the 1920s, it was clear that it was set to epitomize elegance and extravagance. With a unique style, high-end spa services, and a Michelin-starred restaurant, The Jefferson guarantees an unforgettable experience.
Check Availability
Elegant, formal, and sophisticated, The Jefferson particularly appeals to guests who prefer old-world glamour. All guest rooms and suites are spacious and equipped with luxury amenities such as dark wood furniture, elegant bedding, gorgeous writing desks, and sophisticated drapes. Marble bathrooms are particularly charming with their deep soaking tubs, walk-in showers, and amenities such as bath salts, plush bathrobes, and slippers.
The gorgeous Michelin-starred restaurant, Plume, dazzles guests with its classic decor, romantic atmosphere, and cuisine. Choose between a three-course Prix five menu or a tasting menu and don't forget to indulge in classic wine.
With live piano music, glamorous style, and creative mixologists, the Quill is the ultimate spot for a rendezvous or a romantic encounter. High-profile musicians play the rhythms while dignitaries and A-listers delight in some time-honored cocktails and small bites.
A standard room at the Jefferson costs $319 per night.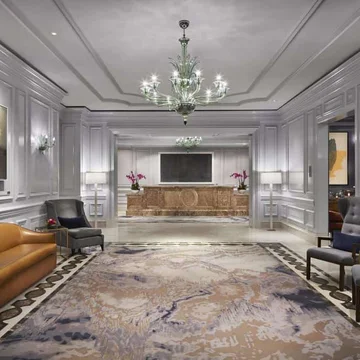 Washington D.C, United States
The Ritz-Carlton
Located on the edge of bustling Georgetown, The Ritz Carlton Washington, D.C seduced guests with its inviting atmosphere and design. The Ritz-Carlton hotels all around the world are known for their devotion to outstanding service and the ability to create one-of-a-kind experiences for their guests. This is also the case with The Ritz-Carlton D, D.C, as the hotel is frequently crowded with celebrities, A-listers, and businessmen.
Check Availability
Colored in white and cream tones, the Ritz-Carlton rooms and suites ooze elegance and sophistication. Guests can delight in spacious rooms filled with natural light. With luxurious bedding, traditional styled furniture, and modern amenities, the hotel's guest rooms invite guests to relax and unwind in a magnificent ambiance created with dignitaries in mind.
The Ritz Carlton Suite is always popular among high-end travelers looking for unparalleled luxury, leisure, and comfort. This premium suite features a comfortable living room with a fireplace, spacious dining room, and a charming terrace with dazzling city views. The spa-inspired marble bathrooms are spacious and comfortable featuring oversized soaking tubs, double vanity, and a separate rainforest shower.
The hotel houses Washington DC's largest meeting space – a luxurious Carlton Ballroom, and more than 16,000 square feet of flexible venues.
The hotel rates for a double room at the Ritz-Carlton in Washington vary between $371 and $840 per night.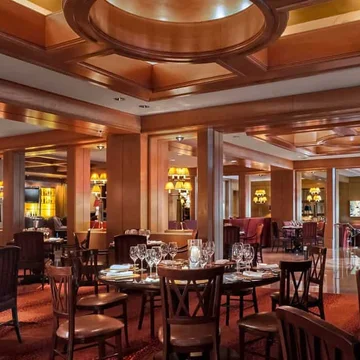 Four Seasons Hotel Boston
The Four Seasons Hotel Boston is located on an appealing address that provides majestic views over the Boston Public Garden and Boston Common. Shopaholics can explore the boutique-lined Newbury Street and travelers with cultural aspirations can visit the Boston Opera House and the famed Paramount Theater which are just half-mile away.
Check Availability
Bold, provocative, and palatial, Four Seasons Hotel Boston leaves an impression from the moment the guests enter the glossy marble lobby with hanging crystal chandeliers. The hotel is the proud owner of a number of sumptuous amenities, including a spacious fitness-center featuring the latest equipment, a sauna, and a treatment room.
The accommodation at Four Seasons Hotel Boston is tasteful, elegant, and sophisticated, just as one might expect from a world-class hotel brand. The spacious guest rooms are filled with natural light and the Art Deco furniture adds a breath of romance to the ambiance. The grand marble bathrooms are the ultimate retreat with vast soaking tubs and glass showers.
Staying true to its character, the hotel's in-house restaurant also features a luxurious setting and warm atmosphere with burgundy furnishings and a fireplace. Guests can indulge in ocean-inspired dishes and an excellent wine collection.
Expect to pay $525 for a double room at The Four Seasons Hotel in Boston.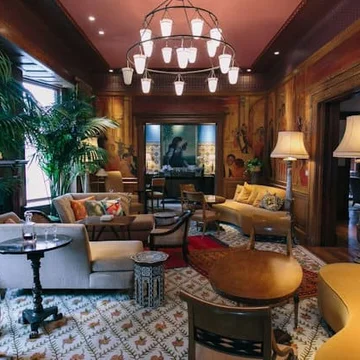 Baltimore, Maryland, United States
The Ivy Hotel
Set in a historic Mount Vernon mansion, The Ivy Hotel in Baltimore is the ultimate retreat for those who prefer to spend their precious vacation days in a remote location. Welcoming, romantic, and luxurious, this boutique hotel offers world-class hospitality and high-end amenities.
Check Availability
The myriad of facilities available at the Ivy hotel will make your stay cozy and comfortable. The charming public spaces are inviting; you can spot guests drinking their morning coffee in the garden, reading a book from the extensive library, or playing the hotel's piano.
Designed by the acclaimed interior designer Joszu Meskan, the rooms and suites feature vibrant color schemes and glamorous layouts. Carefully placed velvet chairs, gold tables, and animal prints provide a breath of romance. There are 18 rooms and suites to choose from, all distinct and affluently equipped. The en suite bathrooms are commodious and elegant with heated limestone floors and deep soaking tubs.
The hotel's upscale in-house restaurant, Magdalena is a culinary jewel of Baltimore. Magdalena has five different dining areas, including the Garden Room which features views over the hotel's walled Courtyard and the Treasury – an intimate and romantic dining setting. The cross-cultural menu is prepared by the award-winning chef, Mark Levy, who is well-known for his interest in various cultures and cuisines, from African traditional dishes to upscale French cuisine.
With double rooms from $595, The Ivy Hotel is one of the most luxurious hotels in Baltimore.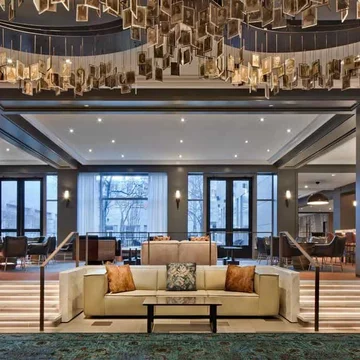 Philadelphia, Pennsylvania, United States
The Logan Philadelphia
A boutique hotel containing unique artworks, bold furniture, and amazing amenities, the Logan Philadelphia sits right on Philadelphia's version of the Champs-Elysees – the Benjamin Franklin Parkway. The staff at the hotel is entirely devoted to providing outstanding service and authentic hospitality that allows guests to connect with Philadelphia's vibe without ever leaving the hotel.
Check Availability
With upscale culinary options, elegant meeting spaces, a lavish spa, and luxurious, distinctive 391 guest rooms, this is a hotel that invites guests to relax, unwind, and indulge.
The timeless elegance and sophisticated interior of The Logan Philadelphia are bound to appeal to anyone. Spacious, minimal, and attired in chestnut, cream, and gray, Logan's 390 rooms are an ode to splendour. The Logan Suite pays homage to the hotel's owner James Logan and is very popular among high-profile guests. Equipped with a spacious living room, king-size bed, dining table for 6, two bathrooms, and a pool table, the Logan Suite upholds all codes of modern comfort.
Logan's on-site oasis, The Underground Spa & Wellness, invites guests to give their body, mind, and spirit the attention they deserve. Providing the ultimate in body treatments, massages, and skin care for men and women, the hotel's lavish spa provides unparalleled services and relaxation.
At Logan Philadelphia, guests can expect rates from $218 in low season for a double room that can go up to $345 in high season.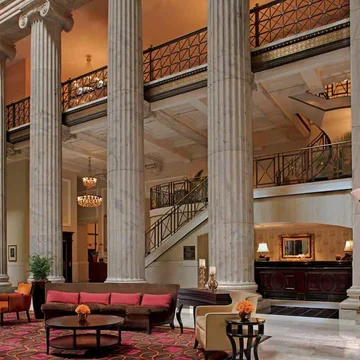 Philadelphia, Pennsylvania, United States
The Ritz-Carlton Philadelphia
Located in the heart of Philadelphia's vibrant city center, The Ritz-Carlton Philadelphia guarantees unforgettable moments. The hotel is set on Broad street and is in close proximity to the city's most prominent landmarks including Rittenhouse row, Market Street, and the Philadelphia Art Museum. Expect dramatic architecture, elegant interiors, and exceptional service; the Ritz-Carlton is well-known for providing guests with one-of-a-kind experience.
Check Availability
Grandiose and modern, The Ritz-Carlton dazzles guests from the moment they enter the gloss marble lobby lined with Roman columns. Rooted in historic elegance, this is a hotel that appeals to guests looking to experience old-world glamour.
The hotel offers upscale amenities that are bound to appeal to anyone. More than 26,000 square-foot of meeting space is usually booked for high-end social events, weddings, and promotions. The 30th-floor Club Lounge is particularly popular among A-listers who like to indulge in exclusive services and some culinary delights.
What sets the Ritz-Carlton Philadelphia apart from other boutique hotels is the glamorous and lavish Richel D'Ambra Spa & Salon which provides guests with physical healing and beauty treatments. At the salon, guests are in the hands of talented therapists and beauty professionals of all kinds which offer an array of services inducing massages, facials, as well as wedding hair and make up.
The prices at the Ritz-Carlton are in line with what the hotel provides – double rooms start at $299 in low season.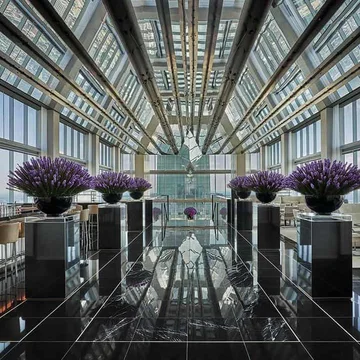 Philadelphia, Pennsylvania, United States
Four Seasons Hotel Philadelphia at Comcast Center
Set in Philadelphia's tallest tower, Four Seasons Hotel Philadelphia is rooted in a historic 60-story landmark praised for its elegance. The entire property is created by the world-renowned architect Lord Norman Foster, and features an exciting blend of opulent spaces filled with state-of-the-art technology.
Check Availability
Four Seasons Hotel Philadelphia's style is truly unforgettable. The hotel's black marble lobby is lined with mirror ceilings, and across this enormous space, Jenny Holtzer's marvelous installation doesn't fail to catch every guest's attention.
Ritz-Carlton's guest rooms and suites spread over 10 floors – all featuring minimalistic, tasteful, and elegant design. The floor-to-ceiling windows fill the spacious rooms with natural light that blends perfectly with the pearly and creamy color palette of the interiors. Highlights include Four Seasons custom bed, queen-sized sleeper sofa, minibar, and a Nespresso machine. The spacious bathrooms are also lined with floor-to-ceiling windows and feature vast soaking tubs and spacious showers.
The Jean-Georges Philadelphia restaurant set on the 59th-floor offers upscale dishes, power breakfasts, and small bites, served by the world-renowned Michelin-starred chef Jean-Georges Vongerichet in a sophisticated setting.
Here, double rooms cost $640.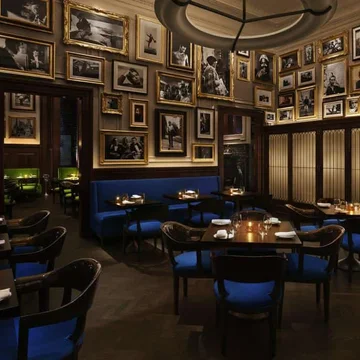 The New York EDITION
One of the most luxurious hotels in lively Manhattan, The New York EDITION is set in a lavish 41-story clocktower. The hotel's style was reimagined by the acclaimed Ian Schrager and is bound to make an immediate impression.
Check Availability
The hotel's spacious 273 guest rooms have a tone-on-tone color palette and feature dark-wood furniture and oak floors. The guest rooms feature magnificent views of Madison Square Park, New York's city skyline, and the grandiose Empire State Building.
Rejuvenate in the lavish spa on the 39th floor where you can experience body and spiritual healing in a serene atmosphere. If you're up for something a bit more energetic, head over to the hotel's cutting-edge gym equipped with Peloton bicycles and Life Cycle Fitness equipment.
With its historic charm and contemporary British cuisine, The Clocktower restaurant is a culinary jewel of New York City. The Michelin-starred chef, Jason Atherton, spoils guests with upscale dishes served in three distinctive dining rooms overlooking Madison Square Park. The Clocktower restaurants feature a 24-karat gold leaf bar and billiard rooms which are always filled with high-end guests eager to perfect their game.
For a double room at The New York EDITION guests will pay $457 per night.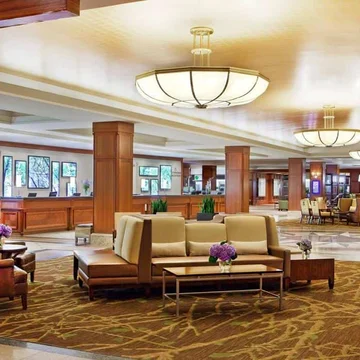 Boston, Massachusetts, United States
Sheraton Boston Hotel
Nestled in the historic Back Bay, Sheraton Boston Hotel captivates guests with its elegant interiors, upscale cuisine, and excellent service. The hotel features minimalistic and tasteful design with a caramel marble lobby that leaves an immediate impression.
Check Availability
Sheraton Boston's 1220 rooms spread across two towers. Colored in a brown-and-beige palette, these spacious rooms guarantee serenity and tranquility. Highlights include king-size bed, dark-wood furniture, work desk with ergonomic chair, minibar, and a coffee-maker. The pleasant beige tones continue in the bathrooms and guests are supplied with slippers, robes, shaving creams, and cotton buds. If you book a room on the higher floors you can expect dazzling views over the Blue Hills.
The lavish Green Tangerine Spa, spread over 5,000 square foot of elegant space, features an extensive menu of beauty treatments and massages. Green Tangerine Spa & Salon guarantees rejuvenation and relaxation.
Sheraton Boston Hotel offers affordable room rates starting at $99 per night.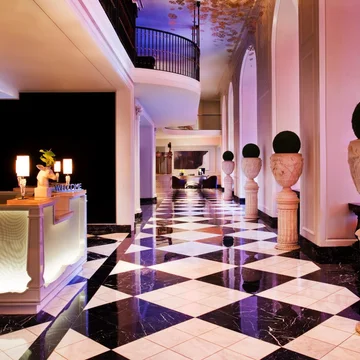 Washington DC, United States
W Washington D.C
Set in downtown Washington, this chic hotel's location is ideal for those who want to explore the city on foot. The White House, Warner Theater, and National Press club are all within walking distance.
Check Availability
The W is set in a historic Beaux Arts building completed in 1917. The recent $55 million renovation has injected a bold and provocative design into this historic property that allures guests with its inviting areas.
Elegant and sophisticated to the very end, the lobby features a unique collection of artworks, crystal chandeliers, and an enticing bar. Excellent ambient lightning cycles to all spaces and contemporary touches, such as the mural created by the street artist GAIA, add to the trendy aura.
All 317 rooms feature minimalist and sleek design. Highlights include king-size beds, black faux-crocodile chairs, mini chandeliers, and vast working desks. Marble bathrooms add to the cozyness with glass-enclosed showers.
The legendary rooftop bar POV is always chock-full of A-listers and locals who want to enjoy some of the best views on town. Guests can sway on some groovy tunes coming from the DJ booth and can enjoy small bites and cocktails prepared by talented mixologists.
The prices per night for the rooms vary between $180 and $300 depending on when you're planning your stay.
Find Luxury Hotels in United States-Northeast