The most luxurious hotels in the Western United States captivate guests with iconic architecture, mesmerizing surroundings, and outstanding service. What you can expect is nothing less than unparalleled luxury and high-end amenities in dream-like destinations.
From the Grand Canyon to the blue lagoon waters of the Pacific, these opulent hotels have been enticing guests to experience the Western United States time and time again.
Here are the 15 most luxurious hotels in the Western United States that guarantee an unforgettable experience.
Santa Barbara, United States
The Ritz-Carlton Bacara
Close to the gorgeous resort community of Santa Barbara, The Ritz-Carlton Bacara stretches on 78 acres along the Pacific Ocean. This opulent property manages to blend the vibe of Santa Barbara's coastal city with the mesmerizing beauty of its surroundings. Guests can escape the hustle and bustle of the city and indulge in the tranquility of two miles of sandy beach or laze the day away by one of the three-infinity edge pools.
Check Availability
Guest rooms and suites offer expansive ocean and garden views. Featuring elegant and minimal decor, all guest rooms at the resort are equipped with a king-size bed, flat TV screen, air conditioning, and full marble bathrooms with a separate soaking tub and shower.
The Ritz-Carlton Bacara offers a variety of dining options from casual to upscale, including Angel Oak, which boasts the largest wine collection in the region. Here, knowledgeable wine professionals can help guests pick the perfect wine for their tastes from the restaurant's 12,000 wine bottle selection.
For an elevated pool experience, head over to the vibrant pool bar where you can enjoy swanky cocktails and light meals including guacamole, fish tacos, and fresh salads.
Ritz-Carlton's sun-drenched setting seduces guests not only with its 358 opulent guest rooms and suites, but also with its flower-filled courtyards, pompous fountains, and red-tiled roofs. The hotel's lavish spa encompasses 42,000 square feet and features a selection of high-amenities including a redwood sauna, a eucalyptus steam room, and an infinity pool.
With Mediterranean-inspired decor, an upscale dining offer, and sublime Pacific views, the Ritz-Carlton Bacara satisfies the tastes of even the pickiest high-end travelers. The prices for a double room at the Ritz-Carlton fit the hotel's opulen offer. Rates start at $399 in low season and can go up to $599 in high season.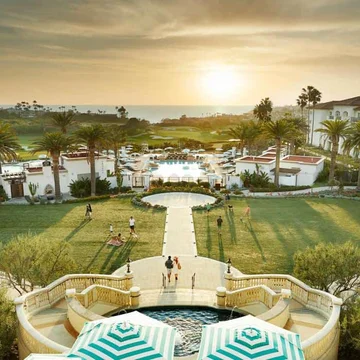 Dana Point, United States
Monarch Beach Resort
Set high on a hillside overlooking the Pacific, Monarch Beach Resort is famed for being Orange County's most opulent coastal resort. This AAA Five-Diamond resort sanctuary upholds all the codes of modern comfort and its upscale offer is ideal for anyone who wants to experience South California's luxurious coastal lifestyle.
Check Availability
Monarch Beach Resort's spacious guest rooms and suites feature king-size beds, marble bathrooms, and balconies with modern patio furniture. Designed by the acclaimed Rodrigo Vargas Design firm, the rooms' interiors are inviting and unequivocally relaxing. Guests can unwind and forget about everyday troubles in these generously sized rooms colored in an ocean-inspired palette of blues, whites, and greens.
Perfect your game at the hotel's 18-golf course designed by Robert Trent Jones. The oceanfront golf course offers professional classes and features a well-equipped shop that'll delight any golf enthusiast.
The resort boasts amazing dining options including Aveo Table + Bar, which serves Mediterranean-inspired cuisine in a stylish setting, and Club 19, where guests can enjoy upscale American cuisine in a gastro pub setting. For the ultimate pool experience, get a taste of some modern Mexi-cali dishes at Sombra – a chic poolside bar and coffee shop. The hotel's swanky bar 33 North is perfect for those who want to sway all night to some funky live DJ sets.
Monarch Beach Resort boasts one of the best spas in Orange County. The lavish Miraval Life in Balance Spa features a sauna, tranquility lounge, Drybar, eucalyptus steam room, and a three-lane pool. Guests can also book yoga, meditation, and pilates classes, or head over to the 24/7 luxuriously equipped fitness center. A double room at Monarch Beach Resort will cost you $419 per night.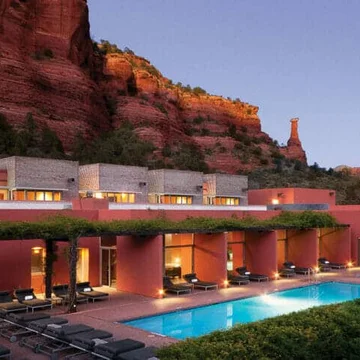 Sedona, Arizona, United States
Mii Amo
Tucked in the mesmerizing Boynton Canyon and a few steps away from the Enchantment resort, Mii Amo captivates guests with its natural surroundings, impeccable service, and high-end accommodation. High-end travelers seeking spiritual healing and relaxation will find that Mii Amo's awe-inspiring surroundings offer a spot for contemplation and serenity.
Check Availability
The resort's policy guarantees intimacy and privacy and invites guests to embark on a spiritual journey within the soaring red rock backdrop of Boynton Canyon. All 16 guest rooms and suites feature minimalist yet luxurious decor with a nature-inspired color palette. Complete with flower courtyards, paths, and private balconies, Mii Amo is the perfect spot to enjoy the leisurely pace of Sedona's lifestyle.
Room amenities include plush beds with down pillows, coffee makers, minibars, air conditioning, and work desks. The spa-inspired bathrooms feature separate showers and extra-deep soaking tubs. Additionally, suites feature outdoor showers, whirlpools, massage areas, and beehive fireplaces.
What sets Mii Amo apart from other opulent resorts in Arizona is the lavish spa voted as the best destination spa in the United States by Travel+Leisure. Guests have the ultimate opportunity to experience massages and healing treatments inspired by the traditions of Native Americans. There are also Chakra Meditations classes specially designed to address physical, mental, and spiritual wellbeing.
Guests can also book all-inclusive retreats, attend workshops to manage anxiety and stress, and take part in numerous activities including cooking, stargazing, and hiking through Sedona's mesmerizing Red Rocks. The prices for a guest room at this luxurious resort start at $1177 per night.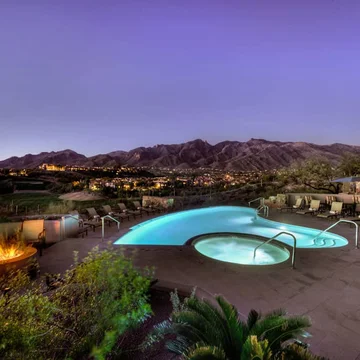 Hacienda Del Sol Guest Ranch Resort
Set on a golden hillside north of Tucson, Hacienda Del Sol offers luxurious treats nestled within the base of the Santa Catalina Mountain Range. This desert retreat has attracted a number of A-listers and Hollywood celebrities including John Wayne, Spencer Tracy, and Katherine Hepburn, and is a member of Historic Hotels of America.
Check Availability
Hacienda Del Sol's style is unforgettable – a unique mix of early Moorish architecture and old-world Spanish decor which blends perfectly with the natural surroundings. The resort provides an authentic Tuscan experience where guests have the ultimate opportunity to spend the night in restored historic suites overlooking the majestic Santa Catalina Mountain range. All casitas, suites, and guest rooms are equipped with plush beds, a Keurig coffee maker, air conditioning, in-room safe, flat TV screen, and luxurious bath amenities.
Expect rooms colored in a desert-inspired palette decorated with oriental rugs, unique artworks, and hand-crafted pieces of furniture.
The resort's award-winning culinary team serves American cuisine in a charming setting at the Grill. Dishes include fillet of beef with rye crumble and grilled octopus with stone fruit appetizer. Pick from the resort's extensive selection of wine which includes over 800 labels or get a recommendation by the hotel's knowledgeable sommelier.
With desert botanical gardens, a historic sunset swimming pool, and a Jacuzzi, Hacienda Del Sol is a cutting-edge retreat that invites guests to savor every moment and indulge in the breathtaking scenery. The resort prices are quite affordable starting at $197 for a double room.
San Francisco, United States
Palace Hotel
Located in downtown San Francisco, the Palace Hotel is one of the most luxurious hotels in San Francisco offering opulent suites, decadent amenities, and impeccable service. Built in 1875, the Palace Hotel is known as the grande dame among San Francisco's historic hotels.
Check Availability
Recently, the Palace Hotel has undergone a $40 million renovation which added even more luxury to this boutique hotel in the heart of San Francisco. With gold atrium ceilings, Austrian crystal chandeliers, and marble pillars, this boutique hotel is well-known for its old-world glamour and unparalleled luxury. Palace Hotel has welcomed countless Hollywood stars, royalties, and eight U.S presidents since its grand opening.
All 600 guestrooms feature lofty ceilings, high-end amenities, and marble spa-inspired bathrooms. The Palace Suite is a stunner, featuring a majestic king-size-canopy-framed bed with elegant Frette bed linens, luxurious robes, and an indulgent bathroom with an extra-deep soaking tub and a separate shower.
Breakfast is served at the lustrous Garden Court where guests can savor every exquisite flavor under crystal chandeliers and a crystal-glass dome.
Unwind and unplug at the hotel's glass-roofed heated pool where you can enjoy tropical cocktails, light meals, or just relax in a whirlpool tub. The state-of-art fitness center is equipped with the latest equipment and is available to guests 24/7. For a double room at Palace Hotel guests will pay $435 per night.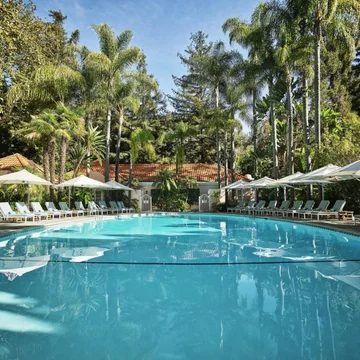 Los Angeles, United States
Hotel Bel-Air
Nestled in the base of Santa Monica Mountains, Bel-Air is the only hotel in the exclusive Bel-Air neighborhood. The hotel is surrounded by lavish gardens and flower-filled courtyards which create a secluded oasis that makes guests forget that they are only 10-minutes away from Beverly Hills' designer shopping district.
Check Availability
Expect old-world Spanish colonial design with French Deco accents through the opulent 103 suites and guestrooms. The rooms' interior was recently redesigned by the acclaimed interior designer Alexandra Champalimaud who has made a tremendous effort to retain the hotel's signature old-world Art Deco glamour.
For the ultimate luxury stay, book the Grace Kelly suite which pays homage to the glamorous beauty icon. The suite features a spacious garden patio with a plunge pool and an ancient tree, spacious living room with lofty ceilings, and floor-to-ceiling windows with sublime garden views.
With palm-tree paths, hidden piazzas, Italian fountains, and a gorgeous oval pool, Hotel Bel-Air is the ultimate romantic getaway. So, it doesn't come as a surprise that the hotel has welcomed Audrey Hepburn, Marlyn Monroe, and Princess Grace of Monaco.
The hotel's 4,000 square-foot Valmont Spa features a relaxation lounge, seven treatment rooms, and an Enclave Suite. Experience full rejuvenation with a Bel-Air signature massage or book a haircut at the luxurious Joseph Martin Hair Salon. Here, double rooms cost $595 a year around.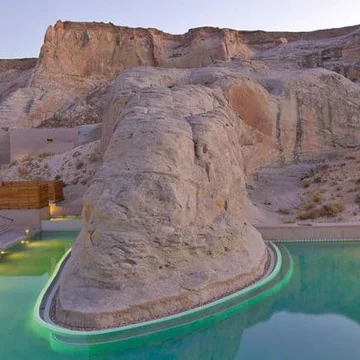 Canyon Point, United States
Amangiri
It doesn't get better than this – a 600-acre sanctuary of wilderness in the secluded Canyon Point in Southern Utah. The resort is nestled in a protected valley that offers sublime views over the Grand Staircase – Escalante National Monument.
Check Availability
The resort's minimalistic decor built with natural materials blends perfectly with the mesmerizing surroundings. The resort is built around the infinity pool which is perfectly placed between the iconic natural marvels of the Grand Canyon and Yellowstone.
The hotel features two-bedroom and one-bedroom Pavillons. The two-bedroom Grand Pavilion features a private pool terrace, an outdoor lounge with sublime sunset views, and a spectacular desert panorama. Room amenities include a king-size bed, a personal bar, and two en suite bathrooms with a separated glass shower and a soaking tub.
The 146-square foot Mesa Pool Suite is the hotel's most luxurious offering featuring a private terrace with a fireplace, a private sky terrace with a daybed, a vast bathroom with an extra-deep soaking tub, and a separate living area.
Expect to indulge in Native American inspired-dishes in an elegant setting featuring floor-to-ceiling windows, open-plan kitchen, and wood-fired oven.
Amagiri is the ultimate romantic getaway, where guests come from all parts of the world to catch a glimpse of the rose-gold sunsets over the Utah desert. To experience the beauty of the Utah region through a desert view suite will cost you $1200 per night.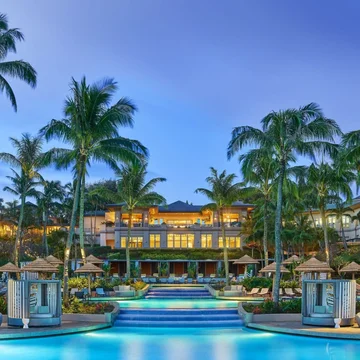 The Ritz-Carlton Kapalua
Located on 54 ocean-view-acres in West Maui, The Ritz-Carlton Kapalua is arguably the most luxurious hotel in one of the world's most-talked-about touristic destinations – Hawaii.
Check Availability
The Ritz-Carlton Kapalua guestrooms are famed for unparalleled luxury. Expect generously-sized rooms with vast balconies offering mesmerizing ocean views. The interior decor is bold and tropical with a warm-colored palette and Hawain-inspired art. Room amenities include air conditioning, flat TV screen, and king size beds with comfortable Ritz mattresses.
For the ultimate in luxury, book some of the opulent suites which range from 900 to 2,560 square feet and luxurious indoor and outdoor areas. Suites feature island-inspired decor, kitchen, two bedrooms, separate living room with a sofa bed, and vast balconies.
What truly sets the Ritz-Carlton Kapalua apart is the resort's lavish spa which provides guests with treatments inspired by ancient Hawaiian traditions. Book the Tropical Awa Nui Journey which combines sea salt with herbs to create the ultimate exfoliating scrub or the Deep Cleansing Organic Facial which blends fruits and herbs for a vitamin-rich facial rejuvenation.
The spa also features an intimate and tranquil outdoor setting where guests can enjoy couples massages or an array of gorgeous enhancements such as the Maui Vera Sunburn Relief. The prices for a double room at the Ritz-Carlton vary between $499 and $659 per night.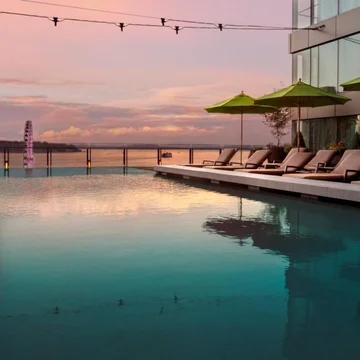 Washington, United States
Four Seasons Hotel Seattle
Located in the heart of Seattle, The Four Seasons hotel is in close proximity to all main landmarks and city attractions including the Seattle Art Museum and Pike Place Market.
Check Availability
Modern yet luxurious, Four Seasons captivates guests with minimalistic decor, clean and nature-inspired interiors, and an amazing staff. The vast lobby features neutral tones – you can expect stone, wood, and leather accents that blend perfectly with the hotel's elegant interior.
Featuring floor-to-ceiling windows, all guest rooms and suites in the hotel are filled with natural light that bounces off the nearby bay. In the hotel rooms, you'll discover your personal oasis equipped with a king-size bed, a vast balcony, gorgeous marble bathrooms with a soaking tub, and a separate rain shower.
James Beard Award nominee chef Ethan Stowell serves his carefully crafted dishes in a luxurious setting at the Goldfinch Tavern. Highlights include half-shell oysters and beet and dungeness crab salad. Every weekend the hotel serves three-course brunch featuring a seasonal menu of light and fresh dishes, both savory and sweet.
Overlooking Puget Sound, the hotel's infinity pool is a guest favorite spot where you can laze the day away while indulging in a tropical cocktail and a light meal. A stay at this luxurious hotel will cost you $580 for a double room.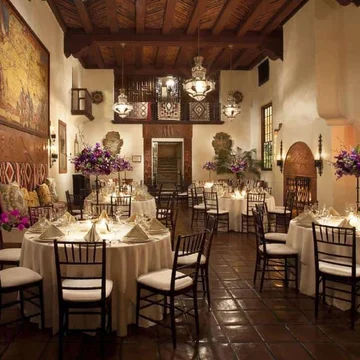 Santa Fe, New Mexico, United States
La Fonda on the Plaza
Set in the heart of Santa Fe, La Fonda on the Plaza is one of the city's oldest hotels. Providing an authentic New Mexican experience, the hotel features unique Spanish pueblo-style architecture and seduces guests with Native American inspired art.
Check Availability
With an infinity outdoor pool, lavish spa, boutique shops, and a fine-dining restaurant, La Fonda on the Plaza is the ultimate romantic getaway. The hotel boasts mesmerizing event venues that showcase views of the Cathedral Basilica of St.Francis of Assisi, making it the perfect spot for Santa Fe weddings and events.
Rooms feature concrete floors designed by Colter, embroidered curtains, and original artworks hand-crafted by local artists. Rooms ooze elegance and warmth with hand-painted headboards and handcrafted furnishings.
Guests staying at the hotel have the opportunity to go on a chocolate tour and learn about New Mexico's long history of chocolate production dating back to nearly 1000 years ago.
The hotel boasts three restaurants all offering New Mexican cuisine and a chic open-air bar. At La Plazuela, guests can enjoy classic Santa Fe dishes in a stylish interior. Double rooms at La Fonda on the Plaza start at $159 in low season and can go up to $259 in high season.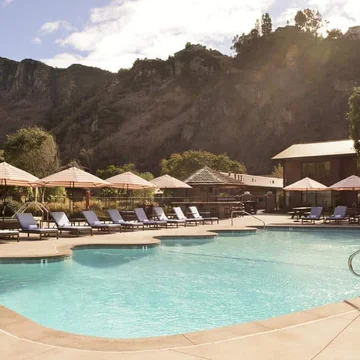 California, United States
The Ranch at Laguna Beach
Nestled in the mesmerizing Aliso and Wood Canyons, The Ranch at Laguna Beach is an iconic piece of land in the center of Orange County. Guests can have their own personal retreat at this boutique hotel that is set just along the Laguna Beach and overlooking the canyon.
Check Availability
The hotel is listed on 10 Resort Hotels in California in Travel + Leisure's 2020 World's Best Awards and is also a member of National Geographic Unique Lodges of the World which is a prestigious collection of resorts spanning 30 countries and 6 continents.
Equipped with king-size beds, signature ranch bedding, Italian linens, and Tuvalu-designed coastal ranch estate-quality furnishings, the canyon rooms mix casual elegance with 360-degree views.
The Laguna Beach Treehouse is located high above the grounds and features floor-to-ceiling windows to give way to sublime views. With a master bedroom, queen sofa bed, full gourmet kitchen, living and dining space, and three-bathrooms, the Laguna Beach Treehouse is the ultimate romantic getaway.
Set in an elegant outdoor patio overlooking Aliso Canyon, the hotel's restaurant Harvest pays homage to California's long history of organic farming, enology, and brewing. Guests have the opportunity to taste fresh-made food and drinks made from vegetables, fruits, and herbs grown in the hotel's garden. The restaurant also boasts an enticing wine list, 18 craft beers on tap, and an innovative cocktail collection.
If you're up for some fun activities, the hotel organizes mountain biking, guided hikes, bird-watching, stargazing, and sand volleyball. Water activities include snorkeling, bird-watching, stand-up paddleboarding, and deep-sea fishing. To experience the vibrant atmosphere at the Ranch at Laguna Resort will cost you $330 for a standard room.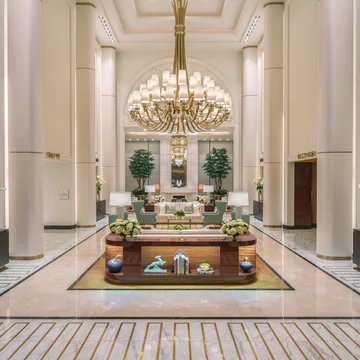 Los Angeles, United States
Waldorf Astoria Beverly Hills
Set in the heart of Beverly Hills, Waldorf Astoria offers outstanding service in an extravagant setting. A stone's throw away from Hollywood, Pacific Coast Beaches, and Santa Monica, this boutique hotel boasts an amazing location in one of the world's most-talked-about neighborhoods – Beverly Hills. Loved by high-profile guests, the hotel's interior oozes elegance with Italian marble, glossy cherry wood, and Lalique crystal.
Check Availability
All rooms are equipped with decadent amenities, state-of-the-art technology, floor-to-ceiling windows, and private balconies. Luxuriously styled by the acclaimed interior designer Pierre-Yves-Rochon, the guest rooms and suites at the hotel are well-known for their outstanding decor and elegance. Additionally, all rooms feature mesmerizing views over the Beverly Hills skyline.
Guests are in the capable hands of Michelin star and celebrity Chef Jean-Georges Vongerichten who serves his authentic dishes in an upscale setting. Celebrity chef curating a pool menu? Yes, at Waldorf Astoria everything is possible. Relax at the exclusive rooftop pool deck equipped with comfortable cabanas and savor every flavor prepared by Jean-Georges Vongerichten.
With a lavish La Prairie Spa, saltwater infinity pool featuring 360-degree-views over LA, and opulent suites, Waldorf Astoria offers the best of Los Angeles' luxurious lifestyle. A guest room at this opulent hotel costs $650 per night.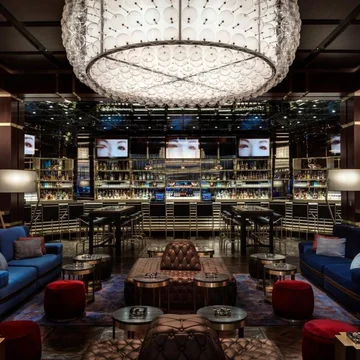 Las Vegas, Nevada, United States
The Venetian Las Vegas
Located at Las Vegas' most-sought-after address – the Strip, The Venetian is the spot where elegance and leisure meet extravagance. The hotel pays homage to Italy's most romantic city Venice with fresco ceilings, grandiose Baroque lobby, and a replica of the stunning Rialto Bridge.
Check Availability
The hotel's property features 5,000 guest rooms equipped with Italian marble bathrooms, Egyptian cotton sheets, king-size beds, and Roma soaking tubs overlooking Las Vegas' glimmering city skyline.
If that's not enough to whet your appetite, it also boasts more than 20 restaurants, and guests have the chance to pick between French, Italian, and upscale American cuisine served in dream-like settings. Thomas Keller, also known as "America's Best Chef", serves his inventive dishes inspired by the French cuisine in the elegant Bouchon restaurant.
The Venetian is known for throwing wild parties at its two clubs – Tao and Lavo, where guests are highly likely to rub a shoulder with a celebrity. Both Justin Timberlake and Christina Aguillera have been spotted swaying to some groovy live DJ sets at Lavo.
With 4 pools, an award-winning 134,000 foot large Canyon Ranch Spa, a vast casino, and an upscale shopping mall featuring pieces from Hugo Boss and Louis Vitton, The Venetian offers unparalleled luxury in United States' most notorious city. Surprisingly, the Venetian has affordable prices for a double room starting at $149 per night.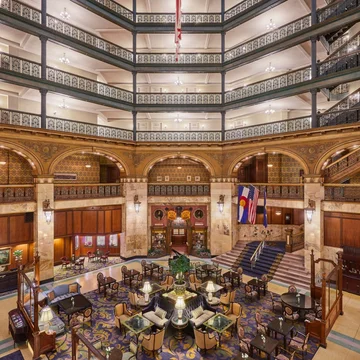 Denver, Colorado, United States
The Brown Palace Hotel and Spa
Since its opening in 1892, the Brown Palace Hotel and Spa has been a synonym for unparalleled luxury. The hotel is part of the acclaimed Marriott Autograph Collection and has been listed on all lists featuring the world's most opulent hotels.
Check Availability
The Beatles, Rolling Stones, and numerous US presidents have been welcomed at Brown Palace's opulent suites. This is also the spot where the National Western Stock Show Grand Champion Steer traditionally walks the hotel's red carpet.
The hotel boasts 241 uniquely designed guestrooms and suites featuring decadent amenities and state-of-the-art technology. Stay in a suite inspired by Theodore Roosevelt's presidency and style or at The Beatles Suite, where guests have the opportunity to listen to tunes from a custom Beatles jukebox. Reagan's Suite is a world of its own featuring a four-poster king bed, amber marble bathroom, elegant linens, and a fireplace.
The hotel's restaurant Palace Arms offers upscale cuisine in an extravagant setting featuring Napoleon's artifacts such as his pistols. With 6 elegant restaurants, a lavish spa, and a grand ballroom, The Brown Palace and Spa is arguably Colorado's most opulent resort with double rooms starting at $269 per night.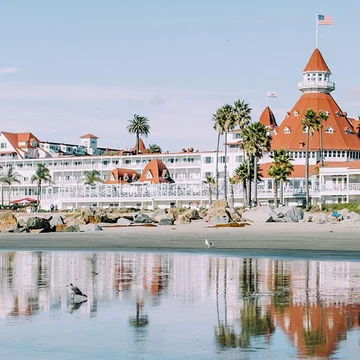 San Diego, California, United States
Hotel del Coronado
Located on one of America's most popular beaches – Del, Hotel del Coronado is the perfect spot to experience California's luxurious coastal lifestyle. This opulent resort has been visited by a number of A-listers and celebrities including Charlie Chaplin, Edward VII, and Katherine Hepburn.
Check Availability
This sprawling 28-acre resort offers three types of rooms including Victorian-style suites, modern cabanas, and luxurious beach villages. The beach villages boast an oceanfront location, up to 3 bedrooms, marble bathrooms, vast balconies, gourmet kitchens, and a living room.
The hotel offers several outstanding dining options including Sheerwater, where a creative culinary team serves ocean-inspired dishes in an elegant setting. At the Sun Deck, guests can enjoy some swanky cocktails while dancing on an inviting podium.
The hotel spoils guests with personalized service, nightly turndown service, and high-end amenities including exclusive pools and hot tubs. Offering elevated service, upscale cuisine, and sophisticated amenities, Hotel del Coronado is suitable for both adventurous jet setters and high-profile guests. The ocean view victorian suites costs $567 per night while a cabana with an ocean view starts at $832.
Find Luxury Hotels in United States West