Starting a new year means a fresh start and more exciting times to come. Sure, some may find saying goodbye to another year a sad affair, but your New Year's Eve celebrations don't have to be. Instead, start the upcoming year with a bang by checking yourself into a luxury Sydney hotel for New Year's Eve fireworks.
Whether you're celebrating at Sydney Opera House, the nearby Royal Botanical Garden, or the Darling Harbour, the lit-up sky is sure to make your night enchanting.
But one of the best ways to enjoy the NYE fireworks is from the comfort of one of these luxury Sydney hotels. They all offer spectacular Harbour views of the Sydney Harbour Bridge, Opera House, and the city skyline.
From The Park Hyatt to the Pullman Quay and more, most of these famous Sydney hotels also offer live entertainment and different New Year's Eve party options.
New Year's Eve in Sydney
New Year's Eve in Sydney is an extravagant multi-tiered affair, with many NYE fireworks shows taking place every hour and live performances showcasing the city's culture.
The Sydney New Year's Eve event is an annual celebration in Sydney, to celebrate the end of the current year and the start of the upcoming year. The event kicks off at 6 pm with a thrilling air display in the sky above the Harbour, fire tugs creating water displays, and a 'Welcome to Country' performance.
Usually, the event comprises two major New Year's Eve fireworks displays — one at 9 pm and the other when the clock strikes 12 am. The 9 pm display is held especially for kids and families. On the other hand, the midnight fireworks show is a spectacular display that can be seen from many viewpoints around Sydney Harbour.
Here's a list of the best Sydney hotels with Harbour views for New Year's Eve fireworks. Sydney's best hotels will likely get booked out for the big night, so remember to book a room or suite at your favorite hotel from this list in advance.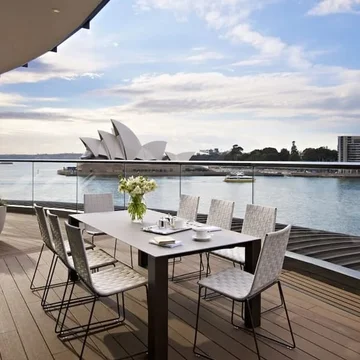 Hickson Road, Sydney, Australia

5
Park Hyatt Sydney
Park Hyatt Hotel is one of the most expensive hotels in Australia. It's located on the edge of Sydney Harbour, between the Sydney Opera House and Sydney Harbour Bridge. This contemporary hotel offers luxurious rooms with sophisticated furnishing, fittings, and plush carpets.
Check Availability
Floor-to-ceiling glass doors lead to private balconies from where you can enjoy the NYE fireworks views. Flexible modern bathrooms mean you can keep them private from the main bedroom or convert them into an open-plan design.
Spend your days at this top hotel indulging in pampering sessions at the spa and wellness center and tanning by the heated pool. Gym lovers can take advantage of the fitness center to stay in shape, while art enthusiasts can check out the display of paintings and artwork by local artists.
The hotel's butler team is available 24 hours a day, seven days a week, to offer a personalized service to all guests. And, of course, complimentary WiFi is available to everyone.
Less than a six-minute walk from The Rocks district and a 10 minutes' walk from Circular Quay, Park Hyatt Sydney is undoubtedly one of the best hotels in Sydney, Australia. Lavender Bay, rated as Sydney's "Most Liveable Suburbs," is only a seven-minute drive from the hotel.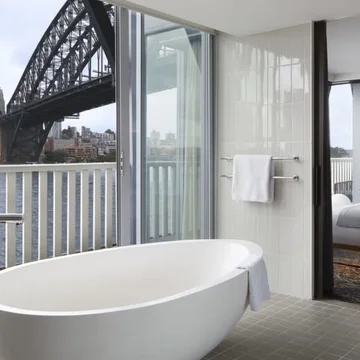 Hickson Road, Sydney, Australia

5
Pier One Sydney Harbour
Amongst the many luxury Sydney hotels is Pier One Sydney Harbour, a hotel built on the water with its own private pontoon and spectacular Sydney Harbour view rooms. The hotel is a unique Federation-style lodging located just alongside the Harbour Bridge, making it an ideal spot for New Year's Eve fireworks.
Check Availability
All the rooms and suites at Pier One Sydney Harbour offer contemporary décor with a nautical theme. Each accommodation has its own flat-screen TV and minibar, while some rooms and suites come fitted with a spa bath and sofa bed.
A five-minute walk from the hotel is the Sydney Theatre Company, along with the Rocks' cafes. A variety of shopping and dining alternatives are within an easy 15-minutes walking distance. The Sydney Opera House and the Royal Botanic Gardens are only 20 minutes away.
So, if you're looking to explore The Emerald City of Australia while catching the NYE fireworks from a luxury hotel, consider staying at Pier One Sydney Harbour.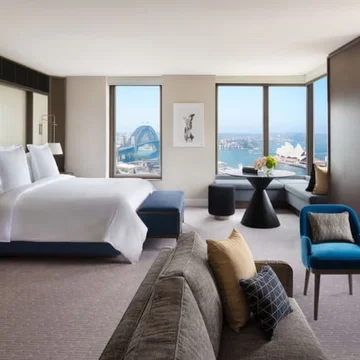 George Street, Sydney, Australia

5
Four Seasons Hotel Sydney
Located in Sydney's CBD (Central Business District), this 5-star hotel overlooks Sydney's historic Rocks area. Four Seasons Hotel Sydney offers luxury accommodation with panoramic views of the famous Sydney Opera House and Circular Quay. What better view than this to be hypnotized by the magical New Year's Eve fireworks?
Check Availability
All the rooms at Four Seasons have an elegant interior and are fully furnished with an LCD TV, complimentary Christian Lacroix toiletries, and other high-end amenities. Tea lovers will be delighted to know they can request Chinese tea in their rooms.
That's not all — along with free WiFi and an amazing location, Four Seasons also boasts a bar, restaurant, swimming pool, and fitness center. The massive fitness center is fully equipped and features a sauna. On the other hand, the spa and wellness center offers skin treatments and therapeutic massages.
Head to Grain Bar for a selection of wine, cocktails, craft spirits, and local beer in the evening. When it's time to dine, pick Mode Kitchen & Bar, which serves a modern take on Australian cuisine made with local and seasonal ingredients. Walsh Bay, the historic shore, is only an eight-minute drive away.
Kent Street, Sydney, Australia

5
The Langham Sydney
The Langham Sydney offers stylish, spacious rooms with panoramic city or Harbour views. Hotel rooms at The Langham feature soft paneled walls, high ceilings, mahogany furniture, and opulent marble bathrooms. A terrace option is available with some rooms and suites.
Check Availability
Each hotel room is fitted with a flat-screen satellite TV, coffee-making facilities, and complimentary WiFi is available. The luxurious marble bathrooms have a double basin, shower, and separate bath so 'him and her' can get ready at once. Also included in the list of conveniences are bathrobes, slippers, and Chuan Spa toiletries.
The Langham is located about a five minutes walk from Darling Harbour and 10 minutes from Circular Quay. Its prime location is ideal for seeing the New Year's Eve fireworks or joining the annual New Year's Eve event.
Enjoy a competitive game with your friends at the hotel's tennis court. Then, spend some time at the day spa or soak in the hot tub to unwind before heading to the New Year's Eve party. On-site is also a swimming pool, fully-equipped fitness center, and sauna.
The Observatory Bar serves unique cocktails, shared-style food, and an exclusive wine selection, making it a good option for a New Year's Eve hangout.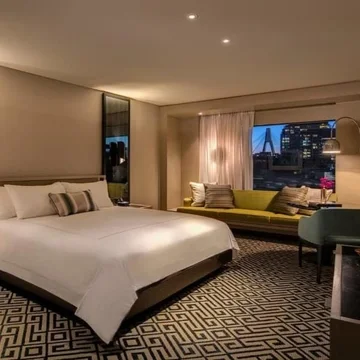 Most of The Star Grand Hotel's modern rooms serve panoramic views of Sydney's glistening skyline. But the real deal is the suites at The Star Grand Residences that have their own private balcony and kitchenette.
The property boasts business facilities, a health club, a fitness center, and standard on-site parking. While there's plenty to do around the hotel, on-site guests can enjoy the heated indoor and outdoor pools and indulge in delectable dishes at the many high-end restaurants and bars.
Some of the property's best eateries include Flying Fish, Sokyo, Black, and The Century. Choosing from a wide selection can sometimes be overwhelming, but at least you know that breakfast is covered in the Harvest Buffet.
Off-site, you can take a 10-minute walk to Chinatown. Just 15 minutes from the hotel is the Town Hall Railway Station, but you can also take advantage of the buses in front of the property. These can take you to Sydney Opera House or Circular Quay within a swift 20 minutes.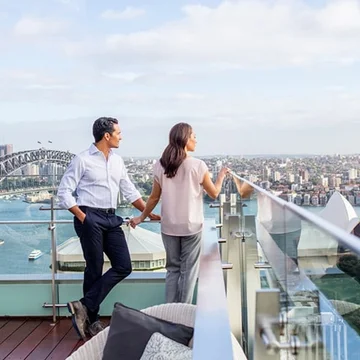 Sydney CBD, Sydney, Australia

5
InterContinental Sydney
Offering a luxury all-inclusive stay, InterContinental Sydney is another 5-star hotel overlooking Circular Quay, Sydney Opera House, and Sydney Harbour Bridge. Interestingly, the hotel is located in a historic 19th-Century building in The Rocks, but it's far from being outdated or mediocre.
Check Availability
In fact, when entering the hotel, you're greeted by a majestic interior and a wealth of natural lighting. InterContinental boasts 509 hotel rooms and 28 luxury suites. The hotel's air-conditioned rooms serve glorious views of the city or the Harbour. They're also fitted with a satellite TV, a minibar, high-speed WiFi, an iPod dock, and a Vittoria coffee machine.
Guests at InterContinental have access to in-room fitness kits and an indoor heated pool. The award-winning InterContinental Club offers a memorable experience where you can relax in the lap of luxury.
Catch the New Year's Eve fireworks from 32 floors above the city at the rooftop lounge, which offers personalized five-star service, opulent interiors, and fabulous views of Sydney. Admire the lit-up sky from behind the glass windows, or head out on the rooftop terrace to enjoy 270-degree views of the Sydney fireworks.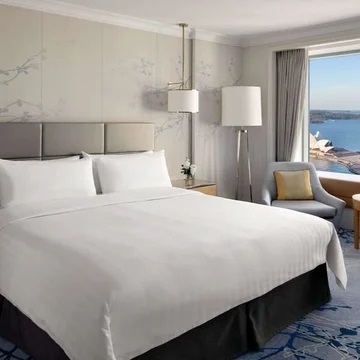 The Rocks, Sydney, Australia

5
Shangri-La Sydney
One of the city's most prized icons, Shangri-La is one of the best Sydney hotels with iconic views of the Sydney Harbour Bridge, Opera House, and Darling Harbour.
Check Availability
Located in the famed Rocks area, staying at the Shangri-La Sydney means easy access to the Sydney Opera House and the MCA (Museum of Contemporary Art). Wake up to sweeping views of the Harbour or city and enjoy the NYE fireworks views from the comfort of your bed.
All the rooms at Shangri-La Sydney hotel include an iPod dock, fluffy bathrobes and slippers, and free WiFi, amongst other contemporary facilities and amenities.
Start your new year with a soak in the bathtub of your lavish marble bathroom, and then head out to take advantage of the property's many facilities. The spa is the ultimate luxury escape offering private spa suites, body treatments, and massage options.
Blu Bar on the property is one of the most popular cocktail bars in Sydney, while Altitude Restaurant is a must-visit for its city views. With an indoor pool, hot tub, day spa, sauna, and fitness center at your fingertips, it's no wonder why Shangri-La is an icon of choice for many locals and tourists alike.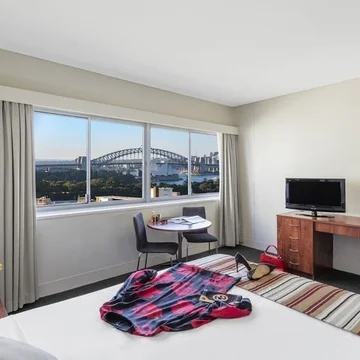 Potts Point, Sydney, Australia

4
Macleay Hotel Sydney
Sydney's Potts Point area is famous for its cafes and nightlife, including neon-lit clubs and bars. If you're seeking a happening and eventful NYE affair, consider staying at Macleay Hotel in Potts Point.
Check Availability
This Sydney hotel offers luxury accommodations with views of the Harbour, Opera House, or the city skyline. All the air-conditioned studios feature a fully equipped kitchenette complete with a refrigerator, microwave, and cooking facilities.
At Macleay, you'll have free access to the local fitness center, which is in close proximity to the hotel (about a 10 minutes walk away). Dining options are in abundance, with many restaurants, cafes, and bars within a two-minute walk. The property itself boasts a massage service and barbecue facilities that make for an ideal family-friendly activity for New Year's Eve.
Water babies can take full advantage of the rooftop pool that boasts views of the Opera House. The Royal Botanic Gardens is 15 minutes away, while Sydney International Airport is a 20-minute drive from the hotel.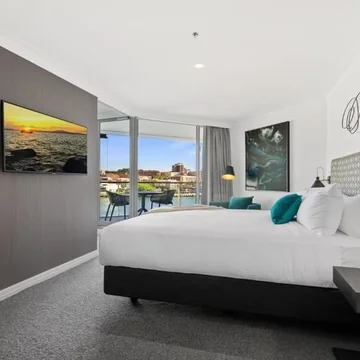 Macquarie Street, Sydney, Australia

5
Pullman Quay Grand Sydney Harbour
Pullman Quay Grand boasts luxury apartments complete with a spa bath and balcony that offers pretty Harbour views. Each apartment has sophisticated decor with a black and white theme
Check Availability
Overlooking Circular Quay, Pullman is one of the best Sydney hotels with many modern facilities and conveniences on offer. The apartments include a fully equipped kitchen with a dishwasher and laundry facilities and a separate lounge and dining area.
An on-site indoor pool, fitness center, sauna, restaurant, and bar are just some of the facilities Pullman provides for its guests. Soak in the hot tub, dine at the hotel's restaurant, and enjoy the panoramic city views from the indoor terrace. At Pullman, you'll have access to valet parking and a 24-hour front desk so you can fully immerse in the luxury experience.
Order Australian cuisine and choose from the extensive wine list at Q-Dining, which has floor-to-ceiling windows to enjoy your meal with a view. Hacienda Sydney is a chic bar offering a botanical retreat away from the city. Tantalize your tastebuds to Hacienda's signature Cuban-inspired cocktails or choose from the premium beverage menu.
It's worth knowing that Circular Quay Station is only a four-minute walk from the hotel.