Nestled between the Caribbean Sea and the Atlantic Ocean, Antigua and Barbuda is a popular Caribbean travel destination, a country known for its captivating nature, beautiful beaches, and rich history. For today's article, we have selected the best luxury hotels in Antigua and Barbuda to help you choose your next destination for a Caribbean getaway.
Our hotel recommendations cover both large cities and secluded areas, giving you plenty of variety depending on your preferences. We hope you find our article informative, and with that said, let's start with our first luxury hotel.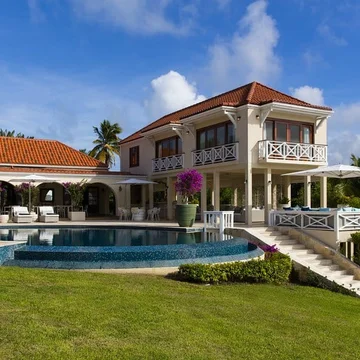 St. John's, Antigua and Barbuda
Jumby Bay
Jumby Bay, part of the established Oetker Collection, is considered as one of the best luxury hotels in Antigua and Barbuda. It offers an exclusive and intimate getaway on a private island – an experience you're bound to remember forever.
Check Availability
The hotel places a great emphasis on physical activity, so guests get a lot of opportunities to stay active while on holiday, such as booking private yoga and tennis classes, working out at the fitness center, playing golf, or partaking in water sports like kayaking and water skiing. Treat yourself after your workout and book a massage or treatment at the on-site spa. Highlights include the Siren's Song Wrap treatment, which uses an emulsion of golden nectar leaves, and the Island Whispers, which utilizes the healing ingredients found in nature.
The Jumby Bay Veranda welcomes guests throughout the day, serving a delicious a la carte breakfast and exquisite Italian cuisine for lunch and dinner. The Estate House embodies the Caribbean spirit in its ambiance and cuisine – taste sumptuous Modern Island Favors combined with world-class wine. Inside The Estate House, you can find 1830 Bar, a historic bar that promises to transport you to a different era. Its cocktail menu is unparalleled; our recommendations include the Antigua Black Daiquiri and Half a Gill – a modern interpretation of the Admiral Lord Vernon's rum ration.
Three accommodation options are available at Jumby Bay: a standard room, a suite, and a villa. If you're traveling with family, the villas will suit you perfectly. Each villa includes a private pool, a fully equipped kitchen, multiple bedrooms, and a terrace. The style of the villas is beachy yet elegant, with a white base and colorful accents to brighten up your stay.
The rates at Jumby Bay start from $1,900 a night.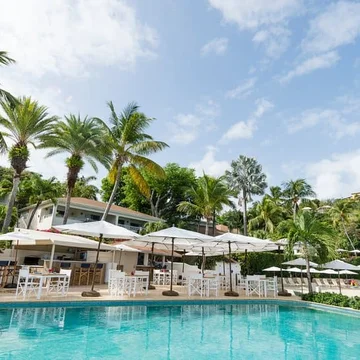 St. John's, Antigua and Barbuda
Blue Waters Resort and Spa
Blue Waters Resort and Spa is a lavish and modern resort located in the northwestern corner of Antigua. The resort is a magnet for celebrities – some of its most famous guests include Paul Young, George Graham, and Robbie Fowler.
Check Availability
Guests can enjoy a wide selection of world-class facilities while staying at Blue Waters Resort and Spa and participate in a variety of sports and activities like yoga, tennis, and watersports. For those who prefer a more traditional approach, there is a well-equipped fitness center on its grounds. Soothe your tired muscles post-workout and visit The Spa at Blue Waters – a sanctuary of tranquility and serenity, offering rejuvenating treatments and massages. If you're ever in need of a trim or hair styling while on holiday, the salon is here to help.
The multiple on-site restaurants give you lots of variety in terms of dining. The Cove Restaurant combines Caribbean and French cuisine, resulting in flavorful dishes. Carolyn's is ideal for a light snack or a delicious cocktail under the sun, whereas The Palm Restaurant offers exclusively Caribbean alfresco dining in a romantic atmosphere. Whichever restaurant you decide to go for, an exciting culinary adventure is guaranteed.
The diverse nature of Blue Waters Resort and Spa extends to the accommodation options. You can book a cottage, a suite, a penthouse, and a villa. Needless to say, the penthouse is the most luxurious option, which features panoramic views, a private terrace and pool, tea and coffee making facilities, and elegant, spacious bathrooms with complimentary Elemis amenities.
The rates at Blue Waters Resort and Spa start from $300 a night.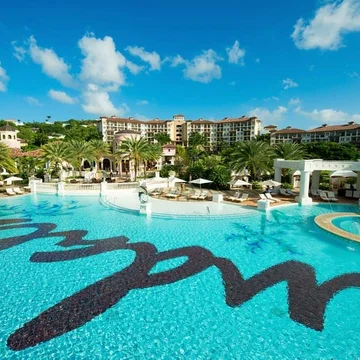 St. John's, Antigua and Barbuda
Sandals Grande Antigua Resort and Spa
Sandals Grande Antigua Resort and Spa has won many awards for being the world's most romantic resort, so it's a popular choice among newlyweds and couples seeking an intimate getaway. Located in Dickenson Bay, the resort is in close proximity to the best beaches in the area and outstanding local restaurants.
Check Availability
Facilities-wise, the resort boasts a championship golf course that suits every skill level, so you can easily practice your golfing skills even while on holiday. The on-site spa utilizes Caribbean techniques, allowing you to get acquainted with the local culture in a slightly different manner. Their couples massages are also quite popular. Guests can book various tours during their stay, from canopy tours to mountain biking.
To say that the dining venues at Sandals Grande Antigua Resort and Spa are varied would be an understatement – the eleven award-winning restaurants offer cuisines from across the world, made by renowned chefs who are dedicated to perfecting their dishes. Make sure you have at least one romantic dining experience under the stars during your holiday, accompanied by premium wine and an intimate ambiance.
The design of Sandals Grande Antigua Resort and Spa's rooms and suites includes ligneous furnishings, bright colors, and spectacular artwork. The modern amenities, like coffee and tea making facilities, a minibar, and a flat-screen TV compliment the classy design perfectly. The bathrooms are quite spacious, with a Red Lane Spa amenity kit and a walk-in shower.
The rates at Sandals Grande Antigua Resort and Spa start from $320 a night.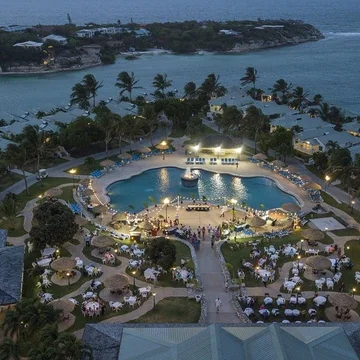 St. John's, Antigua and Barbuda
The Verandah Resort and Spa
Guests keep returning to The Verandah Resort and Spa for various reasons: the extensive white sand beach and gardens that surround the hotel, the blend of exciting activities, the flavorful cuisine, and the lively nightlif
Check Availability
Some of the facilities you can expect to find in the hotel include three on-site swimming pools, an 18-hole mini-golf course, a well-equipped gym, and access to water sports like sailing and windsurfing. Treat yourself to a pampering and personalized facial or massage at Tranquility Body and Soul Spa that will melt any leftover stress away.
At The Verandah Resort and Spa, guests have access to a variety of restaurants. The main dining venue, Seabreeze, has an all-day menu and buffet-style dinners, with many international-themed evenings that enable you to taste a wide range of cuisines in a single night. For Caribbean-inspired a la carte options, visit The Buccaneer. When relaxing at the beach, treat yourself to a tasty snack or light meal from the Wadadli Snack Shack. The Coffee Shop serves afternoon tea daily from 3:30 p.m. to 4:30 p.m. by the pool.
The Verandah Resort and Spa boasts 186 villa-style suites scattered in different locations of the resort. The suites come with gorgeous vaulted ceilings, Caribbean décor, and colorful artwork. The amazing interior is complemented by a long list of modern amenities, including private verandahs, a kitchenette, and a flat-screen TV.
The rates at The Verandah Resort and Spa start from $300 a night.
St. John's, Antigua and Barbuda
Antigua Village
Regarded as one of the best luxury hotels in Antigua and Barbuda, Antigua Village is an incredible option for those on the lookout for a chic yet homey resort, with a wide range of spacious suites, villas, and studios inspired by Caribbean culture. Their aim is to make the resort as inviting and comfortable as possible and give you a memorable experience that will keep you coming back. Some of the best landmarks in St. John's can be found within walking distance, like the Cathedral of St. John, Radcliffe Bay, the Divine, and Fort James.
Check Availability
The hotel is surrounded by extensive gardens and bright flowers, and the outdoor swimming pool is no exception. In addition to a secluded lap-friendly swimming pool, an offsite tennis court is available for guests of Antigua Village. There are no on-site dining options available, but guests can have breakfast at the neighboring Salt Plage Restaurant at Siboney Beach Club.
The 45 villas, studios, and suites are spacious and beautifully appointed, with a design inspired by island living. Each accommodation option boasts a living area, a private terrace, and a kitchenette. Regardless of which one you opt for, gorgeous ocean views are guaranteed.
The rates at Antigua Village start from $200 per night.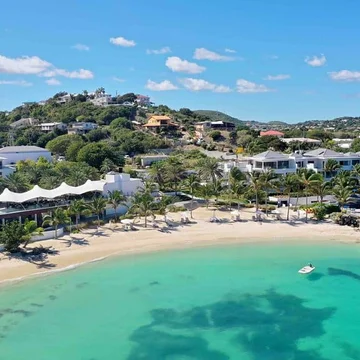 When you're staying on-site, there are many activities to add to your itinerary. The Bohemia Spa at Hodges Bay Resort and Spa is renowned for its ancient Moroccan Rhassoul clay treatment, which promises to detoxify and beautify your skin. The resort really comes alive during the night when a myriad of exciting events takes place, all of which incorporate live music and dancing. Other facilities include a fitness center, a kids club, a tennis court, and an outdoor pool.
The dining venues are Hodges Bay Resort and Spa's strong suit. Celebrity chef Edward Lee owns NaCi – Caribbean's first signature restaurant that is a favorite among locals and guests alike. The beachfront White Sands Restaurant is aimed at those who enjoy Mediterranean-inspired cuisine in a bohemian setting. Sensual and fun, Black Sails Lounge is simply a must-see, for both the booze and the dancing.
The villas, suites, and residences at Hodges Bay Resort and Spa are sophisticated and spacious, designed by Sarah Farrel. Each features a coffee machine, wall-to-wall windows, a flat-screen TV, a private deck, and an en-suite bathroom. The stunning ocean views will definitely dazzle you.
The rates at Hodges Bay Resort and Spa start from $400 a night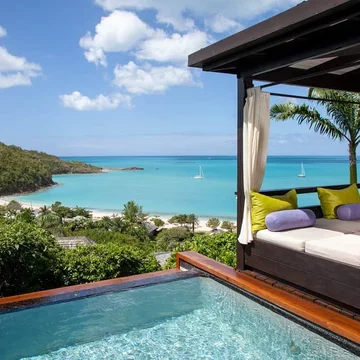 Antigua, Antigua and Barbuda
Hermitage Bay
Located in the serene western part of the island, surrounded by lush greenery and sandy shores, Hermitage Bay is a great match for anyone looking to relax and recharge away from the large crowds of bustling cities.
Check Availability
The tranquil environment isn't the only factor that will keep you relaxed. The resort offers private yoga and pilates classes, on top of a state of the art gym facility, that will keep your endorphin levels high. Additionally, the soul-soothing Garden Spa allows you to book unique therapies that aid both the body and the mind – their signature Siddhartha treatment rituals are not to be missed. If you'd like, you can engage in water sports like snorkeling and paddleboarding, or simply sunbathe on one of the gorgeous beaches.
Regardless of your culinary preferences, the on-site restaurant offers a remarkable wine and dine experience, with a daily-changing menu comprisingAntiguan dishes and fresh ingredients picked from their own gardens. You can enjoy your meals on various on-site locations, or from the convenience of your own suites. Vegan and vegetarian options are easily provided upon request.
The suites at Hermitage Bay are divided based on their location: hillside pool suites, beachfront suites, and seaview garden suites. While the hillside suites offer the most privacy and the best panoramic views of the area, all suites are lavishly appointed, featuring a private balcony, a luxurious outdoor shower, and a stocked minibar.
The rates at Hermitage Bay start from $1,100 a night.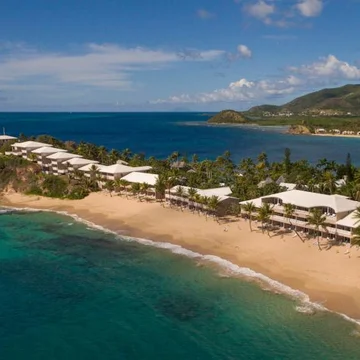 Antigua, Antigua and Barbuda
Curtain Bluff Resort
Nestled between two breathtaking beaches, Curtain Bluff Resort is an intimate and family-friendly resort boasting a plethora of amenities that guarantee a remarkable holiday. Though its location might be on the remote side, the busy capital is half an hour drive away, ideal if you're in need of a change in scenery.
Check Availability
The resort's own watersports center will equip you with everything you need for a fun adventure on the water, whether you're going windsurfing or waterskiing. Gym bunnies will delight in knowing that a fully-equipped fitness center is at their disposal, on top of a tennis court, half a basketball court, a shuffleboard court, and an outdoor swimming pool. In case all these activities give your muscles a hard time, booking a relaxing massage at the on-site spa is always an option.
Dining-wise, there are on-site two restaurants in total. The Sea Grape's cuisine, a mix of Italian and Antiguan influences, will be love at first bite. Breakfast is served at The Tamarind Restaurant and it includes classics like French toast and eggs benedict, soft pastries, and fresh fruit. Another culinary highlight at Curtain Bluff Resort is the outstanding wine cellar, home to top-tier house wines and international brands.
The rooms have a palpable Caribbean influence, which is always a lovely touch. The color scheme is a white base mashed with blue accents that match the surroundings. Each room comes with an en-suite marble bathroom with a walk-in shower, a minibar, a living area, and floor-to-ceiling windows that reveal stunning views of the ocean.
The rates at Curtain Bluff Resort start from $800 a night.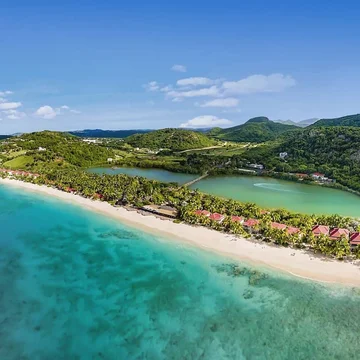 Five Islands Village, Antigua and Barbuda
Galley Bay Resort and Spa
Galley Bay Resort and Spa is an adults-only, award-winning, all-inclusive resort situated on the west coast. Whether you prefer an active holiday or sunbathing on the beach all day, you will be satisfied with what the resort has to offer.
Check Availability
There's no shortage of activities at Galley Bay Resort and Spa – play a game of tennis, go on a biking adventure, book a yoga class, try some of the watersports, or swim some laps in the on-site swimming pool. Other facilities include a fitness center and a luxury spa, which is a sanctuary of tranquility set among the lush gardens surrounding the hotel. The spa menu includes body treatments, facials, and massage rituals, all designed to relax your body.
The resort includes three alfresco restaurants: Sea Grape, Gauguin, and Ismay's. Sea Grape serves flavorful Caribbean cuisine in a relaxed atmosphere, often accompanied by live steel drum music. The intimate and beachside Gauguin is ideal for date night, when you and your partner can enjoy island cuisine under the thatched roofs overlooking the ocean. Ismay's serves both international and local dishes in an elegant setting.
Galley Bay Resort and Spa's rooms and suites are minimalistic yet elegant, with furnishings made of local materials, breathtaking views of the beach, a stocked minibar, and coffee and tea facilitates. The color palette includes pops of bright blue on an otherwise white base, reminiscent of Santorini.
The rates at Galley Bay Resort and Spa start from $600.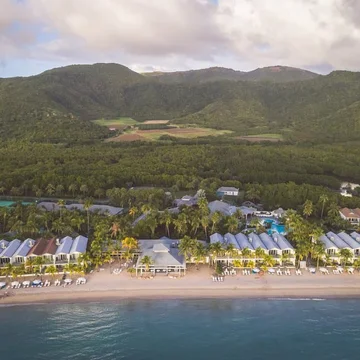 Old Road Antigua, Antigua and Barbuda
Carlisle Bay
The unbeatable location, diverse range of facilities, and exceptional service make Carlisle Bay one of the best luxury hotels in Antigua and Barbuda.
Check Availability
The list of facilities is seemingly endless. Guests can shop gifts and souvenirs at The Bay Boutique, visit the on-site library whose selection of books is outstanding, or partake in private or group yoga lessons at the yoga pavilion. And if that wasn't enough, the hotel has its own screening room where multiple movies nights per week are organized.
There are various dining venues to choose from while staying here, most of which come with unparalleled ocean views. Indigo on the Beach, as the name suggests, has an entirely beachfront location, with a delicious array of international dishes. East, considered one of the best restaurants in the area, is known for the remarkable Asian cuisine, while Ottimo! brings the flavors of Italy to Antigua and Barbuda, served in a relaxed atmosphere.
Choose from 87 lavishly appointed suites, some of which are perfectly family-friendly. The décor is understated and chic, featuring a white and mint color scheme that's inviting and relaxing. Each suite features a private terrace, en-suite bathrooms with an oval bathtub, coffee facilities, and a flat-screen TV.
The rates at Carlisle Bay start from $400 a night.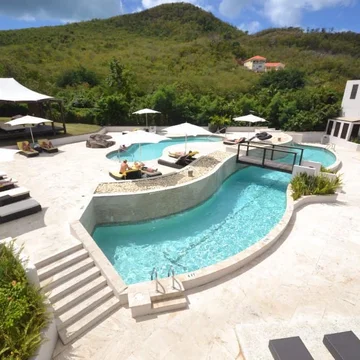 Jolly Harbor, Antigua and Barbuda
Sugar Ridge
Surrounded by 43 acres of indigenous flora and serene beaches, Sugar Ridge allows you to unwind in style. Jolly Harbor, brimming with local restaurants and stunning vistas, is a short walk away from the hotel.
Check Availability
Those who want to keep up with their fitness regime while on holiday will love the well-equipped on-site gym, which contains staple cardio machines and free weights. If traditional-style workouts don't cut it for you, you can always utilize the large outdoor pool or book yourself a yoga class. Treat yourself to a pampering treatment or energizing massage at The Aveda Concept Spa, considered one of the best luxury spas in the Caribbean.
The on-site dining options include casual and fine dining restaurants, local and international cuisine, catered to every taste. Carmichael's, a gourmet alfresco restaurant overlooking the Caribbean, offers an array of local dishes as well as vegan alternatives. Sugar Club Restaurant is the more casual option of the two, where you can enjoy a generous breakfast with sumptuous international options, and buffet-style lunches and dinners.
The rooms are designed in a chic colonial style, with a white color scheme mixed with bright accents. Each room features a canopy bed, coffee making facilities, and an en-suite bathroom with a monsoon shower. Some of the rooms contain plunge pools.
The rates at Sugar Ridge start from $220 a night.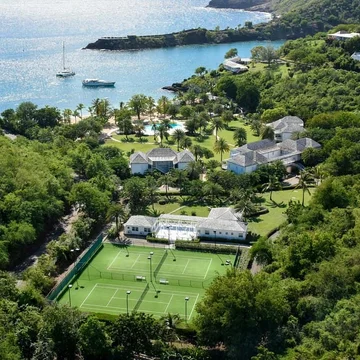 English Harbor Town, Antigua and Barbuda
The Inn at English Harbour
The Inn at English Harbour is a luxury hotel set in the picturesque English Harbor Town, overlooking the Caribbean Sea. Some of the must-see landmarks in town, like Nelson's Dockyard, are a short drive away from the hote
Check Availability
Have some fun in the water and participate in some of the water sports available in the hotel, like kayaking and paddleboarding, the equipment for which is complimentary. Like most luxury hotels, The Inn at English Harbour boasts an on-site spa and a small fitness center available for guests. Other facilities include a cozy library with a lovely book section, a tennis court, and a mesmerizing hilltop restaurant. The cuisine served at The Inn at English Harbour is a blend of Italian and Caribbean flavors, resulting in mouthwatering dishes which, combined with the panoramic views of the bay, make for a memorable dining experience.
When it comes to accommodation, you can choose from a beach cabana and a deluxe or junior suite. The wooden floors of the suites make for a lovely contrast to the white color palette, in addition to the ligneous furnishings. The canopy beds are sizable and comfortable, promising a good night sleep. Each beach cabana has direct beach access and overlooks the ocean. While they aren't as spacious as the suites, they are a great option for couples.
The rates at The Inn at English Harbour start from $430 a night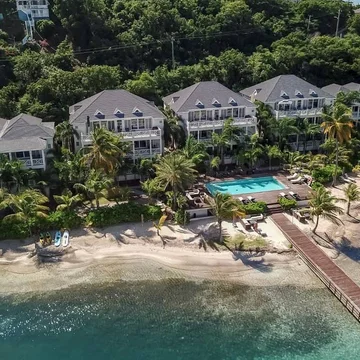 South Point
South Point is an exclusive and contemporary luxury hotel offering chic and stylish beachfront suites. The area is known for its gorgeous beaches, and you will have no problem reaching the best ones in a short amount of time. The best bars, restaurants, and marinas in the area are within walking distance.
Check Availability
Adjacent to the beach is the stunning outdoor swimming pool, which makes for a nice change of scenery from the beach. The hotel doesn't have a gym, but there is a tennis court in the neighboring building, as well as snorkeling and scuba diving. South Point's main dining venue serves dishes inspired by Mediterranean and Middle eastern cuisine. The continental breakfast served at the waterfront restaurant is complimentary.
The 23 spacious condo-style suites ooze luxury and elegance. The suites are divided in two categories: one-bedroom Deluxe Suites and two-bedroom Penthouse Suites. Each suite comes with direct access to the beach and swimming pool, in addition to private balconies where you can admire the stunning scenery. Other facilities include a minibar, a coffee machine, and a flat-screen TV.
The rates at South Point start from $350 a night.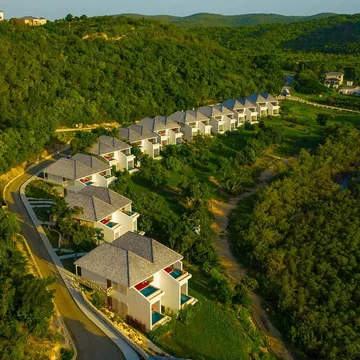 Freetown, Antigua and Barbuda
The Escape at Nonsuch Bay Antigua
An adults-only, all-inclusive modern resort, The Escape at NonSuch Bay Antigua is the ultimate honeymoon destination, or if you just want to spend a few days of romantic bliss in a spectacular location.
Check Availability
There isn't a dedicated spa at the hotel, but guests can book a private massage from the comfort of their own suites. The outdoor pool is one of the best areas to relax at, especially accompanied by a refreshing cocktail. The main all-inclusive dining spot at The Escape at NonSuch Bay Antigua is Drift – an all-day restaurant that serves Caribbean dishes and international favorites in a relaxed setting. The restaurant overlooks the Ayres Creek, which is the cherry on top of a memorable dining experience. Various delicious vegetarian options are also available. Breakfast is complimentary, with standard options and lots of fresh produce.
There are 40 lavishly appointed oceanfront suites in total, all of which include a plunge pool, a minibar, an outdoor sitting area, and comfortable king-size beds. The en-suite bathrooms have a soaking tub, large windows overlooking the bay, and his and her sinks.
The rates at The Escape at NonSuch Bay Antigua start from $400 a night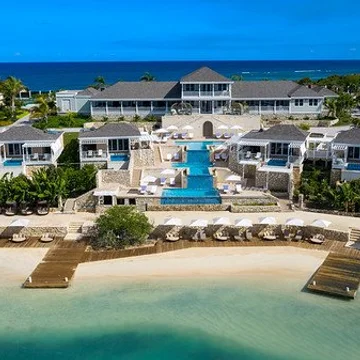 Willikies, Antigua and Barbuda
Hammock Cove Antigua
Neighboring the Devil's Bridge National Park, Hammock Cove Antigua is one of the newest members of the luxury hotels in Antigua and Barbuda. This adults-only, all-inclusive resort boasts two on-site restaurants, a swimming pool, and a luxury spa with various treatment rooms, a sauna, a cold plunge pool, and a beauty salon. Whatever amenity you can think of, chances are they have it.
Check Availability
Some of Hammock Cove Antigua's métiers are the outstanding on-site dining venues. Chef Marco Festini's Michelin-starred experience really shines through in every aspect of the Lighthouse restaurant, especially in the tasty Caribbean dishes. The Lighthouse Bar's elegant ambiance will charm you at first glance, and their extensive wine list and cocktail menu will keep you coming back. The Chairman's Lounge, on top of having a curated library, chessboard, and billiard, contains a bar where you can order a glass of bubbly, a cigar, and some of their premium rums.
Hammock Cove Antigua boasts a total of 42 sophisticated villas overlooking the ocean and coastline. The villas feature Caribbean décor, vaulted ceilings, local furnishings, and a private plunge pool with sunbeds. The bathrooms come with dual sinks, an oversized shower, and complimentary amenities.
The rates at Hammock Cove Antigua start from $650 a night.
Find Luxury Hotels in Antigua and Barbuda