A country with a rich history, world-class museums, splendid wine, and one that is famous for being the domicile of Leonard Messi and Pope Francis, Argentina is an outstanding choice for a travel destination. Today, we will look over the best luxury hotels in Argentina in the hopes of helping you decide what hotel you would like to stay in while visiting the eighth largest country in the world.
Without further ado, let's begin with our first pick.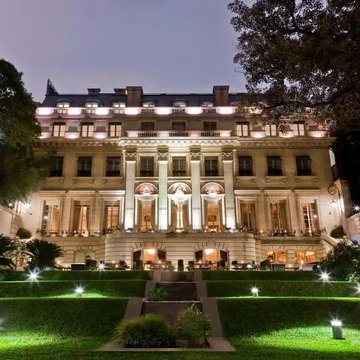 Palacio Duhau – Park Hyatt Buenos Aires
The ever so glamorous Palacio Duhau – Park Hyatt Buenos Aires is located in Buenos Aires – one of the most visited cities in Argentina. Right in the heart of the Recoleta district, the hotel boasts a wonderful location for anyone who loves to explore the major tourist attractions on foot.
Check Availability
Facilities-wise, Palacio Duhau – Park Hyatt Buenos Aires has everything a high-end hotel guest might ever need: an enormous luxury spa that's regarded as one of the best in the city, a well-equipped fitness center, and a lap-friendly pool. Taste the impressive local flavors at Duhau Restaurant and Vinoteca – a Buenos Aires hotspot for fine dining. Italian cuisine, a favorite for many, is served at Gioia Restaurante, while Los Salones del Piano Nobile is known for its a la carte breakfast and afternoon tea.
Choose from 165 rooms and 23 suites, all of which ooze the splendor that Hyatt hotels are known for. Their contemporary design is combined with an impressive list of modern amenities like a plasma TV, a Nespresso machine, and a butler service, ensuring that your stay is as comfortable yet indulgent as it can be.
Standard rooms at Palacio Duhau – Park Hyatt Buenos Aires start from $300 a night.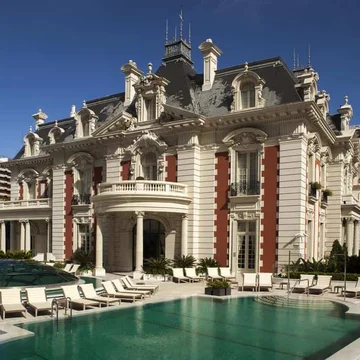 Four Seasons Hotel Buenos Aires
Argentina's capital is home to many luxury hotels, yet few do as magnificent a job as Four Seasons Hotel Buenos Aires. Located in the lively Recoleta neighborhood, the hotel's architecture, reminiscent of a French palace, is one of the first striking sights.
Check Availability
The palatial style extends to all the rooms and suites – the sizable living areas, with their high ceilings and crystal chandeliers, offer a relaxing place after a day of exploring. The marble bathrooms are elegant and commodious, with complimentary L'Occitane toiletries. Lastly, the bedrooms feature oriental rugs, sophisticated wallpaper, and plush beds with pristine and soft linen.
Hardly anyone can resist taking a dip in the heated outdoor swimming pool, the backdrop of which is Four Seasons Hotel Buenos Aires's stunning architecture. The 24-hour fitness center is great for breaking a sweat, while the spa is the perfect place to pamper.
The award-winning Elena Restaurant serves local cuisine and wine – a combination bound to make a lasting memory on your taste buds. Pony Line is another popular hotspot in the area, its menu brimming with both signature and creative cocktails, which are a must-try.
The rates at Four Seasons Hotel Buenos Aires start from $500 a night.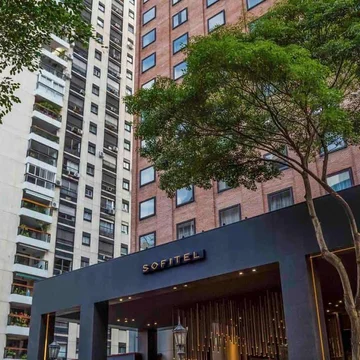 Sofitel Buenos Aires
Part of the established hotel chain brand Sofitel, Sofitel Buenos Aires is a perfect choice for your temporary home-away-from-home in the capital. Located in the heart of Recoleta, its central location enables guests to explore the nearby tourist attractions on foot, as well as enjoy a wide range of delicious restaurants that serve local cuisine. The Patio Bullrich Shopping Mall is located opposite the hotel, a place where you can shop in a myriad of luxury stores like Louis Vuitton.
Check Availability
Decorated in the French art de Vivre, the rooms and suites at Sofitel Buenos Aires differ in terms of color scheme and size, yet remain equally glamorous and sophisticated. The marble bathrooms have a separate tub and shower, as well as complimentary toiletries. Some of the amenities included in the rooms are Sofitel MyBed beds, flat-screen TVs, and minibars.
The Brick Kitchen is a contemporary Argentinean restaurant with an elegant setting, ideal for an on-site lunch or dinner. A generous breakfast buffet is offered each morning which includes a fine selection of international and local favorites.
You can book a standard room at Sofitel Buenos Aires starting from around $120 a night.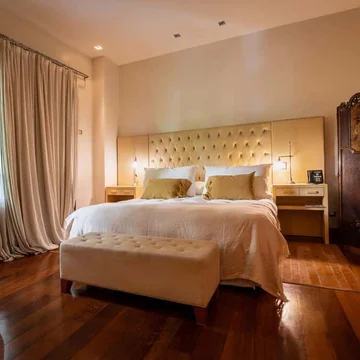 Hub Porteño
Situated in the Recoleta neighborhood of Buenos Aires – an area renowned for its expensive shops, cool brunch spots, and historical sights, Hub Porteño is an exclusive five-star hotel that contains 11 lavish and spacious suites designed to bring you the holiday of a lifetime. Its supreme location allows you to visit the Fine Arts Museum and the Colon Theatre, in addition to a myriad of popular restaurants in the area, in a short five-minute drive.
Check Availability
Even if you decide to spend your days indoors, there are still plenty of things to do. The rooftop terrace is one of Hub Porteño's most striking attractions, a dazzling party epicenter where you can enjoy a glass of wine or an innovative cocktail in conjunction with incredible panoramic views of Buenos Aires. Similarly, La Pecora Nera Grill is a wonderful option if you feel like sampling the finest Argentinian cuisine in the area.
All 11 suites come with coffee making facilities, a flat-screen TV, and Jacuzzi-equipped bathrooms. The color scheme and design vary from suite to suite, allowing you to have a truly unique experience.
The suites at Hub Porteño start from $250 per night.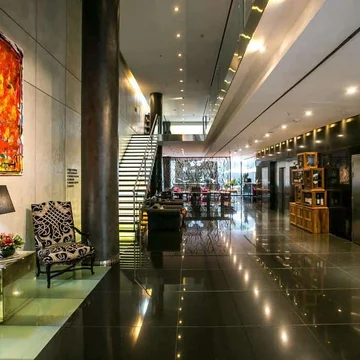 Mio Buenos Aires Hotel
Mio Buenos Aires Hotel, one of the most distinguished luxury hotels in Argentina, is a five-star boutique hotel located in Recoleta. Completely modern in style and execution, the hotel is a unique option ideal for both couples and solo travelers.
Check Availability
Elegant and detail-focused, the rooms at Mio Buenos Aires Hotel have a sensuous character and yet remain comfortable and snug. King-size beds with luxury comforters, large desk areas, complimentary workout equipment, and furnishings made of French oak – the design couldn't be more thought out. The bathrooms are spacious and brightly lit, with floor-to-ceiling windows, deep tubs, and separate shower areas.
The hotel's spa offers a variety of services and treatments, from steam baths to full-body treatments. Inside the spa, there's also a small pool that simultaneously serves as a hot tub. The hotel's library contains an exclusive selection of books available for borrowing, ideal for a cozy night in with a cup of tea. Restaurant Rufino specializes in Argentinian cuisine, bringing a variety of flavors together that results in delicious meals.
Prices at Mio Buenos Aires Hotel start from $120 a night.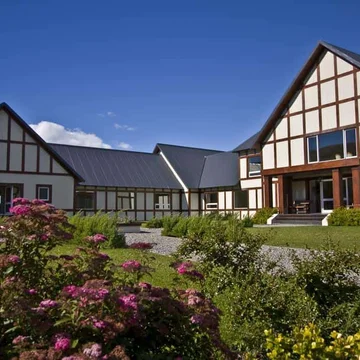 Hotel EOLO
Hotel EOLO, renowned for its dazzling views, marvelous cuisine, and remote location, is stationed in Patagonia. The picturesque town of El Calafate, full of stunning natural sights, can be reached in a short 20-minute drive, while the Los Glaciares National Park is a 30-minute drive away. Either destination is worth a visit, even if it's just for a little change in scenery.
Check Availability
The hotel's restaurant features a commodious dining room with panoramic views of the plains. Chef Juan Pablo Bonaveri is in charge, and the dishes are an irresistible mix of local produce and international comfort food. To miss out on sampling the local wine would be a mistake, so make sure to order a glass of exclusive Argentinian wine along with your meal.
Apart from a sauna room, the hotel also boasts a swimming pool. Since there are not many things to do around the hotel, the staff offers a wide range of activities like trekking, bird watching, and canopy. The rooms follow a warm and neutral color palette mixed with scattered pastel accents, with enormous windows that take up most of the walls, revealing a picture-perfect view of the plains. Next to the windows, you can relax in a cozy sitting area. The antiques, luxury linen, and long drapes only add to the lavishness of the room.
Prices at Hotel EOLO start from $1,000 per night.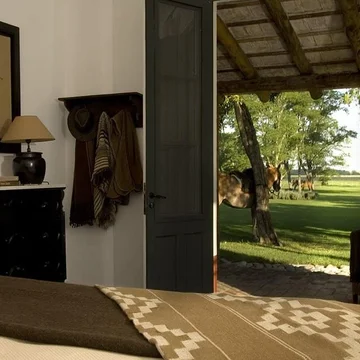 San Antonio de Areco, Argentina
La Bamba de Areco
Tucked away in Pampa and only 120 km away from Buenos Aires, La Bamba de Areco is an ideal choice if you want to be away from the hustle and bustle of the city and enjoy the tranquil countryside, yet not feel too removed from the world.
Check Availability
While staying at this recognized hotel, you have the option of choosing between a suite and a room. The rooms and suites at La Bamba de Areco are the perfect combination of comfort and luxury. King-size beds with Egyptian linen, antique colonial furniture, and walls adorned with modern paintings are only some of the spectacular décor choices that can be found. A large en-suite bathroom with complimentary bathrobes and toiletries is also included.
La Pulperia, the hotel's en-suite restaurant, serves amazing local cuisine with the help of Chef Federico. The breakfast options are exquisite – a full continental breakfast, along with tasty pastries, is served daily. And if you want to relax during the warmer months, there's no better spot than the large outdoor pool.
The rates at La Bamba de Areco start from $735.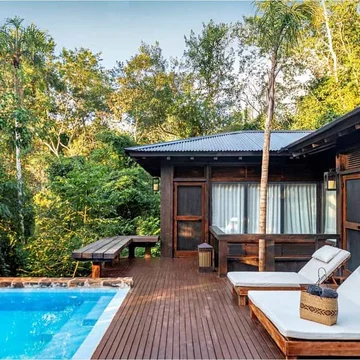 Awasi Iguazu
Awasi Iguazu is one of the most popular luxury hotels in Argentina. An oasis right on the River Iguazu, amid the Atlantic Rainforest, the hotel's unsurpassable location is merely 20 minutes away from one of the world's largest waterfalls – the Iguazu Falls. As you can imagine, there's no shortage of sights to explore in the area. If you wish, you could even book a personal guide to walk you through the rich history of the area.
Check Availability
Fourteen private villas are available for booking, all of which have an eco-chic style that utilizes natural materials and plenty of natural lighting. In every villa, you can find a plunge pool with a lounge area, a private terrace, and a sizable living area. The bathrooms have a separate shower and bath area, along with a large, well-lit mirror. Whether you soak in the Argentinian sun on your private deck or enjoy a relaxing bath while listening to the sound of the birds, the villas are made for giving you tranquility and peace of mind.
Flavorful dishes can be enjoyed in the restaurant's inviting setting or from the comfort of your own room. The menu changes on a daily basis, ensuring that your meals are as fresh as can be.
All-inclusive rates start from $950 a night.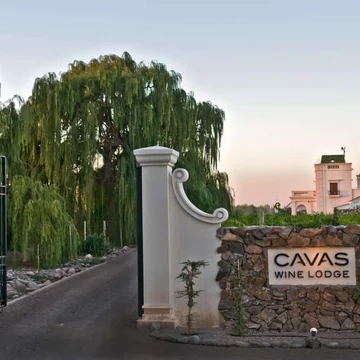 Cavas Wine Lodge
Wine lovers, rejoice! Cavas Wine Lodge is a secluded and exceptional lodge situated in Agrelo. Surrounded by tall trees and vineyards, the place serves as an idyllic escape from the business and noise of the city. Dionysus would certainly approve. If you're not too wine-weary and feel like partaking in some fun activities, the hotel offers hiking, rafting, zip-lining, and biking.
Check Availability
Tranquility and a lower dose of cortisol are guaranteed as soon as you step into its gates, but the on-site spa will add an extra dose of relaxation. On top of a spa, the hotel boasts a restaurant that emphasizes organic cuisine made with local ingredients and an impressive collection of wines. The restaurant's interior will fascinate you just as much as the cuisine – think high ceilings, low-hanging chandeliers, and enormous artworks. Breakfast is a la carte, with lots of international options, fresh fruit, and French pastries.
Each room or suite of your choice welcomes you in an intimate and romantic atmosphere. Lounge around your own private pool, take a relaxing bath and marvel at the stunning views, or make use of the extra comfortable beds – the choices for relaxing are endless.
The rates at Cavas Wine Lodge start from $500 per night.
Puerto Valle Hotel De Esteros
Puerto Valle Hotel De Esteros is one of the most famous luxury hotels in Argentina. Located on the banks of the Parana River, the hotel is a short drive from one of Argentina's most gorgeous natural wonders – the Iguazu Falls. The close proximity to the river enables guests to enjoy a variety of water sports, in addition to other activities organized by the hotel.
Check Availability
Decorated in a colonial style, the 13 guest rooms, located in the manor house, are an architectural marvel on their own. Neutral tones are combined with ligneous furnishings and colorful accents, giving the rooms a boho-chic vibe. Some of the rooms have spectacular views of the Parana River, while others overlook the garden. The en-suite bathrooms have his and her sinks, walk-in showers, double mirrors, and complimentary bathrobes and slippers.
Puerto Valle Hotel De Esteros's wine cellar is extensive and full of magnificent local wine. Their cuisine relies on locally sourced produce and home-grown products, all prerequisites for delicious dishes. Breakfast includes homemade pastries and fresh fruit. The staff go out of their way to ensure you have a memorable and comfortable experience, so don't hesitate to ask them if you need some arrangements for your itinerary.
Prices at Puerto Valle Hotel De Esteros begin from $700 a night.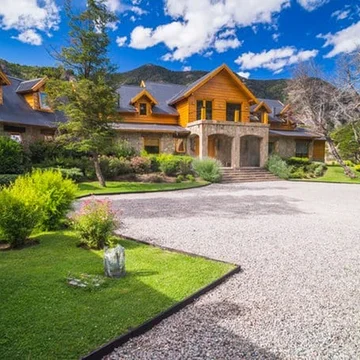 Parque Nacional Lanin, Argentina
Rio Hermoso
Situated in the middle of the gorgeous Lanin National Park, Rio Hermoso is a spectacular destination for those who like to be surrounded by untouched nature and away from large crowds of people while on a holiday. The woods that engulf the hotel will keep you busy in terms of exploring, or, if you don't feel like leaving the hotel's premises, opt for a picnic near the river.
Check Availability
Accommodation-wise, there are seven rooms to choose from, all of which include jaw-dropping river views. They have an earthy vibe with a varied color palette, depending on which room you opt for. While there's no TV in the rooms, one can be provided for you on request. But with such lush surroundings, who would like to stare at a screen anyway?
Have a delightful start of the day with Rio Hermoso's a la carte menu: freshly squeezed juices, organic jams, bread fresh out of the oven, and buttery pastries – no option will disappoint. The on-site bar is where guests hang around after a long day of exploring. Order a craft beer or something stronger, a light snack to curb post-exploring hunger, and you're ready to start socializing.
Rooms at Rio Hermoso start from $210 a night.
Estancia Rincon Chico
Estancia Rincon Chico is a luxury ranch akin to those shown in a blockbuster. Become one with nature in a UNESCO-protected area that's brimming with rich marine life. There's no better place to partake in wildlife spotting in Argentina than the charming Estancia Rincon Chico.
Check Availability
Declared as one of Argentina's top 10 lodges, the lodge boasts eight rooms designed in a minimalistic, environmentally-conscious, and cozy manner. All rooms have a large king-size bed with ultra-soft throws, an en-suite bathroom with a tub, and local artwork.
The restaurant's cuisine relies on local flavors, all the while utilizing many family recipes made with fresh and organic ingredients. The regional wine bar is stacked full with scrumptious Argentinian wine that you simply can't miss. When it comes to breakfast, the options are quite standard: pastries, jam, and fresh bread.
The rooms at Estancia Rincon Chico start from $800 for two nights (there's a two nights minimum policy).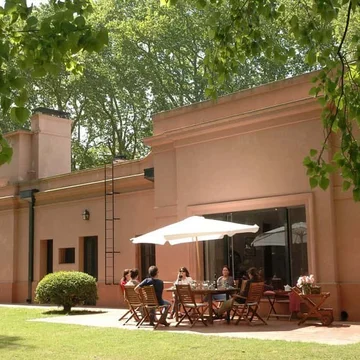 Estancia Las Viboras
Not everyone is a fan of famous hotel chains and synchronized suites, and if you're one of those people who prefer an authentic experience as opposed to staying in a massive hotel, then you will love our next choice. Home to many bird species and domesticated animals, Estancia Las Viboras is an estancia located a ten-minute drive away from the Rio de la Plata coast.
Check Availability
The rooms, much like the ranch itself, are the epitome of comfort. They come with a fireplace, a kitchenette, comfy king beds, and walls decorated with a variety of vintage photos. The en-suite bathrooms have ligneous floors and sizable showers.
Due to the size of the property, guests can take part in a variety of activities, like horseback riding, canoeing, and carriage riding without even leaving the property. The cuisine is varied and highly personalized, with many products coming from their on-site garden. Breakfast is a delicious mix of international favorites and is complimentary.
Prices at Estancia Las Viboras start from $600 a night.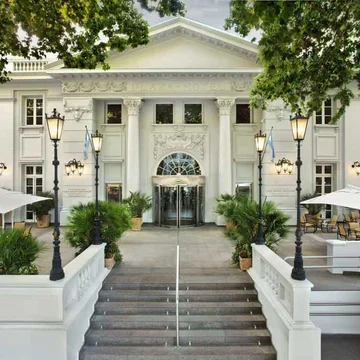 Park Hyatt Mendoza Hotel, Casino, and Spa
Park Hyatt Mendoza Hotel, Casino, and Spa is undeniably one of the best luxury hotels in Argentina. Its 20th-century French academy neoclassical façade makes the hotel's exterior highly distinguishable, not to mention gorgeous to look at. The hotel boasts a central location, right opposite the Plaza Independencia, and is surrounded by stunning vineyards.
Check Availability
All 186 rooms are decorated in a minimalistic and contemporary style, adorned with ligneous furnishings, local paintings, and floor-to-ceiling windows that overlook the picturesque vineyards. If you're feeling like treating yourself, opt for the Presidential Suite or the Governor's Suite – we guarantee you won't regret it.
The on-site spa, with its hot tub, sauna, and steam bath, is an oasis of tranquility which, along with the on-site casino, is one of the many hotel highlights. There's also a pool and a fitness center available for use during your stay. Dining-wise, Bistro M – Restaurant & Terraces serves Mendocinian cuisine made with regional and fresh ingredients. Uvas Lounge and Bar is famous for serving Argentina's best Malbec, so make sure you pay it a visit.
The rates at Park Hyatt Mendoza Hotel, Casino, and Spa start from $150 per night.
The Vines Resort and Spa
Another spectacular choice for wine enthusiasts out there, The Vines Resort and Spa is located in the center of the scenic Uco Valley, which is well-known for its wine production. You won't be surprised to hear that the hotel is surrounded by acres and acres of private vineyards, or that you can get your hands on some seriously delicious wine while staying here.
Check Availability
Chef Francis Mallmann is dedicated to serving authentic Argentinian cuisine which, paired with some of their wines, makes for an astounding culinary delight. The spa is superb, much like the fitness center. You also have the option of taking your workouts outside which comes with many advantages.
The Vines Resort and Spa offers 21 beautifully appointed villas. The multiple-bedroom villas contain an outdoor deck with a fireplace, a clay tub, floor-to-ceiling windows that reveal magnificent nature vistas, spa-inspired bathrooms, and kitchenettes. Some villas even have their own rooftop terrace, and every amenity you can think of that's suitable for a luxury hotel – they have it.
The villas at The Vines Resort and Spa start from $700 a night.
Find Luxury Hotels in Argentina