Luxury Hotels Near Great Barrier Reef | 13 Best Hotels & Resorts
Located in the Coral Sea off the coast of Queensland and covering an area of 2,400 km (1,491 miles), the World Heritage site can be seen from space. However, you don't have to be working for NASA to see the beauty of this natural wonder. With nearby coastal towns and over 90 surrounding islands, you are sure to find your own pocket of paradise.
From luxury island resorts to the sandy shores of Port Douglas and Cairns, there are many incredible accommodations to choose from in and around the Great Barrier Reef.
To help you find the perfect stay for your next vacation, here are 13 luxury hotels near Great Barrier Reef. Relax, explore nature, encounter marine life, and enjoy asprés-sun lounging at a luxe bar at one of these incredible vacation spots.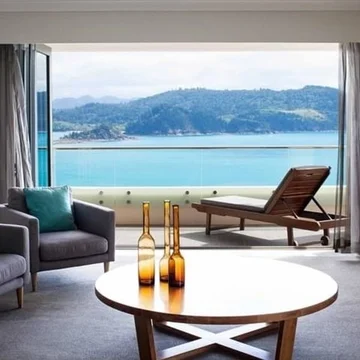 Hamilton Island, Australia
Reef View Hotel – Hamilton Island
Hamilton Islands is one of the most popular Whitsunday islands and is home to some of the best hotels in Australia. Among these is the Reef View Hotel, a luxurious accommodation located on the island close to the Great Barrier Reef. The hotel is set in a beautiful tropical garden and provides breathtaking views of the beautiful Whitsunday Islands and the Coral Sea.
Check Availability
The hotel offers a wide selection of luxurious rooms and suites, each with its own private balcony. Each room is well-appointed and spacious and faces either the island's lush tropical gardens or the Coral Sea. From the selection of available rooms, there is something perfect for everyone; including couples, families, and groups of friends.
The Reef View Hotel also features a number of facilities like the Pool Terrace Restaurant, which overlooks the tropical landscaped swimming pool. Along with an on-site bar, this is the perfect place to soak up the sun while enjoying a delicious cocktail.
And when you're not relaxing, enjoy free access to the hotel's fitness center, sauna, tennis courts, and watersport equipment. Kayaking, windsurfing, and snorkeling gear are all available at the hotel so you can explore the waters surrounding Hamilton Island. And for the full experience, you can book a tour of the Great Barrier Reef through the hotel, too.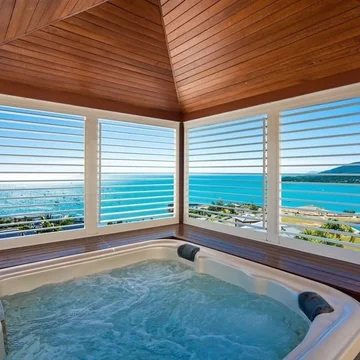 Pinnacles Resort
Airlie Beach is home to some of the best hotels the Great Barrier Reef has to offer. It is the gateway to the colorful, cosmopolitan, and inviting holiday town, Whitsundays. On this pristine beachfront, you will find the luxurious Pinnacles Resort. The award-winning complex offers 29 stylish one, two, and three-bedroom apartments. This provides an ideal base to visit one of the seven wonders of the world.
Check Availability
Each of the rooms available at this Great Barrier Reef resort feature a balcony with either a jacuzzi or internal spa tub. While you relax, enjoy magnificent views of the Coral Sea and white-sand beach. Each room also has a fully-equipped kitchen, Wi-Fi, and satellite TV. For a truly luxurious experience, the Seaview Jacuzzi Sub Penthouse and Whitsundays Seaview Penthouse Suite are great options.
Other facilities available include a gymnasium and a 20m infinity pool overlooking the beach. Here you can relax, swim, and enjoy breathtaking ocean and island views. At the resort, you can also book various activities and tours, including reef trips and visits to Whitehaven Beach.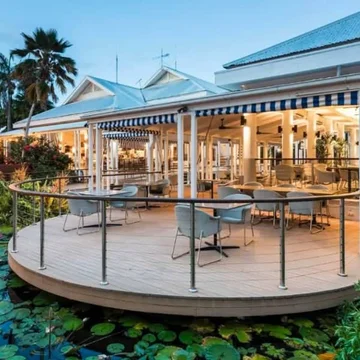 Oaks Port Douglas Resort
Located in Port Douglas, a vibrant town in the far tropical north of Queensland, is the Oaks Port Douglas Resort. This is one of the best Great Barrier Reef luxury resorts as it is ideally situated near the reef, iconic Four Mile Beach, and Daintree Rainforest. For couples or families looking for a beach vacation, this is a great spot.
Check Availability
The Oaks Port Douglas Resort offers several one and two-bedroom apartments, each boasting a beautiful tropical design. Guests can also enjoy incredible views from the room's balcony or patio, overlooking the pool and lush gardens.
There are various amenities available for you to enjoy. At the resort, laze by the lagoon-style swimming pool and swim-up bar or relax with a massage at the on-site spa. And for a delicious meal, visit one of the resort's stunning restaurants. Whether you're in the mood for casual poolside dining or an à la carte experience under the stars, this resort has you covered.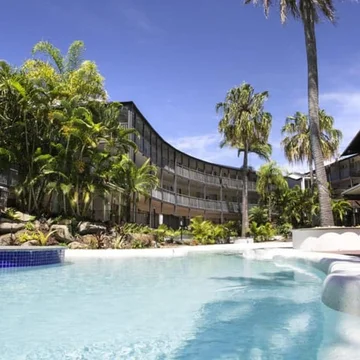 Mantra Club Croc Airlie Beach
Discover the magical Whitsundays and Great Barrier Reef from the luxurious Mantra Club Croc on Airlie Beach. This stylish accommodation is set in a traditional Queenslander-style building reminiscent of the region's past. At the same time, however, the accommodation offers a contemporary and tropical laid-back vibe perfect for a beach getaway.
Check Availability
Mantra Club Croc offers a variety of rooms, all with freshly designed interiors and coastal-inspired décor. Each room has high-speed internet among various other modern amenities to ensure a comfortable stay.
The hotel has a large lagoon pool with an adjoining spa and is surrounded by tropical gardens. Here, guests can also enjoy all-day poolside dining. The restaurant offers many different specialty dishes made from the finest produce. This includes seafood sourced from the Coral Sea, prime beef reared in the Central and North Queensland region, and more.
If you're seeking adventure, there are various tours that can be arranged for you, most of which depart directly outside the hotel. Mantra Club Croc is situated a stone's throw away from Abel Point Marina, the main departure location for a number of activities. Some nearby activities include ocean rafting, fishing, diving, snorkeling, sailing, and kayaking.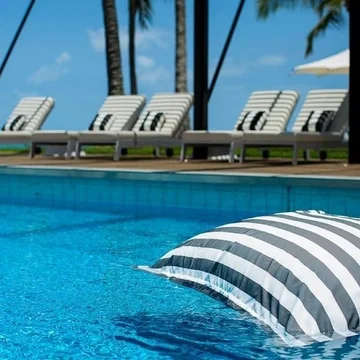 Coral Sea Resort
Set on the oceanfront, overlooking the pristine waters of North Queensland, is the spectacular Coral Sea Resort. The resort is also ideally located along the scenic Bicentennial walkway, which is home to superyachts as well as a range of tours and activities. This includes trips exploring both the Great Barrier Reef and Whitsunday Islands.
Check Availability
Coral Sea Resort features a range of hotel rooms, including deluxe suites and apartments. From your accommodation, enjoy the views from a hammock on the balcony or relax under the stars in your outdoor spa. You can also opt for the comfort and convenience of a self-contained apartment.
The resort offers a range of dining options, from laid-back cafes and bars to award-winning restaurants. Each option offers its own unique charm and dining experience, along with incredible oceanfront views of the crystal-clear waters and tropical coastline.
Various activities and experiences are easily accessible from the resort. From relaxing by the pool to helicopter, snorkeling, and jet-ski adventures, there is something fun for everyone.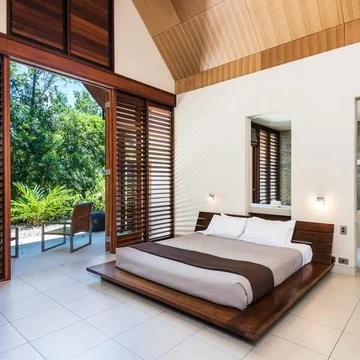 Niramaya Villas & Spa
Located in the tropical north of Australia, Niramaya Villas and Spa offers the perfect place to rejuvenate one's body and mind. Set amongst a tropical rainforest, this accommodation provides a tranquil escape, as well as a unique opportunity to explore nature. Here, you will be able to relax at the beach and explore the rainforest or Great Barrier Reef at your leisure.
Check Availability
Niramaya offers a wide selection of self-contained luxury accommodations. Options available range from one to five-bedroom villas. Each villa boasts an elegant, open-plan design that beautifully compliments the scenic surroundings.
To relax and unwind, visit the Niramaya day spa. Here you can choose from an assortment of massages and treatments, as well as take part in a private yoga class. And if you're feeling more adventurous, visit the tour desk and book a Great Barrier Reef cruise or Daintree Rainforest excursion.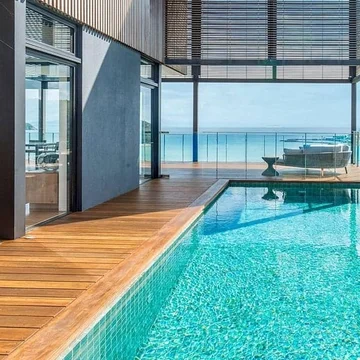 The InterContinental Hayman Island Resort
Located on a private island in the heart of the pristine Great Barrier Reef is the five-star InterContinental Hayman Island Resort. This is one of the most expensive hotels in the region. Here, relax and enjoy various private island experiences, and immerse yourself in the breathtaking natural beauty of the Whitsundays.
Check Availability
At this Great Barrier Reef island resort, experience some of the most luxurious and modern rooms and suites. Each of these accommodations are elegantly designed and feature a private balcony offering views of either the garden or the sea. And a short walk from your room, an impressive oceanfront swimming pool awaits your arrival.
Leave the world behind as you enter a timeless, serene haven in the resort's luxurious spa and wellness center. Retreat into an intimate, indulgent environment nestled in the natural surrounds of Hayman Island. Here you will find various treatment rooms, couples' rooms, steam facilities, and a sauna to enjoy.
The resort also features five unique restaurants. This includes the resort's signature Pacific restaurant, poolside Bam Bam restaurant, and several more. At these restaurants, indulge in a tasteful selection of Asian, Italian, and modern Australian cuisines. For couples visiting the resort, opt for a private twilight dinner or gourmet picnic.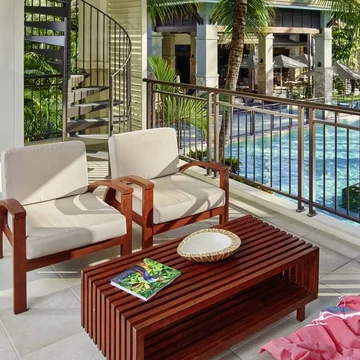 Pullman Port Douglas Sea Temple Resort and Spa
Situated in picturesque Port Douglas, Pullman Port Douglas Sea Temple Resort & Spa offers guests access to many of Australia's natural wonders. From the Great Barrier Reef to the Daintree Rainforest and the spectacular Mossman Gorge, there is plenty to explore. Not to forget, the beautiful coastal town and iconic Four Mile Beach are located right on your doorstep.
Check Availability
When you're not out exploring, relax at the luxurious Sea Temple Resort & Spa. This five-star hotel offers a range of spacious accommodations, ranging from one to three-bedroom apartments to large villas. Some options provide direct access to the swimming pool, while others feature a private plunge pool.
The resort features two restaurants. At the ALUCO restaurant and bar, embrace the destination through an array of unique regional flavors. Alternatively, park your towel on a sun lounger, order a cocktail, and then settle in for lunch at the Sea Temple Pool Bar.
Other facilities available to guests include the large lagoon pool, 18-hole golf course, and a wellness and fitness center.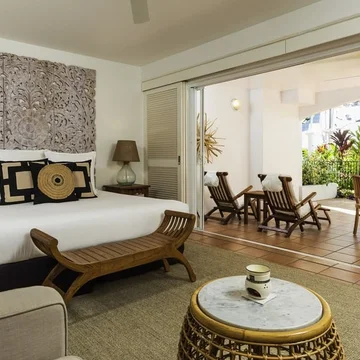 The Reef House Palm Cove
The Reef House is a luxury boutique hotel overlooking the Coral Sea in the tropical Palm Cove village. The five-star hotel is for adults-only and is the perfect getaway for couples seeking romantic bliss or simply a holiday of sheer relaxation.
Check Availability
At the Reef House hotel, choose from a range of accommodation styles, including various rooms, suites, apartments, and villas. With its beachfront location and elegant design, each room and apartment provide a peaceful, relaxing retreat. Some rooms even include a private hot tub or furnished veranda overlooking the pool, garden, and beach.
Guests staying at this luxury hotel can enjoy many facilities, including three pools and two spas. At the restaurant, enjoy Mediterranean, Asian, and Australian cuisines while enjoying panoramic views of the ocean.
The Reef House also offers plenty of opportunities to explore the region. This includes excursions to the Daintree Rainforest, Cape Tribulation, Atherton Tablelands, and Great Barrier Reef.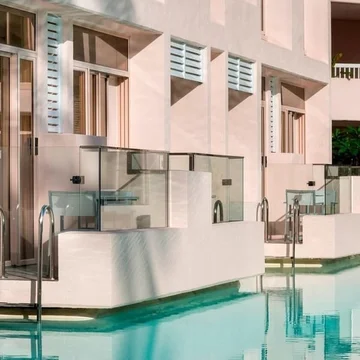 Sheraton Grand Mirage Resort
Nestled amid white-sand beaches and verdant tropical gardens in Queensland's tropical north is the five-star Sheraton Grand Mirage Resort. Here you will find ample space to escape, relax, and unwind. You can also take advantage of the resort's location, as it sits near two UNESCO World Heritage sites — the Great Barrier Reef and Daintree Rainforest.
Check Availability
The Sheraton Grand Mirage offers a lovely selection of serene-styled guest rooms, suites, and villas. Notable options include the deluxe swim-out rooms and the large open-plan villas with their own private pools. All the accommodations boast spectacular views of the lagoons, tropical gardens, and sea.
On-site are several incredible restaurants. Each venue delivers both Australian and international fusion dishes. Among these is the Harrisons by Spencer Patrick. This is the most nationally-awarded restaurant in Port Douglas and provides a dining experience like no other.
Another standout feature of this luxury hotel is its two hectares of swimmable, saltwater lagoon pools. Complete with cabanas, a swim-up bar, and overlooking a sandy beach, this is the perfect place to relax and soak up some sun.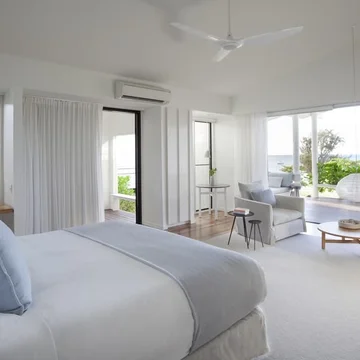 Great Barrier Reef, Australia
Lizard Island Resort
Lizard Island is the northernmost island resort on Australia's Great Barrier Reef, just 27 km (17 miles) off the Queensland coastline. Reaching the island involves a scenic one-hour flight from Cairns, passing over the reef. From here, you will get your first glimpse of the beauty and scale of one of earth's greatest natural wonders.
Check Availability
At the resort, choose from a stunning selection of villas and suites. Floor-to-ceiling windows allow plenty of light to stream in, changing the hue and mood as the day turns to evening. This, paired with a cliff-top location, provides guests with breathtaking views of the island and sea.
The Lizard Island Resort offers a wide selection of beachside restaurants and bars. The Salt Water Restaurant is the main restaurant boasting 180-degree ocean views. There are also two pavilion restaurants serving a spectacular seven-course degustation menu with accompanying wines.
Lizard Island provides a number of exciting experiences, like snorkeling, stand-up paddleboarding, and clear-view sea kayaking. Various trips are offered, too, including diving excursions exploring the Great Barrier Reef.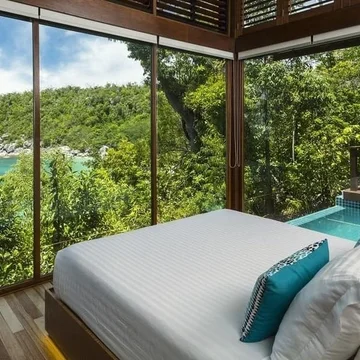 Bedarra Island Resort
Bedarra Island sits within the Great Barrier Reef Marine Park in North Queensland, surrounded by 100 hectares of tropical rainforest. For couples looking for a secluded luxury getaway, this all-inclusive, private, tropical haven is the perfect spot.
Check Availability
The Bedarra Island Resort features only eleven guest villas, each surrounded by lush scenery and providing spectacular ocean views.
All of the villas available offer a unique and magical experience. Some sit just a few feet from the beach, while others feature private infinity plunge pools. Regardless of what accommodation you choose, you are guaranteed a true luxury experience.
The heart and soul of the resort is the open terrace restaurant, bar, and lounge. The Bedarra restaurant sits beautifully within its natural surroundings. Overlooking the pool, tropical garden, and gorgeous Hernandia Bay, this is the perfect setting for a romantic dining experience. You can also opt for a candlelit dinner on your own private beach deck.
While Bedarra's philosophy centers around relaxing, the resort does offer a variety of exciting activities. Kayaks, paddleboard, snorkeling equipment, motorized dinghies, fishing gear, and self-guided rainforest walks are all included in your stay. Outer Great Barrier Reef scuba diving and scenic helicopter trips can also be arranged.
Where to Stay – Great Barrier Reef Hotels
In and around the Great Barrier Reef are some of the most spectacular luxury hotels and resorts. Each of the accommodations mentioned in this list provides the perfect base to explore one of earth's greatest natural wonders.
Whichever of these luxury Great Barrier Reef hotels you choose to visit, you can expect high-quality services and amenities. From the elegantly designed rooms, suites, and villas to the large pools and incredible restaurants, these hotels and resorts guarantee an unforgettable experience.
For more glamorous stays in Australia, take a look at these luxury hotels in Sydney.
Find Luxury Hotels in Great Barrier Reef