Luxury Hotels in Melbourne, Australia | Best 5-Star Hotels
Australia is well known for some of the best landscapes and wildlife experiences in the world. Aside from huge spiders and dangerous snakes in the outbacks, there are some metropolises like Melbourne where you're exempt from running into these creatures.
If you're looking for the best luxury hotels in Melbourne, Australia, there are amazing locations that offer you wondrous opportunities to relax comfortably and lavishly or safely explore.
Whether you're searching for one of the world's underwater hotels or a rainforest resort, there are lots of opportunities for lavish living, you just need to know where to look.
Luckily, you can read all about the luxury hotels in Melbourne and discover some of the best hotels in Australia. ​​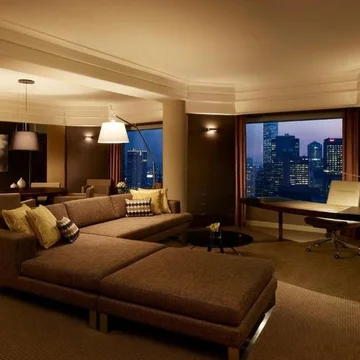 Grand Hyatt Melbourne
If you're looking for a wondrous hotel that keeps your needs at the forefront, the Grand Hyatt hotel is arguably one of the best hotels in Melbourne. Here you're able to choose between lots of offers from all-inclusive stays to fantastic spa facilities and wellness packages.
Check Availability
The hotel is located close to Federation square where arts and culture events are open to the public and a great way to immerse yourself in the arts and culture that Melbourne has to offer. Across the road, you can view the neo-gothic 19th-century cathedral, this is a lovely location for anyone that loves architecture.
Within the hotel, you can enjoy prestigious suites and rooms that are stylish and spacious. With views of the Melbourne skyline and Yarra river, you can expect Italian marble bathrooms, lovely workstations as well as the ultimate comfort of Egyptian cotton linen.
With a wide range of options from an ambassador's suite, diplomatic suite, or the premier suite, each option increases in luxury.
If you're hungry, you can catch something to eat at Collins Kitchen. The on-site restaurant offers you an award-winning menu with À La Carte lunch and dinner or a great breakfast buffet in the mornings.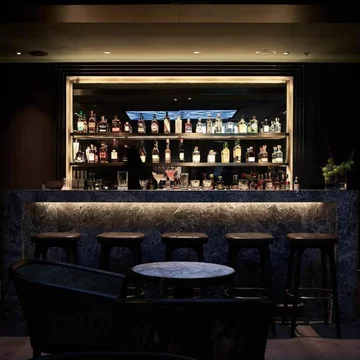 Hilton Melbourne
The Hilton hotel is centrally located, a quick walk from Queen Victoria Market and Bourke Street Shopping Mall. You'll be right on the doorstep of your favorite tourist destinations. This 5-star hotel situated on Little Queen street is close to lots of coffee shops, restaurants, and the local Chinatown.
Check Availability
This beautiful hotel combines the elegance of the old world with contemporary designs and stylish elements. You can expect the use of color and shapes that contour the unique modern feel of the suites while preserving the original 90-year-old building and architecture.
The rooms feature lots of useful amenities like blackout blinds, WiFi, and TV. You can also indulge in the mini-refrigerator or relax with a deep soak in the tub or quick jump in the rain shower.
If you need anything at all, you can get hold of the concierge service, request room service, or make use of their well-equipped fitness center. If this trip is for business, and not pleasure, you've also got the option of using their marvelous meeting rooms.
The Hilton hotel oozes professionalism and luxury, by ensuring that the various banquet rooms and conference locations are as grandiose as their King Suites.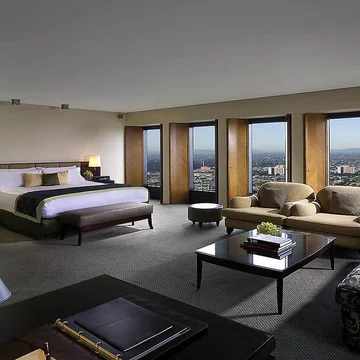 Sofitel Melbourne
If you've visited the Sofitel family before, you may have experienced their opulence in locations like the Sofitel Queenstown, London, or Dubai. The Sofitel company is well known for its quality of service and outstanding hotels.
Check Availability
The 5-star Sofitel Melbourne offers you an experience of exclusivity and style. Here you can wake up to views of the Yarra River and Treasury Gardens. The hotel is easily accessible through the tramways as the route drives right in front of the Sofitel. Explore the city of Melbourne, the Fed Square, and the arts center right across the river.
In their Imperial suite, you can experience eminence like no other. From a gold-plated spa bathtub to Hermès amenities, this hotel room will have you feeling like pure royalty. The room also features WiFi, a private bathroom and shower, a walk-in closet as well as a spacious lounge and dining area.
The hotel itself broadens your majestic experience by offering you a range of fantastic opportunities. For one, you could join the exclusive Sofitel Club on the 35th floor, or head over to Atrium Bar on 35 for drinks or visit Sofi's Lounge for afternoon tea.