10 Luxury Hotels in Queensland Australia | 5 Star Hotels
Queensland is a special slice of paradise for any traveler vacationing in the Land Down Under. Teeming with vibrancy, culture, and the most gorgeous fauna and flora, you are in for a treat. If you're an avid traveler you may have stayed in a different state before, like one of the luxury hotels in Melbourne. You'll also know then, that Australia has some jaw-dropping lodgings and there is certainly accommodation in QLD to rival world-class hotels.
Whether you fancy exploring the vibrant underwater world of the Great Barrier Reef, adventuring through the Daintree – the oldest surviving rainforest and a World Heritage Site – or soaking up some sun on vast stretches of golden beaches, you'll have a ball in Queensland.
You won't need to compromise on luxuries and comforts during your visit to the Sunshine State either. Boasting some truly lavish living opportunities, have your pick from opulent Queensland hotels to magnificent resorts and swanky villas. Let's dive right into some of the top luxury all-inclusive, 5-star hotels in Australia to satisfy your senses.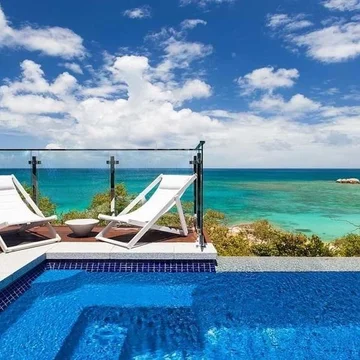 Lizard Island Resort
This luxury island escape is everything you could want in a dreamy getaway and more. As you set foot on this heavenly setting, you'll feel instantly transported someplace exotic like a luxury hotel in the Maldives. Lizard Island Resort is the most expensive hotel in Queensland and truly embodies the height of opulence so get ready to feel like you're living in the pages of a travel magazine.
Check Availability
This all-inclusive resort is set on the Great Barrier Reef making it the perfect spot to do your aquatic adventuring from. Enjoy direct access to the plethora of powder-white beaches and stretches of magical ocean views. After a day of activities, share a romantic sunset dinner on the beach or opt for wine and dine at the idyllic Salt Water restaurant with 180-degree sea views. After your taste buds have been tantalized, head to the classy Driftwood bar for some post-dinner drinks.
You will have endless activities at your fingertips here. Take a stroll in the lush tropical gardens, do some laps in the large pool, and enjoy the serenity of nature blending harmoniously with this picture-perfect resort. Sweeping views and world-class facilities make this a clear choice for any traveler seeking a truly luxe escape at the best of the best.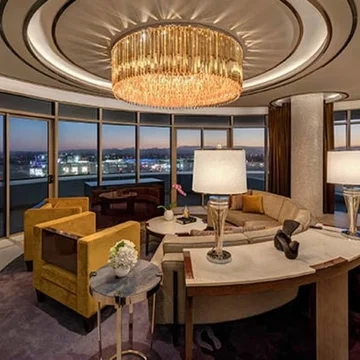 The Darling at the Star
Exuding grandeur and sophistication, this Forbes Five-Star rated establishment is undoubtedly one of the best hotels on the Gold Coast. This boutique accommodation offers all the trimmings, details, and amenities expected of a luxury hotel.
Check Availability
If you've stayed at 5-star hotels in Sydney, like The Star Sydney, you'll know the suites are lavishly furnished with a contemporary design for a completely elevated experience. All around superbly located, this dreamy escape of luxury indulgence provides the perfect home base after a day spent exploring the bustling, cosmopolitan city of the Gold Coast. This gem is also just 800m from the famous surfer's paradise, Broadbeach, where you can catch some gnarly waves.
For the perfect staycation, enjoy top-of-the-range facials and treatments in the spa, work out in the fitness center, unwind in the sauna, or enjoy some R&R by the rooftop pool while disappearing in the pages of your favorite holiday read. To end off the day, head to one of the award-winning restaurants which boasts varying cuisines, or to the casino for an evening of world-class entertainment including an extensive range of exciting table games.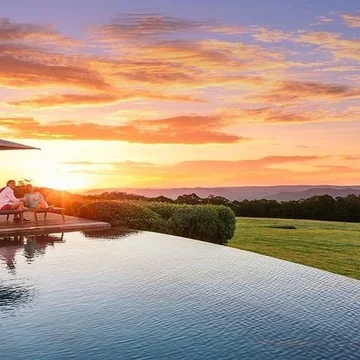 Spicers Peak Lodge
If it's the feeling of exclusivity you're after then this luxury lodge is the epitome of splendor and comfort. Spicers Peak Lodge has everything from regal rooms to excellent facilities, and stunning views. Relaxing, decompressing, and unwinding will come almost effortlessly at this gorgeous getaway.
Check Availability
Enjoy the countless amenities and take full advantage of the multitude of activities, experiences, and excursions on offer here. Perfect for every type of traveler, you will be spoilt for choice. Whether you fancy a cocktail Masterclass, Koala tour, or guided yoga you can have your pick.
Spend afternoons unwinding at the mountaintop spa, enjoying everything from a hot stone massage to a performance facial. And in the evenings sip a drink under a blanket of stars in this serene bushland escape.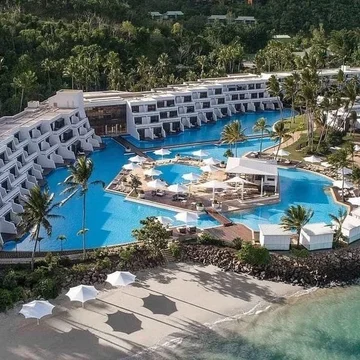 Hayman Island Whitsunday Islands, Queensland
InterContinental Hayman Island Resort
Hayman Island forms part of the northern Whitsunday Islands. This stylish resort, located on the pristine Great Barrier Reef, is this island's biggest attraction and a huge tourism draw for Queensland. It is undoubtedly one of the best luxury escapes you can choose for your Ozzie vacation.
Check Availability
Enjoy luxe suites and rooms, 4 upscale dining establishments, two large pools lined with tropical cabanas, and private balconies with enchanting ocean views. Sip a cocktail by the poolside bar, grab some rackets, and head to the tennis courts or spend the afternoon at the spa and fitness center. This luxury resort has no shortage of activities to keep you entertained and enthralled.
After you've worked up an appetite, have your pick of on-site restaurants you wish to experience with cuisines ranging from Asian to Italian and modern Australian. If you fancy a day trip, you can reach the famed Hamilton Island by boat in under an hour or take a short helicopter ride to this exotic slice of paradise.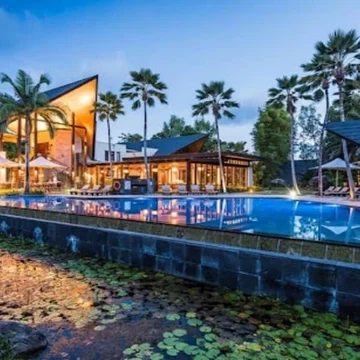 Niramaya Villas and Spa
This idyllic getaway is the ultimate break away from life's busyness and will have you leaving relaxed and rejuvenated. Nestled in gorgeous tropical surrounds, this luxury resort offers an immersive, nature-filled experience with state-of-the-art amenities. Spend the afternoon practicing your swing on the tennis courts or hiring bikes for some sightseeing.
Check Availability
Whether you choose to explore vast stretches of beach and rainforest in between relaxing spa treatments, sweat it out in the fully equipped gym, or enjoy some laps in the large infinity pool, you won't want to leave this sublime sanctuary.
After a day of activities and adventures, you can return to the serene confines of your gorgeous, Balinese-inspired villa. The private pools offer a unique opportunity to sip your favorite drink and unwind in peace and quiet. The interior flows seamlessly into the lush tropical gardens creating an all-around tranquil experience that will melt your worries away.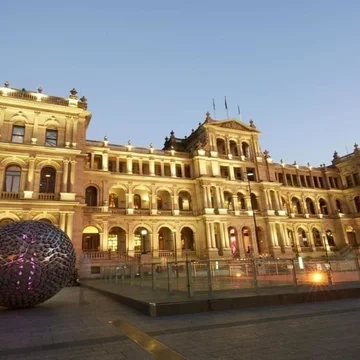 Treasury Brisbane
The Treasury Brisbane is certainly one of the best boutique hotels and all-around luxury hotels in Queensland. This spot simply oozes opulence; from the eclectic designs and top facilities to the 5-star service, Treasury Brisbane leaves nothing to be desired. Featuring 125 unique rooms with luxurious bathrooms, each suite offers the perfect level of comfort and boasts high ceilings, sleek decor, and sweeping views of the city and the Brisbane River.
Check Availability
If you are looking for a fantastic location in the hub of it all, then this luxury hotel is a perfect choice. Anchored in the heart of the city center, within walking distance from the Brisbane CBD, you will have easy access to everything that this bustling metropolis has to offer including vibrant nightlife, attractions, and a wide range of dining options.
If you prefer to stay in, you will have an excellent restaurant selection with varying cuisines to satisfy every palate as well as a world-class casino where you get to enjoy 24/7 premium gaming.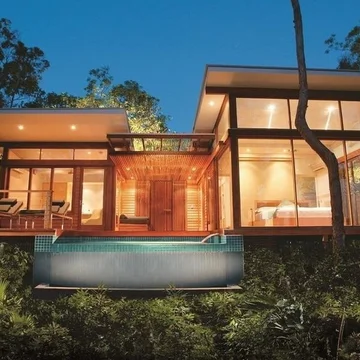 Mission Beach, Queensland
Bedarra Island Resort
If it's small luxury hotels you're looking at, then this rainforest-fringed oasis on the Great Barrier Reef is the ultimate island fantasy. Whether for a girly getaway or romantic retreat, you are in for an unforgettable experience at Bedarra Island Resort.
Check Availability
Between infinity plunge pools, a private beach, and the sound of crashing waves to lull you to sleep every night, this spot is truly a barefoot luxury dream. Each villa is situated a few steps from the beach for you to curl your toes in the ivory-white sand or enjoy a moonlit stroll. Soak up glorious morning sunrises with a warm cuppa joe from your very own espresso machine and enjoy your exotic outdoor rainforest bathroom for the epitome of an island-living daydream.
Look forward to the freshest, high-quality seafood locally sourced and beautifully presented with the feel of a fine dining restaurant. Or for a uniquely unforgettable experience, opt for a chef-prepared gourmet hamper to enjoy on your private beach or rainforest deck.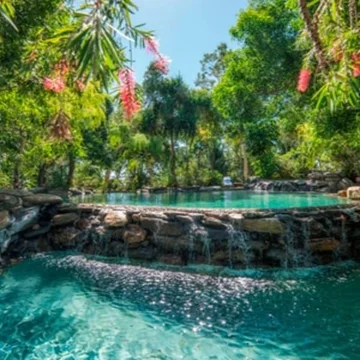 Thala Beach Nature Reserve
Thala Beach offers an eco-friendly wildlife retreat that highlights some of Australia's best elements like vast stretches of sparkling coral waters and lush greenery. With both the Great Barrier Reef and Daintree Forest as a backyard, this luxury stay allows you the opportunity to explore both these natural wonders with ease.
Check Availability
Go kayaking with stingrays and turtles or join a bird and butterfly tour. In between adventures, grab your towels and favorite book for some sun and sand fun on the 2km private beach available to all guests. If you haven't already felt your cares disappear, they sure will from inside your beautiful boutique bungalow which offers unbeatable ocean, mountain, and forest views.
During the day melt into holiday mode with a full body massage at the spa, enjoy your morning coffee on the deck while listening to the native birds and wildlife, and at nights spend the evening stargazing at an outdoor observatory.
One of the remarkable features of this retreat is its unique natural pool formed from large granite boulders and waterfalls, fusing nature and luxury effortlessly. Equally enticing is the complimentary Coconut Odyssey tour. This is Australia's only coconut plantation providing guests the unique opportunity to learn about the wonderful health benefits of this little fruit, and the chance to eat and drink from the 'coconut apple'.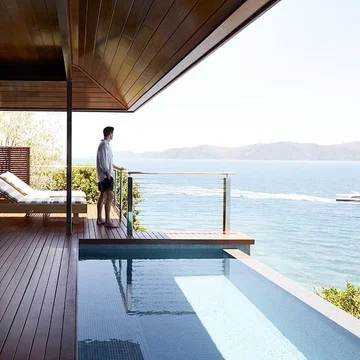 Qualia
Head to this Hamilton Island retreat to experience the pinnacle of chic sophistication and paramount elegance. Qualia masters the harmony and symphony of blending luxury with the beauty of the natural surroundings. Nestled in amongst native fauna and flora, the culmination of world-class boutique luxury, serene bushland scenes, and turquoise waters exist seamlessly.
Check Availability
Lounge on the sundeck, immerse your senses at distinguished Spa Qualia and dine in the breathtaking Long Pavillion which boasts mesmerizing views across Hamilton Island. Book a private charter to soak up the sun and solitude, or enchant yourself with a sunset cruise on a luxury motor yacht. Treat yourself to a guided wine and food pairing by an expert sommelier, or spend the day marveling at the underwater world of the Great Barrier Reef on a snorkeling and diving expedition.
Qualia is a honeymooner's dream destination and the perfect choice for an anniversary or birthday celebration where you will create memories that last a lifetime. All in all, this dreamy sanctum is the epitome of a bucket list stay.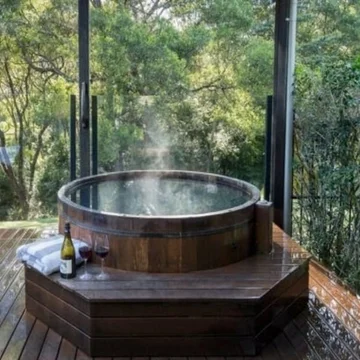 Spicers Tamarind Retreat
Set on 18-Acres of lush rainforest and just 40 minutes from the Sunshine Coast Airport, this exquisite resort offers a seamless union between Western luxury and Eastern serenity, creating an entirely unique affair that will transport you worlds away.
Check Availability
Slip into your fluffy robe and kick your feet up in your gorgeous Asian-influenced villa amongst the trees. On the weekends, expand your culinary horizons by taking a cooking class at the Tamarind Cooking School or amble down to the Spa Anise to escape into a world of luxury and personalized attention. Spend evenings by your crackling fireplace with a glass of wine or on the private verandah under the stars in your outdoor cedar hot tub.
Relaxation couldn't come easier than this, in fact, even the shortest escape to this haven will rejuvenate and revitalize you both mind and body. This spectacular property is an immersive experience teeming with innovation and effortless tranquility that will leave you coming back for more each time.
Find Luxury Hotels in Queensland