Brimming with natural beauty, vibrant cities, and historical sights, Canada is home to some of the most splendid luxury hotels in the world. From its magnificent capital Ottawa to the secluded province of Newfoundland and Labrador, we are bringing you the crème de la crème of luxury Canadian hotels.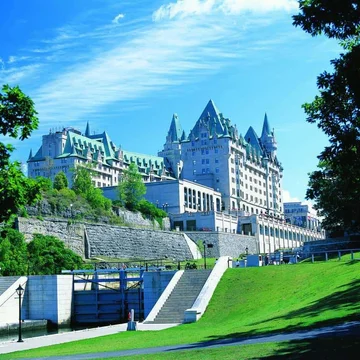 Fairmont Chateau Laurier
Ottawa's Fairmont Chateau Laurier has been delivering world-class service to its guests for more than a century. Named after Canada's seventh Prime Minister Wilfrid Laurier, the hotel has been a host to prominent politicians and celebrities, as well as royalty throughout the years.
Check Availability
Fairmont Chateau Laurier is close to the main tourist attractions in Ottawa, like the Parliament Buildings and Rideau Canal. The Rideau Centre Shopping Mall, which includes luxury brands like Tiffany & Co. and Michael Kors, is just a short walk away from the hotel.
The castle-like architecture of the hotel makes it highly distinguishable. The interior is decorated in a chic, minimalistic style, using a neutral color palette. The luxury suites and rooms ooze old-school grandeur with the crystal chandeliers, ligneous furnishings, leather armchairs, large fireplaces, and marble bathrooms.
Fairmont Chateau Laurier features a sizable swimming pool, as well as a fitness center. Although there isn't a spa on the property, you can book various kinds of massages during your stay.
Wilfrid's Restaurant offers scrumptious breakfast options, delicious brunch, and one-of-a-kind dining experience – all in one place. Book an afternoon tea at the chic and glamorous Zoe's, or opt for one of their signature cocktails like So British or Holly Mule.
Pricing-wise, double rooms start at $180 per night.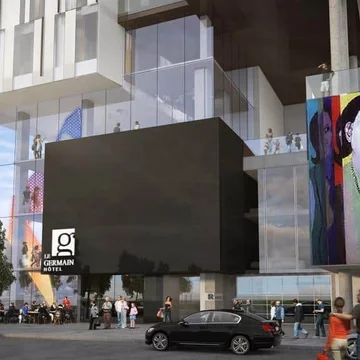 Le Germain
The ultra-modern and sophisticated Le Germain rightfully deserves a place on the top luxury hotels in Canada list. Sharing a building with Ottawa's Art Gallery and a theatre, the hotel mimics the artistic and avant-garde vibe of the building. It's only a short walk away from the Ottawa Convention Centre, Byward Market, and the Rideau Locks, so this lively location gives you the chance to explore much of Ottawa's tourist sights.
Check Availability
Every suite at Le Germain is spacious, stylish, inviting, and filled with amenities that will make your stay super-comfortable. There is a Nespresso coffee machine in every suite, a kettle, and a flat-screen TV. Having a comfortable bed is an important factor when choosing an accommodation, and luckily Le Germain's beds are extremely snug and covered with the softest fabrics. The bathrooms are commodious and come with complimentary Molton Brown toiletries.
The staff is friendly and ready to help you with any inquiries or problems that might arise. The sizable fitness center is there to give you an endorphin boost at any point during your stay.
Norca Restaurant and Bar, a popular spot among locals and tourists alike, uses local ingredients to bring you a delicious selection of dishes with an extensive list of French wine and appealing signature cocktails.
The price per night at Le Germain starts at $170.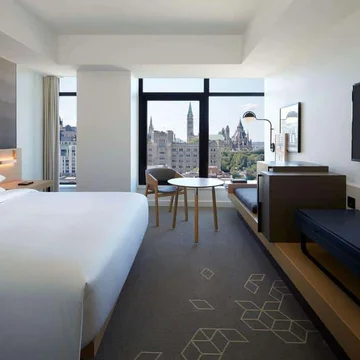 Andaz Ottawa Byward Market
Hyatt's Andaz Ottawa Byward Market opened only a few years ago, yet it has quickly become one of the most visited hotels in the capital. Located right in the Byward Market area, surrounded by Ottawa's most renowned museums, art galleries, and restaurants, this prime location is one of the reasons why guests love to stay here.
Check Availability
With that said, for an unforgettable fine dining experience, leaving the hotel won't be necessary since Feast + Revel serves authentic and flavorsome Canadian food. The Copper Spirits and Sights bar is located on the 16th floor, allowing its visitors access to the spectacular views of Ottawa's skyline. Here you can sip on some of their signature cocktails while enjoying the scenic sunset.
The 200 rooms embody the Canadian spirit – the rooms feature wooden details, pearl-white walls graced with artwork, and sci-fi-esque carpets. Let's not forget the floor-to-ceiling windows which will give you astounding views of the city. The en-suite bathrooms contain rainfall showers and complimentary toiletries. Andaz Ottawa Byward Market has a fitness center as well, available 24/7 to its guests.
The rooms average around $150 per night.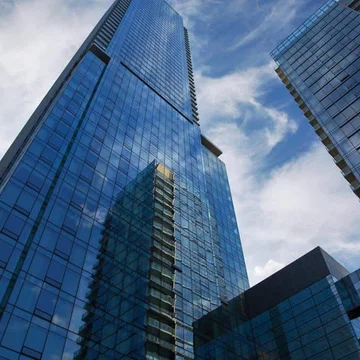 Four Seasons Hotel Toronto
Toronto's Four Seasons Hotel is located in the well-known Yorkville district – the shopping epicenter of the city, with a myriad of luxury stores to choose from including Versace, Chanel, Burberry, Harry Rosen, and Gucci. If you're not a big shopping fan, there are many galleries and museums in the area, including The Royal Ontario Museum, which is located just a short walk away from the hotel.
Check Availability
You can choose from 259 chic, contemporary, and commodious rooms and suites. Every room has a Nespresso machine, a flat-screen TV, and en-suite marble bathrooms. The Royal Suite has been a temporary home to many of Hollywood's royalty. From panoramic views of the city to expansive living areas, this suite is the epitome of luxury.
There are a plethora of services and facilities available to guests. The enormous luxury spa will give you the opportunity to wind-down and recompose, thanks to its calming treatments and massages, sauna, and a steam room.
The staff at the Four Seasons Hotel is polite and helpful, making sure your needs are met at all times. Dining-wise, Michelin-starred chef Daniel Boulud is behind Café Boulud, a charming French restaurant with remarkable signature dishes like their Plateau de Fruits de Mer.
You can get a double room at Four Seasons Toronto starting at $450 per night.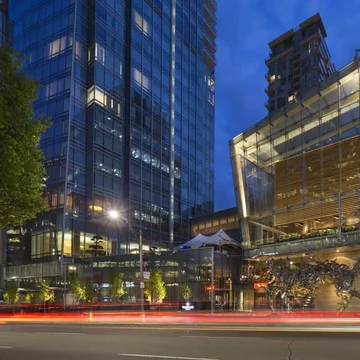 Shangri-La Hotel Toronto
Occupying one of the tallest buildings in Toronto, Shangri-La Hotel Toronto is placed between the Financial and Entertainment District, giving you a lot of variety in terms of exploring. If you're in the mood for visiting some iconic and historic places, head to the Roy Thomson Hall, Saks Fifth Avenue, or The Four Seasons Center for Performing Arts – all of which are in close proximity to the hotel.
Check Availability
Shangri-La hotels are known for their remarkable style – sophisticated, artsy, and opulent, this hotel is bound to leave an impression. Asian details are scattered around the hotel, while touches of the local culture can be seen in the rooms and suites.
The accommodation options are spread over 17 floors; room amenities include generous minibars, 46-inch TVs, iPads, yoga mats, and a Nespresso coffee machine. The floor-to-ceiling windows will give you some of the best views of Toronto's skyline. Spacious en-suite bathrooms come with every room, featuring Italian marble fixtures, large bathtubs, and separate showers.
A 24-hour fitness center is available for all guests, offering various kinds of workout classes. There is an indoor pool and a spa that features Asian treatments and massages. Make sure to visit the Lobby Lounge for authentic and delicious Canadian cuisine and a fine selection of wines and teas.
The rooms start at $350 per night.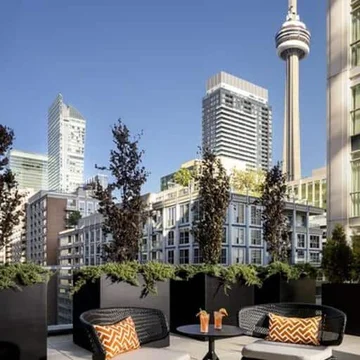 Bisha Hotel Toronto
Apart from being a rockstar, Lenny Kravitz also knows a thing or two about interior design – which is why he styled the entire 9th floor of Bisha Hotel Toronto.
Check Availability
This renowned and fabulous hotel sits at the center of the entertainment district of Toronto – a perfect location for anyone who likes the idea of staying near cultural and historic buildings such as the Toronto Symphony Orchestra, the Royal Alexandra Theatre, and Princess of Wales Theatre. The CN Tower, another popular tourist attraction, can be reached in a seven-minute walk.
The modern, artsy, and sexy design of the hotel is not only shown in the gorgeous and grand common rooms, but also in the rooms and suites. Decorated in a mostly black-and-white color palette, their design oozes elegance. Funky artwork is displayed throughout the bedrooms, while the centerpiece of the living area is the ultra-comfy leather sofas. The bathrooms are unique and classy in their black-marble design.
Some facilities available to guests include a large outdoor pool, a well-equipped fitness center, and a stunning rooftop restaurant serving Californian cuisine.
When it comes to pricing, double rooms start at $350 a night.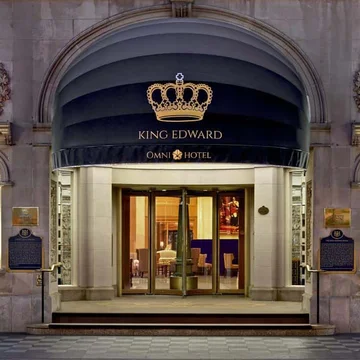 The Omni King Edward Hotel
The Omni King Edward Hotel is Canada's first luxury hotel that has been delivering world-class service to its guests since 1903. The hotel has been a host to an innumerable number of celebrity guests during the years, including Prince Philip, Jean-Claude Van Damme, Celine Dion, and The Beatles, to name a few. Elizabeth Taylor's engagement to Richard Burton took place in the hotel ballroom, which is another reason why the hotel is so distinguished in the eyes of celebrities.
Check Availability
Its location is supreme – the St. Lawrence Market, Hockey Hall of Fame, and Saks Fifth Avenue are all just minutes away, as well as many other cultural centers and tourist sights.
The style of The Omni King Edward Hotel is as palatial as one might expect, both in the public areas and the grandiose suites. The color scheme varies, and each suite is decorated in a slightly different manner than the others.
Guests can relax at the Nouvelle Maria Spa, have a quick workout at their 24/7 fitness center, or visit some of their on-site restaurants and cafes where you can book an afternoon tea, a brunch in one of the ballrooms, or have a private dining experience.
The price per night for a double room starts at $200.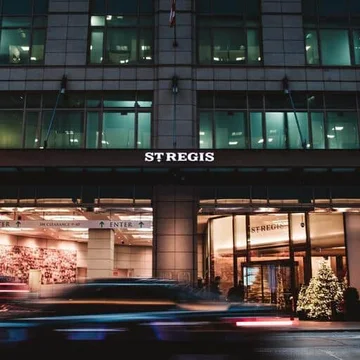 The St.Regis Toronto
An incredible location coupled with outstanding service and opulent accommodation makes The St. Regis Toronto a remarkable place to stay during your Toronto vacation. The hotel makes reaching any tourist spot you have in mind ridiculously easy – the most prominent sights are a five to ten-minute walk away, such as Saks Fifth Avenue, the Hockey Hall of Fame, the CN Tower, the Air Canada, and City Hall.
Check Availability
St. Regis hotels are known for their stunning rooms that are the perfect combination of comfort and splendor. There are 261 rooms to choose from, all of which come with a flat-screen TV, complimentary tea and coffee facilities, glitzy chandeliers, and plush beds. The color palette is extremely calming; neutral tones are combined with relaxing pops of violet. The bathrooms are quite spacious and come with separate shower and tub areas as well as double sinks.
A luxury spa and an indoor pool are available to all guests. Additionally, the hotel's own BAR ADELAIDE restaurant offers panoramic views, delicious light meals, and refreshing cocktails.
You can get a double room at the St. Regis Toronto starting from $380 a night.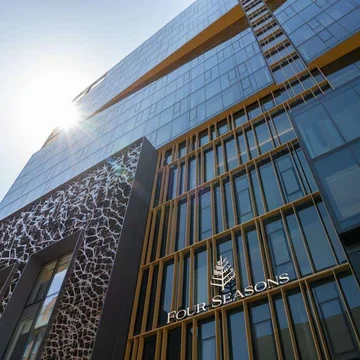 Four Seasons Hotel Montreal
Located in the busy Quebec region of Montreal, Four Seasons Hotel Montreal is one of the most recognized luxury hotels in Canada. Thanks to its central location, guests can reach splendid sights like the Montreal Museum of Fine Arts, Mount Royal, Belle Centre, and Place des Arts in a matter of minutes.
Check Availability
Even though many great restaurants can be found in the area, Four Seasons Hotel Montreal provides guests with fine dining options that are simply spectacular. The Marcus Restaurant and Terrace, led by chef Marcus Samuelsson, offers an all-day menu, a la carte breakfast, an impressive wine list, and many signature cocktails. Other services include a spa, an indoor pool, and a fitness center.
The list of room amenities is extensive too. Guests have access to a Nespresso machine, floor-to-ceiling windows that reveal the magnificent architecture of Montreal, and elegant marble bathrooms with a sizable tub. A few romantic touches are added to the overall minimalistic style, resulting in a unique yet sophisticated design.
Double rooms at Four Seasons Hotel Montreal start from $470.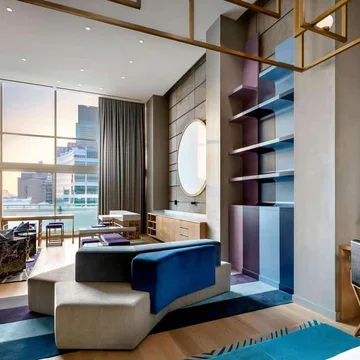 Hotel W Montreal
Part of the historic and renowned Old Montreal, Hotel W Montreal boasts world-class service, modern suites, a premium spa, and an incredibly convenient location that allows you to explore the best Montreal attractions. Within close proximity of the hotel, you can find the Notre Dame Basilica, the Old Port, and Eaton Center. For luxury shopping and amazing restaurants, visit St. Catherine Street.
Check Availability
Hotel W Montreal has its own fair share of fine dining: TSBP is an on-site renowned Italian restaurant with a lively atmosphere where they also serve a full breakfast buffet and a la carte breakfast. For a large selection of innovative cocktails, visit the beautiful Bartizen lounge.
The rooms and suites at W Montreal are airy and modern, brimming with bright colors and fun patterns. A minibar, a flat-screen TV, and super soft lining are some of the amenities you can expect while staying at this hotel.
Guests can book a double room from $220 a night.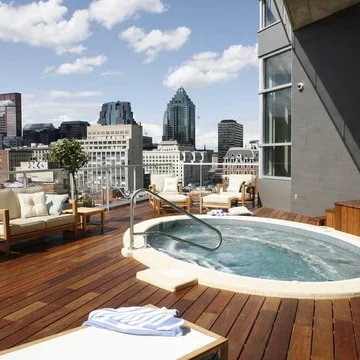 Hotel Le Crystal
Hotel Le Crystal is where comfort meets unsurpassable glamour. Sitting on Boulevard René Levesque, it's near all the artsy places an aesthete or a history junkie might want to visit, such as Musée des Beaux-Arts de Montreal. The Bell Centre, one of the main tourist attractions in Montreal, is merely a five-minute walk away from the hotel.
Check Availability
There are 131 suites in total at Hotel Le Crystal, all of which feature commodious living areas with soft sofas, flat-screen TVs, and floor-to-ceiling windows, giving you access to views of Montreal's skyline.
Guests have access to luxurious amenities such as a Nespresso machine and a number of kitchen amenities. The penthouse is the most luxurious accommodation option at Hotel Le Crystal that comes with a grand fireplace and a hot tub placed on a spacious balcony. The color scheme relies on a classic black-and-white combination, with small colorful details like bed pillows.
Additional amenities include a pool, a sauna, and a spa. The two-level Siam Centre-Ville restaurant, open all day long, serves delicious Thai cuisine.
Double rooms at Hotel Le Crystal start from $225.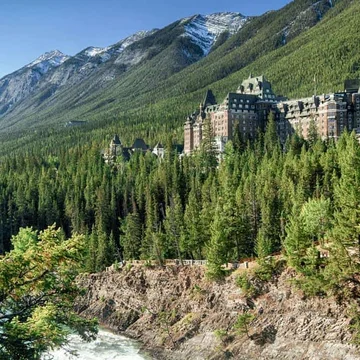 Fairmont Banff Springs
The picturesque Fairmont Banff Springs Hotel is reminiscent of a vast Scottish Castle. Scenic views of the Banff National Park can be witnessed from the public areas and the suites, courtesy of the hotel's magnificent location. Fairmont Banff Springs is surrounded by lush nature, lovely lakes, and thick forests, ideal for anyone looking for an escape in nature.
Check Availability
Despite its architecture, there's nothing old-fashioned about this hotel. The rooms are decorated in a minimalistic and elegant style, infused with warm tones that give off an earthy vibe. The beds are insanely comfortable, the list of amenities is long and appealing, and the views are stunning – everything you will need for a memorable stay. Complimentary toiletries can be found in the bathrooms, which, although not too big, have every amenity you can think of.
Fairmont Banff Springs gives you many opportunities to exercise: from a tennis court and a golf course to a large fitness center – there is hardly a sport you can't engage in – while the spa will give you a relaxing post-workout escape.
There are various restaurants and bars at Fairmont Banff Springs; our personal recommendation is The Vermillion Room, where you can sample dishes that are a mix of Canadian and French cuisine.
You can book a double room starting from $280 per night.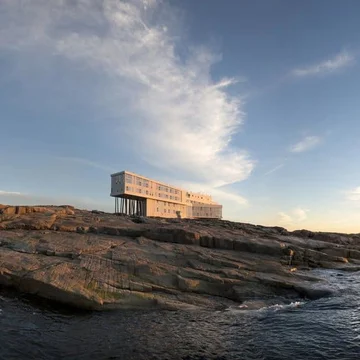 Newfoundland and Labrador, Canada
Fogo Island Inn
If vacationing on a remote island without a person in sight sounds like your cup of tea, you will definitely love Fogo Island Inn. A few fishing villages can be found nearby, but they're quite far away from the hotel, so prepare to feel like the main character in an Ernest Hemingway novel.
Check Availability
There are many positive sides that come with such a remote location, like the opportunity to seamlessly find the Milky Way at night and enjoy the stunning view that vanishes in a busy city.
Fogo Island Inn's architecture is quite striking, much like the design of its interiors where contemporary style is flawlessly merged with traditional details. To top that off, the design incorporates quite a few features from the local culture.
The rooms and suites have large windows that will help you stargaze at night, colorful living areas, and cozy fireplaces. The bedrooms are bright and open, so be prepared to wake up with a gentle caress from the sunrays.
The hotel's ethos is one of the main reasons why guests love to stay here – the staff is dedicated to being as sustainable as possible. Many free activities are available, giving you a great opportunity to explore the island.
The room rate at Fogo Island Inn is a bit pricier, starting from $2500 per night.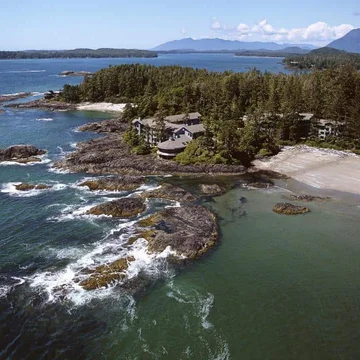 Tofino, British Columbia, Canada
The Wickaninnish Inn
Overlooking the Pacific Ocean, The Wickaninnish Inn is an ideal place for adventurous spirits who enjoy exploring the vast outdoors. The ancient rainforest located behind the hotel is the perfect place to get lost in. Alternatively, if the weather allows it, you can opt for a beach visit or pop in the town of Tofino, which is only a ten-minute drive away from the hotel, for a little change of scenery.
Check Availability
The ligneous furnishings present inside reflect the surrounding nature amazingly. The rooms feature a cozy bed, stunning paintings, a gas fireplace, a private balcony overlooking the ocean where you can enjoy your morning coffee, and floor-to-ceiling windows.
The Wickaninnish Inn will provide you with all the equipment you will need for exploring outside, from bikes to binoculars, all free of charge. Guests have access to a spa, a steam room, and a fitness center. Using seasonal and local ingredients, the dishes at The Pointe Restaurant are simply phenomenal, much like the panoramic views of the ocean.
Prices start at $250 per night.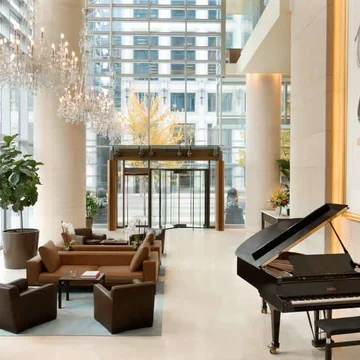 Shangri-La Vancouver
It's not surprising that another Shangri-La hotel appears on our list of luxury hotels in Canada. Shangri-La Vancouver has a central location, surrounded by renowned restaurants, luxury shops, and must-see tourist spots.
Check Availability
Some of the services included at Shangri-La Vancouver are a modern fitness center, where you can book Pilates and yoga classes, a world-class spa offering Asian treatments, and an outdoor pool.
The Ginger Bar has a wide range of healthy snacks, light meals, and fresh juices to choose from. If you want to sample delicious food from the comfort of your own bed, delicious in-room dining is available 24/7.
Reflecting the elegance Shangri-La hotels are known for, the rooms have a beige and white color palette with a few warm accents and wooden furniture. Each comes with a private balcony, a minibar, a Nespresso machine, and floor-to-ceiling windows overlooking Vancouver.
The price for a double room at Shangri-La Vancouver starts at $300 a night.
Find Luxury Hotels in Canada