If someone told you that there's a country on Earth that has no active military and generates 99% of its electricity using renewables, what would your first thought be? Well, we're not talking about some far off alien utopia, we're talking about Costa Rica. Their culture, the flourishing jungles, and their five active volcanoes are reason enough for you to pay this Central American nation a visit. That is, if you haven't heard of their luxury hotels.
Costa Rica's luxury hotels are so unique, we could barely encompass what each brings to the table. A plethora of distinct jungle adventure bases, oceanside adult resorts, spiritual eco-retreats; we're barely scratching the surface.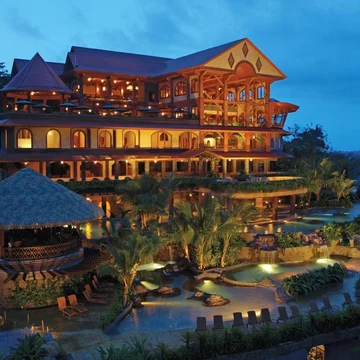 The Springs Resort & Spa
There's no better way to start our list than with a hotel in scenic Arenal – Costa Rica's capital of adventure. After all, if the Kardashians found The Springs Resort & Spa good enough to film an episode of their reality show there, we can't possibly have any qualms with the location. In the middle of a lush jungle, facing the great volcano of Arenal, the resort presents a slice of heaven; a must-visit one at that, should you find yourself in Costa Rica.
Check Availability
The lofty, golden-hued main building is imposing, akin to a palace in the middle of the rainforest, as strange as that might sound. The surrounding hot spring pools, teetering into waterfalls toward the vegetation below, add a one-of-a-kind flavor to the whole exterior. The inside of the resort is beige-themed with wooden decorations, ceilings, and furniture. But, words cannot do justice to the interior – you have to see it to fully grasp the affluent, comfy, yet adventurous ambiance.
The rooms, suites, bungalows, and villas couldn't have anything more in the way of making your stay at the resort as pleasant and comfortable as possible. Each of them, 74 rooms in total, have views of the majestic Arenal Volcano in the distance, no matter whether you're on the first or the top floor. King-size beds, safes, minibars, marble floors, electric kettles, seating areas, multiroom bathrooms with whirlpool tubs – you name it; The Springs Resort goes the whole nine yards in terms of amenities.
The resort doesn't disappoint even in terms of food options, despite being in the middle of a jungle. If you're after fine dining, head over to Las Ventanas, and if you're craving seafood, Tres Cascadas will be your go-to option. Should you want to sample some Latin cuisine or have a cocktail or two, pay the Treetops Grill a visit.
Prices for double rooms start at about $360 depending on the season, while the suites' starting price-point is around $1500 per night.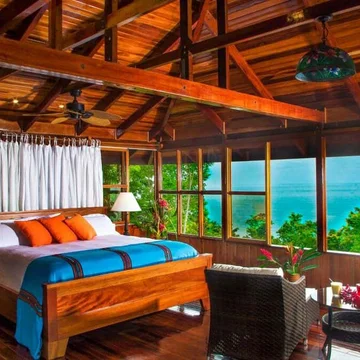 La Paloma Lodge
Our previous listing might've been the perfect getaway in a remote patch of the Costa Rican jungle, but if you thought that The Springs are remote, La Paloma is truly off the beaten track. For starters, we wouldn't suggest driving, as the roads don't bode well for the inexperienced driver. You could take a boat ride from Sierpe, or land by plane on the local airstrip. Despite the trouble you might go through to get to La Paloma, once you're there, you'll see that it's absolutely worth it.
Check Availability
Upon arrival, each and every one of the guests undergoes a boat trip and, after a drive through a jungle, arrives at the main hotel area. After that, you have the choice to book in-room massages or relax in the 32-foot swimming pool; there's no better start for a holiday than that, at least in our book. Beyond that, other than hiking and exploring, you could also pay a visit to the nearby beach. Simply put, the guests at La Paloma are treated like royalty.
Other than the expanses of untouched nature, you'll also get to enjoy panoramic views of the Pacific from the picturesque hillside. The rooms are separate bungalows scattered across the resort, while the characteristic, classy interior gives you a sense of separation from the outside wilderness, yet should you want to be one with nature, you need only step outside.
The rooms and suites have wooden floors and ceilings, while the vast windows give you uninterrupted vistas. They also include safes and some have balconies. The only knock on the rooms themselves is probably that some of them lack air conditioning, but take into account that throughout the day you'll most likely be exploring, so you'll barely notice the difference. At night you could open the windows and enjoy the jungle breeze; it makes for great sleeping weather.
The in-house restaurant is housed in a tower-like structure, providing excellent views, while the food options are numerous. You could go for an a la carte international menu, or opt for a delicious four-course dinner. Everything's prepared with the freshest ingredients and served by incredibly attentive waiters. And the best part? Complimentary wine.
Prices start at $335 per night, per person in low season.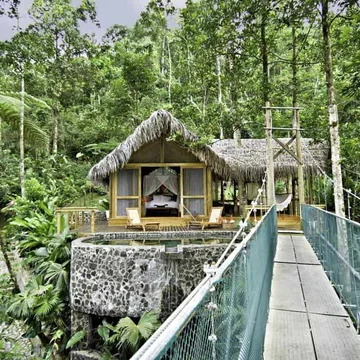 Pacuare Lodge
Our third luxurious rainforest retreat on our list is Pacuare Lodge Hotel. Equally remote, scenic, and adventurous, it adds one more layer to the secluded experience – electricity-free rooms. Reaching the lodge is an adventure unto itself; you can choose to brave the river via long rafts, accompanied by experienced guides, or book a 4×4 wild ride through the jungle.
Check Availability
This five-star eco-lodge values sustainability above all else. Electrical power is generated by on-site water turbines and solar energy. But, that being said, Pacuare Lodge doesn't take anything away when it comes to your absolute enjoyment and comfort. Except for electricity, of course. The numerous villas offer a one-with-nature experience, while the wooden & bamboo decor further enhances the primeval forest charm.
The riverside suites offer awe-inspiring views of the Pacuare River, while the more upscale ones also feature infinity pools. For the ultimate isolated experience, try the Canopy suite, accessed only by a suspension bridge. All of them have king-size four-poster beds and hardwood floors. It's safe to assume, though, that you won't be spending much time inside with available activities such as white rafting, hiking, ziplining, and exploring the nearby canyons.
At a central location in the resort, Nairi Awari Restaurant & Bar is the place to be for delicious cuisine and exotic drinks. Delicacies such as spicy avocado gazpacho and flambée pineapple are once-in-a-lifetime mouthwatering treats, but if that's too far out of your comfort zone for your palate, you could always go for a grilled steak. For special occasions and the ultimate in intimacy, head over to The Nest, set 60 ft above ground in a kapok tree and accessible only by zipline.
Entry-level suites start at $544 in the so-called Green Season and they include two-way transportation, tour guides, and one of their special experiences. All of their prices are per person, per night.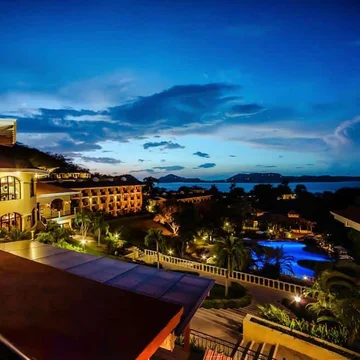 Occidental Papagayo
Papagayo Peninsula and the Culebra bay present Costa Rica's most exclusive riviera and a completely different experience from any of our previous listings. This 163-room hillside showpiece overlooking the sea is an unrivaled adult-only playground with access to a secluded beach. The city of Liberia is a 30-minute drive away, while the vibrant town of Playa Hermosa, filled with bars, restaurants, as well as a cinema, is a mere 10 minutes away.
Check Availability
The arches, colonnades, and the general outlook of the exterior are best described as regal, while the surrounding gardens and modern swimming pool, among other things, make the resort the best-looking adult-only hotel in the region. The interior features beige tones and dark wood furniture, exuding a classy atmosphere.
All of the rooms are just as classy as the rest of the hotel and most of them have amazing views of the ocean, while some also have balconies. All of them also have king-size beds, air conditioning, flat-screen TVs, coffee machines, minibars, and safes. Apart from the awesome outdoor pools, other facilities include a tennis court, a spa, a nightclub, a wellness center, and much more – all staffed by dedicated entertainment attendants.
The Occidental Papagayo has all the options when it comes to food. Your only gripe might be choosing since all of them are amazing. If you're up for some Italian, you can head to the Italian in-house restaurant serving delicacies such as all sorts of pasta dishes. The same goes for Japanese, but if you're craving a good ol' steak, check out the steakhouse, also en suite.
Double rooms start at an all-inclusive price of $141 in low season. It's worth noting that wi-fi is not included in the price.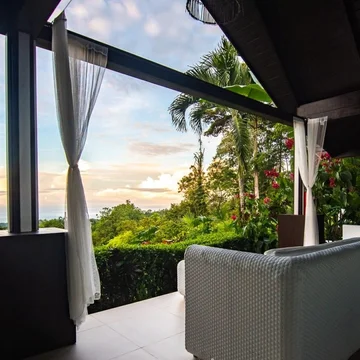 Oxygen Jungle Villas
Oxygen Jungle Villas is definitely one of the more popular destinations when it comes to jungle retreats in Costa Rica. We know that it might seem that we're overdoing it with so many jungle luxury hotel/lodge listings, but they're simply worth it. A mere 15 minutes away from Uvita, Oxygen is not as secluded as the previous options. Notable nearby attractions are the Dominical surfing spot, Marino Ballena National Park that brings snorkeling to the fore, and Ojochal, a popular restaurant town.
Check Availability
In terms of style, it's apparent that the owners were inspired in large part by the Balinese resorts, but the buildings have Dutch architecture written all over them. Although, the defining flair are the flowing white curtains and a myriad of mystical statues spread along the stone-wrought pathways that connect the buildings throughout the resort.
The 12 cabin villas are best described as romantic and modern, with the ocean-view sort featuring glass walls, four-poster king-size beds, and soft white furnishings. The jungle-view type have the perk of extra privacy since they're a bit more secluded, but they also have all-glass walls through which you can witness the jungle come alive. Amenities include air conditioning, well-stocked minibars, rain showers, river-stone-carved sinks, and free wi-fi.
As we already mentioned, given how close Oxygen Jungle Villas is to some very popular attractions, it's unlikely that you'll run out of things to do. But even if you decide to not leave the vicinity of the resort, you need only step outside along the hiking trails to witness breathtaking waterfalls and fascinating wildlife. The hotel offers tours and activities such as kayaking, snorkeling, diving, horseback riding, bird watching, rafting, and many more. Additionally, it would suffice to say that The Oxygen Jungle Spa is one of the best in the country.
The O2 restaurant serves fusion cuisine with local seafood and fresh produce being the focal point. Dinner can be served at the villas' private terraces and the menu includes specialties such as ahi tuna and filet mignon.
Villa prices are at around the $250 mark per night, but that can change depending on the season.
Tortuga Lodge & Gardens
As its name might suggest, Tortuga Lodge & Gardens is an Atlantic-facing resort on the northeastern coast of Costa Rica. Having a distinct caribbean, tropical feel, the atmosphere is one of a kind. The nearby town of Tortuguero is renowned for being a popular turtle nesting site, hence its name (again), and its numerous picturesque canals.
Check Availability
The architecture of the lodge is rather open in the literal sense of the word, which definitely feels as if you're outdoors all the time due to the many balconies and rectangular archways. Cedar hardwood floors and posts dominate the space, while the occasional hammock reminds you to take some self-time and unwind after soaking in the charming surroundings.
The rooms are rustic and vintage, and very much in tune with the rest of the lodge and the nature surrounding them. The aforementioned open feel to the rooms is further accentuated by the lack of windows with mosquito nets in their stead. The balconies and porches are mainly shared with the neighbouring rooms, while the bathrooms feature detailed ceramic floors as well as all the bare-necessity complementaries. The lodge has concierge services and a proper outdoor swimming pool.
The in-house restaurant serves internationally familiar cuisine with a Costa Rican and Caribbean flair, such as filet mignon, or some more traditional dishes, such as rondón, a fish stew with green bananas. Gallo pinto breakfasts featuring beans, cheese, and plantains cost $12.
Double room rates start at $235 and vary depending on the season, but packages including jungle expeditions are available that provide added bang for your buck.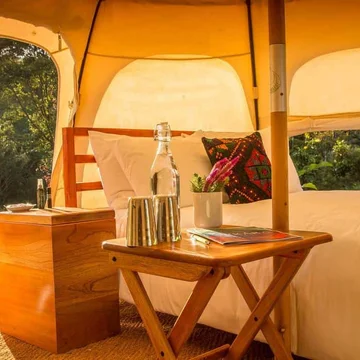 Kinkara
And now, as something completely different, we present to you Hotel Kinkara. This eco-wellness luxury lodge neighboring the Talamanca mountain range is accessible via charter flights from San Jose and the nearest beach is 30 miles away. So, no beaches, no jungle exploration; Kinkara brings a countryside feel and a calming, earthy vibe, or as they would say: "we endeavor to do our bit in bringing our people and planet back into balance".
Check Availability
At a glance, that's basically it; we could chalk Kinkara up as just another attempt at an eco-spiritual retreat and call it a day. But, what makes the "hotel" truly special are the accommodation options and unique experiences. Should you prefer it, Kinkara can be as adventurous as any other hotel on this list. It offers daring 3-day hikes to Mt. Chirripó, 3 or 4 night stays in a private tent while mountain biking or exploring rivers, or meditating by the nearby waterfalls.
What we actually managed to omit due to the wide array of experiences and atmosphere Kinkara offers is that the hotel is actually composed of 26 Lotus Belle tents (for up to four people; akin to suites) and 20 two-person tents spread between the two village complexes that house the main facilities.
All tents feature queen-size or separate twin-size beds, coffee tables & chairs, bedside tables, clothes racks, portable chargers, solar-powered lights, and much more. Insect repellant, bottled water, and torches are made a priority due to the nature of the place. Showers and toilets are in separate men's and women's bathhouses that feature locally-sourced organic toiletries and are up to 4 minutes away from the furthest tents.
Almost all of the food served at Kinkara's dining facility is grown, sourced, and prepared on the property, including livestock and every vegetable you could possibly think of. Vegetarian and vegan options are abundant, if not preferred, while Costa Rican specialties such as tamales are scrumptious.
Even though you might be discouraged to sleep in a tent (putting it way too bluntly) while looking for a luxury accommodation option, Kinkara is well worth the $160 per night given the once-in-a-lifetime experiences it provides.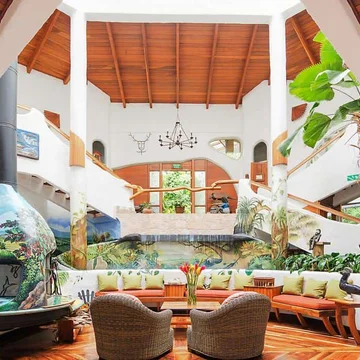 Finca Rosa Blanca
If you are a coffee aficionado and you find yourself in San Jose, taking a detour into the hillside to check out the Finca Rosa Blanca, or even making it your base for further treks, is definitely worth it. After all, it's a mere 20-minute drive from the airport and roughly the same distance from the city center.
Check Availability
In simple terms, this is probably the most ordinary hotel on this list, but even so, Finca Rosa Blanca manages to exceed expectations. Formerly a family home of American artists Glenn and Teri Jampol, the lodge is packed with numerous striking murals and mosaics, while the perfectly calm atmosphere makes it a great getaway from the hustle and bustle of San Jose. What's more, it also has an eco edge to it, having electricity and water heaters based on solar energy.
There are 14 accommodation options including suites, villas, and studios and they're all incredibly spacious as well as continuing the trend of an art-laden setting. The coarse white walls are interrupted by wooden ceilings, archways, and pillars, while the vibrance of the art is complemented by occasional plants. In-room amenities include safes, minibars, and private balconies, while the vast bathrooms are as peculiar as any, covered with colorful tiles and sporting miniature waterfalls that fill the bath.
The in-house El Targua Spa is a fully-fledged wellness center, offering massages, coffee scrubs, and all sorts of beauty treatments using locally sourced products. The spring-fed infinity pool is to die for, while the hot tub is the perfect romantic setting among the vines. The pièce de résistance is most definitely the actual coffee plantation on the grounds, which looks more like a jungle than an actual farm. The hotel offers tours, shining a light on their coffee-drying, roasting, and brewing secrets.
The El Tigre Vestido restaurant, which is also open to non-guests, is headed by executive chef Reuben Villegas, who's seen as a revolutionary in the world of contemporary latin cuisine. Using mostly ingredients grown on the hotel grounds, the restaurant serves delicacies such as teriyaki trout or huevos rancheros with a twist.
Junior suites start at about $255 per night, but the price can vary depending on the season.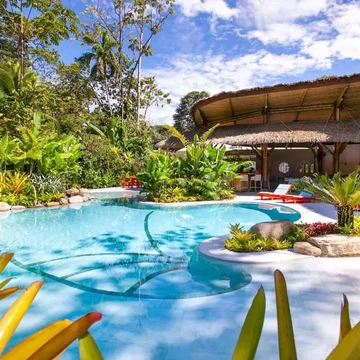 Punta Cocles, Puerto Viejo, Costa Rica
Hotel Aguas Claras
As a nation with two coasts, we'd be remiss if we didn't include the prime beachfront spots on this list. Hotel Aguas Claras is a Victorian-style resort with prime access to the best beaches on the Caribbean – Playa Cocles and Playa Chiquita. And if you're someone who appreciates going out for a drink or two in a lively town, you'd be glad to know that Puerto Viejo is a 10-minute drive away. Just make sure to not drive back yourself! By and large, Aguas Claras is what every oceanside resort should strive to be.
Check Availability
The all-white buildings are magnificent on the outside, with poolsides having cabana-style patios. The interior, also white, for the most part, is best described as classy, featuring modern artwork and tropical-hued furniture and window blinds. Simply put, we've never seen a better display of rooms designed with character.
The rooms feature minibars, sofas, seating areas, safes/laptop safes, stocked minibars, coffee machines, as well as complimentary toiletries and hairdryers. Each and every accommodation option is air-conditioned. The hotel has a dedicated yoga room and they offer yoga classes, but if you're after some more vigorous physical activity, you could always rent a bicycle, go hiking, or even rent a surfing board and hit the waves! All by courtesy of Aguas Claras, of course.
In terms of dining options, you have two; the Papaya Restaurant boasts as being one of the best in the Caribbean, or as they would put it, "a Cosmopolitan gem in the middle of the jungle". The other, more laid-back bar & restaurant is DaLime Beach Club. Both feature all sorts of international dishes as well as some in-house specialties.
Prices start at $425, but may vary depending on the season.
Florblanca
Florblanca comprises a collection of luxury chic villas nestled in the jungle and almost completely isolated from each other. It goes without saying that this is definitely the jungle getaway for two with a relatively distinct flair, at least in comparison to some of the other lodge-like accommodation options.
Check Availability
Creamy-white and biscotti tones in the interior are complemented by dark wooden ceilings and tasteful artworks. The rustic open patio-like seating areas have inviting hammocks peering into the jungle, while the surrounding vegetation provides undisputed privacy. The hotel has no main building per se and the "lobby" can be found in the poolside restaurant overlooking the beach.
All of the villas have four-poster king-size beds, well-stocked minibars, safes, air conditioning, telephones, and writing desks. The Bambú spa is a proper wellness center offering a multitude of treatments including facials, scrubs, and body wraps. The hotel also has a gym and an outdoor swimming pool, as well as a sauna. Among other things, concierge services are also available upon request and the staff is incredibly friendly and may come off as informal, but are utterly respectful.
The open-air restaurant that we mentioned, called Nectar, can satisfied even the most refined of palates, featuring extensive menus of all sorts of international dishes. Their highlights include grilled fish tacos, cured snapper, and honey-roasted pineapple.
Villa rates are at about $400 in low season.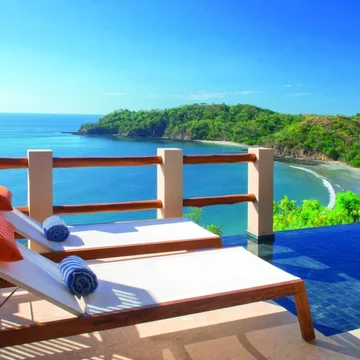 Las Catalinas, Guanacaste, Costa Rica
Casa Chameleon at Las Catalinas
Yet another beachfront marvel, one of many, but also probably one of the best, is Casa Chameleon. Perfectly situated on the most scenic coast in Costa Rica, it's also only 45 minutes away from a major airport in the city of Liberia. The bay is the epitome of summer adventure locations, allowing for a broad variety of watersports and land-based expeditions.
Check Availability
The multi-story main building, which houses the restaurant, rests upon large wooden beams and a stone foundation and exudes Mediterannean ambience, but at an even more exotic location. To further the exotic feel, a plethora of Asian and Buddhist statues grace the interior, while Moroccan luminaires hang from bamboo ceilings. Each of the 21 gorgeous villas mainly follow the same style, that is, if we can even begin to pinpoint it toward a particular ilk. The best of all cultures, is the way we'd put it.
All of the villas provide ocean views via one-sided glass walls, but privacy is guaranteed due to the elevated terrain and lush vegetation. Every single one of them also features private plunge pools and patios, while the furniture, including the four-poster beds, is built in Indonesia and shipped upon a special request by the hotel. The resort has an ocean-facing infinity pool, a wellness center, a yoga center, and bicycle rentals.
The fine-dining restaurant, Sentido Norte, mimics the hotel's variety in design when it comes to food options. If you're up for some French toast with sweet plantains, but then would like to follow up with grilled mahi-mahi for lunch, or a light Swiss cheese omelette, the chef would be the last to say no. To complement a rich menu, it's only fitting that Sentido Norte has the best and most diverse wine lists as well as craft beer on tap.
The rooms start at around $460 in low season.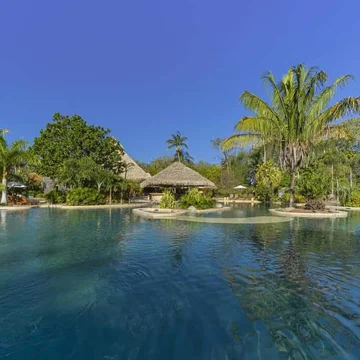 Playa Conchal, Costa Rica
The Westin Reserva Conchal
The Westin Hotel group certainly knows how to go the extra mile when it comes to luxury resorts and The Westin Reserva Conchal comes off as a crown on this star-studded list, and rightfully so. Conveniently placed and easily accessible from multiple airports (Liberia, Tamarindo, San Jose), the hotel is a prime location for golfing enthusiasts as well as those who like frequenting established hotel brands offering a host of facilities and services.
Check Availability
Speaking of, where do we even begin; golfing is a given, the course is their most touted asset. But, their trademarked Heavenly Spa by Westin™ and WestinWORKOUT® Fitness Studio cannot be overlooked either. The spa offers every treatment you could possibly think of and their fitness center is trademarked for a reason – it's extremely well-equipped and they offer complimentary fitness classes. Other activities you can partake in include snorkeling and kayaking, as well as hitting the tennis courts, or if you're feeling modest, you can pay a visit to the most popular beach in the region.
The vast standard rooms, known as Deluxe Junior Suites, are furnished in a contemporary style, which might come off as a bit bland to the experienced traveler, but if you're visiting Westin Conchal, you're definitely not there for the rooms. In-room amenities include air conditioning, private balconies, safes, refrigerators, LCD TVs, stocked minibars, and much more, depending on how swanky you go.
It's refreshing to see that there can be incredible variety in terms of dining options even though the Westin offers all-inclusive packages. You can choose from a whopping eight restaurants scattered across the resort, while the most notable ones include Spirula Trattoria, the Manglar, and Faisanela. Rest assured that you'll find every dish that comes to mind – the only problem is whether you'd have the time to sample them all.
Double room rates are at about $300 in low season.
Find Luxury Hotels in Costa Rica