Egypt might have a lot in store in terms of history and cultural heritage, but the transcontinental country doesn't disappoint with its hotel scene either, housing many renowned hotel chain establishments as well as some lesser-known gems that are definitely worth your attention. In an absolutely astounding blend of old & new, antique & contemporary, Egypt takes full advantage of its breathtaking natural scenery and sights with the best luxury hotels and a rather hospitable populace.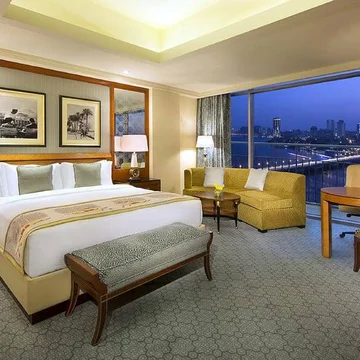 The Nile Ritz-Carlton
Household names such as the Ritz-Carlton hotel chain need little to no introduction, but what makes The Nile establishment stand out in a hotel-packed region is precisely this – its status and a prime spot on the Nile river. Tahrir Square and the Egyptian Museum are a stroll away and other renowned sights such as the Pyramids and the Cairo Opera House are easily accessible as well.
Check Availability
The hotel's vast array of facilities and amenities make it even more popular; when staying at The Nile Ritz-Carlton, you'll be tended by an extremely courteous staff and you'll have the unique possibility to pay a visit to some of the nine in-house restaurants. Furthermore, guests have access to the amazingly lavish spa as well as a rooftop lounge bar providing scenic views of both the city skyline and the river.
There are two room types with views of the river and the square and five suite types varying in size and general location in the hotel. All of the suites have great views of the surrounding city. Most of the accommodation options include safes, refrigerators, private balconies, stocked minibars, flat-screen TVs, etc.
Double room prices start at about $160 if you take advantage of the special offers that the hotel often has.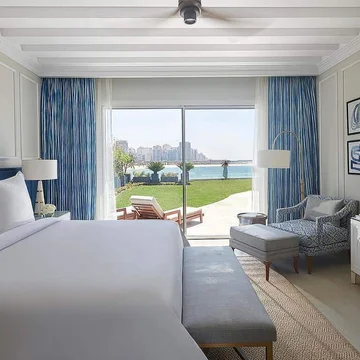 San Stefano, Alexandria, Egypt
Four Seasons Alexandria
Plainly put, Four Seasons at San Stefano, Alexandria, is the ultimate Mediterranean waterfront hotel. Conveniently located in the Grand Plaza complex at the heart of Alexandria, the hotel allows easy access to high-end shopping and fine dining. The San Stefano neighborhood is certainly a very affluent one, and as such, you would have an absolutely elevated experience while staying in an upscale area.
Check Availability
Other than guaranteed excellent service, Four Seasons offers plenty in the way of amenities as well. The heated indoor pool and the infinity pool on the 4th floor are perfect for a relaxing dip, while the spa is a fully-fledged wellness center, complete with a sauna, a steam room, and a whirlpool. If the spa was more than respectable then the fitness center, on the other hand, is first-class. It spans three separate facilities, including a tennis court, a kinesis studio, and a women-only fitness room, as well as offering professional, certified trainers.
The dining options at Four Seasons Alexandria consist of several lounges and restaurants, among which the most notable are Stefano's Italian Restaurant and Byblos Restaurant, which has authentic Lebanese and Syrian delicacies on the menu. All of the rooms and suites are incredibly spacious and have all the must-haves for a hotel of this stature, namely: dining areas, safes, minibars, flat-screen TVs, coffee machines, and the like. You can choose between views of the sea or the city and special non-smoking/family rooms are also available.
Double room rates start at about $230 but may vary depending on the season.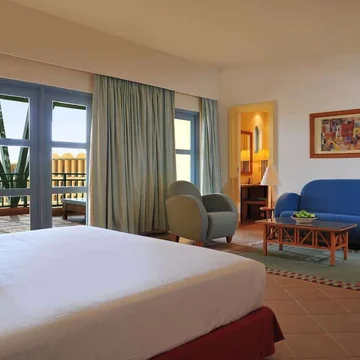 Strand Beach & Golf Resort Taba Heights
If you're up for exploring slightly less known destinations, such as the deep inlet of the Gulf of Aqaba, but would like to retain all of the upsides of luxury accommodation, then you definitely ought to check out Strand Beach & Golf Resort. This hotel on the upper-class Taba Heights allows you to basque in the picturesque, exotic, less frequented sights of this part of the Sinai peninsula year-round, making it perfect for a last-minute getaway.
Check Availability
As the name suggests, the hotel also has an exquisite 18-hole golf course amid the desert scenery, something that even the most popular resorts in, let's say, Sharm El Sheikh, might not be able to provide. Other than that, Strand has an extensive fitness center, two tennis courts, two outdoor swimming pools, as well as a plethora of kids' facilities.
Each of the commodious 503 guest rooms has private balconies, allowing for majestic views of the garden, the sea, or the surrounding mountains. Additionally, all of them have discreet work areas with writing desks, as well as all the necessary in-room amenities such as coffee machines, air conditioning, cable/satellite TV, and free wi-fi.
Bay View restaurant offers exceptional daily breakfast, lunch, and dinner menus, with highlights including Shish Taouk and Om Ali. But, if you're not feeling adventurous when it comes to trying authentic dishes, there are plenty of cosmopolitan options as well.
The best part about Strand Beach & Golf Resort is that prices can go as low as $60 for entry-level double rooms in low season!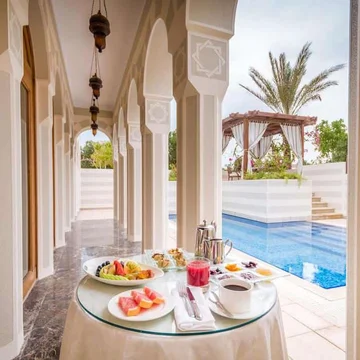 Sahl Hasheesh, Hurghada, Egypt
The Oberoi Sahl Hasheesh
Our first Hurghada listing comes in the shape of an extremely luxurious suites-only resort where the entry-level ones are aptly named Deluxe. The greater Sahl Hasheesh area has many sights to explore, with the most notable ones including the Coptic Monasteries of St. Antony, the Red Sea mountains, the El-Dahar market, The Sekala, and many other attractions in the historic Hurghada city center.
Check Availability
The smallest suites in the resort are 914 sq. ft and they exude a rather homely vibe, being decorated with the occasional traditional Egyptian features and sporting neutral beige tones throughout. All of the suites have characteristic archways and vaulted ceilings, while the Royal and Grand suites also have their private pools and dining pavilions.
When staying at The Oberoi Sahl Hasheesh you'd also have access to a lot of once-in-a-lifetime experiences as the hotel offers adventure trips to Luxor, camel rides through the desert, desert safaris, quad bike trips, trips to Makadi water world, as well as the Madinat Makadi golf course. The in-house restaurant/dining hall offers unique dining experiences, serving traditional dishes such as Lamb Mandi, while Zafraan serves authentic Indian cuisine.
Suite prices start at about $250 per night but may change depending on the season.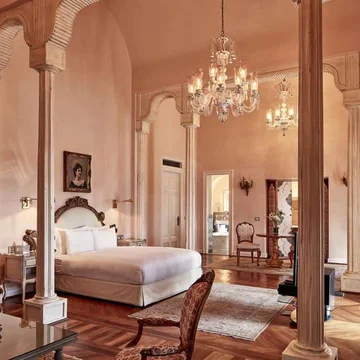 El Gouna, Hurghada, Egypt
La Maison Bleue El Gouna
La Maison Bleue El Gouna is yet another lavish resort in the vicinity of Hurghada where the 11 suites it's composed of take the form of a 19th-century Mediterranean mansion. The El Gouna resort town, founded in 1989 for the specific reason of creating an absolute affluent tourist wonderland, has a multitude of beaches, vibrant nightlife, watersport facilities, and plenty of other hotels as well. Although, it goes without saying that La Maison Bleue is the most elite of them all.
Check Availability
The Spa at La Maison Bleue offers, as they would put it, "an unparalleled array of unique and personal treatments to relax and recharge", and it's not like they don't have the right for such boisterous claims. The spa has a Turkish bath, sauna, steam room, hot and cold plunge pools, and relaxation area.
The suites are divided into two categories: Premium and Super Premium. Each of the premium suites has distinct designs and no two are alike, but warm-colored walls and hardwood floors, as well as regal decor, are the recurring theme. The same is the case with the Super Premium ones, but they tend to be larger. Most of the suites have private patios and plunge pools, while all of them offer 24-hour room service and feature in-room amenities such as writing desks, walk-in dressing rooms, safes, coffee machines, minibars, and free wi-fi.
Their only knock would probably be the dining options, where the two-course meals are lacking in terms of variety. Although, they're all masterfully prepared using the freshest ingredients and are in large part international so if you're someone who doesn't like trying traditional cuisine, you won't have any issues.
Nightly suite rates for two tend to vary between $400 and $600, depending on the season.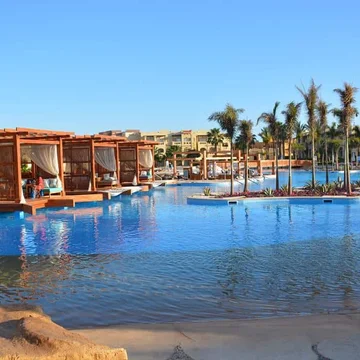 Rixos Sharm El Sheikh
Boasting an ideal location in Nabq Bay, Rixos in Sharm El Sheikh, despite being part of a relatively young hotel chain, presents one of the more acclaimed establishments. The location itself, though, needs little to no introduction; it's literally the place when it comes to summer vacations and Rixos allows you to explore it in a very sophisticated manner.
Check Availability
All 660 luxurious rooms and suites are thoughtfully designed and leave nothing to be desired. Featuring in-room amenities such as safes, dining areas, private balconies, satellite TVs, minibars, coffee machines, and much more, the accommodation options offer much in the way of comfort and convenience.
The Anjana Spa offers a wide array of treatments that blend both eastern and western methods, assuring you get the best in wellness. The hotel also has seven separate swimming pools, one main in-house restaurant, and an additional seven a la carte restaurants. The best part of it all is that Rixos offers magnificent all-inclusive packages that let you frequent all of these facilities without additional charges.
Double room rates start at $220.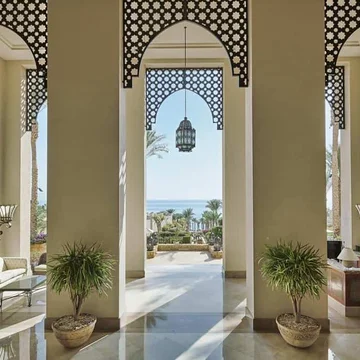 Four Seasons Sharm El Sheikh
Our second Sharm El Sheikh listing, and in fact, our second Four Seasons hotel on this list, is not here without just cause. Although we strive to present you with variety as well as quality, we simply cannot omit this marvel of a hotel. Simply put, Four Seasons in Sharm El Sheikh presents "the perfect combination of activity and relaxation".
Check Availability
What sets this Four Seasons iteration apart from the competition is that it offers 24/7 in-room dining, 24/7 availability of its fitness centers, tennis courts (as is the norm with most Four Seasons hotels), access to a private lovely sandy beach, and a teen center including billiards and table tennis. Furthermore, their rooms and suites are unparalleled in the way that all of the accommodation options boast private balconies or terraces, as well as offering the tried and true Four Season perks, such as a refrigerated well-stocked minibar and terrycloth robes.
In terms of dining options, we have to single out Il Frantoio as one of the best Italian restaurants in the region. Although, if you're up for something more exotic, you have that option as well; simply check out the Sails Asian Food Lounge or order an authentic Bedouin breakfast in your room. The Nafoura Lounge is a traditional shisha bar offering a glimpse into the authentic Arabic nightlife.
Double room rates are at the $215 mark on average.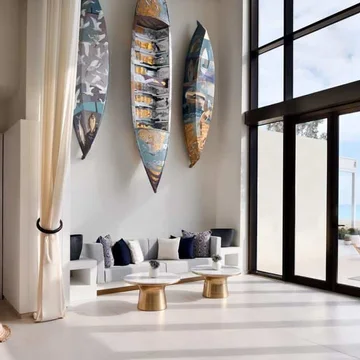 Marassi, El Alamein, Egypt
Al Alamein Hotel
Al Alamein is yet another beachfront hotel, this time on the northern coast of Egypt near the historically significant city of El Alamein. What's truly special about this resort, though, is that it's the epitome of modern Mediterranean style paired with excellent execution when it comes to taking full advantage of its waterfront position.
Check Availability
Al Alamein boasts an amazing water sports center at the charming sandy beach, a fully-fledged tennis court, a proper spa, a well-equipped fitness center, and last but not least, their innovative Qix Club – a children's play facility, making it perfect for a family holiday. Other than the facilities, Al Alamein's rooms, suites, and villas are extraordinarily tasteful in terms of style, spacious, and modern. Expect to see black & white artworks, cozy sitting areas, and calming views of the sea or the hotel gardens.
Stage 2 and Normandy 2 are awesome lounge spots, perfect for a light meal, while for delicious grilled food and seafood with a Lebanese twist, Beach Grill is the place to be. The elegant Origins restaurant ought to be your number one dining option, featuring an expertly done international menu.
Double room rates can go as low as $128 in low season.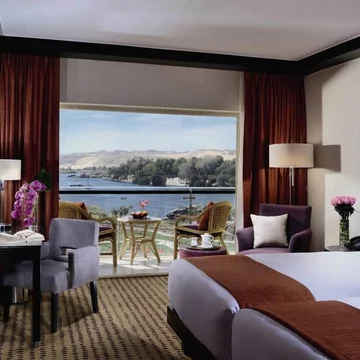 Mövenpick Resort Aswan
For those of you who strongly value cultural tourism, Aswan is a must-visit city in Egypt. But, delving deep into a region's history and cultural heritage doesn't mean that you have to completely leave your comfort zone. It's actually quite the contrary – you can still explore the Elephantine island, visit the Nubian Museum, pay a visit to Abu Simbel, and come back to the opulence of Mövenpick and enjoy the sight of feluccas skimming across the surface of the Nile from your room.
Check Availability
All of the rooms, suites, and villas in Mövenpick Resort offer breathtaking views and the ultimate in comfort and convenience. In-room amenities include work desks, air conditioning, safes, minibars, flatscreen TVs, and private balconies. The hotel also has a swimming pool, a wellness center including a spa, free wi-fi, and concierge services upon request.
Regarding food options, you have four restaurants and two lounge bars to choose from. If you're up for traditional Egyptian cuisine, check out the Mezze Restaurant, while for an open kitchen experience, visit the Elephantine. Panorama and Orangerie are both outstanding romantic dinner options, having scenic views of the garden and the Nile.
Rooms for two start at $130.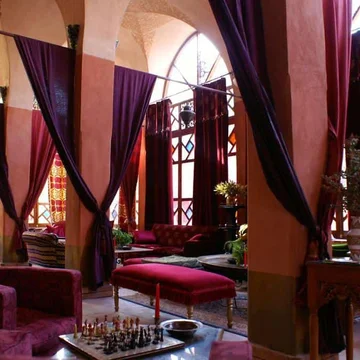 Al Moudira
The perfect follow-up to Aswan would be Luxor, largely for the same reasons we suggested the previous hotel in the first place. The over 3000-year-old Luxor Temple, the Valley of the Kings, Karnak, as well as the Colossi of Memnon are all some of the most unique sights you shouldn't go without seeing at least once in your life.
Check Availability
Al Moudira allows for that, and much more, immersing you into the antique Egyptian vibe without sacrificing any modern amenities or comfort. Even though on paper it's a four-star hotel, Al Moudira has character and soul – something that some of the big names in the hotel industry can't exactly brag about. On the other hand, the service, the location, as well as the amenities, are nothing to scoff at.
The exotic low-rise building style, the elaborate archways & beams, as well as the stained-glass windows create a one-of-a-kind atmosphere. All of the rooms and suites feature commodious four-poster beds, private safes, wardrobes, while some of them also have wonderful views of the surrounding gardens. Other amenities on the property include Turkish baths, swimming pools, a gym, and a spa & wellness center. The staff is courteous and attentive, while the hotel also offers shuttle service and assistance with tours of the surrounding sights.
The on-site gastronomic restaurant serves delicious Mediterranean cuisine, but for more variety, you would do well to explore other options throughout the city as well.
Prices for double rooms are usually at the $190 price-point but may vary depending on the season.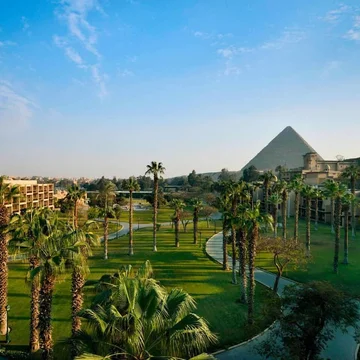 Marriott Mena House
Marriott Mena might not have a quaint location on the Nile, but that doesn't make it any less desirable since it's almost at the literal base of the pyramids. It was first founded way back in 1886 and throughout its illustrious history, it has been the first choice of some truly eyebrow-raising names. Follow in the steps of Winston Churchill, Agatha Christie, and Frank Sinatra, who all stayed at the hotel at some point in time.
Check Availability
Other than the pyramids, the hotel's location allows for easy access to the Grand Egyptian Museum, the Coptic Museum, Khan el Khalili bazaar, and the Saqqara necropolis.
It goes without saying that in such a prestigious hotel, whose cachet is further exemplified by Marriott's management, the 331 rooms and suites are nothing short of incredible. They check all the boxes when it comes to in-room amenities, while also having a wellness center & spa, a swimming pool, and a fitness center.
Foodies will be delighted to know that the 139 Pavilion Restaurant is open 24/7, serving both a la carte and set menu cosmopolitan dishes, as well as certain special Italian and Egyptian delicacies. The Moghul Room is the dedicated Indian cuisine spot, which is reservation-only but allows for a casual dress code. The Pool Bar and the lobby lounge are perfect for a drink or three, however, they also serve light meals and snacks.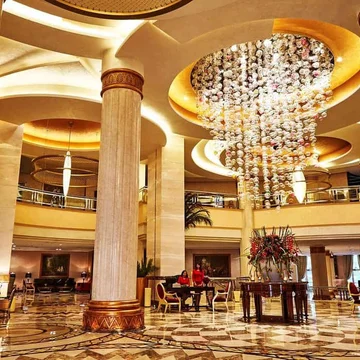 Royal Maxim Palace Kempinski
Going back full circle to the heart of Cairo, we have the perfect option for business travelers who appreciate a palatial vibe – Royal Maxim Palace Kempinski is the only hotel of this stature that is merely twenty minutes away from the international airport. For first-timers in Cairo and to expand on the business traveler allure, it's worth noting that the hotel is in the commercial district of the city.
Check Availability
The rooms and suites are best described as sumptuous, featuring Art Deco designs and resplendent colors. In-room amenities include cable tv, blackout curtains, electric kettles, minibars, etc. The Cabana Pool rooms have – you guessed it – direct access to the pool, while some of the rooms have private balconies and great views. All visitors have access to all of the hotel's facilities, free of charge, and they include a luxury spa & wellness center, a fitness center, a kids' center, and concierge & 24/7 butler services.
Royal Maxim Palace Kempinski has five on-site restaurants, so you definitely won't run out of options, no matter how long you're staying! The State offers all sorts of European dishes with a local flair, Lucca is the dedicated Italian restaurant, Romanov is the go-to grill place, Bab Al Qasr's menu features oriental delicacies, and Yana provides the best of Asian cuisine.
Double rooms can be booked for around $150 in low season.
Find Luxury Hotels in Egypt