Historic cities, ancient cathedrals, fun food festivals, and picturesque villages – these are only a few things that make Germany one of the most visited countries in Europe. With millions of visitors per year, it's no surprise there's a multitude of luxury hotels in Germany to choose from.
Our list will give you an overview of the best luxury hotels in the country, ranging from Berlin to the Bavarian Alps. Regardless of what kind of holiday preferences you have, we truly hope that you find this luxury hotel guide useful and informative for your next vacation in Germany.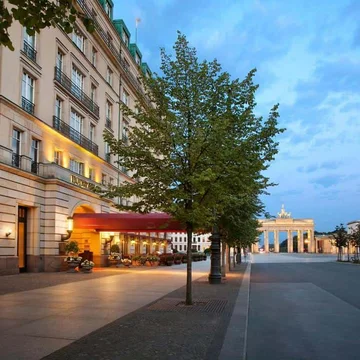 Hotel Adlon Kempinski Berlin
Hotel Adlon Kempinski Berlin is where opulence and glamour meet unsurpassable hospitality. With such an impressive list of celebrity guests like Barack Obama, Brad Pitt, Angelina Jolie, and Charlie Chaplin, it's no wonder that the hotel is considered one of the best luxury hotels in Germany.
Check Availability
The location of Hotel Adlon Kempinski Berlin is in central Berlin, near historic landmarks such as The Holocaust Memorial, Pariser Platz, Academy of Arts, and Checkpoint Charlie. It's a convenient location regardless of whether your priority while on holiday is visiting artistic centers, luxury shopping, or exploring popular tourist attractions.
After it was tragically bombed during the Second World War, the hotel was thoroughly renovated and restored. Its current style oozes old-school glamour; warm tones mixed with gold details are found both in the public rooms and the suites. The common areas have interesting architectural designs and are brimming with antique furnishings.
Many state-of-the-art facilities are included at Hotel Adlon Kempinski Berlin – a sizable indoor pool, a sauna, a 24-hour fitness center, and a luxury spa. The rooms include ligneous furnishings, gorgeous views of Pariser Platz and the Brandenburg Gate, and pristine, commodious bathrooms with large hot tubs and well-lit mirrors.
Three dining options are available at Hotel Adlon Kempinski Berlin: the Lobby Lounge & Bar, the two Michelin-starred Lorenz Adlon Esszimmer, and Sra Bua Bar. Serving royal afternoon tea, signature German dishes, and refreshing cocktails, your taste buds are bound to be satisfied regardless of your culinary preferences.
Prices for double rooms start at $300 a night.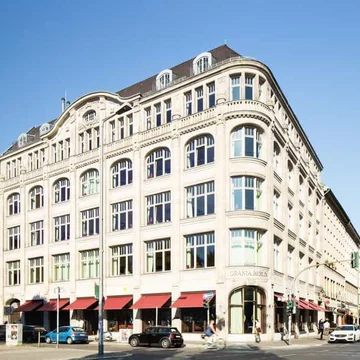 The Orania Berlin
With a distinctive atmosphere that reflects the aura of Berlin, the artistic and visually captivating Orania Berlin is situated in the lively Kreuzberg district, allowing you to access the cultural and historic epicenters of Berlin within a walking distance. Some of the most crowded museums like the Jewish Museum, Berlinische Galerie, and Pergamonmuseum are a 30-minute walk away from the hotel.
Check Availability
Luckily, Berlin offers some incredible sights if you choose to travel on foot. Many high-end luxury stores and charming local shops are in close proximity to the hotel, so shopping won't be a problem.
One distinctive characteristic of The Orania Berlin is that their rooms and suites are named after sizes in square meters, so be prepared to book rooms named Orania.21 or Orania.50.
The style is consistent with all the common rooms in the hotel – warm and golden tones make for an inviting and homely atmosphere, while the immense windows invite natural light that further emphasizes the charming tones of the rooms. The suites feature a lovely library with a wide selection of books, comfy sofas, and Iranian carpets.
Each accommodation option comes with a Nespresso machine, a generous minibar, ultra-plush beds with elephant-themed frames, and complimentary bathrobes and slippers.
Modern facilities such as a fitness center, a bar, and a large stage where German artists hold fun concerts are all part of The Orania Berlin. Experienced and dedicated, Michelin-starred Chef Philip Vogel helps prepare scrumptious meals at the on-site restaurant, where you can order from a vast menu of German and international cuisine, prepared with fresh and local ingredients. Guests get to enjoy their meals in an intimate and alluring atmosphere. Breakfast at The Orania Berlin includes a buffet of delicious international cuisine.
The price per night for a room starts at $190.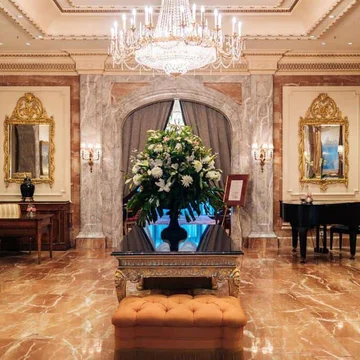 Regent Berlin
The ever so popular Regent Berlin is rightfully among the best luxury hotels in Germany. This five-star marvel is adjacent to the Gendarmenmarkt Square, neighboring the most historic attractions and buildings that are synonymous with Berlin.
Check Availability
Such an outstanding location makes it easy for guests to access attractions like Brandenburg Gate and Unter den Linden. Shopaholics will be happy to know that KaDeWe, one of the oldest luxury department stores in Germany, is merely a 15-minute drive away from the hotel.
The staff at Regent Berlin is very welcoming, friendly, and happy to assist with anything you might need, or answer any inquiries regarding the city or the hotel. The spa and wellness center, called the Regent Health Club, offer a wide range of relaxing massages to choose from – a guest favorite appears to be the Ayurvedic full body massage. After a replenishing massage, you can visit the hotel's sauna or the spacious fitness center.
At Regent Berlin, you will find 156 rooms and 39 suites to choose from. The accommodation options follow a warm color scheme with pops of green, while the graceful gold accents bring out the lovely warm tones. The rooms and suites feature a flat-screen TV with a DVD player, antique work desks, large snuggly beds, and colossal marble bathrooms with deep tubs, perfect for a relaxing bath.
Various dining options are available at Regent Berlin, with a style reminiscent of Victorian glamour. From crystal chandeliers to silk curtains and large busts, the ambience of the on-site restaurants is splendid yet welcoming. The meals at Charlotte and Fritz restaurant will soothe your taste buds in a marvelous way, whether you opt for traditional Berlin dishes or some of the delicious treats on their vegan menu.
The price per room for a night starts at $200.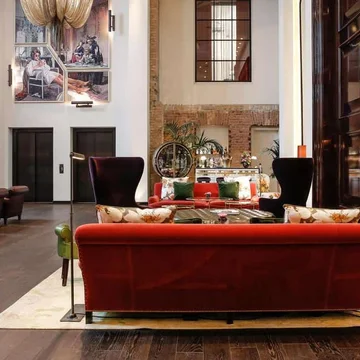 Hotel Zoo Berlin
The elegant and quirky Hotel Zoo Berlin sits on Kurfürstendamm, a well-known boulevard in Berlin that's brimming with various shops, cultural buildings, sightseeing spots, and amazing restaurants. This boulevard is a go-to place for luxury shopping, so you will have no problems finding high-end stores nearby. On top of that, the Story of Berlin and the Museum of Photography are a short walk away, perfect for history junkies and aesthetes.
Check Availability
Some of Hotel Zoo Berlin's famous guests include Grace Kelly and Sophia Lauren. The 144 rooms are as graceful as the abovementioned style icons, with hardwood floors, exotic accents, leather armchairs, and low-hanging lighting. The room amenities include a Nespresso coffee machine, large flat-screen TV, and designer bathtubs.
Dining at Hotel Zoo Berlin will never be an issue – the funky Grace Bar offers artistic cocktails, live music, and light meals, while the glamorous Grace restaurant offers a creative menu which is an innovative mix of a few international cuisines.
At Hotel Zoo Berlin, the room rates start at 140 euros per night.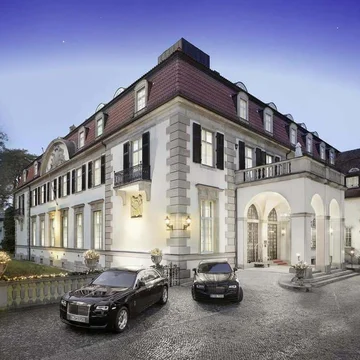 Patrick Hellmann Schlosshotel
German designer Patrick Hellmann is behind this hotel's palatial and memorable style. Nature lovers will appreciate that the hotel is situated next to a lush forest, in the famous Grunewald district in Berlin.
Check Availability
Guests get the chance to visit the Kurfürstendamm shopping boulevard, which is only a ten-minute walk away from the hotel. Enjoy browsing high-end brands like Bulgari and Louis Vuitton. If there is any sight you want to visit that seems out of reach, you can easily book the hotel's Rolls Royce chauffeur service.
The hotel features a lovely garden, an indoor pool, a sauna, and a fitness center. The staff is incredibly helpful, so don't hesitate to ask for their help. Mediterranean cuisine is served at the Renaissance-inspired restaurant, with a carefully crafted wine list that will add a nice touch to any meal. For guidance regarding the wine, feel free to ask one of the waiters.
The on-site GQ Bar has a very distinctive décor filled with crystal chandeliers by Lalique, art photography by Russell James and Emmett Simon, and black leather armchairs, providing the perfect ambience for sipping an invigorating cocktail. Lastly, the Champagne Lounge, as posh as you might expect, is the ultimate place to go for – you guessed it – an indulgent glass of quality champagne.
Some of the 22 rooms are styled in a chic black-and-white color scheme, while others have a neutral base with warm ligneous furnishings. Hellmann's impeccable style is reflected in every minor stylistic choice, from the bed frames to the featured artwork, resulting in a unique and lavish accommodation that guarantees an unforgettable stay.
Rooms start at $260.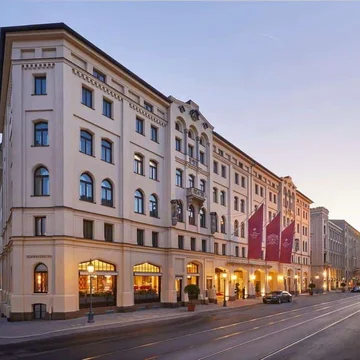 Hotel Vier Jahreszeiten Kempinski
One of the oldest and most historic hotels in Munich, Hotel Vier Jahreszeiten Kempinski's mix of art-deco style combined with an endless list of modern amenities will make your stay seamless. This famous hotel is a five-minute walk from Marienplatz Square, Hofgarten Park, and all the luxury shops on Maximilianstrasse, including Chanel and Bulgari. On top of that, it's a prime location for museum-goers.
Check Availability
The world-class service provided at Hotel Vier Jahreszeiten Kempinski is coupled with an indoor pool, a sauna, and a fitness center. A butler and limousine service is also available for hotel guests. Each room and suite features a large TV, a minibar, and complimentary toiletries, bathrobes, and slippers. The Presidential Suite is the most opulent option, featuring impeccable aureate details, a large living area, and classical artwork.
Gastronomy at Hotel Vier Jahreszeiten Kempinski is taken very seriously; there's a large selection of signature dishes and cocktails as well as must-try culinary highlights. The Michelin-starred Schwarzreiter Tagesbar and Restaurant is the epitome of fine dining, with a large selection of delicious dishes prepared by a dedicated team specializing in Young Bavarian cuisine.
The rates at Hotel Vier Jahreszeiten Kempinski for a standard room per night start at $280.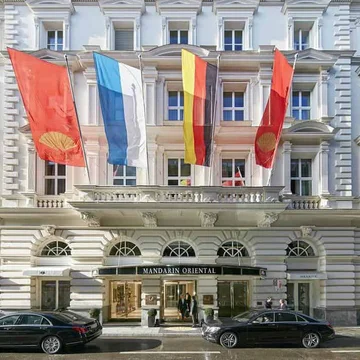 Mandarin Oriental Munich
Part of an established luxury hotel chain, Mandarin Oriental Munich delights its guests with a fabulous location, outstanding dining options, and world-class service. Located right in the heart of Munich, The Maximilianstrasse shopping street is a five-minute walk away from the hotel, allowing guests to indulge in luxury shopping. The historic Marienplatz Square is also a short walk away, much like the Bavarian State Opera.
Check Availability
The Mandarin Oriental chain is synonymous with luxury, so it comes as no surprise that its style is palatial and glamorous, featuring stunning artworks that grace the walls of the rooms and the suites alike. A 24-hour fitness center, a sauna, and a swimming pool are all available to use.
Dining-wise, Matsuhisa Munich prides in Japanese-Peruvian cuisine with a seafood-focused menu. The atmosphere is rather intimate, and you have the option of booking a dinner in a private section of the restaurant. The Lounge is a more casual option where you can book afternoon tea, try their amazing coffee, or opt for a delicious dessert.
There are 48 rooms and 25 suites in total, including an insanely lavish Grand Presidential Suite. The suites have wooden floors, large beds, floor-to-ceiling windows with gorgeous views of Munich, and sizable vanities. The color palette is a mix of earthy tones and eye-pleasing beiges.
Prices for a room start at around $800 a night.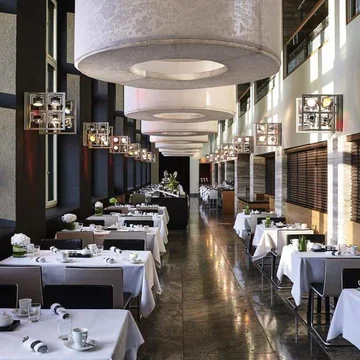 Sofitel Munich Bayerpost
A five-star hotel located in central Munich, Sofitel Munich Bayerpost is one of the most renowned luxury hotels in Germany. Munich's train station is right next to the hotel, and some of the city's most popular attractions including Altstadt, Karlsplatz Stachus, and the Theresienwiese are nearby as well. Other equally popular attractions are within a 20-minute walk, лике Marienplatz Town Hall Square.
Check Availability
The established SoSPA is the perfect place for a pleasant and relaxing break. There's also an indoor pool, a sauna, a fitness center, and a steam room available to use, so the options for relaxing are endless.
Sofitel Munich Bayerpost's spacious rooms and suites follow a modern and fresh style. Each comes with a Nespresso machine, a flat-screen TV, and complimentary Hermes toiletries. The large windows allow for lots of natural lighting, which, in conjunction with the bright pops of fun colors, make for an inviting atmosphere.
Splendid modern French cuisine can be enjoyed at DÉLICE La Brasserie, where Chef Andreas Donnerbauer and his team ensure that the very best of ingredients end up on your plate. The Schwarz & Weiz restaurant is where guests go for delicious breakfast options enjoyed with a view. The hotel's own Isarbar serves international wines and fun cocktails, perfect for a night out without leaving the hotel's premises.
As far as the room rates are concerned, the starting price for a room is around $250 per night.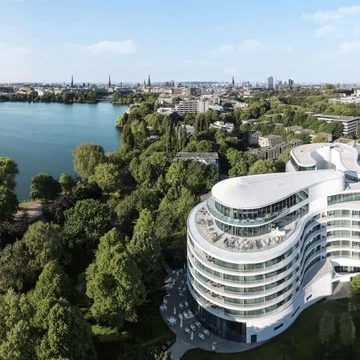 The Fontenay
Despite being open for only two years, The Fontenay has quickly become one of the most visited luxury hotels in Germany. Located near Alster Lake, The Fontenay's tranquil location is one of its many perks.
Check Availability
Take a short, 10-minute walk and you will reach the city center, where all the famous museums, tourist attractions, and stores are located. Jungfernstieg, a prominent shopping area, is home to luxury stores like Fendi and Saint Laurent.
Apart from the on-site soul-soothing spa that uses La Mer products, guests get to enjoy a gorgeous infinity pool, a fitness center, and a steam room. If you're unsure what kind of workout to put on your schedule, don't worry – one of the hotel's personal trainers has got you covered.
The rooms and suites have a similarly quirky and postmodern shape as the architecture of the hotel; styled in pleasant neutral tones with turquoise accents, the rooms and suites are airy and bright, featuring floor-to-ceiling windows with lake views, air-conditioning, and a private terrace.
There are some dining options available while staying at The Fontenay as well. The Atrium Lounge is an architectural marvel in and of itself, while Parkview, the on-site garden restaurant, is perfect for a casual yet elegant evening. The third dining option, a rooftop restaurant offering breathtaking panoramic views of the surroundings, is called Lakeside. At Lakeside, guests get to savor a mix of French and International cuisine, courtesy of chef Julian Stowasser.
The price per night for a standard room starts at $300.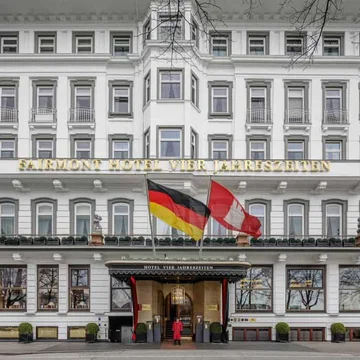 Fairmont Hotel Vier Jahreszeiten
The historic and grandiose Fairmont Hotel Vier Jahreszeiten is located on Alster Lake, near many cultural buildings, museums, and tourist sites like the Staatsoper Opera and the CCH Exhibition Center.
Check Availability
Brimming with a rich color palette, dingy curtains, and many modern amenities, the rooms and suites at Fairmont Hotel Vier Jahreszeiten are nothing short of extraordinary. The floor-to-ceiling windows offer views of the lake and the city. The beds are large and comfortable, and the elegant black-and-white bathrooms have a separate shower and bath area. In each room and suite, you will find a Nespresso machine, a flat-screen TV with a DVD player, while the jaw-dropping Penthouse Suite comes with a private balcony and a hot tub.
Fairmont Hotel Vier Jahreszeiten's spa offers a wide range of treatments, facials, and massages for its guests. There's also a sizable gym, a cozy library with a fireplace, and a sauna at your disposal. The service at Fairmont Hotel Vier Jahreszeiten is world-class, with a staff that's dedicated to making your stay as pleasant as possible.
Sample Japanese cuisine with a Peruvian influence at the stunning Nikkei Nine restaurant, made with the freshest ingredients available. Sophisticated and glamorous, Wohnhalle offers traditional afternoon tea accompanied by a chilled glass of champagne. And last, but certainly not least, two-Michelin starred Restaurant Haerlin will welcome you in a palatial setting. Serving Mediterranean and Francophile cuisine made of quality ingredients, the restaurant promises a feast for your taste buds.
Prices start at $220 per night.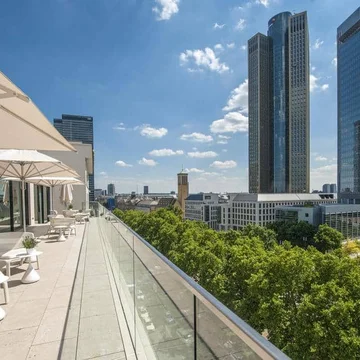 Grandhotel Hessischer Hof
Palatial in nature and execution, Grandhotel Hessischer Hof is where you go for the ultimate royal treatment. Located right across the Frankfurt Trade Fair, the hotel has a prime location that's in close proximity to the Main River, Festhalle Frankfurt, and Skyline Plaza.
Check Availability
Grandhotel Hessischer Hof places a huge emphasis on art, so expect to find refined oil paintings, precious antiques, and framed photographs in every crevice of the hotel. With a style that's reminiscent of a 19th-century palace, the interior is glitzy and glamorous.
The suites are spectacular – commodious living areas filled with luxury décor, large mirrors, crystal chandeliers, and floor-to-ceiling windows offer a great place to relax and replenish your energy stores, while the dining area has fresh flowers on display and a large TV.
The rooms vary in terms of color palette, while the marble bathrooms remain sizable, with complimentary bathrobes and toiletries. Just like all the other luxury hotels on this list, there's a premium spa, a fitness center, and a sauna available to use.
Restaurant Sèvres, featuring porcelain displays designed by Jean-Pierre Feuillet, serves modern and light cuisine, a delicious mix of South American, Asian, and European cuisine. Jimmy's Bar is old-school in a good way, providing a sultry atmosphere with live piano music. Make sure you try their signature cocktails and at least one glass of their aged whiskey or classic champagne.
The price per room starts at $190 per night.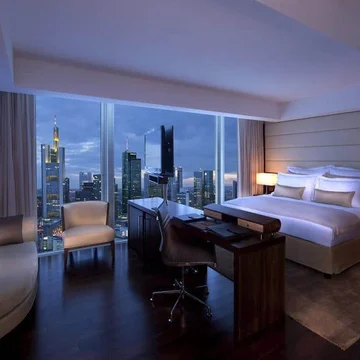 Jumeirah Frankfurt
Jumeirah Frankfurt is a towering skyscraper hotel that stands out from all the other buildings in the area. Its grand design, along with its unique architecture, makes it one of the most distinguishable places in Frankfurt.
Check Availability
Shopaholics will appreciate the fact that Jumeirah Frankfurt is located right next to MyZeil shopping mall. There is no shortage of tourist attractions in the area either – Römer Square, the Old Opera House, and Goethe House are all within walking distance from Jumeirah Frankfurt.
The hotel's Talise Spa, with two saunas and various treatment rooms, is an ideal place for relaxing. Alternatively, visit the fitness center located in the building next door or the indoor pool.
The rooms are commodious and modern – the floor-to-ceiling windows allow you to enjoy an unsurpassable panorama of the Frankfurt skyline. The color scheme is a soothing mix of neutrals, combined with wooden floors and other ligneous details. A unique feature of Jumeirah Frankfurt is that each room features a large painting by renowned artist Hartwig Ebersbach. Apart from that, they come with Nespresso coffee machines, flat-screen TVs, and complimentary bathrobes.
Modern French cuisine can be enjoyed at Jumeirah Frankfurt's on-site Max On One restaurant, which also happens to serve delicious breakfast. The Ember Bar and Lounge is ideal for an artistic cocktail or a light snack, while El Rayyan is a go-to for guests who enjoy Lebanese cuisine and dining in a lively atmosphere.
The room rates start at around $300 a night.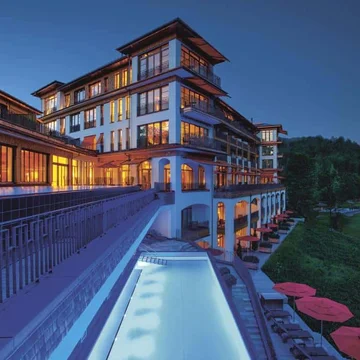 Schloss Elmau
The picturesque and historic Schloss Elmau hotel is nestled between thick forests, cloud-capped mountains, providing a perfect place for a quaint escape in nature. Schloss Elmau offers many activities, like hiking, skiing, and yoga classes, which are amazing options if you prefer training in large groups as opposed to a gym. The hotel even has its own bookstore, in addition to three libraries, that is filled with timeless classics and contemporary releases, so regardless of its secluded location, there is plenty to do while staying here.
Check Availability
Choose between one of the three spas available on the property for the ultimate relaxing experience. There is also a fitness center and a pool available for use. The rooms are designed in a traditional manner, with a red color palette, elephant-themed bed frames, large floor-to-ceiling windows overlooking the mountains, and a vanity table.
Amenities such as a flat-screen TV, a kettle, and complimentary toiletries come with every room. The bathrooms are quite spacious and they come with separate bath and shower areas and well-lit mirrors.
Various Italian restaurants are a part of Schloss Elmau. Choose between Summit, Tutto Mondo, or Ganesha so you too can experience the rich and comforting taste of Italian cuisine. The menus are a brilliant mix of signature meals and innovative touches. A generous breakfast buffet is served daily at La Salle. The Library Lounge is a must-see for all bookworms.
The rates per night start at $800.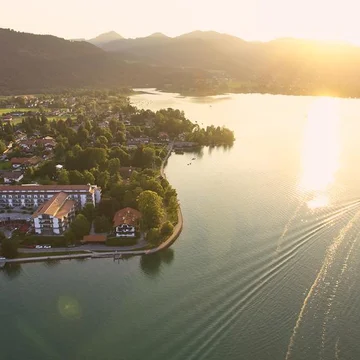 Althoff Seehotel Überfahrt
Althoff Seehotel Überfahrt sits on the shore of Lake Tegernsee, surrounded by lush forests and the Bavarian Alps. The scenery neighboring the hotel is akin to that of a postcard, so this hotel is ideal for anyone who prioritizes spending time in nature while on holiday. If you're looking for a little change in scenery, you can always make a short trip to Munich, which is only an hour away from Althoff Seehotel Überfahrt by car.
Check Availability
The best part is – some of the rooms feature breathtaking views of the lake and Alps which you can enjoy from the privacy of your own balcony. On top of stunning views, there is a Nespresso machine, a minibar, a TV, and complimentary Penhaligons toiletries. The marble-clad bathrooms have gold details and separate bath and shower areas. The rooms and suites are styled with themed details, nature-inspired artwork on the walls, and warm tones.
The world-class Four Elements spa contains seven saunas, both an indoor and an outdoor pool, and a relaxation area, making it the perfect option for a calming break. There's also a modern gym available to use for all hotel guests.
Three Michelin-starred chef Christian Jürgens at Restaurant Überfahrt delivers appetizing meals made with the finest ingredients. The restaurant is loved by locals and tourists alike, so make sure you book ahead.
The price per room varies depending on what time of the year you'll be staying, but, generally speaking, the rates per night start at $400.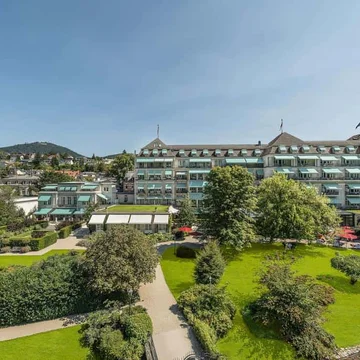 Brenners Park Hotel and Spa
Part of the well-loved Oetker Collection of hotels, Brenners Park Hotel and Spa is located on the Lichtentaler Allee, right in the center of the gorgeous gardens in Baden-Baden. The hotel is near the Black Forest and the central attractions of Lichtentaler Allee, giving you lots of opportunities to explore the area and enjoy the scenic nature. From large parks to museums, the hidden gems of Baden-Baden are a must-see.
Check Availability
Brenners Park Hotel and Spa has been operating since 1872, so if there's one thing you can be sure of is that they deliver world-class service. This established five-star hotel is also known for its traditional yet elegant style, full of artsy accents like paintings and antiques.
Some of the rooms come with a balcony that overlooks Lichtentaler Allee. The white Italian marble bathrooms are commodious, with deep tubs and complimentary toiletries. Each room is equipped with a minibar, a TV, and a desk area.
The Villa Stephanie Spa, which is part of the Brenners Park Hotel and Spa, offers a large selection of treatments and massages, along with a sauna and hammam. Guests have access to a modern gym and an indoor swimming pool with great views.
The dining options at Brenners Park Hotel and Spa are truly spectacular and varied. Fritz and Felix serves experimental cuisine that attracts both locals and tourists. Wintergarten's Mediterranean cuisine is magnificent, along with its wholesome atmosphere. The Rive Gauche Brasserie, the crème de la crème of Baden-Baden dining, serves scrumptious French cuisine served in a gorgeous terrace during the summer months.
Rates per room start at $250 a night.
Find Luxury Hotels in Germany