Luxury Hotels in Perugia, Italy | Grand Getaways to the Umbrian Countryside
Perugia is a picturesque province in the Umbria region of central Italy. This area is well known for its variety of historical buildings, lively culture, and beautiful landscapes. A luxury stay at one of the grand hotels in Perugia is the perfect way to unwind and enjoy the charm of this province.
Perugia is the perfect place to discover boutique hotels, many of them located in century-old buildings. From one of the centrally located luxury hotels, you can set out to explore other medieval castles and Roman temples. Or, take a walk in the surrounding countryside and marvel at the vast Lake Trasimeno and lush green valley.
All of these 5-star hotels of Perugia will provide you with a uniquely decorated room, a private bathroom, and excellent room service. You can dine in an à la carte restaurant and enjoy various relaxing and entertaining activities on the hotel grounds.
If this sounds like the perfect countryside getaway, keep reading to discover some of the most luxurious hotels in Italy that you can enjoy in the Perugia province.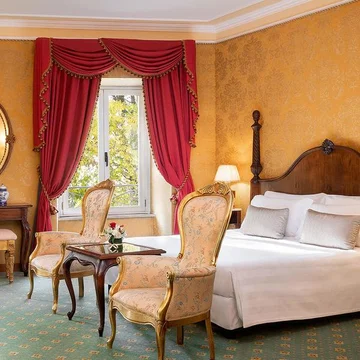 Sina Brufani
The luxury hotel Sina Brufani is one of the best hotels in Perugia for history buffs. This stately palazzo opened its doors in 1884 and still delivers sophisticated service today. The hotel sits right in the city center and offers over 90 spacious guest rooms, including suites.
Check Availability
The halls and dining rooms of this ancient mansion boast original hardwood floors and lofty frescoed ceilings. The rooms are reminiscent of aristocratic luxury, complete with antique furniture, marble bathrooms, and vintage wallpaper. If their exquisite Suite Deluxe is a bit outside your price class, read these tips on how to get an upgrade at a luxury hotel.
The Sina Brufani hotel does not put on airs, but simply delivers excellent quality in everything they do. Their Collins restaurant serves delicious Umbrian dishes and provides a hearty buffet breakfast every morning. In the summer, you can dine on the outdoor terrace and savor scenic views of the city's medieval rooftops and surrounding hills.
However, the most unique feature of the Sina Brufani is its stunning indoor swimming pool. Built under the medieval stone vaults, this pool has a glass floor that reveals the 3000-year-old Etruscan ruins beneath it. Around the pool area, you can also relax at the hotel's spa and sauna.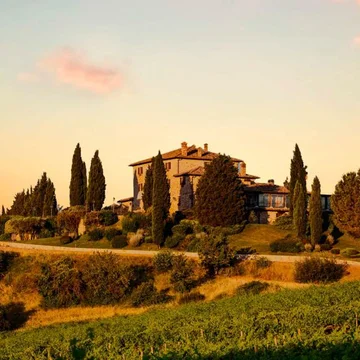 Frazione Collevalenza, Collevalenza
Relais Todini
This hotel set in a 12th-century manor combines luxury with the comfort of a family home. Relais Todini sits on a hill overlooking the magnificent surrounding countryside, including the vineyards of this working wine estate.
Check Availability
Each of the eight rooms and four suites is decorated in a unique way, combining modern comforts and antique furnishings. The view from every room is different but always breathtaking. You can relax on beyond comfortable beds under a homey wooden beamed ceiling.
If you manage to leave your cozy bedroom, you will not be short of things to do on this country estate. The hotel offers activities such as horseback riding, skeet shooting, golf, and cooking lessons. Take a tour of the winery and enjoy a tasting of wines produced on the estate. Relais Todini also boasts its own wild animal park, where you can see gorgeous creatures like zebras and flamingos.
The hotel's excellent restaurant is very popular among the area's residents. L'Altro Relais restaurant serves delicious Umbrian dishes made from local produce. The restaurant is set on a terrace providing panoramic vistas, and the open kitchen creates a pleasant atmosphere.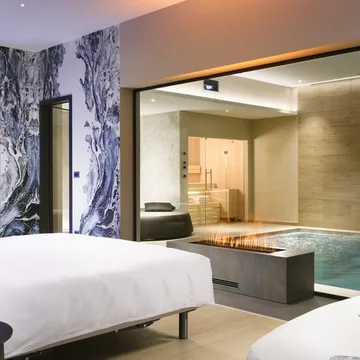 Borgobrufa Spa Resort
This luxurious adults-only resort boasts the largest spa in the whole region of Umbria. Enjoy the perfect couples getaway in a great location where you can choose from countless ways to relax.
Check Availability
Borgobrufa Spa Resort sits on a hilltop surrounded by vineyards, offering panoramic views of the surrounding Umbrian countryside. In this peaceful atmosphere, the focus is on wellness, and you can do whatever you need to de-stress. Guests wander around in spa robes or casual clothes and enjoy quiet conversations by the poolside.
The large estate is dotted with renovated historic villas, interspersed with modern bungalows and spa buildings. Each room has a separate entrance to offer you maximum privacy. There is also a gourmet restaurant on site that serves delicious dishes and offers tasty health options.
This is one of the most expensive hotels in Perugia, but it definitely provides the facilities to give you great value for your money. You can take part in activities such as tennis and horseback riding, but the biggest draw is certainly the magnificent spa.
Borgobrufa Spa Resort has professional staff who can pamper you with a variety of massages and treatments. Or, you can spend the whole day lazing around in the water, with a heated swimming pool, sauna, therapeutic salt cave, and more to choose from.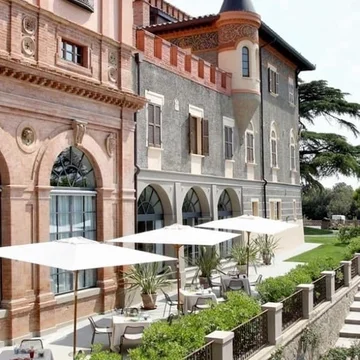 Strada Montepetriolo, Monte Petriolo
Borgo Dei Conti Resort
This excellent hotel in Perugia is set in a magnificent restored castle on expansive, well-groomed grounds. Borgo Dei Conti is the ideal countryside retreat where you can stay in luxury while marveling at the area's rich history.
Check Availability
The hotel in this historic property offers comfortable, classically furnished rooms with modern amenities. Some of the rooms include historic fireplaces and exquisite ceiling murals. If you're a history buff, you will enjoy the Conte Suite, where the castle's count and countess used to sleep.
The spacious dining rooms and lounge with vaulted ceilings give you a glimpse of this chateau's past splendor. You can also visit the grand library inside this ancient castle. There is an extensive spa area that provides you with a hot tub, sauna, jacuzzi with a charming garden view, and many more luxurious options.
This is the ultimate luxury all-inclusive stay, where friendly staff treat you like royalty and arrange any activity or service you could want. You can learn how to make pizza or chocolate, go on a truffle hunt, or enjoy a top-quality wine tasting. If you enjoy being active, there are bikes, walking paths, a tennis court, and a football field at your disposal.
For meals, you can dine at the formal Rura restaurant inside the hotel or enjoy a light pizza lunch on the panoramic terrace. The wines and dishes at these restaurants focus on delicious local and heirloom produce.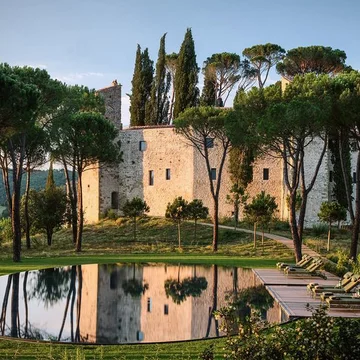 Reschio, Lisciano Niccone
Hotel Castello di Reschio
Castello di Reschio is another one of the luxury hotels in Perugia that is set in an ancient castle. Here you can enjoy a peaceful getaway on a vast estate among the green Umbrian hills.
Check Availability
The 10th-century castle was restored by an architect and his artist wife. Today, the hotel still has the original stone fireplaces, arches, and vaulted ceilings. They also added custom-made furniture and a variety of fascinating paintings and antiques. The combination of all these elements gives Castello di Reschio an elegant yet comfortable look.
Every room and suite in this hotel shines with personality. Each bedroom is uniquely decorated to reflect its previous use or owner, such as an olive press in one and an old family portrait in another. You can enjoy detailed decorations, a luxurious bed, and a large walk-in shower in this hotel. For an added price, you are even welcome to bring your dog.
This Perugia hotel offers a wide range of activities, from truffle-hunting and foraging to cooking classes. The shining gem is the beautiful swimming pool that lies outside the castle walls among the trees. If you prefer to swim indoors, the Bathhouse in the castle's ancient wine cellar includes a tranquil subterranean pool. You can also find a luxurious spa among these stone walls.
Last but not least, the hotel's farm-to-table restaurants use produce from the estate or surrounding area to create tantalizing dishes. The Alle Scuderie restaurant is a more formal choice with an old-world Italian feel. On the other hand, Al Castello is a relaxed restaurant on the terrace of the castle ramparts.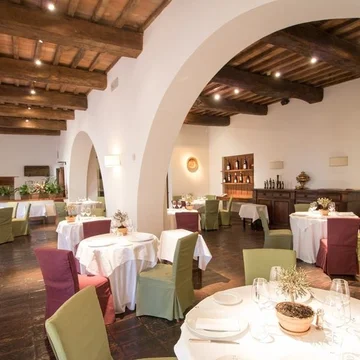 Le Tre Vaselle Resort & Spa
Le Tre Vaselle is the perfect place to soak up the serene countryside and discover the area's wine culture. This Perugia luxury hotel is set in a 17th-century house in the middle of the quiet medieval town of Torgiano. With the building's terracotta floors and large stone fireplaces, you'll feel as if you've stepped back into the old Italian countryside.
Check Availability
The resort offers 52 bedrooms focused on comfort and relaxation. The rooms are furnished with hand-woven carpets and antique furniture. Some of the suites boast lovely frescoed walls. You can enjoy views of the medieval village streets and the Umbrian hills from your bedroom window.
This getaway also includes two excellent restaurants. Le Melograne restaurant is part of the main house and offers fine Umbrian cooking along with excellent quality wines from the region. For a light lunch or a pre-dinner cocktail, unwind next to the outdoor pool at the hotel's bar.
If you're interested, the hotel can organize wine tastings for you at nearby wineries or one of their own restaurants. Cooking classes hosted by the hotel's chef are also open to guests.
Le Tre Vaselle has a wonderful spa and wellness center where you can enjoy the gym and Turkish bath. They also offer unique wine therapy, used in spa treatments because of the grapes' antioxidant properties. There are private suites available for intimate couple spa treatments.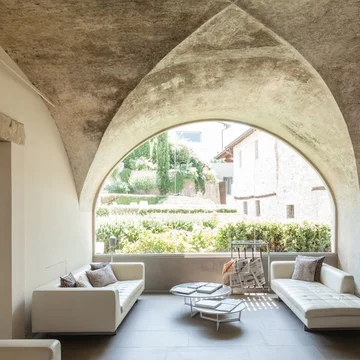 Via Eremo Delle Carceri, Assisi
Nun Assisi Relais & Spa Museum
The Nun Assisi is another one of the best luxury hotels for history lovers to book a stay. The minimalist-style hotel is set in the former Santa Caterina Monastery, which was constructed in 1275. With its vaulted ceilings and rough-hewn walls, this historical building continues to charm visitors looking for a luxury getaway.
Check Availability
The hotel is far enough away from town to provide guests with peace and quiet, but also close enough for an outing to some nearby attractions. The Basilica di San Francesco is just a 15-minute walk from Nun Assisi.
Today, the ancient monastery consists of 18 rooms offering lovely views over the garden. The decor is an elegant blend of old stone walls and contemporary leather furniture. You can choose from three different suite categories, but even the lower-priced deluxe room is a delight.
The Spa Museum is one of a kind, located in the archeological site of a Roman amphitheater. You will feel like you stepped back in time in this softly lit area surrounded by ancient limestone pillars.
The spa layout is even based on Roman baths, with a Tepidarium, Calidarium, Sudatorium, and Frigidarium. You can move through these four rooms with their different humidity levels and temperatures to enjoy a historical spa experience.
When you've worked up a good appetite, head across the courtyard and treat yourself at this very nice hotel restaurant. You can choose to sit inside or outside on the terrace, where you can enjoy splendid views over Assisi. The restaurant serves simple but delicious dishes that are modern twists on traditional Umbrian cuisine.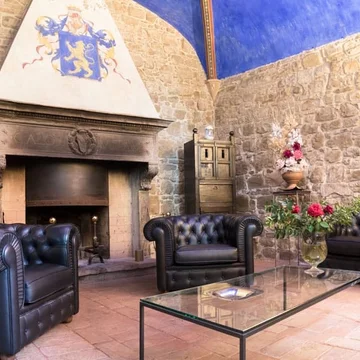 Castello Di Monterone
The final luxury getaway on this list is yet again one of the best Perugia hotels for those who want to enjoy a piece of history in the serene countryside. Castello di Monterone is an ancient castle with a mix of artifacts and architecture from different eras, dating as far back as the 13th century.
Check Availability
Only 1.8 miles from the historic center of Perugia, this fairytale castle gives you the opportunity to wander through a peaceful enclosed rose garden or unwind in the elegantly converted library and lounges. The views from the battlements and tower windows are spectacular.
The 18 rooms are furnished with iron beds and antique wooden furniture to maintain the castle's medieval atmosphere. Some bedrooms also boast beautiful frescoes on the walls, or multiple windows looking out over the castle gardens.
There is a sauna and small outdoor swimming pool on the terrace where you can relax. If you'd like to hear fascinating stories about the castle's history and the renovation process, you can ask for a tour of the ancient building.
The hotel's contemporary restaurant serves homemade pasta and the freshest vegetables, plated in a creative way by the chef. Make use of the castle's free parking to take a day trip here and enjoy the food and gorgeous grounds.
Enjoy the Best Luxury Hotels of Perugia, Italy
Are you ready for a getaway to the tranquil Italian countryside? Any one of these luxury hotels is sure to help you unwind in style. From hotels set in ancient castles to extensive spa resorts, Perugia has some of the best accommodations on offer.
Find Luxury Hotels in Perugia