12 Best Luxury Hotels in Umbria | 5-Star Places to Stay
Umbria is one of Italy's most fascinating regions, with many interesting towns, picturesque scenery, and incredible food. Despite this splendor, the region isn't as popular as neighboring Tuscany.
This is an advantage, though, as you don't have to meet many tourists while out on holiday to Umbria. Nicknamed the country's green heart, it boasts rolling greenery and many vineyards offering some of the best wines in the world.
Tucked between the greenery and medieval towns are the best hotels Umbria offers. Choose a stay at one of these hotels, and you'll have more than a comfortable place to rest in between your daily escapades. The region has it all, from charming castles that take one to bygone times to resorts with a relaxing atmosphere. Fantastic food, mesmerizing views, various spa treatments — this is some of what awaits at one of the luxury hotels Umbria has on offer.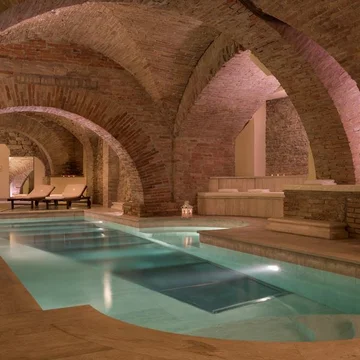 Sina Brufani
Starting off the list of luxurious Umbria, Italy hotels is the Sina Brufani. It stands as the grande dame of all luxury hotels in Umbria and has a ton of repeat visitors.
Check Availability
The luxury hotel has had its doors open since the late 1880s and offers over 90 rooms and suites. The rooms feature antique furniture, marble bathrooms, and eye-pleasing artwork, all of which resemble aristocratic luxury.
Start your day off with a savory buffet breakfast from the Collins restaurant, which also serves fine Umbrian cuisine throughout the day. When the weather permits, you can dine on the outdoor terrace while enjoying picturesque views of the rolling hills of Perugia.
While it's undoubtedly a 5-star hotel, the Sina Brufani scoffs at the over-the-top formality you'd find at a luxury hotel. The staff provide no-frills service with a personable touch in the form of local attraction suggestions, arranging private drivers, and more.
Apart from the staff, there's a fitness room and deluxe spa area with a sauna and steam room. Also in this area is the crown jewel of this luxury hotel in Perugia, an indoor pool with a glass-bottom floor. Wade the waters with views of the Etruscan ruins right below you.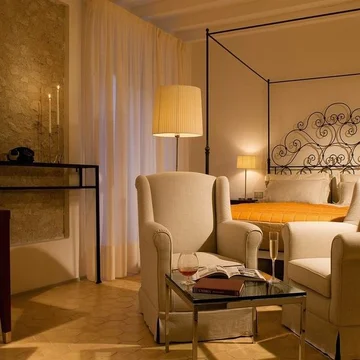 Relais & Chateaux Palazzo Seneca
The Palazzo Seneca is a historic hotel set in a palace that dates back to the 16th century. After restoration, the building became Norcia's first hotel in the early 1900s. It has stood the test of time and continues to draw in tons of visitors who come for the deluxe experience near the historic town center.
Check Availability
The hotel features 24 rooms boasting fantastic bedding, a mix of antique and artisan pieces, and facilities like balconies, walk-in closets, and more. End your day off right with a relaxing bath in their marble bathrooms, along with the complimentary bathing products.
Soon after, sink your teeth into the free complimentary breakfast while enjoying countryside views above landscaped gardens. Later in the day, visit Vespasia, the hotel's Michelin-star restaurant, serving delicious Norcia-inspired cuisine with Asian dishes too. To ensure guests get the best meals, the restaurant requires a booking and a menu chosen by 8 pm on the previous day.
The Palazzo Seneca also offers several experiences, including e-bike riding, truffle hunting, wine-tasting tours, and more. After an eventful day, relax in the spa and wellness center under cross-vaulted ceilings. The trained staff, along with the stone hot tub, Turkish bath, and sauna are all ready to bring you to the ultimate state of relaxation.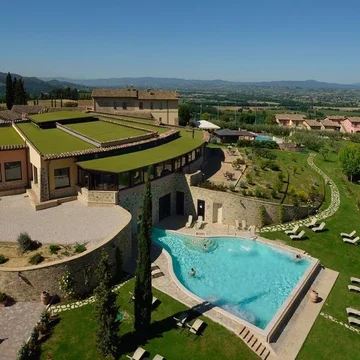 Borgobrufa Spa Resort
Borgobrufa Spa Resort is an adults-only luxury all-inclusive resort located on a property tucked between Brufa's rolling hills. Sized at over 32,000 square feet, it's the largest of all the Umbria luxury hotels. As a spa resort, it features several spa areas ready to pamper you into a state of pure bliss.
Check Availability
Before visiting the spa, your day starts with a buffet breakfast with eggs and bacon, cakes, and fruits, being just some of what you can expect. Afterward, relax at the spa (there are around 50 massages to choose from) courtesy of the sauna, steam rooms, and trained therapists.
Also in the spa area, you can soak in the indoor heated pool, a saltwater pool, and a saltwater cave. Fitness enthusiasts can work up a sweat while playing a game on the Borgobrufa Spa Resort tennis court.
The staff can also arrange activities like bike-riding and horseback riding for anyone who enjoys the outdoors. There's also an outdoor swimming pool with incredible views for the sunba