14 Best Luxury Hotels in Tokyo | 5-Star Hotels in Japan's Capital City
Tokyo is currently the world's largest 'Megacity' by population, with millions of tourists and locals flocking to the country's capital every year. It has mastered the duality of natural beauty and futuristic metropolitan life. Here, you have cherry blossoms blooming in the street and Mount Fuji peaking over the skyscrapers and subway stations in central Tokyo.
It's only natural that ‌ luxury hotels in Tokyo would mimic this same blend of nature and modernity. The city is home to some of the world's largest luxury hotel brands administering impeccable service and luxurious comfort every time.
Whether it's your first visit to the city or you're a seasoned traveler, these luxury hotels will ensure an unforgettable stay every time. Find out what are the finest hotels in Tokyo, Japan below.
Best Hotels in Tokyo, Japan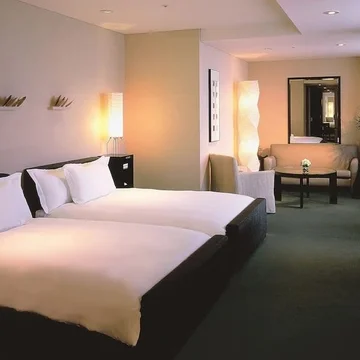 Hotel Park Hyatt Tokyo
The Park Hyatt Tokyo hotel is high above the streets of Shinjuku, allowing beautiful views of the buzzing nightlife below. Here, you're also in clear sight of Tokyo's most beloved resident, Mount Fuji. While Shinjuku is popular for its endless nights of karaoke and clubs, it also has very upscale hotels and restaurants.
Check Availability
This swanky hotel with clean open spaces retains its ambiance through the massive windows and dim lighting. It is contemporary while incorporating familiar Hokkaido wood paneling on its walls and ceiling.
Hotel Park Hyatt Tokyo sits in the 52-floor Shinjuku Tower but only occupies the top 14 floors. There are 177 rooms in total. Each room is the epitome of a lavish existence with Egyptian cotton bedding and original artwork on the walls. The bathrooms are spacious and have deep bathtubs to soak all of your cares away.
If that's not enough, enjoy a pamper session at the Park Spa or browse through the wide variety of library books or videos on demand. The Park Hyatt Tokyo hotel also has four restaurants with a panoramic view of the city skyline from New York Grill & Bar on the 52nd floor.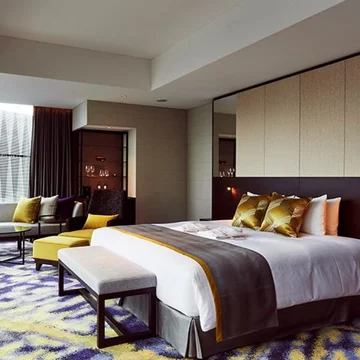 The Gate Hotel
The Gate Hotel is in the Yurakucho district of Tokyo. Its name directly translates to 'there is fun in this town,' and it does not disappoint. Yurakucho is a popular shopping neighborhood with many restaurants and izakaya bars that attract numerous high-class shoppers and visitors. It is only fitting that this high-class hotel is situated here too.
Check Availability
The Gate Hotel is a modern hotel that contrasts city life with natural wood interiors. Most of the hotel has floor-to-ceiling windows that overlook the center of Tokyo as well as Tokyo Station, which is a short walk away.
Rooms here are luxe, and even the more affordable options only have the best amenities — perfect for a truly comfortable stay. Each room comes with a Nespresso machine, a minibar, and a seating area. Bathrooms are minimalistic, without much clutter, and only carry the essentials, including complimentary nightwear and either a rain shower or bathtub.
The Gate Hotel has facilities for disabled guests, too, so no one feels left out. Break a sweat at their fitness center and then cool down at one of their two restaurants on-site. The Lobby Lounge is also a must-see for a sundowner overlooking the beautiful city as the sun sets and the lights under the night sky twinkle.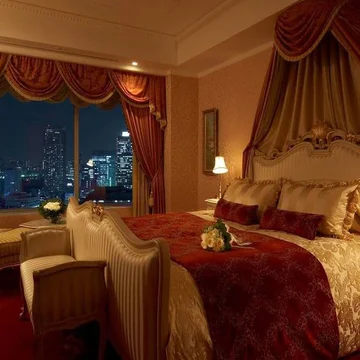 The Prince Park Tower
Nestled in Shiba Park, this contemporary hotel is next to what tourists often describe as Tokyo's red and white Eiffel Tower- Tokyo Tower. While not as tall as its towering neighbor, The Prince Park Tower still has phenomenal redeeming qualities.
Check Availability
The 33-story Prince Park Tower has chic rooms that favor clean lines and natural light streaming through the wall of windows. On the 32nd floor, also known as the Royal Floor, you can enjoy being treated like nobility for a true luxury hotel experience by staying. There are three suite types on this floor, each with a Club Lounge pass and exclusive butler service.
Each luxury suite has its own theme of royally decorated living spaces. Each suite also has a spacious lounge and dining area. The bathrooms are equally opulent, with spa baths, showers, and deluxe bathroom amenities.
The Prince Tower knows how to keep the fun going with highlights including karaoke, a bowling alley, a spa, and fitness facilities. There are nine on-site restaurants in total, with three of them offering Japanese cuisine.
The Brise Verte, the hotel's French cuisine Restaurant, and Sky Lounge offer panoramic skyline views as you enjoy your meal or drink prepared by cuisine experts.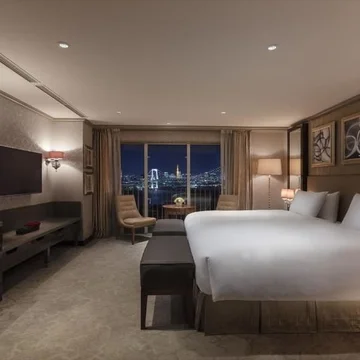 Hilton Tokyo Odaiba
The Hilton Odaiba luxury hotel is set on Tokyo Bay, overlooking the stunning harbor and ocean views. You can also spot Tokyo Tower and the Rainbow Bridge from this ocean-side 5-star hotel in Tokyo.
Check Availability
The hotel has a modern circular design that echoes the sleek interior design. All guest rooms come with a balcony, while some have an additional seating area. Your private bathroom comes with all the essentials, including accessibility features like a lower sink and grab rails.
There is also a wide selection of dining options. Grab an early morning cuppa at the on-site coffee house or enjoy breakfast in your room. The three on-site restaurants serve various Japanese and international dishes, including American barbecue.
The Hilton is near many popular entertainment and shopping areas, but you won't have to go far for a relaxing afternoon. Take a dip in the indoor swimming pool with a view or relax in the wellness spa. They offer packages to get a rejuvenating massage or a soak in the hot tub or sauna.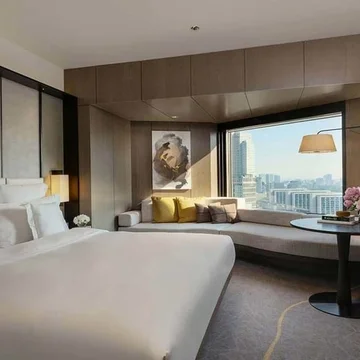 ANA InterContinental Tokyo
The ANA InterContinental Tokyo is in Akasaka, in the center of Tokyo. This area borders the original Edo Castle and is a sophisticated and high-class part of the city. Here, you'll find many luxury hotels, Michelin-starred restaurants, and shopping centers. It is also within close walking distance of many cultural and tourist attractions.
Check Availability
The ANA InterContinental is no different from its sophisticated neighborhood. Bigger is better at this 36-floor contemporary hotel with over 800 guest rooms, 22 event halls, and 12 dining options — all overlooking the Imperial Gardens, Tokyo Tower, and Roppongi district.
Your guest room at The ANA InterContinental is simple and has everything you need for a comfortable stay. The decor features neutral hues with pops of yellow and warm shades. All rooms are spacious with added living rooms and flat-screen TVs, minibars, and work desks. En-suite bathrooms align with the rooms' simple decor boasting clean lines and wood and glass finishes.
The hotel also has a 20m outdoor pool and fitness center to relax at. But, perhaps the most welcoming feature of this hotel is Michelin star chef Pierre Gagnaire's French cuisine. The chef has 12 Michelin stars under his belt, so a chance to taste his culinary excellence is something you must experience while here.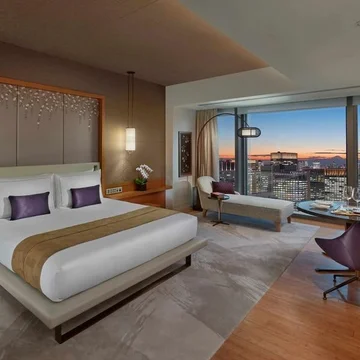 Mandarin Oriental, Tokyo
The Mandarin Oriental is in Nihonbashi, just north of Ginza. This district has been a central commercial district since the Edo Period in the 17th century. Today, it blends vintage with modern. Go from seeing ancient art treasures to visiting the trendiest bars and restaurants.
Check Availability
The Mandarin Oriental, Tokyo, is no exception to the practice of blending the old and new. They also combine the East with the West. This 5-star luxury hotel has a contemporary luxury design and style with traditional Japanese architecture in mind.
All 157 rooms and 22 suites stay perfectly on-theme with sweeping views of Mount Fuji and the Skytree Tokyo. While all rooms are spacious with big, expansive windows, some suites have an extended living room. The bathrooms are also modern and large, with both a bathtub and shower.
The Mandarin Oriental, Tokyo has many on-site entertainment and relaxation facilities, including a gym and spa. The spa offers eastern and western beauty treatments, including a sauna and hot tub. As if that's not enough, there are also nine dining options, one being a Michelin-starred Tapas Bar.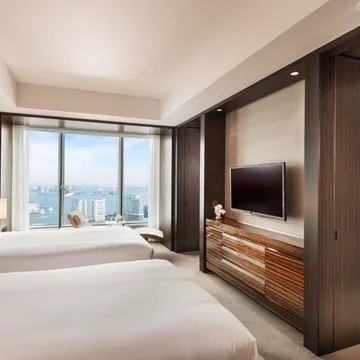 Conrad Tokyo
The Conrad Tokyo hotel is in the Higashi-Shinbashi district of Minato. Shinbashi is the central business district of Tokyo with many salarymen and working-class people. It is always buzzing and hectic, especially during rush hour.
Check Availability
Here people work hard but also make time to play hard. Shinbashi is also known for its entertainment, making it a popular hangout spot.
This luxury hotel is in the heart of the bustling district near many subway stations. The hotel is on the nine upper floors of the Shiodome skyscraper. It rises above the city and offers jaw-dropping views of Hamarikyu Gardens and Tokyo Bay below.
The modern decor of Conrad Tokyo shines through in its spacious and beautifully decorated rooms. They feature floor-to-ceiling windows with a city or bay view. Bathrooms are equally stylish and mimic open-plan settings with glass partitions. They also have elegant marble sinks with your choice of a bath or rain shower and ring light mirrors, so you always look your best.
The hotel is in the business center, so it's only natural to have meeting rooms and banquet facilities. For entertainment, there are fitness amenities and an indoor pool. Guests here have five dining options, offering a variety of French, Cantonese, and Japanese cuisine. After dinner, there's the opportunity to have a drink at the cocktail bar for a nightcap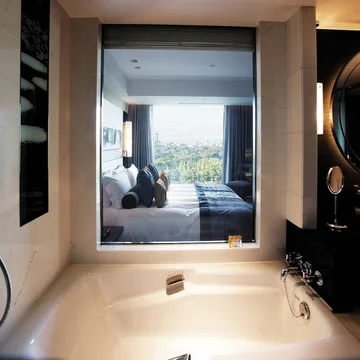 Hotel New Otani Tokyo Garden Tower
Escape‌ city life to a 400-year-old Japanese Garden right in central Tokyo. The 10-acre garden is lush with all kinds of greenery and flowers. There are Koi-filled ponds and even a waterfall on the grounds that will instantly make you think you're in a luxury rainforest resort rather than a busy metropolis.
Check Availability
The hotel grounds are massive, with multiple above and underground floors in the main building, garden tower, and garden court. With nearly 1500 rooms stretched over three blocks, there's bound to be room to suit your luxury and comfort levels.
Experience the Shin-Edo Rooms inspired by ancient philosophies by unwinding in a modern take on ancient Japanese wood bathtubs. Despite being built decades ago for the 1964 Olympic Games, and still practicing ancient philosophies, this luxury hotel has managed to stay modern.
The luxurious suites have modern amenities, including air conditioning, flat-screen TVs, and free Wi-Fi in all living areas. There is also a fitness center, swimming pool, and wellness spa on the enormous grounds.
Guests can also choose from more than 30 dining options with local and international cuisines and drinks. Taste fresh sushi on the lobby floor or gaze at the Tokyo skyline from the hotel's Italian restaurant on the 40th floor.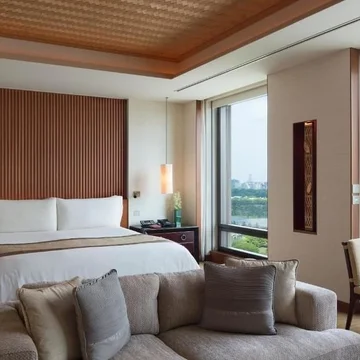 The Peninsula Tokyo
As stated before, Yurakucho is where you can find some of the best hotels in Tokyo. There's fun around every corner, whether you're looking for an izakaya less than two minutes away or fun finds like the Godzilla Statue. The Peninsula, with its green-flagged umbrellas and fresh flowers at the entrance, is just another magnificent treasure near Ginza.
Check Availability
The Peninsula is one of the most expensive hotels in Tokyo and overlooks the Imperial Palace Gardens. The interior of this Tokyo luxury hotel is a modern artwork with beautiful sculptures and architectural designs. Yet, it still retains its Japanese influences.
The chic and modern rooms have high ceilings and elegant marble bathrooms, as well as private living rooms complete with sofas and flat-screen TVs. There's also a dressing area and spa bath for your ultimate comfort. All rooms are accessible for individuals with disabilities, including auditory and visual impairments.
The Peninsula Tokyo prides itself on being a luxury hotel that puts its guests' comfort first. They achieve this through accessibility improvements, sustainability, and just plain pampering. The spa and wellness center includes massages, beauty treatments, saunas, and jacuzzis.
Additional services include a personal trainer and airport transfers by Rolls Royce. The hotel also has nine restaurants with southeast Asian cuisine and international dishes.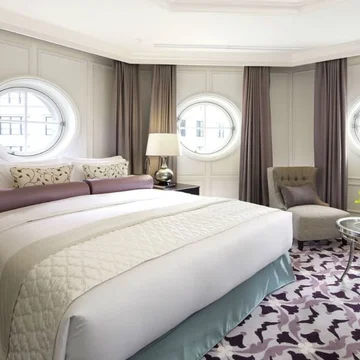 The Tokyo Station Hotel
This historic hotel has been part of the Marunouchi district for over a century. The Tokyo Station has recently been renovated and completed in 2012. The domed roof and red-bricked building pay homage to the ‌pre-war architectural era in the middle of the bustling 21st-century megapolis.
Check Availability
The Tokyo Station Hotel interior echoes the pre-war exterior decor with vaulted ceilings and stained glass windows. Since its renovation, the hotel's amenities and furniture have an updated contemporary European style more inline with its current state.
Rooms in the hotel are spacious, with contemporary en-suites attached for guests with a taste for the finer things in life. Expect BVLGARI bathroom amenities, Nescafe coffee machines, and in-room massages. The suites on the upper levels are where the real lavish living begins, with some having two floors to themselves.
The hotel boasts a spa and wellness center with the usual facilities as well as carbonated hot springs, dry saunas, and cold baths. There are also ten dining options with dishes from Europe and Asia. As a souvenir of your wonderful stay, don't forget to stop by the confectionery and gift shop on your way out.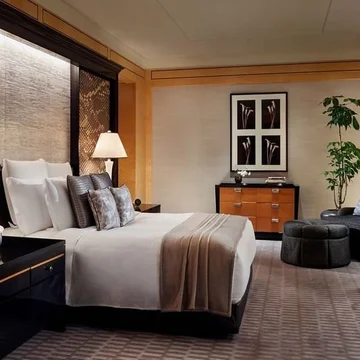 Ritz-Carlton Tokyo
The Ritz-Carlton is in midtown Tokyo in Akasaka, Minato. It is also close to Roppongi, famous for its lively nightlife, with numerous bars and clubs in the area.
Check Availability
However, the area is not only alive when the sun sets. There are also many shopping, dining, and cultural experiences to explore during the day.
The Ritz Carlton in this neighborhood is a superb place to stay on a luxury vacation. It is the tallest hotel in Tokyo at 53 floors high. The hotel is contemporary with heavy influences of Japanese wood paneling throughout.
Rooms carry that decor style as well, showcasing an eastern and western fusion blend. The marble bathrooms are spacious and come with breathtaking views of the Imperial Palace and Mount Fuji.
According to their website, the Ritz Carlton Suite and Presidential Suite are among the most luxurious suites in Asia. They offer exclusive benefits and services throughout.
The luxury hotel serves a variety of high-quality cuisines at each of the six restaurants ranging from local to international cuisine. Azure 45 is the hotel's Michelin-starred restaurant that serves excellent French cuisine. There are also two cocktail bars with the main bar, The Bar, offering live music performances.
The Prince Gallery Tokyo Kioicho
The Prince Gallery is in the Kioi district in Chiyoda. It is also well connected to the rest of the city by subway stations and speed train lines. There are direct links to Nagatacho Station on the Nanboku Line. Chiyoda is quite varied and it's the perfect location for tourists who want a diversified mix of modern Japanese culture and history.
Check Availability
This 5-star hotel captures this idea of ultra-modernity and Japanese history perfectly with its fusion architecture and decor. Expect clean lines from natural materials like wood and glass all around the hotel against a white backdrop. However, in the entertainment sections, like the Sky Gallery Lounge and the Oasis Garden Restaurant, there are bright splashes of color all around to keep the lively mood going.
Guest rooms are spacious and have extensive windows for beautiful city views. They also come with a fully-equipped kitchenette, work desk, and en-suite bathroom. Guest room bathrooms are minimalist, with either a bath or shower. The luxury suites are even more spacious, with extensive en-suite bathrooms and bathtubs overlooking the city sky.
There is a variety of entertainment and fine dining options at this lavish hotel. Take a dip in the indoor pool or relax in the wellness center. There are also four contemporary dining options with strict smart-casual dress codes.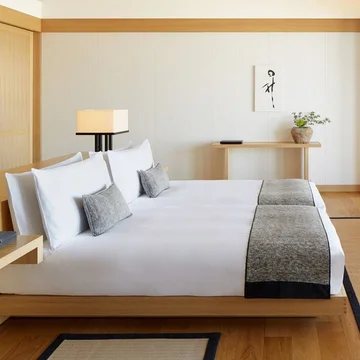 Aman Tokyo
Aman Tokyo is a luxury hotel on the top six floors of the high Otemachi Tower in the Otemachi business district. The Imperial Palace and Kokyo Gaien National Garden are just a stone's throw away from this opulent hotel.
Check Availability
Aman Tokyo balances urban life with Japanese tradition with Ryokan-style suites with ‌elevated sophistication. A serene display with black granite pillars and teak wood welcomes you as you enter. You'll find ikebana displays, doors with washi paper covers, and engawa platforms throughout the hotel.
The rooms are similar, with black granite and wood as the main design inspiration and a sleek and spacious feel. There are floor-to-ceiling windows in both the guest rooms and en-suite bathrooms. As well as a seating and dining area with views from the Imperial Palace or the Tokyo skyline.
The wellness center offers more holistic traditional Japanese treatments and consultations. And there are all-inclusive yoga and pilates workshops for guests interested in the practice. For mealtimes, the four restaurants offer global gastronomic meals prepared by masterful chefs.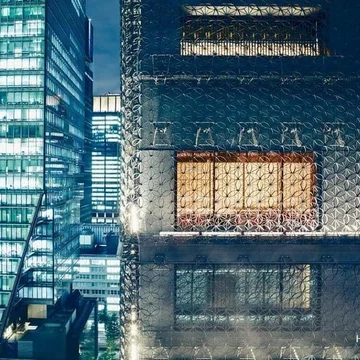 Hoshinoya Tokyo
Hoshinoya Tokyo is another luxury hotel in the economic center of Chiyoda city. This tall black building may look like your usual luxury hotel in town, but it's more like a modern collection of ryokans under one roof.
Check Availability
The first of its kind in the city, this contemporary 17-floor ryokan inn fuses modernity with traditional craftsmanship. The hotel's atmosphere is tranquil — you'll feel it as soon as you slip off your shoes and enter. There are 84 guestrooms with three types of rooms, all furnished and decorated in typical Ryokan style.
Serene, traditional and comfortable, are words that best describe these three room types. Soft lighting pours through the paper window screens ‌with low or floor-level furniture.
The executive room, Kiku, offers spacious seating and a living area. Bathrooms feature deep-set bathtubs for optimal relaxation while soaking.
The two deluxe rooms, Yuri and Sakura, are comfortable and boast contemporary Japanese furniture and tatami floors.
The hotel provides both Western and Japanese-style dining in the rooms, but there is also a restaurant on-site for guests. The restaurant, Nippon Cuisine, is led by executive chef Noriyuki Hamada. Here, he serves traditional French cuisine with a Japanese twist.
5-Star Hotels In Tokyo
There is no shortage of luxury hotels in Japan, and the country's capital city is no exception to the rule. Are you looking for nice hotels in Tokyo to relax in? Why not splurge a bit and book into a luxury hotel that oozes sophisticated luxe instead.
While Tokyo is the (official) land of milk and honey, it can come very close. Especially when you're living in the lap of luxury and eating in Michelin-starred restaurants at any of these opulent boutique hotels.
Find Luxury Hotels in Tokyo