Maldives Luxury Hotels | Best North Malé Atoll Resorts
The Maldives is abundant with luxury resorts perfect for a romantic getaway or a fun tropical vacation. From five-star hotels and private island stays to luxury overwater villas and beach villas, hotels in the Maldives offer exceptional experiences you won't soon forget. If you're looking for an all-inclusive luxury resort in the Maldives, this post is for you.
You can find luxury resorts all over the Maldives, but it's important to note which area your hotel is in before you make a booking. There are three distinct regions: the Northern Atolls, Southern Atolls, and Central Atolls.
The northern Atolls are north of the capital city of Malé and are home to some of the best Maldives resorts. The Central Atolls are not as popular for luxury trips. And finally, the southern Atolls are where you'll find remote island communities and a more traditional Maldivian experience.
This post will introduce you to some of the best luxury hotels in the Maldives' North Malé Atoll area, which is brimming with fantastic hotels and resorts. No matter which chic resort you choose, you'll get to see pristine beaches, lush palm trees, and dazzling turquoise waters, and experience world-class service to boot. Without further ado, here are the best hotels in Maldives.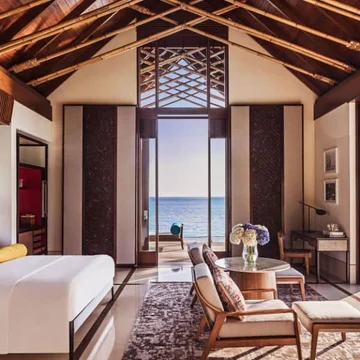 Reethi Rah Island, North Malé Atoll
One & Only Reethi Rah
If you're all about vacationing in style, you'll adore the One & Only Reethi Rah resort on Reethi Rah Island in the Maldives. This tropical getaway offers a private beach for guests, spectacular Indian Ocean views, and world-class hospitality.
Check Availability
There are various rooms and villas you can book for your vacation. For the ultimate tropical experience, book your stay at one of the elegant Water Villas. These villas are located at the end of dreamy docks over the ocean, so you'll always have sweeping views of the water. What could be more luxurious than diving into the sea from your private wraparound sun deck?
One & Only offers some of the most sought-after hotel experiences in the world and a great variety at that. These tailor-made adventures include private picnics on remote coves, seaplane excursions, and much more.
Of course, you can also make use of the resort's many facilities, including their deluxe ocean-facing wellness spa, tennis courts, and infinity pools.
Keep in mind that this hotel has a four-night minimum stay policy. But you won't want to leave at all once you see your incredible suite or villa.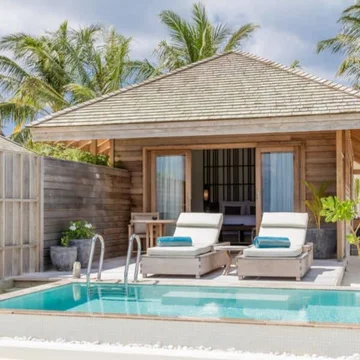 Kagi Maldives, North Malé Atoll
Kagi Maldives Spa Island
Expect modern, chic suites and overwater villas at the Kagi Maldives Spa Island, a space for relaxation and fresh sea air. You'll get sensational views of the Indian Ocean every day from your private suite, not to mention access to the incredible hotel spa, the Baani Spa Complex.
Check Availability
This is no ordinary spa, but more of an oasis built over the water. The circular building has wraparound private balconies, some of which have soaking tubs for guests to relax in while they marvel at the water below and skies above. The spa offers cleansing rituals to help align your energies and more traditional options like massages and beauty treatments.
At Baani Spa, you can even delight in a fancy sushi platter while you have your temples massaged or get a pedicure done. Baani is all about offering a wellness experience both inside and out.
You can stay at the Kagi Maldives on the hotel's luxury all-inclusive plan. This way, your needs will always be catered to without ever needing to carry your wallet.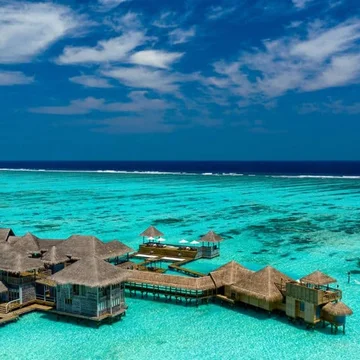 Lankanfushi Island, North Malé Atoll
Gili Lankanfushi
Staying at Gili Lankanfushi will be a dream come true for vacationers, particularly honeymooners looking for a romantic getaway.
Check Availability
If you want to truly indulge on vacation, why not book the exceptional Private Reserve Villa? This home floats on the water like something out of a fantasy, and it's secluded from the main resort, giving the space utter peace and quiet.
The multi-story villa boasts its own cinema, gymnasium, spa, and of course, cocktail bar. But the most prized feature of the Private Reserve Villa is the fantastic water slide on the rooftop deck. This will take you whizzing straight into the warm water below.
Back at the resort, you can dine in style at the award-winning restaurant or visit the luxurious Underground Wine Cellar. It houses over 500 varieties of wine from around the world and even offers dealcoholized wines for non-drinkers who want to join in the fun.