Maldives Hotels: 5 Star South Malé Atoll Hotels
Warm turquoise waters, white sandy beaches, and endless sunshine… One could only be thinking of the Maldives. This magical oasis in the Indian Ocean is a popular beach vacation amongst couples and families alike.
Now, with over 1000 islands making up this tropical destination, you may find yourself wondering where to stay in the Maldives.
Many first think of the North Male Atoll, but the answer is actually the Southern Male' Atolls of course. This cluster of islands doesn't only offer all the Maldivian perks – sapphire blue lagoons and white sandy expanses – but they are close enough to the Maldives capital, Malé, to be convenient.
The Southern Malé Atolls also boasts an array of luxury resort hotels, perfectly suited to families and couples alike. Whether you're looking for a fun, adventurous holiday or relaxing time with your significant other, you'll find the perfect luxury resort here.
Maldives 5 Star Resorts
The Maldives is known for its luxury hotel offering, and the hotels located in the Southern Male' Atolls are no exception. From scrumptious gastronomic offerings to exciting water sports, these luxury resorts can cater to your every desire.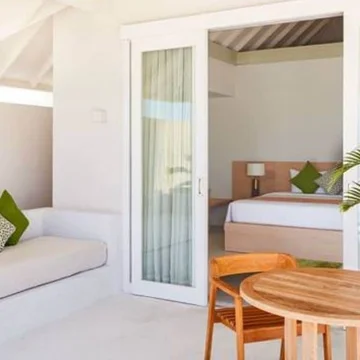 Olhuveli, South Malé Atolls, Maldives
Sun Siyam Olhuveli
At Sun Siyam Olhuveli, you're in for an active and adventurous stay in the Maldives. Situated on a gorgeous lagoon, this 5-star resort is the perfect base from which to explore the surrounding natural beauty.
Check Availability
Whether you want to simply explore the neighboring private island by yacht, or try something a little more exciting like windsurfing, kayaking, or sailing, the hotel is sure to have it on offer.
For those interested in marine life, you'll want to take advantage of the diving excursions. With the guidance of an experienced professional, you'll be taken to underwater caves and nearby shipwrecks – the best way to see magical marine life.
Once you're back on dry land, you can try your hand at tennis or head down to the white sandy beaches for a game of volleyball or badminton.
Now, after all these activities, you'll be looking to grab a bite to eat or a refreshing drink. This luxury hotel in the Maldives will leave you spoilt for choice. The Sun Siyam Olhuveli luxury resort boasts nine restaurants run by world-class chefs – each of which serves its own particular style of dishes. Your palate will surely be satiated by that?
In the drinks department, you'll find five bars to choose from. But the best part, surely, is that you can learn how to whip up your favorite cocktail with the help of the resort's mixology masters. Did someone say pina colada?
Now, this exclusive resort knows that party goers and meditators alike will walk through the hotel's front doors. Luckily, they've thought of everything. Spend the evenings watching Maldivian entertainment, or letting the rhythm run through you at a weekly beach party.
In the morning, head down to the spa for some TLC. The hotel offers a blend of Western and Asian wellness practices that make for a wonderful experience.
Now last, but certainly not least, is this Maldive island resort's gorgeous accommodations. Furnished with traditional-inspired decor, the villas give off a feeling of beachy sophistication.
Now, the private beach villas are divine, but for a truly luxurious stay, be sure to book one of the water villas. With ample space, plush king-sized beds, outdoor loungers, and a private pool, these villas ooze beachy prestige. Oh, and that's over and above the fact that you'll be able to dive off of your deck into the warm Indian Ocean.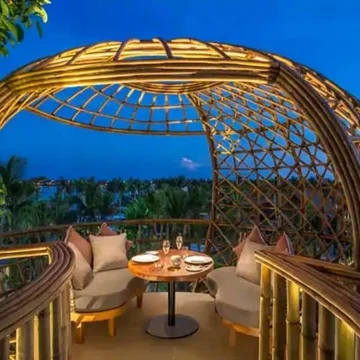 Ithaafushi Island, South Male Atolls, Maldives
Waldorf Astoria Maldives Ithaafushi
When people think of the Maldives, they immediately think of crystal clear waters and bright sunshine. At the Waldorf Astoria, you'll experience this, and so much more.
Check Availability
By day, you can spend your time lounging in a poolside cabana while being served the finest champagne and freshest oysters. Or rent a complimentary bike from the hotel and spend some time discovering the island for yourself. And by night, you can shake your body to the rhythm of the DJ's beats.
Of course, Waldorf's world-class spa will be calling your name. So do pop in for a tension-releasing massage or relaxing spa treatment. If you're looking to stay active during your vacation, you'll be pleased to hear that this 5-star hotel in the Maldives offers many outdoor activities such as tennis.
And don't worry about keeping your kids entertained while on vacation. With the Astoria Young Discovery Park, your little ones will not only be entertained 24/7 but also take part in some interesting and educational activities.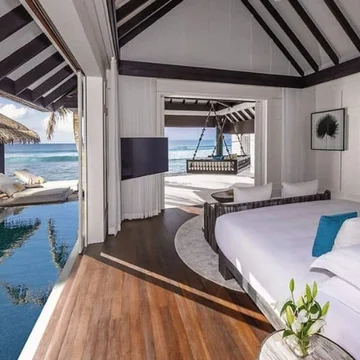 South Malé Atoll, Maldives
Naladhu Private Island
With only 20 villas attached to this tiny island, the Naladhu Private Island resort is one of the few small luxury hotels. And offers something not easily found in this part of the Indian Ocean – peace, quiet, and privacy.
Check Availability
Each sophisticated villa on this remote island hideaway boasts a private plunge pool, an outdoor shower, butler service, and a 24-hour breakfast. You're also guaranteed to have either a sunset or sunrise view too.
While staying at Naladhu, start your mornings the right way, with sunrise yoga sessions on the beach. Or perhaps a tailored session in the gym with a personal trainer? What's more, this top hotel has an on-site nutrition specialist to help you with your health regime – whoever said you couldn't stick to a healthy lifestyle while on vacation?
After all of that, there couldn't possibly be any more to Naladhu Private Island. But yes, there is. This luxury Maldives hotel has many other experiences and activities on offer. From culinary classes with a Michelin star chef to private yachting, diving expeditions, and surf lessons, you'll never have a dull moment at this Maldives 5-star hotel.
Las