Whether you visit Morocco to explore its mysterious medinas, taste some tempting dishes, or simply marvel at the Sahara desert, you're in for a treat. Just walking through the medina's narrow pathways is an adventure of its own, while riding a camel through Sahara's dunes is a one-of-a-kind experience you'll never forget. The most appropriate way to delve into this fascinating country is definitely through its luxury hotels that manage to embody Morocco's rich and varied history.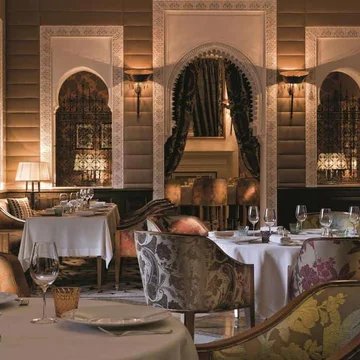 Royal Mansour Marrakech
Expensive, bold, and extravagant, Royal Mansour is the most luxurious hotel in Marrakech and guests can rest assured that it's worth every penny. Nestled inside the walls of the imperial city and overlooking the majestic peaks of the Atlas Mountains, Royal Mansour Makes hides over-the-top amenities inside its exclusive 5-hectare estate.
Check Availability
The hotel's brilliant locations inside the medina within the walled section of the ancient city present the ideal base for savvy travelers who want to explore this inviting city on foot. Jemaa el-Fnaa square is just 10 minutes away while all the main attractions within the historic city including The Koutoubia Mosque, Ben Youssef Mosque, and Majorelle Garden are within a 20-minute walk.
This hotel offers unparalleled luxury in grandiose interiors where no detail is overlooked. Picture tile mosaics and carved wooden ceilings created by an army of local artists, gold leaf decoration on the walls, and silk fabrics. The exquisite decor continues in the enormous suites which feature at least two floors, private plunge pools, hammams, fully-equipped kitchens, and roof decks. The ambiance is decadent with a red color palette, leather, and copped furnishings, and enormous beds.
With its own medina, three restaurants, lavish gardens, 53 sumptuous riads, and 2500 square-meters spa, Royal Mansour Marrakech is arguably one of the most opulent hotels in Morocco.
The superior Riad room starts at $1,200.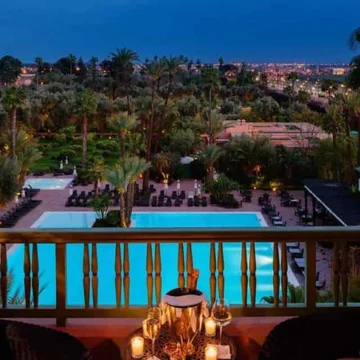 La Mamounia Marrakech
Marrakech's grande dame, La Mamounia is just minutes away from the famous Jemaa el-Fna Square and within close proximity to both the old and the new part of the city. The city's oldest mosque, the Koutoubia Mosque is a 15-minute walk away, while the Marrakech Menara Airport is a 10-minute drive away.
Check Availability
The hotels boast an enviable guest list including Winston Churchill, Jenifer Aniston, and Princess Caroline of Monaco. As you might expect, the service is impeccable and courtly. Nice touches such as fresh flowers and bowls of fruits remind guests that they are indeed at a five-star hotel in the unforgettable Marrakech. Rooms embody the Morrocan art of living with tile work on the walls, painted wooden doors, and king-size beds with arched headboards. Guests can pick between a room with garden views or views over the Atlas Mountains and the Koutoubia Mosque. Each room is equipped with a flat TV-screen, minibars, in-room safes, work desks, and free Wi-Fi. The sleek decor continues in the bathrooms furnished with white marble and Morrocan tile work. All bathrooms have deep soaking tubs, rain showers, vessel sinks, and luxurious toiletries.
Boasting 5 bars, a lavish spa, four inviting restaurants, two pools, and a mini shopping mall, La Mamouina may tempt you to never leave its gates.
The Superior Hivernage room starts at $550.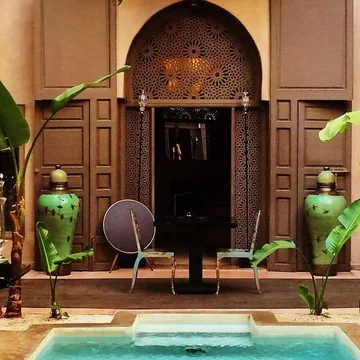 Riad Noir d'Ivoire
A hidden oasis in Marrakech's historic Medina, Riad Noir d'Ivoire's sumptuous accommodation will leave you in awe. Aside from boasting ultra-modern rooms, Riad Noir d'Ivoire also has an enviable location in Marrakech's historic center; just a 20-minute walk from the famed Jemaa el-Fna square. As proof of their outstanding service, Riad Noir d'Ivoire provides every guest with a cell phone, so guests can call the hotel in case they get lost in the city.
Check Availability
The hotel's spacious rooms hidden behind riad's walls are tastefully decorated with Berber and authentic Marrakesh artworks, fabrics, and furniture. The warm earth-toned palette and the delicate lightning add a romantic vibe to the ambiance. Well-heeled travelers particularly cherish the Guepard Suite, also known as "the honeymoon suite", which boasts a large roof terrace, spiral staircase, and ornate living room overlooking the summer courtyard. And if that's not enough to capture your attention, let's just add that the suites at this hotel also have traditional Moroccan tadelakt bathrooms and private roof terraces with a jacuzzi, sunbeds, and dining pergola.
One striking feature of Riad Noir d'Ivoire is the lavish 27,000-square foot spa which features 13 treatment rooms, hammams, a beauty salon, and an indoor and outdoor menu with luxurious beauty treatments and massages for both men and women.
Rooms start at $530.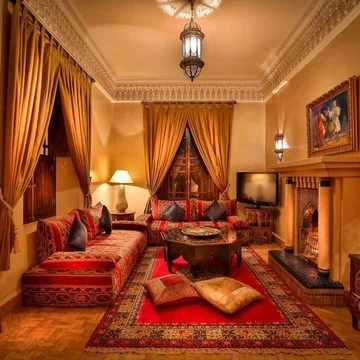 Riad Kniza
Riad Kniza is situated in the Bab Doukkala quarter in the city's historic center. Step outside of the hotel gates and you'll find yourself in a vibrant area filled with small shops, restaurants, and narrow passageways. The hotel is 20 minutes away from the beautiful Jemaa el Fnaa mosque and the main square.
Check Availability
Riad Kniza is set in a restored 18th century property that boasts 11 enormous and luxurious rooms. Tastefully decorated with authentic Morrocan decor, the rooms have a decadent and romantic ambiance. Think fireplaces with intricate tile work, Morrocan chandeliers with jewels, and dark wood furniture. Carved wood headboard tower over the king-size beds fashioned with soft linens. The rooms feature floor-to-ceiling windows that overlook the hotel's lavish courtyard and are equipped with amenities that include air-conditioning, flat TV screen, in-room safe, minibar, and high-speed Wi-fi. The extravagant decor continues in the bathrooms with cream-colored marble, deep soaking tubs, and separate showers.
Well-mannered and attentive, the hotel's staff spare no effort to fulfill every guest's wish and ensure they feel at home. The hotel is reputed as having one of the best Morrocan tables in town. Guests can enjoy authentic Morrocan dishes in the hotel's sumptuous salons or on the roof terraces overlooking the city.
Rooms start at $420.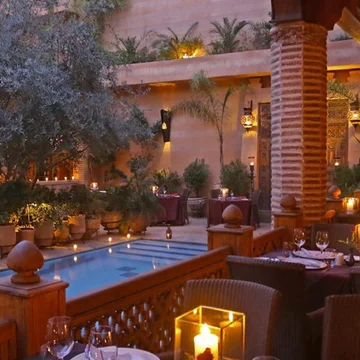 La Maison Arabe
Opened in 1946, La Maison Arabe is the first boutique riad-hotel set within the medina in Marrakech. The hotel has welcomed numerous A-listers and celebrities including Rita Hayworth, Ernest Hemingway, and Winston Churchill. Around La Maison Arabe, there are numerous narrow streets filled with authentic shops from where friendly vendors will greet you. Jemaa el Fnaa mosque is a 20-minute walk away, while El Badi Palace and Jardin Marjorelle are a six-minute drive away.
Check Availability
The hotel's 12 guest rooms and 14 suites are centered around an interior courtyard. The rooms are tastefully decorated in Morrocan style and boast a decadent atmosphere. Picture patterned rugs, hand-painted walls, carved wooden doors, and traditional lighting, including numerous African-inspired and hand-picked artworks. The spacious bathrooms feature Morrocan marble, deep soaking tubs, separate showers, large vanities, and luxurious toiletries.
If you need extra space, book a two-floor suite with a separate living area and lofty-style bedroom. Each room is equipped with a minibar, in-room safe, flat TV screen, and free Wi-fi.
With two restaurants, a lavish spa, a piano bar, and two enormous pools, La Maison Arabe is one of the top boutique options in Medina.
Double rooms start at $440.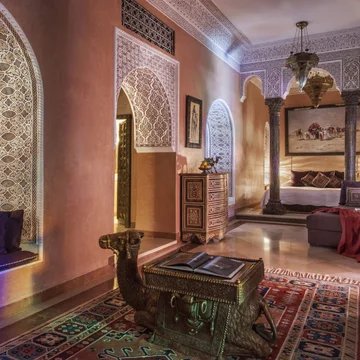 La Sultana Marrakech
La Sultana Marrakech is a luxurious hotel located in the heart of Marrakech's old city. The hotel's location is the ideal base for travelers who want to explore the city on foot as Bab Agnaou, the Royal Palace, and Badi Palace are just a short stroll away. Other notable attractions, including Jemaa el-Fna and the Souks, are just 10 minutes away.
Check Availability
Guests can choose from 28 rooms and suites, all equipped with top-notch amenities. The hotel's interiors blend perfectly Moorish decor with Moroccan furnishings, creating an oriental ambiance. A rich color palette of red, blue, and yellow can be spotted in every room, while the delicate lighting balances everything out. Impeccable Morrocan craftsmanship is evident through all spaces as well as animal prints, authentic tile work, and carved wood ceilings. The Zebra suite, for example, is uniquely decorated with a zebra rug, framed artworks of zebras, and sofas with a zebra print, while the Jaguar suite boasts ruby-red fabrics, Morrocan lanterns, and rose-coloured walls which create a romantic ambiance.
Each room at the hotel has over-the-top amenities including king-size beds, Pioneer sound systems, well-stocked minibars, and free Wi-Fi.
Savvy gourmets can enroll in morning cooking classes and try to cook traditional Moroccan dishes themselves. Those who just want to savor this country's tempting cuisine can book a table at the hotel's renowned restaurant where a multi-course menu is prepared by a dynamic culinary team.
Rooms start at $450.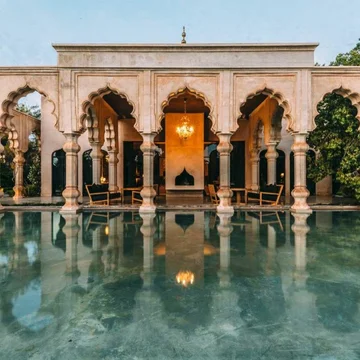 Palais Namaskar Marrakech
Palais Namaskar is a luxurious hotel nestled in a peaceful enclave between the Atlas Mountains and the Djebilet Hills. This is the ideal location for anyone looking for a quiet oasis while still being in close proximity to Marrakech's historic center. All main attractions, including Badi Palace and Jemaa el-Fnaa, are 25 minutes away.
Check Availability
The hotel spreads across 12 acres of beautifully landscaped property in the upscale district of La Palmeire. Unlike most of the hotels in Marrakech which boast a traditional Morrocan style, Palais Namaskar is designed according to the principles of Feng Shui. All rooms have a relaxing and calming ambiance with water features, fireplaces, freestanding soaking tubs, and private terraces overlooking the beautifully landscaped courtyard. Guests can choose from 41 rooms, suites, and villas, all equipped with upscale amenities. The rooms are spacious and feature king-size beds, comfortable sofas, and balconies with plunge pools, while the suites are set in the quieter locations and feature private pools. The bathrooms are equally stunning with a spa-like ambiance featuring pale marble tiles, oversized showers, and double vanities.
The hotel's on-site restaurant, Le Namaskar offers Thai cuisine in an extravagant setting with Murano glass chandeliers and a large fireplace.
Rooms start at $420.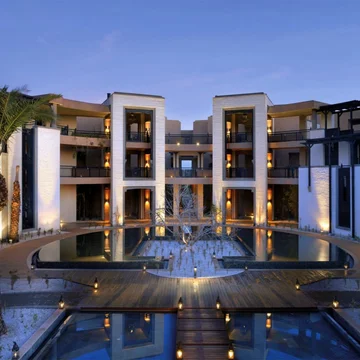 Fairmont Royal Palm Marrakech
A wonderful escape, Fairmont Royal is situated in a secluded area 25 minutes southwest of Marrakech's old center. Guests at the hotel can rent vehicles to explore the Lalla Takerkoust Lake Shores, the Agafay Desert, and the wonderful dunes. Plus, there's a free shuttle from the hotel for guests that want to explore the Medina and other notable attractions including Jemaa el Fna Square and the Koutoubia Mosque.
Check Availability
Fairmont Royal has 134 luxurious guest rooms, suites, and villas overlooking landscaped gardens and the Atlas Mountains. Starting at 775 square-meters, the rooms are spacious and airy. All have floor-to-ceiling windows and large terraces furnished with chairs, tables, and daybeds. Rooms have a tasteful, sophisticated decor with a mixture of Berber and contemporary Morrocan details such as colorful rugs, Morrocan lanterns, tea tables, and Mashrabiyah screens. Amenities include air-conditioning, flat TV screen, well-stocked minibars, in-room safes, tea and coffee making facilities, and free Wi-Fi. Bathrooms are sleek with chocolate-brown mosaic walls, large soaking tubs, and separate showers.
Fairmont Royal boasts 6 eclectic restaurants and bars offering Morrocan, French, and Tai cuisine. All restaurants are luxuriously decorated with crystal chandeliers, unique works of art, and floor-to-ceiling windows overlooking landscaped gardens and the 2,000 square-meters pool.
Rooms start at $500.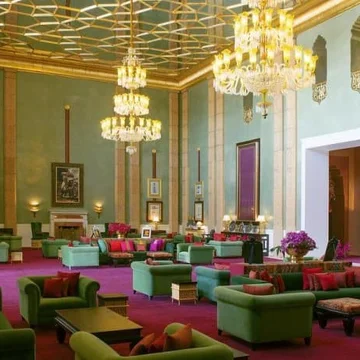 Sahara Palace Marrakech
Sahara Palace Marrakech is a stunning hotel situated in the upscale Palmeira region. The area is quiet and peaceful and the hotel is a 30-minute drive away from the city center, and only a 10-minute drive away from notable attractions including Bahia Palace, Garden Majorelle, and Koutoubia Mosque. This opulent hotel gained international attention after it served as the film setting for "Sex and the City 2".
Check Availability
The hotel's opulent 161 rooms and suites are spread across four riads. All units have stunning views over the Atlas Mountains, the beautiful gardens, and the desert landscape. These are some of the largest rooms in Marrakech with the Royal Suite (featured in "Sex and the City 2") boasting 5,382 square-foots. The decor is sophisticated with rose-colored Moroccan carpets, lanterns, and floral patterned ceilings. Mauve walls, fireplaces, and velvet sofas add to the overall oriental aesthetic. Standard amenities include espresso makers, minibars, flat TV screens, and high-speed Wi-fi. Bathrooms are sleek, furnished with white marble, deep soaking tubs, separate showers, and gold sinks.
One striking feature of Sahara Palace Marrakech is the lavish Jiva Grande Spa equipped with two large hammams, 14 treatment rooms, a yoga temple,indoor pool, and an enormous fitness center. In the area, there are numerous biking and jogging trails as well as three golf courses.
Rooms start at $450.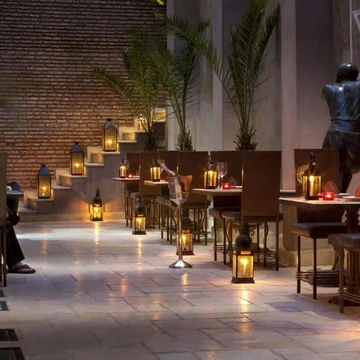 Villa Makassar Marrakech
Nestled in the southern end of Medina, Villa Makassar is a peaceful haven while still being close to all the major attractions in Marrakech. The hotel is in close proximity to Mellah, the Jewish quarter, while Jemaa el Fnaa is a 20-minute walk away.
Check Availability
Villa Makassar's rooms have a romantic vibe with authentic Moroccan-style, colorful rugs, and flower details. Numerous African statues, original works of art, dark-wood furnishings, and Moroccan lanterns evoke the cultures of the continent. Guests will have a good night's rest in the branded bedding with cotton sheets. In the enormous bathrooms, guests will discover a hydro massage shower, deep soaking tubs, bathrobes, slippers, and luxurious toiletries. Suites feature separate living areas with a fireplace, while the Brondy room features an elegant bathroom with green-and-brown marbled walls and counters. Standard amenities include air-conditioning, flat TV screen, in-room safe, tea and coffee making facilities.
The hotel's restaurant serves authentic Morrocan cuisine in a retro setting with Art Deco furniture and Gatsby-inspired artworks.
Deluxe rooms start at $300.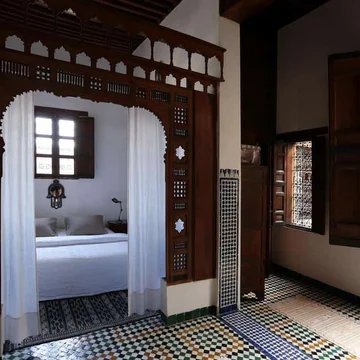 Dar Seffarine
This stunning hotel is situated near the famed beaters souk on the Place Seffarine near the Al Quaraouiyine Library and the Mosque. Step outside the hotel's gates and you'll find yourself in a vibrant part of the medina filled with narrow pathways, small shops, and tanneries.
Check Availability
The hotel's property is 600 years old and it's one of the best examples of traditional buildings in Fez. The restoration of the property was a mammoth project taking 25 craftsmen and 2 years of work to bring the hotel back to its original magnificence. Picture salons with four meters high doors, geometric decorations on the walls, and furniture made of cedar. Floors are an impressive mixture of traditional "zellij" mosaic and marble. There are six suites all uniquely decorated with rugs, statues, cedar furniture, and hand-beaten lanterns. Beds feature Egyptian cotton sheets. Master suites boast stunning views over the river and the medina.
Dinner and lunch are served on the rooftop terrace in a traditional Morrocan style; everyone is gathered around one big table. Traditional Morrocan dishes are prepared by the hotel owners and you can expect some tempting specialties such as silky carrot and coconut soups, Iraqi stews, and meatballs topped in a tomato sauce with black limes.
Rooms start at $100.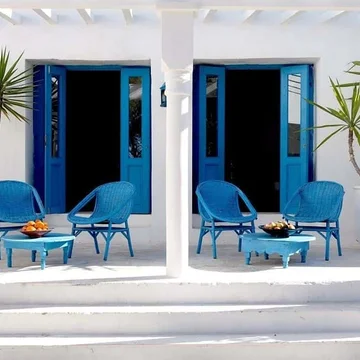 Auberge Tangaro
Blissfully remote, Auberge Tangaro is a small boutique hotel perched on a hill above the charming village of Diabat. The hotel is 20 minutes away from Essaouira, while the excellent Sofitel Gold and Spa is a few steps away.
Check Availability
The hotel boasts 19 rooms and suites, all featuring authentic and traditional Morrocan style, each with a warm fireplace and a private balcony. The rooms are tastefully decorated with lanterns, small statues, and oil paintings, and the king-size beds feature firm mattresses, Egyptian cotton bedding, and Moroccan wool blankets. There' no Wi-fi though – Auberge Tangaro invites guests to forget about their daily life and spend their day by the pool contemplating the beautiful nature surrounding the hotel.
On the spacious terrace, traditional Morrocan breakfast is served every day, comprising home-baked bread, pastries, fruits, and yogurt from the local souks. For dinner, guests can enjoy tempting a tempting three-course menu paired with the fines Morrocan wines in a candlelit salon.
Rooms start at $100.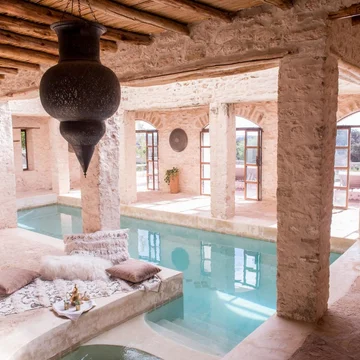 Villa Anouk
A hidden gem, Villa Anouk is a charming hotel situated in the beautiful countryside surrounding Essaouira. The hotel is 20 minutes away from the city in Essaouira where guests can discover numerous excellent boutiques and restaurants. The best way to explore the region around Essaouira is to rent a car.
Check Availability
The property features Moroccan Beldi style which means that it is entirely built from stone and wood with thatched wood ceilings throughout. Created with natural materials by locals masters of Morrocan craftsmanship, rooms have a warm and romantic ambiance. Guests can choose between seven bedrooms including five sumptuous suites. Additionally, there is a superior room and a twin room, each boasting a unique decor. Meticulously crafted Beldi touches can be seen throughout the house including cedar-wood framed doors, wire-framed armchairs, arched windows, and thuya beamed ceilings.
The best way to spend the day at the hotel is to relax on the comfortable sun loungers surrounding the swimming pool. Order a cocktail and contemplate the views over the forest of Douar Laaraich.
Have breakfast in your king-size bed or head over to the communal dining room and mingle with the friendly culinary team. Coffee, Moroccan tea, baskets of hot bread and pancakes, cereals, and eggs are served every day.
Double rooms start at $180.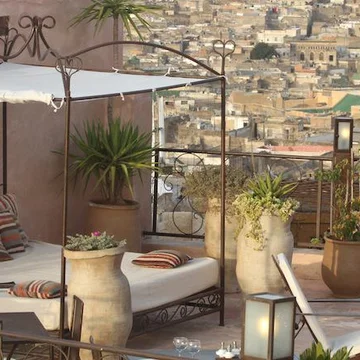 Riad Laaroussa
A 17th-century palace in Fez's medina, Riad Laaroussa offers sumptuous accommodation in a stunning location. Talaa Sghira and Ta'ala Kbira, the two main shopping streets with numerous dining and shopping options are just around the corner.
Check Availability
The hotel has only eight suites and rooms featuring an authentic Moroccan style with original mosaic floors, painted wall ceilings, and hand-carved plasterwork. All rooms have a fireplace, king-size beds, Morrocan lanterns, and hand-crafted furnishings from Morocco and Asia. The stunning green Tadelakte bathrooms have deep soaking tubs and are decorated with candles.
At Spa Laaroussa, guests will discover a beautiful hammam and an authentic Moroccan steam room decorated with Carrara marble. The spa's menu features traditional relaxing massages with essential oils, body scrubs, ghassoul facial masks, and beauty treatments. The soothing ambiance with quiet music, pleasing aromas, and candles will help you forget about your daily worries.
Riad Laaroussa offers two distinct dining experiences: traditional Morrocan restaurants with some home-cooked meals and light Mediterannean meals at the Bistro Laaroussa. Whatever you choose, you can enjoy your meals on the roof terrace with a view over the historic Merinides tombs and majestic Mt Zalagh.
The rooms start at $120.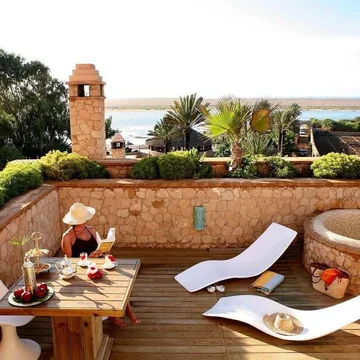 La Sultana Oualidia
The perfect place to unwind, La Sultana Oualidia is a charming village on the Atlantic Ocean surrounded by beautiful nature and rare wildlife. If you want to explore this hidden gem but still enjoy the comforts of luxury accommodation, book a room at the renowned hotel La Sultana Oualidia.
Check Availability
Rooms at the hotel are designed with natural materials in order to blend with the beautiful surroundings; ceilings feature rows of Oleander while the walls are stone and tadelakt. Throughout the hotel, there are numerous painted pieces of wooden furniture and the ancient marble floor adds to the air of traditional elegance. All rooms feature a private terrace with a seawater Jacuzzi overlooking the Atlantic Ocean. Standard amenities include air-conditioning, satellite TV with screen plasma, free Wi-Fi, tea and coffee making facilities, and a non-alcoholic mini-bar.
At La Table de la Plage, guests can enjoy some tempting dishes in a tropical setting. Most of the products used are grown locally in the hotel vegetable garden. Specialties include oysters, sea-perch cooked in a salt crust and bouillabaisse.
Rooms start at $380.
Find Luxury Hotels in Morocco