Luxury Hotels in Auckland | Best 5-Star Hotels in Auckland, New Zealand
If you're looking for the best luxury hotels in New Zealand, Auckland is home to a few of them. These hotels are coveted for their wonderful city and ocean views, excellent customer service, and of course, the most delightful luxury accommodation experiences.
Also known as the business hub of New Zealand, Auckland's CBD offers you luxury intertwined with metropolitan living. If you've been accused of all work and no play, you'll have to correct that by choosing one of these amazing luxury hotels to call home for a few nights.
Auckland is the most populous urban area in all of New Zealand. Located on the North Island, this city is well known for its surrounding hills, rainforest, and volcanic field. For full relaxation, be sure to also venture out to the Waitakere Ranges Regional Park or catch a ferry to Waiheke Island.
Have a look at some of the best luxury hotels in New Zealand and take your next vacation in Auckland city.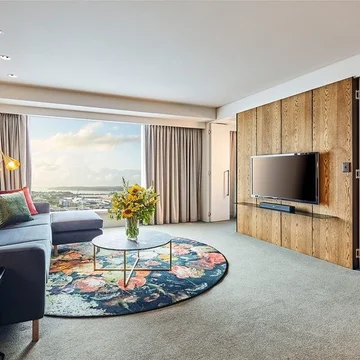 The Grand by SkyCity Hotel
The Grand by SkyCity is an amalgamation of entertainment and luxury accommodation. This 5-star hotel is located within view of the wonderful Auckland city skyline and the harbor.
Check Availability
You can enjoy a luxury spa coupled with amazing dining experiences at the SkyCity Grand Hotel. The stylish rooms at this hotel are fitted with Wi-Fi and a modern bathroom. Each room also has a flat screen TV for relaxing after a long day out sightseeing.
You can also visit the SkyCity Tower, 24-hour casino, and entertainment complex right outside the hotel. With over 20 restaurants, cafes and bars, you won't be left stranded with nothing to do.
If you're interested in fitness, this hotel also features a fully equipped fitness center. Do a few laps in the heated pool, or visit the sauna and spa to work out those knots in your shoulders. At the hotel's East Day Spa, you can experience a massage as well as some fantastic skincare treatments.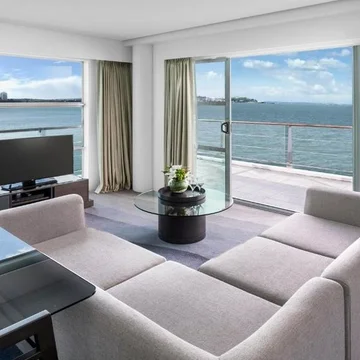 Hilton Hotel
If you're in search of legendary luxury, the Hilton Hotel ensures a lavishly stylish vacation. From the hardwood floors to the stunning views, this is one of the best 5-star hotels Auckland has on offer.
Check Availability
Ideally situated at the end of Princess Wharf, you can expect serene views of the harbor from the well-established cocktail bar. Take your pick from the menu and sit back to enjoy the surroundings of the stylish Bellini bar.
This hotel also features an outdoor swimming pool for warm summer days and an indoor fitness center for guests.
The hotel rooms are fully equipped with wireless internet and a workstation for busy business people on the move. Once the day is done, you can sit back on the private balcony and unwind from a work-filled day.
The main drawcard of this hotel is its location, which is within walking distance of the city center. You can enjoy nearby entertainment right at the foothills of the major establishments.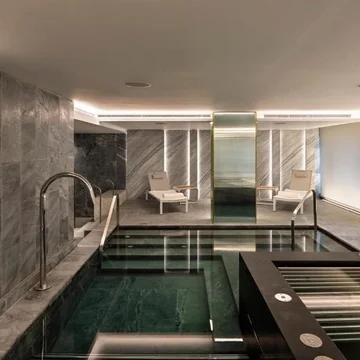 Park Hyatt
No list of Auckland luxury hotels would be complete without mention of the Park Hyatt. From a modern swimming pool area to lavish dining experiences, you'll surely be dipping your toes into one of the city's most decorated luxury hotels.
Check Availability
Enjoy your private bathroom and 24-hour room service to ensure supreme comfort. You can also go and relax at the spa and sauna after a workout at the indoor gym. Sip glasses of champagne in the hot tub or enjoy a cup of coffee in the garden.
This hotel also features a free continental breakfast every morning, to give you the energy you need for the day. Although, if you'd like to explore restaurants in surrounding areas, you can head over to Baduzzi for a taste of Italy.
The Park Hyatt is 11 miles (18 km) away from the airport. Ideally located at the heart of Auckland, you're surrounded by popular points of interest like the beach and convention center.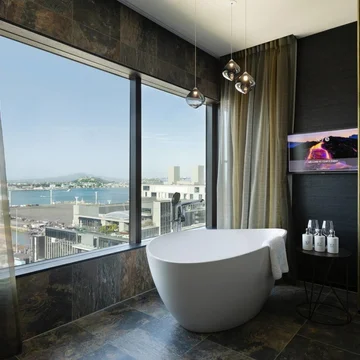 SO/ Auckland
Some of the best hotels in Auckland cannot compare to the unique trendy interiors of the SO/ Hotel. Prized as an urban hotel, the SO/ will wow you with wonderful views and delightful amenities.
Check Availability
Each room features a complimentary mini-bar to welcome you into your new space. If you're in the mood for a delightful meal of french cuisine, you can go to the on-site restaurant and experience a delicious a la carte menu. If you've had a long day and would prefer to stay in, their room service opt