Best Luxury Hotels in Queenstown, NZ (Top 5-Star Stays)
While other South Island destinations radiate a sleepy Kiwi charm, the alpine town of Queenstown operates at full throttle when it comes to adventurous activities. Here you'll find a year-round holiday hub sprinkled with plenty of opulent hotels to stay in oh la luxury.
As New Zealand's 'adventure capital,' Queenstown is a place that strikes the perfect balance between natural beauty and iconic attractions. From towering glaciers to tranquil rivers and lakes that carve through the land, this stunning resort town has become a haven for all types of visitors.
After a long day filled with activities, take refuge in one of these 5 star hotels in Queenstown, New Zealand. Let's dive into our top picks for the best hotels in Queenstown, NZ.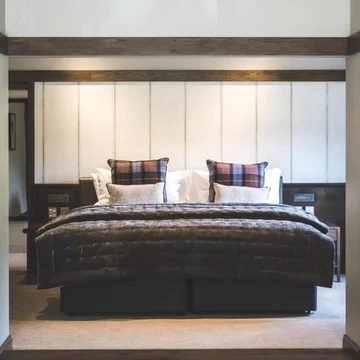 State Highway, Queenstown
Gibbston Valley Lodge and Spa
Located at the heart of the Central Otago wine region in the Southern Alps, the Gibbston Valley Lodge and Spa offers sumptuous accommodation to its guests. From 5 star personal service to the on-site restaurant and spa, the magnificent lodge sits nestled amidst a tranquil setting and awards its visitors with sweeping views of the breathtaking peaks.
Check Availability
The 24 private villas feature panoramic views over the vineyards and Gibbston mountain rage. All luxury villas are temperature-controlled, spacious, and private. The bathrooms have a walk-in shower, a separate bath, dual basins, and locally made beauty products.
Enjoy an a la carte menu at the restaurant, including gluten-free and vegan options available. You'll get to sample mouth-watering delights and fine dining with a menu prepared by the Head Chef, Anthony Gradiska.
Guests are able to enjoy a variety of packages, all tailored to their interests. This could include wine tastings and tours, spa treatments, food packages, and more. It's by far a favorite amongst Queenstown's luxury boutique hotels to connect to the enchanting landscape and enjoy opulence and some vinotherapy spa treatments.
The rates to stay in one of the luxury suites start at $407 per night.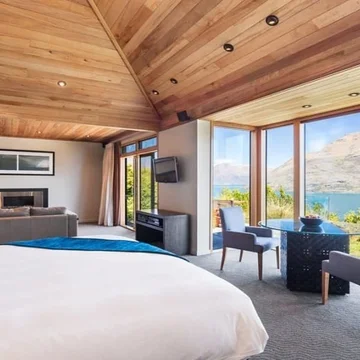 Azur Luxury Lodge
Another all-time favorite luxury hotel in Queenstown, Azur Lodge offers private villas in a secluded area hugging Sunshine Bay. Here visitors are spoiled with sweeping views of the shores of Lake Wakatipu and towering mountain peaks.
Check Availability
Each of the nine villas rooms are designed to help you relax and absorb the incredible views in chic extravagance and total privacy.
There's a minibar, free wifi and an LCD TV, and a fireplace located in the spacious living area of your suite. The bathrooms feature a large spa bath, ideal for soaking in after a day of activities.
As a true luxury boutique hotel, you'll come to find a spa and wellness center on-site. There is also a private shuttle service, in-room massage services, a fitness center, a private terrace and balcony, and a hot tub included in your stay.
After a splendid day out enjoying the best of what Queenstown has to offer, head to the main lodge to savor pre-dinner drinks and canapés, served every evening. And if you're not keen on dining out, then order in from room service, lie back, and relax in pure opulent bliss.
The rates for a spacious room in a deluxe villa start at $945 per night.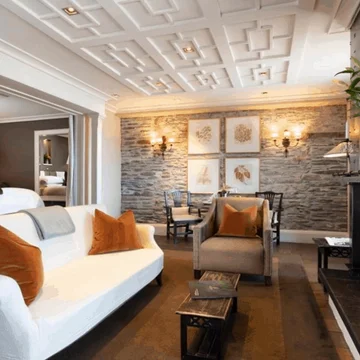 Marine Parade, Queenstown
5 Star Eichardt's Private Hotel
A hop, skip, and a jump away from the pristine waters of Lake Wakatipu, Eichardt's Private Hotel offers a splendid range of accommodation options. The hotel is located 8 km from Queenstown Airport and a 20-minute drive to The Hills Golf Course and the popular Coronet Peak Ski Fields.
Check Availability
The private hotel offers seven suites that boast luxury amenities and fittings that will make it difficult to ever want to leave. Each luxurious room includes free wifi and a satellite TV, a fireplace, a sofa, tea/coffee making facilities, and has a bath and shower.
Dine by the fireplace at the Reichardt's Restaurant and Bar and choose from a selection of premium cocktails and divine menu options. Enjoy in-house spa treatments or book for a wine tour to explore the surrounding areas of Queenstown.
Prices at Eichardt's Private Hotel start at around $1,295 per night.