Best Luxury Koh Samui Hotels | 10 Top Island Hotels, Resorts & Villas
Thailand is a highly sought-after travel destination whether for a quick getaway, a honeymoon, or a backpacking trip. Bangkok, Chiang Mai, and Phuket are the most popular spots, but those aren't the only places worth visiting. There are many other dreamy islands to explore along this coastal country.
Koh Samui, sometimes spelled Ko Samui, is a dreamy island with no shortage of golden shores and bright blue waters. It is the third-largest island in Thailand and has many cultural, natural, and man-made wonders to see. If you're staying in one of the more well-known areas of Thailand, you'll miss Koh Samui's lively nightlife scene, and that would be a shame.
After all that sightseeing, if you're looking for a luxury hotel in Thailand, this Thai island has plenty. From upscale resorts and boutique hotels to luxury hotels with floor-to-ceiling windows. Find the best luxury hotels in Koh Samui, Thailand below.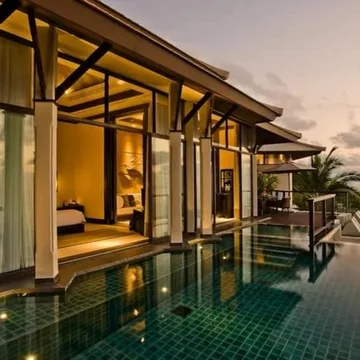 Banyan Tree Samui
This Koh Samui luxury hotel is on an exclusive beachfront on Lamai Beach. Nestled in the Koh Samui tropical gardens, it overlooks the turquoise waters of the Gulf of Thailand. This secluded 5-star luxury villa-resort is the perfect place to melt your stress away.
Check Availability
Rooms at this luxury resort are very spacious, with sweeping views of the ocean and island from the terrace. Bathrooms are just as big, with floor-to-ceiling windows and twin vanities. Catch a tan on the terrace loungers, or take a dip in your room's private ocean-view infinity pool with jet streams.
Banyan Tree Samui is well equipped with a fitness and spa and wellness center. There are three restaurants on-site, ‌each offering different mouth-watering cuisines. After dinner, take a stroll to the many clubs and bars within walking distance for a leisurely nightcap.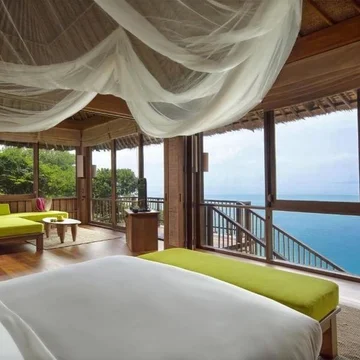 Six Senses Samui
On the quiet stretch of Chaweng Beach is where you'll find this upscale beach resort. Six Senses Samui offers a tranquil white-sand escape at the northern tip of Koh Samui island. This luxury resort is ideal for a private getaway from the buzzing mainland.
Check Availability
Many rooms are on the resort's hill, with the jungle enveloping the surroundings. Contrasting the natural shrubbery, the hotel rooms are modern and fully furnished. Overlook the lush hills from your villa's outdoor shower or private garden. Rooms are great for couples or families, equipped with everything you need for a comfortable stay, including a kitchenette in selected rooms.
Six Senses Samui resort offers an open-air restaurant and pool bar to kick back in and relax. You can also splash in the infinity pool while the kids enjoy the children's pool close by. The wellness spa is the cherry on the cake for your relaxation needs.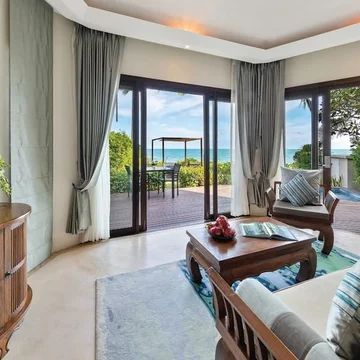 SAii Koh Samui Bophut
Choeng Mon Beach is where you'll find some of the best luxury hotels and resorts in Koh Samui. It is also where you'll find one of Koh Samui's top hotels in the area- SAii Koh Samui Bophut. This resort sits on its own private beach on a quiet stretch at Hanuman Bay while still only being a short drive away from the best beaches on the island.
Check Availability
The villas and suites are spacious, with high ceilings, terraces, and dining areas. The en-suite bathrooms are modern and simple and come with freestanding baths or showers. Step outside on the deck to your private pool and relax on the sunlounger or daybeds. There is a kitchenette in some villas, but that won't always be necessary.
Saii Koh Samui has two restaurants that serve a la carte and buffet menus. To wash it down, have a drink at The Wet Bar with a cocktail or two. The resort also has a fitness center, a public swimming pool, and a spa where you can destress. For the mind, browse through their extensive book and music library or shop at the Galleria boutique.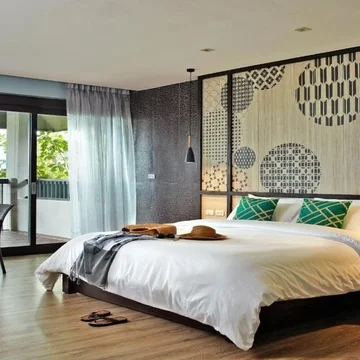 Sareeraya Villas & Suites
When it comes to Koh Samui luxury hotels, Sareeraya Villas & Suites on the island's Chaweng Beach is the epitome of style and relaxation. This beachfront resort in the north is an excellent place to stay for a secluded island escape, so you can spend all of your time resting and recharging.
Check Availability
The hotel is decorated in a modern Oriental style with natural elements like bamboo, wood, and stone furnishings. Some rooms are fully wheelchair accessible, and depending on your room choice, you can have a balcony, terrace, or patio to lounge on. Enjoy the sea view from your private plunge pool or outdoor spa pool.
Enjoy an international buffet at the hotel's on-site restaurant or have a drink at the two bars. Of course, because this hotel is all about luxury and comfort, you can even have breakfast in your room. Recharge at the Raya Spa or get your heart pumping at the two outdoor pools or enjoy the many water sports on offer. There is also a comprehensive library on-site, so you're never bored.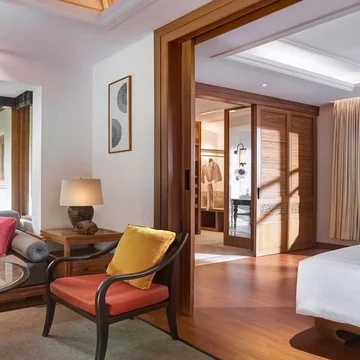 Santiburi Koh Samui
Santiburi Koh Samui is one of the most expensive hotels in Koh Samui, Thailand. Here, you're surrounded by greenery from the Koh Samui tropical gardens, and living in soothing luxury. While it is somewhat secluded, it is still only a short drive away from many Koh Samui landmarks like the Big Buddha Temple and Hin Ta Hin Yai Rocks.
Check Availability
Its suites and villas have an open-plan living space, with some villas having private plunge pools or jacuzzis. The Thai-style rooms are spacious, with dining and seating areas inside and out. Choose between a patio or private balconies overlooking the Gulf of Siam in some double-story villas.
This Koh Samui hotel's luxury doesn't end there. The luxury hotel also features a fitness center, a spa, and three restaurants on-site. All three restaurants offer delicious buffets and a la carte menus of Thai and international dishes. Don't forget to check out the few attractions within walking distance, like Pink Elephant Samui Water Park and a few markets to pick up fresh fruit and souvenirs.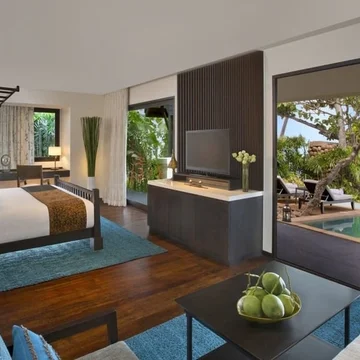 Anantara Bophut Resort
Bophut is a popular beach town on Koh Samui island and also where you'll find the popular walking street of Bophut Fisherman's Village. Cafes and boutique shops line this popular street which attracts many tourists. It is also where you'll find Anantara Bophut Resort, only a few blocks away.
Check Availability
Anantara Bophut Resort is a beautiful tropical getaway set among the Koh Samui landscape. Its rooms are decorated in a Southern Thai style and are spacious with a lounge area and private balcony. The open-plan spaces lead to the spacious bathroom with a two-person bathtub.
Surrounded by jungle leaves and shrubbery, this hideaway immerses you in the jungle dreamscape. The Koh Samui resort features one local restaurant and an international restaurant on-site. It also has a spa and wellness center, which offers top-of-the-line spa and body treatments as well as yoga sessions.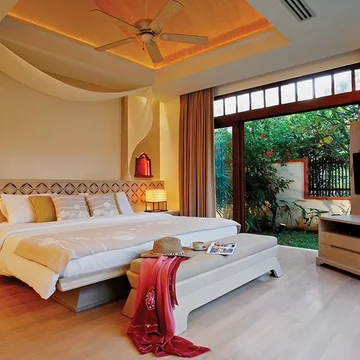 Melati Beach Resort & Spa
Melati Beach Resort & Spa has 77 guest rooms, private pool villas, and suites for the perfect island or romantic getaway. This Bo Phut resort is on a private beach in a secluded area of the leisurely Lamai Beach. It is just a short drive from the lively nightlife of Chaweng beach and the Samui Airport.
Check Availability
Stay in the lap of opulence with this Koh Samui luxury resort. Melati Beach Resort & Spa is a modern sanctuary that blends traditional Thai decor with a modern flair. Relax in the spacious rooms or the luxurious villas with breezy tropical views and private pools.
If you're experiencing a bit of cabin fever, the resort has two pools, a library, a resort spa, and a wellness center. The resort's two restaurants offer local and international buffets and a la carte menus. Kids can keep busy with the hotel's many family-friendly services, like the games room, kid's club, and playground.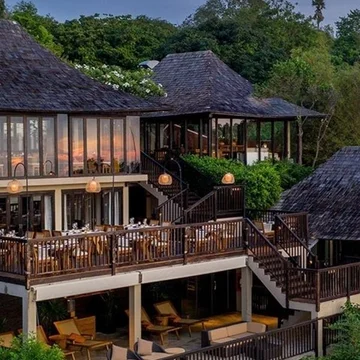 Silavadee Pool Spa Resort
The Silavadee pool spa resort may be one of the best Koh Samui resorts for a romantic escape. It sits on the cliff of Laem Nan Beach, overlooking the Gulf of Thailand. Enjoy the natural beauty of the lush tropical gardens and blue crystal waters with your significant other on this romantic escape.
Check Availability
Their living spaces reflect this natural theme by featuring many wood furnishings and simple decor. The resort features Thai-style rooms that are airy and spacious, with modern amenities like a flat-screen TV and an iPod dock. Step outside to your infinity pool and wooden deck overlooking the resort's private beach.
Silavadee has many places for guests to unwind, including the fitness center and the tranquil wellness center. The Silavadee Wellness Spa offers body therapy, beauty treatments, and yoga classes. Besides that, there are also four restaurants on-site for any time of the day. Enjoy a fresh fruit brunch at their on-site coffee house, breakfast, or brunch restaurants. Then, enjoy lunch, dinner, and a nightcap at any one of their late-night restaurants or pool bar.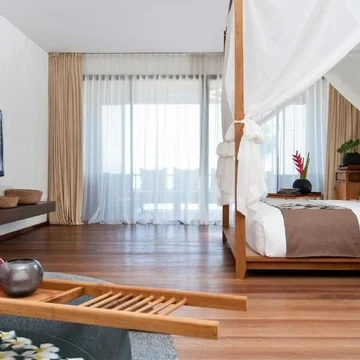 The Hansar
This resort is a modern sanctuary on the Bophut beachfront and less than 500m from Fisherman's Village. The Hansar is in an excellent location near many attractions within walking distance while still having amazing views and overlooking the tranquil waters of Koh Samui.
Check Availability
The surrounding environment inspires the hotel's decor with wooden handmade furniture and stone basins in all rooms. The spacious suites are all supersized, from the spacious balcony to the oversized day bed in the living area for your comfort. While the decor may be nature-inspired, all amenities are modern and have state-of-the-art technology.
Relaxation is a high priority here, and the resort features an on-site wellness spa, Luxsa Spa, which offers all kinds of services, from massages and body treatments to facials. There are also three restaurants, two outdoor pools, and a fitness center. There are regular bingo and movie nights to keep the whole family entertained and many outdoor activities off-site like cycling, horseriding, diving, and fishing.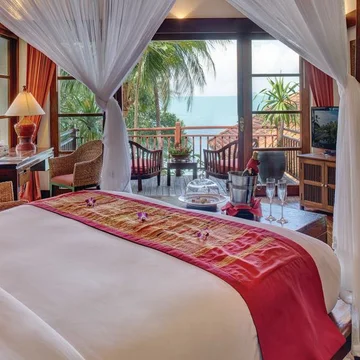 Napasai, A Belmond Hotel
Have your tropical dream holiday become a reality at this 5-star beachfront hotel. The luxurious Napasai hotel overlooks the beautiful Ban Tai and Mae Nam beach, which you can reach from their private beach area.
Check Availability
There are 17 standalone Thai-style villas on the secluded beach with a great shore from your large patio. These air-conditioned villas are big and have an additional outdoor living area. Bathrooms are just as spacious and have a terrazzo bath and rain showerhead.
Relax with a pampering session at the wellness spa or get the blood pumping at the many on-site activities. Take an elephant trekking tour or go diving and snorkeling with certified instructors. The hotel also offers tennis, windsurfing, cycling, fishing, and evening entertainment.
As if that's not enough, you can also enjoy traditional Thai dishes or international cuisine at the hotel's two restaurants. End the night with a drink at the two bars with a complete view of the beach under the evening sky.
Final Thoughts on the Best Luxury Hotels in Koh Samui, Thailand
If you're looking for a luxury island resort on a quiet beach, a trip to Koh Samui, Thailand, is the ideal spot for you. Not only does the island have resorts, but also the best luxury hotels, boutique hotels, and more.
While only some Koh Samui 5-star resorts and best hotels are all-inclusive, they are in the lap of luxury, which means you won't have to lift a finger on your island vacation. Take a dip in a private infinity pool or relax at the on-site wellness spa before enjoying authentic Thai cuisine at the luxury on-site restaurant.
Get the whole island experience at these top 10 luxury hotels in Koh Samui, Thailand.
Find Luxury Hotels in Koh Samui