10 Luxury Hotels in Koh Tao | Resorts for Idyllic Stays in Thailand
Nestled in the Gulf of Thailand, Koh Tao is a laid-back island that attracts countless visitors from across the globe. It is home to palm-fringed beaches, captivating coral reefs, and has a myriad of fascinating marine life to explore.
The island offers a tranquil environment that's perfect for an unwinding escape. If you're an adventure-seeker, there are plenty of outdoor activities on offer like scuba diving, snorkeling, rock climbing, and hiking.
Amongst the sandy shores and exciting activities, you'll find several opulent accommodations for a world-class experience. Whether you want to stay in one the most expensive hotels in Koh Tao or luxurious private villas with ocean views, there are plenty of options for a blissful vacation.
Let's take a look at the best Koh Tao, Thailand hotels for an unforgettable island experience.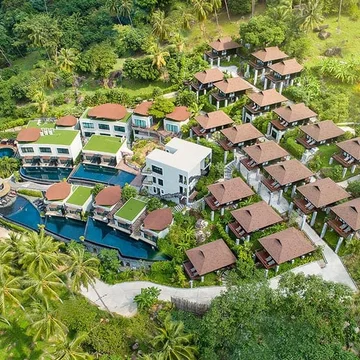 The Tarna Align Resort
If you're seeking a luxurious stay in a central location, the Tarna Align Resort is an excellent option. This luxury hotel is situated atop a lush hill above the famous Sairee Beach, and it's only a 5-minute drive to the glistening waters.
Check Availability
The Tarna Align Resort boasts a variety of airy rooms with natural light and breathtaking views of the sea, garden, or pool. Each stylish room is individually decorated and features amenities such as a flat-screen TV, balcony, and a spacious bathroom with comfy bathrobes and slippers.
If you opt for an upgraded room, you'll have comforts like a whirlpool tub and a private terrace. For a relaxing experience, enjoy a refreshing massage treatment or head to one of the three on-site restaurants for authentic Thai food, sushi, or a creative cocktail.
When you're ready for more adventure, the hotel offers diving lessons to discover the underwater world and colorful fish. The hotel also features a saltwater pool that's designed to train divers. Other fun activities on offer include snorkeling, cooking classes, bike rides, dinner on a boat, and island hopping.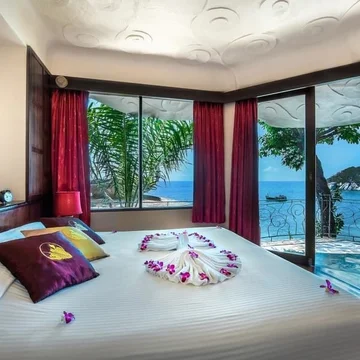 Jamahkiri Resort & Spa
Jamahkiri Resort and Spa offers deluxe accommodation with world-class services and picturesque ocean views. It is one of the best Koh Tao, Thailand, resorts for a relaxing trip on the south side of the island in Thian Og Bay.
Check Availability
The seaside hotel features several elegant rooms and unique pavilions with traditional Thai designs. The hotel rooms are equipped with comforts such as a minibar, private balcony, and some have a jacuzzi.
At this stunning Koh Tao resort, you can stroll around the lush tropical gardens or enjoy a cocktail at the relaxing outdoor pool. You'll also have access to a private beach and a PADI-certified diving center.
The hotel is home to a sumptuous spa with a steam room and air-conditioned treatment room where you can have an invigorating traditional Thai massage. The spa is a haven for relaxation with the peaceful water features and melodies of birds in the background.
To further awaken your senses, head to the Jamahkiri Restaurant for an exquisite culinary experience with fresh seafood dishes. There is also a cellar with a wide selection of wines from all around the world.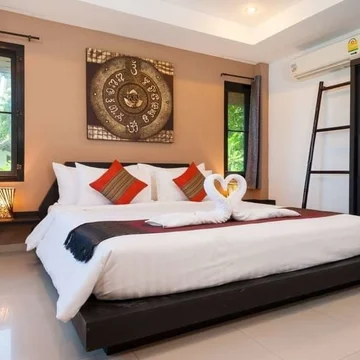 Koh Tao Heights Boutique Villas
Koh Tao Heights Boutique Villas is positioned amongst lush tropical gardens and coconut trees with stunning vistas of the Gulf of Thailand. There are many outdoor seating areas where you can admire the view, and Sairee Beach is only a 4-minute drive away.
Check Availability
Here you'll find beautiful boutique and pool villas, and if you're planning an extended stay, there are studio apartments to rent as well. The one-bedroom villa is ideal for couples heading on a romantic getaway, while the two-bedroom ones offer comfortable accommodation for those traveling with family or friends.
The tastefully decorated Thai-style rooms provide luxurious living space with scenic gardens, a private infinity pool, and some have a jacuzzi. This luxury hotel also offers travel assistance, taxi, and bike rental so you can easily explore Koh Tao island.
Other fun activities that can be arranged include snorkeling, island boat tours, diving, rock climbing, and Thai cooking classes. You'll also find plenty of local restaurants, bars, and shops near the premises.
Langkhai Garden
If you're looking for a peaceful escape away from the bustle of the center, Langkhai Garden is one of the best villa resorts Koh Tao has to offer. This eco-friendly luxury resort is surrounded by the glistening ocean and luxuriant jungle landscapes.