With pristine sand beaches, wild vegetation, and excellent year-round weather, the Turks and Caicos Islands cater to both adventurous spirits and high-end travelers. Snorkeling, diving, kayaking, sailing – fun is guaranteed at the islands, however, you may want to spare some time to feel the comfort of the hotel's interiors as they are all about barefoot elegance in tropical settings. The luxury hotels in the Turks and Caicos Islands epitomize all that one thinks when thinking of romantic getaways, so let's take a look at the best luxury hotels the islands have to offer.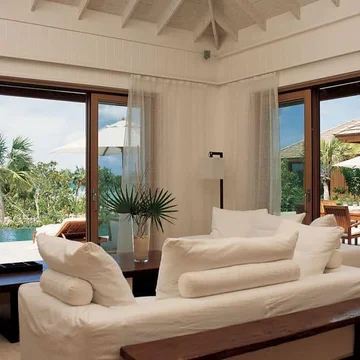 Como Parrot Cay
The ideal retreat far away from home, Como Parrot Cay is situated on a private, secluded island. The hotel is located 25 minutes away (by speedboat) from Providenciales and its grandiose property faces the ocean. The island is surrounded by 3.2 miles of white sand beaches, while its grounds are covered with rare fauna. Flowers, palms, and cactuses – Como Parrot Cay truly boasts a one-of-a-kind location.
Check Availability
The accommodation is everything you would expect from a resort located on an island – sun-kissed villas equipped with Indonesian four-poster beds. The ocean-inspired color palette keeps the ambient fresh, while the large windows infuse the rooms with natural light. Guests can choose between garden view rooms, ocean view rooms, one-bedroom beach houses, and ocean-view suites. Some units open to a private sundeck, with a heated pool and an outdoor garden shower, while others have their own private pool. In-room amenities include air-conditioning, a flat-screen TV, Nespresso machines, yoga mats, an in-room safe, and free wi-fi.
Como Parrot Cay boasts a large infinity pool perched on a beachfront. This is a quiet, adult-only area where guests can relax on white-cushioned loungers and daybed pavilions. Don't miss to try some of the Caribbean cocktails served by the hip poolside bar.
If you need to pamper yourself with some extra luxury, book a treatment at the renowned spa where talented professionals offer Asian-inspired treatments including Ayurveda and aromatherapy.
The garden view room starts at $795.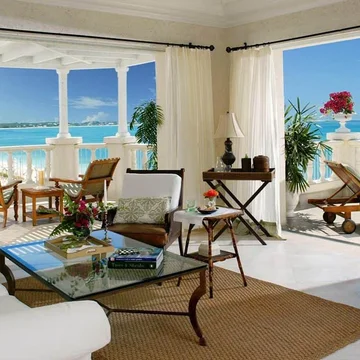 Provedianciles, Turks, and Caicos Islands
The Palms Turks and Caicos Islands
The Palms is a luxurious retreat situated on the beautiful shores of Providenciales. The resort spread across 12 acres at the center of Grace Bay Beach – known as one of the most beautiful white-sand beaches in the world. Inspired by the classic estates of Oliver Messel, the property houses 72 exclusive suites. All suites at the resort feature king-sized beds with custom hand-tufted bedding, spacious bathrooms with quality bathing products, cable television, flat-screen TV, coffee machines, electric kettles, in-room safes, and signature robes. The penthouse suites with ocean views also feature in-suite washers/dryers, fully-equipped kitchens, and balconies.
Check Availability
The hotel's spa is almost a destination unto itself. Guests can relax and reflect in a 25,000 square foot spa equipped with a sauna and numerous treatment rooms. After a relaxing massage, you can spend your day at the state-of-art infinity pool lined with palm trees and comfortable sun loungers.
In terms of dining, The Palms has an impressive offer. Parallel 23 serves ocean-inspired dishes in a sophisticated setting with full-height French doors and a hi-tech display kitchen. Here, executive chef Lauren Callinghen accounts for the delicious menu featuring dishes such as coconut-marinated conch ceviche, 21-aged steaks, and pan-roasted sea bass. Wine lovers will appreciate the extensive boutique wine list.
Crab salad, grilled vegetable spaghetti, Caicos lobster, and swordfish are just some of the specialties served at the elegant 72°West. L'Attitude bar is the perfect place for evening tapas alongside vintage rum or cognac.
Junior suites start at $489.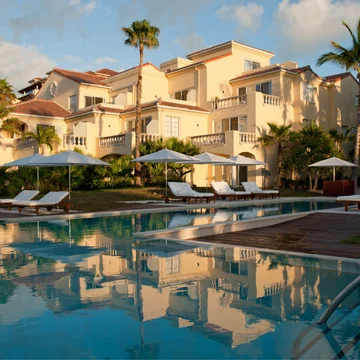 Grace Bay Club
Grace Bay Club is considered to be one of the most luxurious hotels in the Turks and Caicos Islands. What sets this hotel apart from the others is the long stretch of beach that it occupies and the impressive list of amenities that it offers. The hotel is also a short walk away from Grace Bay Road dotted with numerous charming shops and restaurants. The Casablanca Casino and Provo Golf Club are a 10-minute walk away.
Check Availability
Grace Bay Club offers three types of accommodation – adult-only guest rooms, family-friendly villas, and apartment-style units. Effortless elegance is what all these units have in common. Picture a gray color palette, soft furnishings, and four-poster beds covered with Egyptian cotton linens. With LCD TVs, iPod docks, air-conditioning, working desks, and free Wi-Fi, the amenities offered here guarantee comfort. The suites are equipped with kitchenettes with microwaves, mini-fridges, ovens, and two-burner stove tops and are ideal for a family vacation. Additionally, the suites have large balconies with ocean views, while the bathrooms are sleek with glass-door showers and separate soaking tubs.
The h