Best Luxury Hotels in Cornwall | 5-Star Places to Stay on Vacation
If you're looking for a luxury, all-inclusive place to stay on a trip to Cornwall, you've come to the right place. This post covers nine of the best luxury hotels in Cornwall for you to consider for your home away from home. These spots offer top-tier service, great location, breathtaking coastal views, and spacious rooms to ensure their guests enjoy the best of the best during their stay.
Cornwall is a hidden luxury hot spot and a wonderful place to spend your precious time away from work. Filled with world-renowned beaches and stunning rugged landscapes, this is the place to be on an English getaway. Read on to find the best place to stay in Cornwall for an unforgettable vacation on the coast.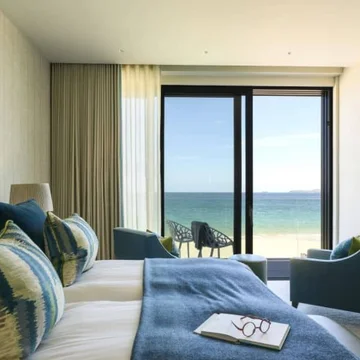 Carbis Bay Hotel & Estate
Carbis Bay Hotel & Estate is a magnificent coastal estate that exudes luxuriousness. Boasting a 25-acre private beach and exceptional facilities, staying at this hotel will be a dream come true for any vacationer. Guests have direct access to Carbis Bay Beach, one of the most beautiful beaches in the world.
Check Availability
Situated on the golden beach sand, you'll find the hotel's impeccable Beach Club & Spa, where you can get a relaxing massage, a facial, or an aromatherapy treatment. You can even get your hair and makeup done in the club salon. If you're not utterly relaxed from a day at the beach, head into the Beach Club & Spa for a seaweed wrap to help you rest and rejuvenate.
Carbis Bay Hotel has different accommodation options you can choose from, including studio, one-bedroom, and two-bedroom beach suites. These rooms offer spectacular ocean-facing views and elevators directly down to the sand! There are also larger, more secluded cottages in the nearby valley, just a short stroll away from the beach.
When you're not enjoying your fabulous hotel suite, head down to the award-winning Sands Restaurant in the hotel for delectable Cornish seafood. Guests rave about the dining experience here, and the cocktails at the bar are fantastic.
If you're in need of entertainment, Carbis Bay Hotel has got you covered. There are several stunning coastal trails you can explore in the hotel's surroundings. If you don't feel like leaving the hotel, however, you can find plenty of action in the grand hotel lounge where there's a beautiful bar and live entertainment in the evenings.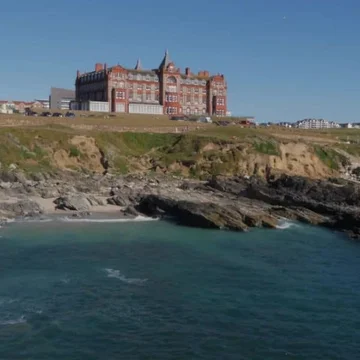 The Headland Hotel & Spa
The Headland Hotel & Spa is in a prime position, sitting atop a cliff overlooking Cornwall's gorgeous Fistral Beach. Boasting impeccable seaside views and even better service, you'll feel like royalty when you stay at The Headland.
Check Availability
This 5-star hotel has recently introduced its impressive million-dollar Aqua Club, a fantastic luxury spa and swimming center for guests. The spa boasts a roomy terrace overlooking the ocean, three indoor pools, and heated spas where you can relax and rejuvenate.
There's even a Meditteranean restaurant inside that offers exclusive fine dining for guests. If you walk into the club feeling stressed, you will surely walk out with a healthy dose of perspective and a stunning lack of knots in your shoulders.
There are three other restaurants in the hotel you can try out, and The Headland has been awarded a prestigious AA Rosette Award for its high-quality fine dining experiences. What could be better than enjoying a 5-star meal on a terrace that catches the sea breeze? And when the sun goes down over the water, you'll be glad you booked a room here for your vacation.
Besides its numerous high-quality facilities, The Headland also offers exceptional accommodations for guests. You'll be greeted by chic, modern rooms, classy finishings, and tasteful decor that exudes luxurious living. The staff will also assist you in finding anything and everything you need to enjoy the best possible experience.
Getting bored at The Headland is practically impossible, thanks to its fantastic location and wealth of activities on offer through the concierge service. You can take a 5-minute walk to the Newquay Golf Club, book surf lessons with the hotel, or go stand-up paddleboarding in the ocean. This 5-star hotel in Cornwall has it all.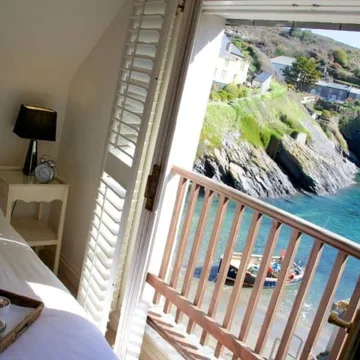 The Lugger Hotel – 'Bespoke Hotel'
When it comes to luxury hotels in Cornwall, The Lugger Hotel is undoubtedly one of the best, offering a fantastic blend of traditional Cornish charm and high-end vacationing. Housed in a 17th-century inn nestled in a picturesque valley, this hotel provides the ultimate escape in a quiet, relaxing location.
Check Availability
With only 24 en suite rooms on offer, you'll need to book early to secure your spot at this 5-star gem. There are also three private cottages you can book if you really want to spoil yourself and have the utmost privacy. The cottages are perched right on the water's edge, offering even more seclusion from the hubbub of routine life.
When you're not lounging around in your pristine hotel suite, you can explore the harbor nearby or the surrounding conservation area. You can't ask for a more peaceful place to take a morning stroll, thanks to the breathtaking cliffs and headlands in the hotel's elegant surroundings.
The Cornish Coastal Path is nearby, a famous walking trail that meanders through the lush and expansive moorlands. If you're headed to the coast to retreat to nature, this is definitely the place to do it. Portloe is one of the best places to stay in Cornwall.
The rugged landscape of The Lugger Hotel makes it one of the most idyllic places in Cornwall for a fabulous vacation, not to mention the sea air, which should do any guest a world of good. The hotel also has a gorgeous bar where you can sip on a cocktail by the fireplace.
If that isn't relaxing enough for you, you can book a treatment with the on-site masseuse to release all of your stress and tensions.