Luxury Hotels in Scottish Highlands (Opulent Castles, Lodges & More)
When it comes to fairytale destinations steeped in blissful seclusion, wild scenery, and amid lochs and mountains, you can't get much better than the Scottish Highlands.
Located in northern Scotland, it's by far the largest region, covering nearly 10,000 sq miles, and is home to incredible scenery, including the legendary Loch Ness. Moreover, you'll find luxury Highland hotels dotted throughout the dreamy landscape.
There's something magical about the Scottish Highlands. This area has charm and mystery, from its rugged terrain to tranquility and wildlife. So, without further ado, let's dive into the top five star luxury hotels in the Highlands that will blow you away with opulence and oh la luxury.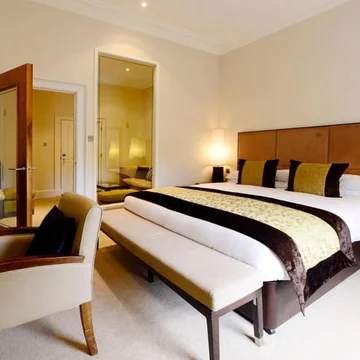 There are four categories of bedrooms, including chic, hip, decadent, and extra decadent. These luxury rooms provide sumptuous delights such as a cabin-style sauna, velvet bathrobes, iPod docks, a hot tub, and Tassimo coffee machines, all within tastefully decorated interiors. Here you can lie back in your oversized bed and order in-room service. And in thre mornings, enjoy a delicious cup of coffee on your balcony.
Book a day for beauty treatments, or head over to the cocktail 'r Bar' and enjoy some high-end fare at the Chez Roux restaurant. There's a good reason the Rocpool Reserve boasts numerous awards and is rated one of the best hotels in the Highlands when it comes to oh la luxury. And this includes being awarded the Conde Nast Johansens Most Excellent UK City Hotel in 2008 & 2021.
Rates for the chic room in the low season begin at $361 per night.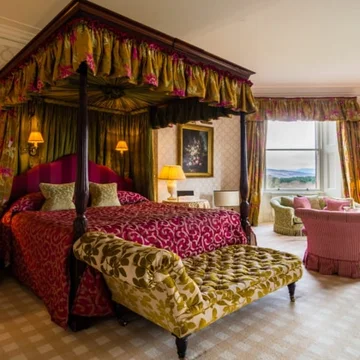 Inverlochy Castle Five Star Hotel
In 1873, Queen Victoria stated she 'never saw a lovelier and romantic spot' than here at the Inverlochy Castle. And today, the five-star hotel still remains as impressive. With Albert and Michel Roux Jr running the award-winning restaurant, you can expect mouthwatering British and international cuisine.
Check Availability
Located at the foothills of Ben Nevis, near a private loch, the Inverlochy Castle Hotel is considered one of the best hotels in Scotland Highlands. It features 17 bedrooms and suites, each with sweeping views of the hotel grounds. Here you can assume the best of everything, from lavish bathrooms with Penhaligon toiletries to the embroidered linen.
The accommodation oozes grandeur in both natural surroundings as well as the tastefully decorated grounds and interiors.
The price for a large double room per night at the Inverlochy Castle Hotel starts at $714.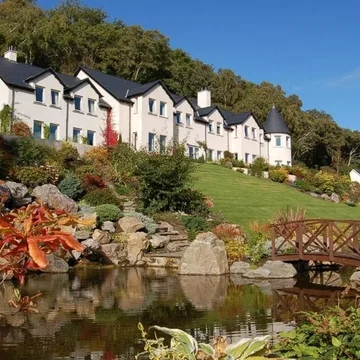 Loch Ness Lodge
If you're looking for a beautiful 5-star hotel in the Scottish Highlands, nestled on the shores of Loch Ness, then look no further. Located in the heart of the Highlands, you'll find each room boasting opulence and style, from your private bedroom to the public sitting rooms.
Check Availability
Lie back and enjoy gorgeous views from your bed; you won't find any better place for spotting Nessie. The Loch Ness Lodge features nine rooms exclusively decorated with classic elegance. As well as a spa and therapy venue offering an array of treatments.
Enjoy comforts of blowsily billowing duvets and silky Egyptian cotton sheets. Pour a glass of delicious sherry from the welcoming decanter, switch on the television and enjoy some RnR time while you plan your next day's adventures.
At this Scotland Highlands hotel, you can book a superior room for around $298 a night.