Luxury Hotels in Scottish Highlands (Opulent Castles, Lodges & More)
When it comes to fairytale destinations steeped in blissful seclusion, wild scenery, and amid lochs and mountains, you can't get much better than the Scottish Highlands.
Located in northern Scotland, it's by far the largest region, covering nearly 10,000 sq miles, and is home to incredible scenery, including the legendary Loch Ness. Moreover, you'll find luxury Highland hotels dotted throughout the dreamy landscape.
There's something magical about the Scottish Highlands. This area has charm and mystery, from its rugged terrain to tranquility and wildlife. So, without further ado, let's dive into the top five star luxury hotels in the Highlands that will blow you away with opulence and oh la luxury.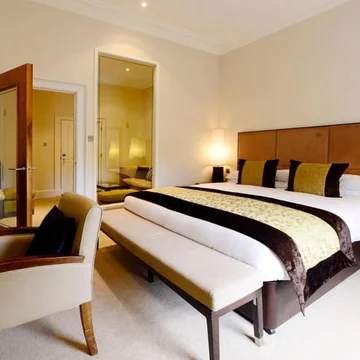 There are four categories of bedrooms, including chic, hip, decadent, and extra decadent. These luxury rooms provide sumptuous delights such as a cabin-style sauna, velvet bathrobes, iPod docks, a hot tub, and Tassimo coffee machines, all within tastefully decorated interiors. Here you can lie back in your oversized bed and order in-room service. And in thre mornings, enjoy a delicious cup of coffee on your balcony.
Book a day for beauty treatments, or head over to the cocktail 'r Bar' and enjoy some high-end fare at the Chez Roux restaurant. There's a good reason the Rocpool Reserve boasts numerous awards and is rated one of the best hotels in the Highlands when it comes to oh la luxury. And this includes being awarded the Conde Nast Johansens Most Excellent UK City Hotel in 2008 & 2021.
Rates for the chic room in the low season begin at $361 per night.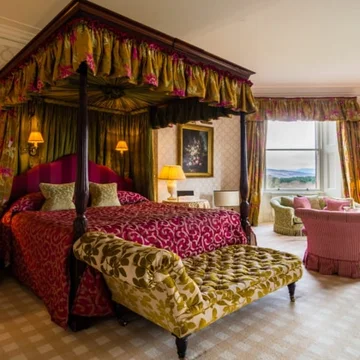 Inverlochy Castle Five Star Hotel
In 1873, Queen Victoria stated she 'never saw a lovelier and romantic spot' than here at the Inverlochy Castle. And today, the five-star hotel still remains as impressive. With Albert and Michel Roux Jr running the award-winning restaurant, you can expect mouthwatering British and international cuisine.
Check Availability
Located at the foothills of Ben Nevis, near a private loch, the Inverlochy Castle Hotel is considered one of the best hotels in Scotland Highlands. It features 17 bedrooms and suites, each with sweeping views of the hotel grounds. Here you can assume the best of everything, from lavish bathrooms with Penhaligon toiletries to the embroidered linen.
The accommodation oozes grandeur in both natural surroundings as well as the tastefully decorated grounds and interiors.
The price for a large double room per night at the Inverlochy Castle Hotel starts at $714.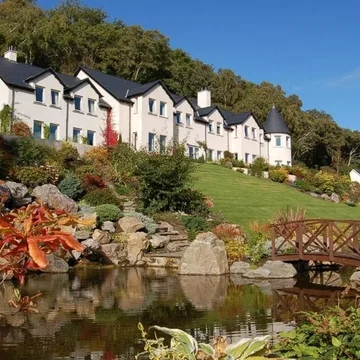 Loch Ness Lodge
If you're looking for a beautiful 5-star hotel in the Scottish Highlands, nestled on the shores of Loch Ness, then look no further. Located in the heart of the Highlands, you'll find each room boasting opulence and style, from your private bedroom to the public sitting rooms.
Check Availability
Lie back and enjoy gorgeous views from your bed; you won't find any better place for spotting Nessie. The Loch Ness Lodge features nine rooms exclusively decorated with classic elegance. As well as a spa and therapy venue offering an array of treatments.
Enjoy comforts of blowsily billowing duvets and silky Egyptian cotton sheets. Pour a glass of delicious sherry from the welcoming decanter, switch on the television and enjoy some RnR time while you plan your next day's adventures.
At this Scotland Highlands hotel, you can book a superior room for around $298 a night.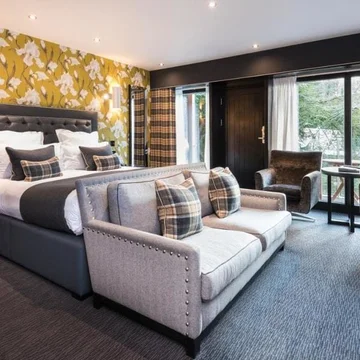 Fonab Castle Hotel
Built-in the 19th Century in Scots Baronial style, the Fonab Castle underwent a complete refurbishment in 2013. The picturesque Scottish Highlands hotel boasts luxurious rooms, sweeping scenic views, beautifully manicured gardens, and two on-site restaurants.
Check Availability
Each room is exclusively designed with a blend of modern style with original room features. Enjoy a flat-screen smart TV with Revo entertainment system, with rooms offering views of either the Loch Faskally or the Highlands panorama. Slip into a bathrobe and slippers before making a Nespresso coffee and sliding under luxury Egyptian cotton covers.
Apart from sumptuous rooms and luxury amenities, the Fonab Castle Hotel provides various facilities, including an indoor swimming pool, spa, wellness center, a terrace area with outdoor furniture, and more. And to top it all off, at an additional charge, pets are allowed on request.
The luxury accommodation rates for a superior woodland lodge king room start at around $367 per night.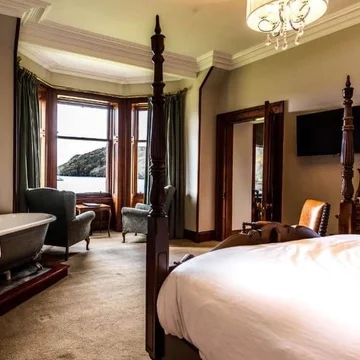 Shieldaig Lodge Hotel
Nestled on the shores of Gairloch, the 19th century Shieldaig Lodge Hotel is one of the few remaining traditional Highland hunting lodge that is open to the public. Moreover, this is one of the top accommodations to stay at for outdoor lovers.
Check Availability
Sit snug near the crackling fireplace in winter, and come summer, enjoy picnics on the lawns. The property offers rooms with exquisite views overlooking the hills or the lake.
Each room includes a flat-screen TV, a bathrobe and slippers, tea and coffee facilities, and en-suite bathrooms with complimentary toiletries. Wake up to a full Scottish breakfast in the mornings and in the evenings enjoy a beverage at the bar or one of the snug lounges.
A superior double room with a garden view at the Shieldaig Lodge Hotel is around $298 per night.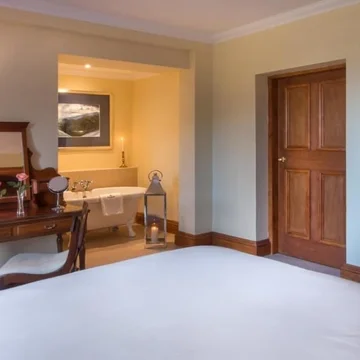 Glencoe House
Get away from it all in this incredibly picturesque 5-star Scotland Highland Hotel. Lounge, laze, dine and dream in the seclusion of your beautiful suite with private dining areas, roaring fires, and glorious views.
Check Availability
Guests are greeted with a glass of champagne in the hall. Here you're able to arrange whatever your heart desires, whether it be sea-kayaking to a hot water bottle.
There are eight Glencoe House suites that boast spectacular views of the loch or ranges, one or two of which have terraces and hot tubs. Fires are laid, dining tables are set, and the grand piano begs to be played in one room. Pre-loaded iPods, televisions, books, and games are provided too.
Enjoy Nespresso machines as well as an assortment of teas and different pints of milk. Lie in bed and order breakfast through room service and enjoy a candle-lit five-course meal featuring an array of flare in your suite.
The price for a one-bedroom suite at the Glencoe House starts at around $610 per night.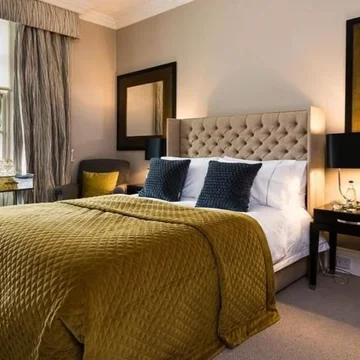 The Old Manse of Blair
The 5-star Old Manse of Blair Boutique Hotel & Restaurant is located in a ten-acre lush green countryside in Blair Atholl. The 19th-century boutique hotel is operated by the husband and wife team, Archie and Anne MacDonald.
Check Availability
Crafted by a labor of love and showcasing a collection of Scottish art, guests are welcomed by sumptuous Gerard Burns paintings. Moreover, you'll find an exquisite David Hunt chandelier and bespoke plaid carpets in the hallway.
The dining room area showcases a table that was made from a 200-year-oak tree that fell near the Blair Castle. The drawing room features a baby grand piano, log fire, and beautiful pieces of jewel-colored furniture.
Choose from a selection of bedrooms, suites, and luxurious rooms offering views of the paddocks, gardens, and countryside. Each room is tastefully decorated using a contemporary design, with dark greens and greys of the Georgian suite to pleasant pops of pink in the Governesses' quarters.
Enjoy modern bathrooms featuring metro tiles and tastefully printed and patterned wallpapers. Relax in robes and sip on decadent coffee from the Nespresso coffee machines provided in your rooms.
Enjoy meals at the award-winning five-star Orangery Restaurant offering a light and relaxing atmosphere. It's the perfect place to relax in grandeur surroundings and complete opulence.
The price for a single night at the starts at around $383.
A Footnote on the Best Hotels in the Scottish Highlands
The beauty of the Highlands is legendary, from where the lochs meet the mountains to the unique lights that form from the northern skies. Visitors are spoiled with natural beauty and opulence in these luxury all-inclusive Scottish Highland hotels.
For a mix of culture, stunning landscapes, gorgeous architecture, and fascinating history, there's no place quite like the Highlands. Now that we've covered the best luxury UK hotels in the Scottish Highlands, have you been to any, or what's your favorite on this list? Please share, we'd love to know.
Find Luxury Hotels in Scottish Highlands