At some point in our lives, all of us have desired to spend at least one night in a sequestered treehouse hidden amid enormous trees. Today, we will help you make that dream a reality by sharing with you the world's best luxury treehouse hotels that are nothing short of impressive.
From lavish beachfront treehouses to funky secluded nooks in the outskirts of Sweden, all treehouse hotels on our list offer a memorable, one-of-a-kind experience.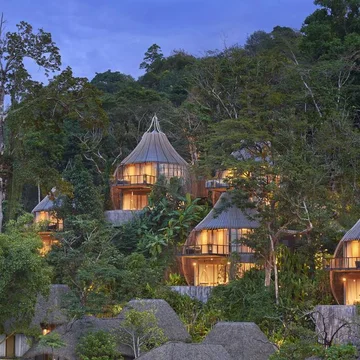 Keemala
Keemala, a distinguished hotel brand known for providing an authentic yet lavish experience for its guests, offers stunning Tree Pool Houses tucked in Phuket, Thailand. This convenient location is deep in the woodlands, far from the crowds, perfect for an intimate setting. With that said, extroverts will be happy to know that Kamala Beach is only an eight-minute drive away from the hotel.
Check Availability
The masterminds behind the creation of Keemala Tree Pool House have a unique mission in mind – to give you an unforgettable adventure that's as close to that of four fictitious Phuket tribes as possible. Firm believers in the powers of elevated dwelling for boosting creativity and a sense of freedom, the villas reflect their ideology and are designed to maximize relaxation and an overflow of new ideas.
All of the villas are two-floor and feature a private pool and an upper-level master bedroom. The views are as breathtaking as you'd expect – overlooking the rainforest and the surrounding luscious mountains.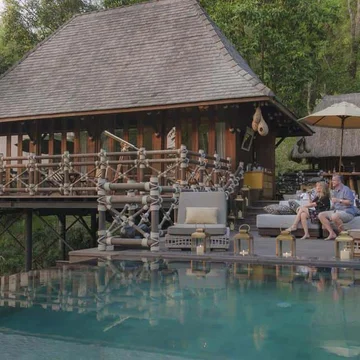 Four Seasons Golden Triangle
The Four Seasons Golden Triangle is among the most visited luxury treehouse hotels in the world. After you become acquainted with the facilities, views, and services it offers, you will see why.
Check Availability
Located in northern Thailand, the Four Seasons Golden Triangle allows you to explore the striking nature this country is known for, visit elephant sanctuaries, and trail through bamboo jungles – activities akin to those of Thailand's' oldest civilizations.
The one-of-a-kind luxury tents you will be staying at are all decorated in a unique way; with rustic furniture, an outdoor rain shower, earthy tones, and a private balcony that overlooks the picturesque surroundings. All tents are tucked away in the forest, so you will get plenty of privacy. I
f you ever need a break from all those outdoor activities, you can visit their spa and wellness center where you can recover, replenish, and prepare for the next adventure.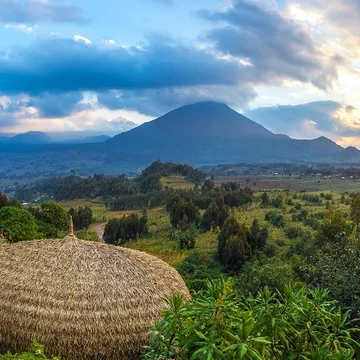 Bisate Lodge
Bordering Volcanoes National Park, Bisate Lodge is a spectacular mix of luxurious treehouse dwelling and bucket-list gorilla trekking.
Check Availability
One of the most striking characteristics of Bisate Lodge, apart from the distinctive architecture of the treehouses, are the scenic views – guests can enjoy one-of-a-kind scenery of the peaks of the Bisoke and Karisimbi volcanoes. The treehouse villas are designed in a sustainable way without sacrificing the lavishness and comfort of your stay. The sophisticated, rustic-chic décor and ligneous furnishings found in each villa complement the surroundings and remain a feast for your eyes throughout your stay.
Guests can partake in various experiences authentic to Rwanda like tours to the national world wonder, hot air balloon rides, and wildlife spotting. If you'd like to have an authentic safari experience while staying at glamorous treehouse villas and enjoying top-tier service, this is the place to be.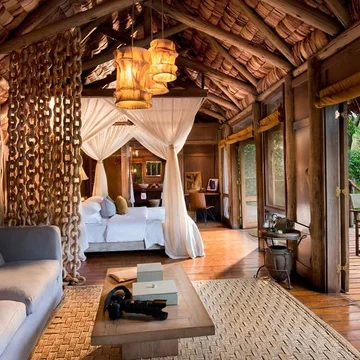 &Beyond Lake Manyara Tree Lodge
Built in the center of a national park brimming with awe-inspiring nature and distinct fauna, &Beyond is one of the most loved resorts in Africa. There are ten elegant, eco-chic tree houses built from local materials sitting cozily in the gigantic boughs of mahogany trees, and their earthy style makes them blend seamlessly with the surrounding nature.
Check Availability
Just as gorgeous on the inside, the treehouses at &Beyond come with stylish decks, an outdoor shower, and a dining area with superior views of the forest.
And if that wasn't enough, visitors of &Beyond Lake Manyara Tree Lodge get the chance to witness (through complimentary Swarovski Optik binoculars) the famous tree-climbing lions, pelicans, and flamingoes in action. Adrenaline junkies can book themselves afternoon game-drives in open safari vehicles, as well as night game drives where you can spot wildlife during nocturnal hours.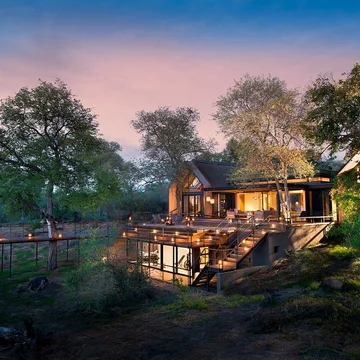 Ivory Lodge Lion Sands Game Reserve
Set along the banks of Sable River in Kruger National Park, Ivory Lodge is a family-owned, award-winning business that has operated for almost a century. Many factors set Ivory Lodge apart from other luxury treehouse hotels – its unique design, the five-star service, some of the best opportunities for wildlife spotting in the world, and stargazing while staying in the lap of luxury are just some of them.
Check Availability
Ivory Lodge offers four different types of treehouses: Lion Sands Ivory Lodge, Lion Sands River Lodge, Lion Sands Tinga Lounge, and Lion Sands Narina Lodge, as well as the Hi'Nkweni Villa and the Fish Eagle Villa. You can easily find one that's just to your liking.
This lodges' style is characterized by contemporary themes, open-plan designs, rich textures, and earthy touches. It's a perfect option for nature-loving, adventurous spirits who would cherish a once-in-a-lifetime opportunity for wildlife spotting.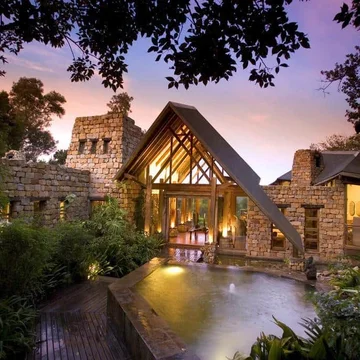 Tsala Treetop Lodge
Located near Plettenberg Bay, Tsala Treetop Lodge offers extravagant accommodation right in the middle of an ancient indigenous forest, impeccable service, and stunning forest views.
Check Availability
The lavish and sophisticated interior of Tesla Treetop Lodge pays homage to traditional African décor and it includes a living area that comes with a mini-bar, a fireplace, and a private outdoor deck overlooking the dense forest. The bedrooms feature breathtaking views and have wooden furnishings with bright pops of color.
Bookworms will be happy to know that guests can enjoy a large collection of books, while wine enthusiasts will delight in sampling their exquisite wine during dinner. Other experiences available at the lodge include whale and dolphin watching, Birds of Eden, and swimming with seals.
If you want to taste the spirit of Africa in the most sophisticated manner possible, consider Tsala Treetop Lodge for your next South Africa vacation.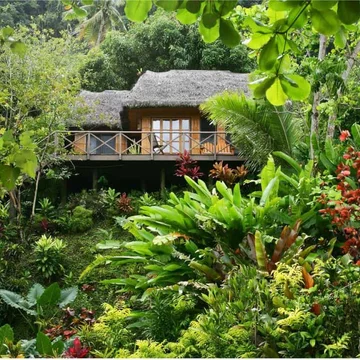 This opulent treehouse resort, especially popular with couples, is tucked in tropical greenery, and yet remains close to the surrounding smooth beaches. The location allows for a secluded stay, all the while giving you the chance to sightsee and explore the area and participate in various water, cultural, and nature activities. There is a world-class restaurant on the property where you can watch the scenic sunsets as you indulge in Fiji gourmet dining.
Since this resort contains remnants of an ancient volcano, you'll see plenty of volcano-themed décor and furniture inside the luxury bures, like the outdoor lava showers. Overall, it's an ideal location for couples who want to spend their holidays in style.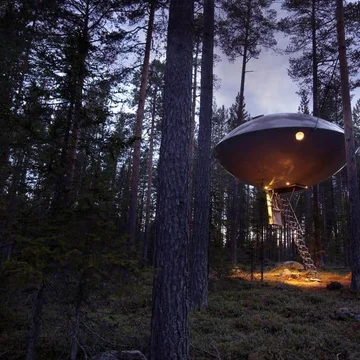 Treehotel
Anyone who enjoys funky, sci-fi architecture will thoroughly appreciate the design of the treehouses at Treehotel, Sweden. A bird's nest, a UFO, and a gleaming box, all inspired by the film The Tree Lover, are only a few of the accommodation options at this hotel. Built in 2010 by Britta and Kent Lindvall, this outlandish project quickly turned into one of the most popular hotels in Sweden. Even ten years later, it stands as a symbol of all the places a single vision can take you.
Check Availability
Regardless of which treehouse you go for, you will get the chance to enjoy the spectacular views of the lush, thick forest, the Lule River Valley, and, on very special days, even the northern lights. There are plenty of activities to be enjoyed while staying here, such as canoeing, horse-riding, and hiking.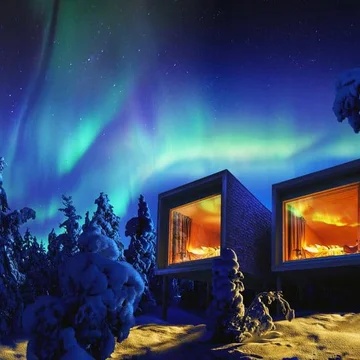 Arctic Treehouse Hotel
The Arctic Treehouse Hotel sits on a forest-filled hill on the Arctic Circle. Guests get to delight in splendid suites with a dazzling Scandinavian design and cozy, wooden furnishings, with maximum privacy and seclusion. Keeping the local temperature in mind, all the suites come with underfloor heating, as well as a capacious dining area, plush beds with faux-fur throws, and private saunas. When the weather allows it, you can enjoy delicious meals and spirits from your own private deck overlooking the valley. Alternatively, guests have the option of dining at Rakas – a world-class restaurant offering traditional Finish food and quality ingredients.
Check Availability
Staying at Arctic Treehouse Hotel will give you the perfect opportunity to reconnect with nature. The floor-to-ceiling windows bring tons of natural light in the room and give you a panoramic view of the surrounding nature. You'll get the perfect opportunity to watch the Northern Lights and Midnight Sun while enjoying first-rate luxury from the comfort of your own bed.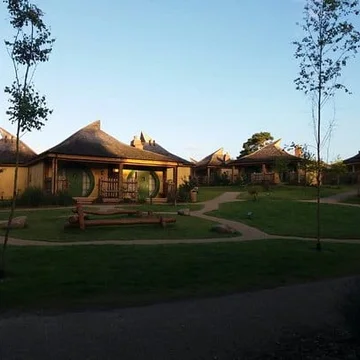 Staffordshire, United Kingdom
Alton Towers Enchanted Village Luxury Treehouses
Nestled in the fairytale-like Enchanted Village, Alton Towers provides five gloriously opulent treehouses for the ultimate luxury getaway. Even though each treehouse has a unique design, what they have in common is the lavish décor, a spacious relaxing area, and plenty of fun entertainment options like a games console. The wooden outside deck cozily festooned by ivy and string lights has its own hot tub and a sitting area from where you can enjoy the amazing view of the countryside.
Check Availability
Great for celebrating special occasions and intimate getaways alike, the luxury treehouses at Alton Towers Enchanted Village are bound to entice you with their rustic glam style, tranquil surroundings, and five-star service.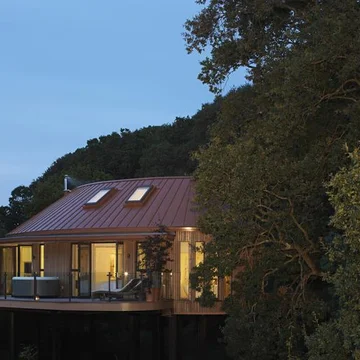 Hampshire, United Kingdom
Chewton Glen
Chewton Glen Hotel, one of the best luxury treehouse hotels in the United Kingdom, is located in New Forest, near Hampshire. Covering over 130 acres of woodland, Chewton Glen provides a great escape in nature, in the tranquil and picturesque British countryside.
Check Availability
A favorite among guests, the Treehouse Hideaway is raised 32 feet off the ground but remains very near to the main hotel and common areas where you can socialize and enjoy some of the offered activities.
The suites have a unique and innovative style and come with all the features you would expect from a luxury treehouse hotel, such as grand outdoor hot tubs, picnic meals, commodious private decks where you can soak in the sunbeams (if the weather allows it – this is Britain we're talking about), and captivating forest views.
Great for both large families and romantic getaways, Chewton Glen is a must-see for anyone who likes their treehouses opulent, secluded, and lavishly decorated, and, at the same time, appreciates having access to stunning natural sights and plenty of outdoor activities like horse-riding, cycling, taking beach strolls, and sailing.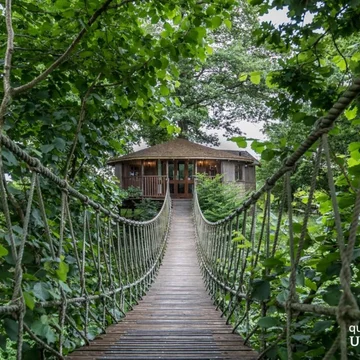 Bensfield Treehouse
An intimate and tranquil luxury treehouse located in the staggering Sussex countryside, Bensfield Treehouse is a frequent choice for romantic couple getaways. A 24-meter rope will take you to your homely yet swanky treehouse built around a mature oak tree. The area is quite open and bright, filled with lush woodlands that you can spot from the comfort of your own private deck. The open-plan accommodation is suitable for self-catering and each suite comes with its own kitchen, a king-size bed, a dining area, and an en-suite bathroom.
Check Availability
The historic village of Wadhurst is just two miles away from Bensfield Treehouse, so you will have plenty of opportunities to explore Sussex and visit the local pubs, shops, and restaurants. And if you prefer staying near your accommodation, there are plenty of sights and natural attractions to explore in the area. Take a replenishing morning walk or go for a romantic sunset hike with your loved one by your side.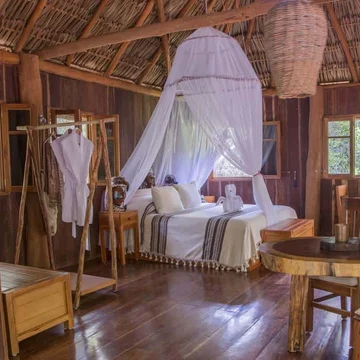 Tulum Treehouse
Adjacent to a thick mangrove jungle, Tulum Treehouse offers the perfect tropical escape, located just south of Tulum. Their unique approach and philosophy make them stand out among other luxury treehouse hotels; namely, various international artists have collaborated on the design of Tulum Treehouse, from architects to builders, resulting in a truly unique residence. On top of that, they have used locally sourced Tzalam wood and other sustainable local materials, making it a perfect option for an environmentally-friendly treehouse escape.
Check Availability
The dreamy treehouses have a minimalistic bucolic design with polished white cement and touches of muted green, making them blend in seamlessly with the surroundings. Every room comes with a big dining table from where you can enjoy unparalleled views overlooking the jungle. Spacious king-size beds and hammocks provide comfort and relaxation. One of the best parts about staying at Tulum Treehouse is that you're just steps away from the world's second-biggest coral reef, so make sure you schedule a visit.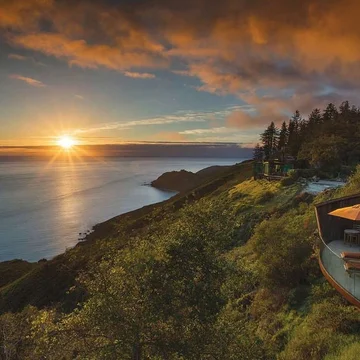 Post Ranch Inn
One of the most popular luxury treehouse hotels in the USA is Post Ranch Inn. Situated on the cliffs of Big Sur – a recognized national treasure, it's a perfect home away from home.
Check Availability
Standing a couple of meters off the ground amid a thick luscious forest, the treehouses at Post Ranch Inn are nothing short of extraordinary. Featuring a king bed, a snug living room area with a fireplace, and a skylight that allows for stargazing, you can enjoy world-class luxury while connecting with nature. Wherever you turn, you will be met with scenic views of Big Sur. The style at Post Ranch Inn can be described as organic modern which fits in perfectly with the surroundings. A wide range of activities like yoga, hiking, and garden tours are available for guests.
Another perk Post Ranch Inn is known for is its fine dining. Enjoy award-winning cuisine at Sierra Mar set atop the cliffs, offering spectacular views of the area.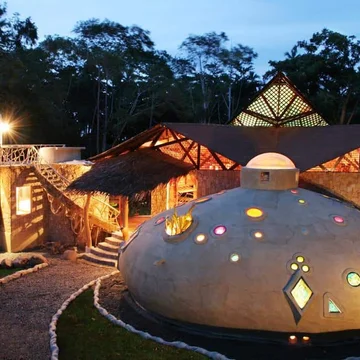 Tree House Lodge
Tree House Lodge is a 10-acre oceanfront lodge located in the south of Puerto Viejo. The balmy weather and sandy beaches make this an ideal lodge for anyone who wants a vacation where they can soak in the rays and dip in turquoise waters whenever they please, all the while staying in luxurious yet unconventional accommodation.
Check Availability
There are six open-air, eco-chic treehouses available for booking. With an effort to remain as environmentally-friendly as possible, the treehouses are built with sustainable materials. The style of each treehouse is akin to that of your childhood dreams –think ginormous bathtubs, fun pops of color, and beautiful artworks. The lantern-fueled ambiance is romantic, secluded, yet open – giving you the best views of the area and a taste of that morning ocean air we all know and love.