6 Best Anguilla Resorts | Luxury on the Caribbean Sea
Characterized by coral reefs nestled in turquoise waters and long sandy beaches, Anguilla is a small island but it has a lot to offer. With small spaces comes exclusivity and privacy so it's no wonder that the best Anguilla resorts are defined by luxury, world-class amenities, and service.
From beautiful beaches boasting warm Caribbean waters to decadent culinary experiences on the shoreline, Anguilla is a sought-after destination. Luckily, there is no shortage of luxury accommodations to choose from on the island. Whether you are on honeymoon, traveling as a family, or just looking for a place to indulge in bliss by the sea, you'll find it right here.
Oh, and a visit to this eel-shaped island also means you can boast that you've vacationed in the same spot as Beyonce, Jay Z, Sandra Bullock, and Leonardo DiCaprio (to name a few). And if you're hopping between Caribbean Islands then it's also worth checking out luxury hotels in Antigua and Barbuda.
Anguilla's Top Resorts
Now that you're ready for your beach vacation on this small island, let's dive straight into which beach resort you could be sipping your next cocktail on. Some of these resorts may seem pricey, but they've got nothing on the most expensive hotels in the world, so you can go ahead and book guilt-free.
Each one of these Anguilla luxury hotels has unique offerings, exceptional service, and mesmerizing designs and interiors (and of course, sensational sea views). This may make it difficult to choose just one, so at least now you already have an excuse to come back for a second visit to try out another one of the best resorts in Anguilla.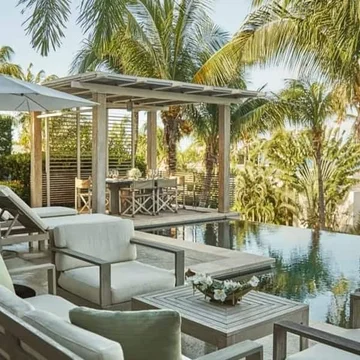 Four Seasons Resort and Residences Anguilla
Looking for a family-friendly resort that suits children and adults and is just steps from the Caribbean Sea? Then the Four Seasons Resort and Residences Anguilla ticks all of these boxes and so much more. Located on Meads Bay Beach, you can enjoy long family fun days with dips in the warm water and sandcastle building in the white sand.
Check Availability
There are many accommodation options that cater to both large and small parties. The 5-bedroomed private villa experience right on the beachfront is perfect for family reunions or intimate special celebrations with loved ones. Lounge by your private plunge pool and fire up the grill to prepare the catch of the day for your group.
Other room options include authentic Caribbean-inspired singles guest rooms, suites, deluxe studios, and large residences. Most of the rooms come with their own wooden sundecks and elegant marble bathrooms.
From rock-climbing walls, basketball and tennis courts, and yoga classes on the beach, you certainly won't be left wondering what to do during the day at this Four Seasons resort. And in the evenings, enjoy a cocktail in the sunset lounge before heading to one of the several magnificent restaurants.
This luxury resort is not only considered one of the best of Anguilla's resorts and hotels but it's also considered among the best in the whole of the Caribbean. This 5-star destination is perfect for the whole household and should be at the top of your list for family vacations.
Rooms From $700 per night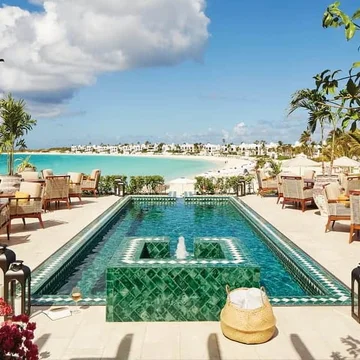 Maundays Bay, West End Village, Anguilla
Belmond Cap Juluca
Nestled within a cove on Maundays Bay, the Belmond Cap Juluca is truly a secluded island oasis. A luxury barefoot escape like no other. This privacy also means that you'll need to catch a taxi to go shopping or grab a bite to eat off-property. But with so much to do at this luxury hotel, you won't even want to leave.
Check Availability
You'll be mesmerized by the blue hues of the glistening water as you relax in the powdery white sand. Oh, and you won't need to worry about beach chairs as each villa comes with a pair just for you! If you want to get active, take your pick between snorkeling in the coral reefs, kayaking around the island, or going on a scuba diving adventure.
Other family activities include a round of tennis on the tennis court or motorized water sports. These come at an additional cost but include the opportunity to waterski, wakeboard, and tube. The Arawak spa is another must-do experience on the island. It offers traditional Anguillan-inspired treatments and rituals that will leave you feeling relaxed and rejuvenated.
After your day of pampering, head to one of the four exquisite restaurants. They range from casual beach bar options to opulent fine-dining experiences. If you are looking for something more intimate, request private dining on the beach under the stars, or book a private room in the Pimms restaurant.
Rooms From $860 per night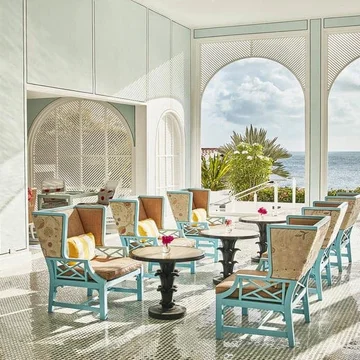 Malliouhana, Auberge Resorts Collection
Perched within the cliffs of the West End Village and overlooking two beaches, this luxury hotel is something to behold. Malliouhana, part of the Auberge Resorts Collection, opened over 30 years ago and has been welcoming back happy guests ever since.
Check Availability
This glamorous island paradise is known for its romantic atmosphere and stylish interiors, making it somewhat of an iconic institution on the island. You'll be spoilt for choice at Malliouhana. With the option of lazing on the pristine white sands of Meads Bay Beach to the west or exploring the secl