6 Best Anguilla Resorts | Luxury on the Caribbean Sea
Characterized by coral reefs nestled in turquoise waters and long sandy beaches, Anguilla is a small island but it has a lot to offer. With small spaces comes exclusivity and privacy so it's no wonder that the best Anguilla resorts are defined by luxury, world-class amenities, and service.
From beautiful beaches boasting warm Caribbean waters to decadent culinary experiences on the shoreline, Anguilla is a sought-after destination. Luckily, there is no shortage of luxury accommodations to choose from on the island. Whether you are on honeymoon, traveling as a family, or just looking for a place to indulge in bliss by the sea, you'll find it right here.
Oh, and a visit to this eel-shaped island also means you can boast that you've vacationed in the same spot as Beyonce, Jay Z, Sandra Bullock, and Leonardo DiCaprio (to name a few). And if you're hopping between Caribbean Islands then it's also worth checking out luxury hotels in Antigua and Barbuda.
Anguilla's Top Resorts
Now that you're ready for your beach vacation on this small island, let's dive straight into which beach resort you could be sipping your next cocktail on. Some of these resorts may seem pricey, but they've got nothing on the most expensive hotels in the world, so you can go ahead and book guilt-free.
Each one of these Anguilla luxury hotels has unique offerings, exceptional service, and mesmerizing designs and interiors (and of course, sensational sea views). This may make it difficult to choose just one, so at least now you already have an excuse to come back for a second visit to try out another one of the best resorts in Anguilla.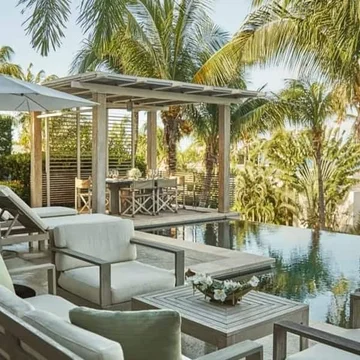 Four Seasons Resort and Residences Anguilla
Looking for a family-friendly resort that suits children and adults and is just steps from the Caribbean Sea? Then the Four Seasons Resort and Residences Anguilla ticks all of these boxes and so much more. Located on Meads Bay Beach, you can enjoy long family fun days with dips in the warm water and sandcastle building in the white sand.
Check Availability
There are many accommodation options that cater to both large and small parties. The 5-bedroomed private villa experience right on the beachfront is perfect for family reunions or intimate special celebrations with loved ones. Lounge by your private plunge pool and fire up the grill to prepare the catch of the day for your group.
Other room options include authentic Caribbean-inspired singles guest rooms, suites, deluxe studios, and large residences. Most of the rooms come with their own wooden sundecks and elegant marble bathrooms.
From rock-climbing walls, basketball and tennis courts, and yoga classes on the beach, you certainly won't be left wondering what to do during the day at this Four Seasons resort. And in the evenings, enjoy a cocktail in the sunset lounge before heading to one of the several magnificent restaurants.
This luxury resort is not only considered one of the best of Anguilla's resorts and hotels but it's also considered among the best in the whole of the Caribbean. This 5-star destination is perfect for the whole household and should be at the top of your list for family vacations.
Rooms From $700 per night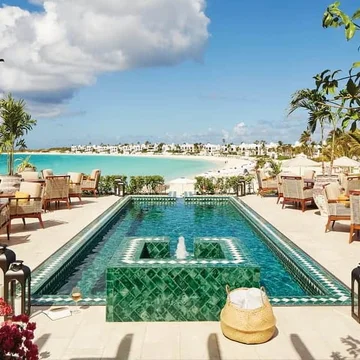 Maundays Bay, West End Village, Anguilla
Belmond Cap Juluca
Nestled within a cove on Maundays Bay, the Belmond Cap Juluca is truly a secluded island oasis. A luxury barefoot escape like no other. This privacy also means that you'll need to catch a taxi to go shopping or grab a bite to eat off-property. But with so much to do at this luxury hotel, you won't even want to leave.
Check Availability
You'll be mesmerized by the blue hues of the glistening water as you relax in the powdery white sand. Oh, and you won't need to worry about beach chairs as each villa comes with a pair just for you! If you want to get active, take your pick between snorkeling in the coral reefs, kayaking around the island, or going on a scuba diving adventure.
Other family activities include a round of tennis on the tennis court or motorized water sports. These come at an additional cost but include the opportunity to waterski, wakeboard, and tube. The Arawak spa is another must-do experience on the island. It offers traditional Anguillan-inspired treatments and rituals that will leave you feeling relaxed and rejuvenated.
After your day of pampering, head to one of the four exquisite restaurants. They range from casual beach bar options to opulent fine-dining experiences. If you are looking for something more intimate, request private dining on the beach under the stars, or book a private room in the Pimms restaurant.
Rooms From $860 per night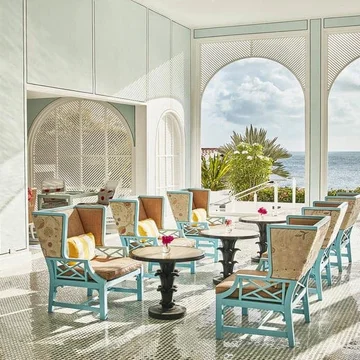 Malliouhana, Auberge Resorts Collection
Perched within the cliffs of the West End Village and overlooking two beaches, this luxury hotel is something to behold. Malliouhana, part of the Auberge Resorts Collection, opened over 30 years ago and has been welcoming back happy guests ever since.
Check Availability
This glamorous island paradise is known for its romantic atmosphere and stylish interiors, making it somewhat of an iconic institution on the island. You'll be spoilt for choice at Malliouhana. With the option of lazing on the pristine white sands of Meads Bay Beach to the west or exploring the secluded Turtle Cove beach to the east.
When you aren't catching some rays you'll have endless hotel amenities to keep you entertained. Take the free bikes out for a cycle, enjoy a game of tennis, or work up a sweat in the fitness center. For those on the lookout for the most tranquil places to unwind, the infinity pool that feels as though it drops into the ocean is a good place to start.
The rooms, suites, and villas are large and airy with a quirky and modern Caribbean design throughout. When you get hungry, you'll have several options to choose from. For something casual, head to the laid back beach bar or Leon's Porch. If you're looking for something a little more luxe, Celeste Bistro is highly rated.
The hotel also offers luxury all-inclusive options so be sure to check them out when booking.
Rooms From $800 per night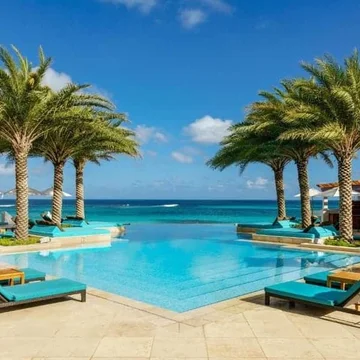 Shoal Bay Village, Anguilla
Zemi Beach House
Another gem along the Caribbean coastline of Anguilla is Zemi Beach House. It brings you beachfront luxury like no other. The Shoal Bay area is a little more secluded than the Meads Bay area. It offers world-class service and a relaxed atmosphere along with more privacy.
Check Availability
Zemi Beach House is set on 6 acres of lush grounds on the beachfront and blends modern luxury with experiences rich in island tradition. Awaken your senses at this island retreat with nourishing treatments at the Zemi Thai House Spa, or sample small-batch rums in the hotel Rhum Room.
This luxury island resort is comprised of guest rooms, villas, and suites. Most boast ocean views. The beautifully appointed interiors are classic beach lux with blue and white tones contrasted against wooden furniture finishes.
The large units with three bedrooms are great for accommodating destination weddings or large groups. If you're traveling with children, there's also a kid's club to keep the little ones entertained.
If you aren't stand-up paddle boarding or kayaking in the bay or just basking in the sun on the Caribbean beach, the resort has three pools to choose from. The beachfront pool is particularly exciting with a glass aquarium wall where you can spy on colorful marine life while you swim.
There are two dining options at the hotel and if you're staying over on a Wednesday you'll be treated to a Caribbean barbeque and live music. This all goes down at 20 Knots, the casual dining cafe where you'll also enjoy your daily breakfast.
Rooms From $575 per night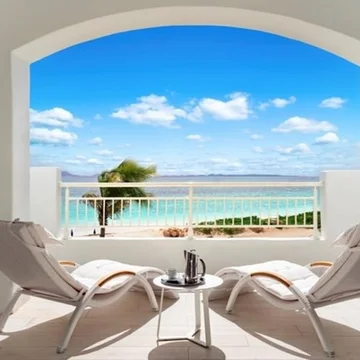 Rendezvous Bay, Ebenezer, Anguilla
Aurora Anguilla Resort & Golf Club (Formerly CuisinArt Golf Resort)
Formerly known as the Cuisinart Golf Resort, the Aurora Anguilla Resort and Golf Club still boasts all aspects of its former glory. It's inspired by Mediterranean architecture and exudes style and elegance from every corner Coupled with a world-class golf course and a spa, it makes for an ideal getaway.
Check Availability
The chic, all-white design runs throughout the hotel; from the public spaces and outdoor areas to the suites, penthouses, and villas. Most also feature beautiful views overlooking Rendezvous Bay. You'll be able to choose from single rooms or larger residences with more space and amenities.
If you're here to relax, you won't have to look very far to fulfill this desire. The spa offers pampering treatments that will ensure you feel blissed out and rejuvenated. The wellness center offers daily yoga classes and is a great way to unwind while appreciating your beautiful surroundings.
The spectacular outdoor pool has a long rectangular extension that looks as though it extends right into the ocean water. You can spend the day here in one of the private cabanas and make use of the teak wood lounge chairs to catch a tan. The kids can enjoy the splash pad, a separate pool, and a wet play area that they'll love!
This is also a great spot for foodies. The Mosaic Restaurant offers an international menu that changes seasonally and showcases different types of cuisine. Then there's the Tokyo Bar which is the resort's Japanese-style restaurant. Here you can expect a sushi bar and other traditional Japanese dishes. For a more casual meal, try the Caribbean Beach Shack Cafe.
Rooms From $760 per night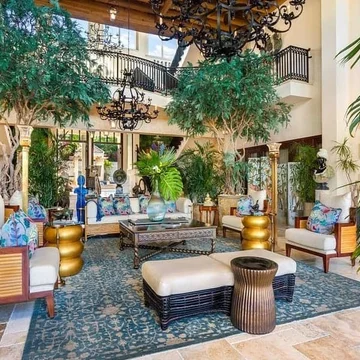 Quintessence Hotel, Relais & Châteaux
If an intimate vacation experience sounds like your idea of a good time, then this nine-suite boutique luxury hotel will tick all of your boxes. Known as a tropical grand mansion right on the beachfront. You can expect a unique and personalized stay at this opulent property, where every suite promises a view of the ocean.
Check Availability
The Quintessence Hotel, Relais & Châteaux is as grand and elegant as it sounds. The suites are large and drenched with every lavish finishing you can think of, including antique wood four-poster beds. The opulence continues into the bathrooms where you'll find Turkish marble and large soaking tubs.
Each suite also features a smart TV and Bluetooth sound system as well as a 24-hour butler and room service. You're more likely to feel like you're staying in a private mansion than a hotel. And if you are planning a destination wedding or large family reunion, you can actually book out the entire place and invite up to 21 people to join you in this slice of paradise.
Enjoy direct access to the beach just a few steps away where you can lounge in a sunchair and take in the magic around you. You can also dip in one of the several pools at the hotel or challenge someone to a game of tennis. Or, enjoy some downtime in the saunas and steam rooms after a yoga session at the pavilion.
The hotel has been curated personally by the owners and features a full gallery of fine art and collectibles. This is just another feature that adds charm and character to this intimate beachfront gem.
Rooms From $750 per night
Finding the Best Resort in Anguilla
Anguilla hotels are exceptional in every way. This mesmerizing island with turquoise waters and pillowy white sand is just waiting to be explored.
If you are an active traveler always up for an adventure, you'll find plenty of underwater activities to get your heart rate up. If unwinding and relaxing is what you are after, you'll find that in the tranquil spas and secluded beaches. If lavish travel sounds right up your alley then check out these 7-star hotels for ultimate luxury options. And if you're really looking to splurge, why not see what it would be like to spend a night in one of the most expensive suites in the world.
Find Luxury Hotels in Anguilla