Luxury Hotels in Melbourne, Australia | Best 5-Star Hotels
Australia is well known for some of the best landscapes and wildlife experiences in the world. Aside from huge spiders and dangerous snakes in the outbacks, there are some metropolises like Melbourne where you're exempt from running into these creatures.
If you're looking for the best luxury hotels in Melbourne, Australia, there are amazing locations that offer you wondrous opportunities to relax comfortably and lavishly or safely explore.
Whether you're searching for one of the world's underwater hotels or a rainforest resort, there are lots of opportunities for lavish living, you just need to know where to look.
Luckily, you can read all about the luxury hotels in Melbourne and discover some of the best hotels in Australia. ​​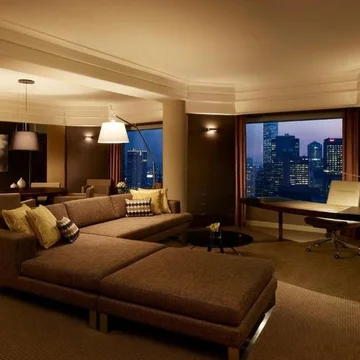 Grand Hyatt Melbourne
If you're looking for a wondrous hotel that keeps your needs at the forefront, the Grand Hyatt hotel is arguably one of the best hotels in Melbourne. Here you're able to choose between lots of offers from all-inclusive stays to fantastic spa facilities and wellness packages.
Check Availability
The hotel is located close to Federation square where arts and culture events are open to the public and a great way to immerse yourself in the arts and culture that Melbourne has to offer. Across the road, you can view the neo-gothic 19th-century cathedral, this is a lovely location for anyone that loves architecture.
Within the hotel, you can enjoy prestigious suites and rooms that are stylish and spacious. With views of the Melbourne skyline and Yarra river, you can expect Italian marble bathrooms, lovely workstations as well as the ultimate comfort of Egyptian cotton linen.
With a wide range of options from an ambassador's suite, diplomatic suite, or the premier suite, each option increases in luxury.
If you're hungry, you can catch something to eat at Collins Kitchen. The on-site restaurant offers you an award-winning menu with À La Carte lunch and dinner or a great breakfast buffet in the mornings.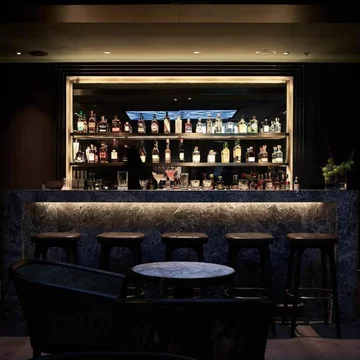 Hilton Melbourne
The Hilton hotel is centrally located, a quick walk from Queen Victoria Market and Bourke Street Shopping Mall. You'll be right on the doorstep of your favorite tourist destinations. This 5-star hotel situated on Little Queen street is close to lots of coffee shops, restaurants, and the local Chinatown.
Check Availability
This beautiful hotel combines the elegance of the old world with contemporary designs and stylish elements. You can expect the use of color and shapes that contour the unique modern feel of the suites while preserving the original 90-year-old building and architecture.
The rooms feature lots of useful amenities like blackout blinds, WiFi, and TV. You can also indulge in the mini-refrigerator or relax with a deep soak in the tub or quick jump in the rain shower.
If you need anything at all, you can get hold of the concierge service, request room service, or make use of their well-equipped fitness center. If this trip is for business, and not pleasure, you've also got the option of using their marvelous meeting rooms.
The Hilton hotel oozes professionalism and luxury, by ensuring that the various banquet rooms and conference locations are as grandiose as their King Suites.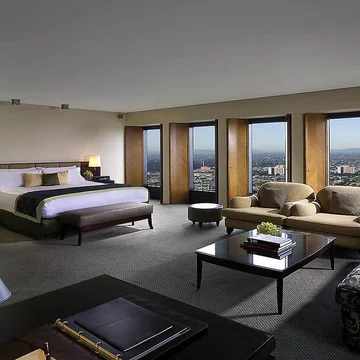 Sofitel Melbourne
If you've visited the Sofitel family before, you may have experienced their opulence in locations like the Sofitel Queenstown, London, or Dubai. The Sofitel company is well known for its quality of service and outstanding hotels.
Check Availability
The 5-star Sofitel Melbourne offers you an experience of exclusivity and style. Here you can wake up to views of the Yarra River and Treasury Gardens. The hotel is easily accessible through the tramways as the route drives right in front of the Sofitel. Explore the city of Melbourne, the Fed Square, and the arts center right across the river.
In their Imperial suite, you can experience eminence like no other. From a gold-plated spa bathtub to Hermès amenities, this hotel room will have you feeling like pure royalty. The room also features WiFi, a private bathroom and shower, a walk-in closet as well as a spacious lounge and dining area.
The hotel itself broadens your majestic experience by offering you a range of fantastic opportunities. For one, you could join the exclusive Sofitel Club on the 35th floor, or head over to Atrium Bar on 35 for drinks or visit Sofi's Lounge for afternoon tea.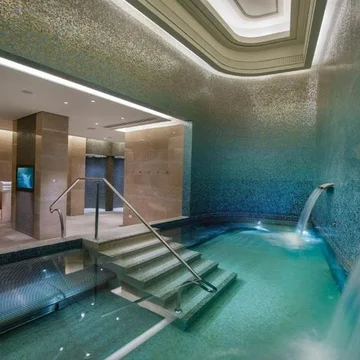 Crown Towers Melbourne
The Deluxe Villa at the Crown Towers Melbourne has been explained as the epitome of luxury. If you're in search of a penthouse or prefer something similar that is private and simply lush, you can find it on the 30th and 31st floor of the Crown Towers.
Check Availability
The villa is fitted with marble finishes, extravagant chandeliers, bright colors, and a generous amount of space to call your own. Here you'll settle into a walk-in cupboard, spa bath with a separate shower as well as the regular TV, WiFi and not to mention, the wondrous views of the city skyline.
If you're looking for exclusivity, staying at the deluxe villa will provide you with access to the Crystal Club lounge with 24-hour butler service as well.
You'll be happy to know that Crown Towers have consecutively achieved the Forbes Travel Guide, 5-star award. Arguably, the Crown Towers can be considered the best hotel in Australia. With services like those mentioned above, there's no mistaking why.
Here you can also experience Australia's most luxurious indoor swimming pool, along with a great fitness center.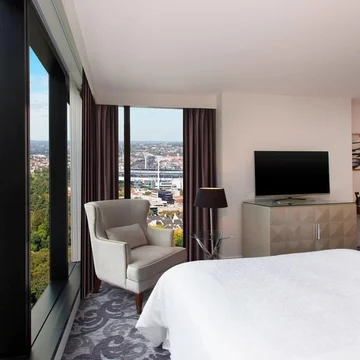 Sheraton Melbourne Hotel
While the Marriott group is usually quite renowned worldwide, the Sheraton is another moniker synonymous with luxury lifestyle hotels. The Sheraton Hotel in Melbourne is one of the most popular luxury hotels. Better known for their French restaurant on Little Collins street.
Check Availability
At the Little Collins Kitchen, you can experience the best of French food while enjoying cocktails on the terrace. If you're a sucker for luxury hotels but even more so for wonderful views of city skylines or spectacular riverbanks, the Sheraton is for you.
Inside the rooms, you can expect free in-room snacks, air-conditioned modern rooms, and free amenities like Netflix or bathroom products. Pamper yourself with luxury bedding while you fight to leave for a full English breakfast.
If you're looking for a great location to explore the Melbourne CBD, you're only 5 minutes walk away from the Princess Theatre and Treasury Gardens. If you're looking for something a little more sporty, you can head to the entertainment and shopping area down the road or visit the Melbourne cricket ground.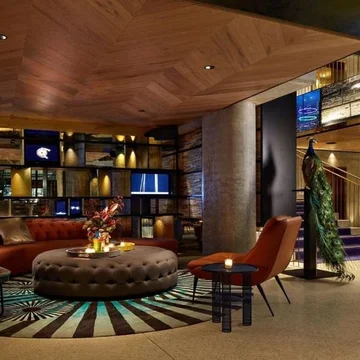 QT Melbourne
On our quest to find the best hotel in Melbourne, Australia; you'll find that QT is a trendy, modern, colorful, and dynamic hotel. Here, you can kick off your shoes in style after a night out at the regent theatre, or after strolling through the various shopping streets.
Check Availability
In the name of pure luxury, the hotel features everyday modern conveniences that we require, like air conditioning and WiFi but is especially coveted for its city views and stellar location.
The hotel is located in the city center and right at the core of the main tourist attractions.
You can explore the coffee, foods, and fashion that is integral to Australia, visit the Melbourne Museum, Queen Victoria Market, or cruise along the Yarra River.
Once you've found yourself back within the walls of the hotel, you can indulge in a full English or Irish breakfast where there are vegan and gluten-free options available. You can also expect to expand your horizons at the temporary art galleries at the hotel itself.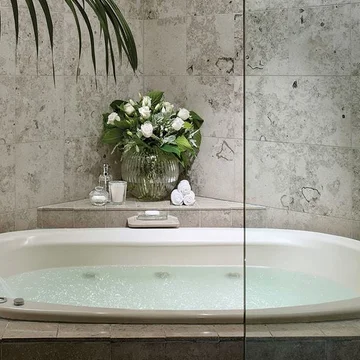 The Langham, Melbourne
If the sister hotel, The Langham Chicago is any indication, you know that Melbourne 5-star hotels are top-notch. Here's what you can expect from the Langham in Melbourne's vibrant Southbank precinct.
Check Availability
The Langham has a host of luxurious rooms and suites. The Chairman Suite is the perfect option for anyone that appreciates exclusivity, privacy, and grandeur. With this suite, you're offered a space for every aspect of your life.
The room features an office for business meetings, elegantly decorated living and dining areas, as well as guest rooms, and of course, the master bedroom. Each space is brightened by floor-to-ceiling windows and is unique in design and practical as well.
While the rooms are magnificent, the real favorites are the wellness options on offer. The Langham Melbourne luxury hotel features a swimming pool, fitness center as well as a luxurious spa. The Chuan Spa incorporates the influence of traditional Chinese philosophies.
This is implemented through the practice of traditional Chinese Medicine. If you're looking for mental and physical relaxation, the Chuan Spa incorporates qualified and knowledgeable therapists to ensure that your day at the spa has been as refreshing and revitalizing as possible.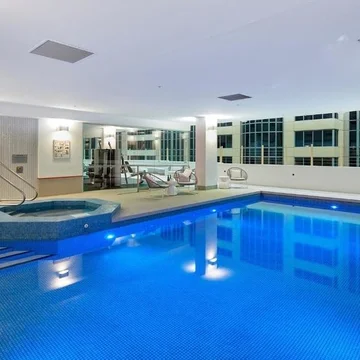 Novotel Melbourne
This 4-star hotel competes with some of the top hotels in Melbourne by providing guests with unquestionably great service, excellent amenities, and a top-notch location. As part of the Accor hotel group, you know that you'll receive quality luxury living, filled with all the trimmings despite being a lower-level starred hotel.
Check Availability
Situated right at the center of Melbourne's Collins street, this hotel is within walking distance from St. Paul's Cathedral and the Union Lane Graffiti. If you're a lover of art, this street will shake up your preconceived notions about what constitutes art. If you're feeling a bit more adventurous, you could also wander to the other street art locations or visit the aquarium.
Once you've finished a day out on the town, you can head back to your room and relax with a glass of champagne in the spa bath. If you'd prefer getting something to eat first, you should expect that the Lane restaurant and Bar will serve delightful and authentic Australian dishes.
Regardless of how you feel, the Novotel Melbourne Hotel features a space for every occasion. From the fitness and gymnasium to the heated indoor swimming pool and jacuzzi. There's a way to unwind that is suitable to anyone's needs.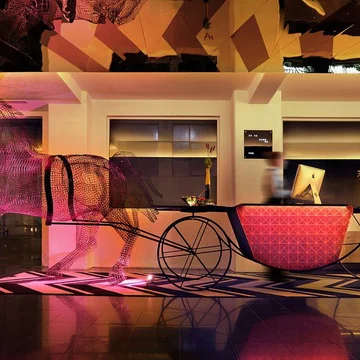 Adelphi Hotel
There are few hotels in Melbourne that are as unique and modern as the Adelphi hotel. In the Palatial suite, you can expect a variety of geometric patterns which come together to create a contemporary take on luxury living.
Check Availability
Bright and colorful decor, lots of textures, and patterns add a youthful touch to this space. This hotel is a great place for anyone seeking something spacious, unique, and high-end. The suites feature amenities like complimentary Hunter LAB bathroom products, T-Bar tea-making facilities as well as some of the finest views of Flinders lane.
The most thrilling aspect of the Adelphi hotel is the outdoor pool and deck area. The pool itself extends out overlooking Flinders Lane. It is also made out of a transparent glass bottom which allows swimmers to swim above the cars and view this little part of the world from a different perspective.
After a fun day out at the pool, or exploring the surrounding areas, you can head to the Adelphi kitchen, the Om Nom Nom restaurant. You and your friends can choose from a range of gourmet options and a tasty wine selection. Whether you're enjoying oysters on a Friday or high teas over the weekend, you'll be in good hands.
Aquila Nova Retreat
The Aquila Nova retreat is located just an hour outside of Melbourne's city center. This is a wonderful place for anyone looking forward to a luxury retreat designed to reconnect you to the earth.
Check Availability
Many of the hotels Melbourne, Australia has to offer rarely introduce true elements of nature. As far as killer snakes go, the distance between dangerous animals is well managed and taken care of, so you don't need to be too concerned about that.
With legendary spa treatments, calming baths, and tranquil gardens, you can wipe your stress away. If you're looking for something comfortable, the Sol and Luna suites feature everything you need for comfortable living like WiFi, TV, and a fridge.
However, the extra added indoor fireplace, Jacuzzi, and conservatory accelerate your vacation experience into a serene space. If you'd like, you can also head out for nature walks and explore the wildlife in the surrounding areas.
If you're specifically looking to immerse yourself in nature, there are various picnic areas and adventures among the trees that you can be a part of. For botany enthusiasts, there's a Rhododendron garden as well or you can explore the forest by railway.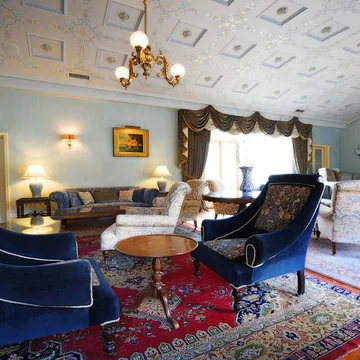 Chateau Yering Hotel
While the Chateau Yering Hotel is a mere one-hour drive from Melbourne city center, the extra travel time is all the more worthwhile once you see this 5-star hotel. Instead of the city attractions, here you're open to exploring wine valleys or the Yering Bushland Reserve. If you prefer a day out on the green, you can head to the Yering Meadows Golf club as well.
Check Availability
Back at the hotel, you'll find that all of your luxury needs can be fulfilled. With greenery and gardens, outdoor swimming pools, and magnificent sunsets, you won't be disappointed in this distinctive home of splendor.
Why not start your day with a warm cup of coffee on the terrace, followed by a lovely game of tennis with your biggest competition. The Chateau Yering is the epitome of country living, so be sure to also explore the landscape and learn all about the history and heritage at one of their high teas.
You can also enjoy their on-site restaurant, Eleonore's, which explores an Italian-Australian fusion of influences. The restaurant attempts to embody gracious living, refined cuisine, and quality wines. An alternative is Sweetwater cafe which makes for a great pit stop along wine trails.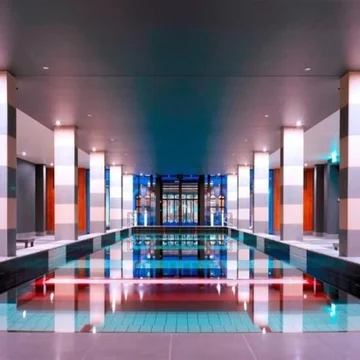 Lancemore Mansion Hotel Werribee Park
Located in Werribee Park, the Lancemore is competing in a different category for the best hotel Melbourne has to offer. This 5-star hotel is a stone's throw away from the Werribee Park Mansion Museum and takes you along the Werribee Park Sculpture walking route.
Check Availability
While the outside rose garden is absolutely beautiful, the hotel features a little bit more than nature. At the Lancemore Mansion Hotel, you can experience award-winning, luxurious, and stylish accommodation, and explore the best luxury boutique hotel.
These spacious luxury rooms are well decorated, with modern finishes. The furniture and clean-cut, bright open spaces with lots of natural light are a great place to settle in and read a book. If you don't mind losing a few square meters, you can also book yourself into the heritage rooms.
These rooms are draped in history and culture. You'll still receive luxury amenities like TV, WiFi, personal bath products, and a comfortable queen or king-sized bed. The biggest bonus is the aspect of nature and a hint of English tea garden that makes this location a little bit more exciting.
While you're there, you have to visit the on-site restaurant where you can soak up the atmosphere and treat yourself to delectable treats from the head chef at Joseph's Restaurant and Bar. Better yet, travel across the continents through their extensive wine list that showcases the best of Australian and International wines.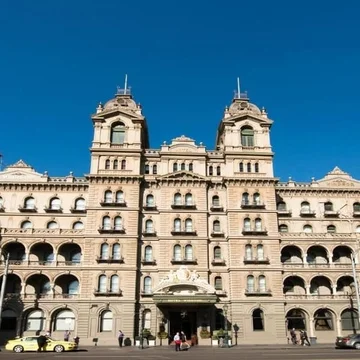 The Hotel Windsor
Out of all the Melbourne hotels, nothing quite says Victorian era like the Hotel Windsor. The building itself forms part of the heritage hotels. It was originally built in 1833 and showcases the architecture that was prominent during that time.
Check Availability
Inside, you'll find a similar old-world element intertwined with some new-age twists. If you're looking for the epitome of Victorian luxury, the Royal Suite has everything you'll need to feel right at home. In the room, you receive basic amenities such as a walk-in wardrobe, WiFi, concierge, and pillow menu.
Although, you can expect a beautiful claw-foot bath with elegant seating areas and a dining section. Here you can enjoy something from room service or simply cuddle up in front of the fire with a cup of tea before bed.
The Hotel Windsor is situated on Spring street and is in close proximity to the conservatory as well as the royal exhibition building. If you're looking for somewhere to spend your afternoons, you can catch the closest tram to anywhere in Melbourne.
Once you get back to the hotel, you can settle down for dinner at Sunda, A multi-award-winning restaurant. Here you'll experience Southeast Asian flavors as a delicious homage to the region of the same name.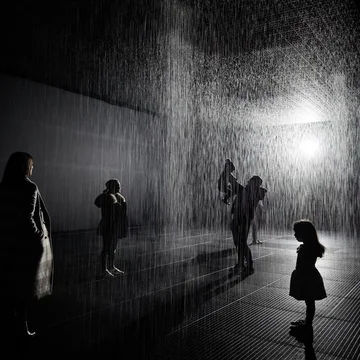 Jackalope Hotel
There are only a handful of the best hotels in Melbourne, the Jackalope is one of them. The biggest drawcard of the Jackalope Hotel is the one-of-a-kind Rain Room. This 5-star hotel is a great spot for partners or the whole family.
Check Availability
This unique and forward-thinking hotel should be an essential stop on any art-enthusiasts bucket list. Here you're able to see a few relevant contemporary art pieces that have made waves in recent times.
Although, the rooms, suites, and living areas of the Jackalope Hotel are a continued extension of their art exhibitions. You can choose between views of the vineyards or the terraces, each room speaks to different personalities.
Their signature suites offer you a Japanese bathtub, WiFi, and TV. Although, the main delights are the bottomless popcorn offers with on-demand movies or classic wine tasting tours. The luxurious terrace rooms also feature a spacious work area for those on-the-go professionals, as well as a lovely terrace outdoors for a lovely cup of morning coffee.
Since the Jackalope is located on the outskirts of Melbourne, you'll have an opportunity to explore the Merricks North region in style. Here you can visit lots of wineries or enjoy the great outdoors.
Find Luxury Hotels in Melbourne