Thick jungles, rich history, glorious food, and jaw-dropping landscapes – there are many reasons why you might want to visit Cambodia – home of the ancient ruins of Angkor Wat. For your utmost comfort, we have selected the best luxury hotels in Cambodia to balance out the dichotomy with your adventure-filled itineraries.
The location and styles of the selected hotels vary, but you can rest assured knowing we have chosen the crème de la crème of Cambodia's luxury hotels.
Sofitel Phnom Penh Phokeethra
Located on the banks of Tonle Bassac River, this five-star hotel combines the classic French style Sofitel hotels are known for, a myriad of amenities, and interiors that take your breath away. Aeon Mall, one of the most visited malls in the area, is a short walk away from the hotel, much like the picturesque and historic Royal Palace.
Check Availability
The amenities at Sofitel Phnom Penh Phokeethra are one of their strong suits. Discover the world of holistic beauty at Sofitel Spa, which brings the latest in French cosmetology to Phnom Penh and utilizes it in their pampering treatments. Sofitel Fitness has all the equipment you need for a successful workout, from weight machines to exercise bikes, and if you feel like partaking in a sport, you can practice yoga, squash, tennis, and swimming at the Phokeethra Sports Club
And when it comes to enjoying the flavors of the best restaurants in Phnom Penh, you don't even have to leave the hotel's premises. La Coupole's international dishes are combined with an extensive wine and champagne menu to bring you the meal of your dreams. Do Forni, a remarkable Italian restaurant, will serve your favorite pasta or brick-oven pizza in an elegant setting that features an open kitchen, while Hachi is a Japanese restaurant where chef Katayama Yashuhiro serves the best authentic flavors of Japan.
All 201 rooms and suites are spacious, chic, and comfortable. The cozy living area is placed in front of large floor-to-ceiling windows that reveal the city skyline. The beds are sizable and feature the classic Sofitel MyBed branded bedding, while the wooden floors, combined with Khmer tones, make the rooms inviting and elegant.
The rates at Sofitel Phnom Penh Phokeethra start from approximately $200 a night.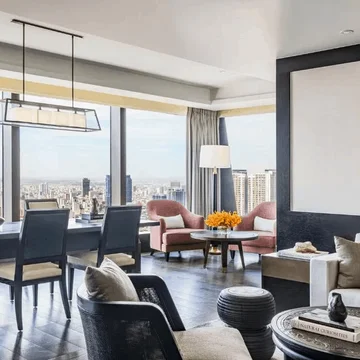 Rosewood Phnom Penh
The iconic Rosewood Phnom Penh occupies the top 14 floors of Vattanac Capital Tower, the tallest skyscraper in Cambodia's capital. The perks of such a location are multifold, but it's especially reflective in the breathtaking views of the river and the skyline from up above. Sisowath Quay, a two-mile riverfront strip, as well as the Royal Palace, are a fifteen-minute walk away from the hotel.
Check Availability
Rosewood Phnom Penh is the residence of one of the best spas in the city – Sense, A Rosewood Spa. Enjoy a series of innovative and replenishing treatments designed to soothe your body and mind. Self-care options continue at the manicure and pedicure studio by Bastien Gonzalez. There's also a large indoor lap pool, ideal for a morning swim. Alternatively, visit the 24-hour gym and get in a standard workout.
From delicious French cuisine to artistic cocktails served on the rooftop bar, Rosewood Phnom Penh wins at the booze and bites department. Brasserie Louis offers an elaborate continental breakfast, French dining, and local favorites. Zhan Liang is the hotel's on-site restaurant where you can go on a gastronomic journey composed of Chinese cuisines, whereas Iza, a Japanese restaurant, is brimming with tasty options, including a signature noodle corner.
The 175 rooms and 37 suites breathe glamor and luxury. City views are available throughout, courtesy of the floor-to-ceiling windows. Each room comes with a Nespresso coffee machine, walk-in closet, luxury Christophe Laudamiel amenities, and spacious beds with Frette 600 thread-count linen. For the ultimate treat, book one of the signature suites Rosewood hotels are known for.
The rates at Rosewood Phnom Penh start from $220 a night.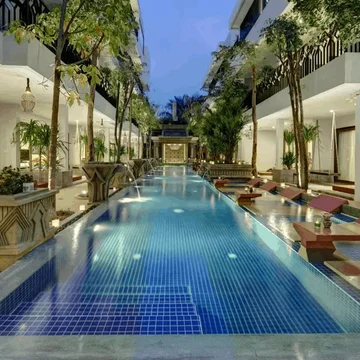 Golden Temple Retreat
Located five minutes away from downtown Siem Reap, Golden Temple Retreat is a tranquil and luxurious sanctuary amidst a busy city. Its convenient location allows you to step into the hustle and bustle of city life without compromising on peace and quiet.
Check Availability
One of the hotel's highlights is the grand outdoor swimming pool which gives you the chance to get in your daily workout or simply relax and sip on one of their many signature cocktails. There are more than 150 temples in the area, including Angkor Wat – one of the greatest landmarks in Cambodia, and a short drive will take you directly to these historical sites.
After a day out adventuring, book yourself a serene treatment at the on-site Senpidor Spa. The in-house restaurant pays homage to local culture, so apart from serving royal Khmer cuisine, it also organizes fun Khamer dance nights and entertaining performances.
Most of the rooms face the outdoor swimming pool, and while all of them differ in style and layout, they contain touches of local culture, such as Khmer artifacts. The color palette is usually bright and colorful, matching the cheerful hospitality of the staff. All rooms come with private balconies and en-suite bathrooms that contain luxury tubs.
The rates at Golden Temple Retreat start from approximately $190 a night.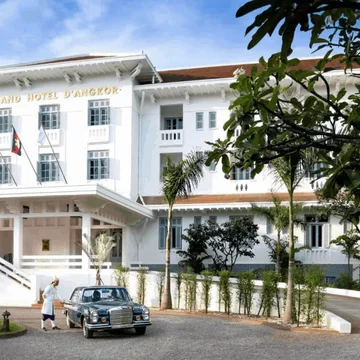 Raffles Grand Hotel d'Angkor
Raffles Grand Hotel d'Angkor is one of the most renowned and historic hotels in Cambodia. Since its opening in 1932, it's had many famous guests, among them Charlie Chaplin, Charles de Gaulle, Princess Margaret, and Michelle Obama. The combination of world-class service, royal treatment, and its outstanding location is what makes it so popular among royalty and tourists alike. Situated across the gorgeous Royal Gardens, its location allows you to visit popular historic landmarks and spend quality time in nature, courtesy of the surrounding gardens and the hotel's proximity to the river.
Check Availability
The hotel's impressive and palatial architecture will probably catch your eye prior to arrival, and the inside is no exception – the lobby is filled with columns, massive artwork, and dramatic chandeliers. Raffles Grand Hotel d'Angkor houses one of the biggest outdoor hotel pools, ideal for those who count swimming as their daily exercise. If you prefer more traditional options, there's a well-equipped gym. And if what you're looking for is total relaxation, soak your stress away at the hotel's world-class spa center.
There are four dining options available. The Restaurant 1932 mixes French cuisine with Khmer cuisine, resulting in sumptuous dishes made of fresh, local ingredients. Café D'Angkor serves the signature champagne breakfast the hotel is renowned for, in addition to Asian and Continental dishes, while The Elephant Bar is one of the most famous bars in Siem Reap, and the signature Airavata cocktail is a must-try.
A traditional style is juxtaposed with a modern flair in every room and suite available. Think dark wooden floors, ligneous beds with luxury lining, floor-to-ceiling windows, and original artwork. A minibar, a coffee making machine, and a flat-screen TV are included in every accommodation.
The rates at Raffles Grand Hotel d'Angkor start from $280 a night.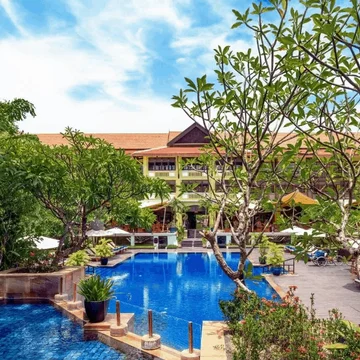 Victoria Angkor Resort & Spa
Travel back in time at Victoria Angkor Resort & Spa, a unique luxury hotel that offers 1930's Citroen cars, a colonial aesthetic, and a central location ideal for sightseeing, right in the heart of Siem Reap's French Quartet.
Check Availability
One of the many perks of this family-friendly resort is the excellent service and the spectacular array of amenities. The enormous saltwater pool is the perfect place to lounge during the day, and the surrounding lush gardens will make you feel as if you're amidst a vibrant jungle. Along with the pool, there is a pool deck bar where you can get a hold of refreshing drinks throughout the day. The kids' pool is placed nearby, so your young ones can also have some fun in the water. If you're not too keen on spending your days near the pool, you can book yourself a relaxing massage at Healthysens Spa.
Victoria Angkor Resort & Spa boasts two restaurants and a bar. L'Explorateur is an ideal place to try their famous signature cocktails. L'Escale is the hotel's main restaurant, serving a wide range of Khmer and western a la carte dishes. Lastly, Le Connaisseur, much like the name suggests, is perfect for sampling mouthwatering French gastronomic cuisine.
The commodious rooms open up to a balcony which allows you to sip on your morning coffee with a view. The furniture is mostly ligneous, a fair pairing with the bright color scheme. Some of the amenities offered include a desk area, a coffee machine, and a TV.
A standard room at Victoria Angkor Resort & Spa starts at around $200 a night.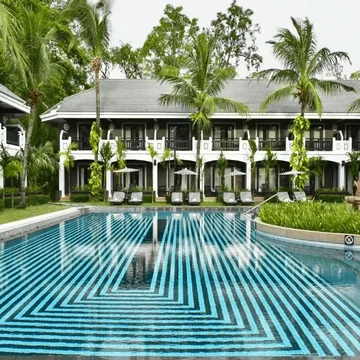 Shinta Mani Shack
If you want to escape the predictability of hotel chains, then Shinta Mani Shack is for you. Though on the smaller side, the hotel offers spectacular service and a central location, right in the heart of Siem Reap. The Old Market district, a must-see for an authentic Cambodian experience, is a short walk away from the hotel.
Check Availability
Every part of the hotel is centered around the magnificent outdoor pool. Whether you merely lounge around or take the opportunity to get in your daily exercise, it provides a relaxing escape. The hotel's spa is located at Shinta Mani Angkor, offering a blend of holistic local treatments and packages.
A plethora of culinary delights awaits at Kroya – the hotel's restaurant focusing on international and local cuisine, using fresh produce and native spices and herbs for flavorful and colorful meals. The gin menu at Bensley's Bar, named after Bill Bensley, will impress any gin fan. Choose from over 30 gins from across the world, combined in a thrilling manner to bring you excitement with every sip. In addition to gin, make sure you try their signature Open heart cocktail.
Quirky and colorful, the rooms at Shinta Mani Shack include dark ligneous furnishings, coffee and tea facilities, en-suite bathrooms with separate bath and rain showers, and flat-screen TVs. All the rooms overlook the courtyard and swimming pool.
The room rates at Shinta Mani Shack start from $160 a night.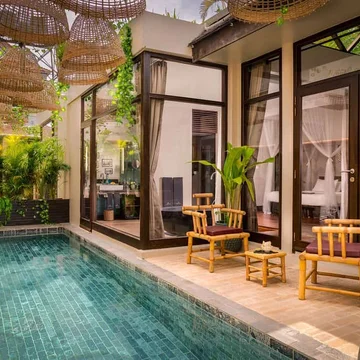 Heritage Suites Hotel
The newly-renovated Heritage Suites Hotel is a charming and romantic luxury hotel placed in the center of Siem Reap, adjacent to Wat Polanka, near the Siem Reap River. The historic Angkor Temple, a landmark that's bound to end up on your itinerary, is merely a 20-minute walk away from the hotel.
Check Availability
Both the common rooms and the accommodations are designed in a Cambodian style. The outdoor saltwater pool is surrounded by lounge chairs and tall trees, an ideal combination for a day out in the sun. The Heritage Spa offers various professional treatments using natural and locally-sourced products, which promise to soothe your sore muscles after a day of sightseeing or partaking in some of the hotel's experiences.
The on-site Heritage Restaurant blends European classics with South-East Asian delicacies, resulting in sumptuous dishes. You can end your day with the traditional Cambodian Dome dessert or the intriguing Mystery Cheesecake.
This boutique hotel offers twenty rooms and suites in total, all of which come with modern amenities like a flat-screen TV, a private pool, and a spacious bathroom. The most indulgent accommodation options include a Jacuzzi, private gardens, and an outdoor pool. The colorful details and stunning artwork only add to the incredible design of the rooms.
The rates at the Heritage Suites Hotel start at $130 per night.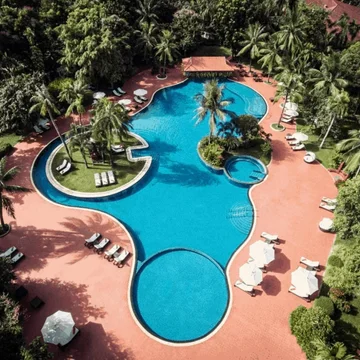 Sofitel Angkor Phokeethra Golf and Spa Resort
A world-class golf course, a signature Sofitel Spa, and accommodation embodying French colonial elegance – Sofitel Angkor Phokeethra Golf and Spa Resort encompasses everything you need for a luxurious and memorable stay. The hotel is surrounded by lush gardens and transparent ponds, making you feel like you're amid a small jungle. Angkor Wat, one of the most popular tourist areas in Siem Reap, is a ten-minute walk away from the hotel.
Check Availability
Book a relaxing massage or treatment at the signature Sofitel Spa, which uses quality L'Occitane products. Not only does the hotel offer a well-equipped gym, but it's also home to the largest saltwater pool in the city, made complete with The Serpent – a poolside snack bar. Golf enthusiasts can enjoy complimentary tickets to the nearby 18-hole golf course.
Modern French cuisine is served at the vibrant and chic Mouhots Dream restaurant, in addition to an extensive wine menu that completes every dish. For international options, visit The Citadel, a dining hotspot that features traditional Khmer dances on selected days.
Sofitel hotels are known for their elegant interiors and warm color schemes, and Sofitel Angkor Phokeethra Golf and Spa Resort is no exception. The superior rooms open up to a stunning vista of the bright blue pool and surrounding lush gardens. Hardwood floors match the color palette impeccably, much like the carefully selected local artwork. Some of the amenities include a minibar, coffee and tea making facilities, and a satellite TV.
The rates at Sofitel Angkor Phokeethra Golf and Spa Resort start from $120 a night.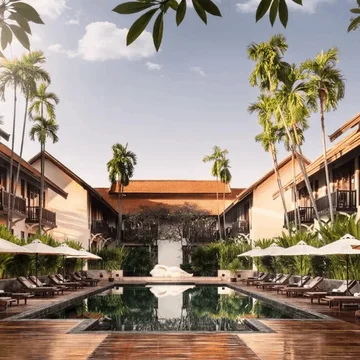 Anantara Angkor Resort
Anantara Angkor Resort sits on the outskirts of the historic Siem Reap, in close proximity to the neighboring mesmerizing temples of Angkor and the Old Market area. This award-winning hotel combines elegant suites, a long list of amenities, and a professional service to bring you the perfect Cambodian getaway.
Check Availability
Popular among couples, solo travelers, and families alike, the hotel's varied facilities will appeal to anyone. The spa consists of five treatment rooms, in addition to a steam room and a hot tub, everything you need for a hedonistic escape. On top of that, there is a state-of-the-art fitness center to please all traveling gym buffs.
Even though there are many local restaurants in the area, nothing beats Anantara Angkor Resort's Chi restaurant, regarded as one of the best in Siem Reap. Apart from a breakfast buffet with an array of international options and fresh food, the restaurant also serves farm-to-table Khmer cuisine with a twist. Sit by the open kitchen and see the meals being prepared while you sample their spectacular appetizers. Personalized dining and tasting menus are also available.
Accommodation-wise, there are 39 spacious, eco-chic suites up for grabs. The décor includes teakwood floors, local artworks, and long drapes, with a simple yet elegant neutral color palette. The en-suite marble bathrooms include a separate bath and rain shower area.
Prices at Anantara Angkor Resort start from $140 a night.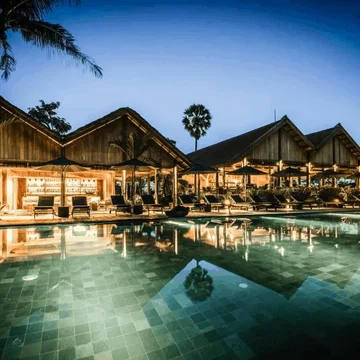 Phum Baitang
Snuggled deep in Cambodia's countryside, between tropical gardens and rice fields, Phum Baitang is a luxury hotel that's a great option for both families and solo travelers. Despite being engulfed in greenery, there's still plenty to do here.
Check Availability
The appropriately-named Spa Temple is a tranquil sanctuary that includes seven treatment rooms, a sauna, and a steam room. On top of that, there is a yoga pavilion where you can book various classes and a well-equipped fitness center. All the amenities at Phum Baitang are designed to restore the natural balance between body, mind, and spirit.
The elegant and sophisticated Hang Bay restaurant infuses many international flavors, bringing you splendid options like the Bamboo Shoot and Mushroom Wok and Grilled Cobia. Bay Phsar is equally impressive, offering vibrant Cambodian flavors in a relaxed setting. Neighboring the outstanding infinity pool, the Pool Bar's drinks menu is designed to quench your thirst and replenish.
Forty-five luxury private villas are available for booking, and you have the option of selecting a private terrace or a private pool. The interior reflects Cambodian culture marvelously, with colors that are warm and inviting. Each villa comes with wooden floors and walls, spacious living areas, and private bathrooms with hot tubs.
The rates at Phum Baitang start from $440 a night.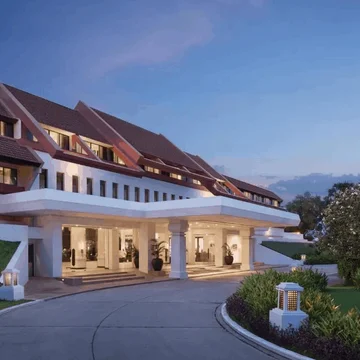 Le Meridien Angkor
Part of the Marriott group of hotels, Le Meridien Angkor is an oasis set amid Siem Reap, surrounded by beautiful gardens that separate the hotel from the local landmarks. Angkor Wat, a UNESCO World Heritage Site, is easily reachable on foot.
Check Availability
Le Meridien Angkor Spa is the best place to restore your spirits after a long day of exploring temples and sites. Once you do so, you can step into the state-of-the-art fitness center for a quick workout. The outdoor pool, inspired by Khmer architecture, resembles something out of an expensive movie set, with cascading fountains, lily ponds, and delightful bridges.
The dining options are as varied as they're remarkable. L'Angelo offers authentic Italian cuisine served with the best local wines. Angkor Royal Café, apart from serving local cuisine that's a must-have, also specializes in Asian and Western cuisine. For the ultimate romantic and private setting, order a delicious dish or two and enjoy the comforts of in-room dining.
With a whopping 213 guest rooms to choose from, everyone can find their fit. The design embodies the local culture by adding traditional Khmer elements like silk fabrics that give an authentic touch to each room. Combined with the minimalistic design are many modern amenities like a flat-screen TV, a minibar, and coffee making facilities
The room rates at Le Meridien Angkor start from $100 a night.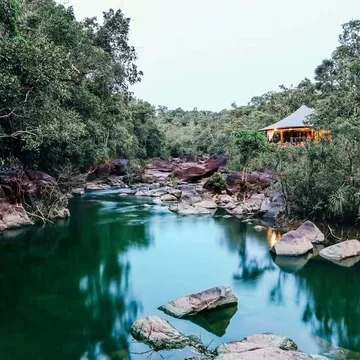 Southern Cardamom National Park, Cambodia
Shinta Mani Wild
Glamp in style at Shinta Mani Wild – an eco-friendly resort nestled between the Cambodian rainforest. This resort offers an escape in nature, away from the noisy and crowded cities, without compromising on luxury and comfort.
Check Availability
The on-site spa is the cherry on top of a memorable glamping experience, an oasis of tranquility that offers various treatments and massages. Adventure awaits at the gorgeous waterfalls, forests, and the lush river valley. Whether you book a kayaking trip, try mountain biking, birdwatch, or go for a picnic near the waterfalls, a fun time is guaranteed.
The cuisine is fresh and bursting with flavor, which is no surprise considering the ingredients are picked daily by the gardeners and chefs. Enjoy a wide array of unique flavors and delicious local specialties, regardless of the seasons.
Fifteen private luxury tents are scattered on the riverbank, placed among tall and thick trees. Wake up to the sound of birds or the gentle waves caressing the river rocks. Take a relaxing bath on the balcony, or enjoy your morning coffee in the comfy armchairs. The décor is homely and boho-chic, dark woods mashed with pristine whites to create a gorgeous contrast.
The rates per night at Shinta Mani Wild start from $1,900 with a minimum three-night stay.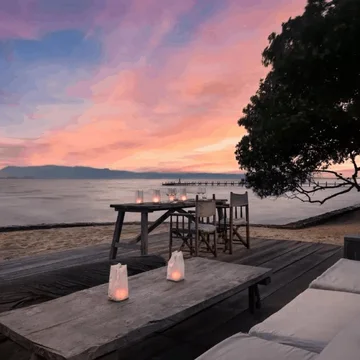 Sangkat Prey Thom, Cambodia
Knai Bang Chatt Resort
Utterly romantic and secluded, Knai Bang Chatt Resort is a dream hideaway for couples. Also known as the St. Tropez of South-East Asia, it's brimming with natural beauty, distinguished on-site restaurants, and an amazing seaside location. The resort's distinctive modern architecture can be spotted from a mile away.
Check Availability
Any amenity you can think of, you're likely to find it at Knai Bang Chatt Resort. The large outdoor swimming pool is the perfect alternative when the weather doesn't allow sea swims. Book one of the hotel's many thrilling experiences in the beautiful outdoors, like sailing, biking, and taking a yoga class. The small on-site spa offers replenishing treatments and massages after a long day of exploring and sightseeing.
Three amazing dining options are presented at Knai Bang Chatt Resort. Firstly, The Strand offers French cuisine with a Cambodian twist, in a relaxed and open setting overlooking the garden. The Sailing Club is set in a fisherman cottage, one placed directly above the sea. The gorgeous ocean views can be enjoyed with tasty drinks and western favorites. Lastly, visit The Lounge to catch the sunset, relax in style, and sample their signature cocktails.
Eighteen rooms are scattered around the hotel's premises, allowing for much-needed privacy. The style is quite minimalistic yet elegant, with an earthy vibe that matches the resort's character particularly well. Each room comes with a private balcony where you can enjoy a cup of coffee or in-room dining, a canopy bed, and brightly-colored en-suite bathrooms with a deep tub.
Rates start at $200.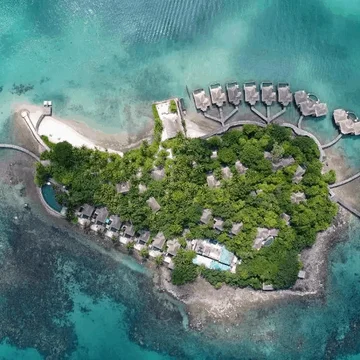 Song Saa Private Island, Cambodia
Song Saa Private Island
The reasons why Song Saa Private Island is among the best luxury hotels in Cambodia are multifaceted: it's set on a secluded island, offers beautifully appointed villas, and includes a luxury spa. Though it might take a while to reach, the long journey will pay off once you set your eyes on the ethical five-star hotel.
Check Availability
Despite its location, the hotel offers various experiences that will add a sense of adventure to your stays, like snorkeling, sailing, and kayaking. Or, if you just want to sunbathe your days away, the white sandy beaches are always here for your ultimate relaxation.
Once you're done with your water adventures, step into the on-site restaurant and let the culinary adventures take over. Vista Bar and Restaurant, located directly over the sea, serves authentic Khmer flavors and western comfort dishes. Enjoy an unobstructed view of the sunset and dishes composed of local and fresh flavors.
The villas are over water as well, allowing you to drift off to sleep to the sound of the gentle waves below. All are designed as sustainably as possible, with a tropical style comprising canopy beds, high wooden ceilings, and ligneous furnishings. Though there is a TV, you're likely to find the surrounding vistas far more appealing.
The rates at Song Saa Private Island start from $1,500 a night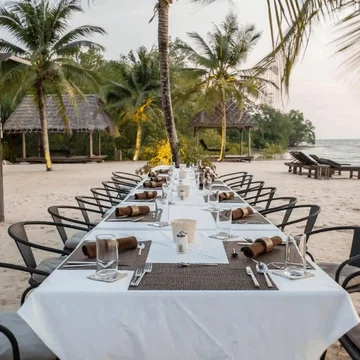 Designed to pay homage to Khmer culture, the resort will give you an authentic experience amidst Kep, the smallest province in Cambodia. The hotel boasts two swimming pools that give you a change in scenery from the sandy beaches. The on-site spa offers innovative bio-treatments that combine natural aromas and oils with centuries-old techniques. Despite the remote location, the hotel's attentive staff is more than happy to book an excursion or sightseeing tour for you. The eco-cruise seems to be a favorite among guests, taking you on an adventure to see the nearby remote islands and reefs.
Dining-wise, Chankiri restaurant serves a mix of French and Khmer cuisine, allowing you to take your dishes to various on-site locations like the beach and the poolside. Breakfast is complimentary and includes well-loved international options.
The Khmer-inspired villas balance comfort and sustainability. Every villa has a private balcony and an outdoor bathroom with a Khmer shower and an oval-shaped tub. The canopy beds are sizable and comfortable, ideal after a long day of cruising and excursions.
The villas start from $150 a night.
Find Luxury Hotels in Cambodia