A land of escape and splendor, Indonesia is one of those destinations that lures adventurous spirits. This is the home of the-most-sought-after travel destination Bali, sandy beaches, and stunning landscapes. This is also the land of 6000 inhabited islands, rare wildlife, striking temples, and active volcanoes. If this country with rich culture is on your bucket list and you're looking to spend some time in the lap of luxury, we've got you covered. In this article, we've reviewed the best luxury hotels in Indonesia that will add some extra bliss to your visit.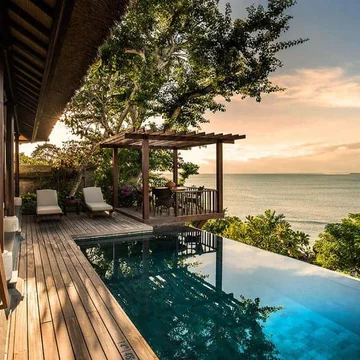 Four Seasons Resort Bali at Jimbaran Bay
The world's first luxury beach resort, Four Seasons at Jimbaran Bay, is ideal for honeymooners. This grandiose property is tucked in the charming village of Sayan, where the Ayung River and the wild nature all around create a dreamy atmosphere. A short drive will take you to Ubud – Bali's artistic epicenter.
Check Availability
Four Seasons is an all-villa resort that resembles a traditional Balinese village. The 147 spacious villas are surrounded by red palms, tropical flowers, and pink frangipani trees, and are just steps away from the beach. As you might expect, the views are simply sensational. The tropical interiors feature artworks from local artists, exotic Balinese artifacts, and fabrics in rich, sensuous colors. The spacious bedrooms feature marshmallow-soft beds that open up to a sundeck. Plus, every villa features a private plunge pool. The en suite bathrooms have marble floors, deep soaking tubs, and both indoor and outdoor showers.
The best way to spend your afternoon? Head over to the Sacred River Spa where you can enjoy a range of Asian and Balinese beauty treatments and massages. To make sure you look your best at the resort, book a hair treatment at the renowned Rossano Ferretti Hair Spa. For some tranquil time, the hotel's infinity pool surrounded by comfortable sun loungers guarantees relaxing afternoons.
At Four Seasons, guests can also indulge in excellent dining experiences. Traditional Indonesian dishes are served at Ayung Terrace, while the Riverside Cafe perched above the infinity pool spoils guests with Mediterranean plates.
The Garden Villa's rooms start at $540 per night.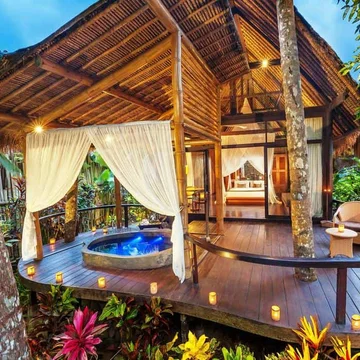 Five Elements Retreat Bali
Situated on the banks of the Ayung River, Five Elements is a peaceful sanctuary that offers guests the opportunity to embrace the vibrant Balinese culture. Here, you can learn about Balinese Healing, learn how to prepare plant-based cuisine, and practice sacred arts.
Check Availability
The resort takes pride in being an award-winning eco-conscious wellness retreat that pays homage to Bali's ancient traditions. Five Elements is located in the scenic village of Mumbai which has a few restaurants where friendly locals and international travelers can be spotted drinking their morning coffee. Plenty of landmarks are located within a 15-minute drive from the resort, including the Pasar Mumbai Balinese Market, Agung Rai Museum of Art, and Blanco Renaissance Museum.
The spacious bamboo villas feature expansive balconies overlooking the Ayung River. All units are designed in the shape of sacred spirals and feature tropical design. The refined look is accomplished with bamboo walls, large windows, grass-roofed ceilings, and recycled timber floors. King-size beds are fashioned with soft white linens and promise a good night's rest.
Villas amenities include air-conditioning, in-room safes, and free Wi-fi. There aren't any TV sets – the resort invites guests to embark on a spiritual adventure and experience harmony with nature. The most luxurious facility in the resort is the full-service spa which boasts private riverside rooms where guests can relax in river-stone healing bathtubs. Here, talented professionals offer a wide range of treatments including holistic massages, aromatic flower baths, acupressure, and aroma massages. Riverfront Villas start at $270 per night.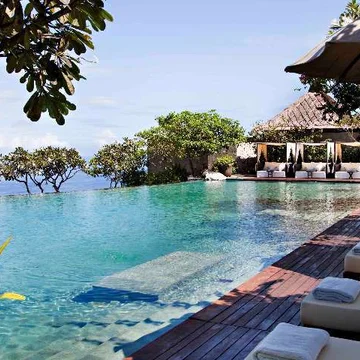 Bvlgari Resort Bali
In 2006, the Italian brand Bvlgari and Marriott International's Luxury Group decided to join forces and open a retreat in one of the most popular travel destinations in the world – Bali. The resort is located on a white sandy beach on the southern coast of Bali, in a quiet and peaceful area. A 15-minute drive will take you to the beautiful Uluwatu temple.
Check Availability
The resort boasts 59 villas that spread across an area filled with lush gardens and palm trees. Expect volcanic rock interiors and Javanese mahogany furnishings which create an exotic atmosphere. Bathrooms are spacious and commodious with marble floors, walk-in showers, double vanities, and deep soaking tubs. Plus, every bathroom has a glass door that leads to a private garden area. All units are equipped with lounge chairs, flat TV screens, Bang & Olufsen audio/video systems, in-room safes, and a table for alfresco dining. Plus, villas feature plunge pools which give way to some dazzling views over the Indian Ocean.
The resort has a full-service spa with a number of treatment rooms with floor-to-ceiling windows. The menu includes a number of luxurious treatments including Indian Ayurvedic massages, facials, scrubs, and body wraps. You can also book a treatment at the luxurious Spa Pavilion which is equipped with an open-air shower, outdoor living area, and a whirlpool hot tub.
Villas with ocean view start at $1000 per night.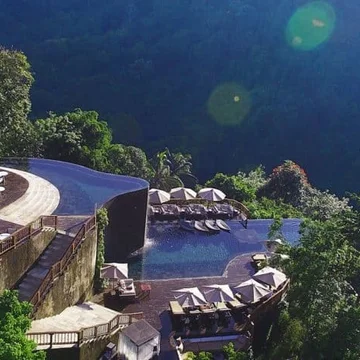 Hanging Gardens of Bali
You might have heard about the Hanging Gardens of Bali – this resort is listed on a number of lists featuring the most stunning pools in the world. The resort is surrounded by tropical jungles, colorful flowers, and fruit trees. Guests can take a short hike and reach the impressive Penataran Dalem Segara Temple.
Check Availability
The resort features a number of elegant suites and villas. All units are spacious and comfortable. High-end travelers will appreciate the Balinese-style decor that includes filmy canopy beds, polished wood floors, and teakwood furnishings. All units have floor-to-ceiling windows overlooking the lush jungle. The suites are enormous with two bedrooms, two bathrooms, and a separate lounge area. Plus, all suites have private terraces with plunge pools. The most luxurious suites at the resort feature Balinese-pool style pavilions. Bathrooms are stylish with terrazzo tubs, fluffy bathrobes, high-end toiletries, and glass showers.
One striking feature of this resort is the dazzling cascading pool that sits at the center of the property and boasts epic views over the jungle. The pool is a stunning piece of architecture and is considered to be one of the most luxurious pools in the world. At the Garden, you get a taste of international fare served in a relaxing setting. A selection of delicious cocktails is served at the Garden Bar overlooking the pool.
The hotel's villas start at $630 per night.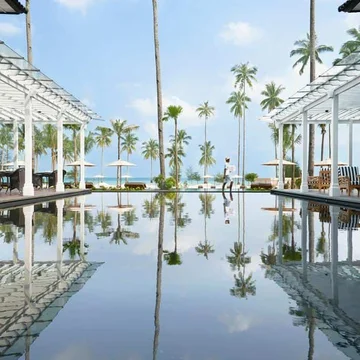 Lagoi, Bintan Island, Indonesia
The Sanchaya
Sanchaya is a luxurious resort located on the northern coast of Pulau Bintan overlooking Lagoi Bay. The island has a number of important landmarks that are easily reachable by a car, including the Elephant Sanctuary, Santa Maria Cave, and the Lohan Temple.
Check Availability
The resort has three types of accommodation: bungalows, villas, and suites. All units feature an elegant rustic style and are equipped with high-end amenities. The Lawadee Bungalows are particularly popular among high-end travelers as they are set around a private infinity pool.
Each villa features a spacious living area and a verandah overlooking the lush gardens and lagoon. There's also a private dining area set on a spacious sunny deck by the pool. Here you can arrange to have an intimate dinner prepared by the resort's renowned chefs.
Suites boast a completely different style from the bungalows. They are colored in grey tones and feature a European-inspired style. All units at the resort are equipped with well-stocked minibars, air-conditioning, free Wi-fi, coffee machines, electric kettles, wine coolers, flat TV screens, pillow menus, and yoga mats. Chic bathrooms feature claw-foot tubs, elegant tiling, two sinks, and a separate rainfall shower, and each guest is provided with upscale toiletries, elegant bathrobes, and slippers.
The resort has a 50-meter outdoor pool which is surrounded by shady cabanas and comfortable sun loungers, where you can enjoy some uninterrupted views over the ocean. The pool bar serves swanky cocktails, fresh fish, and small Thai plates.
Double rooms start at $600 per night.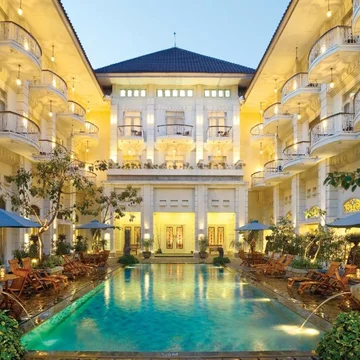 The Phoenix Hotel Yogyakarta – MGallery Collection
The Phoenix is a luxury hotel located in the vibrant area of Yogyakarta. The hotel's location is the ideal base to explore the area on foot as the Tugu Jogja monument and Malioboro shopping district are 10-minutes away. A 15-minute drive will take you to the Palace of Yogyakarta.
Check Availability
Situated in an elegant white building dating from 1918, The Phoenix Hotel Yogyakarta represents an eclectic mix of European style and eastern design. The hotel's public areas are decorated with colorful rugs, antique furniture, tiled floors, wood carvings, and mosaics.
The rooms also blend Eastern and Western elements. The modern amenities are paired with dark wood furniture, traditional rugs, and Eastern art. It's all quite sophisticated and comfortable. The bathrooms are spacious and feature stone tiling, rainfall showers, and deep soaking tubs.
Guests' favorite relaxing spot at the hotel is the spacious courtyard which has a mosaic-tiled pool at its center. At the pool, you can relax on comfortable sun loungers and contemplate your stay in Java while you gaze at tropical plants surrounding the area. The Phoenix also has a well-equipped gym and a spa with a number of treatment rooms. Here, you can order a number of healing massages, manicures, and body wraps.
Rooms start at $170 per night.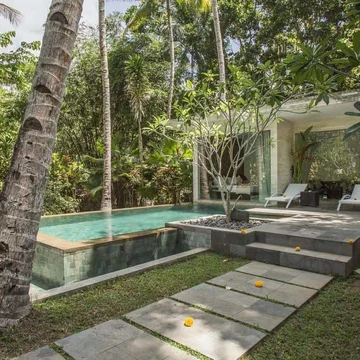 Kelapa Retreat and Spa
Blissfully remote, Kelapa Retreat and Spa is a peaceful sanctuary located on an idyllic beach in West Bali near the fishing village of Pekutatan. Here you can forget about crowds and mass tourism and contemplate the beauty of the Indian ocean in a serene atmosphere. The staff is friendly, well-mannered, and ready to go the extra mile to fulfill every guest's needs.
Check Availability
The property comprises spacious villas set within tropical gardens. The villas make the most out of the beautiful surroundings with private balconies overlooking the ocean. All villas are spacious and comfortable, an eclectic mix of European and Indonesian design. Guests can choose between a Beach Pool Villa, Ocean Pool Villa, Garden Pool Villa, Beach Villa, Ocean Villa, and Kelapa residence.
All villas feature ceiling fans, air conditioning, writing desk, mini bar, eclectic kettle, coffee machine, save for valuables, flat TV screen, and DVD player. Beds are fashioned with soft linens. The bathrooms are equally comfortable with deep soaking tubs and glass showers.
For an elevated experience, book the Kelapa residence equipped with two double bedrooms, a living area, and a full-sized private swimming pool. Don't miss to book a treatment at the hotel's lavish spa overlooking the ocean. The menu includes massages, healing treatments, and facials.
The price per night for the Ocean Villa starts at $400 per night.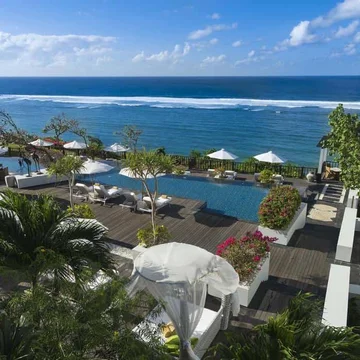 Nusa Dua, Peninsula, Indonesia
Samabe Bali Suites & Villas
Situated on a quiet and sandy beach in Nusa Dua, Samabe Bali promises fun and cozy vacation days. The area is filled with a number of high-end hotels and there isn't much else within a walking distance. However, a short drive will take you to the striking Uluwatu Temple and the Bali Collection district where you can find a number of dining and shopping options. The beautiful Benoa Beach, popular for its sea turtles and water sports, is only 20 minutes away.
Check Availability
The Samabe resort comprises 39 suites and 42 villas, all equipped with modern amenities. The warm atmosphere in the rooms is achieved with dark wooden floors, wooden beds, and elegant curtains. The floor-to-ceiling windows fill the rooms with natural light and offer mesmerizing ocean views. Traditional Indonesian details can be spotted in every unit – from beautiful wooden carvings and heavy wooden furniture, to pillows with embroidered flower designs.
The OceanFront Honeymoon Suites and Ocean Front Honeymoon Pool Suites are particularly popular with honeymooners. The staff at the hotel likes to spoil guests with dinners under a gazebo, a romantic bath setup with flowers and candles, and free gifts such as champagne, wine, and cake.
Samabe is the proud owner of a long, quiet stretch of sandy beach dotted with colorful umbrellas and cushioned sun loungers. In order to keep a quiet atmosphere, only non-motorized vehicles are available on the beach. Food and drink service by the beach is offered throughout the day. Additionally, the hotel also has an infinity pool.
Dining-wise, the hotel offers two on-site restaurants – the stylish Crystal Bale serving European fare and Rempah-Rempah where guests can explore some Asian dishes.
The Ocean Front Honeymoon Suite starts at $370 per night.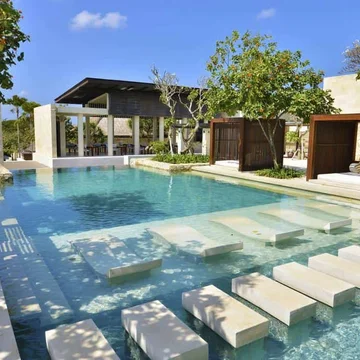 The Bale
The Bale is one of the most luxurious resorts in Nusa Dua. It is located on a secluded and quiet location near the Bali National Golf Club and is 10-minutes away from Geger Beach. A short drive will take guests to the Bali Collection area, popular for its dining and shopping options, and Seminyak, which is known for its vibrant nightlife. Benoa Beach and the striking Waterblow can be reached in 15 minutes.
Check Availability
High-end travelers will appreciate the hotel's Japanese-inspired style which creates a soothing zen atmosphere. Designed with a soft white palette, the decor is minimalistic with stone surfaces, clean lines, and open spaces. The restaurants at the resort also feature elegant all-white decor with some dark wood accents.
Housed in private pavilions surrounded with lush gardens, the rooms at the Bale guarantee intimacy. The list of decadent amenities available is a long one. All pavilions feature private pools, outdoor showers, and high-end bathrooms with glass walls and deep soaking tubs overlooking the lush gardens. The lovely private gardens are equally stunning with stone-clad plunge pools and sunny decks featuring cushioned loungers and king-size daybeds.
The hotel's spa offers moments of tranquility in an elegant setting. Here, Nusa Dua's most talented therapists offer a range of massages, as well as body and facial treatments, which are based on traditional Balinese healing rituals.
Single Pavillons start at $135 per night.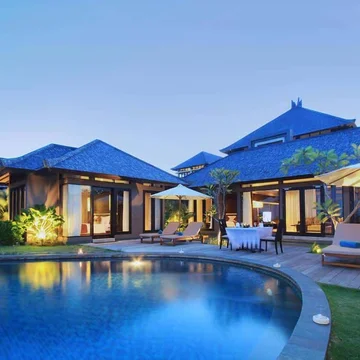 Ulu Segara
Ulu Segara is a boutique hotel located on a secluded beachfront location in the southern area of Nusa Dua. The nearby area is quiet and there are only a few other hotels, however, a 5-minute drive will take you to the popular Bali National Golf Club. The hotel is about 15 minutes away from the striking Uluwatu Temple and about 10 minutes away from the Water Blow.
Check Availability
What separates Ulu Segara from other hotels in Nusa Dua is its stunning property set against the side of a cliff overlooking the Indian Ocean. Interiors are sophisticated and spacious, boasting an eclectic mix of Indonesian architecture and traditional Balinese style. Expect high ceilings, open layout, and floor-to-ceiling windows that fill the spaces with natural light. It's also important to mention that all units at the hotel offer some sweeping views over the ocean.
Ulu Segara's stunning property comprises 36 suites and 10 villas, all featuring a cream-colored palette and striking wooden accents. Some rooms open to expansive balconies with patio furniture and cushioned sun loungers. The interior design is jaw-dropping with straw-rugs, velvet sofas, shell-clad lamps, and cushioned relaxing areas.
The suites feature a separate bedroom, living area, and a small kitchen. The most luxurious accommodation in the hotel is the villas which have up to three bedrooms, a kitchen, and dining areas that's open to a small private garden. Ulu Segara offers a 24/7 room service.
The hotel's infinity pool is perched on the side of the cliff overlooking the turquoise waters of the Indian Ocean. The restaurant is adjacent to the pool and here guests can enjoy Western plates, a traditional Balinese menu, and some delicious cocktails.
Ocean suites start at $200 per night.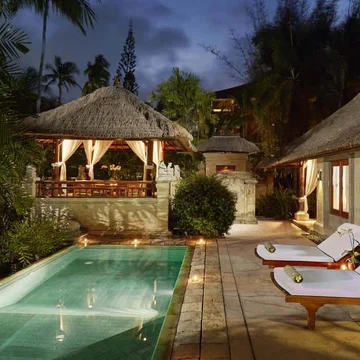 Melia Bali
The Melia Bali is situated on a long stretch of sandy beach in Bali's southern coast. The area is populated with a number of luxurious hotels and there aren't any other properties within walking distance. A 20-minute drive will take guests to the charming town of Kuta and Garuda Wisnu Kencana Central Park, while the striking Uluwatu Temple is 40 minutes away from the hotel.
Check Availability
The Melia Bali is situated in a gigantic property comprising 494 rooms and suites, all featuring a number of high-end amenities. Guests have the option to choose between single rooms, double Melia Guestrooms, and single Executive Suites. Plus, there are 10 Garden villas which are positioned in secluded sections of the property, each featuring a private plunge pool. Amenities include air-conditioning, flat TV screen, tea and coffee making facilities, in-room safes, and free Wi-fi.
The atmosphere in all units is warm with exposed-wooden ceilings, king-size beds fashioned with soft linens, and wooden floors. The bathrooms are commodious with marble floors, glass showers, and two vanities. The villas feature bathrooms with deep soaking tubs and separate outdoor showers that open to a private garden.
The most stunning on-site amenity at Melia Bali is the gigantic lagoon-style swimming pool surrounded with palm trees, wildflowers, and a number of lounge chairs and shady cabanas. If you appreciate a quality spa treatment, the hotel's spa invites guests to experience a healing massage on gazebos by the pool, at the beach, or in the garden. Melia Bali also has a fully-equipped fitness center where you can get your daily workout.
The Family Suite starts at $135 per night.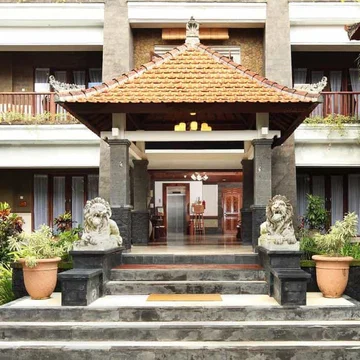 Bali Tropic Resort and Spa
The Bali Tropic Resort boasts a central location in the Tanjung Benoa area. The hotel is in close proximity to the world-famous Tanjung Benoa-Nusa Dua Beach. The hotel organizes daily shuttle services to the Bali Collection, an area known for having a number of dining and shopping options. The vibrant town of Seminyak can be reached in half an hour and the hotel is 10 minutes away from the popular Water Blow.
Check Availability
The property has a romantic and serene atmosphere and is particularly popular among couples and honeymooners. The hotel's lush tropical gardens are well-manicured and filled with palm trees, frangipani, tropical flowers, and bougainvillea. The moment you step in the hotel's lobby, you'll immediately know you're in for something special as this opulent space resembles a traditional Balinese temple. Expect a spacious open pavilion with white columns, wood ceilings, ornate pieces, and beautiful carvings featuring painted frangipani flower motifs.
The hotel features two-story deluxe rooms overlooking the gardens. The interiors are sophisticated and charming with four-poster beds, wooden ceilings, and gleaming beige floors. Each room features a private balcony and a romantic bathroom with large stone stubs and glass showers.
Dining-wise, the Bali Tropic Resort is exceptional. It features six bars and restaurants and a 24/7 coffee shop. At the Lotus Asian Garden Restaurant you can taste some Asian specialties and the renowned Sakura Japanese Restaurant serves delicious upscale Japanese cuisine.
Deluxe rooms at the resort start at $200 per night.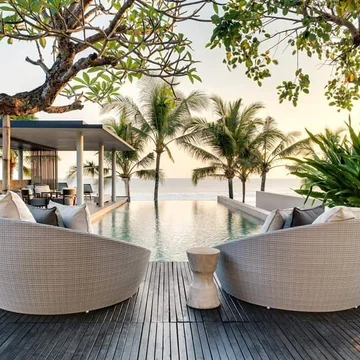 Soori Bali
Voted as the #1 Luxury hotel for Design by Financial Times, Soori Bali is bound to make an impression. This opulent resort is situated on an isolated coastal location surrounded by lush plants and palm trees. The Tanah Lot temple and Bali Butterfly Park are a 30 minutes drive away, while the Royal Palace at Kerambitan is reachable within a 20 minutes drive.
Check Availability
Soori Bali is an exceptional architectural creation set in a wild natural setting. The resort represents an eclectic mix of minimalistic architecture and traditional Balinese style. The open-air lobby is decorated with a teakwood roof and tile floor which create a soothing zen atmopshere.
Each villa at the resort was designed by the renowned architect Soo K.Chan and his wife Ling Fu. All villas were crafted out of local materials and represent a fusion of modernism and traditional Bali architecture. For an elevated experience book a Beach Pool Villa with a private pool overlooking the ocean. The Beach Pool Villas also feature an outdoor pavilion and a private patio. Butler service and 24/7 room service is available upon request.
The hotel's signature restaurant Ombak offers a premium western cuisine in an open-air setting from where guests can enjoy some of the best sunsets over Bali's western coast. Soori Bali's spa was awarded two times for being the best spa in Indonesia. Here a team of wellness experts provides guests with an array of massages, healing treatments, facials and acupuncture in a relaxing setting.
The Beach Pool Villa starts at $750 per night.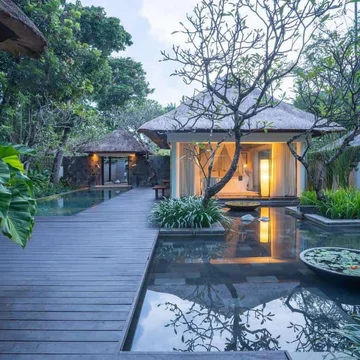 Nusa Dua Peninsula, Indonesia
Kayumanis Nusa Dua Private Villa & Spa
The Kayumanis Nusa Dua Private Villa & Spa is a luxurious retreat located on a private sandy beach near the Bali Tourism Development Complex. The hotel is a 15-minute drive away from Tanjung Benoa Beach, while the Water Blow is reachable within a 10-minute drive.
Check Availability
This is an adult-only resort that has just 20 villas which guarantee a serene atmosphere. All villas are housed in traditional Indonesian pavilions which feature wooden floors and thatched roofs. The interiors are stylish and chick with four-poster beds, ornamental rugs, and traditional furniture. Guests can pick a villa with a different theme including Javanese, Balinese, and Palembang. Amenities include a flat TV screen, coffee machine, electric kettle, microwave, and free Wi-Fi. Each villa has its own butler.
All villas feature a separate bedroom, living area, and outdoor pavilion with long glass walls. The resort has a private beach where guests can laze the day away on cushioned sun loungers.
Piasan at Kayumanis is an elegant restaurant specializing in Italian cuisine. From homemade pasta, pizza, and seafood to fine winning, Piasan satisfies appetites with a superb menu.
The Private Pool Villa with one-bedroom starts at $200 per night.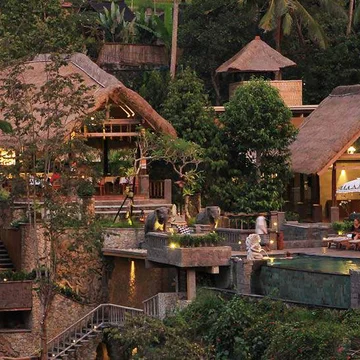 The Kayon Resort
This luxurious resort is situated in the foothills of Ubud in a charming rural village near the Petanu River. This is a secluded area that is difficult to reach, however, it's worth the trouble as this sanctuary guarantees relaxation and serene moments. The Ubud Palace is a 15-minute drive away from the hotel, while the Hindu Temples and the Sacred Monkey Forest Sanctuary are 20 minutes away.
Check Availability
Guests get to pick between villas with jungle and river views. The rooms feature Balinese style with four-poster beds, furnishings crafted from stone, rattan, and bamboo, and artworks created by local artists. Amenities include air-conditioning, flat TV screens, electric kettles, a coffee machine, and a minibar. All units feature a spacious balcony with patio furniture. Views are expansive and the area is almost always quiet. Bathrooms are commodious with rainfall showers, terrazzo tubs and floors made from river stones. Turn down service is available to guests.
Dining-wise, The Kayon Resort is exceptional. Meals are served in Kepitu – an open-air restaurant overlooking the infinity pool and the jungle. The restaurant is stylish with elephant statues and Balinese warrior statues flanked all over the space. Here, guests can enjoy a mixture of Asian and Balinese specialties.
The River Edge Pool Villa starts at $300 per night.
Find Luxury Hotels in Indonesia