12 Best Luxury Hotels in Umbria | 5-Star Places to Stay
Umbria is one of Italy's most fascinating regions, with many interesting towns, picturesque scenery, and incredible food. Despite this splendor, the region isn't as popular as neighboring Tuscany.
This is an advantage, though, as you don't have to meet many tourists while out on holiday to Umbria. Nicknamed the country's green heart, it boasts rolling greenery and many vineyards offering some of the best wines in the world.
Tucked between the greenery and medieval towns are the best hotels Umbria offers. Choose a stay at one of these hotels, and you'll have more than a comfortable place to rest in between your daily escapades. The region has it all, from charming castles that take one to bygone times to resorts with a relaxing atmosphere. Fantastic food, mesmerizing views, various spa treatments — this is some of what awaits at one of the luxury hotels Umbria has on offer.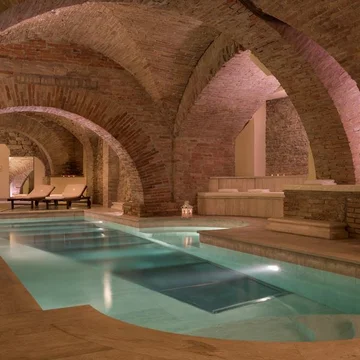 Sina Brufani
Starting off the list of luxurious Umbria, Italy hotels is the Sina Brufani. It stands as the grande dame of all luxury hotels in Umbria and has a ton of repeat visitors.
Check Availability
The luxury hotel has had its doors open since the late 1880s and offers over 90 rooms and suites. The rooms feature antique furniture, marble bathrooms, and eye-pleasing artwork, all of which resemble aristocratic luxury.
Start your day off with a savory buffet breakfast from the Collins restaurant, which also serves fine Umbrian cuisine throughout the day. When the weather permits, you can dine on the outdoor terrace while enjoying picturesque views of the rolling hills of Perugia.
While it's undoubtedly a 5-star hotel, the Sina Brufani scoffs at the over-the-top formality you'd find at a luxury hotel. The staff provide no-frills service with a personable touch in the form of local attraction suggestions, arranging private drivers, and more.
Apart from the staff, there's a fitness room and deluxe spa area with a sauna and steam room. Also in this area is the crown jewel of this luxury hotel in Perugia, an indoor pool with a glass-bottom floor. Wade the waters with views of the Etruscan ruins right below you.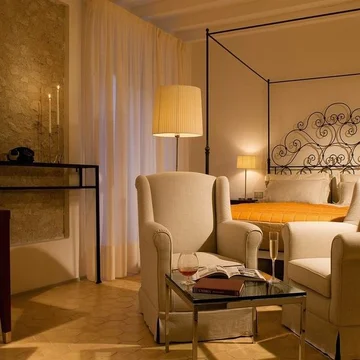 Relais & Chateaux Palazzo Seneca
The Palazzo Seneca is a historic hotel set in a palace that dates back to the 16th century. After restoration, the building became Norcia's first hotel in the early 1900s. It has stood the test of time and continues to draw in tons of visitors who come for the deluxe experience near the historic town center.
Check Availability
The hotel features 24 rooms boasting fantastic bedding, a mix of antique and artisan pieces, and facilities like balconies, walk-in closets, and more. End your day off right with a relaxing bath in their marble bathrooms, along with the complimentary bathing products.
Soon after, sink your teeth into the free complimentary breakfast while enjoying countryside views above landscaped gardens. Later in the day, visit Vespasia, the hotel's Michelin-star restaurant, serving delicious Norcia-inspired cuisine with Asian dishes too. To ensure guests get the best meals, the restaurant requires a booking and a menu chosen by 8 pm on the previous day.
The Palazzo Seneca also offers several experiences, including e-bike riding, truffle hunting, wine-tasting tours, and more. After an eventful day, relax in the spa and wellness center under cross-vaulted ceilings. The trained staff, along with the stone hot tub, Turkish bath, and sauna are all ready to bring you to the ultimate state of relaxation.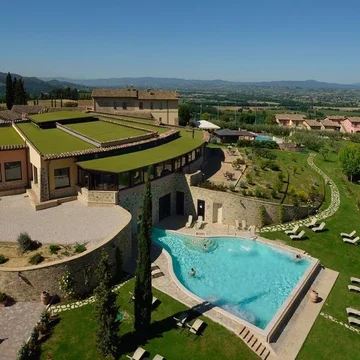 Borgobrufa Spa Resort
Borgobrufa Spa Resort is an adults-only luxury all-inclusive resort located on a property tucked between Brufa's rolling hills. Sized at over 32,000 square feet, it's the largest of all the Umbria luxury hotels. As a spa resort, it features several spa areas ready to pamper you into a state of pure bliss.
Check Availability
Before visiting the spa, your day starts with a buffet breakfast with eggs and bacon, cakes, and fruits, being just some of what you can expect. Afterward, relax at the spa (there are around 50 massages to choose from) courtesy of the sauna, steam rooms, and trained therapists.
Also in the spa area, you can soak in the indoor heated pool, a saltwater pool, and a saltwater cave. Fitness enthusiasts can work up a sweat while playing a game on the Borgobrufa Spa Resort tennis court.
The staff can also arrange activities like bike-riding and horseback riding for anyone who enjoys the outdoors. There's also an outdoor swimming pool with incredible views for the sunbathing enthusiasts, although it's only open between May and September.
End the day off by retiring to your room through the private entrance and jumping into your high-quality Swiss Bico mattresses. There are several suites and rooms to choose from, with the "Imperial Emotion Suite & Spa" being the most luxurious one. It's furnished cosmopolitan stye, boasts double rooms with its own private pool, sauna, and steam bath along with a sizeable garden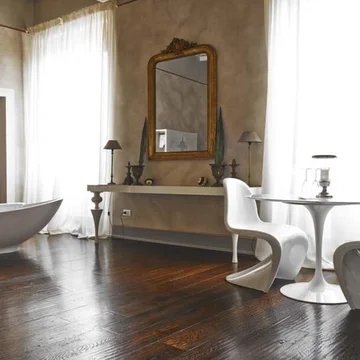 Palazzo Bontadosi Hotel & Spa
A central location on Montefalco's postcard-perfect square is reason enough to stay here, but the Palazzo Bontadosi Hotel itself has plenty of splendor to warrant a stay. History buffs will enjoy its former use as a bishop's palace and foodies will indulge in excellent dishes from the restaurant. Also, if you're an aspiring ghostbuster, be on the lookout for the rumored resident ghost.
Check Availability
The boutique hotel features decor highlighted by a contemporary art collection, frescoed ceilings, and antique pieces in the rooms and common spaces. The breakfast room/café welcomes guests with floor-to-ceiling windows bordered by snow-white walls, it's also where you'll enjoy a continental or buffet breakfast.
The elegant modern rooms and suites all have unique characters, some boast antique fireplaces and others walk-in closets. Warm earth tones, stunning parquet flooring, and illustrious views are found in all the rooms along with body products in the bathroom.
When you aren't in your room, spend your time in the spa's heated swimming pool or steam room or, watch the sunrise or sunset from the outdoor patio. As you'd expect from a Montefalco hotel, there's an in-house restaurant serving Umbrian cuisine that's to die for. The seasonal menu features dishes made with local ingredients and a wine list with many favorites.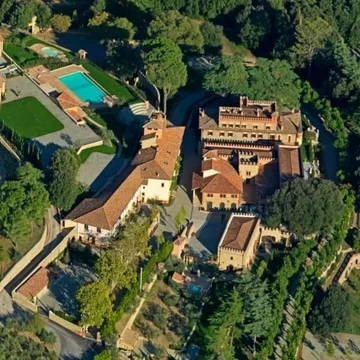 The expansive resort has a number of rooms boasting modern amenities and classical furnishing, with some archaic touches like historic fireplaces and ceiling murals. Be sure to book the Conte Suite to sleep in the same room that the castle's former count and countess slept in. This, along with the grand library, makes this luxury countryside resort a perfect option for history lovers.
Borgo Dei Conti has a free spa for anyone looking for some added relaxation and self-care.. Inside, you'll find a hot tub, saunas, massage areas and, a jacuzzi with charming garden views.
If the free spa doesn't pique your interest, be active on the resort's free tennis court, the gym, trek the various paths, and more. For even more fun, the friendly staff will happily help you rent out a bike, arrange a truffle hunt, or classes to improve your cooking.
While perfecting your cooking, head to the formal Rura restaurant to taste how the pros do it. The food here is prepared using local produce and can be enjoyed with an expansive variety of wine.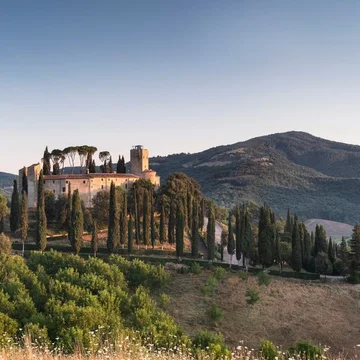 Castello di Reschio
Another historic property that takes you to days past is this 10th-century castle, set on a vast estate that's undergone incredible restoration. In addition to the original stone fireplaces and vaulted ceilings, the property's custom-made furniture, antiques, and artworks make for an elegant accommodation. It is arguably the most expensive hotel in Umbria and for good reason.
Check Availability
The peaceful retreat boasts rooms and suites with fantastic decor, soft bedding, and large walk-in showers with free products. All the rooms pay homage to past usage or ownership; one room has a gilded altarpiece while you'll find an olive press in another.
Another interesting touch at this castle hotel has a plethora of activities on offer, go horse riding, join a cooking class, or take in the natural splendor by the lake. While you can't dive in there, feel free to do so in the indoor or outdoor swimming pools. For more relaxation, head to the luxurious spa tucked between stone walls.
For the foodies, there are two eateries both selling delicious dishes. Head to the Alle Scuderie for a meal in high-class settings or visit Al Castello for a relaxed atmosphere with countryside views.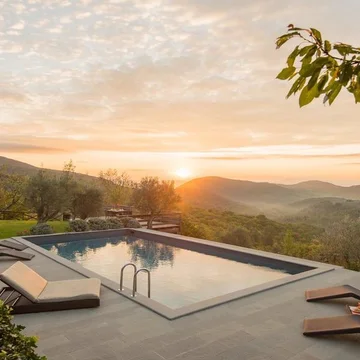 Tenuta di Murlo
This hotel is a collection of luxury villas and deluxe rooms located on a massive private estate hidden inside immaculate valleys and olive groves. The accommodation is the perfect spot for a secluded escape, free from the fast-paced city life.
Check Availability
The estate combines the Umbrian countryside and lush flora with modern details andantique touches. Depending on your budget and group size, you can enjoy a comfortable stay at a charming and romantic boutique apartment and cottage or three deluxe rooms. For large groups, you can book one of the nine villas.
For more privacy, each property boasts its own outdoor swimming pool. You can also enjoy mesmerizing vistas and sights of a beautiful garden from your property.
Here, you'll find a concierge staff ready to solve any and all problems you may encounter. Enjoy a chef and butler service, a maid service, and babysitting if you're traveling with kids. Thanks to its massive size, you can partake in wine tastings, cooking classes, row boating, mountain biking, and more at the estate.
After using all that energy, head to the Il Caldaro restaurant to refuel with their expansive menu. Taste the starters before indulging in a meat course like grilled lamb with roasted potatoes and pasta delicacies like brown tagliatelle with pigeon ragù.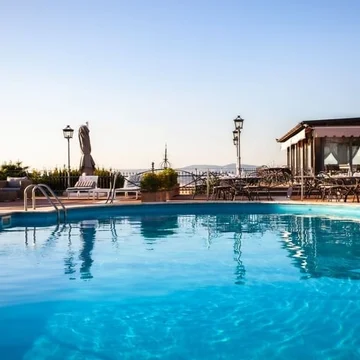 Relais Todini
Relais Todini sits on a hill surrounded by trees, vineyards, and the Umbrian countryside which means guests are spoiled with panoramic views. The property itself is a 12th-century manor that blends the comforts of a family home with luxury incredibly well.
Check Availability
There are four suites and eight uniquely decorated rooms combining rustic and antique styles with modern comforts. Admire the Umbrian countryside views from the comfort of your bed while keeping in touch with the world using the free wifi.
If you're visiting for a not-so-relaxing holiday in Umbria, then this hotel has a number of activities on offer. Just speak to the staff who's always on standby to provide friendly and attentive service and they'll help you plan a fun escapade. Take a tour of the estate vineyard, go skeet shooting, or go horseback riding.
There's also an in-house animal park with animals like giraffes, zebras, and camels walking around. For something more serene, make your way to the wellness center for some incredible treatments with countryside views.
As with many of the luxury hotels in Italy, Relais Todini also has an in-house restaurant. The gourmet restaurant serves Umbrian specialties using fresh local produce.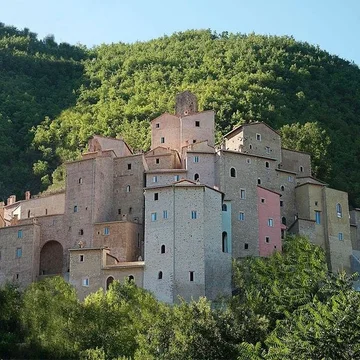 Castello di Postignano
This property is an albergo diffuso, an Italian hospitality trend aimed at reviving abandoned towns, and features 60 apartments. While a scattered hotel, the resurrection of this "village" has gone so well some of the initial apartments have been sold as holiday homes.
Check Availability
Boasting family rooms as well as apartments suitable for couples and solo travelers, it's one of the best luxury hotels for anyone. The luxurious touches of the rooms are highlighted by the incredible bed linen and interesting artworks on the walls. For modern comforts, the village offers free wifi, homely bathrooms, coffee-making facilities, and more.
As for things to do, there's a gallery that features seasonal exhibitions, a games room, and more that the hotel staff will be happy to recommend. When you aren't busy with something, make your way to the bottom of the hill. A rose garden with an outdoor pool and hot tub await, there's also a spa with treatments to be enjoyed while taking in valley views.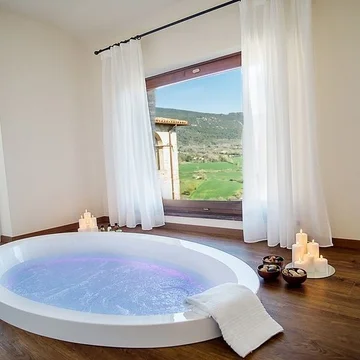 San Gemini Palace
San Gemini Palace is a 5-star boutique hotel that brings medieval architecture and modern comfort together. Guests get to choose from nine elegant rooms featuring glamorous private bathrooms. The Presidential Room takes it a step further with a private whirlpool bath with Umbrian hills views.
Check Availability
Start your day eating breakfast by the garden, which overlooks the valleys and hills of Umbria, or get a gourmet breakfast delivered to your room. Later in the day, visit the in-house restaurant to enjoy light delicacies like mozzarella and cherry tomatoes, pasta with tomato sauce, and more.
The boutique hotel makes the experience even better with the wellness center, dog and babysitting services, shopping tours, and more. San Gemini Palace also works with many tour operators to provide fun in natural settings, biking outings, food and wine tours, and more. Just speak to the hotel staff, and they'll be happy to recommend something.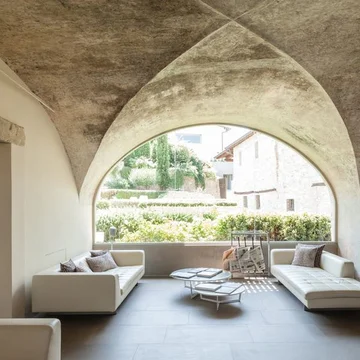 Nun Assisi Relais & Spa Museum
As you may have guessed, this luxurious Umbria hotel is a renovated nunnery with an incredible spa and spacious rooms. With an elevated location in Assisi, guests are spoiled with the countryside and Mount Subasio Park views.
Check Availability
Previous renovations in the form of whitewashed walls, designer furnishing, and suspended staircases have created an elegant atmosphere. Rooms feature designer furniture, leather upholstery, soft beds and linens, and some come with a luxurious stone bathroom complete with complimentary toiletries. Enjoy views of the garden and Rocca Maggiore fortress from the courtyard balcony.
Continue the viewing extravaganza at the gourmet restaurant, you're treated views of Assisi while indulging in mouthwatering Umbrian delicacies. There's a dedicated breakfast menu with pastries, cereals, and an à la carte menu for hot options.
With a name like "nun spa museum", you are right to expect an exceptional spa experience — and they sure deliver. In fact, it's easy to consider this "museum" a highly Instagrammable spa.
A display of artifacts pairs well with the subterranean pools and saunas on offer at different temperatures. You'll certainly feel like you're walking through a spa museum in this area which was once an ancient Roman amphitheater.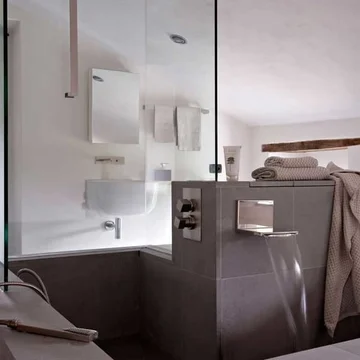 Torre di Moravola
Like the above best hotels in Umbria, this boutique hotel has also undergone some renovations. The building went from a crumbling watchtower into a deluxe accommodation option that has welcomed tons of guests. This is the secret behind its modern-archaic charm and is often touted as an architect's dream destination.
Check Availability
One owner is a designer and the other an architect, and you can tell once you walk into this Umbria, Italy hotel. Despite its minimalist design, you can expect to marvel at the terraces, pavilions, fire pits, and infinity pool with marvelous views.
The small luxury hotel has seven rooms on the property and all are decorated with ancient stone on the walls and incredible furniture in the confines. The bathrooms have rainfall showers and pietra stone bathtubs with complimentary toiletries. If you prefer something not as minimalist, opt for the Main Tower Suite which has a mezzanine gallery and lofty ceilings in the lounge.
Delight your palates by sinking your teeth into dishes like tempura courgette or breakfast delicacies like baked eggs with prosciutto and tomato.
Underneath the 25-meter infinity pool, you'll find a spa and wellness center with several healing treatments.
Find Luxury Hotels in Umbria