Wild nature, stunning beaches, and beautiful cities, Malaysia is on the bucket list of all adventurous spirits. Voyage to Kuala Lumpur and see one of the most iconic sights in the world, the Petronas Towers, or book a beach villa at Langkawi, an archipelago of over 99 islands in the Andaman Sea – whatever your plans are, Malaysia will catch you off guard with its rich offer.
In this article, we've reviewed the most luxurious hotels in Malaysia so you can choose your perfect spot and pack your bags immediately.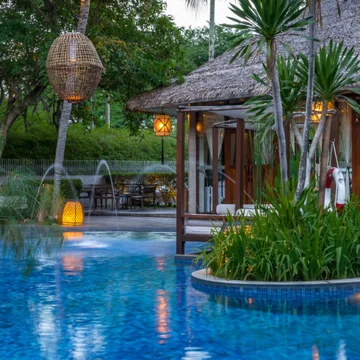 Villa Samadhi
Villa Samadhi is a luxury hotel nestled in a quiet area away from the hustle and bustle of the city. The hotel is still in close proximity to some notable landmarks, including the Petronas Twin Towers and Kuala Lumpur city center which are a 10-minute drive away. Numerous shopping and upscale dining options can be discovered at the Bukit Bintang shopping district which is a short drive away.
Check Availability
With its isolated location, comfortable accommodation, and stunning amenities, Villa Samadhi is a magnet for honeymooners and newlyweds. Here, couples can enjoy a romantic and tropical atmosphere both in and out of the hotel, enjoy delicious food at the elegant restaurant, and relax by the tranquil lagoon-like pool, surrounded by palm trees and colorful flowers.
The property has been crafted with the use of natural materials including wood, glass, stone, and bamboo, so it blends ideally with the natural surroundings. Guests can choose from 21 villas, all designed with the "rustic-luxe" concept in mind. Think low-lightning and Asian-inspired design including bamboo furniture, thatched roofs, and wooden floors. Standard amenities include a flat TV screen, iHome Stereos, electric kettles, espresso machines, minibars, and free Wi-Fi. Suites offer some extra comfort with kitchenettes and an outdoor whirlpool surrounded by wall gardens.
At the Dining Room, guests can enjoy Malay and Western dishes in a relaxing glass-walled property by the lagoon pool.
Villas start at $150.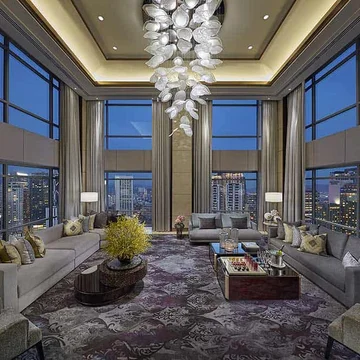 Mandarin Oriental
Mandarin Oriental boasts a prime location in one of Kuala Lumpur's most exclusive neighborhoods – KLCC, close to the Petronas Twin Towers and KL City Park. Step outside of the hotel's gates and you'll find yourself in a busy area dotted with upscale dining and shopping options. Pavilion, one of the biggest shopping malls, is a 15-minute walk away while the Kuala Lumpur Convention Center is a 10-minute drive away from the hotel.
Check Availability
Mandarin Oriental's chain of hotels is well-known for having an ultra-luxurious style. Enter the hotel's lobby with green-and-gold marble and crystal chandeliers and you'll immediately know you're in for a treat.
The hotel has 643 rooms with views over the park and the Twin Towers. All rooms have a traditionally elegant decor with light tan carpets, old school wood furniture, and floral prints, while the heavy two-poster bed frames add to the romantic ambiance. The bathrooms are sleek with a combination of black-and-gold marble, deep soaking tubs, and separate rain showers. Additionally, the Club Suite has its own sauna. Amenities include flat TV screens, iPod docks, in-room safes, electric kettles, well-stocked minibars, and ironing boards.
Mandarin Oriental has a myriad of facilities including two outdoor pools, numerous restaurants and bars, a massive spa, and indoor golf terrain. At the third-floor infinity pool, guests can enjoy craft cocktails while overlooking Kuala Lumpur's skyline.
Deluxe rooms with sky views start at $220.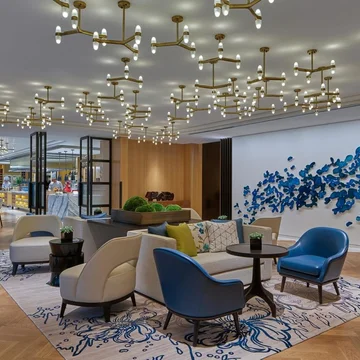 Grand Hyatt
Overlooking the iconic Petronas Towers and close to Kuala Lumpur Convention Center, Grand Hyatt boasts a prime location. The hotel is in close proximity to the Golden triangle area, which is the main shopping, dining and entertainment district in Kuala Lumpur, and just 20 minutes away from Pavilion mall.
Check Availability
Grand Hyatt's 412 rooms spread across sixteen floors, all featuring views over KLCC Park and the Petronas Twin Towers. The decor is sophisticated and modern with wood furnishings, comfortable sofas, and marble accents in a warm earth-toned palette. Standard rooms start at 506-square-feet and are equipped with sitting areas with ottomans, couches, and enormous king-size beds. Standard amenities include iPod docks, flat TV screens, in-room safes, minibars, electric kettles, and coffee makers. The marble bathrooms are elegant with frosted glass doors, double vanities, and a walk-in shower. Guests staying at the Grand Club Rooms have access to the Grand Club Lounge as well as numerous benefits including complimentary breakfast, cocktails throughout the day, and a dedicated concierge.
The main draw here is the THIRTY8 restaurant and bar, conveniently situated on the top floor. Guests can choose from Western, Chinese, or Japanese specialties in a contemporary setting with a show kitchen. Top-notch cocktails are served at the bar lounge with panoramic views over Kuala Lumpur.
Guest rooms start at $120.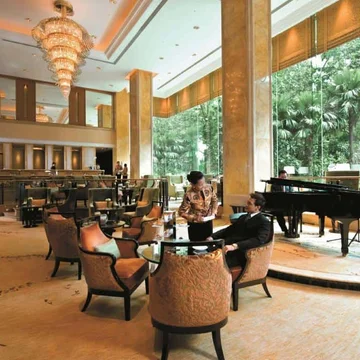 Shangri-La Hotel Kuala Lumpur
The luxurious Shangri-La Hotel impresses with its sophisticated accommodation and array of facilities including restaurants, bars, and wellness facilities. The hotel is a 15-minute walk away from the Petronas Twin Towers while Merdeka Square is a short stroll away. The Batu Caves and KLCC Park are a 20 minutes drive away.
Check Availability
The hotel offers 662 rooms and suites appointed with ultra-modern amenities. The rooms have an elegant, classy style with a burgundy color palette and walnut furniture. Velvet pillows and oil-paintings add to the sophisticated ambiance. Business travelers will appreciate the work desks paired with ergonomic chairs. Each room is equipped with flat TV screens, tea and coffee making facilities, an in-room safes, minibars, and high-speed Wi-fi. Suites are spacious and airy with floor-to-ceiling windows, kitchenettes with dining areas, and a separate living area. The cozy atmosphere continues in the marble bathrooms featuring magnifying mirrors, walk-in showers, and luxurious toiletries. Additionally, all suites feature deep soaking tubs.
Shangri-La Hotel has a stunning outdoor pool as well as a small kids pool. Guests can relax on comfortable sun loungers and canopied daybeds, while the poolside bar is serving small bites and cocktails throughout the day. Wellness features are equally impressive with a modern fitness center and a massive spa featuring sauna, steam rooms, and whirlpool tubs as well as an extensive menu with healing treatments and massages.
Standard rooms start at $90.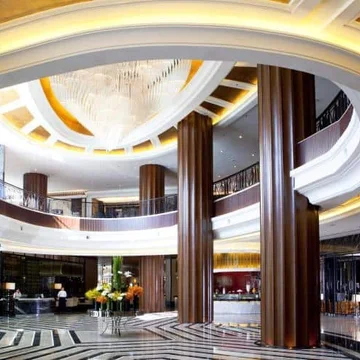 The Majestic Hotel Kuala Lumpur
The Majestic Hotel Kuala Lumpur is located in the heart of the old colonial section of Kuala Lumpur facing the Moorish-style railway station, and is just steps away from notable landmarks and city parks including Lake Gardens, KL Bird and Butterfly Parks. Planetarium Negara, National Mosque, and the National Museum are a short walk away.
Check Availability
This five-pearl grande dame is situated in a restored 1932 colonial landmark built in an Art Deco style. The hotel rooms and suites, which spread across the Majestic Wing and the Tower Wing, are all appointed with contemporary amenities. The rooms at the Tower Wing have a classic Art Deco style with black wood furnishings and a warm color palette. The bathrooms are sleek with deep soaking tubs, double vanities, walk-in showers, and a wall-mounted TV. And the Majestic Wing is where you'll find the suites, all featuring colorful wallpapers, authentic rugs, and Art Deco furniture. The suites come with a complimentary breakfast and 24-hour personal butler service.
Situated in the Tower Wing, Contango is a contemporary restaurant with an extensive menu featuring Chinese, Japanese, Malay, Thai, and Western dishes. The restaurant is also the proud owner of a 2000 bottle wine cellar which includes the exclusive Opus One collection of wine.
Afternoon tea and dinners can be arranged at the Orchid Conservatory showcasing hanging gardens with thousands of orchids. The setting is stunning and ideal for a romantic date or celebratory dinner.
Rooms start at $70.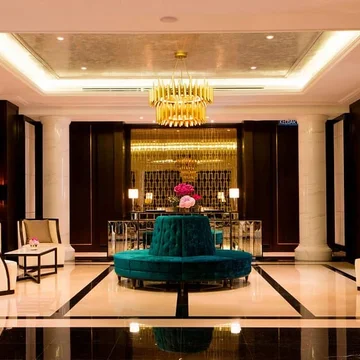 The Ritz-Carlton
The Ritz-Carlton features a top-billing address in Kuala Lumpur within the upscale Golden Triangle district and near to numerous restaurants and boutiques. The Pavilion Mall, Sungei Wang Plaza, and the Starhill Gallery are within a 5-minute walk, while the Petronas Twin Towers are a short drive away.
Check Availability
Ritz Carlton's 365 rooms and suites have a sophisticated, classy decor with dark wood furniture, brass accents, and colorful oriental rugs. Standard rooms start at 430-square-feet and are equipped with comfortable king-size beds and sitting areas. Marble bathrooms are commodious with deep soaking tubs and walk-in showers. Each room is equipped with a flat TV screen, minibar, air-conditioning, working desk, and free Wi-Fi. The Residential Suites offer some extra comfort with three bedrooms and full kitchens.
The hotel's spa village offers a range of massages and treatments performed by a team of skilled professionals. Guests can relax and unwind after a treatment at the serene garden surrounded by waterfalls or in a hot tub at the spa's terrace. There's also a large outdoor pool where guests can relax on comfortable sun loungers.
Rooms start at $100.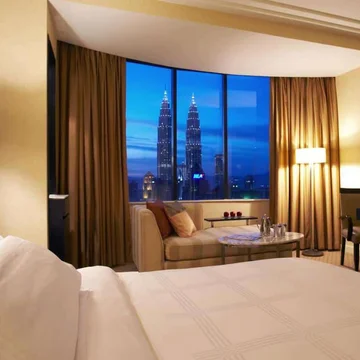 The Westin
The Westin Kuala Lumpur is a luxurious hotel located across from the Pavilion shopping center. The hotel is close to a number of dining and shopping options, while Sungei Wang Plaza is just a short walk away. Berjaya Times Square and KLCC convention center are a 15-minute walk away. Aside from having an excellent location, Westin is also well known for pampering guests with excellent service.
Check Availability
The hotel has 443 rooms, all fashioned with rich textiles and a sophisticated cream-color palette. The rooms have sleek work desks, comfortable armchairs, king-size beds, and tan leather headboards. The big windows give way to some impressive panoramic views and infuse the space with natural light. Standard amenities include flat TV screams, air conditioning, free Wi-Fi, electric kettles, and espresso machines. The suites have some extra space and feature kitchens and dining tables. Booking an Executive Suite gives access to the Executive Club and some extra benefits including free breakfasts, cocktails, and snacks throughout the day.
Guests can relax by the outdoor pool with a poolside bar serving drinks and snacks. The little ones will have lots of fun at the children's pool which is adjacent to the big outdoor pool. There's also a kids' room with a big playroom and lots of toys and a plastic side for even more entertainment.
The Living room promises a memorable dining experience in a sophisticated setting. Here, Italian and Cantonese dishes are prepared by a dynamic culinary team, while at 443 Bar & Coffee Lounge guests can socialize with premium liquors, fine wines, and artisan cocktails.
Rooms start at $90.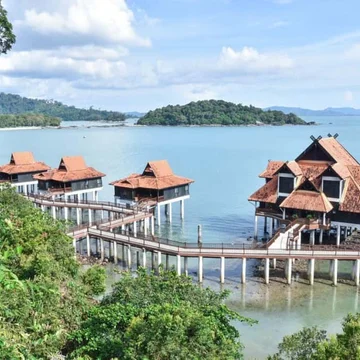 Berjaya Langkawi Resort
Set amidst lush tropical rainforest, Berjaya Langkawi is a 5-star resort that's just steps away from a gorgeous beach. The hotel boasts an isolated and peaceful location, however, it's just a short walk from the Cable Car and Oriental Village. Kilim Geoforest Park, Jalan Pantai Cenang, and Langkawi Night Market are a 40 minutes drive away.
Check Availability
Rooms have a warm and romantic ambiance with wooden-planked patios and carved awnings. Neutral textiles, wooden floors, and hand-made furniture add to the inviting ambiance. The Rainforest chalets are tucked deep in the forest, while the Studios have an open layout with some lovely views. Suites on the water feature jacuzzis with ocean views. All units are equipped with a flat TV screen, in-room safe, bottled water, umbrellas, ceiling fans, free Wi-Fi, tea and coffee making facilities. Bathrooms have a tropical design with wooden-framed mirrors, glass-door showers, and tub combos.
At the resort, you can relax on the private beach with plenty of lounge chairs and shady cabanas. Plus, there's the Taaras Spa equipped with a sauna, steam room, nail salon, and modern gym. The resort excels at its dining offer with five restaurants that serve Malaysian, Thai, Japanese, Western, and Cantonese cuisine.
Rooms start at $90.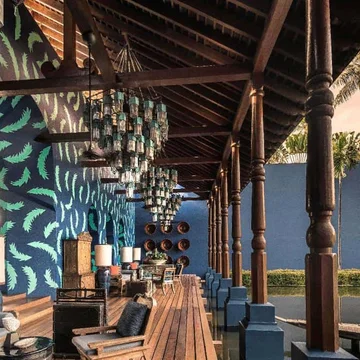 Four Seasons Resort
Nestled within a UNESCO World Geopark, Four Seasons Resort Langkawi is the ideal retreat for honeymooners and couples. Guests can explore the Tanjung Rhu Beach surrounded by tropical rainforest, limestone cliffs, and the azure waters of the Andaman Sea. Kilim Karst Geoforest Park is a 10-minute boat ride away, while the Pantai Cenang area is a 30-minute drive away.
Check Availability
The hotel has 68 pavilions and 23 villas all decorated with Malayan wooden design, Moorish accents, and beachwood furniture. Massive windows give way to some lovely ocean views and infuse the rooms with natural light. Villas offer a luxurious tropical experience with wooden ceilings, tropical-style furniture, and artworks from local artists. Guests can relax in private plunge pools and marvel at the emerald waters of the Andaman Sea. The bathrooms are huge and feature big windows, soaking terrazzo bathtubs, separate walk-in showers, and stone basins. Each unit features a flat TV screen, in-room safe, ironing board, minibar, electric kettles, espresso machine, plush bathrobes, and slippers.
At the resort, guests can engage in a number of fun activities including tennis, volleyball, horseback riding, ping-pong, and water sports. Additionally, the kid's club features an outdoor playground with bikes and rock-climbing.
For the ultimate relaxation, head over to the adult-only pool where tropical cocktails and freshly cut coconuts are served throughout the day.
Rooms start at $350.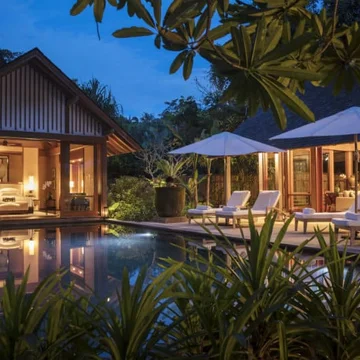 Datai, Langkawi, Malaysia
The Datai Langkawi
The Datai Langkawi is situated on Datai Bay in Peninsular Malaysia. The area is a UNESCO World Heritage Geopark and the home of over 30 different species of butterflies. Peaceful and quiet, this is the ultimate escape for anyone who wants to forget about their daily worries and explore a tropical area.
Check Availability
Guests can choose between 120 rooms spread across the main building and villas tucked on the beach and in the rainforest. Featuring hardwood floors and Asian decor, the rooms in the Canopy Collection offer the ultimate comfort. King-size beds are fashioned with Egyptian cotton and open to a large balcony with chairs and tables. Bathrooms feature twin vanities, walk-in showers, and separate dressing areas. The rainforest villas are situated deep in the heart of the rainforest and are connected to the other parts of the hotel by tree-lined pathways. The villas have two floors and feature a sleeping and a dining area. Wraparound balconies have views over the rainforest and are equipped with comfortable chairs. For the ultimate comfort, book a Beach Villa and marvel at the dazzling views over the ocean from your private plunge pool.
The hotel offers plenty of options for relaxation including two large pools and a spa. Sports enthusiasts will be happy to learn that the 18-hole championship golf course was designed by Ernie Els. Snorkeling, kayaking, and mountain biking can also be arranged at the hotel.
The Canopy Collection rooms start at $300.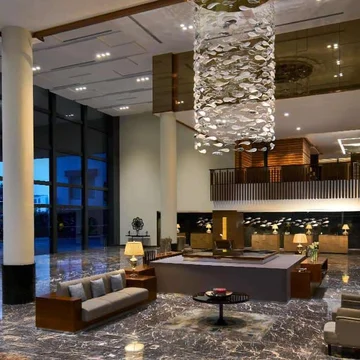 Renaissance Johor Bahru Hotel
Renaissance Johor Bahru is a luxurious hotel located in Johor Bahru Bandar Permas Jaya. The hotel location is quite isolated so it's ideal for guests with a car or anyone who doesn't plan to leave the resort which won't be hard as the resort boasts a myriad of facilities.
Check Availability
Johor Bahru has 345 rooms all colored in a soft blue and gray palette which blends perfectly with the hotel's beautiful surroundings. The decor is modern with bedside lamps, working desk, armchairs, and floor-to-ceiling windows. King-size beds feature firm mattresses and soft linens. Bathrooms have shiny interiors and feature rainfall showers and luxurious toiletries. Suites offer separate living areas and have deep soaking tubs in the bathrooms. The most luxurious rooms in the hotel are the Pool Terrace Rooms situated on the sixth floor. Here, guests can enjoy a private plunge pool and marvel at the lovely views. These are the only rooms where smoking is allowed. Each room features a flat TV screen, air conditioning, bathrobes, slippers, ironing boards, tea and coffee making facilities. Note that the Wi-Fi is chargeable.
In terms of food, Renaissance Johor Bahru has an extensive offer. Breakfasts is served at the stylish Cafe BLD, while the Wan Li restaurant serves fresh seafood dishes and authentic Cantonese specialties. For some artisan cocktails head over to the L Bar, while the sweet-toothed can treat themselves with pastries and cakes at the Chocolate Cake Company.
Rooms start at $100.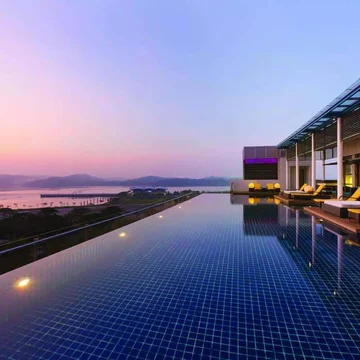 Johor by Shangri-La, Johor Bahru, Malaysia
Hotel Jen Puteri Harbour
Hotel Jen Puteri Harbour is situated on the Puteri Harbor and in close proximity to numerous theme parks including Sanrio Hello Kitty and Legoland. The immediate area is filled with waterfront restaurants and bars.
Check Availability
Ultra-modern and spacious, the rooms at the hotel resemble small apartments. They all feature a soft tropical palette of blue tones paired with some cream accents and are equipped with modern furniture. Decorative details include hardwood flooring, delicate lightning, plush sofas, and comfortable armchairs. Bathrooms are spacious and feature beige walls, deep soaking tubs, and rainfall showers. Massive windows offer some dazzling views over the city or the harbor. All rooms are equipped with a flat TV screen with cable channels, ironing boards, sofa beds, air-conditioning, mini-fridges, sofa-beds, tea and coffee making facilities. Room service is available 24/7.
The hotel boasts stunning rooftop pools, all with views over the harbor. There's an adult-only pool, kids' pool, and whirlpool. Guests can relax on lounge chairs and order small bites and cocktails from the poolside bar.
Business travelers can use the numerous meeting rooms all featuring a modern design. There are also event spaces appropriate for small weddings including the hotel's rooftop garden.
Rooms start at $80.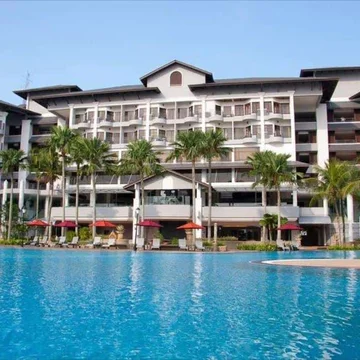 The hotel has 251 rooms all featuring modern decor with a neutral color palette and dark wood furniture. Rooms are spacious and start at 446 square meters feet, all with massive windows and king-size or twin-size beds. Balconies are also spacious and have either garden or sea views. Suites add some extra comfort with parquet wood floors, separate living areas, curved loveseats, and armchairs.
There are plenty of fun activities that can be arranged at the resort including boating, jet skiing, and banana boat rides. Plus, the 88 acres of the garden provides enough space for jogging and running. Additionally, guests can also spend their time on the two outdoor tennis courts and the nine-hole golf course.
One highlight at the resort is the enormous pool with an adjacent hot tub and a waterslide. There are numerous sun loungers and the poolside service is excellent. The little ones will love the kids' pool area with waterslides, splash zone, and a whirlpool.
Rooms start at $90.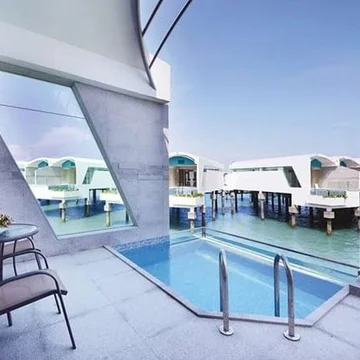 Negeri Sembilan, Malaysia
Lexis Hibiscus Port Dickson
One of the most iconic hotels in the region, Lexis Hibiscus Port Dickson is situated in an isolated area about a 30-minute drive away from Port Dickson. The hotel villas form a shape of a hibiscus flower, while the suites are situated in a big tower overlooking the sea.
Check Availability
The beautiful surroundings are welcomed through floor-to-ceiling glass doors, while the interiors feature contemporary amenities. What truly sets Lexis Hibiscus from other hotels in the region is that all rooms are equipped with a private pool and a steam room. Plus, most of the rooms have sea views. Rooms are spacious, infused with natural light, and have at least two king-size beds.
Bathrooms are also top-notch with double sinks, walk-in rainfall showers, and separate deep soaking tubs with sea views.
The hotel offers an impressive list of on-site activities if you're ready to pay an extra fee. There's a private beach equipped with sun loungers and umbrellas and guests can engage in a number of fun activities including kayaking, banana boat rides, and jet skiing. Helicopter rides can also be arranged and guests can rent segways and yoyo cars. Additionally, there's an excellent spa with numerous treatment rooms, a sauna, hammam, and an extensive menu featuring massages and beauty treatments.
Rooms start at $160.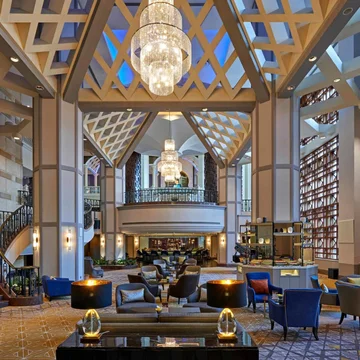 Sheraton Imperial Kuala Lumpur Hotel
Another amazing hotel in Kuala Lumpur, Sheraton Imperial offers excellent service and sumptuous accommodation in the heart of Kuala Lumpur. The hotel is situated in the Chow Kit neighborhood where guests can explore numerous dining and nightlife options. One of the biggest malls in the area Quill City Mall is just around the corner while the Medan Tuanku monorail station is a short walk away.
Check Availability
Rooms are spacious and airy boasting an eclectic mix of Malay and Chinese decorative elements. Picture authentic lanterns, rich wood furnishing, comfortable sofas, and Sheraton Sweet Sleeper beds. All rooms have unobstructed city views. Bathrooms feature pink marble and are equipped with walk-in showers and deep soaking tubs.
Sheraton Imperial has numerous meeting rooms and excellent event space, enhanced by impressive catering and a dedicated group check-in counter. Guests can enjoy Chinese and Italian fare at the hotel sophisticated restaurants, but they can also order refreshments at the on-site spa or by the outdoor pool.
Rooms start at $60.
Find Luxury Hotels in Malaysia