Maldives Luxury Hotels | Best North Malé Atoll Resorts
The Maldives is abundant with luxury resorts perfect for a romantic getaway or a fun tropical vacation. From five-star hotels and private island stays to luxury overwater villas and beach villas, hotels in the Maldives offer exceptional experiences you won't soon forget. If you're looking for an all-inclusive luxury resort in the Maldives, this post is for you.
You can find luxury resorts all over the Maldives, but it's important to note which area your hotel is in before you make a booking. There are three distinct regions: the Northern Atolls, Southern Atolls, and Central Atolls.
The northern Atolls are north of the capital city of Malé and are home to some of the best Maldives resorts. The Central Atolls are not as popular for luxury trips. And finally, the southern Atolls are where you'll find remote island communities and a more traditional Maldivian experience.
This post will introduce you to some of the best luxury hotels in the Maldives' North Malé Atoll area, which is brimming with fantastic hotels and resorts. No matter which chic resort you choose, you'll get to see pristine beaches, lush palm trees, and dazzling turquoise waters, and experience world-class service to boot. Without further ado, here are the best hotels in Maldives.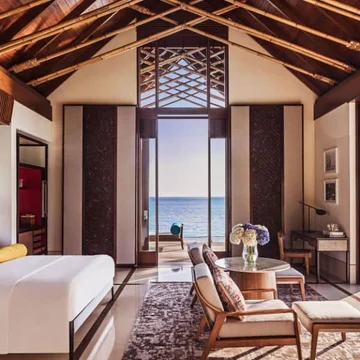 Reethi Rah Island, North Malé Atoll
One & Only Reethi Rah
If you're all about vacationing in style, you'll adore the One & Only Reethi Rah resort on Reethi Rah Island in the Maldives. This tropical getaway offers a private beach for guests, spectacular Indian Ocean views, and world-class hospitality.
Check Availability
There are various rooms and villas you can book for your vacation. For the ultimate tropical experience, book your stay at one of the elegant Water Villas. These villas are located at the end of dreamy docks over the ocean, so you'll always have sweeping views of the water. What could be more luxurious than diving into the sea from your private wraparound sun deck?
One & Only offers some of the most sought-after hotel experiences in the world and a great variety at that. These tailor-made adventures include private picnics on remote coves, seaplane excursions, and much more.
Of course, you can also make use of the resort's many facilities, including their deluxe ocean-facing wellness spa, tennis courts, and infinity pools.
Keep in mind that this hotel has a four-night minimum stay policy. But you won't want to leave at all once you see your incredible suite or villa.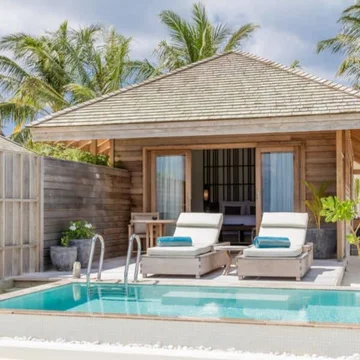 Kagi Maldives, North Malé Atoll
Kagi Maldives Spa Island
Expect modern, chic suites and overwater villas at the Kagi Maldives Spa Island, a space for relaxation and fresh sea air. You'll get sensational views of the Indian Ocean every day from your private suite, not to mention access to the incredible hotel spa, the Baani Spa Complex.
Check Availability
This is no ordinary spa, but more of an oasis built over the water. The circular building has wraparound private balconies, some of which have soaking tubs for guests to relax in while they marvel at the water below and skies above. The spa offers cleansing rituals to help align your energies and more traditional options like massages and beauty treatments.
At Baani Spa, you can even delight in a fancy sushi platter while you have your temples massaged or get a pedicure done. Baani is all about offering a wellness experience both inside and out.
You can stay at the Kagi Maldives on the hotel's luxury all-inclusive plan. This way, your needs will always be catered to without ever needing to carry your wallet.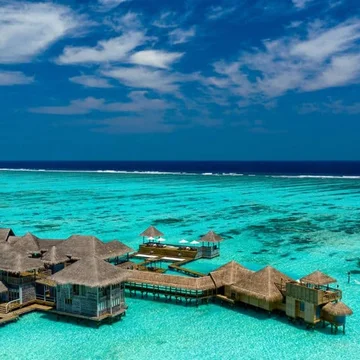 Lankanfushi Island, North Malé Atoll
Gili Lankanfushi
Staying at Gili Lankanfushi will be a dream come true for vacationers, particularly honeymooners looking for a romantic getaway.
Check Availability
If you want to truly indulge on vacation, why not book the exceptional Private Reserve Villa? This home floats on the water like something out of a fantasy, and it's secluded from the main resort, giving the space utter peace and quiet.
The multi-story villa boasts its own cinema, gymnasium, spa, and of course, cocktail bar. But the most prized feature of the Private Reserve Villa is the fantastic water slide on the rooftop deck. This will take you whizzing straight into the warm water below.
Back at the resort, you can dine in style at the award-winning restaurant or visit the luxurious Underground Wine Cellar. It houses over 500 varieties of wine from around the world and even offers dealcoholized wines for non-drinkers who want to join in the fun.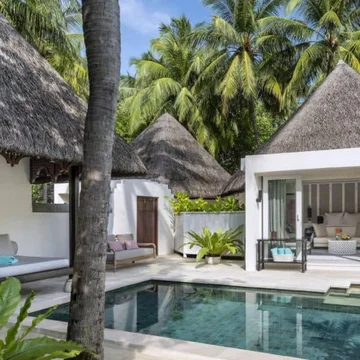 Kuda Huraa, North Malé Atoll
Four Seasons at Kuda Huraa
Welcome to the serene island village of your dreams. The Four Seasons is a five-star luxury hotel that does not disappoint. You can stay at one of the hotel's water villas which are entirely surrounded by crisp, clear water.
Check Availability
Another option is the Specialty Suites, two- and three-bedroom villas for those vacationing in groups. These suites offer chic open-plan living, private pools, and sun decks where you can catch a tan with a book in hand. Cozy up under your private pergola when the sun begins to set and watch the fabulous orange hues reflect on the water.
When you're not lounging by the pool, you can enjoy one of the many fun activities the hotel offers. You can meet and feed the cutest baby turtles on white sandy beaches, go catamaran sailing with a professional guide, or take a dolphin-watching cruise with the kids. There is plenty of fun to be had at the Four Seasons.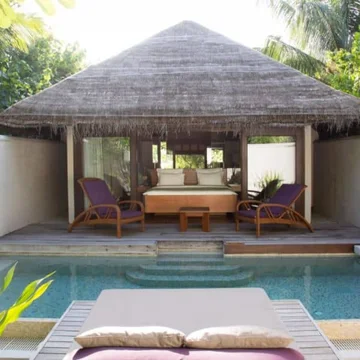 Bodu Hithi Island, North Malé Atoll
Coco Bodu Hithi
Coco Bodu Hithi is a brilliant place to reconnect with yourself and with nature. The fresh sea air will rejuvenate your mind and spirit, and the luxurious amenities will make you feel like royalty. This resort is the perfect spot for a honeymoon vacation or a solo trip to the Maldives.
Check Availability
The Coco staff are renowned for their excellent service, so you'll never go wanting at this resort. Be sure to check out the hotel's Aqua Restaurant for a gourmet dining experience you won't soon forget. The Michelin-starred chefs will whip you up a taste explosion. You can also grab a phenomenal Long Island from the swanky cocktail bar overlooking the water.
If you're a lover of fine wine, you'll be pleased to know the hotel has a Wine Loft offering over 200 global varieties. An entire team of sommeliers can serve and recommend wine for guests, and they even serve organic labels.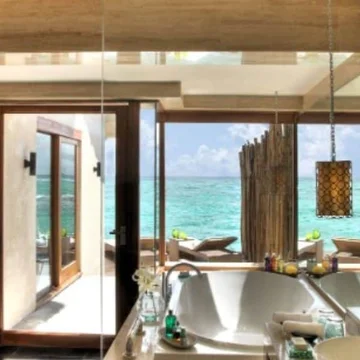 Hembadhu Island, North Malé Atoll
Taj Coral Reef Resort & Spa
Tucked away in a coral reef lagoon, the Taj is a fabulous resort and spa that boasts stylish villas and oceanfront views. There's a dreamy infinity pool that bleeds into the ocean, so you'll always be able to enjoy the dazzling blue Indian Ocean waters. Relax under the abundance of palm trees on the shoreline and let the cool breeze wash over you as you sip on a cocktail.
Check Availability
One of the best things to do in the Maldives is snorkeling and diving, and the Taj makes this dream a reality for all its guests. The hotel's fitness center, the Vivanta By Taj, has a dive school where you can learn to scuba and snorkel! The house reef is abundant with beautiful schools of fish and marine life, so this is an experience not to be missed.
When you're not ordering room service, grab a table at Latitude, the hotel restaurant. The menu covers everything from Pan Asian cuisine to Italian favorites and much, much more.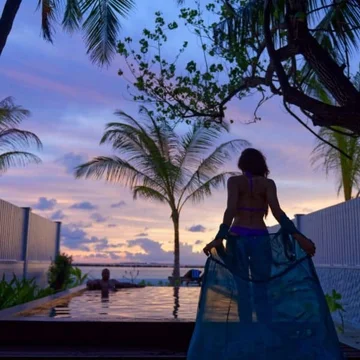 Lankanfinolhu, North Malé Atoll
Paradise Island Resort & Spa
Paradise Island is just that: a paradise. Expect stunning overwater villas surrounded by lush tropical greenery, as well as a luxurious spa resort where you can relax and get a world-class spa treatment. This is one of the best Maldives resorts and boasts an expansive outdoor pool and four fine-dining restaurants.
Check Availability
Book a Sunset Beach Pool Villa, and you'll feel like you have an entire private island all to yourself. You'll get a private pool that looks out at the fantastic ocean view, and the sunset is impeccable come dusk. There are also tiny uninhabited beaches around the island where you can escape for barefoot luxury and a romantic picnic for two.
The hotel offers a variety of brilliant experiences for guests, including deep-sea fishing at exceptional dive sites. Simply call the concierge, and the hotel staff will be happy to organize a luxury catamaran cruise or dolphin-watching for an unforgettable day out on the water.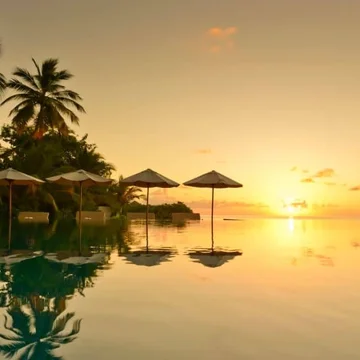 Huvafen Fushi, North Malé Atoll
Huvafen Fushi Luxury Resort
One of the top resorts in Maldives, you'll see stunning overwater villas, private plunge pools, and tropical vegetation at Huvafen Fushi. You couldn't ask for a more relaxing oasis. This five-star resort boasts beautiful coral reefs, an infinity pool, and excellent hospitality for your ideal vacation in the Maldives.
Check Availability
One of the main attractions of this resort is the Huvafen Spa. Believe it or not, the spa lies beneath 20 feet of water, making for a magical underwater world like nothing you've ever seen before. Lay back and let a professional masseuse work away your muscle knots while you enjoy panoramic views of the ocean reef. This is an excellent place to rest and rejuvenate.
There's also a gorgeous yoga pavilion at Huvafen Fushi, where you can stretch in front of sweeping ocean views. You can even take a private class with an internationally certified wellness and yoga instructor to put you in a state of harmony.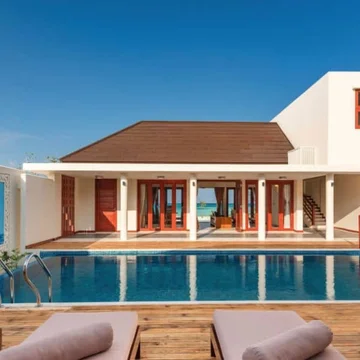 Varu by Atmosphere Madivaru, North Malé Atoll
VARU by Atmosphere
When it comes to the Maldives hotels, VARU by Atmosphere is one of the best. This five-star resort offers an all-inclusive experience, so you'll never have to worry about whipping out your wallet to tip the staff. Everything is already taken care of!
Check Availability
Whether you're staying in a private suite with your own jacuzzi or an overwater villa away from the main resort, you can expect excellent service anywhere at VARU.
If you're traveling with a group or with your family, there are Family Beach Villas you can stay in. These homes are spacious and deluxe, offering lush gardens and amazing oceanfront views. And, of course, you'll have an infinity pool all to yourselves, too.
If you're looking for more family-friendly spots like this one, check out these luxury family resorts
Where activities are concerned, you'll be spoiled for choice at VARU. Take a kayaking adventure on the water, swim in the lagoon with turtles, or check out some manta rays while on a cruise. This resort has got it all.
Sangeli Island, North Malé Atoll
Oblu Select at Sangeli
Tropical bliss awaits you at Oblu Select at Sangeli, an all-inclusive island resort perfect for families, friend groups, and honeymooners alike.
Check Availability
You can stay in a private villa or overwater suite or head to the resort's One Banyan Island. This is an adults-only resort area where the grown-ups can relax and let loose. Here you can chill by the Sundowner Cocktail Bar, lay on the beach, or take a dive in the ocean.
As part of the all-inclusive plan for guests, you'll receive a grand buffet breakfast every morning of your stay, and that's not all. Expect to be wined and dined at the hotel restaurants in the evenings.
When you're not lounging in your suite or eating a three-course meal, Oblu Select has a range of fantastic experiences you can join in on. You can take diving and scuba courses, explore the house reef, or let a professional masseuse work out your tensions with warm coconut oil. You'll never be bored at this island resort.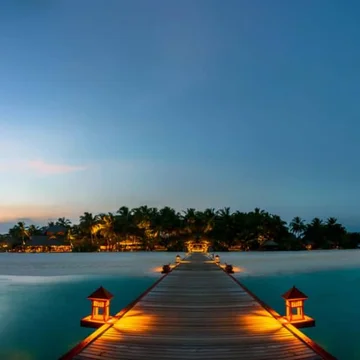 Kaafu Atoll, North Malé Atoll
Banyan Tree Vabbinfaru
Like something out of a fairytale, Banyan Tree Vabbinfaru is a magical island resort abundant with tropical greenery and pristine beaches. For the ultimate luxury experience, spend a week at the Spa Sanctuary Pool Villa. At this villa, you'll get unlimited spa treatments from professional therapists, your own private pool, and a jet pool!
Check Availability
It may sound too good to be true, but you can have as many complimentary massages as you want here. You'll even get to enjoy some refreshments and look out at panoramic ocean views while your tensions melt away.
There's plenty to keep you entertained on the island, including catamaran excursions, dolphin-watching, snorkeling, and diving. There's even a marine laboratory where you can plant your own coral and feast your eyes on beautiful reefs. You can also enjoy a gourmet meal in traditional Maldives style on a private island away from the other guests.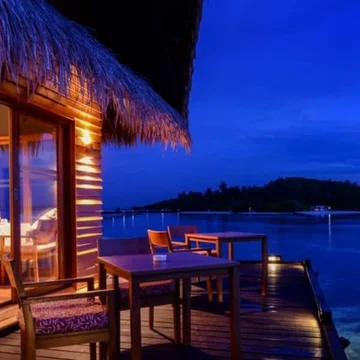 Lhohifushi Island, North Malé Atoll
Adaaran Select Huduran Fushi
Adaaran Select Huduran Fushi is a premium all-inclusive resort renowned for its tropical vegetation, pristine waters, water villas, garden villas, and superb hospitality. This resort is situated on Lhohifushi Island on 83 acres of lush tropical beach; this resort offers a secluded experience perfect for a romantic escape. You can also stay at one of the roomy Family Beach Villas if you're traveling with little ones.
Check Availability
The resort is brimming with fabulous facilities for you to use, such as a tennis court, a beach volleyball area, a shopping arcade, a gymnasium, and a pool. There's also a deluxe spa where you can get a life-changing massage or, for something different, try a Chinese reflexology treatment.
Adaaran Select offers a range of watersports for guests like diving, snorkeling, catamaran sailing, and paddleboarding. You can also go windsurfing for a spot of adrenaline or climb onto a jet ski to zip through the water.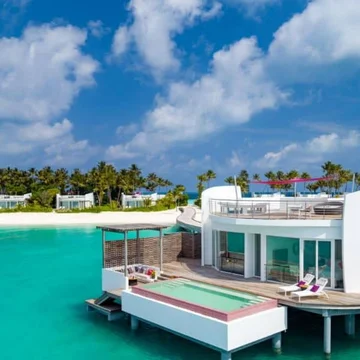 LUX* North Malé Atoll Resorts & Villas
If you like the sound of a private villa perched on a beautiful stretch of beach, you'll fall in love with LUX* Resorts & Villas. These suites boast panoramic ocean views, glorious sun decks to catch a tan, and elegant interiors that will put you in the vacation mood.
Check Availability
There are also premium overwater villas on offer, some of which are two stories high. These villas have private pools from which you can jump straight into the ocean, as well as rooftop decks where you can kick back and relax. Every bathroom has its own spacious tub and a couples' rain shower for the utmost romance.
There are several different restaurants and eateries at the resort, including Cafe LUX*, which offers delicious coffee, pastries, and treats. If you're strict about fine coffee, not to worry. The LUX* baristas are talented and professional, and you'll love the options on the menus.
For dinner, try the Glow Restaurant in front of the resort pool. There's a fabulous terrace overlooking the ocean, and the dishes on the menu are inspired. You can try Maldivian dishes, Japan fusion-style plates, and more, and everything on the menu is gourmet.
Find Luxury Hotels in North Male Atoll