Maldives Hotels: 5 Star South Malé Atoll Hotels
Warm turquoise waters, white sandy beaches, and endless sunshine… One could only be thinking of the Maldives. This magical oasis in the Indian Ocean is a popular beach vacation amongst couples and families alike.
Now, with over 1000 islands making up this tropical destination, you may find yourself wondering where to stay in the Maldives.
Many first think of the North Male Atoll, but the answer is actually the Southern Male' Atolls of course. This cluster of islands doesn't only offer all the Maldivian perks – sapphire blue lagoons and white sandy expanses – but they are close enough to the Maldives capital, Malé, to be convenient.
The Southern Malé Atolls also boasts an array of luxury resort hotels, perfectly suited to families and couples alike. Whether you're looking for a fun, adventurous holiday or relaxing time with your significant other, you'll find the perfect luxury resort here.
Maldives 5 Star Resorts
The Maldives is known for its luxury hotel offering, and the hotels located in the Southern Male' Atolls are no exception. From scrumptious gastronomic offerings to exciting water sports, these luxury resorts can cater to your every desire.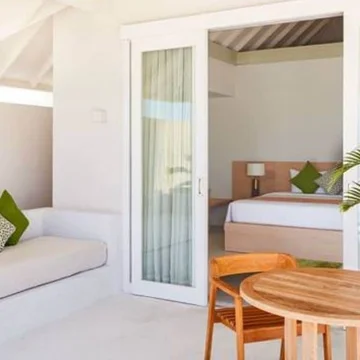 Olhuveli, South Malé Atolls, Maldives
Sun Siyam Olhuveli
At Sun Siyam Olhuveli, you're in for an active and adventurous stay in the Maldives. Situated on a gorgeous lagoon, this 5-star resort is the perfect base from which to explore the surrounding natural beauty.
Check Availability
Whether you want to simply explore the neighboring private island by yacht, or try something a little more exciting like windsurfing, kayaking, or sailing, the hotel is sure to have it on offer.
For those interested in marine life, you'll want to take advantage of the diving excursions. With the guidance of an experienced professional, you'll be taken to underwater caves and nearby shipwrecks – the best way to see magical marine life.
Once you're back on dry land, you can try your hand at tennis or head down to the white sandy beaches for a game of volleyball or badminton.
Now, after all these activities, you'll be looking to grab a bite to eat or a refreshing drink. This luxury hotel in the Maldives will leave you spoilt for choice. The Sun Siyam Olhuveli luxury resort boasts nine restaurants run by world-class chefs – each of which serves its own particular style of dishes. Your palate will surely be satiated by that?
In the drinks department, you'll find five bars to choose from. But the best part, surely, is that you can learn how to whip up your favorite cocktail with the help of the resort's mixology masters. Did someone say pina colada?
Now, this exclusive resort knows that party goers and meditators alike will walk through the hotel's front doors. Luckily, they've thought of everything. Spend the evenings watching Maldivian entertainment, or letting the rhythm run through you at a weekly beach party.
In the morning, head down to the spa for some TLC. The hotel offers a blend of Western and Asian wellness practices that make for a wonderful experience.
Now last, but certainly not least, is this Maldive island resort's gorgeous accommodations. Furnished with traditional-inspired decor, the villas give off a feeling of beachy sophistication.
Now, the private beach villas are divine, but for a truly luxurious stay, be sure to book one of the water villas. With ample space, plush king-sized beds, outdoor loungers, and a private pool, these villas ooze beachy prestige. Oh, and that's over and above the fact that you'll be able to dive off of your deck into the warm Indian Ocean.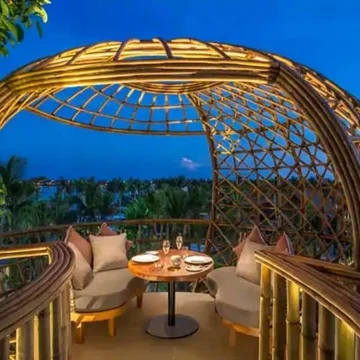 Ithaafushi Island, South Male Atolls, Maldives
Waldorf Astoria Maldives Ithaafushi
When people think of the Maldives, they immediately think of crystal clear waters and bright sunshine. At the Waldorf Astoria, you'll experience this, and so much more.
Check Availability
By day, you can spend your time lounging in a poolside cabana while being served the finest champagne and freshest oysters. Or rent a complimentary bike from the hotel and spend some time discovering the island for yourself. And by night, you can shake your body to the rhythm of the DJ's beats.
Of course, Waldorf's world-class spa will be calling your name. So do pop in for a tension-releasing massage or relaxing spa treatment. If you're looking to stay active during your vacation, you'll be pleased to hear that this 5-star hotel in the Maldives offers many outdoor activities such as tennis.
And don't worry about keeping your kids entertained while on vacation. With the Astoria Young Discovery Park, your little ones will not only be entertained 24/7 but also take part in some interesting and educational activities.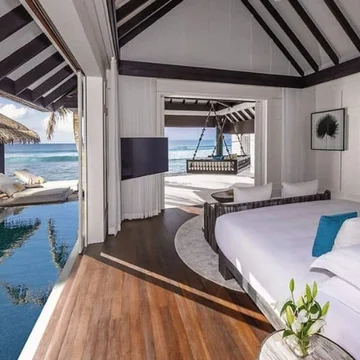 South Malé Atoll, Maldives
Naladhu Private Island
With only 20 villas attached to this tiny island, the Naladhu Private Island resort is one of the few small luxury hotels. And offers something not easily found in this part of the Indian Ocean – peace, quiet, and privacy.
Check Availability
Each sophisticated villa on this remote island hideaway boasts a private plunge pool, an outdoor shower, butler service, and a 24-hour breakfast. You're also guaranteed to have either a sunset or sunrise view too.
While staying at Naladhu, start your mornings the right way, with sunrise yoga sessions on the beach. Or perhaps a tailored session in the gym with a personal trainer? What's more, this top hotel has an on-site nutrition specialist to help you with your health regime – whoever said you couldn't stick to a healthy lifestyle while on vacation?
After all of that, there couldn't possibly be any more to Naladhu Private Island. But yes, there is. This luxury Maldives hotel has many other experiences and activities on offer. From culinary classes with a Michelin star chef to private yachting, diving expeditions, and surf lessons, you'll never have a dull moment at this Maldives 5-star hotel.
Last but not least, special mention should be made of the incredible dining opportunities to be had here. At Naladhu, you can book a unique dining experience for two, where you'll be treated to a delectable meal in a secluded hideaway on the island. Of course, you can also choose to dine at the resort's restaurant too.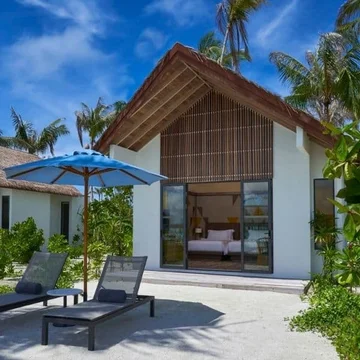 Akasdhoo, South Malé Atoll, Maldives
Hard Rock Hotel Maldives
Looking for 5-star hotels in the Maldives? Well, then you've come to the right place. Crosley record players and 300 thread count bed linens are just a few of the perks you can expect to find while staying here.
Check Availability
Each room also features a flat-screen TV (which you definitely don't need while staying in the Maldives!). But if you're wanting to experience true luxury, then treat yourself to a Rock Royalty upgrade. Not only will you receive dedicated butler services and complimentary snacks, but also the chance to play on musical equipment like a Fender guitar.
In line with the Hard Rock's core theme, musical elements can be found throughout the hotel's decor and activities. Villas have been done in a chic, modern design, complemented by vibrant, musical-themed artworks. At the hotel pool, you'll certainly get into the party mood – underwater speakers, a slide, and a poolside bar ensure the party never stops.
Fitness fanatics will love all the Body Rock activities available, from in-room yoga classes to the fully equipped gym with ocean views. Of course, there are plenty of more adventurous activities that are sure to get your blood pumping. There's beach soccer and volleyball for the team players, Brazilian Jiu-Jitsu and kickboxing for the more competitive individuals and slacklining and aerial trapeze for the creatives.
And don't forget all the fun things available for the kids. The Roxity Kids Club has plenty of music-themed activities to keep the kids entertained and a Teen Spirit Club where the teenagers can chill together.
With all its bells and whistles, the Hard Rock Hotel never fails to disappoint.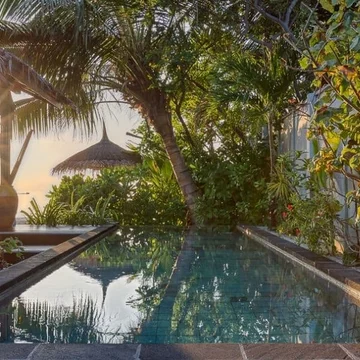 Maadhoo Island, South Malé Atoll, Maldives
Ozen Life Maadhoo
If you thought it wasn't possible to visit the Maldives with your kids, then you haven't heard of Ozen Life. With two-bedroom villas and a kids club, you'll be all set for a family vacation. While the little ones are out and being supervised, you can't take advantage of the more adult offers – like the adults-only gin bar, hairdresser, or wellness spa.
Check Availability
Now, while this is a child-friendly resort, it doesn't mean you can't enjoy some peace and quiet too. Couples can book a bespoke, open-air movie accompanied by a delectable meal. Or spend a lazy morning in your private pool – be sure to try out the floating breakfast!
Speaking of the villas, you can choose from a range of beachfront and overwater villas. Nestled in the lush jungle, the beachfront jungles are perfect for beach lovers. However, if you want to spend your time lazing in a hammock or watching the stingrays floating by, then the water villas are where you should stay.
Last but not least, you should definitely visit Ozen Lifes underwater restaurant. It may not be quite as cool as an underwater hotel, but it'll certainly be an experience in itself.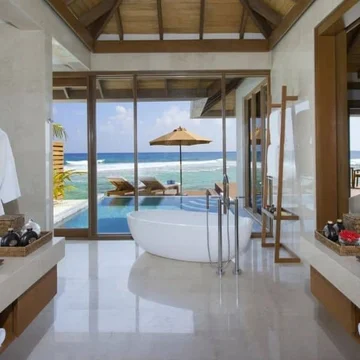 Veligandu Huraa, South Malé Atolls, Maldives
Anantara Veli Maldives Resort
Encompassed by turquoise lagoons, the Anantara Veli Maldives Resort is the epitome of luxury. The bungalows come standard with daily breakfast, yoga mats, and fitness kits as well as Anantara bottled water.
Check Availability
On top of this, your villa host will be at your beck and call to satisfy all your needs. And if you happen to find yourself staying in the resort's most luxurious bungalow, you'll be treated to the resort's private wine selection.
If you're staying at this adults-only resort for your honeymoon, be prepared for more special treatment. On arrival, you'll find champagne, artisanal chocolates, and romantic flower decorations adorning your bed.
Now, it's not just the lodgings that add to this five-star hotel's opulent status. Anantara offers a unique opportunity through its coral adoption program and it offers PADI certification at the resort too.
There's a range of other leisure activities to take part in too. There's flyboarding, sailing, parasailing, kayaking for the free-spirited travelers, and a sunset cruise or spa days for those looking to enjoy a relaxing stay in the tropics.
If you're looking to take something away from your time in the Maldives, it should be the dining experience. Treat your taste buds while dining under the stars or better yet, book step-by-step Maldivian cooking. This way, you can delight all your friends back home with your newfound culinary skills.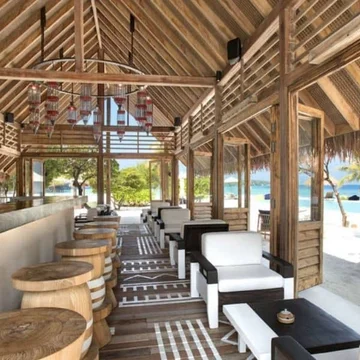 South Malé Atolls, Maldives
Como Cocoa Island
At Como Cocoa Island, you'll find luxurious overwater villas that are simultaneously rustic and elegant – some are even shaped like traditional 'dhoni' fishing boats. The voluminous rooms have been furnished with blue-and-white decor, which is complemented by dark wooden furnishings – the perfect island style.
Check Availability
The Maldives is one of the most beautiful places in the world, and to ensure you make the most of your time here, the resort is kitted with all the things you need. From stand-up paddles and kayaks to windsurfing and a luxury catamaran, you'll definitely be spending plenty of time out on the water.
But Como Cocoa Island resort is all about creating many unique memories. That's why the resort has many special excursions on offer, like snorkeling amongst sea turtles or getting up close to a larger-than-life whale shark.
Of course, you can also choose to have a quiet day by yourself in the resort's library or having your nails done at the spa. Oh, and did you know that Como Cocoa Island offers couples the chance to learn the art of messaging – that way, you'll always have something to remember your time in the tropics.
After a day filled with activity, you'll be looking to tuck into a delicious meal. If South Indian dishes with a contemporary twist sound like your thing, then the resort restaurant is where you need to go. For the couples on vacation, you can book a romantic dinner for two set up under a billowing tent on a beautiful sandbank.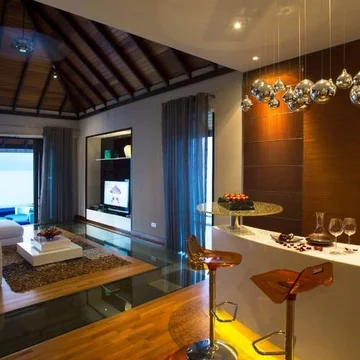 South Malé Atoll, Maldives
Velassaru Maldives
Imagine yourself resting on a cozy couch having a pedicure while you gaze out over the Indian Ocean. Sounds like a dream, right? Well, you could make this a reality if you stay at Velassaru.
Check Availability
The above is only one of the many luxurious experiences you can have while at this top hotel in the Maldives. The villas are a luxury on their own – wooden floors and ceilings, complemented by colorful, stylish furnishings complete the island-vibe look.
As a guest, you can expect to find a stunning little coffee and tea station, bottled water, and much more. L'Occitane bath products and fluffy white robes are a standard at this opulent resort. What's more, is that you'll be gifted with beach bags and slippers – the hotel really knows how to ensure you have everything you need.
With its incredible views, the island resort has many spots where you can sit and enjoy a glass of wine or a mouthwatering meal while taking in the surrounding beauty.
Velassaru also honors its Maldivian surroundings by offering guests the chance to take in the sights via several different excursions. The resort's resident marine biologist regularly takes guests out on educational snorkeling trips. Or you can head out on a dolphin safari, where you can watch these majestic creatures frolic in the clear blue water.
All in all, the Velassaru is one of the best hotels in the Maldives for honeymooners looking for a romantic beach getaway.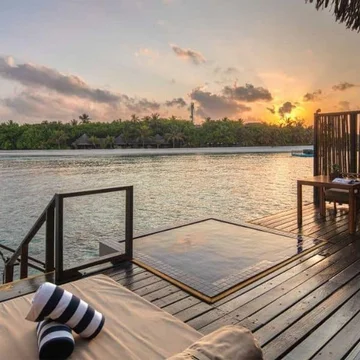 South Malé Atoll, Maldives
Adaaran Prestige Vadoo
Located just a little more than 10 km from Malé International Airport, the Adaaran Prestige offers ease of access and oozes luxury. Spend your days bronzing your skin from the comfort of your villa's private sundeck or chilling out in your plunge pool. Kitted out with a jacuzzi, your villa will be a place of ultimate relaxation.
Check Availability
But wait, there's more! When you need to escape from the tropical heat, your villa also has crisp air conditioning. And the resort villas have been installed with glass floor paneling in the bathrooms and lounges – so even when you're indoors, you can admire the aquatic beauty of the Maldives.
You'll find plenty of fun things to keep you entertained during your stay in the Maldives too. Spend some time getting to know the other guests during a game of beach volleyball. Or get your adrenaline going while parasailing, tubing, or wakeboarding. And in the evenings, party the night away as the DJ keeps the tropical beats going.
If you're traveling as a duo, and have come to the Maldives to relight the spark, then take advantage of the resort's beautiful vow renewal service.
Final Thoughts on Luxury Hotels in the Maldives
With its stunning, tiny uninhabited beaches, turquoise seas, and marine life, the Maldives truly is heaven on earth. While many tend to stay in the North Male Atoll, the South is just as spectacular.
With exceptional dive sites, pristine beaches, adventurous water sports, and overall barefoot luxury, it's the place to be – whether you're looking for a honeymoon destination or a fun-filled resort.
One thing's for sure, the Maldivian hotels and resorts certainly know how to create an unforgettable, luxury experience for their guests.
Find Luxury Hotels in South Atoll