Luxury Hotels in Auckland | Best 5-Star Hotels in Auckland, New Zealand
If you're looking for the best luxury hotels in New Zealand, Auckland is home to a few of them. These hotels are coveted for their wonderful city and ocean views, excellent customer service, and of course, the most delightful luxury accommodation experiences.
Also known as the business hub of New Zealand, Auckland's CBD offers you luxury intertwined with metropolitan living. If you've been accused of all work and no play, you'll have to correct that by choosing one of these amazing luxury hotels to call home for a few nights.
Auckland is the most populous urban area in all of New Zealand. Located on the North Island, this city is well known for its surrounding hills, rainforest, and volcanic field. For full relaxation, be sure to also venture out to the Waitakere Ranges Regional Park or catch a ferry to Waiheke Island.
Have a look at some of the best luxury hotels in New Zealand and take your next vacation in Auckland city.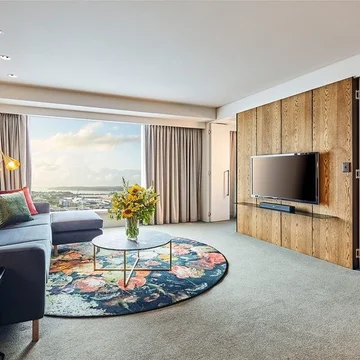 The Grand by SkyCity Hotel
The Grand by SkyCity is an amalgamation of entertainment and luxury accommodation. This 5-star hotel is located within view of the wonderful Auckland city skyline and the harbor.
Check Availability
You can enjoy a luxury spa coupled with amazing dining experiences at the SkyCity Grand Hotel. The stylish rooms at this hotel are fitted with Wi-Fi and a modern bathroom. Each room also has a flat screen TV for relaxing after a long day out sightseeing.
You can also visit the SkyCity Tower, 24-hour casino, and entertainment complex right outside the hotel. With over 20 restaurants, cafes and bars, you won't be left stranded with nothing to do.
If you're interested in fitness, this hotel also features a fully equipped fitness center. Do a few laps in the heated pool, or visit the sauna and spa to work out those knots in your shoulders. At the hotel's East Day Spa, you can experience a massage as well as some fantastic skincare treatments.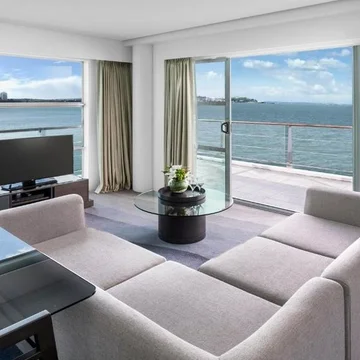 Hilton Hotel
If you're in search of legendary luxury, the Hilton Hotel ensures a lavishly stylish vacation. From the hardwood floors to the stunning views, this is one of the best 5-star hotels Auckland has on offer.
Check Availability
Ideally situated at the end of Princess Wharf, you can expect serene views of the harbor from the well-established cocktail bar. Take your pick from the menu and sit back to enjoy the surroundings of the stylish Bellini bar.
This hotel also features an outdoor swimming pool for warm summer days and an indoor fitness center for guests.
The hotel rooms are fully equipped with wireless internet and a workstation for busy business people on the move. Once the day is done, you can sit back on the private balcony and unwind from a work-filled day.
The main drawcard of this hotel is its location, which is within walking distance of the city center. You can enjoy nearby entertainment right at the foothills of the major establishments.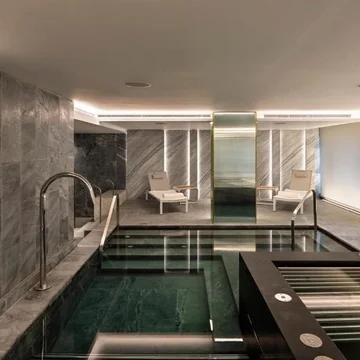 Park Hyatt
No list of Auckland luxury hotels would be complete without mention of the Park Hyatt. From a modern swimming pool area to lavish dining experiences, you'll surely be dipping your toes into one of the city's most decorated luxury hotels.
Check Availability
Enjoy your private bathroom and 24-hour room service to ensure supreme comfort. You can also go and relax at the spa and sauna after a workout at the indoor gym. Sip glasses of champagne in the hot tub or enjoy a cup of coffee in the garden.
This hotel also features a free continental breakfast every morning, to give you the energy you need for the day. Although, if you'd like to explore restaurants in surrounding areas, you can head over to Baduzzi for a taste of Italy.
The Park Hyatt is 11 miles (18 km) away from the airport. Ideally located at the heart of Auckland, you're surrounded by popular points of interest like the beach and convention center.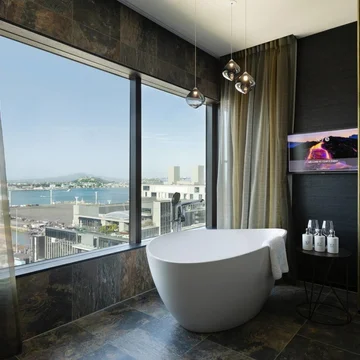 SO/ Auckland
Some of the best hotels in Auckland cannot compare to the unique trendy interiors of the SO/ Hotel. Prized as an urban hotel, the SO/ will wow you with wonderful views and delightful amenities.
Check Availability
Each room features a complimentary mini-bar to welcome you into your new space. If you're in the mood for a delightful meal of french cuisine, you can go to the on-site restaurant and experience a delicious a la carte menu. If you've had a long day and would prefer to stay in, their room service options are just as delectable.
The hotel is located on Auckland's scenic waterfront, in the downtown Britomart district. So, you can expect excellent city views. If you're missing the beach, you're a quick drive away from their nearest shoreline.
Experience the hotel's indoor heated pool or head over to the fully-equipped fitness center before enjoying a drink at the rooftop bar. If you're looking for high standards and relaxation, this hotel has everything you need.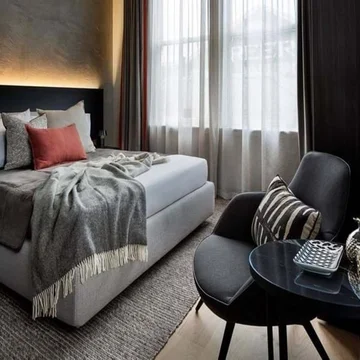 Hotel Fitzroy Curated by Fable
At the Hotel Fitzroy, Curated by Fable, you'll find a boutique hotel elevated to include absolute luxury and style. Each room features everything you could need like a flat screen TV, free Wi-Fi, a work area, a private bathroom, and a coffee station.
Check Availability
If you need anything else, you're welcome to use the 24-hour room service as well. Although with a complimentary breakfast and free coffee from professional baristas, you probably won't need the room service for too long.
The hotel also offers you a complimentary Uber pass to Auckland's CBD and back again, allowing you to explore the city freely and safely. Discover the MOTAT (Museum of Transport and Technology) or take a stroll through Grey Lynn Park.
At Fitzroy, wake up to a continental breakfast every morning and head out to see Aotea Square during the day. After exploring the town, retire to complimentary hors d'oeuvres in the hotel library.
While breakfast and hors d'oeuvres are taken care of, you could get some lunch at any of the many restaurants scattered along Ponsonby Road.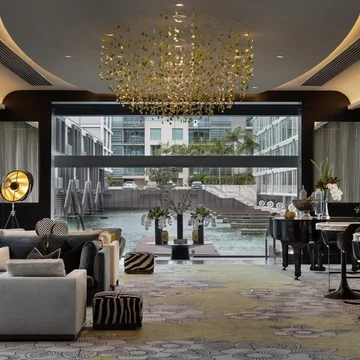 Sofitel Auckland Viaduct Harbor
The Sofitel Auckland is unique for its lovely city and ocean views and its position towering over the Viaduct Harbor basin. You can expect those beautiful views to be coupled with lots of restaurants and bars right at the viaduct basin entertainment area.
Check Availability
If you're looking for company, you can join other guests in the restaurant and bar area. Here you're exposed to the wondrous menu and service of the champagne bar. If this doesn't sound like something you're up for, you can also retreat to your lavish room, and enjoy your private balcony with a plate from room service instead.
Besides the fitness center, spa, and wellness center, the decor of each room is something to behold. Imagine floor-to-ceiling windows, bright sunshine overlooking the harbor which leads into an oversized bathroom with rain showerheads. It doesn't get more relaxing than that.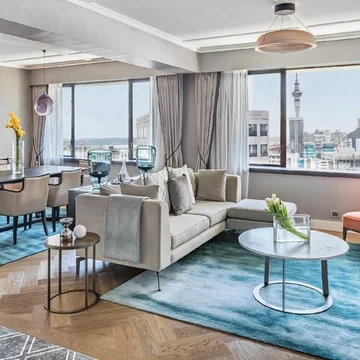 Cordis, Auckland by Langham
If you're looking for something a little laid back while maintaining the same level of spectacular fanciness, Cordis is the right place for you. Here, you're surrounded by the vibrancy of the surrounding neighborhood and within walking distance to many shops, museums and galleries.
Check Availability
The hotel rooms showcase sophistication, warmth, and quality. The decor is colorful yet understated and you'll notice lots of greenery around you. At the latest addition to the Cordis family, the Pinnacle Tower offers stunning skyline rooms.
With lots of natural light flowing through your suite, you'll be relaxed and fall into an ambiance of luxurious calm. If you're traveling with kids, the Cordis offers various activities for the adventure-seeking young ones. There's a specially developed program that includes a range of activities and kids-appropriate amenities.
You can also visit the hotel bar for locally sourced food and drinks. While you wine and dine at the exclusive club lounge on level 10, the kids will delight in healthy snacks like fruit or delve into delicious meals from the children's menu at The Lobby Lounge.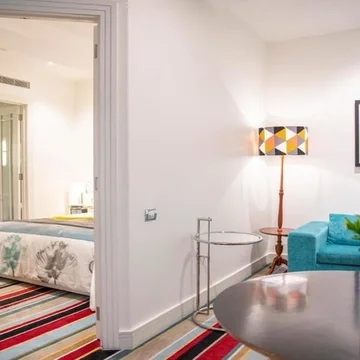 Hotel DeBrett
The hotel Debrett is one of the best hotels in Auckland, New Zealand. Especially if you love a splash of color and spaces that feel like home. This place is sprinkled with a touch of grandeur and exciting modern decor.
Check Availability
The hotel features free WiFi and a modern fitness center. You can also find yourself kicking back with your friends at the local Corner bar or surrounding restaurants and bars. You can also head to the Sky Tower or Viaduct Harbor.
This luxurious urban hotel situated in Auckland's central business district offers you a wonderful city view. If you're looking for something exclusive, there's a private inner courtyard to sit back and possibly enjoy a tasty continental breakfast.
Each of the rooms is completely kitted out with everything you may need to feel comfortable. Their deluxe suite has an internal atrium as well as a second bedroom and sleeper couch if you're planning on having guests. So, these stylish rooms make you feel at home, regardless of where you come from.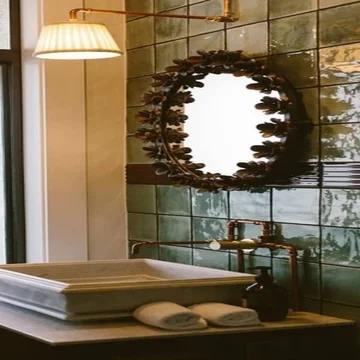 The Convent Hotel
This quaint hotel features mature, rustic decor with lots of warm colors and clean lines. The Convent Hotel is conveniently located near the Aotea Center for everyday trips. This stylish boutique hotel is a great place for anyone that doesn't necessarily appreciate big hotels with lots of humans! This sustainable boutique hotel creates a feeling of community and intimacy with fellow travelers.
Check Availability
The Convent Hotel is within easy walking distance to Eden Park Stadium. Although there are much more attractions off the beaten track that the Convent Hotel is excited to share with you. This luxury boutique spot offers you and your family a wonderful experience full of entertainment and lavish comfort. From the adventures through the artistic Grey Lynn and Ponsonby areas.
After a day out, you can enjoy a warm cup of coffee or an ice-cold beer out on the private balcony, or visit The House Bar and make some friends with the Ada bartenders. Either way, you choose to sit back and relax to the sights and sounds of Auckland city.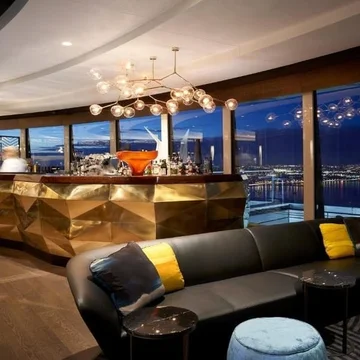 SkyCity Hotel
This 4-star hotel is located close to the SkyCity Casino as well as within close proximity to the Sky Tower. A visit to each would make for a lovely day trip out in the city. You can go and visit any of the numerous restaurants on offer from the Sky Tower while exploring Auckland city's vibrant precinct.
Check Availability
Although, you may want to save some space, as the SkyCity Hotel is home to a marvelous restaurant conveniently placed on the third level. Here you can truly experience the culture that New Zealand has to offer. At the Fortuna Buffet Restaurant, you can dive deep into contemporary New Zealand cuisine.
Once you head back to the room, you can sit back and relax with the free Wi-Fi or watch some TV in your complimentary slippers and bathrobe. If you're in the mood to venture out, you can explore the bar or squeeze in a quick workout at the fitness center.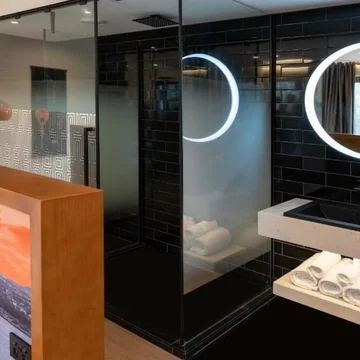 This luxurious urban hotel features a restaurant, fitness center, and bar for your pleasure. You can also enjoy a sauna and hot tub if you're that way inclined. There's an outdoor swimming pool as well if you'd prefer somewhere to cool off.
With such an excellent location, you can also cycle in the area or enjoy the activities around Auckland itself. This 5-star hotel is set up to serve an a la carte breakfast every morning which you can enjoy from the comfort of your room or the outside garden area.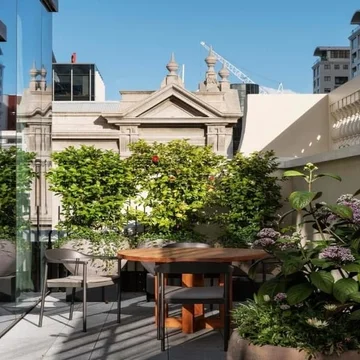 Hotel Britomart
At this chic and audacious Auckland hotel, you'll find yourself in the central location of the Auckland CBD. At this hotel, you can choose between views of the harbor, or a lovely terrace. As a winner in the Conde Nast Traveler Hot List for 2021, you can expect great things besides the view.
Check Availability
While it can seem a bit pricey at first, the all-inclusive night's stay offers you a truly fantastic suite. You have the opportunity to enjoy regular amenities like a private bathroom, free Wi-Fi, room service, a fitness center as well as tours organized by the hotel.
The room itself is fully equipped with a TV, bath, soundproofing, and minibar with free alcoholic and non-alcoholic drinks. Enjoy a drink on the quiet garden terrace or spend the morning enjoying a superb breakfast.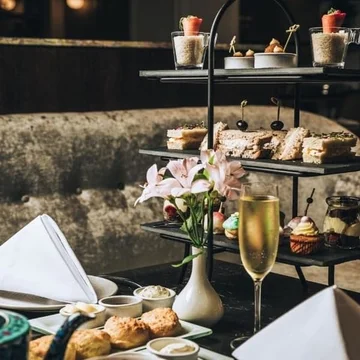 Hotel Grand Windsor
The Hotel Grand Windsor is by far one of the most opulent hotels in Auckland. This upscale hotel located right at the heart of Auckland city gives you access to the loveliest of retail and entertainment venues.
Check Availability
The hotel features everything you may need to feel like royalty. From the view of Auckland's viaduct basin to the helpful concierge service and fully equipped suites. Your stay at the Hotel Grand Windsor could easily become your favorite part of Auckland.
The bedrooms contain all essential amenities like a Nespresso machine, flat screen TV, free Wi-Fi, and sustainable luxurious bathroom products. You'll also have access to the fitness center, restaurant, and bar while you're there.
Allow the elegance of the old sophisticated decor dotted with modern touches throughout to welcome you into a deep state of stylish comfort.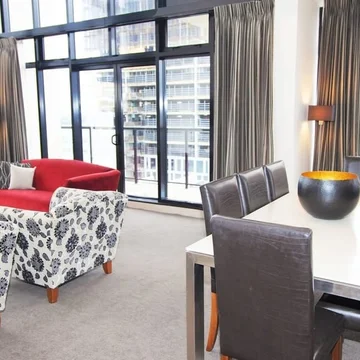 CityLife Auckland
The Heritage hotels have combined apartment living with luxury hotel service to create the CityLife hotel. Located on Queen Street, it has all of the amenities necessary to make this your temporary home.
Check Availability
The rooms feature a spacious living area, TV, en-suite bathroom, and luxury toiletries. If you're staying in Auckland for a longer period of time, you may want to book an apartment. The apartments contain a stove, kitchen, bathroom, living area, laundry facilities, and workspace. It's a great place for the digital nomad to spend a few days (or months).
You'll be right in the middle of Auckland and within walking distance of things like shopping centers, Sky Tower, Viaduct Harbor, and a 10-minute walk from the ferry terminal. The hotel itself offers free Wi-Fi, a fitness center, restaurant, bar, an indoor heated pool, and private parking, in case you've decided to rent a car.
CityLife Auckland is perfectly designed to cater to the nomadic traveler looking for luxury.
Find Luxury Hotels in Auckland