Luxury Hotels in Christchurch, New Zealand | 5 Star Luxury Accommodation
Christchurch is a wonderful place for nature lovers, as well as those that enjoy the hustle and bustle of city living. You can enjoy views of the city from the safety of a flat bottomed punt while cruising slowly down the River Avon. If you're looking for a little fresh air, then cycling along the coastal pathways or strolling through the Christchurch Botanical Gardens will provide you with just that.
The best hotels in Christchurch, NZ, are scattered around the city center, picturesque Hagley Park, and the River Avon. New Zealand's luxury hotel selection is numerous. If 5-star opulence and luxury living sound like something that would be right up your alley, then these luxury hotels in Christchurch, New Zealand are guaranteed to make your vacation.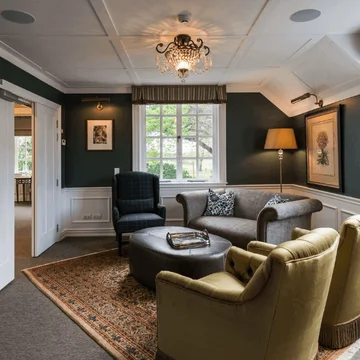 Christchurch, New Zealand
The George Hotel, Christchurch
This 5-star boutique hotel is located in Christchurch city center, overlooking both Haguely Park and the River Avon. The modern and spacious guest rooms have all the amenities that make you feel at home, while also providing luxury furnishings. Guests have access to free WiFi, a flat-screen TV. Plenty of natural light streams in through the large windows with nice views.
Check Availability
The on-site restaurant is sure to satisfy any taste with its contemporary cuisine. Book a table at Bistro 50 for dining on the terrace in a charming yet stylish manner. The hotel is close to many of the many attractions in the city, with the Botanic Gardens right on your doorstep, and other activities just a short walk away, you'll never lack in entertainment.
The arts center, theaters, and restaurants are all within a 3-minute walk, so expect to explore the surrounding area pretty thoroughly during your stay. Between 2012 and 2020, The George was rated as New Zealand's very best boutique hotel. So if you're curious about what all the fuss is about, make a booking at The George.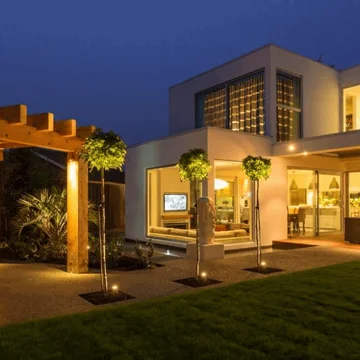 Christchurch, New Zealand
The Establishment Boutique Accommodation
This is one of the small luxury hotels in Christchurch that still offers spacious rooms. They are well air-conditioned, with a TV and fireplace to make your evenings a little cozier. Elegant decor, comfortable seating areas, and complimentary toiletries can be expected in every suite.
Check Availability
Each morning, guests can enjoy a complimentary continental breakfast, while in the afternoon you can make use of the on-site BBQ facilities or head out to a local restaurant. The hotel's central location offers access to the beautiful Hagley Golf Course, as well as Russley Golf Club. It's also just a 10-minute drive from the city center.
The lush garden is something you're sure to enjoy after a day of exploring the surrounding Christchurch area. And it makes for a beautiful view as the garden is visible from the windows of just about every one of the suites.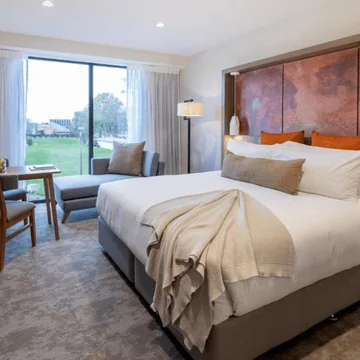 Christchurch, New Zealand
Sudima Christchurch City
Pristine luxury awaits you at this 5-star boutique hotel located on Victoria Street. Cafes, restaurants, and bars surround this ideal location. The hotel is just a short walking distance from Hagley Park and the city CBD, so you won't miss out on anything.
Check Availability
The spacious rooms are fitted with air-conditioning, TVs, luxurious en-suite bathrooms as well as kitchenettes. The Sudima Christchurch City aims at providing world-class service and making your stay as environmentally sustainable as possible. The on-site restaurant uses locally sourced ingredients to create high-quality dishes that are sure to tantalize your taste buds.
The hotel's eco-focus is evident in its furnishings and authentic wood finishes make the hotel look like an eco villa you won't soon forget. The property also features a luxurious spa for those that feel they need a little pampering during their stay. And guests also have exclusive access to a nearby fitness facility.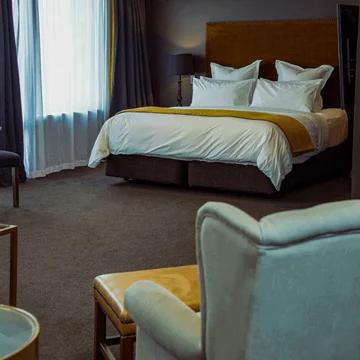 Hotel Montreal
Hotel Montreal's location is a strong drawing card as it is located just 300 meters from the famed Victoria Street and a short walk from the picturesque Hagley Park. As far as the best hotels in Christchurch go, this is one of the top-rated. Not only for its 5-star luxury and central location but for its comfortable suites and charming feel.
Check Availability
Each suite is beautifully decorated with a minimalistic feel and features all the comforts you need during a luxury hotel stay in Christchurch. Air-conditioning, a flat-screen TV, a safety deposit box, and a comfortable seating area make each room a dream to stay in.
Start your day off right with a free continental breakfast served each morning before heading to the attractions near Hotel Montreal. The Canterbury Museum, Hagley Park, and Christchurch Arts Centre are among the best of them.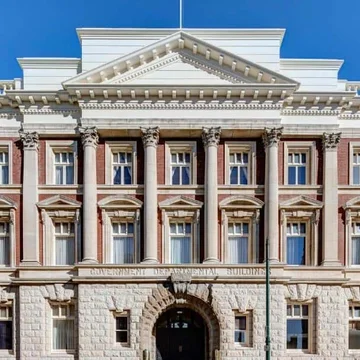 Christchurch, New Zealand
Heritage Christchurch
When you think of the best hotels in Christchurch, NZ, this is certainly one that springs to mind. The hotel is located within a restored Italian Renaissance building in Cathedral Square. Its grand entrance way gives you just a little taste of what you can expect at this luxurious hotel.
Check Availability
Its central location gives you access to some of the city's best shopping areas, providing you with plenty to do on a day out. But if you want to spend some quality time relaxing at the hotel, there are numerous amenities that help you do just that. A lap pool, sauna, and hot tub are the perfect places to sit back and relax at this luxury hotel.
The hotel features two-story apartment-style suites that spare no expense. Each apartment is intricately decorated and features a lounge, dining area, and spacious bathroom. Being one of the best hotels in the city, it's no surprise that the hotel offers free Wifi access and laundry facilities.
Within walking distance of the hotel, you'll find the Botanical Gardens, Hagley Park, a golf course, and Cashel St Mall. Providing you with more than enough activities to keep you busy during your holiday. This is a wonderful hotel on New Zealand's South Island.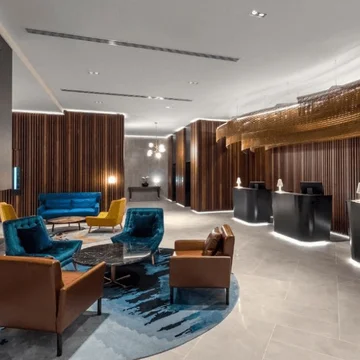 Christchurch, New Zealand
Crowne Plaza
Crowne Plaza is dripping in luxury from ceiling to floor. Located in the very center of the city CBD, the hotel is just a short walking distance from the Christchurch Casino and New Regent Street. Guest rooms offer breathtaking mountain and city views, especially during the winter months when you can see snow settled on the mountain peaks.
Check Availability
Expect all the usual comforts at this hotel, with bathrobes, slippers, and free WiFi provided to make your stay as cozy as possible. If you're looking to stay in shape during your trip, you'll be happy to know that there's a fully-equipped fitness center ready to be used at your disposal.
Wake up and head down to cafe 1851 for a delicious breakfast and morning coffee before heading out to explore the town. If you're looking for a spot to have a cocktail or an evening drink then Social Wine Bar has a cozy fireplace that makes it the perfect spot. Market Place Restaurant is the hotels' all-day restaurant that serves breakfast, dinner, and everything in between. Prepare yourself for some absolutely delectable food.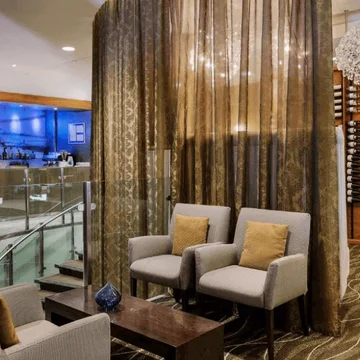 Christchurch, New Zealand
Novotel Christchurch Cathedral Square
This contemporary hotel is located in the city center and every single room is treated to sweeping views of the city. The rooms are modern and stylish, providing its guests with separate living and working areas. There is also access to WiFi and an LCD TV.
Check Availability
The hotel has a fully-equipped gym and is within walking distance of both the picturesque Hagley Park and the Convention Centre. Novotel Christchurch has an on-site restaurant that is open throughout the day serving delectable New Zealand cuisine. They also boast some fantastic wines if you are someone who enjoys the finer things in life.
The hotel has meeting rooms for business travelers and those in search of a quiet location to work. If you're looking for a luxury Christchurch hotel that ticks all the boxes, the Novotel Christchurch Cathedral Square is the right place to book your accommodation.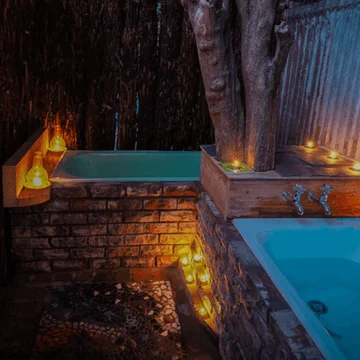 Christchurch, New Zealand
Luxury Eco Villa
Eco Villa is located near to all of the main attractions in Christchurch and accommodates big groups. With eight bedrooms and six bathrooms, there is plenty of room for everyone to join in on the vacation. The villa is kitted out with modern amenities and a full-service kitchen that's perfect for catering to many people.
Check Availability
The villa has a large, enclosed-patio dining area, a huge vegetable garden, and a large outdoor bathtub for those warm evenings where you'd rather spend time bathing outside.The villa is located within walking distance of the Christchurch Art Gallery, and Christchurch Arts Centre for the creatives.
If you're looking for a tranquil getaway in the middle of the city, this is one of the world-class Christchurch hotels.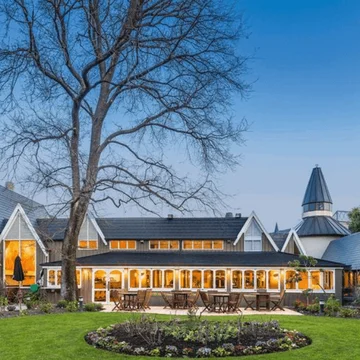 Christchurch, New Zealand
Chateau on the Park
Chateau on the Park is a wonderful accommodation for those that want to be close to the city CBD, yet still immersed in nature. Surrounded by beautiful gardens, the chateau is close to some of the city's best attractions, including Hagley Park, Christchurch Botanic Gardens, and Te Pae Christchurch Convention and Exhibition Centre.
Check Availability
The chateau features a beautiful outdoor pool for relaxing on hot summer days. The Garden Court Brasserie offers relaxed dining, with stunning garden views. They are open for breakfast, lunch, and dinner, and serve some of New Zealand's award-winning wines. When the weather is warm, you can enjoy dining on the sunny terrace with views of the garden.
The rooms are spacious and modern, kitted out with a workstation and en-suite bathroom. They have views of the luscious gardens or water feature, making for a completely tranquil setting. If you're looking for the perfect accommodation in the heart of the city, the Chateau on the Park is absolutely top-notch.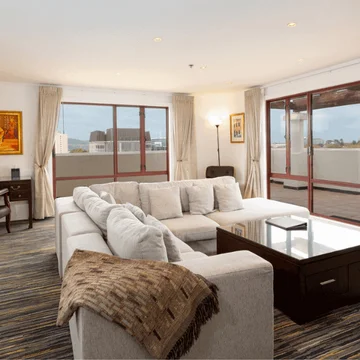 Christchurch, New Zealand
Fino Hotel & Suites
Fino Hotel & Suites is located in the very heart of Christchurch and is close to Christchurch Casino, the town hall, Christchurch Art Gallery, and the convention center.
Check Availability
Couples particularly enjoy this hotel as it offers the perfect setting for a romantic vacation. If you're looking for something to do with your partner in the area, rent a bicycle from the hotel and explore the Christchurch CBD with your best friend by your side.
Each suite is equipped with a kitchen, indoor and outdoor dining area, spacious bathroom with a large bathtub, and a comfortable bed that will have you wanting to sleep in every morning. The suites have a balcony overlooking the picturesque Christchurch CBD, ideal for sipping your morning coffee while watching the sleepy city wake with you.
The hotel also has a great dining area and coffee shop for when you don't have the energy to leave the hotel. But if you'd prefer, there are numerous restaurants just a short walk away.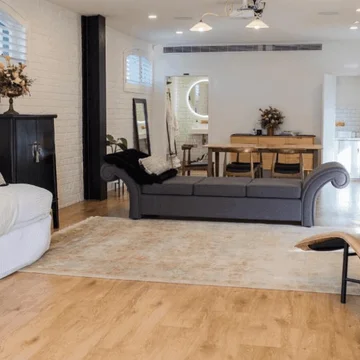 Christchurch, New Zealand
The Britten Stables
This chic hotel offers guests the opportunity to relax in a completely tranquil setting. Modern rooms are provided with views of the indoor pool area or the perfectly manicured gardens. The guest rooms are spacious, featuring their own private bathrooms as well as a comfortable seating area, and lovely greenery decorates each and every room.
Check Availability
Guests have access to free WiFi, a flat-screen TV, as well as their very own kitchenette. And with so many attractions right on your doorstep, you won't need anything else. But if you want to stay in, make use of the large hot tub, the billiards table, and the tennis court. Hikers and skiers also love this accommodation for its easy access to the stunning mountain slopes.
Find Luxury Hotels in Christchurch